Craving a big ebike that traverses all-terrain, rides fast, and travels far on a single battery charge? 
To say that the Haoqi Orange Leopard Pro is BIG is an understatement… in fact, it's massive! Thus, my husband Marc was the lucky one who got to ride it during our fat tire ebike review. 
Not only will I tell you what he had to say, but I'll also share the pros and cons of this cool-looking ebike. In addition, I'll go over sizing and mention a special fact about the affordable Orange Leopard Pro. 
Subscribe to E-Biking Today's YouTube channel for electric bike reviews and detailed information on living the e-bike life!
Haoqi Leopard Pro E-Bike Review
The first thing you should know about the Leopard Pro is that it retails at $1699, which is around $200-$300 less than the average full-size, fat tire e-bike. Plus, as of this review, it's selling for even less. Listen to the pros coming up and I think you'll agree that this electric bike offers fantastic value for the money.
Pros
Check out the many benefits of riding the Leopard Pro.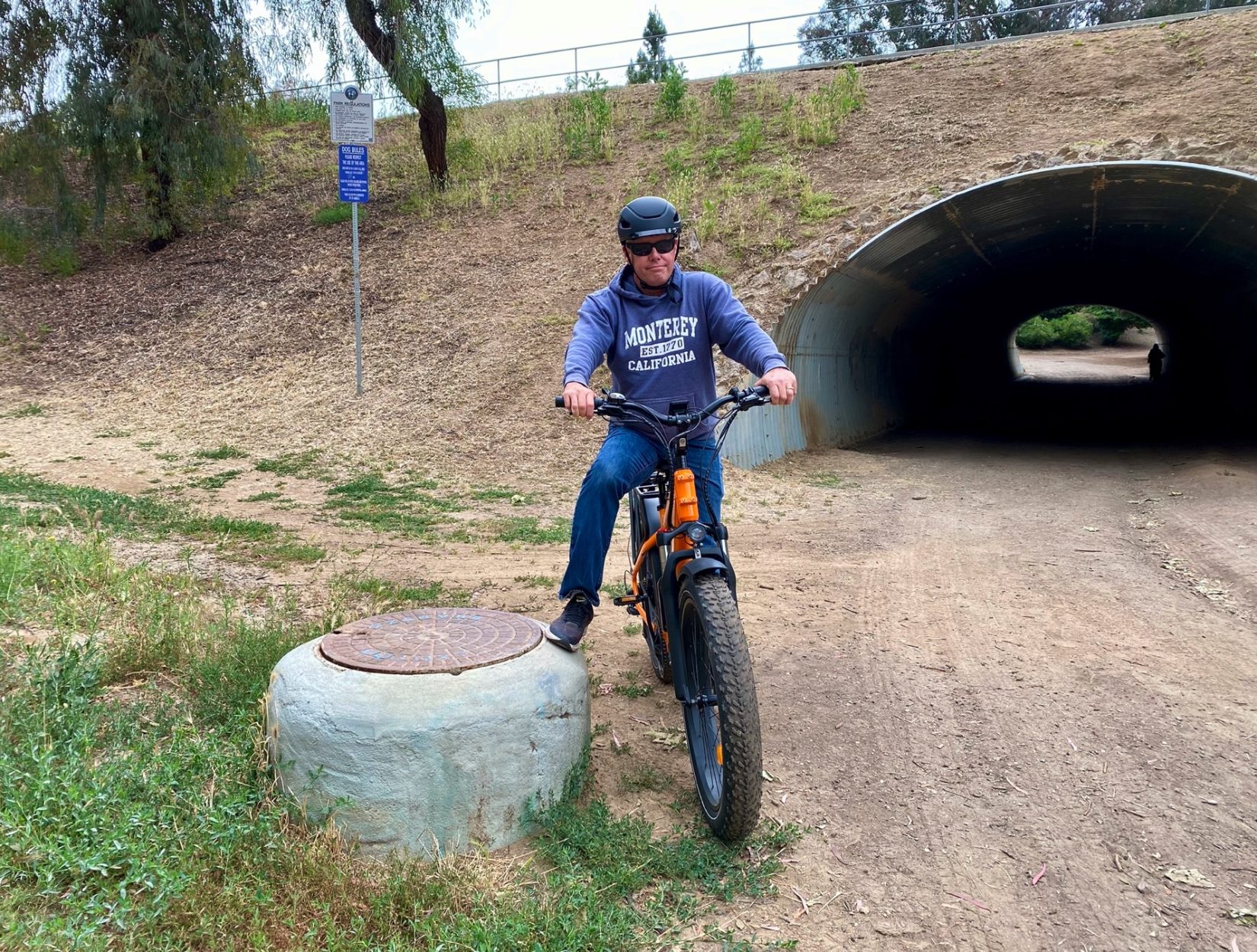 With a 750Watt geared hub motor, a 48Volt 20 amp hour battery, and 90 Newton Meters of torque, the Haoqi Orange Leopard Pro has the power needed to go pretty much anywhere you want.  

Yes, you can ride up to 80 miles on a single charge, which is around two times as far as comparable fat tire ebikes. I'm not sure why Haoqi doesn't specifically call this a long-range ebike as they do for the Haoqi Eagle, but it clearly competes as one.

Further, Marc liked that his ride on the Leopard felt solid and sturdy, without any tire slippage on dirt and loose gravel.

But here's the feature that Marc enjoyed the most…The Leopard Pro is fast! It really takes off and appeals to riders who enjoy a bit of a thrill-ride. Plus, with speeds of up to 28mph, you're given the opportunity to maintain that speed!

This brings us to something cool about the display. You can toggle through the odometer, trip mileage, current mileage, and more right on the front screen. So, you won't have to mess much trying to find the stats you want to see. And, of course, you can see the battery level, watts, and current pedal assist level.

Plus, being a tech lover, Marc really appreciates the USB charging port on the side of the battery.

Now, even given its lower price, it still has the features I expect in a good fat tire ebike. These include hydraulic disc brakes, an adjustable front suspension, a 7-speed Shimano Tourney gear shift, and knobby 4-inch fat tires.

Marc also loved the overall comfort of the bike with its suspension seat and adjustable handlebars, which allowed him to sit in a fully upright riding position. You can adjust the angle as well as extend the stem to get the most comfortable fit.

And then, Haoqi offers a nice surprise for an ebike at its price… full fenders and a rear rack. You'll want those fenders when riding through dirt, sand, or snow to keep debris from flying into your face or important electrical components!

And the rear rack comes in handy especially since the Leopard's payload capacity is a hefty 400 lbs. Please remember that this includes both your body weight and the gear.

In addition to a 2-year warranty, free shipping, and 15-day returns, Haoqi offers an unusual 3 years of battery replacement for free. This benefit offers a great deal of value to the Leopard's already lower-than-average price.
Before looking at the disadvantages of the Haoqi Leopard Pro, as well as the size and fit of this ebike, please take a second and subscribe to E-Biking Today on YouTube. You'll get a ton of other helpful reviews and information on electric biking and you'll have my deepest appreciation.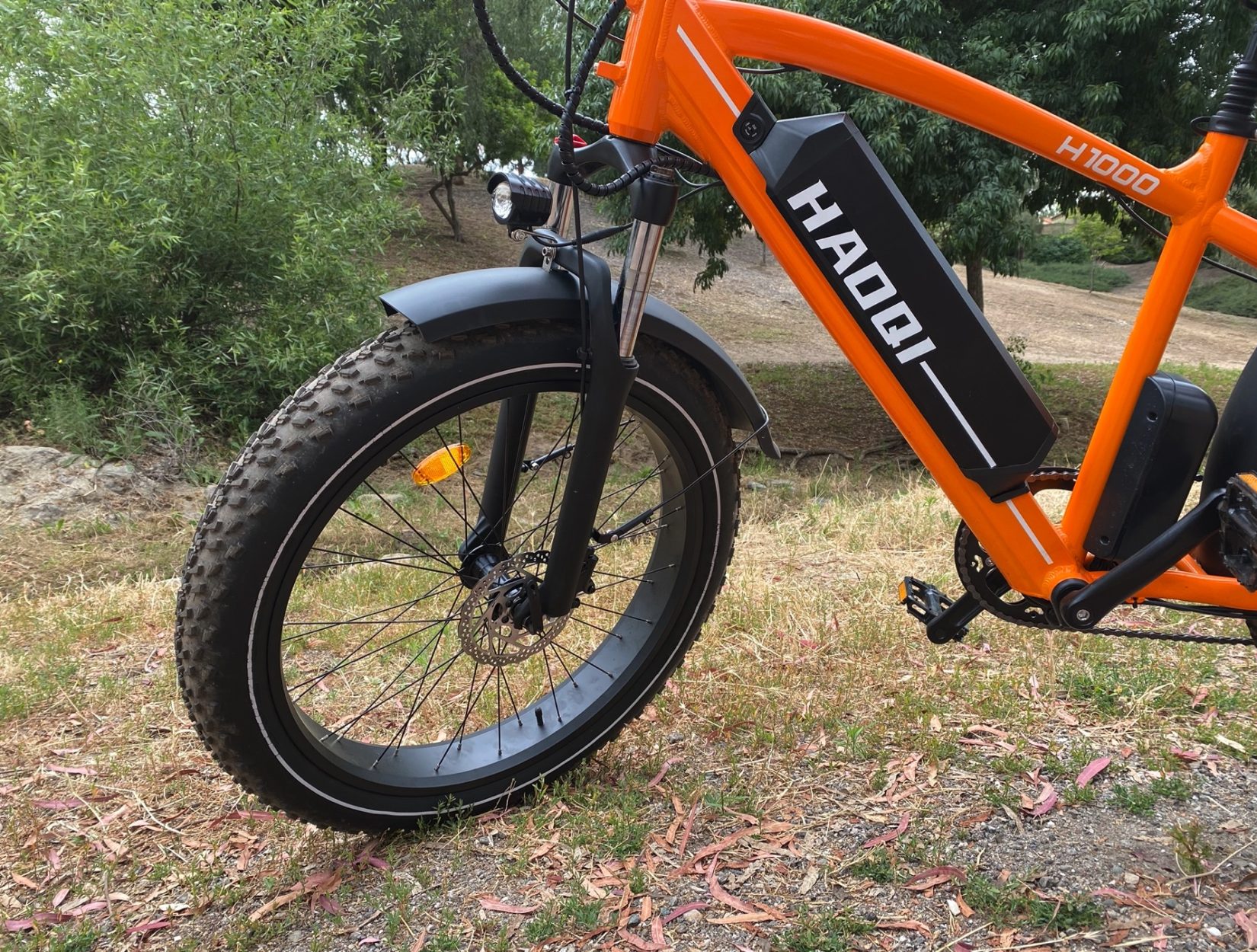 Cons
Now, here are some issues to look out for on the Haoqi Orange Leopard Pro.
First, although it has a twist throttle, it isn't "on-demand". This means that the throttle speed is tied directly to each pedal assist level. Thus, you go faster with each speed level. Further, it won't work from a complete stop without being on pedal assist level one or higher. This may be something to get used to if you've previously had an on-demand throttle.

Although Marc and I like the unique look of the display, we found it hard to see outdoors unless you have the headlight turned on.

But, most definitely, the biggest problem is that it won't fit everyone who wants to ride it, like me. The truth is, Haoqi states that it fits riders 5'5 and up. Marc, who is 5'8 fit comfortably but still felt the top bar was a bit close, encouraging him to carefully slide off the seat. 
Therefore, fitting well on the Leopard might be a stretch for those under 5'7". However, remember that your fit has more to do with your inseam measurement than your overall height. If you have long legs, you might find this electric bike to be a perfect fit.
Make sure to determine whether you will fit comfortably before choosing the best electric fat bike for you.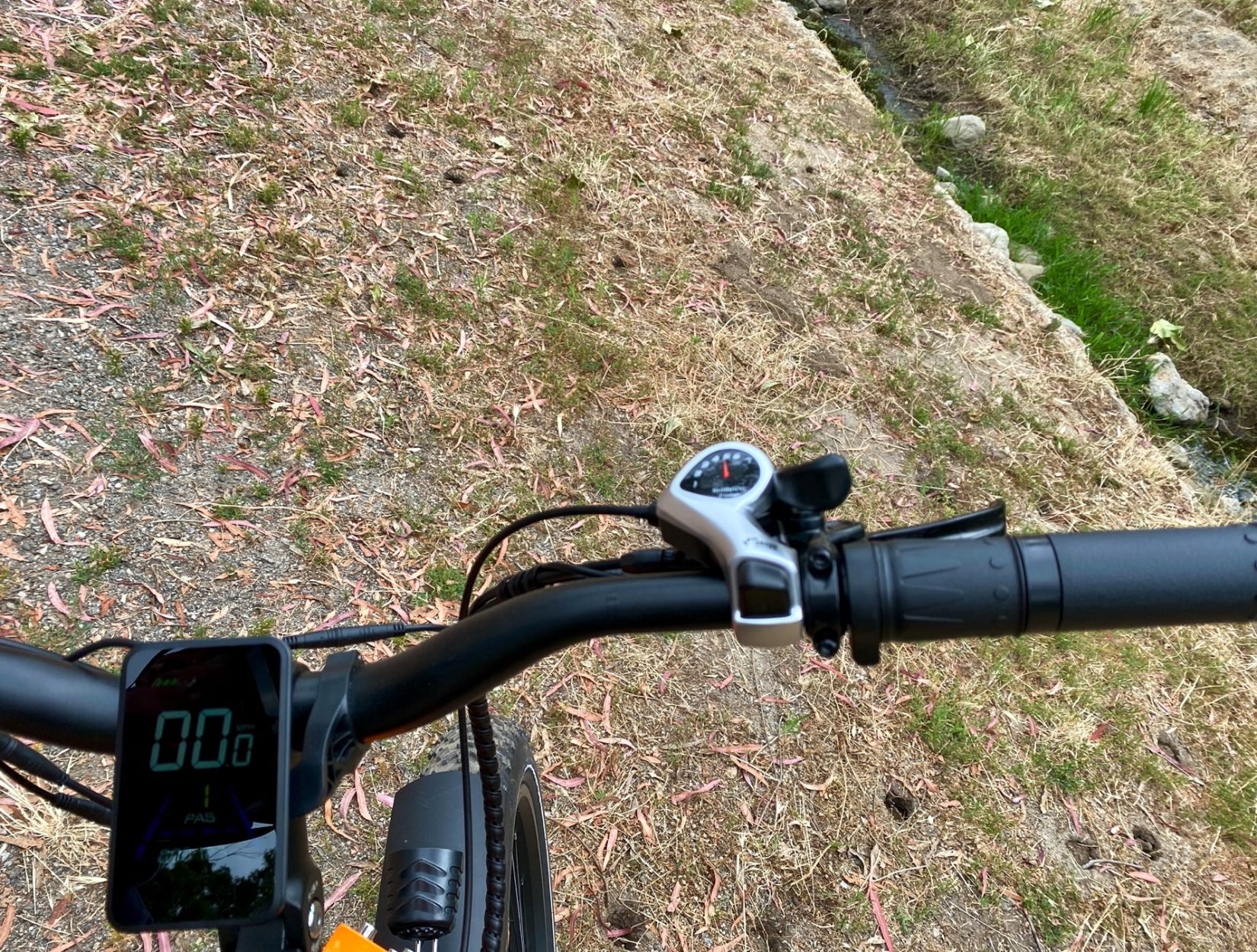 What You Need to Know Before Buying the Haoqi Leopard Pro
I'd like to suggest who this electric fat bike is best for. But first, let me make clear what you are getting if you decide to purchase the Haoqi Orange Leopard Pro. 
This is a massive, fast, powerful electric bike with fat tires to take you over rugged terrain and paved streets alike. It weighs a somewhat typical 72 lbs, which, although still heavy, is actually less than some other similar fat ebikes I've reviewed.
Additionally, I'd give the assembly an average rating, meaning that it wasn't harder or easier than what is typical. Thankfully, it came with the tools necessary to assemble the e-bike yourself.
Finally, here's a special fact about the orange Leopard Pro… it also comes in black. So, if you don't care for the highly visible bright orange color, you can get it in a traditional black as well. 
Is Leopard Pro Fat Tire Bike for You?
The Leopard Pro may be the best electric bike for you if you want a fast, long-range, value-focused electric fat bike at a totally affordable price… and if you're tall enough to ride it!
However, it may not be for you if you're concerned about taking off too fast, have no desire to go faster than 20mph, or need an on-demand throttle. 
Further, if you're on the shorter end of the suggested height range or are concerned about being able to manage a large ebike, then you might wish to check out an electric fat bike with smaller 20-inch tires, like the Antelope Pro.
It's always a good idea to learn more about Haoqi electric bikes and the Orange Leopard Pro before making a purchase decision.
You might also like to compare fat tire options by reading the Haoqi Eagle Long-Range e-bike review.
I hope you've learned much from my Haoqi Orange Leopard Pro fat tire e-bike review. Now, go out and enjoy your ride!