Here's the truth: I'd never heard of a Haoqi electric bike before they offered to send me an ebike for independent review. Since the Eagle Long-Range e-bike was a newer model with both full-size fat tires and a competitive price, I agreed to test ride and complete an electric bike review.
Now that I've tested and reviewed the Haoqi Eagle electric fat bike, I'm sharing my findings with you. Watch the video and read this Haoqi Electric Bike Review. You'll learn the pros and cons, performance details, comfort, safety features, and more about the Haoqi Eagle to determine if this is the best e-bike for you.
Pros and Cons of the Haoqi Eagle Electric Bike
Take a look at this list of the Haoqi Eagle's pros and cons, discovered through test riding and review.
PROS
CONS
The Eagle's long-range 48V 20Ah battery lets you ride
up to 75 miles
Quite heavy at 79.4 lbs
Riding feels smooth and balanced (in part because
it is an electric fat bike)
Cheap bell: Broke the second time I used it (you
can get a much better one for around $10 anyways)
The high-lumen LED headlight is easily visible to cars
The uninstalled rear, battery-operated brake light is a
bit of a disappointment with such a great integrated headlight
Throttle easily takes you up to 20+ miles per hour on
pedal assist level 5 (see what's unusual about this under
"Throttle" below)
Could be considered a con that you need to be on
higher pedal assist levels to get the highest throttle power.
The rear rack is included in the purchase price
The rack's weight limit of 33 lbs (15kg) is standard but
low considering the overall payload capacity
(it'd be nice to be able to carry more gear)
380 lbs payload capacity is pretty awesome
160mm Hydraulic brakes stop fast and smooth
Step-over or step-thru frame option
Solid-looking frame with integrated battery
Knobby, all-terrain fat tires let you ride fast and comfortably
on paved roads or off-road
Easy to put together (most of it comes pre-assembled)
2-year "all-inclusive" limited warranty covering all of
the Eagle's manufacturing defects (many ebikes only
come with a 1-year warranty); and the Battery still has
a pro-rated warranty after the 2-year period!
See detailed specs and performance below!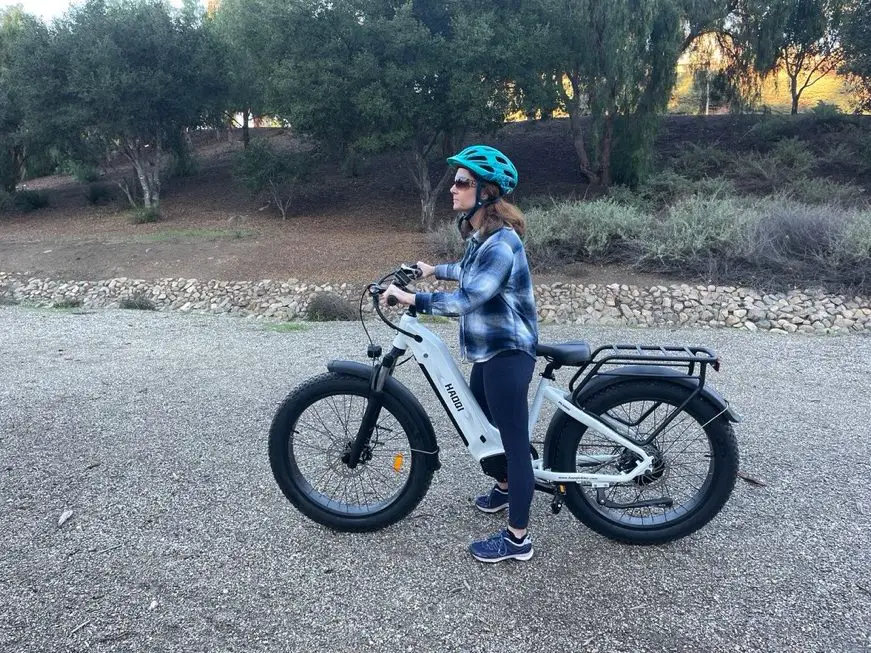 Haoqi Electric Fat Bike Review: Overview
Listed at a retail value under $2000, the Haoqi Eagle e-bike is a powerful, long-range fat tire electric bike that rides well on pavement, dirt, and gravel. As of this review, you can purchase the Haoqi Eagle Step-Over or Step-Thru electric bicycle for a discount off the regular price!
Plus, you might also get some cool, free accessories with your purchase. I was given a bike with full fenders and a rear rack, but currently, they're also offering a free trapper hat and cycling gloves.
Both the step-over and step-through versions of this long-range electric bike come with similar features. The primary difference with the step-thru frame is that you don't have to swing your leg over the top tube or bulky rear cargo to get on or off.
Overall, you're getting a powerful 48 Volt 750 Watt fat tire electric bike with a longer than typical range (up to 75 miles).
Test Rides & First Impressions
I first had the opportunity to ride the Haoqi Eagle e-bike at night, just after assembly. So, I was immediately surprised at the bright headlight! In fact, in a matter of perhaps three minutes, I had two cars pause to turn as I approached from quite a distance away. It was definitely nice to be visible in the dark!
Additionally, three other experienced e-biking friends enjoyed taking it for a spin. We were all immediately excited at the power and speed and there was a lot of high-pitched laughing going on!
One of the other first things I noticed during e-bike testing is how stable the Haoqi Eagle feels. The 4.0″ fat tires do an excellent job of balancing and giving a sense of security on loose ground. Honestly, I was initially a little worried about riding such a heavy electric bike, especially since I'm a small rider. So I was surprised that I felt quite comfortable riding it (more on comfort later on).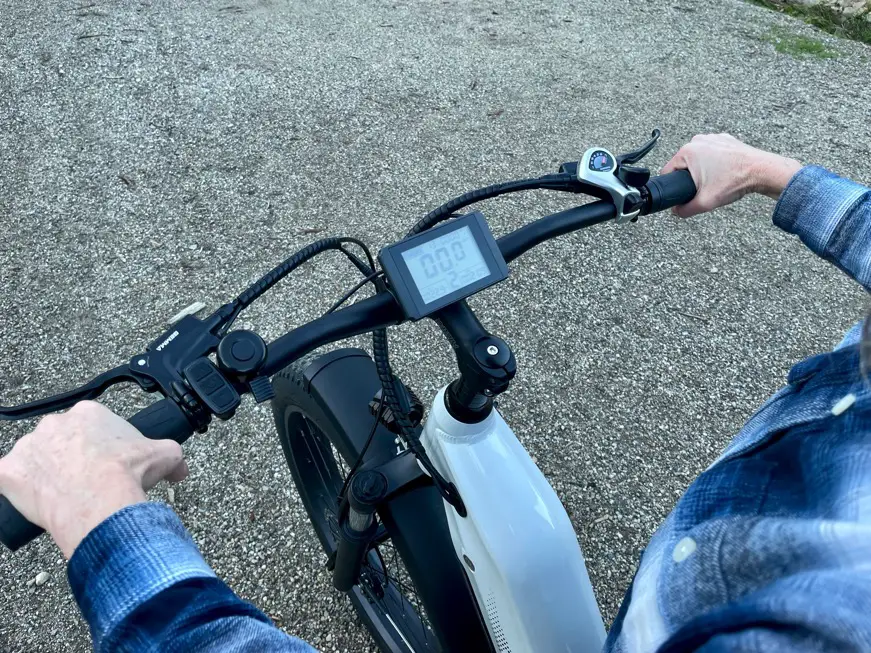 Haoqi Long-Range Eagle E-Bike Review: Performance and Specifications
Since my first nighttime ride, I've taken it on streets, bike paths, and off-road. It handles very well and my husband, Marc, and I have had a lot of fun.
Read the review notes in the table below to learn what we've discovered about the Haoqi Eagle.
| | | |
| --- | --- | --- |
| Performance | Components | Review Notes |
| Motor | 750W Sustained Geared Hub Motor; 86nm torque | More than powerful enough for commuting and all-terrain riding |
| Battery | 48V 20Ah LG High-Tech/Samsung | Plenty powerful and excellent battery capacity with 20 Amp Hours; A little hard to get the battery out on the underside of the frame |
| Range | 40-75 miles | The large battery capacity adds up to a longer range than the average e-bike (many ebikes only let you ride up to 40-45 miles) |
| Brakes | Gemma 160mm Hydraulic Disc Brakes w/ Cut-off Sensor | Although I'm not familiar with the Gemma brand, the brakes stop smoothly and quickly, which is super important on a heavy e-bike. |
| Front Fork | Alloy Suspension w/ lockout | Very comfortable ride over dirt, twigs, gravel, and leaves. As expected, I still felt the bumps over deep rivets, but it handled well and I didn't experience any slipping. |
| Drivetrain (Gear Shifts) | Shimano 7-Speed Shifter | Shifts smoothly into each gear without sticking. |
| Derailleur & Cassette | 7-speed Shimano Derailleur & Shimano 14-28T freewheel | No problems, no noise, and no clunking sounds when gears are shifted |
| Display | Multifunctional LCD Display | You get the basic functions, which include battery capacity, speed, mileage, and pedal assist level. |
| Tires | 26.0″ x 4.0″ INNOVA | Provides a smooth, comfortable ride; I noticed tire noise when going fast on paved roads (but they are 4″ wide tires that make a lot of contact with the road, so this can be expected) |
| Throttle | Standard Half-Twist Throttle | Amazing power on levels 4-5 but much lower on levels one or two. I'd prefer a greater burst of speed at a lower pedal assist level when crossing streets or riding with traffic (but cars don't expect you to go that fast) |
| Sensor | Cadence Sensor | Standard: It works! |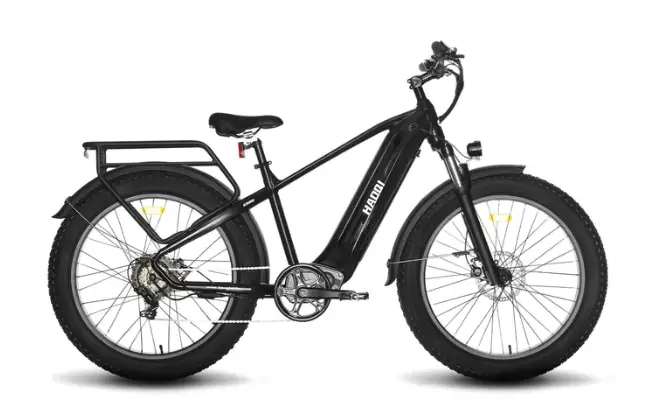 Motor
The rear hub drive 48V 750W motor is plenty powerful and fast. The Eagle ebike takes off quickly and the motor is relatively quiet.
Battery & Range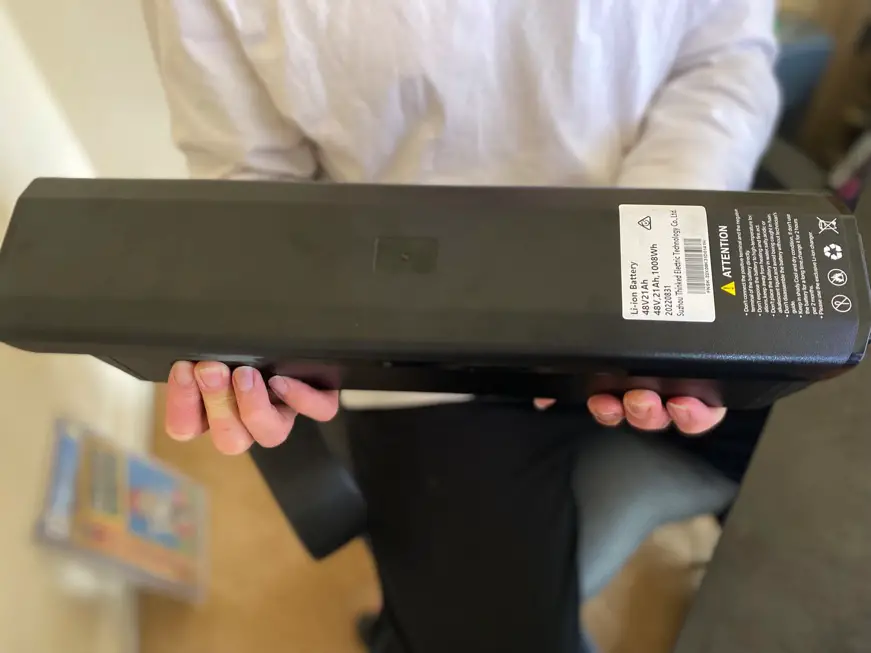 Thankfully, the Eagle's high-capacity, long-range 48V 20Ah battery can take you on a longer than typical ride. You should be able to get a 40-70 mile range on one charge. I easily rode 20 miles on levels 1 and 2 without noticing a battery charge drop. However, as soon as I used the throttle (which I tested to its max capacity), the display showed a drop of around 15-20%.
Naturally, how many miles you'll get on a single charge depends on several factors.
Yes, the battery needs about 6-9 hours to fully charge from 0%. However, I think that most riders who want to ride long distances will appreciate the range. And those who take short rides will be able to take several short rides before needing to charge again.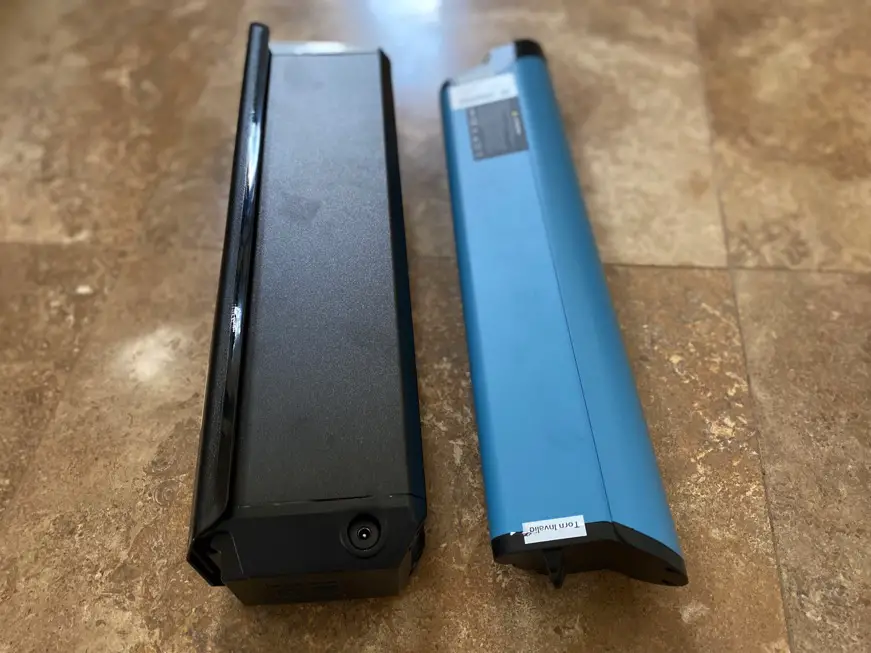 Pedal Assist
The 12-magnet intelligent pedal assist is standard and works as it should. On flat ground, I felt a speed increase at each level. And, increasing the assistance as I climbed a steep hill kept me at a consistent pace.
Throttle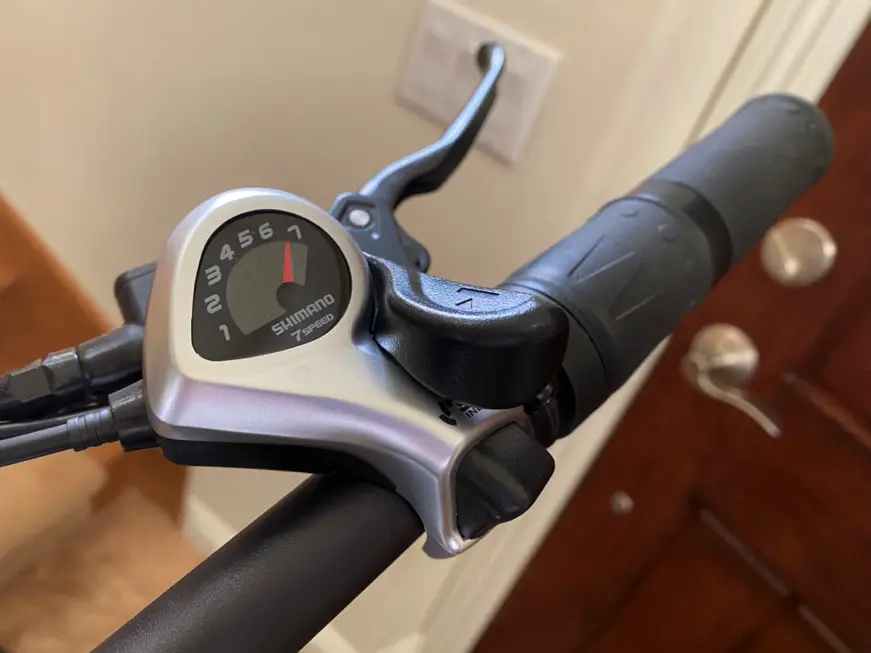 The Eagle comes with a standard half-twist throttle that works in an interesting way. It's definitely powerful enough to get up to 20mph fast, but you need to be on pedal assist level 5. Here's what the throttle speed burst looks like at each level on a slight incline:
8-9 mph on PAS Level 1
11mph on PAS Level 2
15mph on PAS Level 3
17mph on PAS Level 4
20mph on PAS Level 5
I suppose this could be considered a good design. If you're riding on level 1, then it's likely you don't want or need to take off super fast. Taking off more slowly is consistent with your general speed and is probably safer.
So, just keep in mind that you won't be able to throttle fast unless you first dial up your pedal assistance.
Consider your overall battery life before using the throttle too often.
Additional Specs and Components
Here's what else you get when you buy the Haoqi Eagle Long-Range Ebike:
Integrated Front Headlight
Front and Rear Fenders
Rear Cargo Rack with a maximum weight of 33lbs (15kg)
Plastic Pedals with Reflectors
Promax 31.8*90E Stem
Promax 31.8*720MM Handlebars (let you sit upright)
Long Rubber Grips
Upgraded Soft Saddle (Waterproof)
KMC 7-Speed Chain
Steel ED Spokes
16″ Kickstand for Extra Support
Two Keys for Integrated Battery Security
Weight, Load Capacity, & Dimensions
| | | |
| --- | --- | --- |
|  | ST (Step-Through) | XR (Step-Over) |
| Bike Weight | 79.4 lbs | 79.4 lbs |
| Max Load Capacity | 380 lbs | 380 lbs |
| Recommended Rider Height | 5'3″-6'2″ | 5'5″-6'8″ |
| Stand-Over Height (Inseam) | 28" | 43.7″ |
| Seat Height | 27.5″-36.2″ | 30″-38.6″ |
| Handlebar Height | 44.9″ | 44.9″ |
The Haoqi website reports the payload capacity for the Eagle electric bike to be between 350 lbs and 380 lbs. In the chart above, I listed 380 lbs as the maximum weight limit. This includes whatever gear you put on your rear rack.
For safety purposes, I believe it's always wise to fall a little under the maximum capacity.
Comfort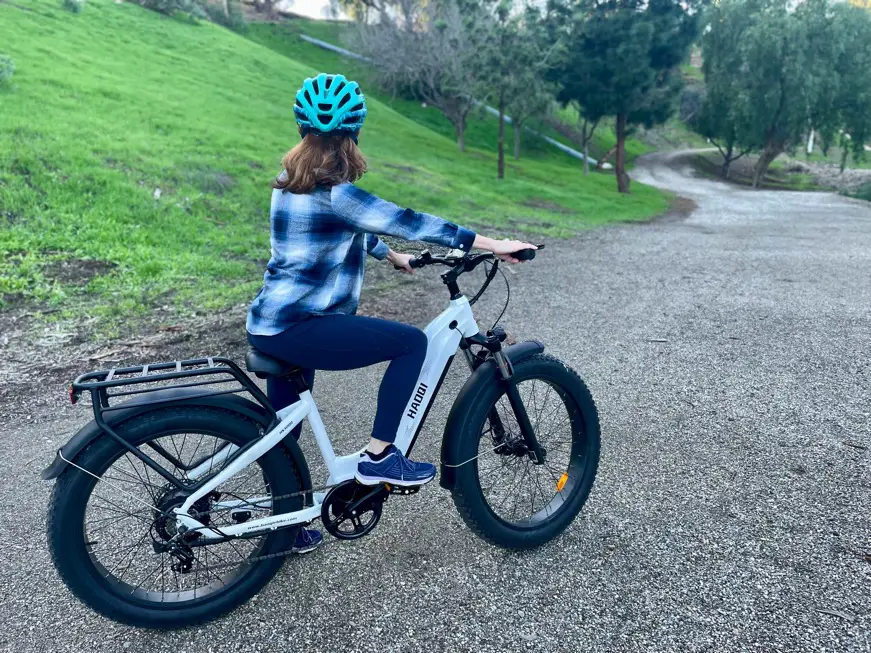 Overall, the Haoqi Eagle electric bike is comfortable and easy to ride. This is especially notable for small riders like me. After all, it's a big, heavy ebike and every rider should feel good about handling it.
When it comes to comfort, the Eagle offers what is expected for an electric bike of this price.
Bike Saddle: The seat is slightly larger and more comfortable than the standard e-bike seat. I found it to be just fine on a 12-mile ride. But since this is a personal thing, it's easy to add a seat cover or a new seat if you need more padding.
Handlebar Grips: They're not ergonomic but rather fully round. They're not the most comfortable grips ever, but I doubt I'd even consider them if I wasn't writing an electric bike review. That being said, I'm able to get a good grip and my hands didn't slip when going over rough terrain.
Suspension: The front suspension knocked out a lot of jarring over bumpy terrain and provided a comfortable ride.
Safety
The Haoqi Eagle provides basic safety features:
High Lumen Headlight: This is the safety feature that stands out. The headlight is powerful and very noticeable to others (cars stopped for me from a good distance away).
Battery Operated Rear Light: This is not integrated into the electrical system and requires a battery.
Bike Bell: I can't say much about this bell other than it's pretty cheap. I used it once and felt it break under my small thumb. You're better off getting an inexpensive higher-quality bell like this one on Amazon.
What Other Eagle E-Bike Owners Are Saying
There aren't a lot of reviews on this newer electric bike model yet. However, the Haoqi Leopard electric bike, which the Eagle was upgraded from, has many customer reviews, most of them 5-star. But, here's the feedback so far on the Haoqi Eagle ebike, long-range, which also has 5 stars.
What Eagle E-Bike Owners Like and Don't Like
Liked by Customers
Not Liked
Easy to assemble
Some riders prefer a mid-drive motor
(this would hike up the price significantly)
Fat tires handle a variety of terrain, including snow
It's a heavy e-bike
Get up to 75 miles on a single charge
Quickly climbs hills
Long-range battery
Hydraulic brakes increase stopping power
Comfortable handlebar grips
Unboxing and Assembling the Haoqi Eagle: Time and Instructions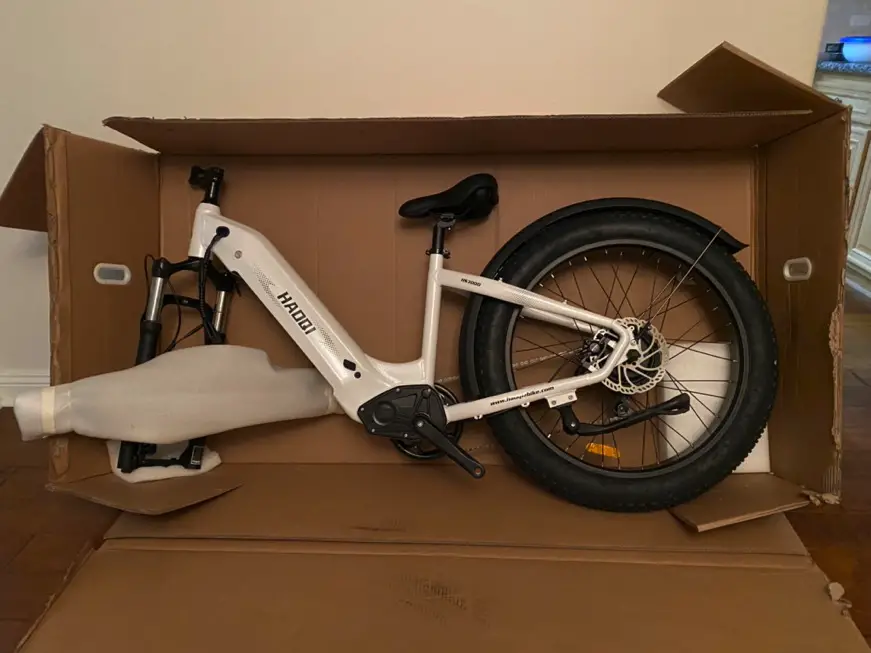 Unboxing this Haoqi electric bike was straightforward. Because it is a pretty heavy bike, we cut down both sides of the front of the box with a box cutter. Then, we simply leaned it carefully against the wall while inside the box still (so it wouldn't fall over).
Then it was easy to remove the big front tire and fender, rear bike rack, and the pedals and included tools.
You can expect to spend an hour attaching the front tire, handlebars, pedals, fender, and rear rack… less time if you are a bit handier. It was a bit hard to get to the handlebar bolts with an Allen wrench, so this accounts for some of the extra time we spent.
Overall, the Haoqi Long-Range Eagle was a fairly easy ebike to assemble since most of it was pre-assembled.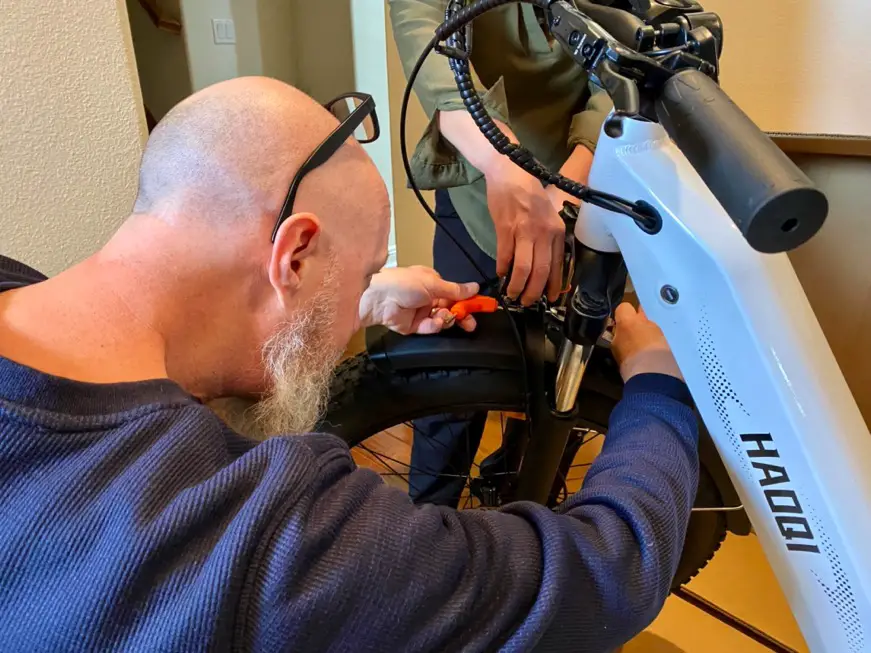 Brand Overview
| | |
| --- | --- |
| Service and Support |  |
| 2-Year Warranty | Twice as long as the standard e-bike warranty |
| 30-Day Returns | This is a great guarantee that you will love your e-bike |
| Free Shipping | Standard if you live in the Continental United States |
| Paypal or Klarna Payment Plan | As low as $80 per month |
| Owners Manual | Haoqi Eagle |
Should You Buy the Haoqi Eagle Electric Fat Bike?
It's definitely worth your consideration if you want a solid fat tire ebike that's fast and fun or if you plan to ride over rough terrain and off-road bike trails.  
Without a doubt, I was way more comfortable on the Eagle's 26 X 4-inch fat tires than on my current 20 X 3-inch tires. The Eagle's tires easily gripped loose dirt and leaves and didn't make me feel like I'd lose the bike from underneath me.
Although you won't find high-end components, the Eagle has everything you need in an affordable adventure ebike, including a powerful motor, a longer 75-mile range, a 380-pound weight maximum, and a rear rack.
Hoaqi Electric Bike Review: Wrap-Up
Overall, the Haoqi Eagle electric fat bike is a fast, powerful electric bike that takes you anywhere you want to go. You can ride it down the street or on a dirt trail. Wherever you go, it feels sturdy, well-balanced, and comfortable to ride. Personally, I love how the tall 4″ fat tires and front suspension absorb shock, giving me the confidence to ride on slippery dirt and gravel.
Even with its few cons (see the list above), I find it to be a competitive fat tire e-bike with an affordable price.
Check out the Haoqi Eagle here.
Thanks for reading the Haoqi Electric Bike Review of the Eagle Long-Range!