E-biking is a stunning past-time in Colorado as the state has many views and topographies for recreational electric bike riders to explore.
You can ride up to the top of a snow-capped mountain crowned with a sparkling lake, motor through a hot sandy gulch with a mountain-range view, or cruise through an Alpine forest next to a pebble-strewn creek.
In fact, there are so many that I had to narrow it down to the best of the best!
Here is my bucket list of the 7 best electric bike trails in Colorado:
Wonderland Lake Loop Foothills Trail
Gore Valley Mountain Bike Trail (East Vail Trail)
Crater Lake
Dirty Bismark – Marshall Mesa
Mount Falcon Park Trail
Left Hand Canyon
West Magnolia

Continue reading below to get the finer details of each bike trail, including what you'll see and what to expect. Further, discover the difficulty level, length, the approximate time required to complete, and elevation, which is critical to know about each bike path before riding.
1. Wonderland Lake Loop Foothills Trail
Distance: 4.7 km (2.92 miles)
Elevation:  52 m (170.6 feet)

The Wonderland Lake Loop begins at Lee Drive in the west end of Boulder, Colorado. This well-lit, all-season trail meant is for urban hikers and mountain bikers.
Paved pathways lead north, through wildflower meadows, and then veer south along the rocky banks of Fourmile Canyon Creek.
Follow the creek leads to a cement path that circles the sparkling waters of Wonderland Lake, and then back to the Trailhead at Lee Avenue.
This relaxed ride for ebikes is best enjoyed at a slower speed, even if you have the urge to go 20 miles an hour.
2. Gore Valley Mountain Bike Trail (East Vail Trail)
Distance: 6 km (3.72 miles)

Elevation: 24 meters (78 feet)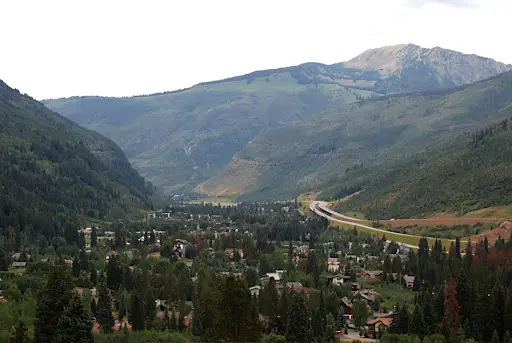 This paved e-bike path begins at the Village of Vail east parking lot and meanders through bike lanes and residential streets, eventually opening up to wide open spaces with views of Alpine fields. 
It's perfect for e-bikers who prefer a mix of natural trails, urban scenery, and perhaps a stop-off at a local cafe.
Follow motorized trails through beautiful Gore Greek to the west. A mix of pavement, dirt trails, and bike lanes takes you through dense trees, a golf course, and an Alpine meadow. 
Electric mountain bike riders can picnic at Vail Memorial Park, a large flat grassy area with public washrooms.
The elevation is 24 meters so you may need to use your pedal assist motor on the way up, but when the trail loops back it's all downhill. You can coast with your electric bike motor off for a bit on your way back.
3. Crater Lake
Difficulty: Easy
Duration: 2.5 hours
Distance: 6.6 km (4.10 miles)
Elevation: 177 m  (580.7 feet)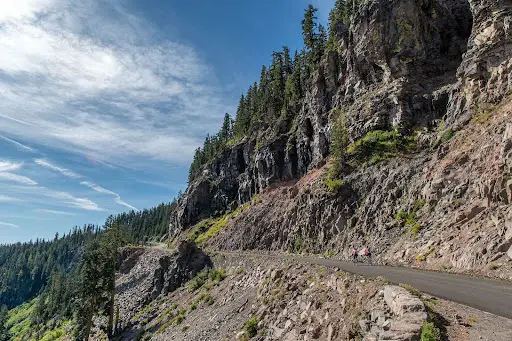 Crater Lake is a hard dirt-packed trail and vehicle-free bike path that is 8 km west of Aspen off Maroon Creek Road.
The trek begins at the parking lot with its iconic view of Maroon Lake. Follow the trail to the end of the lake, and after a brief climb, find yourself on Crater Lake's east side. 
After taking in the incredible view of North Maroon Peak, Pyramid Peak, and Sievers mountain, you can circle back to the parking lot or stay a night or two at one of the Crater Lake campsites.
4. Dirty Bismark – Marshall Mesa
Distance: 24.5 km (15.22 miles)
Elevation: 24 meters (78 feet)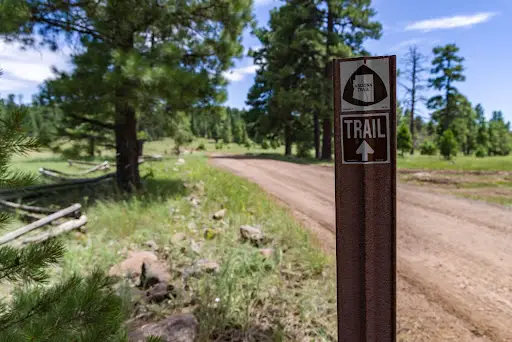 Dirty Bismark is a cross-country path that offers you the feeling of being in the middle of nowhere, even though it passes quite close to nearby towns.
This route is one big loop that takes you through miles of treeless terrain, thus offering views of the Boulder Flatirons.
The dirt trail is rugged, but across flat land and mostly dirt. It suits riders on a regular mountain bike, as well as a fat tire ebike or one with all-terrain tires.
The trailhead begins in the west at grassy Marshal Hill and takes you through side roads and cattle gates. Natural surface trails turn into well-maintained gravel as you approach the outskirts of Boulder, Colorado.
A turnoff at Coalton Park Trailhead offers a steep climb up a dirt road to the top of the Davidson Mesa. 
The descent from the Greenbelt Plateau is a single-track trail, but at least you will save electric motor power as you coast down the dusty mountain bike trail from the Davidson Mesa.
5. Mount Falcon Park Trail
Distance: 11.9 km (7.4 miles)
Elevation: 24 meters (78.7 feet)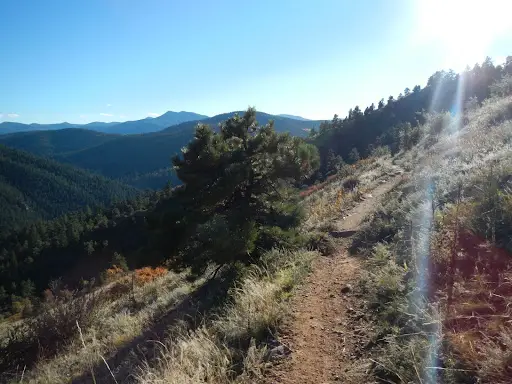 Mount Falcon Park Trail is challenging because of its elevation, but good for off-road capable e-bikes because of its hard-packed surface.
This lollipop-shaped route appeals to those who enjoy a slower, casual ride through urban trails and then into the woods.
The e-bike trailhead starts in Morrison, just west of Denver on Vine Street. There is an initial steep hill from the Mount Falcon Park parking lot that leads to the Castle Trail and it has designated bike lanes for mountain bikes and electric bikes. 
Keep to your right to stay on the main, wider Castle trail that leads to panoramic views of the ruins of the Summer White House, also known as Mount Falcon Castle.  Then, continue following the urban trail system around the loop to find your way back to the parking lot.
6. Left Hand Canyon
Distance: 52.7 km (32.72 miles)
Elevation: 24 meters (78 feet)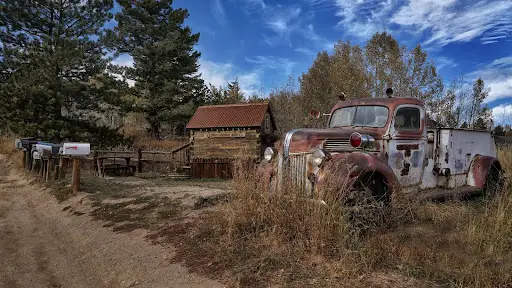 Left Hand Canyon takes you on a shaded scenic ride all along the Colorado Front Range. Note that unless you are riding a Class 3 motorbike, you are restricted to the designated bike lanes.
This day-long bike ride begins in Boulder Valley and takes you up the mountains to the mining town of Ward.
Enjoy views of the Arapaho plains and Roosevelt National Forest as you cruise through canyons on a flat paved road.
The road is steep during the final mile so make sure you've reserved enough battery life to complete the trek. Stop for refreshment in Ward, before looping and coasting back down the mountain (no battery power required!).
7. West Magnolia
Duration: 2.5 – 3.5 hours
Distance: 20.9 km (12.99 miles)
Elevation: 529 meters (1735 feet)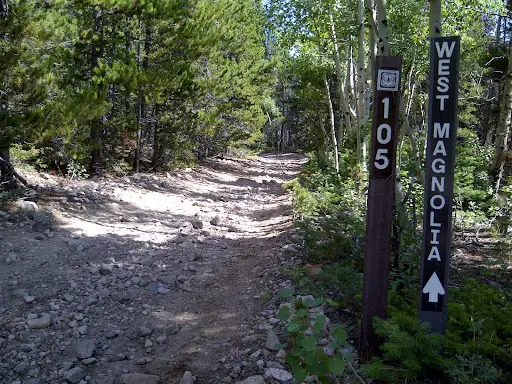 Roam through dark forests on your electric bike, by exploring the West Magnolia trail network. The trailhead is in the town of Nederland, just north of Boulder, Colorado.
These dirt trails are called "spaghetti trails" because they are irregular and connect to each with shortcuts. These multi-use trails best suit throttle-assisted electric bikes with good suspension and electric mountain bikes.
The first section, "Hobbit 1", takes you through forests decimated by controlled burning ending with a view of Golden Gate State park.
Hobbit 1 drops you into the dark forest Hobbit 2, and ends at a campsite with a very steep hill.
Electric bikes can ascend Hobbit 3 to the Lost Meadow, which opens up into a valley with Aspen trees. 
As you travel up the Rocks and Routes part of the trail, you will pass an abandoned school bus. At this point, you can turn your e-bike back the way you came or coast down the Look Out Trail at top speed back down to the parking areas.
It is the fact that these natural trails are quite rough, and without signage that makes West Magnolia one of the harder Colorado trails for e-bikes to ride.
Things to Know About Colorado Bike Trails
As in any part of the world, the weather can be unpredictable in Colorado Parks but you can check the condition of the e-bike trails before you depart.
Check for Trail System Closures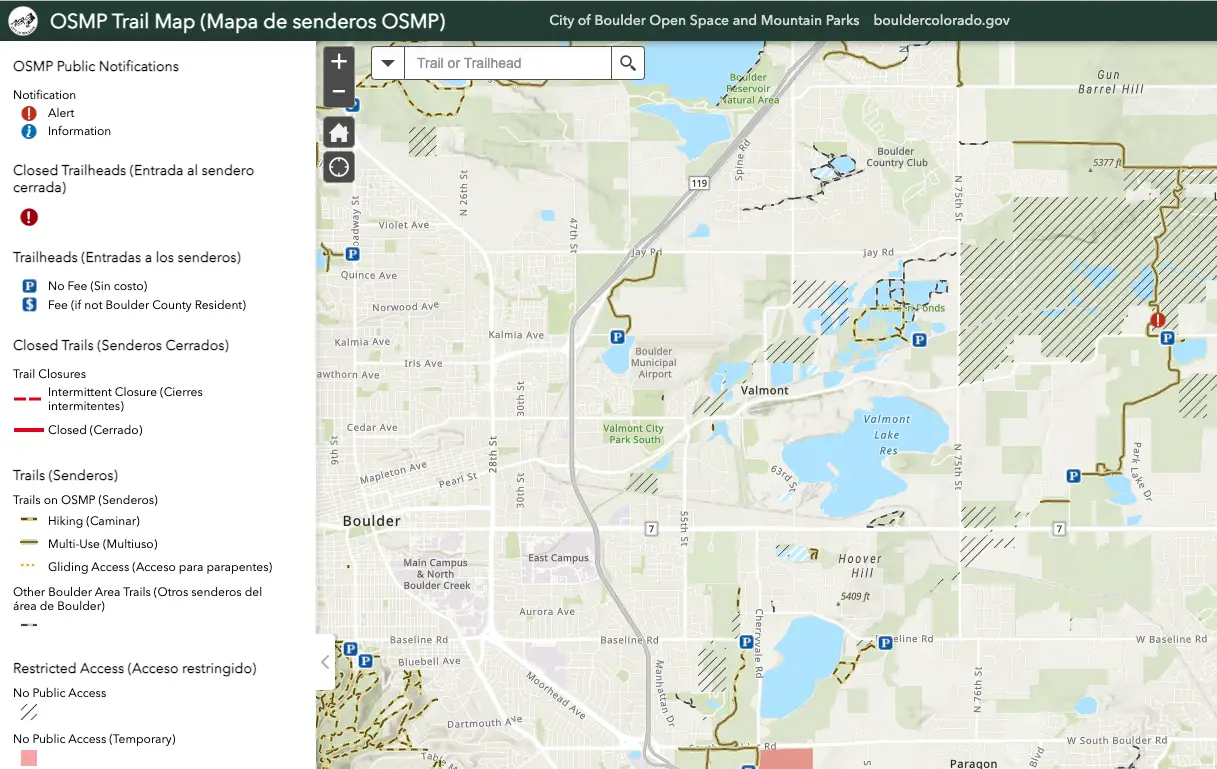 Before you navigate mountain biking trails with steep ascents, such as the Dirty Bismarck trail, it is a good idea to check for closures. No electric bikes are allowed on trails damaged by avalanches, floods, fires, or storms.
Throttle-assisted electric bikes can give your e mountain bike a real boost as you mount the trails.
Mountain e-bikes with fat tires are best for riders that want to try this type of terrain.
Riding Motorized Vehicles and Bikes In Colorado Parks
As you've discovered, you can coast along a smooth paved road or dig your wheels in and spray some dirt in Colorado. However, be sure to maintain the 20mph speed limit The motorized trails in Colorado Parks are well maintained by the forest service to accommodate mountain bikes and electric bikes.
Many trails require an e-bike with all-terrain tires and suspension. Further, every ride is more comfortable with a suspension seat post.
Summary
Many of Colorado's e-bike trails connect with each other. Therefore, it is well worth checking the trail map of your chosen route to see if you can fit in an additional hour of sightseeing or a visit to a local town.
Be sure to fully charge your e-bike battery before you leave so you can put in the extra mileage without running out of power. Further, make sure to check that your chosen trail is one where electric bikes are allowed.
Finally, it's a good idea to take the number of the forest service or land management with you. This is in case your electric motor runs out of battery power and you need to be picked up from summit country.
Ready to add to your bucket list of the best e-bike trails in the USA? Here are the 7 best places to ride your e-bike in California!