If you have an electric bike rider in your life or are one yourself, you know that riding an e-bike is all about fun, recreation, good health, and exercise. So when you're ready to give a gift, you want it to be meaningful and reflect what the rider gets out of e-biking.
To make it easy to find the best gift for an electric bike rider, I've curated a list of gifts that focus on safety, health, comfort, and/or fun.
Choose from the list below to find the perfect gift for the e-bike rider in your life.
I've updated this list with some gift ideas that I have purchased over the last year for riding my e-bike (Updated November 2022)!
Use the table above to get some gift ideas. Then read below to find out more about why each gift may be the best one for the electric bike owner you know.
You won't find a typical t-shirt or mug with a canned quote on this list, but if that's what you're looking for, Amazon has t-shirts and mugs like this one for e-bikers.
But if you want to get an e-bike gift that's useful and helpful, take a look at this list of the best gifts for e-bike riders!
REDSHIFT ShockStop Suspension Seatpost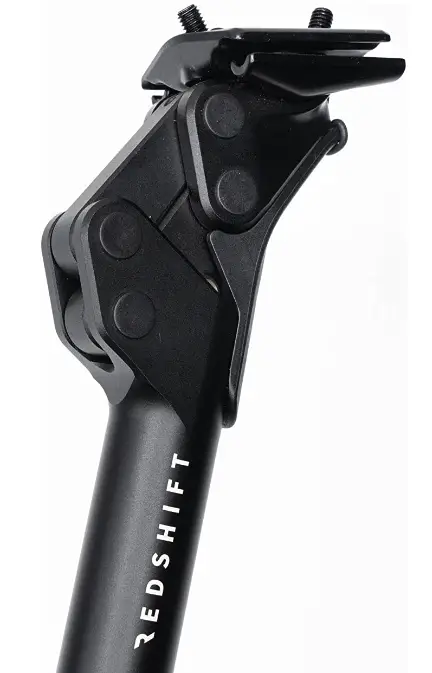 Thanks to this amazing Shockstop Bicycle Suspension Seatpost, you can ride smoothly and comfortably for as many miles as your electric bike will take you!
Just adding this simple suspension seat post will reduce vibration and dampen bumps by 60%. But not only will it improve your comfort substantially, but it'll also help reduce fatigue in your body, help you go faster, and let you stay in control on rough terrain, thus keeping you safer!
With 35mm of tunable responsive travel and four bars of linkage, you can adjust it until it matches your riding style. Plus, your saddle will maintain the same angle throughout your ride!
Get your REDSHIFT Suspension Seatpost on Amazon for $230!
Pellking Phone Action Camera Chest Mount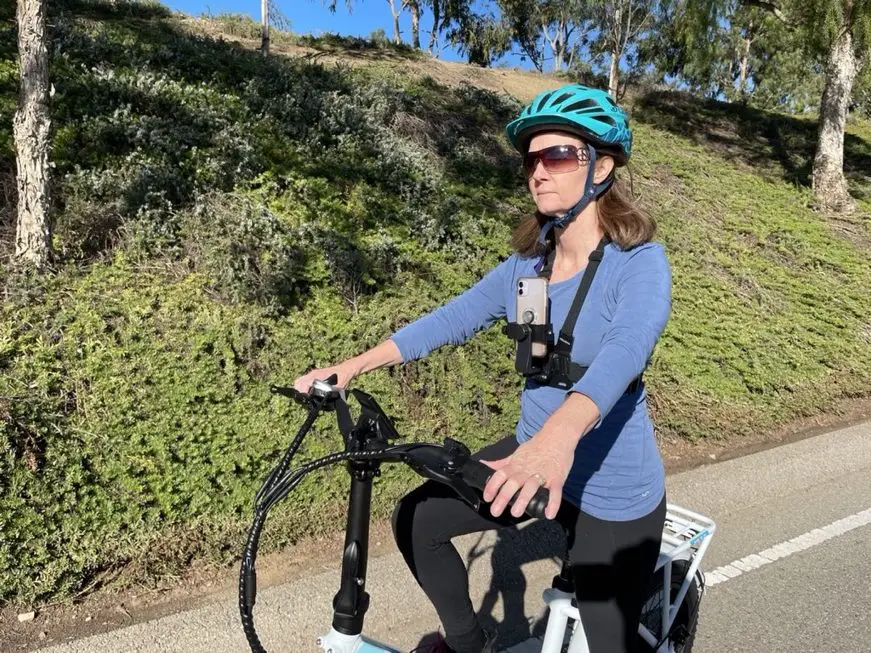 This was one of my favorite purchases this year! The Pellking Phone Action Camera Chest Mount lets you take video on your mobile phone while you ride!
Just strap it to your chest, insert your mobile phone, and adjust it to fit snugly.
When I was searching, this was the ONLY reasonably priced phone mount that could turn both vertically and horizontally. This is essential if you're creating YouTube shorts or reels!
What I really appreciate is that it adjusts to your size using multiple straps (and therefore, it even fits me, an extra small person). You will want it to fit tightly to reduce camera movement!
Get the Pellking Phone Action Camera Chest Mount from Amazon for only $19!
Safety should always be at the top of the list when it comes to riding an electric bike, especially due to the increased speed at which an e-bike rider can go. So if your friend or loved one doesn't have a high-quality MIPS helmet, make sure to get them one.
MIPS stands for Multi-Directional Impact Protection System. It adds a level of protection over regular bike helmets by reducing injury from angled impact, which is typically what happens to your head in a crash.
And the Giro Isode MIPS Adult Road Cycling Helmet is probably the "safest" gift you'll ever give.
Besides the head protection, you can choose your gift in six different colors, so you're sure to find the best one for the gift receiver. As a bonus, there are 24 vents for good airflow, it's unisex, and it fits most adults. Plus, it's one of the more affordable quality MIPS helmets out there.
Give the best gift for riding safely for around $65, Amazon.
Souke Sports Winter Cycling Gloves
The Souke Sports Winter Cycling Gloves water-resistant winter gloves are a great gift to provide comfort while riding an electric bike. Temperatures get really cold fast when you're racing against the wind (which is so easy to do on an e-bike!).
These gloves give your hands warmth while providing superior grip and shock absorption, which are the first things you need from good cycling gloves. What's even better is that these gloves still allow your fingers to move freely, allow touch screen ability, and offer a micro-fiber thumb to wipe away sweat and moisture.
They'll keep hands warm while keeping the fingers free to chime a bike bell, use a smartphone, or pull on the brakes.
And they come in 4 colors and 5 different sizes, so they're sure to fit everyone (men and women ). These are an especially welcome gift for e-bike riders who have cold hands like I do (I won't ride without them during the fall or winter!).
Give the gift of warm, comfortable cycling gloves for $19
Bike Camera – REMALI CaptureCam 4K Ultra HD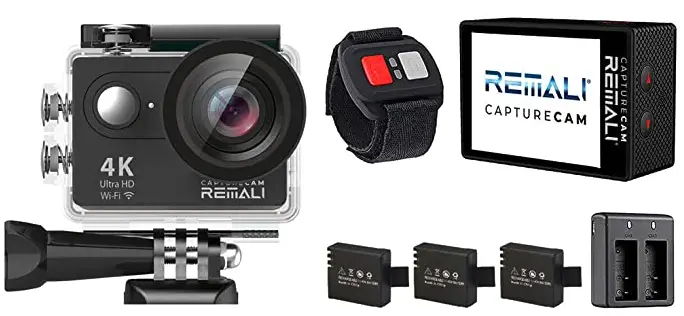 You can't go wrong with gifts that entertain! The REMALI CaptureCam 4K Ultra HD does just that. This gift captures the adventure and fun of every e-bike ride... and those reviewing it are loving it for the great customer service and the price!
And, the receiver of this gift is going to love you (if they don't already)! With 21 different mounts, you can attach it to an electric bike and just start riding. It's waterproof to 98ft, anti-shake, and wi-fi enabled. Plus, it captures wide angles, burst photos, and has a remote control, among other things.
This is such a fun gift, you might just want to buy it for yourself… and at this price, you can (The famous Go Pros start at double the price of the Remali HD camera!
Best price for a super cool tech gift at $99 from Amazon!
Rear-View Mirror – Hanfy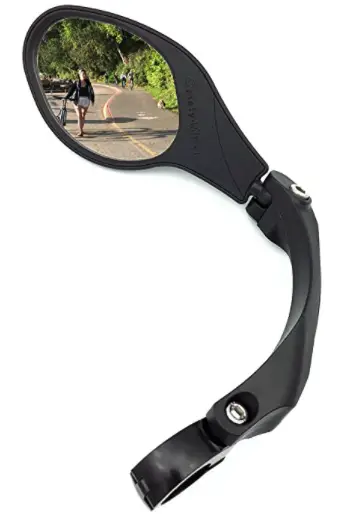 A bike rear-view mirror is one of the top safety devices I recommend. I use mine every time I ride my e-bike, and it's saved me from veering in front of cars and on street corners on numerous occasions.
This is one of the best gifts for safety-conscious electric bike riders… and might be something they haven't even thought of, especially if they're beginner e-bike riders.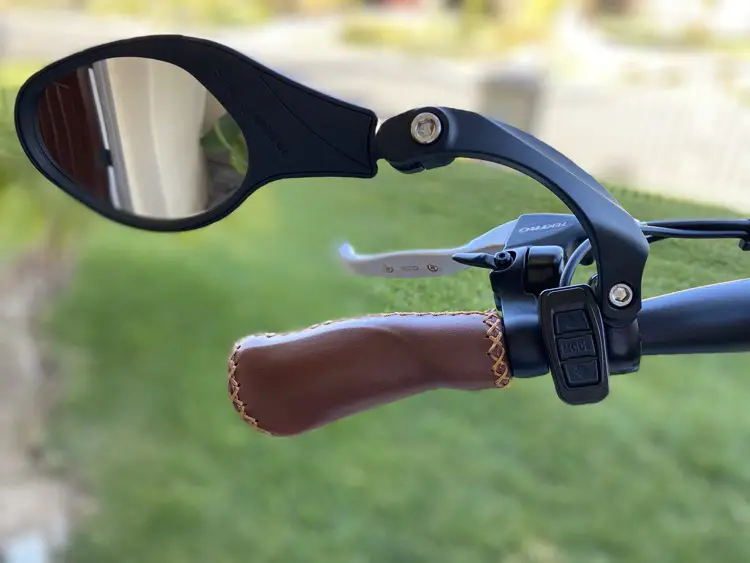 Most mirrors adjust to fit most e-bike handlebars, but I can recommend the inexpensive Hafny Handlebar Mirror from Amazon… it's worked great for me and my husband.
Buy this e-bike gift on Amazon for $17.
Rear View Camera -FEISIKE Handlebar Bike Camera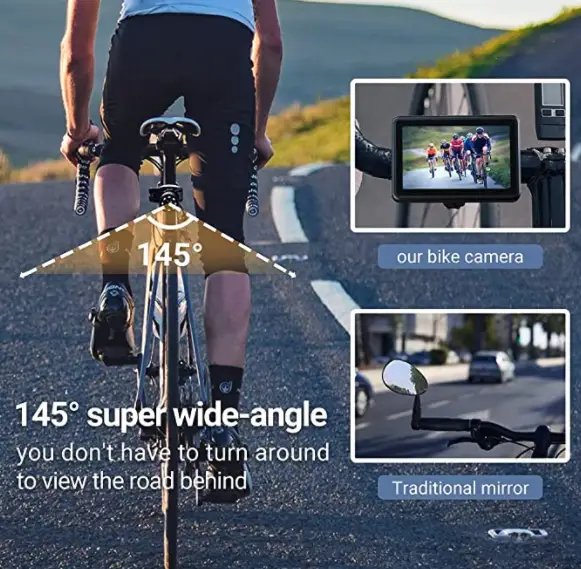 Ready to step up your gift-giving a bit? How about giving a rear-view camera as a gift, instead of just a rear-view mirror? The FEISIKE Handlebar Bike Mirror and Rear View Camera is a cool and useful gift for its relatively small price.
Why is a rearview camera needed? Not only will it help the e-bike rider to see what bikes or cars are approaching from behind (on a color screen), but it also provides evidence of an accident! And it can see what's going on at night as well!
This gift can reduce a lot of stress for bike riders… they can stay safe without looking over their shoulder constantly!
Check out this cool rear view camera with 4.3" HD Night Vision for only $60 on Amazon!
Cycling Glasses: Rockbros Photochromic Sunglasses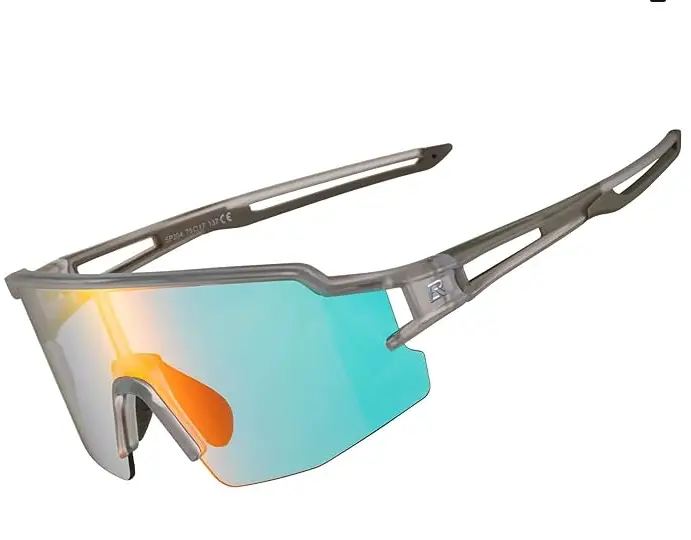 UV400-protected, photochromic sunglasses are needed to protect an e-bike rider's eyes. Using electric pedal assistance gives e-bike riders the ability to travel fast! Besides the chance of bugs flying in your eyes (I've definitely felt them hit my glasses!), these glasses are impact-resistant, scratch-resistant, and unbreakable.
So, not only do they make it easy to see while riding, but they protect cyclists' eyes from anything that could be blown in them.
I also love that they aren't the typical thick, ugly cycling goggles. They're so cool that you can wear them on your e-bike and off. Plus there are eight unisex styles to choose from.
Give one of the best gifts for e-bike riders for around $28 on Amazon.
Heart Rate Monitor – Garmin HRM-Pro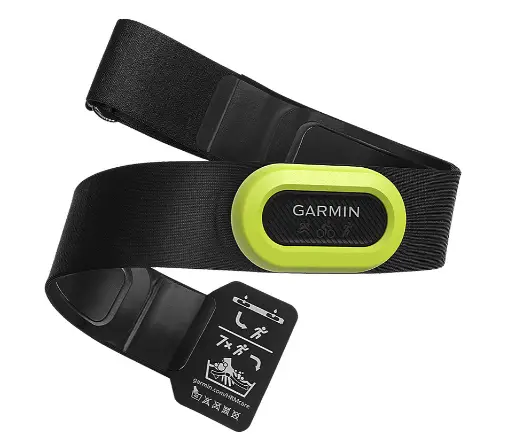 When giving a gift to a health-conscious electric bike rider, you want it to be meaningful, and not some silly little item they couldn't care less about.
That makes a Garmin HRM-Pro heart rate monitor an essential gift to many electric bike riders. Just strap the Garmin Pro Heart Rate Monitor to your chest and heart rate data is sent to any compatible app, fitness equipment, or Garmin device.
Users can compare various training sessions or simply make sure their heart rate is in the appropriate zone.
Garmin uses ANT+ and Bluetooth connectivity with other devices and has a rechargeable battery.
Gift a high-quality heart rate monitor for $117 from Amazon
Padded Bike Seat Cover – Bikeroo E-Bike Seat Cushion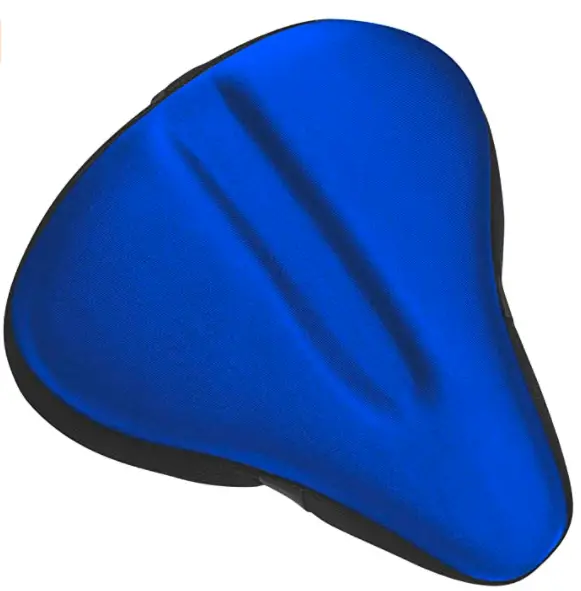 Here's the truth about electric bike riders… we ride longer and farther thanks to our e-bike's motor, long-lasting battery, and however much pedal assistance we need! So having a comfy seat under the bum is a real treat!
And the cool thing is that you don't need to buy an entire bike seat post. Instead, a Bikeroo Padded Bike Seat Cover is the perfect gift of comfort.
One note of caution: You will need to know the size of the bike seat you're buying for. If it's for an electric road bike or an e-mountain bike, a narrower seat pad might be needed. Otherwise, it's likely that you'll need somewhere between 8 inches and 11 inches to fit most wider seats on commuter electric bikes, cargo bikes, and hybrid e-bikes… like this one!
Buy the bike seat cover mentioned here for around $15 from Amazon!
Bottle Opener – Recycled Bike Chain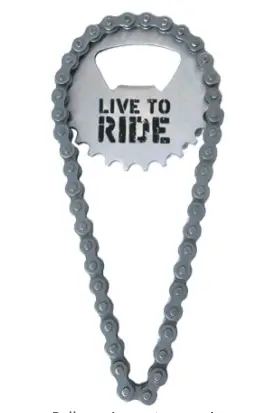 Looking for something that costs less but is a truly meaningful and fun gift for your favorite cyclist? A Recycled Chain Bottle Opener, made from a recycled bike chain, makes the best gift because it's one of the tools needed to get refreshment and have fun!
It's bicycle-themed and promises relaxation after a long ride on an electric bike! But, of course, a rider can also take it with them and use it during a riding break.
Gift the Chain Bottle Opener for less than $8 from Amazon!
Phone Mount – 360° Rotation Bicycle Phone Mount
When giving a gift, basic is just not enough. The Whale Fall 360° Rotation Bicycle Phone Mount goes above and beyond a simple smartphone mount… it's actually a very compact storage bag that also protects your phone from rain and breakage.
The phone bag has a waterproof zipper and sun-visor, as well as comes with an additional waterproof cover. You can rotate it 360 degrees for easy viewing. Plus, it has a TPU Touch Screen and holds small items such as cash, credit cards, electric bike keys, or even a small power bank.
This phone mount and bag have all the necessities for any bike rider! It'll protect your phone and make it easy to store other items. And it's small enough to remove from your e-bike to keep it safe from thieves.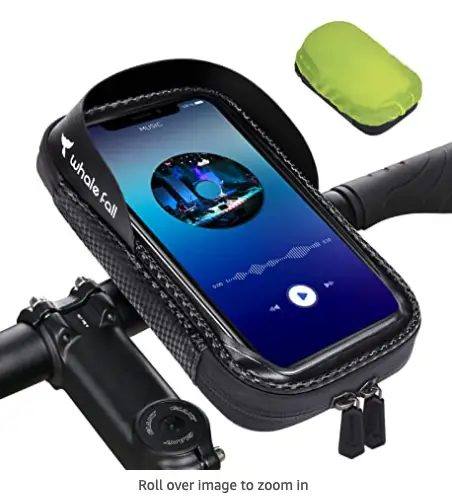 Buy it now for $21+ on Amazon!
Muscle Lotion – PR Lotion
PR Muscle Lotion is a "miracle" lotion that releases the essential electrolyte bicarb directly through the skin to the fatigued muscle. It claims to reduce acid build-up from high exertion during exercise.
So, it's a great gift for those who use cycling as a form of serious exercise or who are often combating soreness from electric bike riding.
Although you'll get the best value for the dollar by buying a 10.6 oz bottle for $35, getting them in a box of 5 packets (20g each) makes them easy to take on the go!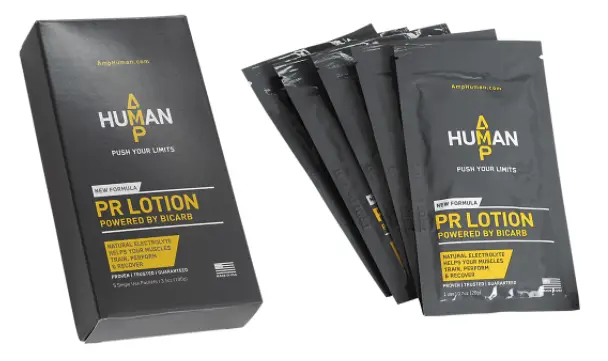 Treat your friend or loved one to a healthy gift of PR Lotion for $35 from Amazon.
"Wearable" Chain Lock – Hiplock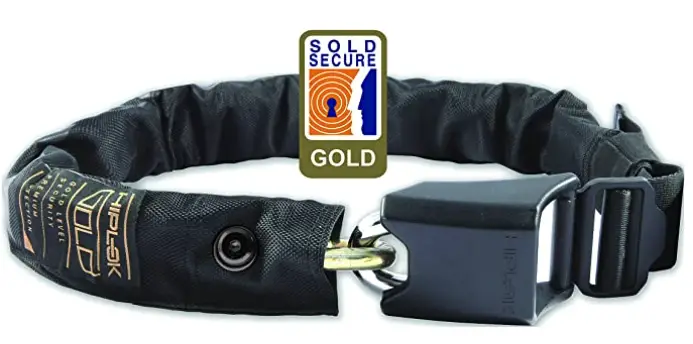 Many people are tempted to get an inexpensive bike lock, thinking it'll keep their electric bike from being stolen. However, bike thieves have many tactics for breaking and cutting locks.
But you can help out by gifting a sturdy chain lock (or two)! The Hiplock Chain Lock is a high-level secure lock made of 10mm hardened steel covered by a sturdy nylon sleeve. What really makes it unique is that you can wear it around your waist until you need to use it!
The wearable feature is actually super functional when it comes to electric bikes… it won't harm sensitive electric components by moving around while you're riding! This is because it'll be worn around the waist instead of hanging on the e-bike!
Most of the reviewers said they hardly noticed it once around the waist. Wearing it with a snug fit also distributes weight evenly instead of affecting the bike's balance.
Give this super useful bike gift for $84 and up from Amazon.
Pannier Bags – Ibera PakRak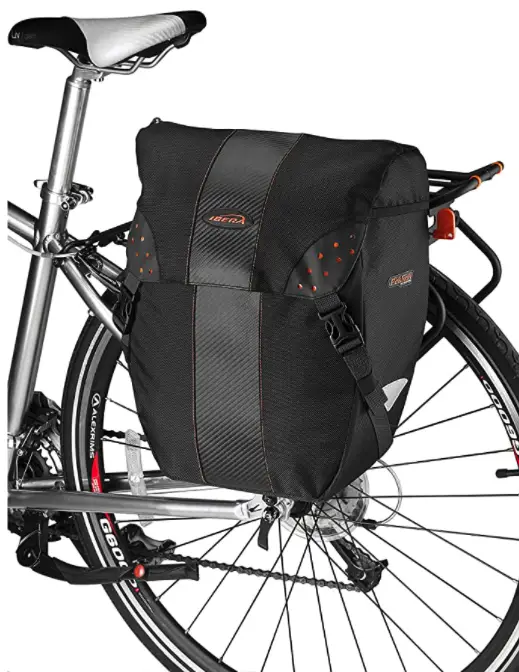 Every cyclist loves a nice pannier bag! So, it's not surprising it's one of the best gifts for electric bike riders! There are a ton to choose from but the Ibera PakRak Quick-Release Bicycle Bag gets top ratings when it comes to an all-weather double-sided pannier that doesn't break the bank!
Not only does it make it easy to ride to the store, work, or school, but you can also remove it from the bike rack in as little as 3 seconds with its strapless clip-on system! And its multiple compartments each carry up to 20 lbs (so 40 pounds total).
Great gift for both men and women at $109 on Amazon!
Bike Tool and Tire Repair Kit – All-in-One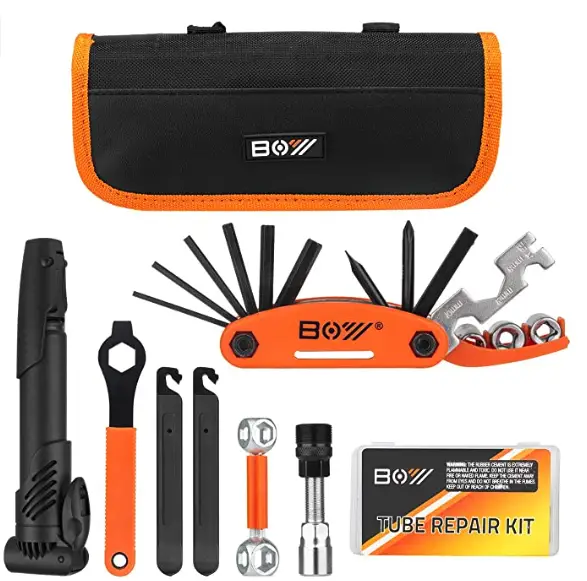 Every electric bike rider needs a few tools on hand for basic repairs, in case they get stuck far from home. It's a matter of safety and convenience! So, if your e-bike lover doesn't yet have one of these, then this Bicycle Repair Bag and Tire Tool Kit is one of the best gifts you could give.
It comes with tire repair patches, an air pump, and a tool kit for basic maintenance.
You can watch a short video to find out how to use these tools or change a tire tube... or there might even be another cyclist on the road willing to help out. Many times, the tire just needs a simple patch, which comes in a tire repair kit.
This is one of the best gifts for cyclists safety while on the road… under $25 at Amazon!
Insulated Water Bottle – Polar Breakaway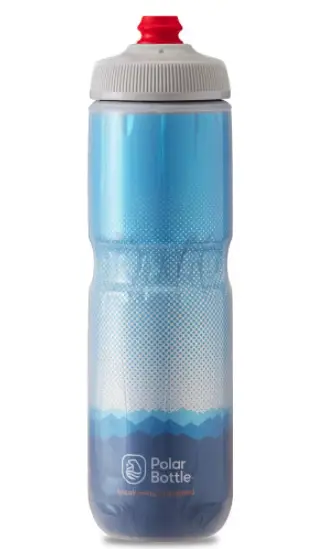 This is the best gift to use as an add-on to another gift for an e-cyclist. The Polar Breakaway Insulated Bottle has a cap that self-seals and a high-flow nozzle… it was actually made by cyclists who understand hydration needs!
An insulated water bottle is a healthy gift to share, especially when it's BPA-free and easy to sip from, without any spills or leaks. Polar brand water bottles are dishwasher safe and even come with a Lifetime Warranty.
Add this to your e-biking gift for just $17 and under on Amazon!
Conclusion
I hope you've found the perfect gift in this curated list of the 17 best gifts for your favorite e-bike rider.
Finding the perfect gift doesn't need to be hard. Just consider what the person you're trying to find a gift for enjoys or values.
You already know that they love riding their electric bike. Now think about what kind of gift they'd like most. Would it be a gift for safety, health, or comfort? Or maybe it's just for fun!
The gift options above have you covered! Come back anytime to find another one of the top gifts to give an e-bike owner… for their birthday, a holiday, or just because.