If you're looking for an electric bike, Black Friday and Cyber Monday are some of the best times to find the best e-bike at a great price.
E-Biking Today can help you save money on the right e-bike and additional gear, whether it's for yourself or an upcoming holiday gift. Although electric bike brands offer sales throughout the year, their best Black Friday deals are also their biggest, as they expect buyers to be looking for the best deals.
To help you find an incredible electric bike at the best price, I've put together a huge list of Black Friday electric bike deals from popular brands in 2022. You may also like to check out my list of the most popular gear and accessories on sale.
Please note: Early Black Friday deals may end at any time. However, I'm expecting each brand will offer another great deal on Black Friday and into the holidays as they remove one. Plus, I'll be adding new deals I find throughout the holidays (so check back frequently).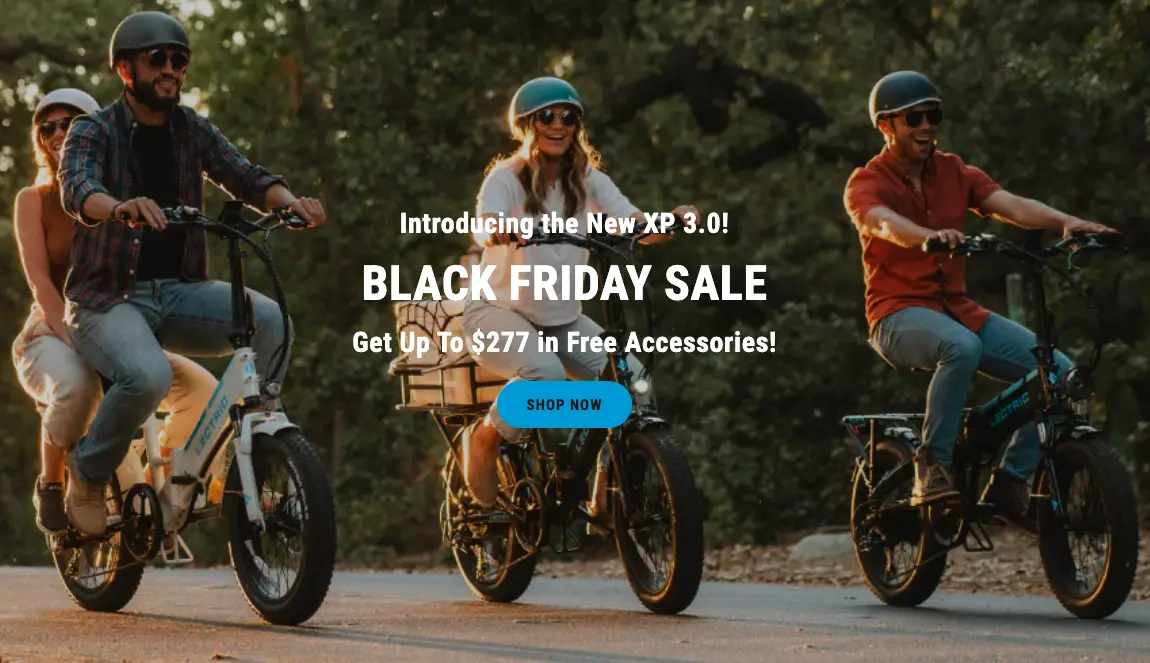 Best Black Friday Electric Bike Deals 2022
Some of the best electric bike deals happen before Black Friday. I'll be updating this list as new offers arise!
Brand
Black Friday/Cyber Monday Deal
Type of E-Bike
Sale Prices
Lectric eBikes
New XP 3.0 Special Launch Price of $999+ free Black Friday Bundle; XP 2.0 now only $899!
XP Lite only $799 + FREE bundle; all other options on sale + FREE bundles!
PLUS 0% APR financing for 6 months
Folding e-bikes
$799-
$1199
Ride1Up
Up to $400 off ALL models (even my own
700 Series & the LMT'D! + additional $100 off 2 ebikes + 10% off batteries (limited to 50 people, so hurry!)
Commuter/recreational with TORQUE
sensor
$845-
$2045
Rad Power Bikes
Up to $500 off popular e-bikes (such as the RadRover Plus) + Up to 60% off accessories!
Off-road, folding, road, cargo, and
commuter e-bikes
$999-
$1699
Wing Bikes
30-40% off ALL bikes + FREE fenders & Throttle;
Click on "Shop Now" to see the final price +
free bonuses!
Stylish urban ebikes; fat tire off-road
$999-
$1300
Buzz Bikes
Save $200 off $899! Use Code: CYBERBUZZ250
Commuter, folding, fat tire e-bikes & e-scooters
$399+
Sixthreezero
Up to $800 off!
Customizable cruisers & commuters
$875-
$1800
Juiced Bikes
Up to $800 off all bikes!
(includes new RipCurrent S)
Moped-style, off-road, commuter, and
fat tire e-bikes
$999-
$2999
AddMotor
Up to $400 off (use on-site coupons)
Off-road, commuter, fat tire, and cargo
e-bikes
$1399+
G-Force
Save up to $400
Moped Style with Pedal Assist, folding,
and fat tire
$1799
KBO Bike
Up to $500 off all e-bikes
Cargo, commuter, and folding bikes
$869-
$1699
Cyrusher
Up to $300 off all e-bikes; 50% off batteries
Folding, all-terrain, and mountain e-bikes
$1399-
$2399
Radio Flyer
M880 is $500 off
Fat tire, cargo, folding
$1299
QuietKat
Up to $1200 in FREE gear (cargo trailers, solar
chargers, etc.)
Fat tire, all-terrain electric bikes
$1999- $7500
Rambo
Up to $2000 off!
All-terrain, fat tire, mountain
$1499-
$7999
Aventon
All e-bikes are discounted $200 (but I'm seeing
the Aventure and Soltera at $300 off!) + 20%
off accessories
Off-road, folding, cargo, road, and
commuter e-bikes
$999-
$1899
Heybike (Amazon)
Offering $50-$150 off with coupons & discounts
up to 21% on several models
Fat tire, foldable, off-road, city bike
$749-
$1699
Charge Bikes
Buy 2 e-bikes, save $200
City & comfort e-bikes
$1799+
Bike Berry
Up to $1700 off e-bikes and loads of kits and
bike parts discounted
Various e-bikes + Conversion kits
$149+kits
$429+
e-bikes
Qualisports
Up to $200 off all e-bikes; Check
out the popular long-range Dolphin electric
bike
4 Folding e-bike styles
$899-
$1499
Specialized Bikes
Watching for Black Friday e-bike offers. Gear
& apparel on sale.
High-end bikes
$3000+
This is being updated regularly but Black Friday deals are changing fast! Click on the link to the e-bike you're interested in and check out the latest deal. Updated 11/25/22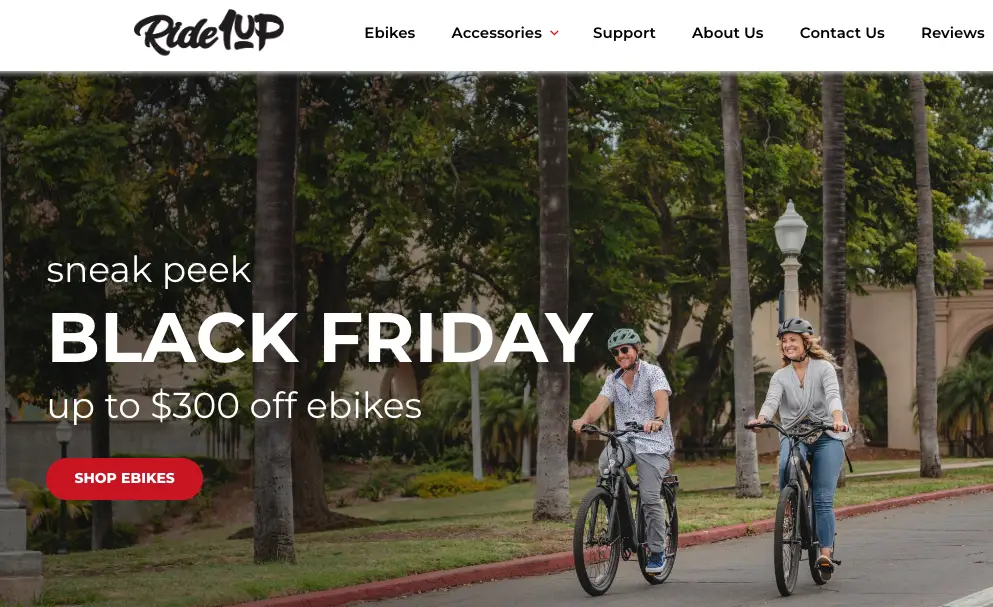 Black Friday Bicycle Accessories
I'll be watching for Black Friday offers on gear and accessories and list them as they come in. Keep these products in mind as gifts for electric bike riders other than yourself!
Accessories Brand
Black Friday/Cyber Monday Deal
Type of Accessory
Price Starts at…
Amazon
Black Friday Deals start on Thursday the 24th!
Here's an idea: Neck Gaitor (protects the neck and face from the wind, rain, and cold during your e-bike ride…my winter must-have!)
$5.59
Club Ride Apparel
Rotating Black Friday Deals!
Bike shorts & cycling apparel
$44
Backcountry
UP to 70% off
Cycling Gear & Clothing
$6+
REI
Deals: Up to 50% off
Bike Accessories, Components, & Clothing
(& Co-op e-bike)
$2+
Nutcase Helmets
25% off ALL helmets (use code: HELMET25)
Bike helmets, unique bells
$7+
Competitive Cyclist
"Cyber Weekend" started Friday (up to 50% off)
Bike components, clothing, & accessories
$4.50+
Thousand Helmets
30% off Heritage Helmets
Bicycle helmets, headlights, & accessories
$69+
Bike Berry
Special Black Friday deals page
Conversion kits, motors, bike bags, & more
$4+
Updated 11/25/22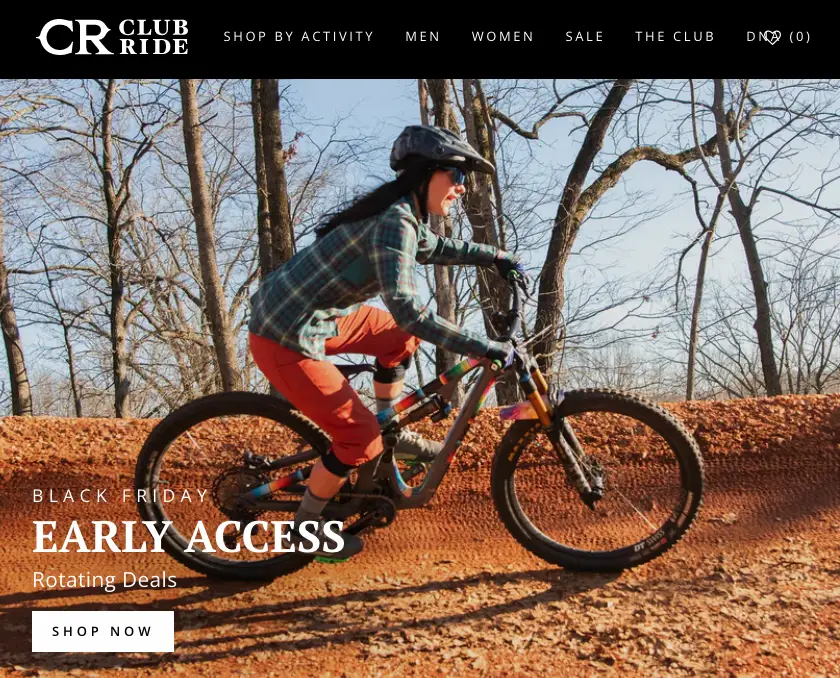 When is Black Friday (and When Do E-Bike Sales End)?
Black Friday falls on Friday, November 25th, 2022. But don't assume that great electric bike deals don't happen before then! This year, I saw good deals that started before the end of October, with many others following shortly thereafter. Special Black Friday and Cyber Monday sales may end by November 28th.
However, some e-bike brands may have sales that last for 1-3 weeks or longer, as they typically offer deals throughout the Black Friday weekend and Cyber Monday. Other electric bike companies are offering sales on different e-bike models on and off throughout November 2022 and some into December and through Jan 1st, 2023!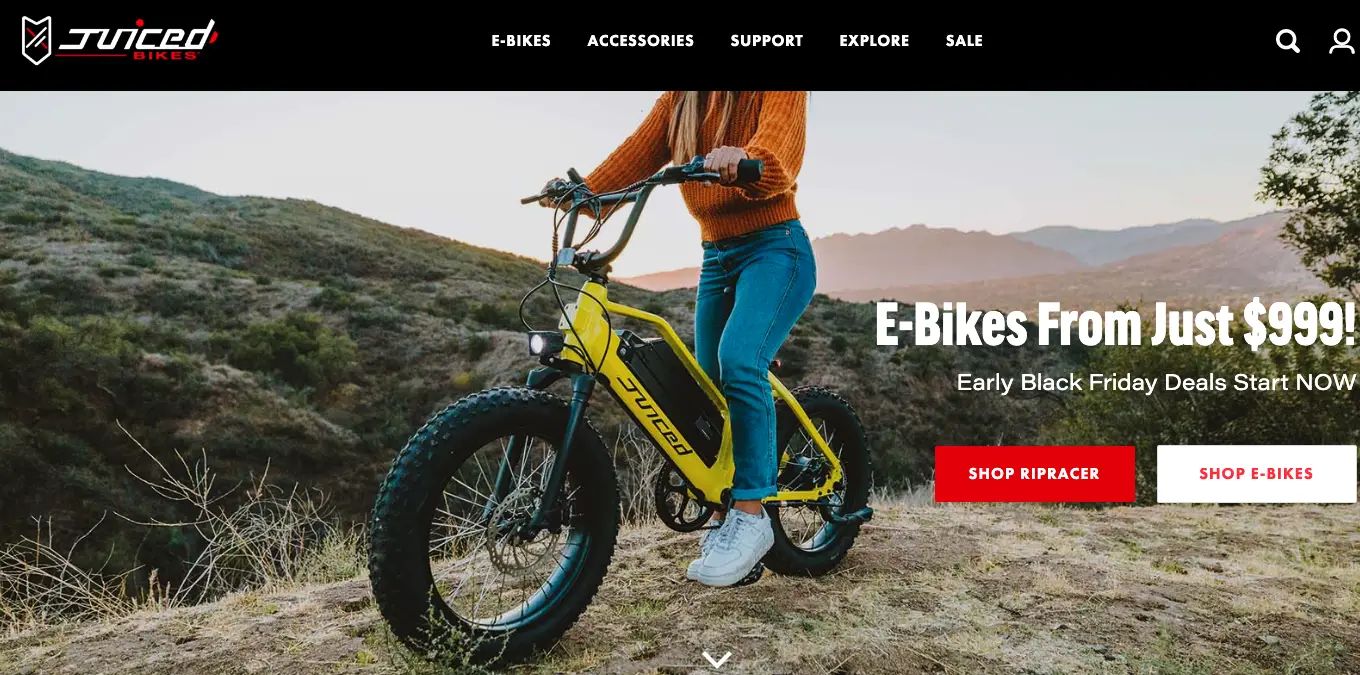 Is Black Friday the Same as Cyber Monday?
Historically, Black Friday sales have focused on physical products and retail store sales, whereas Cyber Monday was designed to offer online sales. This line has been blurred, however, and pretty much anything goes. And when it comes to trending electric bikes, there are sales on and off all the time, which means you really have to weed through the best brands and deals.
In general, Black Friday sales generally continue through Cyber Monday, if not longer. Further, I'd expect electric bike sales to continue throughout the 2022 holidays, although the deals offered may change.
Are E-Bikes Cheaper on Cyber Monday?
Don't expect to get a better e-bike deal on Cyber Monday than on Black Friday. In other words, don't wait to buy the electric bike of your dreams on Black Friday, hoping you'll get a bigger discount on Monday than Friday. It's unlikely and the best e-bikes may be sold out even before Cyber Monday.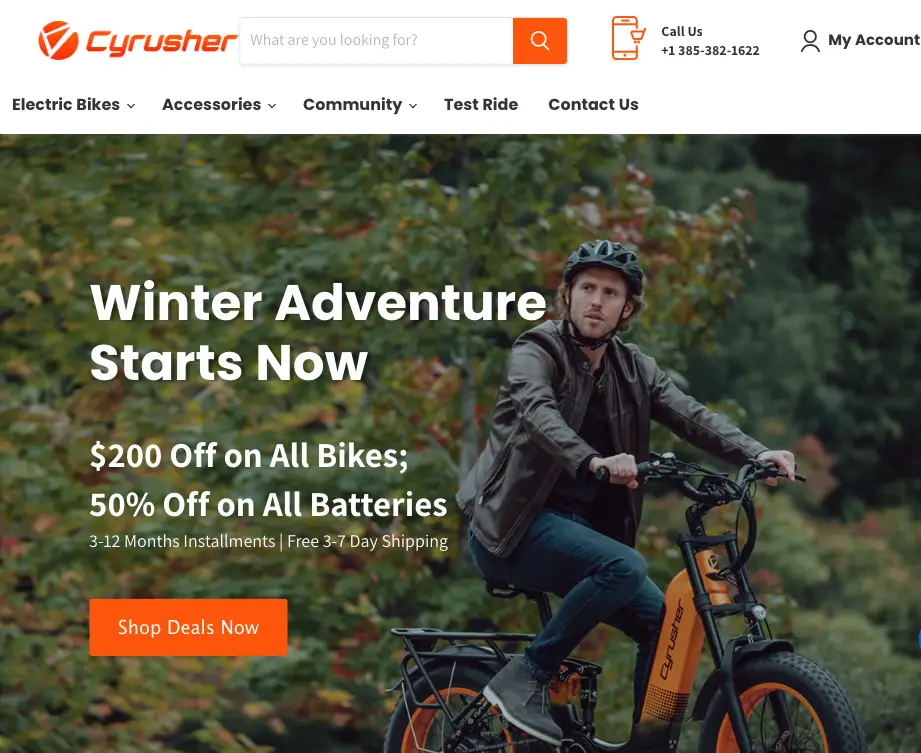 How to Save Money on Black Friday and Cyber Monday 2022
The quickest way to save money on Black Friday is to shop for e-bikes online. You'll be able to compare deals and bike specifications directly and find the perfect electric bike for you or a loved one.
Plus, you won't need to shop in crowds! However, you should get online early before the best electric bikes and top accessories are sold out.
Start looking at offers before Black Friday. If you find a good deal, don't wait to make your purchase. Some sales are going on long before the big sale weekend and e-bikes could sell out (or you'll be able to buy but your e-bike will be on backorder and you may have to wait a few months to get it).
Fortunately, almost all e-bike brands will ship directly to you. I recommend that you read customer reviews on models you're interested in and don't just assume that a good deal means that you'll get a good quality e-bike. I hope that I've helped you get started with your search by listing popular brand deals and ones I'm familiar with.
Check back on updates to these lists of Black Friday deals throughout November and into the Holiday season… I'll be making changes!
I hope this Black Friday electric bike deals guide can help you find what you're looking for, a bit easier. I will be available throughout the holidays to help answer questions on The E-Biking Today Electric Bike Community Facebook Group about e-bikes and accessories (as will other group members).