The Vvolt Alpha Electric Bike is a high-quality carbon belt drive e-bike designed for both urban commuting and leisurely rides. It features a lightweight aluminum frame, a powerful 350W motor, and a 375Wh battery that delivers up to 40 miles of range on a single charge.
I've tested and reviewed the Alpha S electric bike to determine its pros and cons, best features, and whether this belt-driven e-bike is worth the money.
Watch the video and read the article to see if you should buy the Vvolt Alpha.
Vvolt Alpha Review: Overview
The standout feature of the Vvolt Alpha Electric Bike is its Gates carbon belt drive system. This technology replaces traditional bike chains with a durable and low-maintenance belt that lasts longer and operates more quietly. The carbon belt drive is also less prone to rust and wear and tear than a traditional chain, making it a great option for riders looking for a low-maintenance and reliable e-bike.
Another advantage of the Vvolt Alpha's carbon belt drive is that it provides a smooth and efficient ride. The belt drive delivers power directly from the motor to the rear wheel without needing a derailleur or chain tensioner. This means that there is less friction and energy loss, resulting in a more responsive and efficient ride.
In addition to its carbon belt drive, the Vvolt Alpha Electric Bike comes with a range of other features that make it an excellent choice for riders looking for a high-quality and reliable e-bike. Let's take a closer look.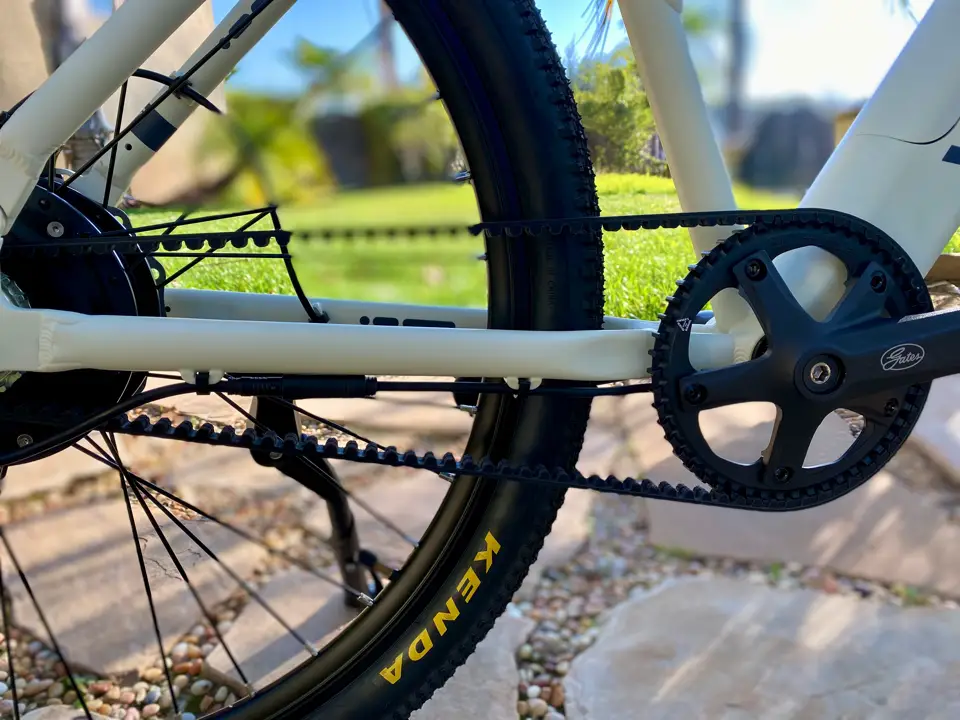 First Test Ride & First Impressions
Riding the Alpha S Step-Thru ebike that Vvolt sent me, I was immediately reminded of the feel of riding a regular bicycle. It's light, nimble, and zippy, even with a smaller 350W Xplova rear hub motor. And I'll admit that I experienced a feeling of accomplishment when I realized that I could pick it up all by myself, which isn't the case with most electric bikes.
But, what I was most excited to get a look at was the carbon drive belt! And it doesn't disappoint. Not only does it give the Alpha a clean and maintained look, but I can also touch it without getting grease all over my hands or pant legs.
Further, the carbon belt is incredibly quiet, as is the bike overall. So, I certainly don't feel like I'm drawing attention to myself while riding.
After testing and reviewing, here are the Alpha's pros and cons.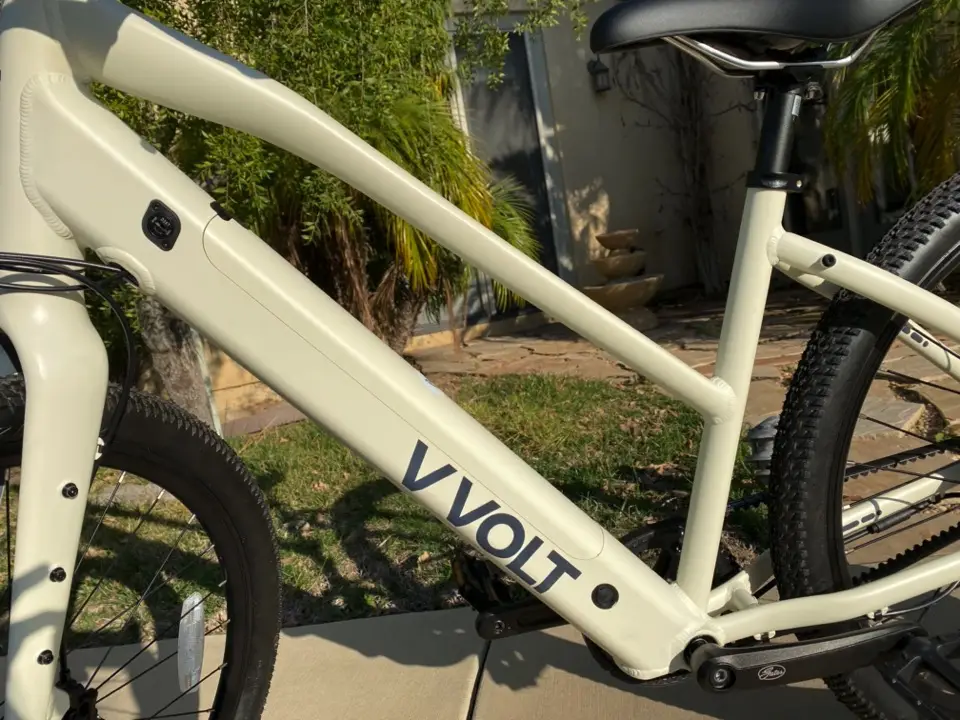 Pros of the Vvolt Alpha
It's a Class 1 electric bike– So, you get 5 levels of pedal assistance that'll take you up to a maximum speed of 20 mph. But the best thing about it being a Class 1 is that you can ride it almost anywhere regular bikes are allowed. Class 2 or 3 e-bikes are often restricted to riding in select locations due to their throttle and higher speed.
Less maintenance required– Thanks to the Gates carbon drive, you won't have to clean or grease it as you would a chain drive. Also, you won't lose efficiency due to a dirty chain, and you won't end up with a grease mark on your leg. Plus, the Vvolt alpha's carbon drive belt should last twice as long as a regular bike chain. 
Range of up to 60 miles (90 km) on pedal assist level 1– Although you'll generally only get around 40 miles range, you may get up to 60 miles when only riding on pedal assist level one. But, like any pedal-assist electric bike, you should expect to get fewer miles on higher assistance levels.
Hydraulic disc brakes– You'll have great stopping power with the 160mm disc brake rotors that self-adjust as the brake pads are worn.
Lightweight– The Alpha or Alpha S weighs only 44-46 lbs, depending on the frame size. This makes it easy to hang on a bike rack or lift into a car.
Two frame sizes– Almost anyone can fit on this electric bike thanks to one size for riders 4'9"-5'8" and one for taller riders up to 6'1".
A huge payload capacity of 440 lbs– However, Vvolt recommends a weight limit of 300 lbs without first making some wheel modifications.
Brand-name Kenda tires– These tires have very small knobs which are just enough to ride securely over gravel and packed dirt.
Easy-to-remove battery– The battery is easily removed from the top of the frame. Some e-bikes place the battery on the bottom of the frame, making it more difficult to remove.
Comes with an "Industry-leading 3-year warranty"– This is a huge benefit of the Vvolt brand itself. Plus, there are no mileage limitations and extra parts are stocked in local warehouses so your ebike can get fixed fast.
Two-step assembly– When Vvolt said it would come to my door 97% assembled, I honestly didn't believe it. But the truth is, this Vvolt ebike required the least amount of unpacking I've EVER had to do. Plus, Vvolt has devised a clever way of helping you attach the front tire… so I did it by myself in about 20 minutes.
Affordable carbon drive electric bike– Gates carbon belt drive electric bikes are typically very expensive. But, the Alpha is competitively priced at $1399.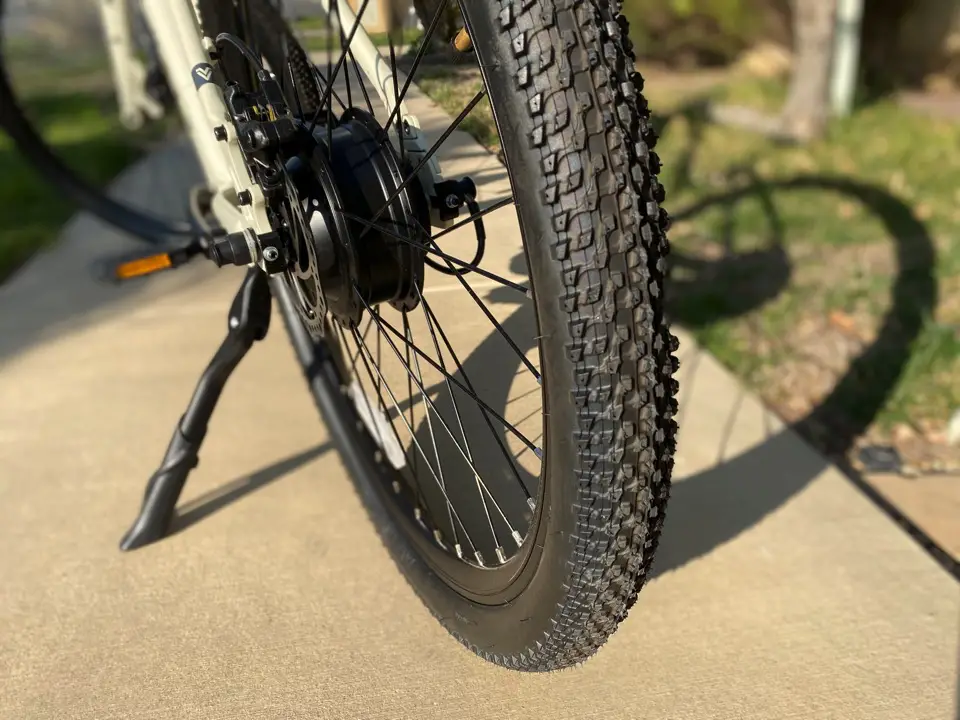 Cons of the Vvolt Alpha
No integrated headlight or taillight– They do give you battery-operated lights to attach. But an electric bike without "electricity" in the form of safety lights is a bit disappointing.
There's no throttle– If you live in a hilly area, you might prefer to have one to help you get up steep hills. However, I have to admit that it's much easier to get moving on this ebike because of its low weight. That's why I don't think that a lack of throttle is a dealbreaker for most people looking for an entry-level electric bike.
It's a single-gear electric bike– If you want simple and you're planning on using pedal assist as much as needed, then the Alpha may be the best electric bike with a belt drive for you.  However, if you'll avoid using pedal assistance in order to get a better workout or to protect your battery life, then you might wish you had gears.
The Alpha S "step-thru" ebike isn't so easy to step through– The step-over height is too high for my 5'1" body, and I expect it'll be too high for other petite riders. But, since the frame was small, it was easy enough to swing my leg over the saddle.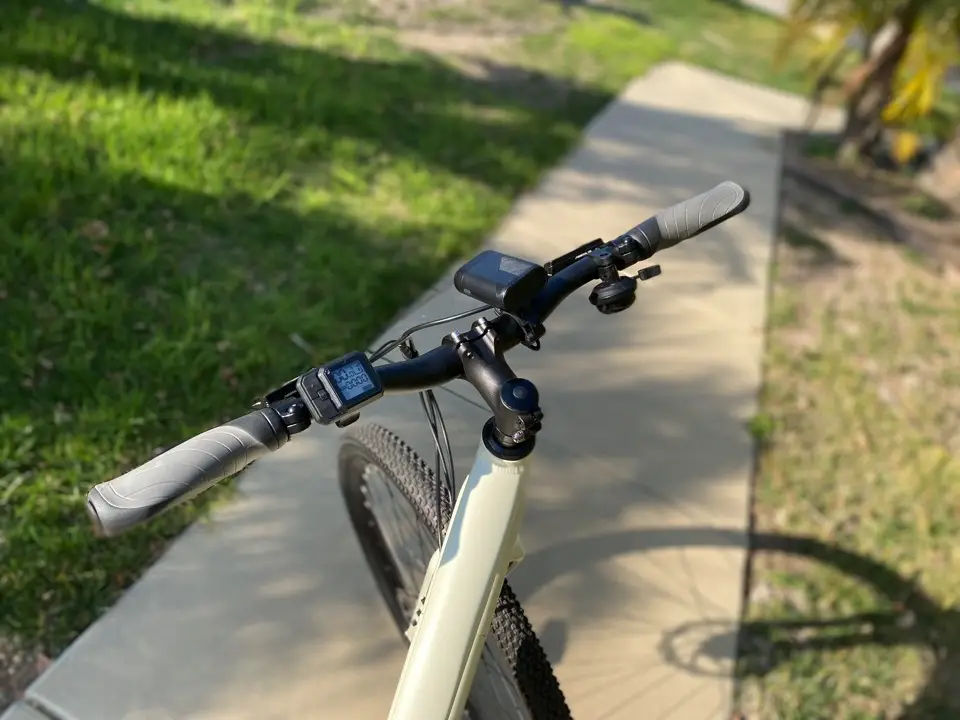 Vvolt Alpha Electric Bike: Performance and Specification
Performance
Components
Review Notes
Motor
Xplova 350W Rear Hub Motor
More than powerful enough for commuting and riding for pleasure, thanks to the Alpha's low weight.
Battery
375Wh LG Cells
Beautiful frame integration and charged quickly
Range
20-40 miles on average
The standard for an e-bike in this price range.
Brakes
160mm Hydraulic Disc Brakes
Smooth and capable of stopping quickly (the light weight of the bike itself helps)
Fork
Standard Rigid Fork
I didn't find any need for a suspension fork, since the ebike is primarily for urban riding.
Drivetrain (Gear Shifts)
Single speed
Having one gear was not an issue. The 5 pedal assist levels provided plenty of power for street riding and attacking occasional hills.
Derailleur
Gates Carbon drive belt
(no derailleur)
A truly great invention! The carbon belt is clean, super smooth, and incredibly quiet.
Display & Controller
Class one controller
Has the basics and is Bluetooth compatible for phone app pairing.
Tires
Kenda 2.0″ all-terrain
Provide a smooth, comfortable ride on the road and over gravel and packed dirt.
Throttle
None
Class 1 e-bikes don't come with a throttle (but you can make it a Class 2 by adding a throttle).
Sensor
Cadence Sensor
Works as it should.
Read the review notes in the table for my review information.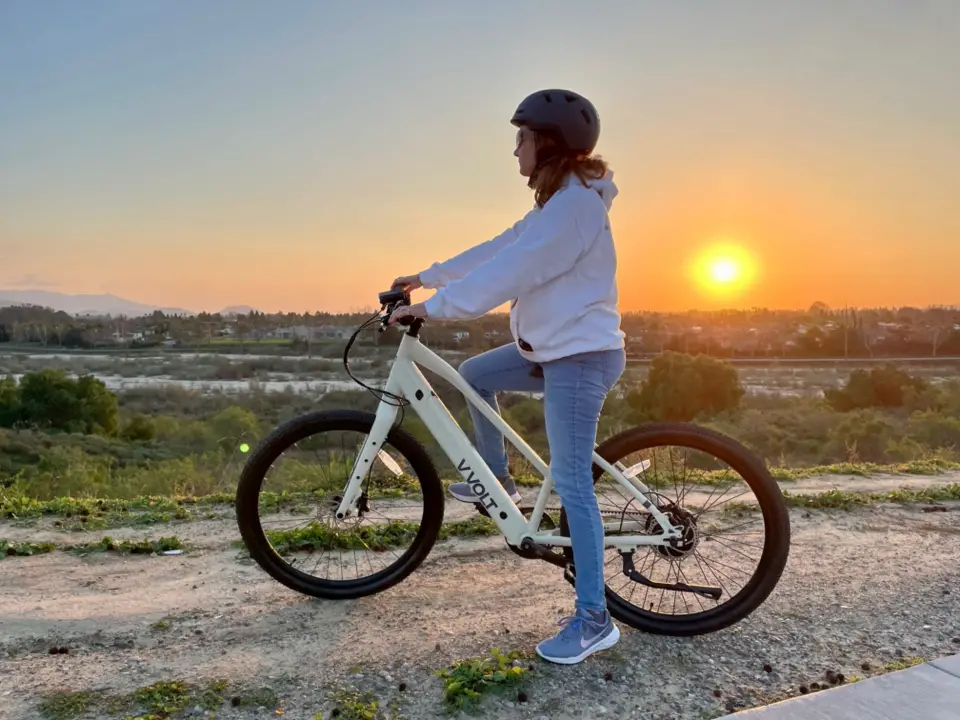 Weight, Load Capacity, & Dimensions
| | | |
| --- | --- | --- |
| Vvolt Alpha Sizing | S/M Frame | L/XL Frame |
| Bike Weight | 44lbs | 46lbs |
| Rider Height Range | 5′2-6'0″ | 5'9″-6'4″ |
| Stand-Over Height (Inseam) | 29" | 31″ |
Comfort and Safety
This lightweight belt-drive e-bike is simple in design. Thus, it provides comfort and safety by being able to lift easily, catch quickly if it falls over, and ride with ease!
It also has fast-stopping hydraulic brakes and a clean, carbon belt drive that won't catch on clothing or leave grease on them.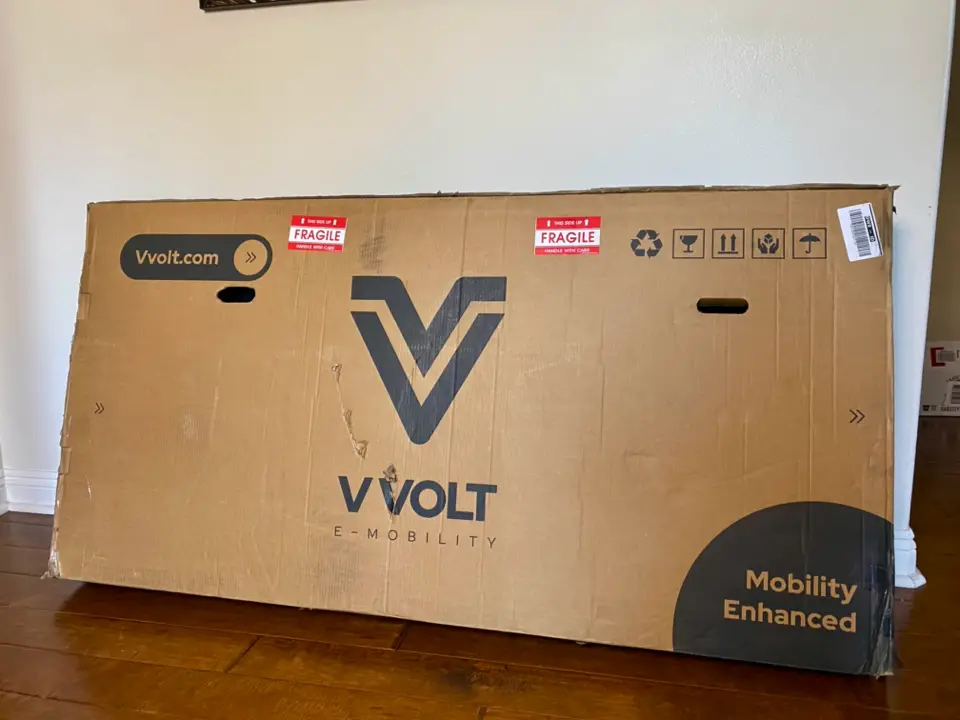 Unboxing and Assembling
Unboxing the Vvolt Alpha was the easiest ebike to unpack… ever (well, as of this writing)! Just pull the electric bike out from the side of the box. Then keep the front fork upright in the foot of the box to continue unpacking.
Assembly was just as easy. Thanks to Vvolt's creativity, you can then use the box to hold the front tire while you sit the frame of the e-bike directly onto it.
Brand Overview
| | |
| --- | --- |
| Service and Support |  |
| 3-Year Warranty | Above Industry Average! |
| 30-Day Returns | This is an excellent guarantee that you will love your e-bike |
| Free Shipping | Standard if you live in the Continental United States |
| Payment Plan | Yes: Klarna |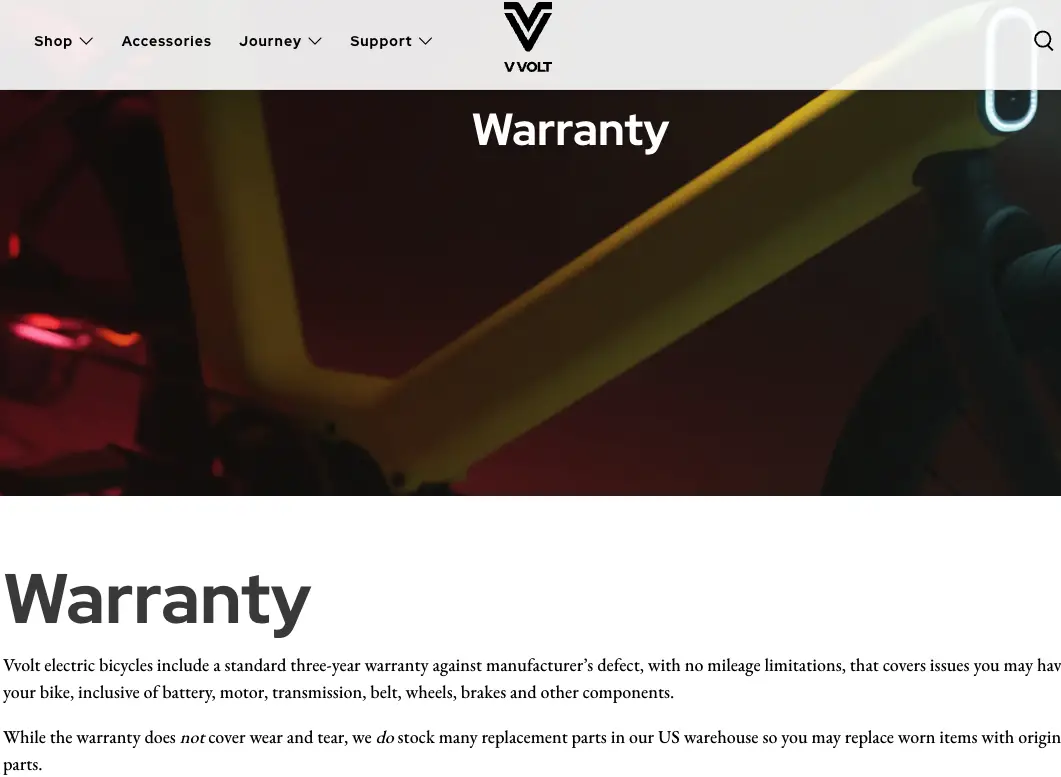 Vvolt Alpha FAQ
What is the Top Speed of the Vvolt Alpha?
The Alpha is a Class 1 electric bike with a motor that cuts out at a top speed of 20mph. So, you can ride it on almost every public path and trail.
Where are Vvolt Bikes Made?
Vvolt has headquarters in Portland, Oregon where they design their electric bikes. However, they build their bikes using international parts as most e-bikes do.
How Much Does the Vvolt Alpha E-Bike Weigh?
The Alpha is a lightweight electric bike and varies from 44lbs to 46lbs. Their smaller frame, fitting riders as short as 5'2″, weighs 44lbs while their larger frame, fitting riders up to 6'4″, weighs 46lbs.
Vvolt Alpha Belt Drive Wrap-Up:
Overall, the Vvolt Alpha Electric Bike is a great carbon belt-driven e-bike that delivers a smooth, efficient, and low-maintenance ride. Whether you're commuting to work or enjoying a leisurely ride, the Vvolt Alpha Electric Bike is a great choice for riders looking for a reliable and high-quality, single-speed ebike.