Traditional bikes have often been manufactured and sold as bikes with men's and women's frames. A man's bike frame had a horizontal top tube or diamond-shaped frame, while a woman's had a much lower tube which allowed her to step through the frame. In general, this is no longer the case.
In fact, step-through e-bikes are unisex and can be ridden by both men and women. Electric bikes with step-through frames are accessible to everyone regardless of sex or size. However, they benefit shorter riders, seniors, cargo carriers, and those with physical limitations the most.
Why Should Men Ride a Step-Through E-Bike?
Step-Through e-bikes (also known as low-step) were originally created in the early 20th century to allow women with dresses or skirts to get on and ride a bicycle. Historically, they have also been useful for bike riders who carry commercial goods or cargo with them.
Obviously, women aren't required to wear dresses while riding bikes anymore and most e-bikers ride for reasons other than running a business off the back of their bike.
But why should a man ride a step-through model as opposed to a traditional step-over e-bike (also known as "high-step")?
Reasons a Man Should Ride a Step-Through E-Bike:
You're a well-dressed commuter- A step-through e-bike will allow you to wear more restrictive business attire such as a well-fitting suit or slacks.
You carry supplies or books to work or school- You can pile your rear rack with all essentials without leaving room to swing your leg up over your e-bike.
You have an injury or physical limitation- You'll have a much easier time getting on and off your e-bike if you have leg, hip, or back pain or other physical limitations… you won't need to raise your leg up and over the seat or horizontal top tube.
You're a senior man- Let's face it, it just gets harder to mount a bike as you age… by purchasing a step-through electric bike now, it'll remain accessible to you for years to come.
Pros and Cons of Step-Through Electric Bikes for Men and Women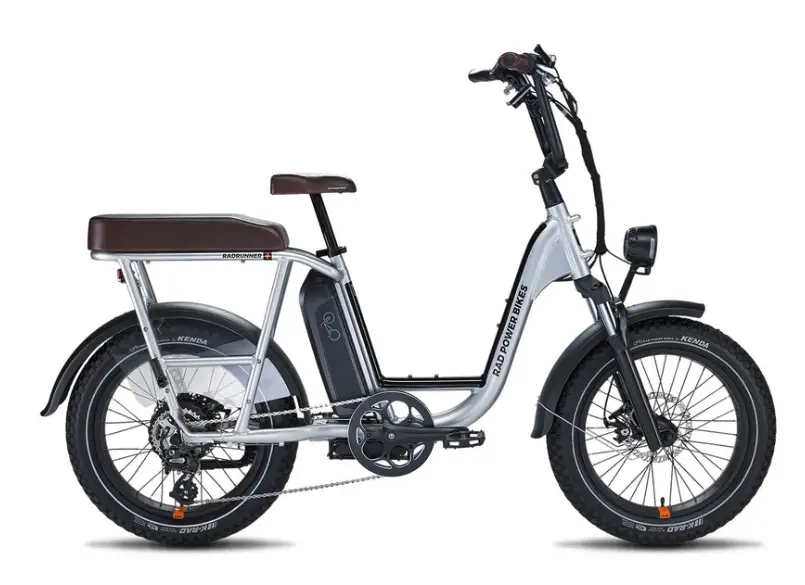 In general, unisex step-through bikes are practical and functional. And because electric bikes serve the function of making bike riding easier and more accessible for many, a step-through frame just makes it even more useful.
And why you should buy an electric bike with a step-through frame has nothing to do with whether you are a man or a woman.
| | |
| --- | --- |
| PROS of Step-Through E-Bikes | CONS of Step-Through E-Bikes |
| Easy for everyone to get on and off | The frame may be weaker and thus require more reinforcement |
| Greater clearance standing over an e-bike | May be slightly heavier due to the added reinforced material |
| Faster to dismount when needed | No top tube for hanging on a bike rack or for storage |
| Easier to get on when carrying cargo on the rear of the bike | The stigma that it's a "girls" bike |
| More accessible for a physically disabled person | Must hold the handlebar to balance the bike |
| More accessible for riders with certain injuries | More difficult to accessorize without a top tube |
| You can ride one wearing a dress, skirt, or other restrictive clothing | |
| There are a ton of low-step e-bikes to choose from | |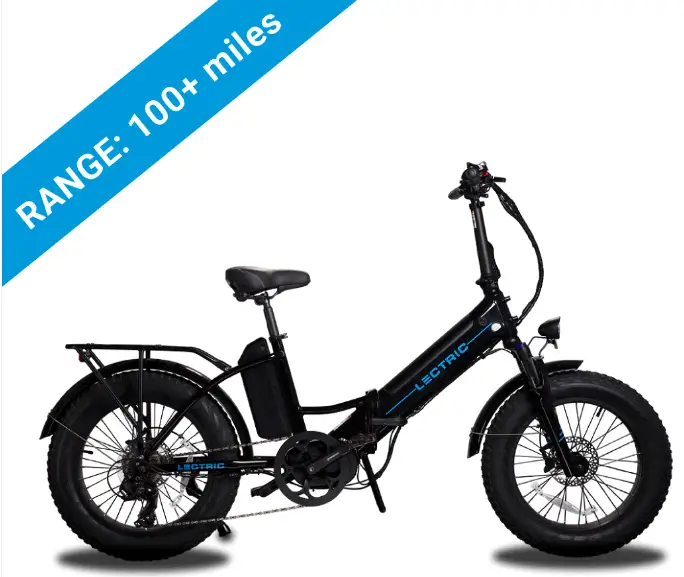 Not surprisingly, the fact that you can get on and off a step-through e-bike easily makes it beneficial for everyone. However, it has several advantages if you fall into one of these categories:
Advantages for a Shorter-than-Average Person
A step-thru frame has several advantages for a short person. Not only is it more comfortable to slide off the bike, without worrying that you'll get hurt on the top tube, but you can also easily stand over the frame and jump off quickly if necessary. You're also less likely to get tripped up by the frame because you'll only need to raise your leg around 17″ on average.
Look for the "stand-over height" in an e-bike's sizing specifications list to find out how high you'll need to lift your leg.
Further, low-step frames may even be designed to be slightly smaller, making them a better overall fit if you are smaller than average.
Advantages for Seniors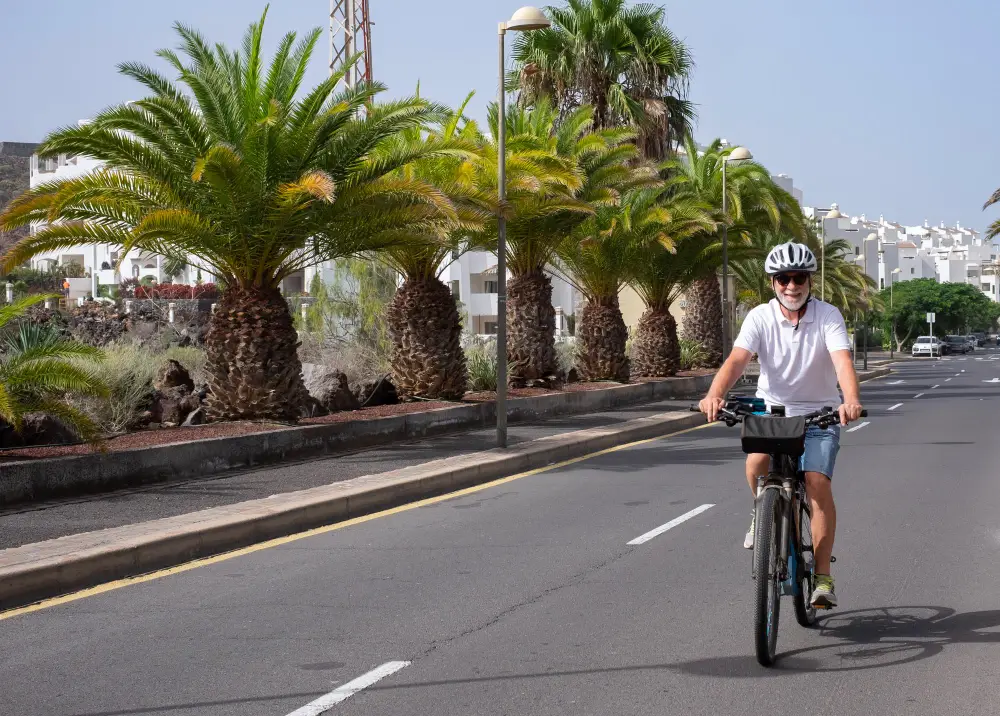 As you can see, there are more pros than cons when it comes to step-through e-bikes. However, whether one is right for you depends on what advantages or disadvantages are the most important to you.
For seniors, concern over remaining capable of doing daily activities and activities you love grows greater each year. A step-through e-bike allows seniors to ride comfortably year after year. If your hip gets stiff or you pull a muscle in your back, you can still get on your electric bike. And once you're on it, you can use as much pedal assist or throttle as needed to help you ride.
Being able to continue riding your e-bike into the future is super important since you'll be making a substantial investment.
Advantages for Those With Physical Limitations
One of the most important reasons that step-through electric bikes are great is that it allows access to bike riding for men or women with disabilities and/or physical limitations.
Once again, it's easier to get on and off. Plus, disabled persons can bring the necessary equipment with them on a rear rack and won't have to throw their leg up and over to get on their e-bike.
There are even step-through electric tricycles for those who have difficulty with balance or prefer having three wheels.
Best Step-Through E-Bike Models (Unisex)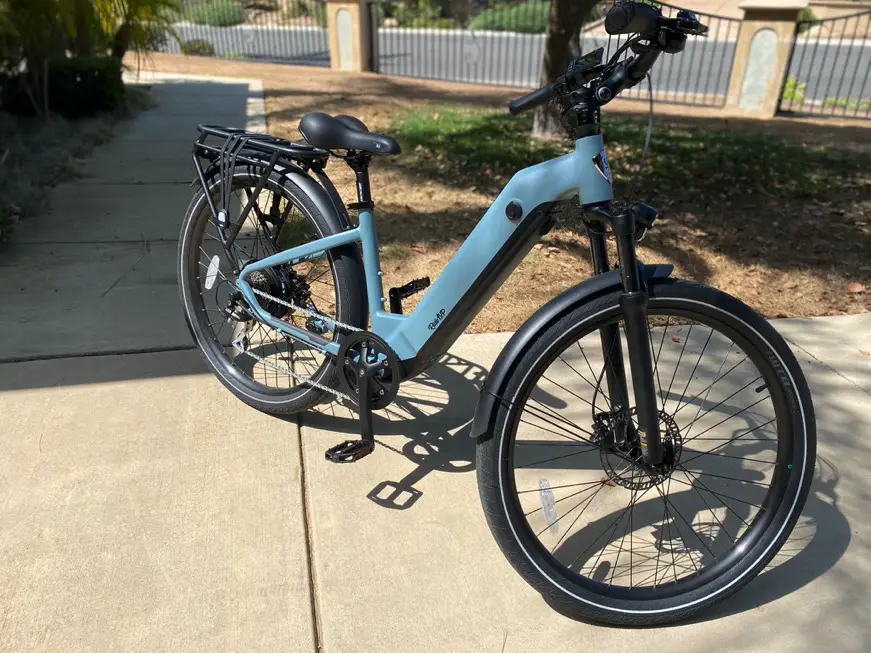 The best low-step electric bikes are unisex and can be purchased for both men and women. There are no differences among these electric bikes based on sex. E-bike colors can be chosen as a preference and are not based on being a man or a woman.
Each one of these electric bikes has a low-step bottom tube, great reviews, and costs little more than $2000.
Here's what I love about each of them:
Ride1Up 700 Series– Besides the fact that I'm a little biased (I ride this e-bike every day myself), the 27.5″x2.4″ tires make this a smooth and capable ride. And, it's a Class 3 fully-loaded with hydraulic brakes, a 750W motor, front suspension, head and tail lights, fenders, a rear rack, and more. The overall value of this e-bike is something I can definitely recommend.

Read my complete review of the 700 Series to get all of the details!
Conclusion
Current step-through e-bikes are built as unisex bikes that offer an easy way to get on and off regardless of age or physical condition. You just need to decide what features are most important to you in addition to having a low step.
You can easily find a step-through model that's perfect for you, whether you're a man or a woman. Take a look at the low-step bikes listed above and you'll likely find something that's right for you.