Electric bikes are an efficient way to reduce traffic in congested cities, a great way to save money and get exercise on your commute, and a lot of fun for recreational riders. Costco is one of the places you can buy an affordable e-bike due to its competitive prices and exemplary customer service. However, it can be overwhelming to choose the right e-bike due to the different options available.
Costco sells the Sondors Smart Step LTD, Jetson Haze, and Jupiter Defiant All-Terrain Foldable electric bikes. Costco may also sell a few other options but many times they lack customer ratings.
The Sondors Smart Step LTD has the highest price point among the three. However, the high price is worth it since the bike has the highest range of 25 to 40 miles (40.23 to 64.37km).
In the rest of this article, I'll discuss the different e-bikes sold at Costco, including their prices. I'll also cover the differences between these ebikes in terms of top speeds, range, and payload capacity.
Then I'll show you some alternatives to Costco e-bikes so that you are sure to find the best one for your needs.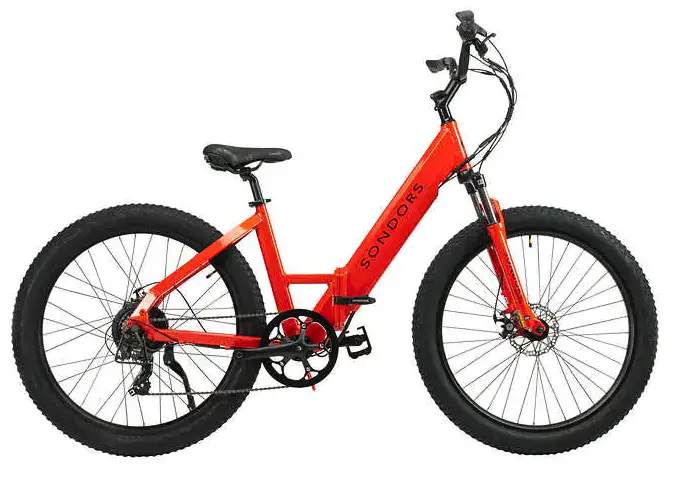 The Sondors Smart Step LTD is among Costco's highest-quality electric bikes. The bike has a 36-volt battery with a 10.4Ah rating. With it, the bike can cover up to 40 miles (64.37 km) on a single charge.
The Smart Step e-bike is designed to be easy to transport. Since the bike has a foldable frame, you don't have to worry even when the battery runs out of charge – you can just fold it up and be on your way. The frame is also made of lightweight aluminum alloy material, making it easy to carry.
The Sondors Smart Step e-bike also has a lightweight rear carrier rack for cargo. The rack is easy to install and has tie-down points to secure your belongings.
The rack can carry up to 20 lbs (9.07 kg) loads. Therefore, you can rest assured that your items will be safe during the ride (but this rack cannot carry a child!). To make it even better, the bike comes with a clip-in bag with the following features:
Multiple compartments
Quick clip-in system
Easy-access zippers and wide openings
Reinforced and padded body
Hard base
For speed lovers, the Sondors Smart Step doesn't disappoint. The bike has a top speed between 18 and 20 mph (28.97 and 32.19 kph). However, it's good to bear in mind the factors that affect speed, including the rider's weight, wind resistance, and humidity.
It also has hydraulic brakes, oversized tires, and a front suspension fork to ensure a smooth ride even on rough terrain.
Other notable features of this electric bike include:
350W electric motor.
5-step pedal assist.
An LCD device that displays battery level, speed, and the distance covered.
Front and rear lights.
A horn.
A USB port where you can charge your phone and other devices.
Costco sells the Sondors Smart Step LTD electric bike at $1,499.99, the highest among the three options. However, the price is worth it due to the bike's quality features. Apart from this e-bike's long range, it has a strong and foldable frame, easy cargo transportation, and an impressive top speed.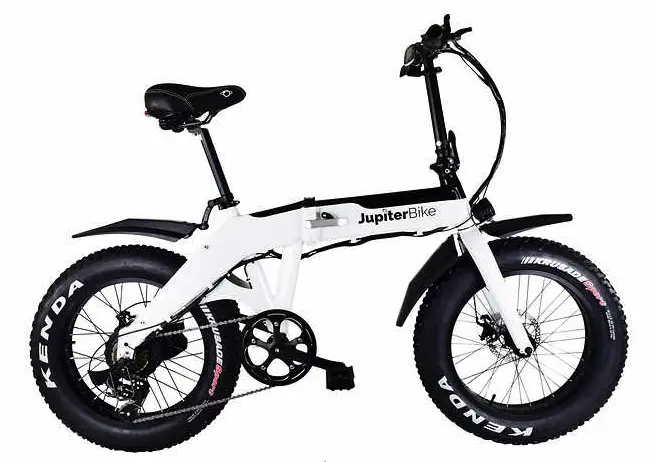 The Jupiter Defiant All-terrain Foldable e-bike is the middle-ground option among the three e-bikes sold at Costco.
This is a high-powered option due to its motor. The bike has a 750W motor that makes it suitable for different terrains, so the bike can serve you well even on rough terrains and mountains where only stronger bicycles can navigate. However, it's worth noting that the rougher the terrain, the more power is needed to steer the bike. Consequently, the battery will drain faster.
The bike's 4-inch (10.16-cm) wide fat tires make rolling on any terrain a breeze. These tires have a hard grip pattern suitable for riding on sand, ice, and mountainsides.
The Jupiter Defiant All-terrain bike has a 48-volt battery that increases its range, especially when riding on flat terrains. It's also possible to double this range by quick-swapping the battery with a charged one.
If you're a speed lover, the 7-speed Shimano gear shift on this e-bike gives you the leeway to shift the speed quickly to match your desired level. The ability to change the speed is an added advantage to fit different situations and needs. For instance, it makes it possible to lower the speed to the minimum when you want to go slowly while talking to friends.
The foldable frame makes this one of the most portable e-bikes on the market today. Unlike the standard bikes, you can fold your Jupiter Defiant all-terrain e-bike to fit smaller spaces. This makes transporting it in your car's trunk easier since you don't have to worry about it unfolding.
Other features that rank the Jupiter Defiant all-terrain foldable electric bike among the best are:
A bright 5-speed LCD.
Impressive torque.
20-inch (50.8-cm) wheel diameter.
300 lb (136.08 kg) maximum weight capacity.
A lightweight frame made from aluminum.
A 60-mile (96.56-km) range, making it the best option for longer distances.
Here is a YouTube video demonstrating some of Jupiter Defiant All-terrain Foldable e-bike's features:
Costco sells this bike for $1,249.99.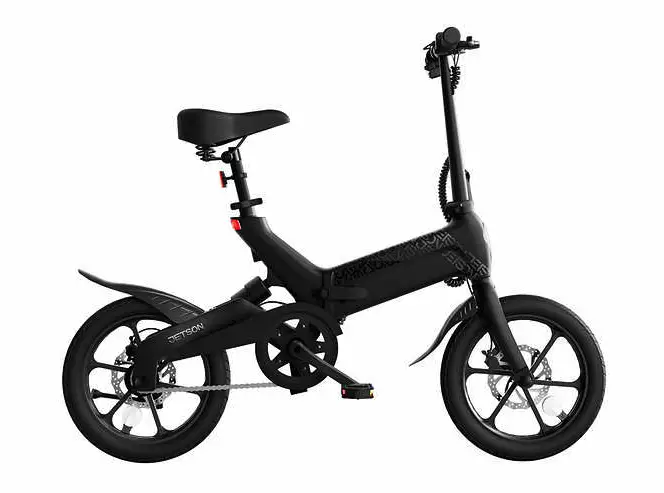 The Jetson Haze e-bike is your go-to option if you're on a tight budget. However, the low price range of this bike doesn't mean it compromises on quality. The bike has 16-inch (40.64 cm) tires with a 350W motor that gives it the power to climb hills and ride on rough terrains.
The bike has a pedal-assist feature that allows you to vary the power output while riding. The three pedal assist levels make it possible to customize your riding experience based on the terrain.
Like other e-bikes sold by Costco, the Jetson Haze has a foldable frame. The bike's double-folding compact frame makes it easy to transport and store.
Most electric bikes come with the challenge of unfolding themselves when folded for storage or transportation. The Jetson Haze e-bike is designed to overcome this challenge by incorporating a magnet within the frame. The magnet ensures that the frame remains folded until you unfold it manually for use.
What's more, the bike has a removable battery that makes it possible to charge it separately. The removable battery means you can buy a second battery to extend the bike's range. A fully charged battery covers a range of 15 miles (24.14 km).
Compared to the other two, the major downside of this bike is that it has a shorter range. However, you can overcome this challenge by having a spare battery whenever you want to cover a longer range.
Finally, with the Jetson Haze e-bike, you don't have to keep worrying about its safety whenever you leave it somewhere. The anti-theft locking device on the bike will give you peace of mind since it locks the bike's rear wheel.
Other features that make the Jetson Haze a great buy include the following:
A bright LCD with speed and battery level information.
Front and rear lights.
It's a lightweight option weighing 48 lbs (21.77 kg).
A maximum weight capacity of 265 lbs (120.2 kg).
A top speed of 15.5 mph (24.94 kph).
Its all-terrain wheels make it a versatile option for different terrains.
Costco sells the Jetson Haze electric bike for $649.99, making it the most budget-friendly option among the three e-bikes sold by Costco. But they also carry the Jetson Bolt Pro that I've reviewed.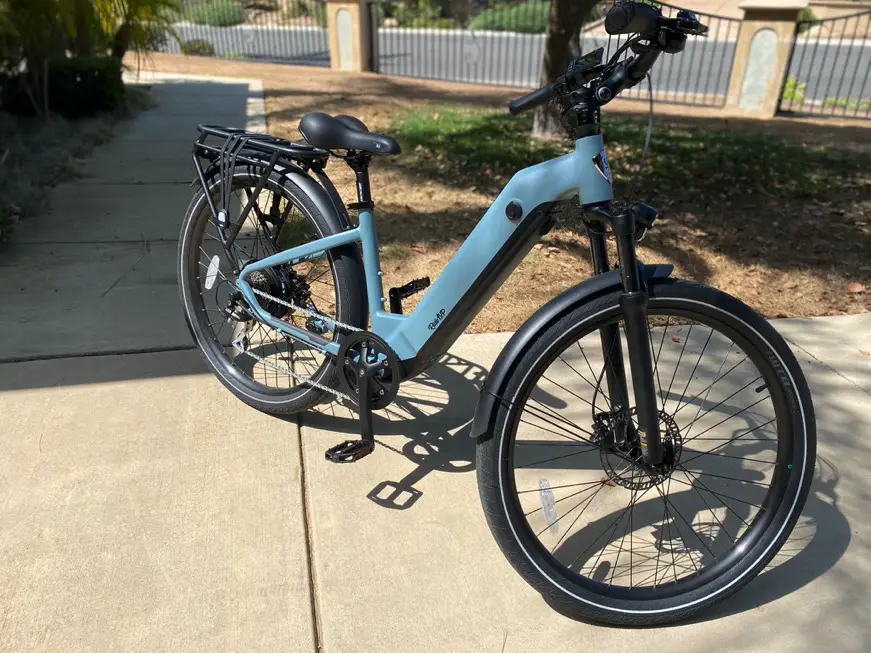 Things To Know Before Buying an Electric Bike at Costco
According to CNN, commuters waste 54 hours annually while stuck in traffic congestion. This is where electric bikes come in. They enable you to navigate the congestion easily and arrive at your destination faster. However, knowing some basic things about e-bikes and how they differ from regular bikes can help you make better purchasing decisions.
The main difference between an electric bike and a regular one is the motor on an e-bike that assists in pedaling, making it easier to ride over longer distances or rugged terrains. However, this doesn't mean you don't have to pedal on an e-bike. Most riders still pedal for exercise and to extend the bike's range.
Other features that define most electric bikes, whether you buy them from Costco or directly from a top brand are:
Electric bikes are battery-powered: Most electric bikes have 36-volt or 48-volt batteries, while some more powerful e-bikes have 52-bolt batteries. This means the bike will operate until the battery runs out, which can be anywhere from 20 to 100 miles (32.19 to 160.93 km), depending on the e-bike, its battery, road conditions, your body and cargo weight, and more. Lectric brand e-bikes have excellent-priced models that can go up to 100 miles, which is way above average!

E-bikes have various levels of pedal assistance: The bike's motor will provide assistance based on the rider's pedaling level. The levels can range from no assistance to throttle-on-demand, where the motor does all the work for you. However, this option drains the battery much faster.

The range: Range in e-bikes refers to how far you can travel on a single charge. The range varies depending on the terrain, the rider's weight, and the pedal assistance level chosen, among other things.

Top speed: This refers to how fast the ebike can go with the motor's assistance. Although some e-bikes can attain top speeds of 45 mph (72.42 kph) on the motor alone, U.S. federal bike law limits it to 20 mph (32.19 kph) when using a throttle.

Payload capacity: E-bikes have different payload capacities for efficient operation. Most should have a payload of 250 and higher. The Aventon Aventure fat tire bike, however, has a payload capacity of 400lbs! Just keep in mind that overloading your electric bike can cause damage to the motor and battery.
Similar E-Bikes Not Carried at Costco
It's important to note that not every type of electric bike is offered by Costco. There are literally hundreds of e-bike brands and thousands of options. But to make it easy to compare, here's a list of top e-bike brands having a variety of models that are priced comparatively from less than $700 to $1999:
Within these four high-quality brands, you'll find nearly every type of electric bike including folding e-bikes, fat tire bikes, commuter e-bikes, road e-bikes, and cargo bikes. The benefit of buying directly from a brand might also be worth it.
Top support, replacement parts, and accessories are just a few reasons to buy from the brand itself.
Final Thoughts
Buying an electric bike from Costco is one of the best decisions you can make. Costco is a genuine e-bike seller and offers options from reputable brands. It also has an excellent return policy should you be unhappy with your purchase.
Before buying an e-bike, it's essential to identify the type that best suits your needs, such as mountain or commuter bikes, and to consider the practicality of its range for your daily use.
Finally, you should adhere to the bike laws in your state or country and ensure you have a license to ride an e-bike.