Plenty of electric bikes on the market are great for smooth rides, speed, or transporting cargo. But what if you're looking for an electric bike with the longest range? You'll need to balance your distance needs with practicality and budget.
The longest-range e-bike is the Optibike R22 Everest Edition Electric Mountain Bike with a 300-mile range.
Other top long-range electric bikes include:
Bulls E-Stream EVO AM 4 with an estimated range of 150 miles
Raleigh Centros Tour with an approximate 128-mile range
Lectric XPremium with a 100+ range
Elby 9-Speed Electric Bike at 80 miles per ride
Trek Allant+ 9 Stagger taking you a distance of 124 miles
Fuell Flluid E-Bike with a 125-mile range
S-Works Turbo Creo SL with an estimated 80-mile range
Take a look below at these long-range e-bikes and what they have to offer. Then continue reading to find out what determines an electric bike's range.
8 Best Long Range Electric Bikes
Considering all the above factors, here are eight of the best electric bikes with the longest range.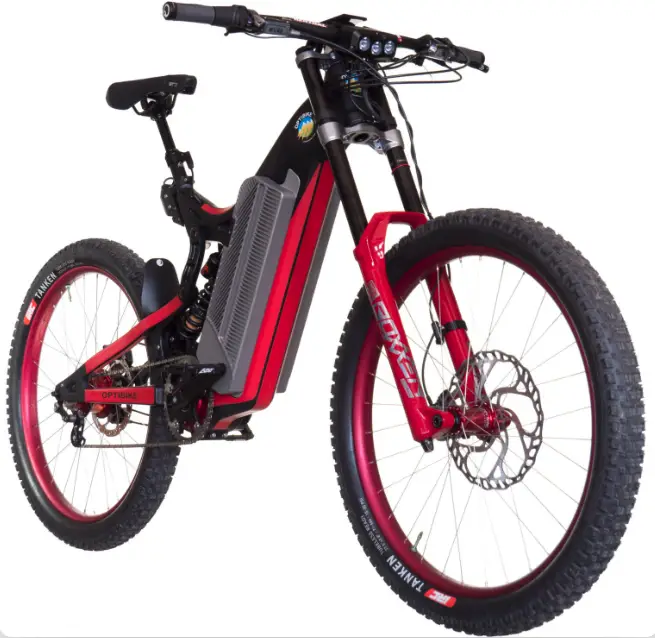 Looking for an electric bike that can go the distance? The Optibike R22 Everest Edition eMTB is a fantastic choice for those who want to take longer rides.
This 1750-watt machine has a dual crown fork with full suspension, a powerful mid-drive motor, and a Rohloff 14-speed hub, giving you all the control you need.
With a light carbon fiber frame and swingarm, the R16C is also easy to maneuver, making it a great choice for riders who want a bike that can handle long rides, 45% grades, and tough terrain.
The Everest has a 3260Wh, 52V Removable Dual Battery battery with an estimated range of 300 miles. It also has a top speed of 36 mph and a maximum torque of 190 Nm. With all these features, the Optibike R22 is the best choice for an electric bike that can go the distance.
The only downside of the Everest electric mountain bike is its price tag. At $18,900, it's the most expensive long-range e-bike on the market. What can you expect from an electric bike that lets you ride for 300 miles without stoppin?!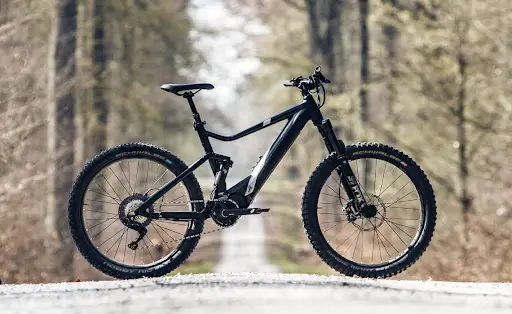 Bulls always deliver on quality and performance when it comes to electric bikes.
The E-Stream EVO AM 4 is no exception. It has a 250-Watt Bose Drive motor providing plenty of torque and a 12-speed Shimano XT transmission for a smooth ride.
The battery life is also impressive and is able to be charged in just 6.5 hours.
The bike is also lightweight, weighing only 53.25 pounds. Overall, with an estimated range of 150 miles, this bike is ideal for long-distance riding.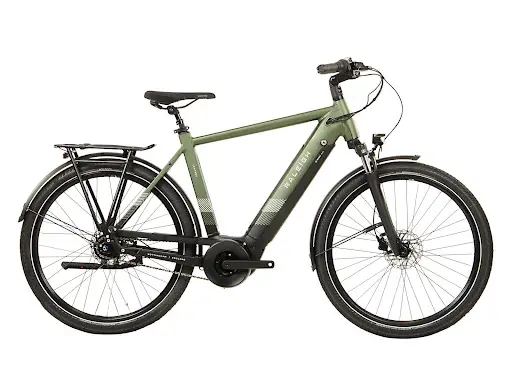 The Raleigh Centros Tour is a hybrid electric bike with an impressive range of 128 miles, making it a great option for commuters.
The bike comes in two styles – a classic crossbar geometry or a low step – and is equipped with a Bosch Power Tube 500Wh battery and a Bosch Active Line Plus motor.
Many useful accessories come with the bike, including mudguards, pannier racks, and a kickstand.
This particular bike is available in the UK and Ireland, costing £2,700/€3,300. The Raleigh Centros Tour is an electric bike with a long range.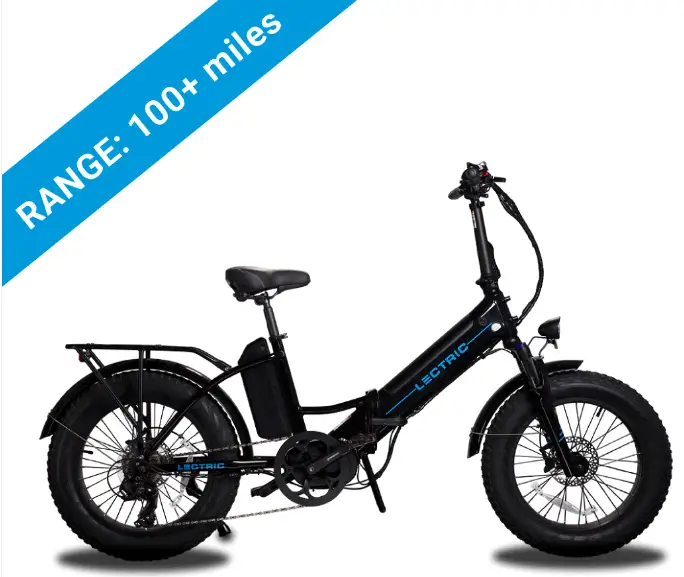 I think you'll be surprised to discover that this folding e-bike has a 100+ mile range… even though it costs under $2000! So, while it's not the highest quality electric bike you can get, it's a solid competitor when it comes to price and range.
What's the reason this inexpensive e-bike has such a great range? It comes with two lithium 48v 10.4Ah batteries, instead of just one! Generally speaking, you'll get a 100-mile range if you remain on pedal assist level 1. The range decreases by about 12 miles on pedal assist 2 while decreasing to only 50 miles if you ride throttle only.
That being said, the typical range for many e-bikes in this price range is only 35-50 miles… and would be much less if using the throttle.
Further, the Lectric XPremium is a "premium" model based on the very popular and highly rated Lectric XP. Not only can it take you far on 4″ fat tires, but it also has plenty of power (500W/800W peak) to get you up hills and over difficult terrain.
Plus, you can ride up to 28mph motor-assisted in this Class 3 e-bike, carry up to 330lbs, and you've got the stopping power of hydraulic disc brakes, thankfully.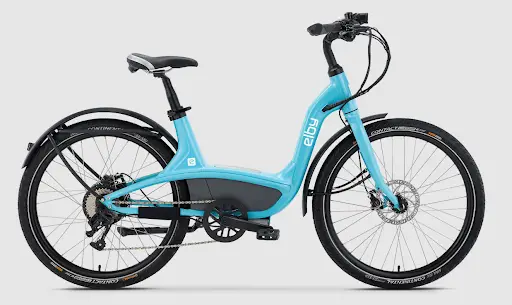 This long-range electric bike has a range of 80 miles; it can take you almost anywhere you want to go on a single charge. And with a top speed of 28 mph, it's perfect for getting around town or taking on longer rides.
It also has a unique frame design and is made of quality materials like aluminum. The Elby also has several great features, including long battery life, hydraulic disc brakes, and a smartphone App.
The hydraulic brakes are more responsive than standard mechanical disc brakes, and the Elby App allows you to track your speed, battery, and distance progress.
Although it is quite expensive, the features and performance of this bike make it worth the price.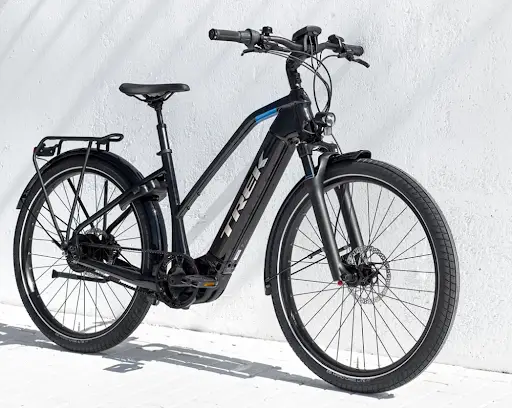 The Trek Allant+ 9 Stagger takes the cake when choosing the longest-range electric bikes. It has a battery size of 625 Wh, and the bike itself weighs 51.5lbs (23.4kg). The cost of this electric bike is around $6,349.99
As well as its long range, the Allant+ 9 Stagger has several other features that make it a great choice.
It has a comfortable and upright position that makes it easy to pedal for long periods. It also has wide tires that provide stability and traction, even on rough roads.
This electric bike has a maximum distance of 124 miles, making it ideal for commuting or leisure riding. It is fitted with a long-life battery and a Bosch Performance Line motor and comes with hydraulic disc brakes as standard. Optional accessories include mudguards, pannier racks, and lights.
The Trek Allant+ 9 Stagger is a great option if you're looking for long-range electric bicycles.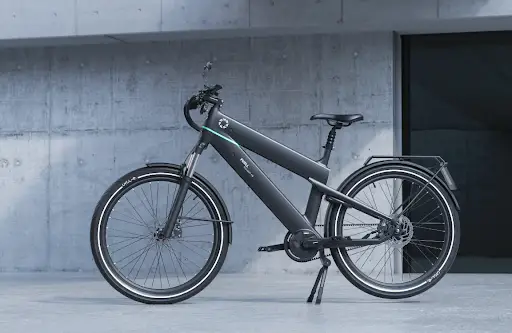 The Fuell Flluid E-Bike has a max speed of 28 MPH and 125 miles of range due to its two 1008Wh batteries. This bike also features five pedal-assist levels, making it easier to ride for those who are not used to biking up hills.
Another great feature of the Fuell Fluid E-Bike is its ability to go off-road. With its high max speed and long range, you'll be able to take this bike on any adventure you can dream up. Whether you want to explore a new trail or get away from the hustle and bustle of the city, the Fuell Fluid E-Bike is the perfect companion.
With a sleek, futuristic aesthetic, the Flluid will turn a few heads (the e-bike as well as the name!) as you go about your day in the city.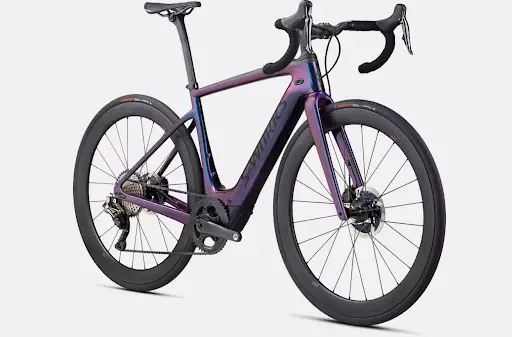 In the world of high-performance e-bikes, few can match the S-Works Turbo Creo SL. This e-bike has a maximum speed of 28 mph and a range of 80 miles, making it ideal for long rides.
This makes it a great option for road biking enthusiasts who want the ability to ride farther.
The bike is also lightweight at only 26.5lbs (12kg) and has an integrated 320Wh battery neatly positioned within the down tube.
Additionally, there is an LED display on the top tube and Bluetooth smartphone compatibility to control the bike's power modes and settings.
One drawback, however, is the cost; it starts at a whopping $13,600 (£11,500).
What's The Range Of A Long-Range Electric Bike?
This is a million-dollar question, but unfortunately, there's no simple answer. Many factors determine how far an electric bike can go on one charge—everything from the bike's weight to the terrain you're riding on to the amount of pedal assist mode you use and your average speed.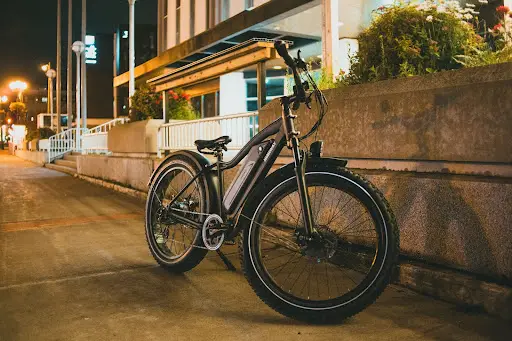 Major Factors To Consider
Electric bike range varies based on several factors, including the battery, motor, tires, rider weight, wind resistance, and terrain. You'll need to consider all of these factors to get an accurate idea of how far you can ride on a single charge.
Battery Power
The first thing to consider is the battery. The battery is what powers the motor, and it's what gives the bike its range.
There are two primary types of batteries used on e-bikes: lead-acid and lithium-ion (Li-ion).
Lead acid batteries aren't used much in electric bikes anymore because they offer a shorter range than lithium-ion batteries.
Lithium-ion batteries are the way to go for high-capacity battery options. They are much lighter than other batteries, have a range about twice that of lead acid, and are quite durable, typically lasting around 1000 full battery charges.
You need to pay attention to the battery size and capacity to determine your range. Thus, a 52V battery will typically have a longer range than a 48V battery.
Motor
The second thing to consider is the motor. The motor is what propels the bike, and it's what uses the power.
There are two main types of motors: hub motors and mid-drive motors.
Hub motors are the most typical motor used in electric bikes. They're less expensive than mid-drive motors but not quite as powerful. Overall, a hub motor has a shorter range compared to a mid-drive motor.
Tires
The tires on an electric bike can greatly impact the range.
There are two main types of tires: tubeless and tubed. Tubeless tires are more expensive than tubed tires but are also more efficient. A tubeless tire should also give you a longer range than a tubed tire.
Further, tire pressure that is too low will decrease your range.
Type of E-Bike
Another potential factor in determining an electric bike's range is the type of e-bike.
For example, a smaller folding e-bike can have a shorter range than a standard-size electric bike. This is because there is less space for a larger battery with a greater capacity.
Similarly, an electric mountain bike or fat tire e-bike will likely have a shorter range than a lighter-weight electric city bike, as it will be heavier and require more power to ride up steep hills.
Terrain
Another key factor in determining range is the terrain.
E-bikes ridden on flat terrain will have a longer range than e-bikes ridden on hilly terrain, as the motor will not have to work as hard to propel the bike uphill.
Riders' Weight And Riding Style
The weight of the rider is also a key factor in range. A heavier rider will require more power and the e-bike will have a shorter range.
Additionally, riding at higher speeds or using throttle will shorten the range significantly, as you're using more power to accelerate.
Final Thoughts
By considering max speed, battery life, and pedal assist levels, you can find the best range e-bike for your needs.
With so many great options on the market, it's important to do your research to find the perfect fit. Whether you're looking for a long-range bike for commuting or an off-road machine for your next adventure, there's an electric bike out there that's perfect.