If you're an electric bike rider who wants to find an e-bike model that can pull a lot of weight, whether it's for towing children or pets, carrying a load for work, hunting, or even bike camping, then you need to know how much it can pull and carry. Every electric cargo bike can handle a different amount of weight.
Most electric bikes can pull a trailer plus a cargo weight of at least 220lbs. However, many e-bikes can easily tow 300lbs, while a few others can pull up to 500lbs. How much each e-bike model can pull will depend primarily on electric motor power and battery capacity.
Plus, there are a lot of other factors to consider when towing a trailer or hauling something heavy with electric cargo bikes.
In this article, I'll tell you what you need to know so you can be sure to make a good choice when buying an electric bike that can pull the weight you need.
Can an Electric Bike Pull a Trailer Easily?
When discussing how much weight an electric bicycle can pull, you're probably thinking of using a bike trailer to haul your dog, cargo, or kids. But there are other uses of a trailer that are especially helpful to specific groups of people.
Thankfully, the motor power of an electric bike makes it easier to tow any kind of trailer, for almost any purpose, as long as you stay within each e-bike's maximum weight limit.
An e-bike company should specify each model's maximum load capacity (or "payload capacity") on the sales page. If you don't see this listed, make sure to contact them before purchasing.
There are many inexpensive electric bikes that may not adequately carry the load you need. Getting an e-bike that can only carry 220lbs won't leave you much room to add 40 lbs of kids if you already weigh 180lbs.
Plus, don't forget that the weight of the bike trailer or child seat is also part of your load!
Thus, in many cases, you may want to use an electric bike with a rated load capacity of 300 or more to pull a trailer (see some great e-bike options later in this article).
Here are some ideas of what you can tow behind you in your e-bike trailer:
Kids
Books
School or Work Projects
Dog or cat (or other pets)
Hunting or fishing gear
Surfboard
Groceries and supplies
Hobby supplies
Products for sale (for entrepreneurs)
Can I Attach a Dog Trailer to My Electric Bike?
Dog bike trailers can be used by attaching the trailer to the e-bike with a simple attachment, just as you would a child's bike trailer. Just keep the dog's weight in mind so that you don't go over the recommended e-bike weight limit.
Keep in mind that dog trailers are specifically designed for dogs so that they can sit comfortably, and possibly lay down. The dog trailer below supports up to 110 pounds.
Can You Pull a Cart with an E-Bike?
Although you can pull a cart with an e-bike, carts are typically taller, heavier, and have more cargo space. Therefore, the cart will use more of your bike's maximum weight limit, especially if you fill it up.
So, depending on your cargo, you'll likely need an electric bike with increased electric power and a greater load capacity.
This is a great way to use an electric bike trailer, as you can pull products to sell, such as ice cream, soda, or other carnival goodies to your destination.
Rambo offers a bike cart that easily attaches to most of their e-bikes.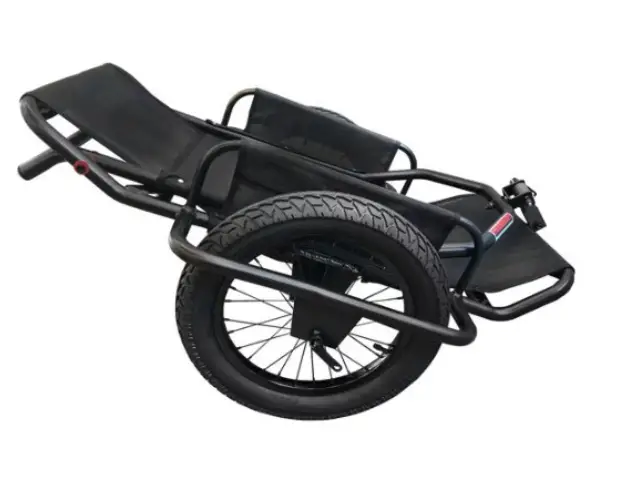 Can an Electric Bike Pull a Deer?
Generally, a deer can be pulled on a specialized trailer or cart with an e-bike that has a 750W or higher motor power. Many hunters also pull a deer directly behind their e-bike.
Important Considerations When Towing a Trailer with an E-Bike
Not all bike trailers will work well with every e-bike. Here are several things to consider when towing a bike trailer on an electric bike.
Trailer Weight Capacity
Bike trailers have their own maximum weight limit, which will depend on whether it was designed for carrying cargo, kids, or pets. Although most trailers hold from 85 lbs to 125 lbs, the maximum weight capacity can be 40 lbs or even lower for pet trailers.
Thus, not only do you need to take into account your e-bike's weight limit, but you need to stay under the weight capacity of the bike trailer itself.
For example, let's say that your electric bike has a load capacity of 220 lbs and you're carrying yourself (150lbs) + 60 lbs of cargo. So, your e-bike is now carrying 210 lbs and thus you're staying under the allowed weight for your e-bike.
However, now consider that your bike trailer's weight limit is only 50 lbs! That 60 pounds of cargo you're carrying exceeds the trailer's recommended weight capacity by 10 lbs.
So, taking a close look at all of the numbers is super important!
Know what trailer you will need before buying your e-bike, if possible. You can check out these pet and kid trailers on Amazon.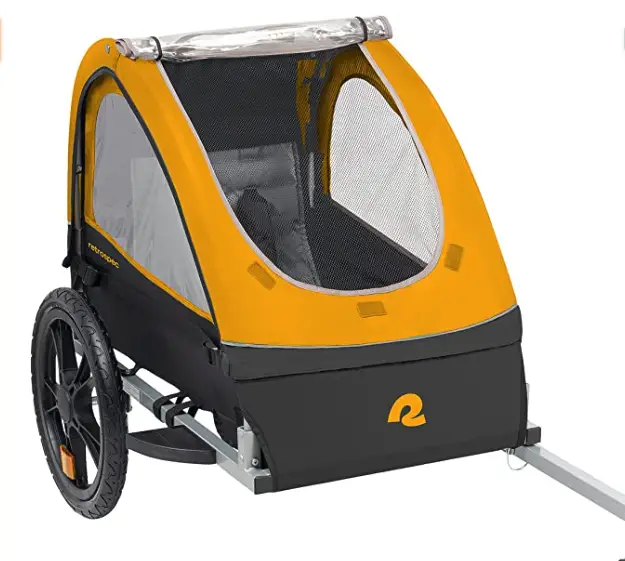 Rider and Passenger Safety
Knowing how much your e-bike and the bike trailer can tow is important because it can be unsafe to carry more than either can handle.
Too much weight can be taxing on the motor, battery, and brakes. I'll show you what I mean a little later in the article.
Sufficient Motor and Battery Power
If you want to be sure that your electric bike can pull the weight you plan to tow, you'll want to make certain that you have enough motor power and a high-capacity battery.
You should be able to manage the e-bike and have a powerful enough electric motor to ride uphill with your cargo in tow. A 500W to 750W motor should be sufficient in most cases.
However, if you're riding lots of steep hills or over rough terrain, as well as pulling 100 lbs or more of cargo, then you might need a 1000W motor and a higher-capacity lithium-ion battery. For example, Rambo and QuietKat electric bikes offer multiple e-bikes that can handle this riding style, some with over 1000 watt-hour batteries and 1000W motors like the QuietKat Ibex below.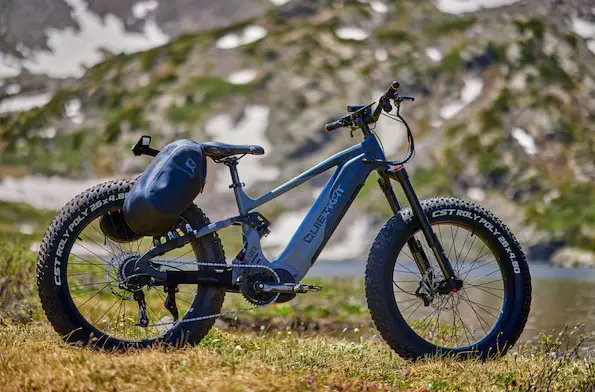 Low Tire Pressure
Any electric bike will have an easier time pulling cargo with the correct tire pressure. If your tire pressure is too low, the cargo weight will drag on the motor and reduce battery capacity.
This may prevent you from getting uphill easily and will reduce your battery charge more quickly, therefore not allowing you to go as far on one charge.
The type of electric bike tire will determine the standard tire pressure for your e-bike. For instance, a fat tire may not require as much air pressure as a narrower tire. The wheel size will also make a difference.
Shifting Gears
By shifting to lower gears, it'll be easier to pedal uphill without exhausting battery power.
Therefore, avoid single-gear e-bikes if you'll be towing a heavy load. You don't want to get stuck on a steep hill that's difficult to climb (even with pedal assist).
What Type of E-Bike Should I Get for Pulling a Trailer or Cart?
When asking how much weight your e-bike can handle towing cargo trailers, it's important to understand that the maximum towing weight includes the cargo inside the trailer as well as added passengers or pets.
You can choose any type of electric bike to pull a trailer as long as it has a sufficient load capacity. That is, it should be strong enough to pull the trailer plus your cargo weight.
Let's take a look at some of the best electric bikes with weight limits high enough for most riders.
E-Bikes that Can Tow 275 Pounds (or more)
Below is a sample of electric bikes from top brands that can pull a substantial weight. All of these e-bikes have a 48V battery, which will help them pull the weight you require (I'd avoid 36V batteries if you'll be towing a heavy bike trailer or lots of cargo).
Further, looking at quality brands is assurance that they can handle your load!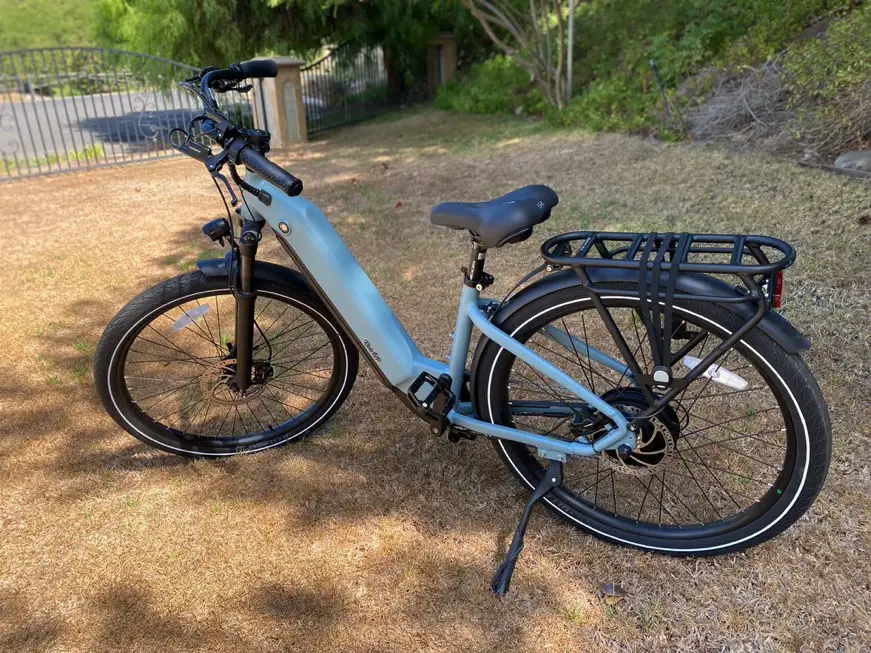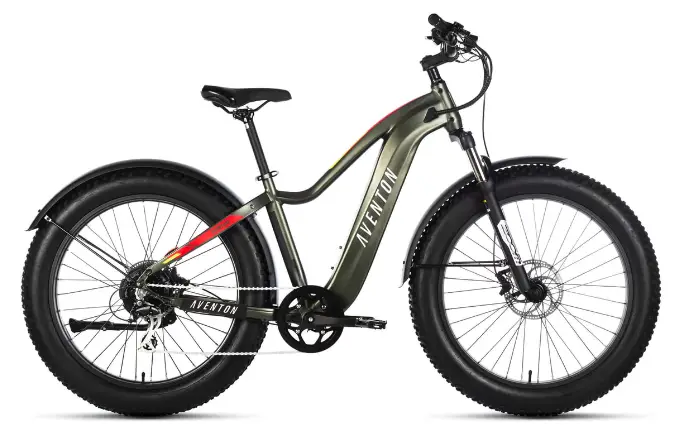 What Happens if You Overload an Ebike?
If you exceed the maximum load capacity of your e-bike, you will increase the wear and tear on multiple components of your e-bike, including your motor, battery, and brakes.
Motor
If you overload your ebike, the motor will have to work harder to move you at the speed you are used to. Going up hills will make it work even harder. And if it is working harder, the motor won't be able to provide the same amount of power as when it isn't carrying a heavy load.
Therefore, your maximum speed will be lower and the e-bike may struggle to get up hills or over rough terrain. You may need to replace the motor sooner than expected.
Battery
Exceeding an electric bike's weight limit will increase the demand on any lithium-ion battery. This is true even if you don't go over the recommended weight. But, these demands will be even greater when pulling a load that is too heavy.
Doing so will decrease battery life and lead to more repairs or expensive battery replacements.
Brakes
Naturally, the greater your load, the more difficult it will be to stop your electric bike. You'll need consistent braking power for a cargo e-bike carrying extra weight. Unfortunately, using your brakes constantly can damage your entire brake system and components.
Certainly, you'll wear out your brake pads much more quickly. Replacing brake pads is relatively inexpensive if you know how to do it yourself. However, repairing or replacing the brakes in a bike shop could end up costing you quite a bit, especially if you need frequent repair.
Conclusion
If you want to know how much weight an electric bike can pull, you need to look at the maximum load capacity for each electric bike model.
It's never recommended to exceed this weight limit, as it'll put more strain on your e-bike's components.
But, fortunately, many electric bikes are capable of pulling a trailer and carrying a heavy load. When buying an ebike, make certain you know what you'll use it for and how you'll use it. If you intend to tow a trailer or put other weight demands on it, get one that has a high payload capacity.