The e-bike industry has grown remarkably in recent years, giving rise to some groundbreaking models. QuietKat's new Jeep e-bike uses innovative and cutting-edge technology, making it one of the best electric bikes on the market.
The Quietkat Jeep E-bike is a high-performance electric bike that can reach a top speed of 20 mph on all terrain. With 4.8″ fat tires and a full suspension, the Jeep can tackle mud, snow, soft sand, rocks, and technical trails at an impressive speed.
Keep reading as I explore the Jeep E-bike in detail and dig through its features and overall performance.
QuietKat Jeep E-Bike Overview
Launched in June 2020, Quietkat's Jeep is a powerful fat-tire electric mountain bike that can take you through the steepest and roughest bike trails.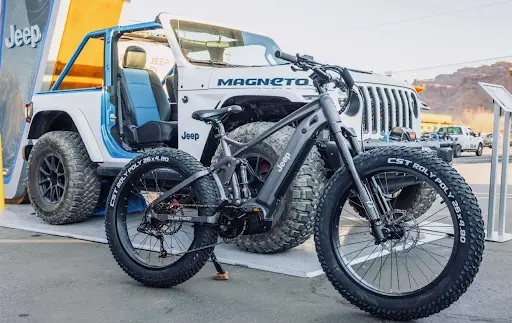 The sheer power of its mid drive motor makes for outstanding performance and an impressive speed even on hard uphill climbs and gravel hiking trails. The highly capable bike offers its user great control and assistance.
The all-terrain electric bike is great for basically any terrain, featuring a versatile 9-speed drive train and a wide range of pedal assist and thumb throttle control modes.
The Jeep e-bike makes use of TEKTRO's groundbreaking 4-piston hydraulic disk brakes, allowing the user to control the speed and confidently navigate over rough landscape. This makes it well designed in terms of safety and comfort.
The Jeep electric bike includes several interesting features, such as the full-color LCD display showing your real-time speed, battery capacity, and other vital information. And the unusually wide 4.8″ fat tires are another huge bonus.
In addition, the e-bike is highly customizable. Depending on user needs, it is compatible with any QuietKat electric bicycle accessories.
Quietkat's Jeep ticks all the boxes and may be one of the toughest fat tire electric mountain bikes available. It's ideal for all sorts of off-road adventures and is sure to perform outstandingly.
QuietKat Jeep E-bike Features
As far as electric bicycles go, few match up to the quality and performance of the Jeep electric bike. Below are the main features that make QuietKat's Jeep one of the best electric bikes.
Motor
The QuietKat Jeep e-bike is powered by an impressive Bafang Ultra mid-drive motor, with an output ranging from 750W to 1000W with a peak wattage of 1500W as well as a torque of 160nm.
Thanks to its powerful electric motor, pedal, and throttle assistance, the Jeep can go as fast as the U.S. legal limit for a Class 2 e-bike with a maximum speed of 20mph.
Full Suspension
The full suspension system that features a QK Custom air fork in the front and a RockShox Monarch RL suspension in the back makes the Jeep e-bike stand out from most mountain bikes and off-road electric bikes.
As opposed to most hardtail mountain e-bikes, the plush and adjustable suspension system of the Jeep allows more stability in rough terrain.
Tires
The incredible 26″ x 4.8″ fat-tire platform of the Jeep e-bike is almost as wide as fat tires go in the e-bike market (typically 5.0″ are the widest). These tires allow for easy and accurate all-terrain navigation and offer great comfort and stability to the rider.
Interestingly, you can customize it by changing the tires to 29″ standard mountain bike tires for even greater technical terrain flexibility.
Battery Range
The Jeep e-bike features a 14.5 AH, 48-V battery, incorporating a high-performance 'sport' mode and a battery-saving 'eco' mode.
The battery can last around 40 miles on sport mode, which is already impressive. The eco mode features multiple levels of assistance and has a maximum range of 60 miles. So, basically, the more you pedal, the greater the battery range.
Size, Weight, And Load Capacity
The Jeep electric bike is available in Small, Medium, and Large frame sizes, essentially fitting most riders. At 70 pounds, the Jeep fat-tire e-bikes are quite heavy but can withstand a load capacity of 300 pounds without compromising stability and mobility.
QuietKat Jeep Electric Mountain Bike Specs
Below are the technical details of the Quietkat Jeep electric bike.
Motor: Bafang Ultra mid drive; 750W or unrestricted 1000W (1500W peak wattage)
Torque: 160nm
Battery: 48V, 14.5Ah Panasonic
Battery range: 60 miles max
Top speed: 20mph
Tires: Poly 26″ x 4.8″ (upgrade to 29″)
Brakes: TEKTRO four-piston hydraulic disc calipers
Gears: 9-speed
Suspension: Full suspension (150mm). Front: QK Custom Inverted Air Fork. Rear: RockShox Monarch RL (adjustable suspension)
Throttle: Removable thumb throttle
Size: Small (under 5'6″), Medium (5'6″-6′), or Large (6'+)
Weight: 70 lbs
Load Capacity: 300 lbs
Display: Customizable LED
Warranty: One year (extendable)
looking for a more affordable fat tire e-bike? Check out this review!
Pros And Cons Of The Quietkat Jeep Electric Bike
| | |
| --- | --- |
| PROS | CONS |
| Adjustable full suspension | Very heavy |
| 9-speed gearing | Very expensive |
| Hydraulic brakes | Upgrades and accessories are expensive |
| Thumb throttle | |
| Fat tires | |
| Battery Range | |
| Lots of accessory options to customize with | |
The Jeep electric bike is undoubtedly one of the most powerful all-terrain e-bikes out there.
The powerful motor and the adjustable full suspension system are perhaps the most crucial benefits of the Jeep. While the suspension system doesn't make much difference on clear pavement and bike paths, it does make riding through steep terrain much more comfortable.
On top of that, the 9-speed gears and numerous levels of pedal and throttle assistance allow you wide control over your e-bike's performance. In addition, a key feature of the Jeep e-bike is its impressive stopping power, courtesy of the Tektro 4-piston hydraulic disc brakes.
The 4.8-inch wide fat tires allow a more stable and comfortable ride, especially on loose surfaces.
At up to 60 miles on eco mode, the maximum battery range is also very good; many electric bikes rarely exceed 50 miles. And it's nice to have an option for the multi-level sport mode as well.
On the downside, the Jeep e-bike is quite heavy. Its weight is, however, justified by its power and its capabilities. Jeep e-bikes are also quite expensive, especially knowing that many useful accessories such as lights and fenders are sold separately.
All in all, the Jeep e-bike is a one-of-a-kind electric bike that can go anywhere a standard bike can go and more. It is powerful, fast, durable, and versatile.
Final Thoughts
The sheer power, speed, and near-flawless performance of the Jeep e-bike measure up quite well to the Jeep brand. The full suspension electric bike is well suited for all kinds of terrain.
There are plenty of useful features and multiple levels of assistance that help dictate how fast the QuietKat Jeep goes. And, you can opt for a wide range of adjustment options and additional enhancements. You can even add a kit to make it the perfect electric hunting bike (plus you'll find angling and overlanding kits as well).
Although it's a newer ebike, the Jeep electric bike is an uncontested winner (just read the amazing customer reviews so far on their website) and is certainly a worthwhile investment if you're an adventurous rider.
You might also like to read: