If you are excited about getting an electric bike, you might be ready to jump into buying the first cool-looking one you see that's within your budget. However, by taking the time to understand what you want and need, you'll purchase an electric bike that's perfect for you!
Here's what to look for when buying an electric bike:
Classification
Riding Style and usage
Support and Warranties
Types of pedal assist
Range and battery life
Price
Mid-drive motor vs hub motor
Mounted display
Service and maintenance
Features and accessories
Comfort and fit
Whether you want to travel hundreds of miles along the highway, glide your way through town, or tackle steep hills and technical terrain off-road, you need to know what to look for when buying an electric bike.
Here is a handy guide to help you buy your first electric bike!
1. Electric Bike Classes
Due to regulatory reasons, electric bicycles are generally classified into different classes according to the level of their motor assistance. Most electric bikes can be found in one of the three classes listed below (unless your bike is specially built, e.g, mountain e-bike or converted from a regular bike).
Class 1
Electric bikes in class 1 are pedal-assisted only. The e-bike works by magnifying your input and there is no throttle. Once you reach 20 mph, the electric motor will shut off automatically.
You can continue to accelerate, and under the right circumstances, you can gain speed. But, you won't have a motor to help you out.
Class 1 ebikes are typically the most affordable of the three classes and an excellent purchase if you are a first-time user. You'll have your own comfortable ride to take you around the city and general use bike paths.
The use of class 1 bikes is trending on mountain trails. However, access is not universal, and it's better to check first!
Class 2
The only difference between class 1 and 2 bikes is that the latter does not use only a pedal assist mode. Pedal assist can be used, but its primary focus is on the throttle-powered mode.
In fact, some e-bikes are throttle only and don't require any pedaling.
Class 3
Electric bikes in class 3 rely solely on pedal assist, which continues until you reach a speed of 28 mph. Class 3 bikes are excellent for errand runners and commuters as they provide lots of power and help you get to where you're going fast!
Within the classification system, class 3 electric bikes are the most likely to be restricted on bike paths (however, class 2 may be as well). This is because some states and countries still classify electric bikes as motorized vehicles.
2. Riding Style and Usage
There are numerous different types of electric bikes on the market today. There are several options available depending on what you need an e-bike for.
Is it for commuting or riding on mountainous terrains?
If you live in a city, then an electric bike is a great way to get around, especially if you don't want to go through the hassle of finding parking or worrying about traffic jams.
If you live in a hilly area, an electric bike could make your life easier than trying to pedal up those hills yourself.
There are also different types of motors that can be used on an electric bike, including hub motors and mid-drive motors, as well as throttles and pedal assist systems which allow riders to choose how much assistance they want from their motor when riding.
These details are important to consider along with knowing how much you'll ride and where you'll ride.
Read this complete guide to the different types of electric bikes and their cost.
3. Support and Warranties
Electric bikes are still a relatively new product category for many manufacturers. And so, it's not surprising that electric bike companies offer a range of warranties and support on their products.
Warranty
However, the standard warranty for most e-bikes is one year. Some companies offer two or three years of coverage. Others off extended warranties that you can purchase along with your e-bike. This is excellent news if you're planning on keeping your e-bike for a while. 
It's even better news if you're buying a new e-bike because it means that any problems that come up during your first year of riding are likely to be covered by the manufacturer's warranty.
If you've been considering buying an e-bike but weren't sure about how long the battery would last or whether or not it would be durable enough to withstand the rigors of everyday riding, having more than one year of warranty coverage can help make up your mind.
E-bike warranties are a great way for manufacturers to show their confidence in their products. They also help you feel more secure about buying an e-bike and provide peace of mind that your purchase will last as long as possible.
Support
It's almost more important to know that you'll get good support from an e-bike company than worry too much about the warranty.
If customer support is good, then most problems will be taken care of quickly and no warranty issues should arise.
Good retailers have detailed online support where most if not all of your questions can be answered. They should offer assembly and use videos as well.
4. Types of Pedal Assist
Before purchasing an electric bike, you need to consider how powerful it should be. What differentiates an electric bike is the type of pedal assist sensors it uses.
Cadence-Based System
A cadence-based system will add to the bike's pedal power. You will feel this as you are turning the pedal (based on the amount of assistance you choose).
However, it only works up to certain speeds. Once you reach that speed, the assist will automatically stop.
Often people prefer this system because it is easy to use. The only downside is that it might not feel natural.
Torque-Based System
Torque adds thrust according to how hard you push on the pedals. It feels natural, is excellent for workouts, and is more responsive than a cadence-based system. An e-bike with a torque sensor is typically more expensive, as it's a more advanced feature.
5. Range and Battery Life
One of the most important considerations when purchasing an electric bike is the distance it can go on a single charge.
You should choose an electric bike with a long range (run time) so that you can ride it farther without having to charge it frequently.
The battery needs to be charged before using the e-bike. You should also know how long it takes for the charger to charge the battery fully, which will depend upon the size of the battery. (typically, 4-6 hours). This will help ensure your bike is ready when needed but also avoid overcharging, which might damage the batteries.
Ensure that your electric bicycle has a powerful electric motor and electric assist to get you to the top of a steep hill.
For example, if you're commuting from home to work or school 10 miles one way, you'll want a bike that can take you at least 20 miles before needing a recharge. However, many electric bikes travel up to 40-50 miles without needing a recharge.
6. Price
You'll want to look at the price when purchasing electric bikes. Consider the length of time that you intend to use the bike, as well as any additional features that you might need.
It's a good idea to check out different models and brands of electric bicycles before you purchase one so that you can get an idea of what features are available at various price points.
If possible, try out several different bikes with a variety of features so you know exactly what it is that you're looking for in an e-bike. This will help ensure that you're getting exactly what you want when buying an electric bike instead of settling for something less than ideal ) because it's close enough for your needs).
7. Mid Drive Motor or Hub Motor
Before investing in an electric bike, first, you need to understand the difference between mid-drive systems and hub motors. 
Hub Motors
You can typically find a hub motor in the rear wheel of most e-bikes (although they can be found in the front wheel as well). The hub drive motor propels the electric bike forward as you begin to pedal. You'll often feel a delay in the motor before the bike starts to move.
Mid Drive Motor
Mid-drive motors are found in the middle of the frame between the pedals. Instead of propelling the electric bike, it works by adding power to each pedal stroke. 
While mid-drive motors cost more than hub motors, investing in one can provide you with more range and power with the same e-bike batteries.
Additionally, the size difference between the two motors is negligible, so you will carry no additional weight. 
Find out in this article how long e-bike motors last and what you can do to take good care of them.
8. Mounted Data Screen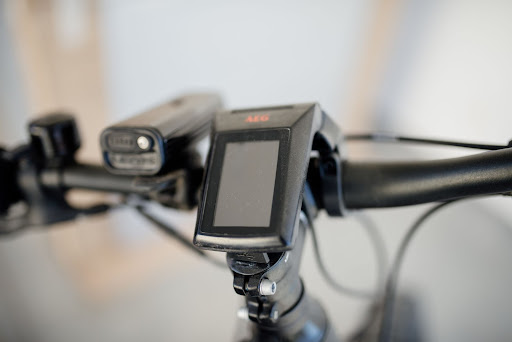 There are a variety of different displays that might come on a new e-bike. A mounted data screen is super handy because it shows real-time data about speed, acceleration, battery charge left, and sometimes even calories burned.
The best part about this type of display is that it's easy to read and understand at a glance. Some have a backlit LED display while others don't have any digital options.
Rather, these are speedometer-style displays that are mounted to your handlebars or stem. These are great for those who want something a little more low-key and minimalistic. Purchasing an electric bike with this type of simplistic display will lower the cost of the bike to you.
Wondering about GPS trackers? Take a look here.
9. Service and Maintenance
Consider purchasing an electric bike from a reputable brand that has great support and maintenance reviews from customers.
Whether it's a manual or electric bike, the vehicle will require regular maintenance checks. However, you ideally want an ebike that is easy to maintain and repair and won't cost you more than it should. Choosing a battery that can be serviced easily is crucial.
Alternatively, you can source your e-bike motor from a well-known brand and buy a less expensive frame from somewhere else.
The reason for doing this is that sometimes shop mechanics cannot repair your bike's motor if it comes from a no-name brand.
Read E-Biking Today's step-by-step maintenance guide.
10. Features and Accessories
One of the last things you should look for when buying an electric bike is what accessories come with each model and what is available to add on.
Some e-bike brands provide better value for your money by adding on a rear rack, fenders, water bottle cage, etc. They might also offer other gear like bike locks, pannier bags, or helmets.
Then again, some companies only offer the bare minimum… the e-bike itself, perhaps with an inexpensive controller display. But you can get most of what you need at a lower price on Amazon, like this Ibera clip-on pannier bag.
You'll benefit big time by pricing out what features you really need or want. Don't be allured by cool ebike accessories only to end up with a poor-quality electric bike!
On the other hand, you may pay a lot for your bike and still need to add pricey accessories to make the ride comfortable. For instance, many e-bikers like to upgrade the factory seat post with a suspension post, or at least a wide, plush saddle like this one from Bikeroo (Amazon):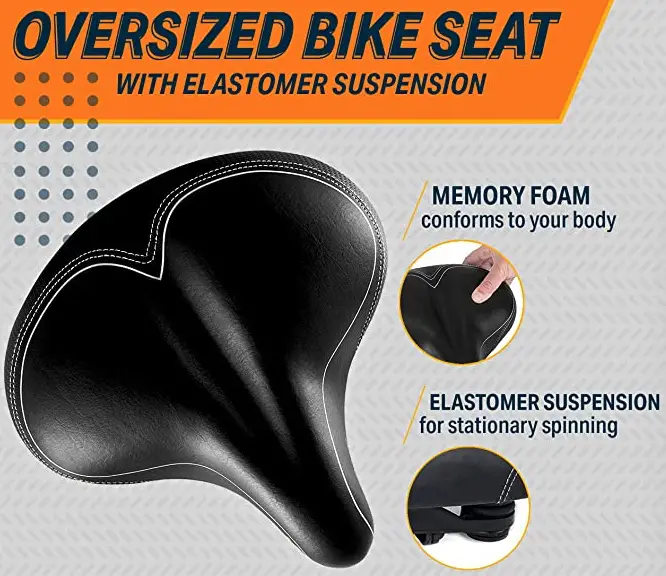 11. The Fit
When purchasing an electric bike, you may want to test-ride several models. This will help you determine how each one fits your size. However, leading brands will offer size specifications online with detailed charts and fit instructions like the one below from Rad Power Bikes.
Most importantly, you'll need to measure your inseam to make certain that you can ride comfortably and safely.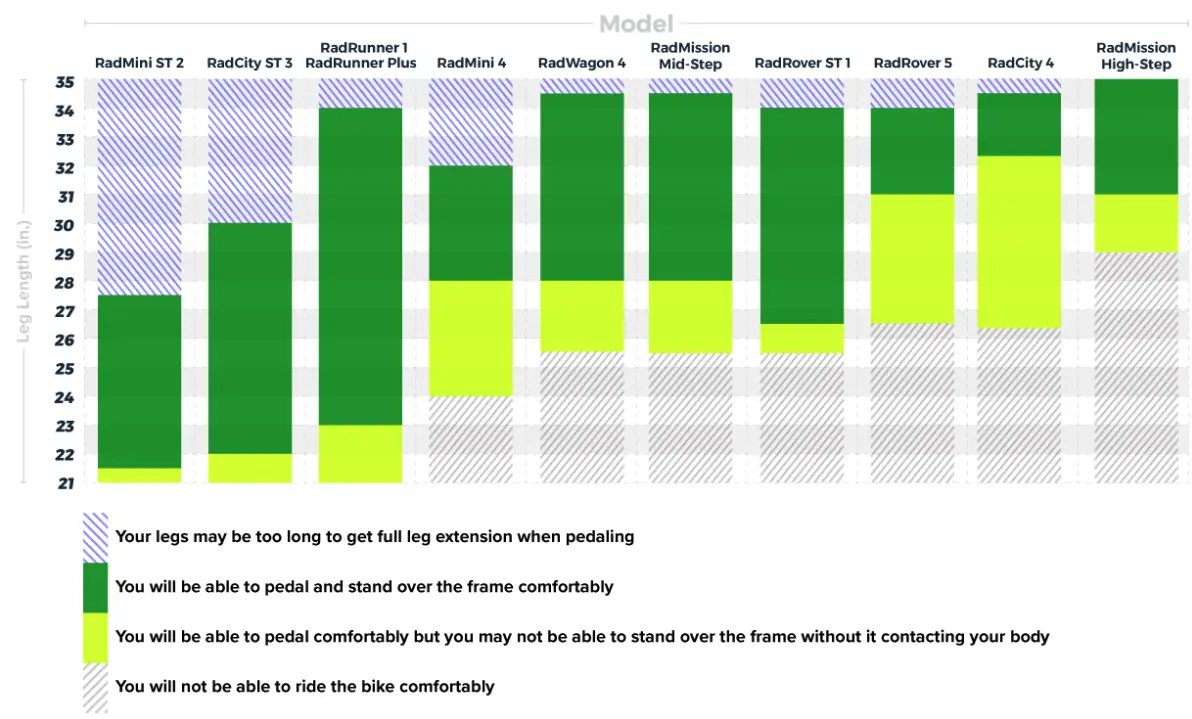 Also, check if it's the right fit for your riding style.
Some people like riding with one hand on the brakes, and others like to use both hands on the handlebars for balance. Or some riders want to make sure they can touch the ground while on the saddle.
The most important thing is to find a bike that fits your needs and comfort level.
Don't be afraid to ask questions about how the e-bike works or what batteries are used. If they can't answer your questions, find another dealer.
How much weight can an ebike pull? find out!
Final Thoughts
Electric bikes are perfect for any occasion. You can make your way through the city easily and quickly without worrying about the traffic or plan a ride with your bike partners to a nearby mountain trail.
Whatever your reasons for purchasing an electric bike, you should now know what to look for when purchasing an electric bike. When you shop, make sure you take the time to find the perfect e-bike for you!
Looking for the perfect e-bike? Read these: