Riding a bike can be uncomfortable. Even to the point where you can't get back on the bike for a few days because it hurts too much! And although the best electric bike makes it easier to ride a bicycle in general, sitting on an uncomfortable one for long periods won't be as enjoyable.
Plus, on an e-bike, you'll likely spend much more time riding because of its electric motor and pedal assistance (it's not only easier than a regular bike, it's more fun). So it's even more important that you find a comfortable one!
The most comfortable electric bike generally has:
A plush wide seat

Upright handlebars

An ergonomic frame

A highly adjustable fit

A comfortable suspension
Wider than average tires

Added personal comfort features

It's hard to pinpoint the number one most comfortable electric bike with so many varieties on the market.
For example, if you're looking for one that rides well on rough terrain, then you might be looking for the most comfortable electric mountain bike or fat tire electric bike. Alternatively, if you'll be riding on paved roads, you might want a comfortable e-bike that's fast… or you might just want a comfort bike for leisurely riding.
What you'll find in this article is a most comfortable e-bike list I've researched and put together of different types of e-bikes from different brands that rank high on comfort based on features, reviews, and customer ratings.
You'll also discover ways to make any e-bike ride more comfortable!
Are Electric Bikes Comfortable?
Just like regular bikes, some electric bikes are more comfortable than others. Typically, a cheaper e-bike will be less comfortable than a higher-quality one.
But, when it comes to comfort, what really matters are the features of the e-bike itself. Here's a look at how these features can make you more comfortable when riding an electric bicycle.
Electric Bike Saddle
Believe it or not, there are different shapes and sizes of seats on electric bikes. Many brands build their e-bikes with a certain type of "saddle" based on the e-bike's type or style.
On a road bike, many seats are narrow and firm due to positioning the rider for speed. Whereas, on an electric cruiser (also referred to as "comfort bike"), the seat is typically much wider.
However, brands sometimes use stylish seats (or whatever type of basic seat they want) based on looks and cost to them, rather than focusing on comfort.
As comfort goes, most would agree that having a comfortable seat is the most important feature contributing to a smooth ride. This is especially true on electric bikes since riders tend to spend more time on them than on traditional bikes since pedal assist and throttle reduce exhaustion, therefore helping a rider go further.
What to Look for in a Comfortable Bike Seat:
Extra-wide or "oversized"
Shock-absorbing
Thick and soft
Plush: Made with memory foam or gel padded
Waterproof (or at least water resistant)
Handlebars (and Sitting Position)
Having upright handlebars automatically puts you in an upright seating position, which is why most comfort e-bikes have them. Plus, unless your intent is to maximize top speed, you'll be in a more natural position while riding, without having to lean forward as much.
Make sure to also consider handlebar reach and width as well as shape and size, in addition to height. Further, some e-bikes have ergonomic grips like the one below: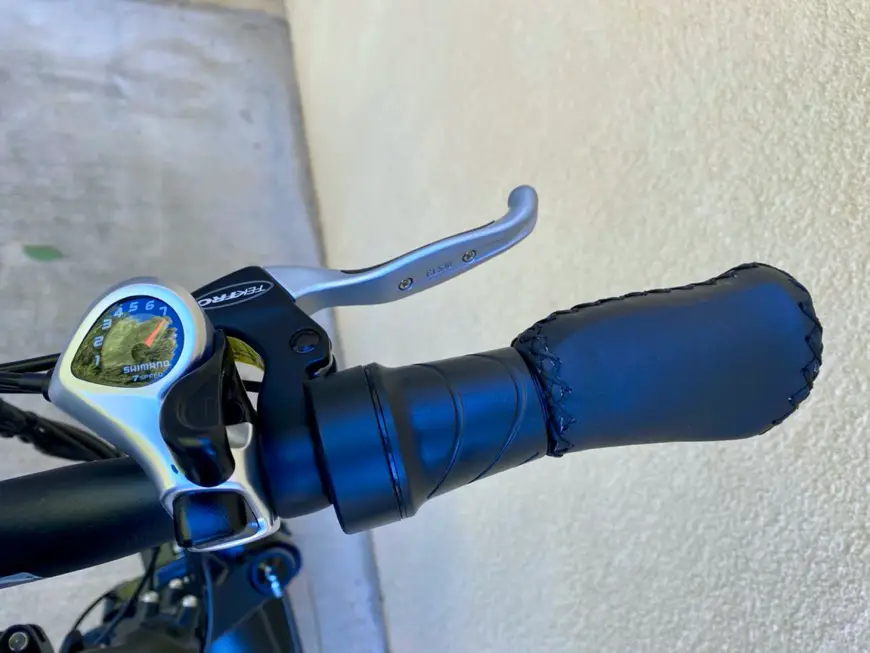 Ergonomically Designed Bike Frame
Some e-bike companies list an ergonomic frame as one of their bike's features. An ergonomic frame will place the rider's center of gravity in the middle of the frame, reducing poor posture that leads to back and neck pain.
Front Suspension Fork
You'll want a decent front suspension on your electric bike, especially if you intend to ride on dirt roads or mountain trails. Most e-bikes have only a front suspension (as opposed to a full suspension that may be found on electric mountain bikes).
For e-bikes that are built to ride well on flat terrain and on rough terrain, you'll most likely have a hardtail or rigid fork. A rigid front fork is typically enough to satisfy most e-bike riders. However, even front forks can be designed differently, with some being able to manage bumps in the road more effectively. Both spring and hydraulic forks can offer decent cushioning in mid-range e-bikes. But getting an e-bike with a hydraulic fork will reduce the need for repairs and make it a lighter e-bike overall.
Adjustable Fit
Getting properly fitted to your e-bike is a helpful way to confirm that you'll be comfortable riding it. Frame height is of top importance to your comfort on an e-bike; it's essential to get the right fit to your own height and leg length. Even so, buying one with adjustable features will ensure that you are the most comfortable on your e-bike.
To get the best custom fit, once you are certain of the frame height, you primarily need to be able to adjust the seat and the handlebars in as many ways as possible.
The seat should not only raise and lower to a variety of heights that makes pedaling comfortable (and safe) for you, but it should move forward and backward as well as tilt up and down.
Wide Tires
The wider the tires, the more contact the tire may have with the ground. In turn, the tire will roll over bumps and provide a more comfortable ride in general. Air pressure will also affect how smooth your ride is, so following your e-bike manufacturer's PSI tire recommendations is important, no matter the width of the tires.
Specifically choosing an electric bicycle with fat tires of 4.0 inches or more may also enhance your ride comfort. However, you'll want to make sure that a fat tire electric bike is right for you first.
Extra Comfort Features and Accessories
Additional features that may make electric bikes comfortable include:
Ergonomic handlebar grips
Upgraded plush seat
USB connector for mobile phone
Rear rack and pannier bag to carry helpful belongings
The Top Most Comfortable Electric Bikes (The List)
Finding the one best e-bike in regards to comfort isn't as easy as it sounds. As you've read above, there are a lot of considerations. And then it also depends on what other features are important to you and what kind of electric bike you want and need.
I've made a table of the most comfortable electric bikes and what type of e-bike each one is. If you're looking for one that can handle rougher terrain as well as paved roads, consider a fat tire e-bike. However, that won't be necessary if you're not planning to go off-road. Instead, you can compare other features that are most important to you.
Best Comfort E-Bikes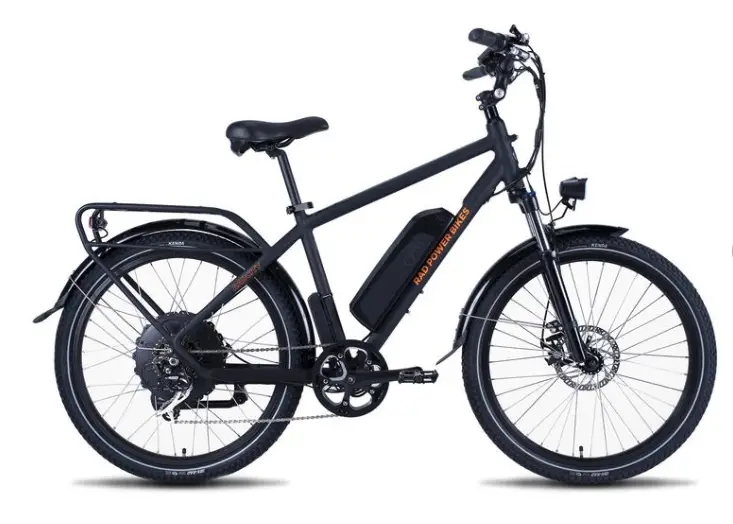 How Can I Make My Electric Bike More Comfortable?
No matter what electric bike you choose to buy, there are ways to make it more comfortable. Comfort may be a personal preference as well. You might wish to remove lower back pain, neck stiffness, or saddle soreness. Or you might want to be able to ride longer and have more fun exercising.
Whatever the reason that you're looking for the most comfortable electric bike, you might wish to improve the comfort of your new or old e-bike.
To make an e-bike more comfortable, you can do the following things:
Adjust the handlebars to improve your reach and angle– Sitting upright is almost always more comfortable and leaning too far forward is likely to strain your back or neck. If your e-bike doesn't adjust as completely as you'd like, take it into a professional bike shop for suggestions and modifications.

Find the right seat height– Adjust your saddle for height and ride a couple of miles. You should be able to full reach the pedals and your leg should be almost straight at the pedal's lowest point. If you feel pain or discomfort in your knees, chances are your seat is too low. If you have trouble getting on or off your e-bike, chances are your seat is too high. Readjust the saddle height as needed until you get the right fit.

Adjust the seat front to back or tilt up or down– Again, finding the correct fit is by trial and error.

Wear comfortable bike shorts– Buy shorts with padding and wear either underneath loose clothing or by themselves.

Use other helpful bike accessories that'll increase comfort– Cycling gloves, glasses, and high-quality helmets will help you feel your best while riding.

Decrease tire pressure– If you are hitting every little bump with a thud and feeling it on your saddle, it's likely that the air pressure in your tires is too high. As you remove air from both the front and rear tire, they'll be making greater contact with the ground. This will ensure that they roll smoothly over the ground.

Replace your bike saddle– You can purchase an oversized, plush bike seat for relatively little right on Amazon. Spending $30 to maximize comfort while riding is a small amount considering your electric bike investment.
What is the Most Comfortable Seat for an E-Bike?
Good news! If you are unable to purchase the most comfortable electric bike due to affordability, size limitations, or any reason, then you can still make your e-bike a little more comfortable than it is currently.
To get the most comfortable e-bike seat, you can replace your old one with a newer, wider seat, typically for less than $40. There are many options. Alternatively, you can add a plush seat cover (Amazon) to your current seat for around $20.
New saddles are really easy to find. Here are a few affordable bike seats to check out. You can find these ones on Amazon that fit comfort e-bikes and cruisers:
What is the Most Comfortable Electric Bike Brand?
Many brands focus on one or two features to help them stand out. And with electric bikes, there are so many things to consider that even the best e-bike companies rarely spell out comfort as a top priority. But there are a few brands that have made the effort… and it has paid off.
Rad Power Bikes
As the largest e-bike brand in North America, Rad Power Bikes has been around for a while. They've constantly improved upon previous models and have focused on comfort during their last round of engineering in 2022. Many of their e-bikes now have ergonomic frames, better suspension, improved seat comfort, and/or greater adjustability.
The RadRover 6 Plus, for example, has been re-engineered for a better fit and increased comfort. It boasts an ergonomic frame, handlebar grips, and seat! Plus, it has fat tires for on and off-road comfort riding.
Ride1Up
Although a newer and smaller brand of electric bikes, Ride1Up has quickly figured out that riding comfort should be made a priority. They've redesigned models such as the 500 Series and 700 Series to be comfortable over longer distances, while their LMT'd step-thru model has made commuting feel as easy as cruising.
A great electric bike, the Cafe Cruiser acts just like it sounds, an all-in-one e-bike that doesn't sacrifice comfort for functionality.
BONUS: The nice thing about the Ride1Up and Rad Power Bikes brands (read the article if you'd like a detailed comparison of these brands) is that they both have high-quality electric bikes for a reasonable price… all of their models fall between just over $1000 to under $2000.
Summary: Buying The Most Comfortable Electric Bike
As you can see in the list of electric bikes above, there's a variety of models that have features geared towards your comfort. The list will likely have the perfect e-bike for you, once you decide which features are most important to you.
Make sure to consider getting an e-bike that fits your size and that has all of the bells and whistles you want. This may include an ergonomically designed frame, plush oversized seat, adjustable handlebars, and more.