When it comes to deciding what type of electric bike is best for you, there are two categories that most riders will choose from, electric hybrid bikes and electric road bikes. How do you know which one is right for you?
In general, an electric road bike is built to be fast and efficient on paved roads while a hybrid e-bike is capable of going off-road as well. Take a look at the following models compared.
Electric Road Bike Models (under $7000) vs Hybrid E-Bike Models (under $2000!)
I've researched and compared a selection of electric road and hybrid bikes that are priced reasonably for their category. They are from brands well-known for their quality, workmanship, and customer focus. So, this is a great list from which to choose your perfect electric hybrid or road bike, one that'll provide years of enjoyment.
Examples of High-Quality, Reasonably-priced electric Road and Hybrid Bikes
In this article, I'll help you compare the differences between these two types of bikes, from cost to benefits and features – and whether an electric hybrid bike or electric road bike better suits your needs!
By the end, you'll know which type of electric bike is right for you or a family member (check out the affordable e-bike brands and models)!
Watch this video to learn quickly:
What is the Difference Between an Electric Road Bike and an Electric Hybrid Bike?
There are many things to compare when deciding whether a road e-bike or electric hybrid is right for you. Understanding these nuances will help you decide which electric bike is right for your needs before you shell out thousands of dollars for one.
| | | | |
| --- | --- | --- | --- |
| Comparison of Differences | Electric Road Bike | Hybrid Electric Bike | |
| Frame | Lighter weight than hybrids | Can be quite heavy (up to 70+ lbs) | |
| Tires | Narrow for speed/distance | Wider for off-road/rougher terrain | |
| Riding position | Multiple for different riding styles | Upright seated | |
| Hand position | Multiple for long-distance comfort | Only one position | |
| Handlebars | Drop style for riding comfort and power | Straight | |
| Foldable frame | No | Yes, in some models | |
| Cost | More expensive (read below) | More affordable (read below) | |
General Comparison: Electric Road Bike vs. Hybrid E-Bike
In general, electric road bikes are built for speed and power, while electric hybrid bikes can be used for commuting to work or getting around town.
Let's break down exactly what that means.
What is an Electric Road Bike?
An electric road bike is a bicycle with a motor that electrically assists pedaling and does so well on paved road. This type of e-bike is built for speed and power.
What are the advantages of an electric road bike?
Essentially, an electric road bike is great for going fast and traveling long distances. So it's ideal for someone who rides frequently on the road.
The benefits of a road bike include:
A road e-bike is great if you want to tour, go faster, and ride in a more sporty fashion!
What are the disadvantages of an electric road bike?
The primary potential disadvantage of an electric road bike is the cost. An electric road bike is typically more expensive than an electric hybrid bike, which can be a deciding factor for many riders.
However, a road bike can also be at a disadvantage if you need to ride over rough terrain or loose gravel. This is because the narrow tires will slip and slide since there isn't enough rubber contact with the ground.
What are Electric Hybrid Bikes?
A hybrid electric bike blends two or more different styles of bikes that make it practical for riding in multiple conditions and terrains. Generally speaking, it's an all-purpose e-bike popular for more casual and recreational riders.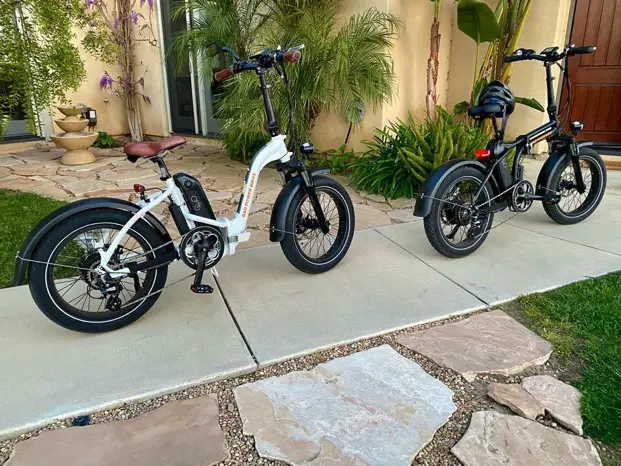 What are the advantages of a hybrid e-bike?
The main advantage of a hybrid electric bike is that it allows you to use it for commuting, running errands around town, and exploring off-road trails. The best electric hybrids can generally be ridden in areas where an electric road bike would struggle.
This is generally because of the wider tires, or fat tires, that are found on many hybrids. These types of tires have a greater connection with the ground, so they ride better on dirt, sand, and gravel. Adding fat tires to a simple commuter bike is one way in which it becomes a hybrid!
The benefits of an electric hybrid bike are:
A hybrid e-bike is great if you want a more versatile bike that will perform well as your riding needs change!
What are the disadvantages of an electric hybrid bike?
The main disadvantage is that they're typically much heavier than a road e-bike. The weight can make it harder to lift, as well as pedal if it runs out of battery.
And believe me when I say that a heavy bike is also much harder to get started when heading up a hill (from a non-moving position). So, if you choose a heavy hybrid bike, make sure it also has a throttle to help you get moving.
Otherwise, there really aren't any other features that an electric road bike has that an electric hybrid bike doesn't.
How Does the Cost Compare for an Electric Road Bike vs a Hybrid E-Bike?
On average, an electric hybrid bike tends to be cheaper than an electric road bike. You can expect to pay from $1100-$4000 for a quality hybrid e-bike while you'll find that a quality electric road bike ranges from $2000-$9000.
The average cost of a hybrid hovers close to $2000, but the average price for an electric road bike is more than double that (around $4700).
Of course, the price depends a lot on the features and the quality of the parts used to build the bikes.
Costs to Buy Electric Hybrid Bikes
Part of the reason a hybrid e-bike costs less than a road bike is that it's made with more affordable parts. In turn, these more affordable parts are lower in quality and therefore generally bulkier and heavier (thus making hybrid bikes weigh more).
However, there are a few features that can increase their cost substantially… upgraded tires (such as fat tires), more powerful battery or motor, and a folding frame. This is why you'll find some hybrid electric bikes that are as expensive as the electric road bikes in the lower cost range.
Cost to Purchase an Electric Road Bike
Naturally, any type of road bike will be more expensive in general, simply due to higher quality parts.
In fact, many electric road bikes have more powerful batteries in order to give them more speed and travel a longer distance. Thus, they have more expensive batteries, which can contribute significantly to the price. Batteries are typically one of the most expensive components of electric bikes in general.
What Features Increase the Cost?
No matter whether we're looking at an electric hybrid or road bike, the cost for both gets higher with each added feature (not basic to most electric bikes). As mentioned before, the price will depend on the quality of the added features. However, costs shouldn't be significantly dependent on whether it's added to electric hybrid bikes or road e-bikes.
Features that increase the cost may include:
Ongoing Electric Bike Costs
Even the best electric bikes will have ongoing costs to keep them running. Expect to pay about $200 per year to maintain a new one for about three years. Then, just like a car, ongoing costs for an electric bike get higher as more maintenance and repairs are required. Plan on paying around $500 per year after the first three years.
Not surprisingly, an electric road bike will cost more to maintain than a less expensive hybrid ebike, especially as it gets older. Since it costs more to purchase due to higher quality parts, a road e-bike will thus cost more to replace or repair those parts.
Why Would You Ride an Electric Hybrid Bike Over a Road E-Bike? (How to Choose)
With all of the benefits of an electric road bike, it might initially seem like that's your best option if you're willing to pay the higher price. However, there are several reasons why hybrid e-bikes might be perfect for you.
Choose a Hybrid E-Bike
So to start, you might choose an electric hybrid over a road bike simply due to the price. You can probably save $500 and more by buying a hybrid instead of a road bike.
You'll also be happier riding an electric hybrid bike instead of a road e-bike if you want a more upright riding position. Sitting upright allows more comfort and the ability to leisurely enjoy the sights while riding.
Hybrid ebikes still allow for various levels of electric assistance. So it's versatile enough to tackle long distances when needed but is still easy enough for urban transportation.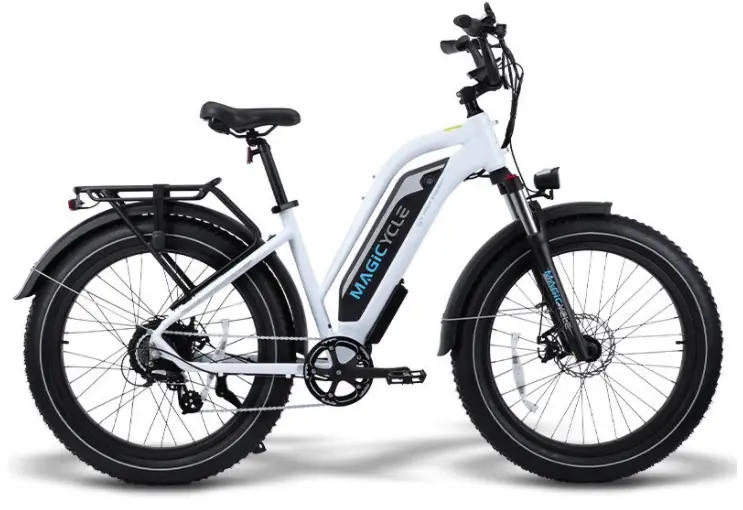 And, realistically, most hybrid e-bikes go plenty fast! If you buy one in the average price range, it should go up to 20 mph with pedal assistance… and then up to 28 mph downhill or when you're really pedaling hard.
But perhaps the #1 reason you'd pick a hybrid electric bike over an electric road bike is that you want to ride just about anywhere! You can ride on the road, on a dirt trail, in the sand, and over rocks and gravel.
So, if your commute has varying terrain, a hybrid bicycle is perfect for you. You may also appreciate having a hybrid if you want to travel and ride in various locations or have a variety of recreational riding interests. I love riding around town and cutting through trails and natural terrain or parks in my area (and getting away from cars!).
E-road bikes might have an easier time getting up hills, but a good-quality hybrid e-bike will get you up the hill just fine! My own RadMini rarely requires me to even use the highest pedal assist level. I occasionally go to level 5 on a really steep hill (and my neighborhood is very hilly) but typically only if I'm particularly tired.
Choose an Electric Road Bike
However, if you want a bike that is faster, more powerful, and smoother on the road, and aren't concerned with riding on gravel, dirt, or sand, then you should still consider buying an electric road bike.
If you plan on touring, overnight biking, or riding long distances regularly (30+ miles), then a road bike can help you achieve that.
And if you've always been a serious bike rider or consider bicycling a sport, then an electric road bike is the way to go!
Ultimately, which type of electric bike is better for you (electric road bike vs hybrid e-bike) really depends on your needs and desires.
One final thought about choosing an e-bike… have you thought about renting different types and models to help you choose which type is best for you?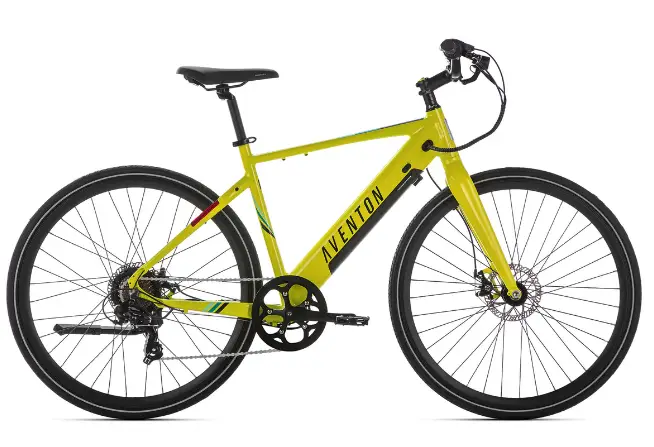 Conclusion
When comparing electric bikes, you first need to take into account the type of bike, its advantages and disadvantages, and whether it's right for you.
Generally speaking, electric hybrid bikes are perfect if you want a bike that's easy on your wallet, great for commutes around town, and easy to ride on most terrains, even rougher ones. But you should keep in mind that they don't offer as much power and speed as electric road bikes.
However, a road e-bike might be perfect for you if you plan on riding longer distances at faster speeds. Or if you plan on riding up many hills and wish to do so at high speed. You'll typically have to pay several hundred to several thousand dollars more to purchase this type of bike.
In short: A road bike will keep you moving at higher speeds while a hybrid bike will get you there but with less intensity. I really hope this article helped you understand the differences between electric road bikes and hybrid e-bikes and that you're able to make a decision on which kind of e-bike is right for you.
Need help discovering the best electric bike brand? Read these: