Electric bike components break down over time, and this is no different for the battery. In truth, when buying a new electric bike battery, you are generally considering a purchase of the most expensive component of your e-bike. So it's a good idea that you understand battery pricing so that you don't spend more than you need to.
As a general rule, an electric bike battery costs between $200-$900. The price of an e-bike battery varies due to different factors, such as brand reputation, battery quality, cell chemistry, and capacity. Premium batteries over 400 Watt hours will typically cost $500 or more.
Read on till the end to discover what you need to know about e-bike battery costs before you buy a new one. You'll find examples and other helpful information. If you're not sure how long your current battery should last, find out more about typical battery life first.
Now let's have a look at the electric bike battery price!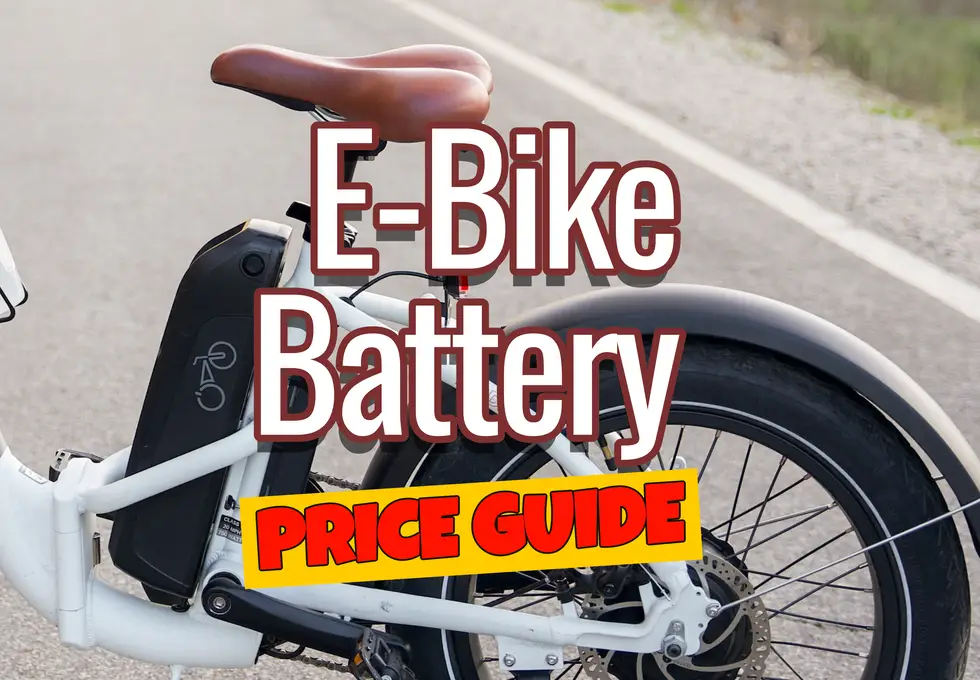 How Much Does An Electric Bike Battery Cost?
| | | | | |
| --- | --- | --- | --- | --- |
| Battery: | Brand | Volts/Amp-hours | Style | Cost: |
| Yose | Yose Power | 36V 13Ah | Frame | $199 |
| X-go | X-go | 36V 10Ah | Frame | $207 |
| Unit Pack Power | Panasonic | 36V 17.5Ah | Frame | $348 |
| MXS | MXS | 36V 13Ah | Rear Rack (Under Seat) | $338 |
| ModWheel | Panasonic | 48V 11.6Ah | Frame | $420 |
| Shimano | Shimano STEPS | 36V 11.6Ah | Frame | $587 |
| Bosch | Bosch | 36V 13.4Ah | Frame PowerTube | $798 |
| Brose | Brose | 36V 17Ah | Frame | $790 |
| Yamaha | Yamaha | 36V 14Ah | Downtube Mounted | $830 |
*Battery prices may fluctuate over time.
Although there are many brands of batteries, as many bicycle brands have their own, the chart above is not an exhaustive list. However, by comparing the prices of various batteries while looking at what affects the price of these batteries, you'll understand what price range you can expect to pay for a new one.
Now let's have a look at the factors that affect the price of an electric bike battery:
#1. Brand Reputation
With e-bike batteries, brand reputation plays a significant role in deciding its price. 
Why? Because the e-bikes from reputed brands are generally of higher quality than other e-bikes. And that means that the batteries they install in their e-bikes are also of higher quality, generally being built by well-known battery brands.
In addition, when products are of good quality, people tend to buy more from that brand— thus demand increases, and naturally, the price of that brand's e-bike battery increases. 
For example, Samsung, Panasonic, Bosch, and Brose are some brands that have earned a good reputation in the battery industry because of providing high-quality cells.
So if you are thinking of buying a long-lasting e-bike battery, it might be worth it to make your choice from these brands, if you have the budget for it.
Tip: If the battery you are getting for your e-bike doesn't give any information about the cell manufacturer, it is likely not a trustworthy product!
#2. Quality Of The Battery
The quality of the battery is another factor that affects the price.
In almost all cases, the following correlation explains e-bike batteries: Low-Quality Battery = Lower Battery Price
If you go with a direct seller, you may be able to get an e-bike battery for cheaper. But then you have to be prepared for the cheaper quality as well.
Also Check: 15 Electric Bike Battery Charging Tips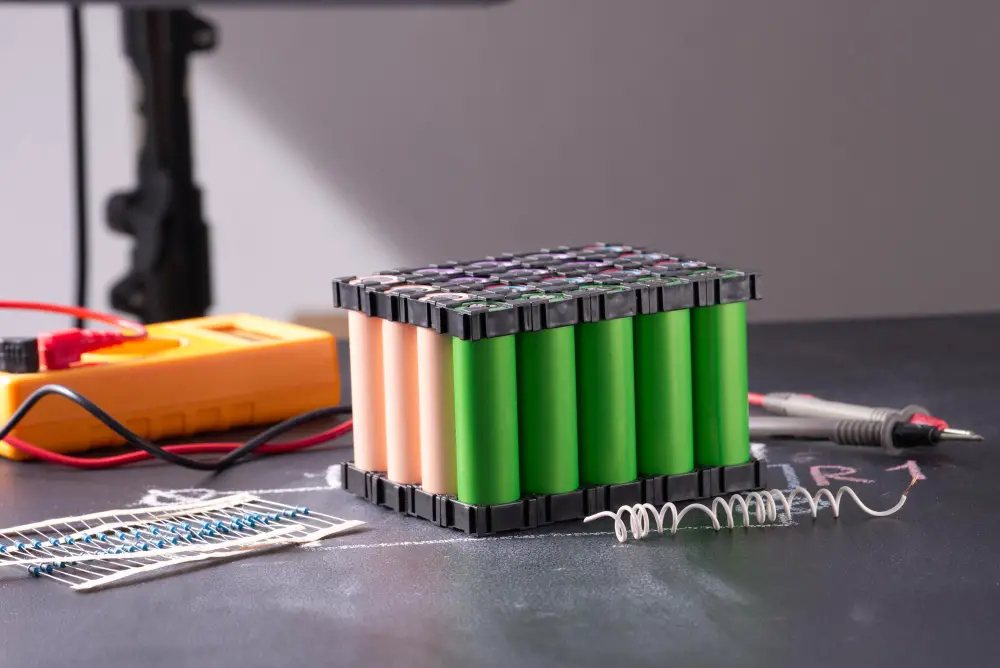 #3. Battery Cell Chemistry
Battery packs that we use have individual battery cells within them. Cells are typically categorized as cylindrical cells such as AA or AAA. Or also as prismatic cells (the ones used in our phones).
The chemistry of the cells also determines the price.
Lithium-ion batteries and lead-acid batteries are some of the types of batteries used. Out of them, the lead-acid batteries are notably cheaper; however, they can be heavier than their Li-ion variants.
Furthermore, Lithium batteries can have different cell chemistry. For instance, Lithium Cobalt Oxide, Lithium Iron Phosphate, and Nickel Manganese Cobalt are often used for e-bikes.
#4. Capacity Of The Battery
The capacity of an e-bike battery is measured in Watt-hours (Wh). More watt-hours = More range for your e-bike.
Now, the capacity of a battery can also have an impact on the price.
For instance, the Bosch PowerPack 400 – Frame has 400 Wh and costs about $629.
On the other hand, the Bosch PowerPack 500 – Rack has 500 Wh and costs about $660 (notice how the cost changes with greater capacity, despite being the same brand).
It's interesting to see what makes up lithium-ion cells. Watch this:
How To Buy The Best Electric Bike Battery?
Even though the e-bike batteries may seem to be plug-and-play, let's face it, they aren't quite cheap, so it's important that you get the right one to meet your needs. 
Typically, most mainstream e-bikes cost between $1500 and $4000.
And we already saw that e-bike batteries alone can cost around $200-$900. That's a significant price considering the price of an e-bike itself. So it's essential to make the proper selection so you don't regret it later.
As we have already seen, going with a cheaper battery pack means compromising quality. And if you have a limited budget, buying an expensive model can be challenging. 
So what's the solution? Well, finding the perfect balance between price and quality. 
And how can you do that?
Here are the three things that can help you:
Educating yourself about the battery packs for e-bikes. Since you are here, you are already doing this right now 😉 Congrats!
Then determine your needs. Do you want a powerful battery that may not last that long? Or are you looking for a battery that is less powerful but offers a longer range? Use this e-bike battery calculator to help you determine what you need.
Finally, decide what you can afford based on the above two points.
Although most batteries attach to the frame, more are starting to include integrated batteries, which look much sleeker and are more protected from the elements. Additionally, batteries that fit on or under a rear rack (and the seat) are also available.
Here's a diagram showing you the different types of batteries for e-bikes. You'll need to use the same kind of battery pack so that it fits in the same manner on your e-bike.

Now let's look at some of the best electric bike batteries and their cost.
List Of The Best Electric Bike Batteries With Prices
In general, the best electric bike batteries are the ones that have cells prepared by some of the top brands in the battery industry, such as Samsung and Panasonic. 
However, other brands, such as Bosch, Shimano, and Yamaha, are also some of the most reputable e-bike battery suppliers. You can take a look at them below:
Price: $625-$925
Bosch is one of the leading e-bike battery suppliers in the industry. Their products are well-known to withstand many years of use.
With Bosch batteries, you get:
High-Quality Lithium-ion Cells
Intelligent Battery Management System (BMS)
Did you know? Battery Management Systems (BMS) can be considered the brain of the battery. They keep the subunits within a large battery pack in a balanced state and thus help maximize the battery's longevity.
The Bosch battery management system protects the Li-ion batteries from temperature changes, deep discharging, and overloading.
Many Bosch batteries are also compatible with dual battery configuration, which can be helpful in the most demanding biking situations. In fact, the powerful Bosch e-bike battery packs are designed to travel many distances and offer many years of use.
Another reason Bosch batteries are popular is that they typically weigh around 5.5 lbs (2.5 kg), thus being one of the lightest electric batteries in the industry.
Read More: Can I Add a Second Battery to My E-Bike Safely?
Price: $500-$750
Shimano is another famous e-bike supplier in the industry. The Shimano Steps products are found in a wide range of bikes. 
They offer batteries in different ranges, such as 418 Wh, 540 Wh, and 630 Wh.
With Shimano Batteries, you get a guarantee of a remaining battery capacity of 60% even after thousand charge cycles. 

Price: $800+
Yamaha, a popular brand worldwide, is a quality supplier of bicycle batteries. With Yamaha, you get different battery capacities like 400 Wh, 500 Wh, and 600 Wh. Being a well-known, mature brand, a Yamaha e-bike battery may cost you a bit more than other comparable batteries.
Price: $790
Compared to Bosch, Brose is a lesser-known brand, but they also offer high-quality batteries. Brose makes their own battery which is named Brose 360. It is rated at about 630 Wh and weighs around 8.4 lbs (3.8 Kg).
So I've just shown you some of the best-known e-bike battery brands. 
But there are still many lower-cost alternatives to choose from. Although they may not be as popular, they are still good enough to have a look. The lesser-known brands can be helpful, especially when you are short on budget and looking to find at least some balance in quality and price.
Here are a few to check out:
Price: $348
Unit Pack Power is one of the best batteries you can have for your e-bike at a reasonable price!
It is very durable and has high-quality plates that you can easily install on a variety of ebikes. 
Moreover, it includes a key and lock to protect it from potential thieves.
It has different models including:
36V 13Ah
48V 15 Ah
52V 20 Ah
One downside is that its 36V model can have a medium-level battery life which may not be preferable if you ride on cross-country tours.
That said, at the price point, it is one of the best batteries that comes with high-quality Li-ion cells. 
With the pack, you also get an LED indicator that comes in handy to monitor the battery life, preventing you from getting stuck when your battery dies.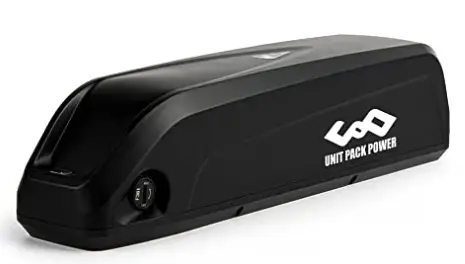 Price: $338
Another battery you can consider is the MXS battery, which has a unique design seat pack design that locks onto the electric bicycle frame to prevent it from sliding.
The battery construction is waterproof, which offers protection during rain.
With this battery, you can get roughly 25-35 miles on one charge based on speed, road conditions, and weight.
Price: $419.95
The ModWheel e-bike battery is another option you can consider. Although it isn't cheap like the Unit Power Pack or MXS, you get what you pay for in terms of battery performance and quality.
This battery doesn't get overheated on long rides and can power up to thousand-watt motors.
You can charge it around 800 times, and the battery comes with a locking key for added security.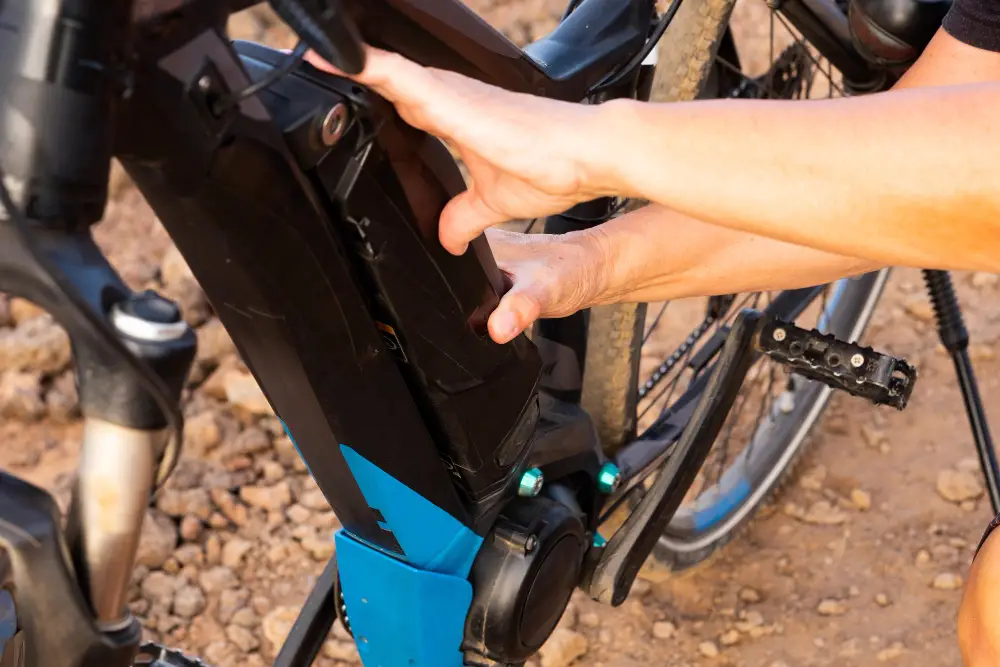 Should You Repair Or Buy A New E-Bike Battery?
You can repair an e-bike battery if there are minor performance related-issues. However, repairing it is may not be worth the effort when the battery is heavily damaged.
E-Bike batteries can be complicated enough to handle yourself. Hence, you will have to send it to a proper bike technician who can repair the battery.
Now the point of concern is based on the problem that the repairing cost can be a quarter to almost half the price of purchasing a new battery!
And let's suppose you are skilled enough to solve the problem yourself. You'll still need to be prepared to spend a couple of dollars just to get your battery working. 
Consider that the wiring, cells, soldering kit, and all other specialized gear required to solve the issue can increase the cost of repair. 
Moreover, you might not get much return on your investment if you repair the battery. Battery cells tend to degrade over time. Therefore, they have a specific lifetime, after which you will start seeing performance issues.
The battery cells degrade over time. Usually, they last for 2 to 3 years or, at max, up to 5 to 8 years, depending on the amount and distance you ride, as well as the power assist level you tend to use.
Now, the Battery Management System in the batteries helps in regulating and evening out the differences in performance as the batteries degrade. But it is crucial to note that the BMS systems can tackle minor discrepancies with different individual cells in the battery pack. 
When we pair a new battery cell with an old one, the BMS system struggles to even out the performance.
Various persistent battery-related issues can occur when there are uneven cells in the e-bike battery.
Long story short, if your battery needs major fixing, replace it rather than repairing it!
Final Thoughts
The higher the electric bike battery quality, the higher the price. With reputable brands such as Bosch, Shimano, or Yamaha, be prepared to spend around $500 to $900.
Brand reputation, quality, cell chemistry, and capacity are some factors that affect the pricing of e-bike batteries.
And the e-bike battery has a limited lifespan of a few years, after which it starts to degrade and perform poorly. 
So if the issue is major and the battery has almost completed its lifespan (nearing 800-1000 charge cycles), it's worth upgrading it with a new one.
More Recommended E-Bike Battery Resources You: