The e-bike market isn't necessarily flooded but there are enough companies with electric bikes to choose from, making it overwhelming and time-consuming to look through them all. I can't help you compare all of these brands at once, but I can start with two major e-bike brand competitors: Rad Power Bikes and Pedego. 
Between Rad Power Bikes and Pedego, Rad bikes are more budget-friendly, accommodate more rider heights, have the lightest e-bike, and have a better range by 3 miles, for the most part. Pedego is superior in added accessories, gears, and warranty.
This is a good start, but there's so much more to consider with each brand. And your needs will be different from another reader's, which may be satisfied by the opposite company. 
Keep reading to see the strengths and weaknesses of each company's e-bikes and the brands themselves. Make sure to see the comparison charts between similar models below.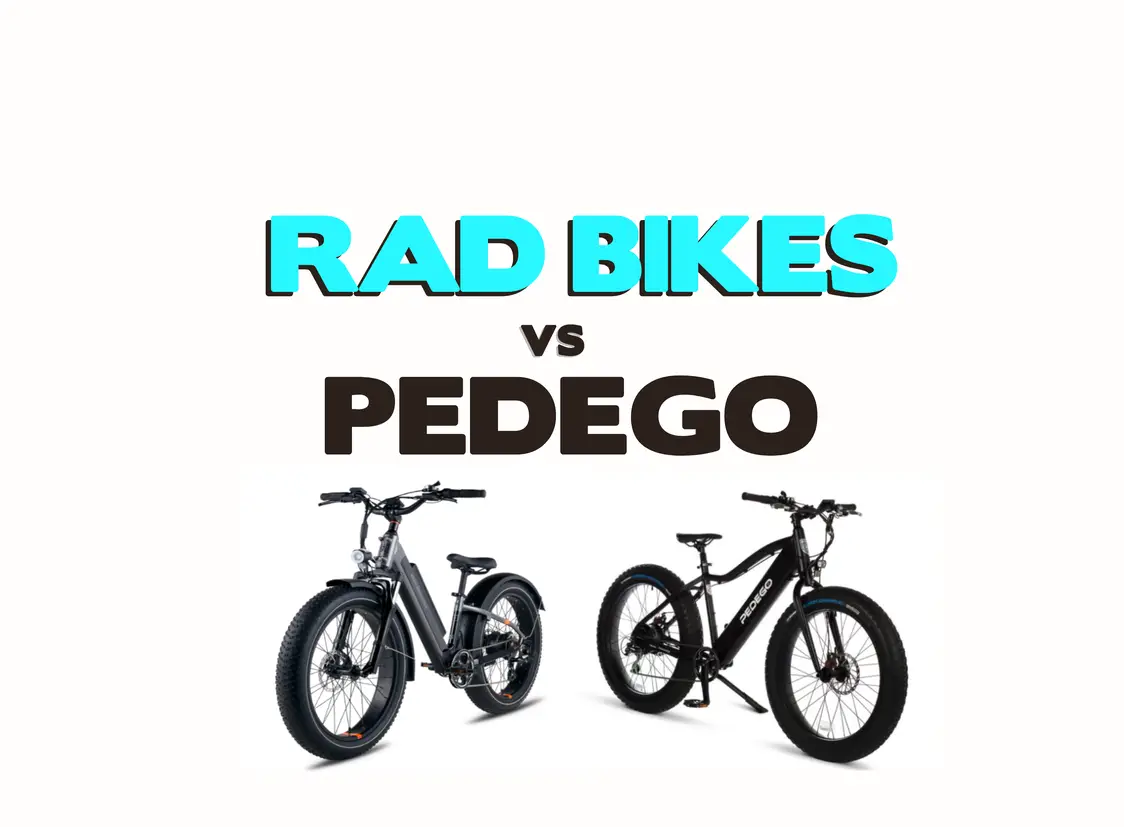 Rad Bikes VS Pedego: What Are We Comparing?
There are a number of factors that we need to take a closer look at with both of these famous e-bike competitors. The factors we're going to focus on are:
Battery range
Battery power
Motor power
Rider height
Weight
Safety features/ accessories
Pedal assistance
Gearing
Cost
Once we're done, I won't necessarily say who is better because that's up to you and what you need. Based on what you're looking for from your e-bike, your conclusions will be different from anyone else.
Now, these factors don't account for each of the brands, just the similarities or differences of their e-bikes. I'll help you compare the models they offer… because maybe one company has cheaper electric bikes but terrible customer service. These factors are worth considering before purchasing. 
Pros of Rad Power Bikes
Cost
Let's start with Rad Power Bikes. In particular, we can start with the Cost. An immediate pro with Rad Power Bikes is that not one model of theirs reaches $2000. You'll find $1,999, but that's the top limit. Their cheapest electric bike is the RadMission, which sells for $1,199.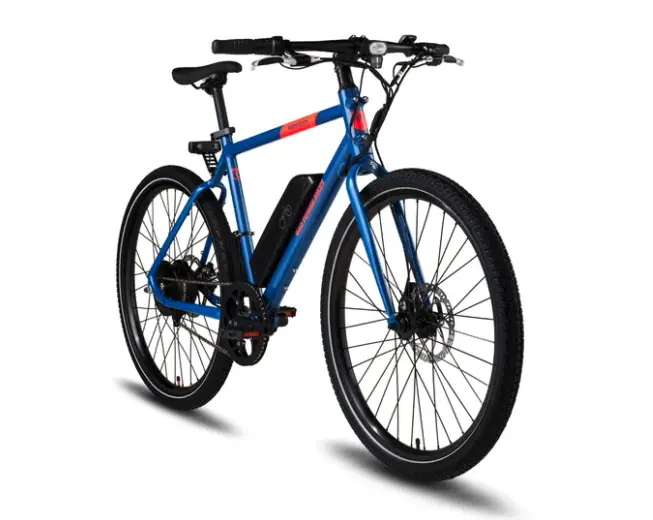 Motor Power
All of these gears have to be compatible with the motor, the real firepower. How powerful are Rad Bikes? The higher the wattage, the more torque output the motor will give, though you can have the same wattage in two motors and have different newton meters of torque. 
Most of the Rad bikes have 750W with a 5:1 planetary gear reduction with either 80Nm or 40Nm of torque. Only the RadMission has a 500W motor. Even then, Rad Bike motors are almost twice the wattage of Pedego bikes depending on which you compare. Some only have a 1-watt difference, but you probably won't notice the difference.
Rider Height Limits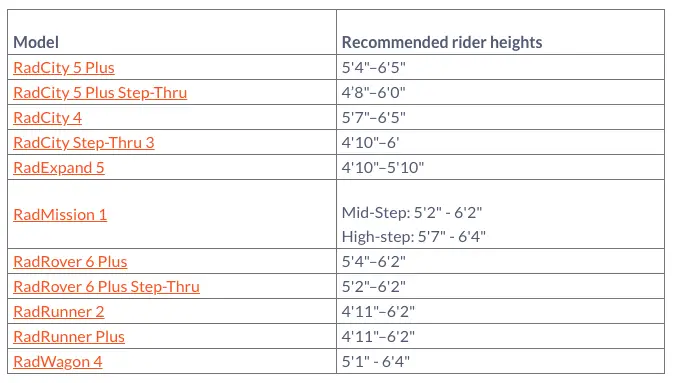 It can be nice to know the sizes of the riders that the e-bikes are comfortable for so that you don't end up wasting your money. Rad Bikes happily accommodate riders of any height between 4'8" and 6'5", although it varies between models. Pedego, however, can only accommodate riders between 5'2" – 6'0".
Battery Power
Unlike Pedego, Rad Bikes sells 5 different replacement batteries, each compatible with specific Rad Bike models so that you have the option to upgrade your battery. These lithium-ion batteries, their power (watt-hours), and which model they are compatible with are as follows:
Battery Title:
Power (Wh):
Compatibility:
Rad Semi-Integrated Battery Pack
589 to 672 Wh
RadCity 5 Plus & RadRover 6 Plus models
Rad External Battery Pack
672 Wh  
All 2018 and newer model e-bikes 
(exceptions: RadRover 6 Plus, RadCity 5 Plus, and RadMission)
RadMission Battery Pack
504 Wh
RadMission 1
2017 Rad Battery Pack (Legacy)
556.8 Wh
RadCity (2017) RadRover (2015-2017) RadWagon (2015-2017)
RadMini Battery Pack (Legacy)
556.8 Wh
RadMini (2016-2017)
Rad Accessories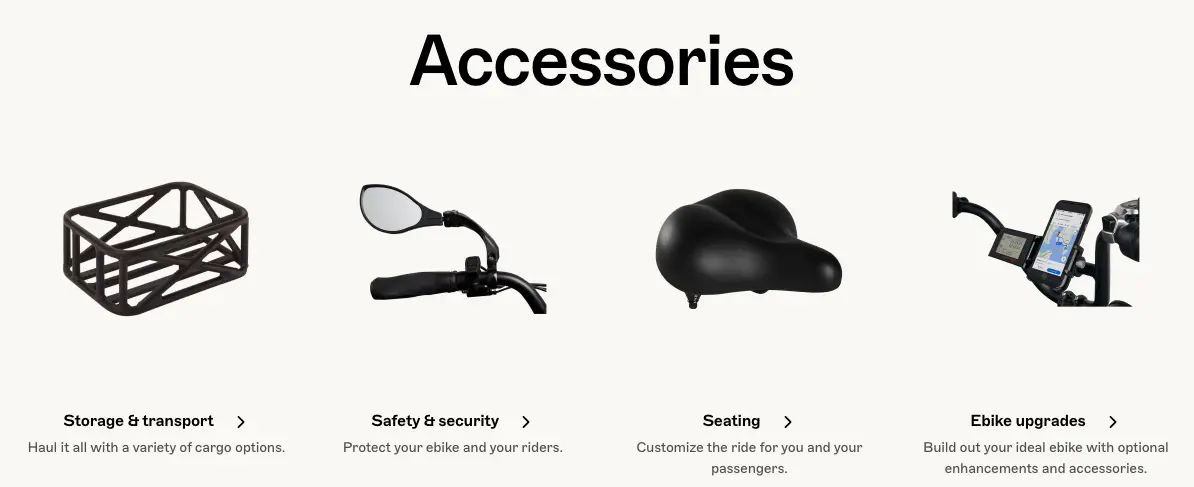 A good set of front and rear lights is surely an important safety feature, but what about other safety and comfort features? Rad Bikes upgraded accessories include:
Phone mounts
Handlebar mirrors
Front/rear racks
Baskets
Passenger seats
Center consoles
Helmets
Toddler seats
Locks
Running boards
Caboose
Water bottle holders
Kickstands
And more
Most of which are cheaper than Pedego's accessory options.
Cons of Rad Bikes
Battery Range
The battery ranges of their electric bikes on a single charge range from 24 miles to about 50 miles, respective to each model. The longest charge belongs to the RadCity 5 Plus with 28-50 miles while the lowest belongs to the RadWagon 4 and the RadMission with 24-45+ miles. The average range for them is about 25-45 miles per charge.
This isn't bad, but some Pedego e-bikes are a bit better.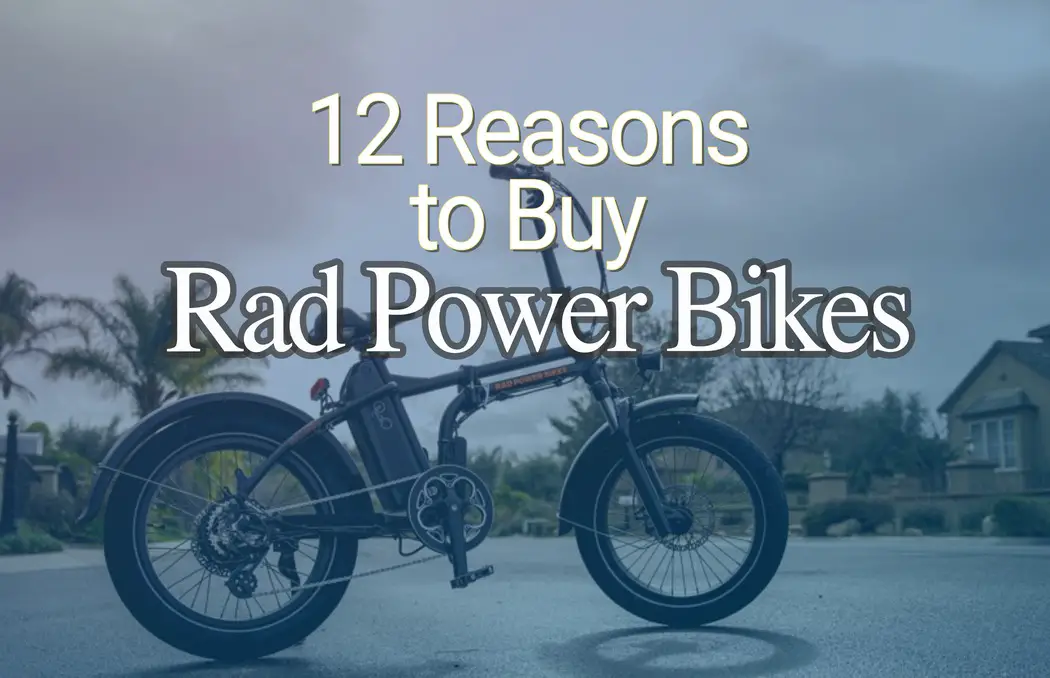 E-Bike Model Options
Lastly, a good e-bike company should be able to satisfy the needs of several markets. In other words, they should have several categories of electric bicycles that are specifically designed for these needs. Rad Power does have four categories, with some categories having more than one option:
City & Commuter
Cargo & Utility
Off-road
Folding
Technically they have six categories, but the extra two just separate the first four into either high-step or step-through e-bikes. While they do have many options, they don't have as many options that are specialized for every need.
For example, Pedego has a tandem bike (two-person), an electric tricycle, and an e-bike that was made so a toddler or small child can ride with you.
Weight
The RadMission High-Step weighs only 48 lbs but can carry up to 275 lbs while the RadMission Mid-Step weighs 47.5 lbs and can carry up to 275 lbs. Rad Power Bikes' heaviest ebike is the RadWagon 76.7 lbs, but it also has a payload capacity of 350 lbs and room on the back for two passengers! 
However, most of their e-bike models weigh about 65 lbs while Pedego's e-bikes are consistently lighter (in the low-mid 50 lbs).
Pros of Pedego Electric Bikes
More Electric Bike Options
The Pedego brand offers more bike frame options as well as more specialty electric bikes. They also give more freedom to choose the batteries your electric bike comes with, the rims, tire sizes, and even the color of the frames. In other words, they're more customizable than Rad Bikes.

Extra Accessories
A pretty important characteristic of Pedego electric bikes is that they may include extras with your purchase, such as a comfy plush seat or rear rack. In many cases, adding these additions would require extra payments for Rad bike models.
Battery Range
Pedego bikes earn their costs with impressive state-of-the-art technology, such as a 37V battery that allows you to ride for 53 miles before the battery dies. It's only a three-mile difference from some of Rad's e-bikes, but if the RadMission is used at full throttle, it's more than double the miles.
It does depend on which Rad bike and Pedego e-bike you're comparing, once again. One Pedego bike may only travel 18 miles at full throttle while another can come close to 100 miles when using very little motor assistance.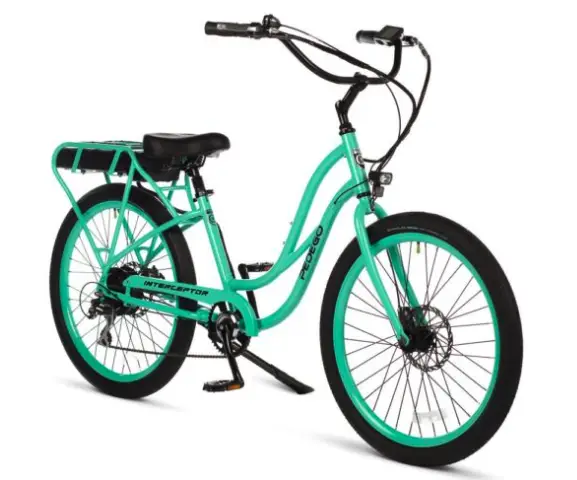 Gearing
Rad Power starts strong with 1×7-speed derailleur gearing systems on all models except one, the RadMission, which is a single-speed with 16-50T chainring teeth. 
However, Pedego offers more options with none less than a minimum of 7-speeds while others have 10-speed Derailleur gearing systems. 
"No Excuses" Warranty
Without a doubt, Pedego offers one of the most extensive warranties around. Their 5-year "no excuses" warranty can be compared to the typical 1-year e-bike warranty. And although it does cover more for longer, you should be aware of the requirements to keep your e-bike under warranty.
Not only must you register your e-bike and keep your proof of purchase, but you will also need to get a 100-mile tune-up AND annual service by an "authorized" Pedego dealer.
And, make sure you read the full warranty in detail, however, because there are several limitations. In fact, being required to get regular maintenance completed at a Pedego shop may add greatly to the overall cost, making their warranty become somewhat of a disadvantage.
Cons of Pedego Electric Bicycles
Cost
By far the worst con of Pedego electric bicycles is their cost. To be fair, they may have more features included in their costs than Rad bikes, but Rad's advantage is allowing people to buy the bike for a lower cost and then get the accessories they really want or as they can afford them.
Pedal Assist
Pedego electric bikes usually have a 5-level pedal assist. Remember that the greater the number of pedal assist levels, the more flexibility you have to suit your needs for power assistance. This is listed as a con for Pedego because they are more expensive yet have the same amount of pedal assistance as Rad Power Bikes.
The RadCity, RadWagon, and RadRover models all have an intelligent 5-level assist that has a 12 magnet cadence sensor. The RadRunner Plus has an intelligent 5-level assist with a low-profile cadence sensor. Only two Rad bikes have a 4-level assist, but they still have added advantages such as cadence sensing.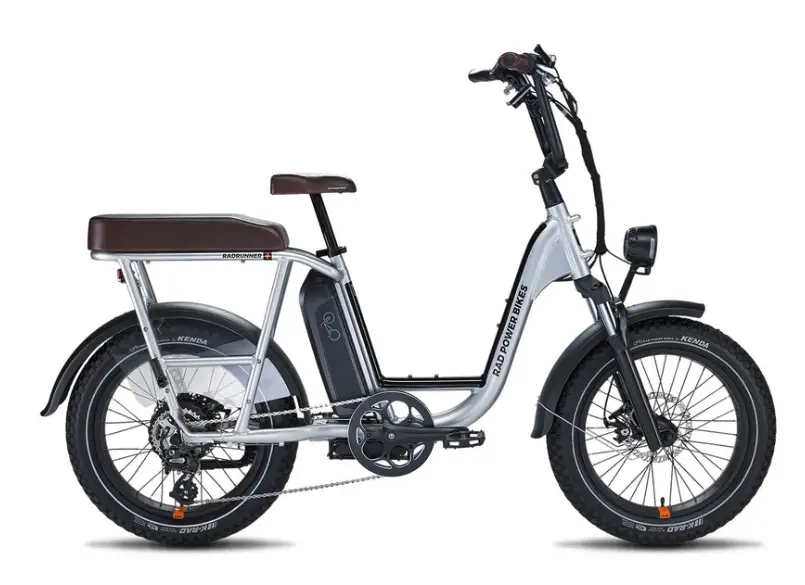 Pros & Cons of the Rad Bikes Brand
What about the company itself? Are there any particular advantages that Rad has over Pedego? Yes, they offer more services. Pedego gives repairs, tech support, and maintenance, while Rad Power Bikes offers:
Maintenance (tune-ups, safety checks, etc.)
On-demand bike assembly (they will come to you)
Delivery
Online help and video tutorials
A particularly helpful thing Rad Power Bikes does is tell you important things you need to know before you buy, which is unique for any company. Many prefer you have no idea and just try to use their sales techniques to get you excited.
They also allow you to test ride any bike you would like for 2 weeks and give every e-bike purchase a 1-year warranty. 
As a company, Rad Power Bikes is very strong competition. They're cheaper, they have an electric bike model for just about everyone, and they have great services. The only area they lack in, compared to Pedego, is that they don't offer a full range of maintenance. 
But they do offer basic things like flat-tire repair and adjustments. Still, Pedego will have a trained technician at every physical location that can fix the electronics.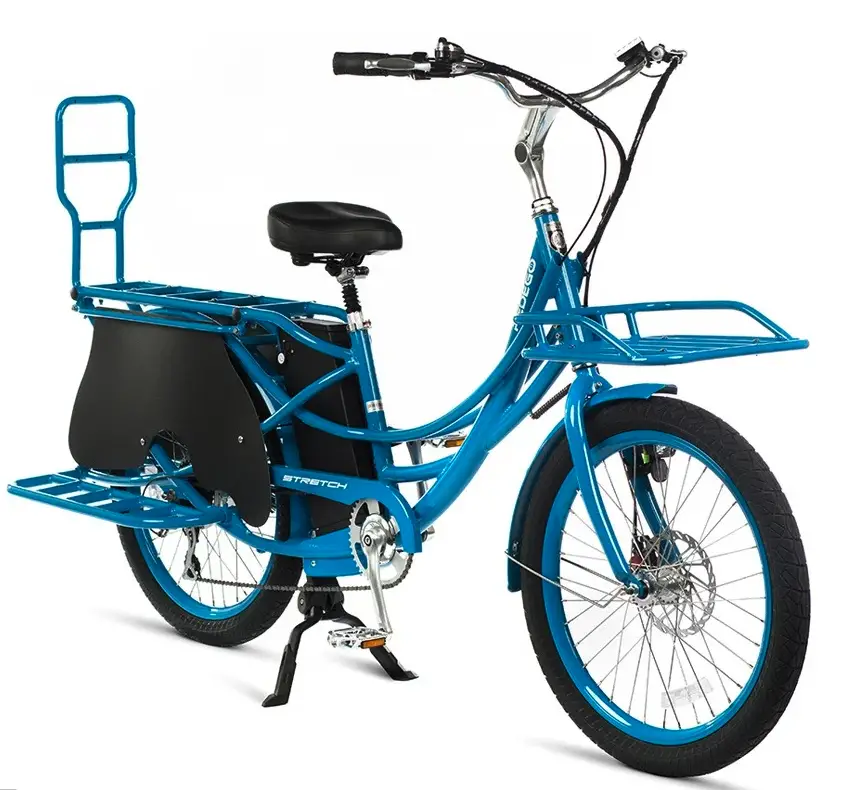 Pros & Cons of the Pedego Company
Pedego has the best electric bike warranty. In fact, it's 5x longer than what Rad offers. They give you a 5-year warranty for parts, the lithium-ion battery, anti-theft protection, and a lifetime warranty on the frame. Most models in their line-up offer this warranty, minus the Pedego Element, which has its own limited warranty.
Another benefit of Pedego is that some of their models offer a top speed of 28 mph, as opposed to only 20 mph, which is the case for every Rad Power Bike as well as many other models found at other brands.
Another unique characteristic of this company is that they offer electric bike vacations where you ride across many states in a group (for an approximate cost of $2,690 per person). 
When comparing most factors, Pedego is more or less on par with Rad Power Bikes, but they have two problems: 
Their electric bikes are significantly more expensive
They don't offer a free trial
If you're not sure you want to buy one of Pedego's electric bikes, there are e-bike rentals dotted around the country that will allow you to take tours around various cities.
E-Bike Comparison
There are specific needs that the best e-bike companies need to meet for each market to make themselves valuable. This means they tend to make the same kinds of e-bikes, although they try to match or be superior to their competition. 
Rad Power and Pedego are no different, so it might be helpful to compare some of their electric bikes in each particular category to see how well they stack up against each other.
There are the usual pros and cons of each company that we've already talked about, but we'll reiterate them according to the e-bikes that have those pros and cons so that you get a fuller picture.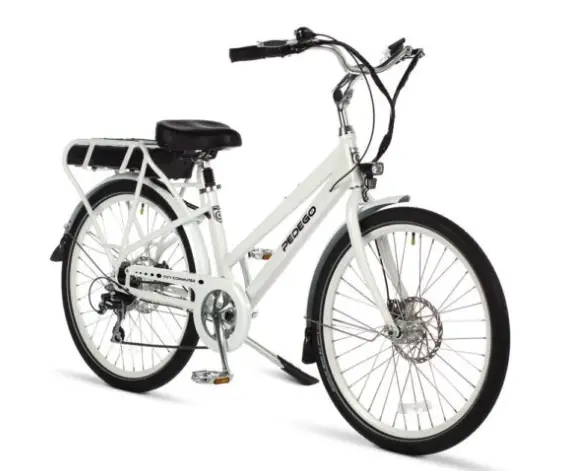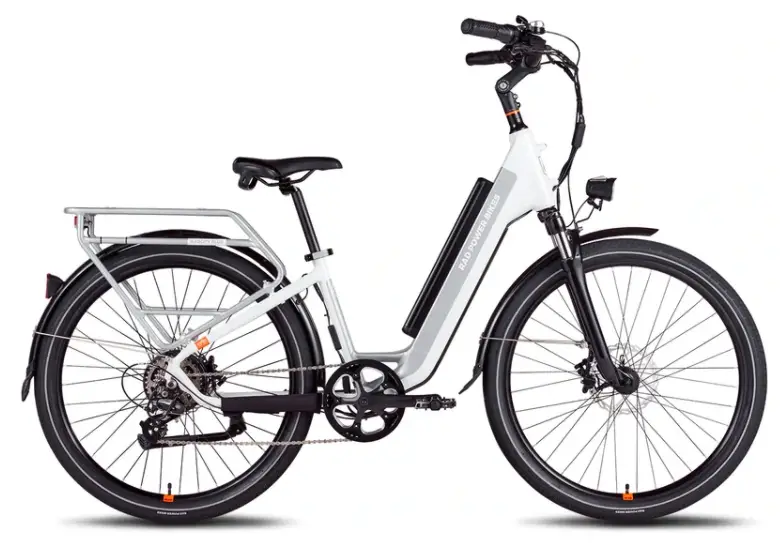 City and Commuter E-Bikes
| | | | | | | | |
| --- | --- | --- | --- | --- | --- | --- | --- |
| Bike Name: | Weight | Motor | Battery | Assist | Gears | Range | Cost |
| Pedego City Commuter (Classic) | 64.4 lbs | 749W | 52V/10.5Ah | 5-level | 7-speed | Up to 76 miles (w/17.5 Ah battery option) | $3495 |
| Rad Bikes RadCity 5 Plus | 65 lbs | 750W | 589-672W | 5-level | 1×7-speed | 28-50+ miles | $1999 |
These two models are easy to compare since they are quite similar, although the price is much higher for the Pedego brand.
Each one works well as a commuter e-bike in urban areas, although the Pedego bike has more power coming from its battery and a longer range.
If this is your first e-bike, a good place to start is with the RadCity Plus. It's in a lower price range and already has more than enough power, and can go almost any distance you'll need at a top speed of 20 mph.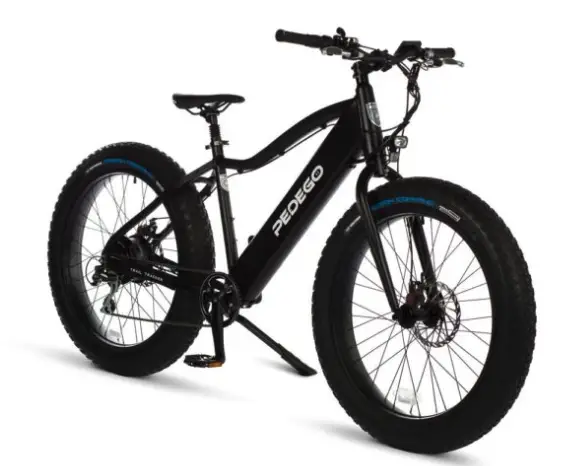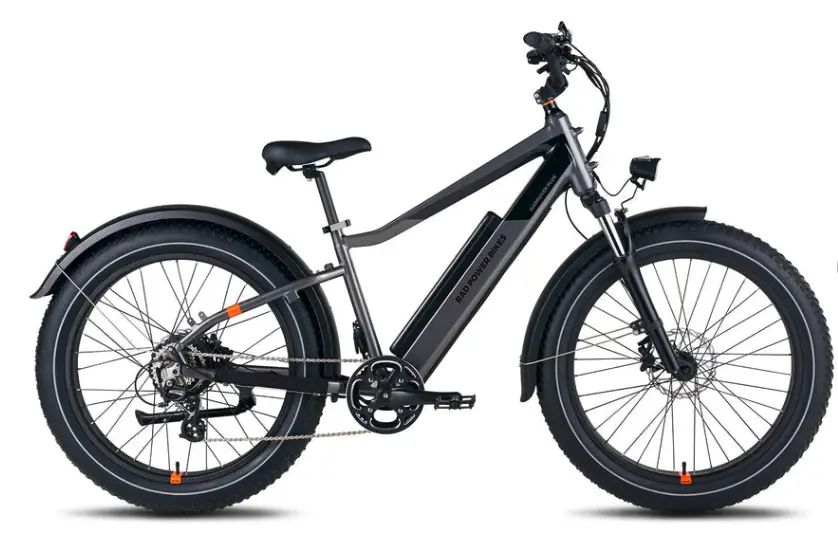 Fat Tire Adventure (Full-Size Off-Road)
These fat tire bikes can take you on-road and off-road. However, the RadRover offers a front suspension fork, while the Trail Tracker only offers a suspension seat post.
Yet the Trail Tracker can get to a top speed of 28 mph as a Class 3, while the RadRover's top speed is 20 mph as a Class 2 e-bike.
Both have a rear hub motor, twist grip throttle (Class 2 only), hydraulic disc brakes, 4-inch fat tires, and a 48V battery. Additionally, both come in a step-thru and high-step version.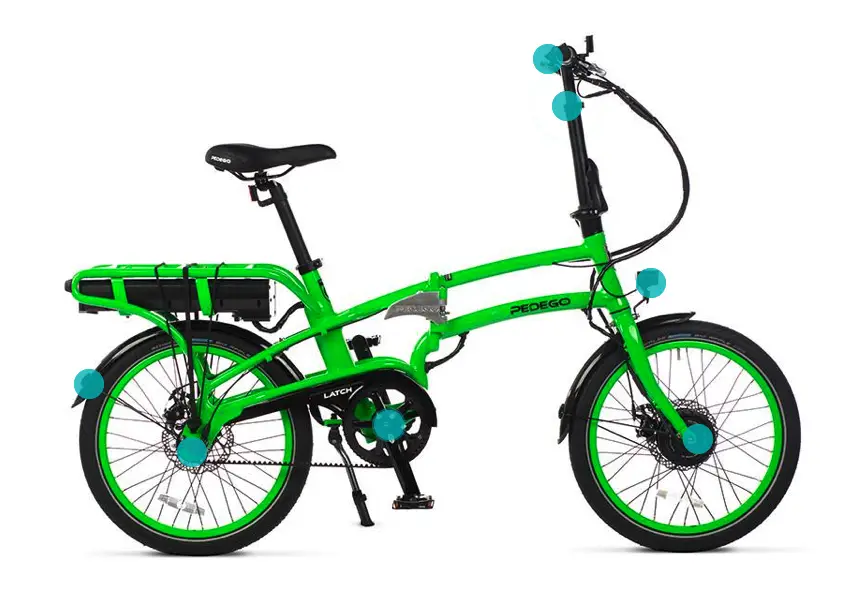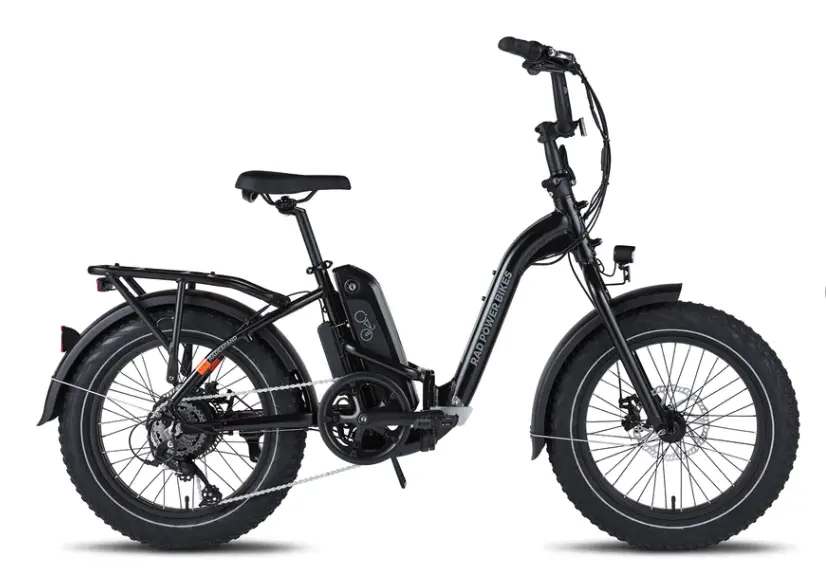 Folding E-Bikes
| | | | | | | | |
| --- | --- | --- | --- | --- | --- | --- | --- |
| Bike Name: | Weight | Motor | Battery | Assist | Gears | Range | Cost |
| Pedego Latch | 46.4 lbs | 250W | 36V/10Ah | 5-level | 3-speed | Approx. 18 miles | $2795 |
| Rad Bikes RadExpand 5 | 62.5 lbs | 750W | 672W | 5-level | 1×7-speed | 45+ miles | $1599 |
Although the Pedego Latch folding is significantly lighter-weight, it carries a much higher price. This could be partially due to its carbon belt drive and self-sealing tube tires. But the extra cost still seems hard to justify with its smaller motor and battery and only 3-speed gears.
The RadExpand is simply the more affordable option and it's pretty clear that you need a good reason, such as really wanting a carbon belt drive e-bike, to choose the Latch over the RadExpand.
Conclusion
Finding the right electric bike is all about meeting your individual needs. Although Rad Power Bikes come close to meeting most rider's needs, Pedego still offers a wider selection of specialty electric bikes.
You may be surprised by the advantages and disadvantages between Rad Bikes and Pedego electric bikes in this brand comparison. But has what you've learned helped you make your final choice?
If you're still on the fence, take a look at the comparisons between Rad Power Bikes and other brands here: