When buying your first e-bike (or even your second or third one), research plays an important role in ensuring you get the best bang for your buck. It's also helpful to compare brands side-by-side, as you can learn a lot about the quality and features of each.
Here we compare two popular brands, Aventon and Lectric, to help you decide which one is the right fit for you.
Overall, Lectric is lower-priced than Aventon, with e-bikes starting at $799 and $1299 respectively. However, both brands offer good quality and value for the money. In general, if you are looking for a smaller, folding e-bike at a lower price, you can go with Lectric; otherwise, Aventon has a greater variety of models and features to choose from.
Both brands are one of the top e-bike brands in the industry. Thus, if you select the right one, based on your needs, you can't go wrong with either of them.
So to help you discover the best brand for you, I've researched and compared both Aventon and Lectric Bikes.
Keep reading to get helpful insights on both brands as well as side-by-side comparisons of their electric bikes.
Aventon E-Bike Brand
Aventon is one of the top e-bike brands that sits comfortably in the value-priced e-bike range.
Although Aventon is a US brand, they have a factory in China where all parts are produced. The unassembled parts are then sent to their headquarters in Southern California, where they do further assembly and inspection of the final product to ensure quality.
Let's look at some of the pros and cons of Aventon electric bikes that'll tell you what you need to know. You're sure to discover why they are a top electric bike brand.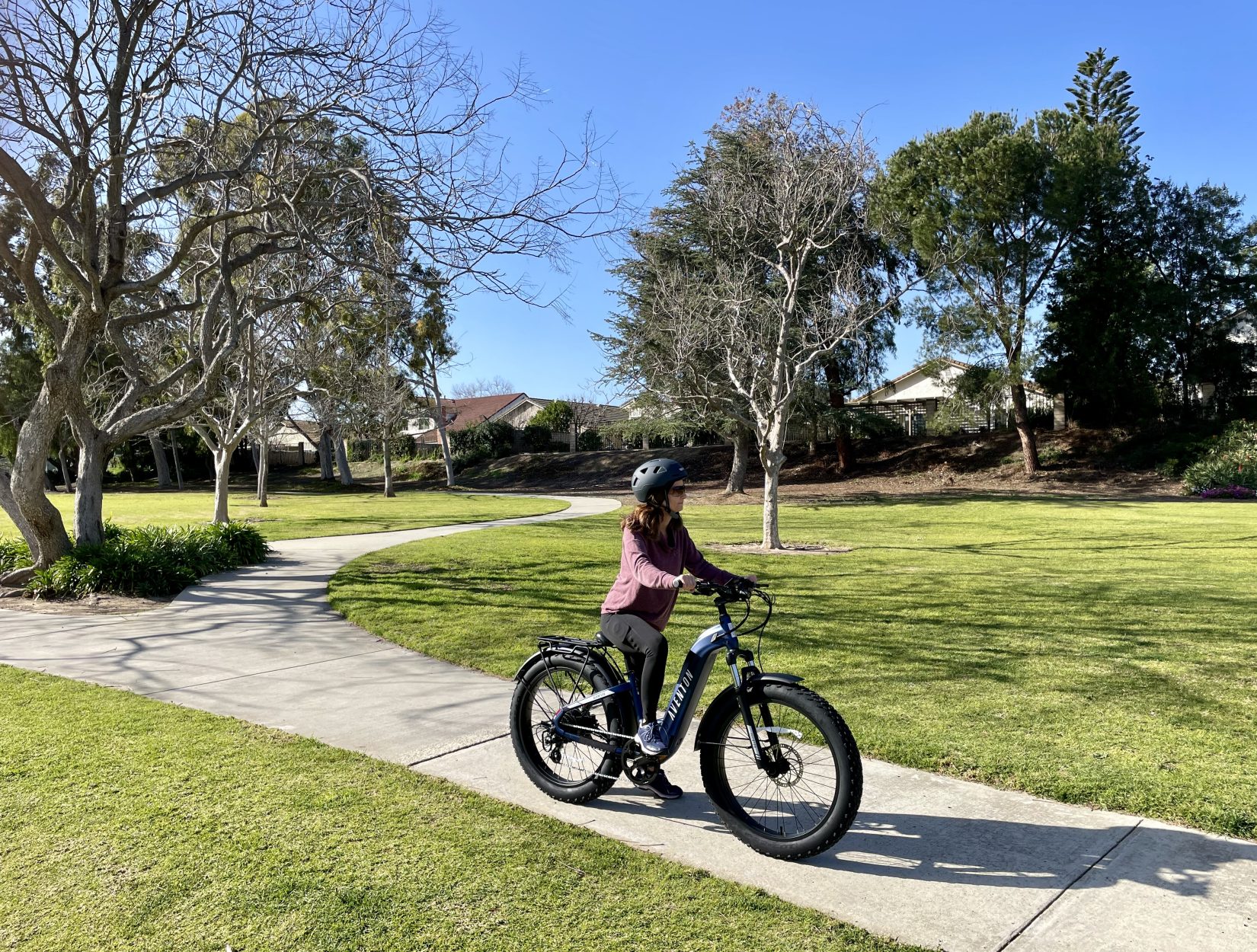 Pros:

#1. Wide Range of Models Available
They offer different models with different frame sizes. So unlike the other e-bike brands offering you a one-size fits all option, with Aventon, you can easily and comfortably fit on just the right size bike.
Select from lighter-weight road bikes, fat tire e-bikes, folding bikes, and comfortable cruisers and commuters. Many of Aventon's models are considered hybrid electric bikes offering more than one of these main riding features.
For instance, you can get the Aventon Sinch foldable e-bike with fat tires that are great for commuting and light off-roading.
With Aventon, you can pick and choose the e-bike that works for you.
#2. High-Quality Battery
Aventon uses powerful integrated batteries that make it easy to go fast and far. Plus, with their battery located inside the frame, the bike lines are quite sleek. 
Their high-quality lithium-ion batteries will typically go up to 40 or more miles on a single charge. Just keep in mind that lithium batteries will lose their capacity over time.
Read more about typical e-bike battery life and tips to make it last longer.
#3. Features And Range
Aventon electric bikes also offer a "throttle on demand" drive feature. With this thumb throttle, you can choose whether you need the pedal assist option or not. 
With all of their models, you get five pedal assist levels. And with each level, you can go faster, but the range can reduce correspondingly.
The typical range of these electric bikes can vary depending on the pedal assist levels you select. As a general rule, with most Aventon e-bikes, you can expect a battery range of up to 57 miles at the lowest level (Level One).
And in terms of throttle use, you can get a range of around 20 miles on one charge if you use the motor power exclusively.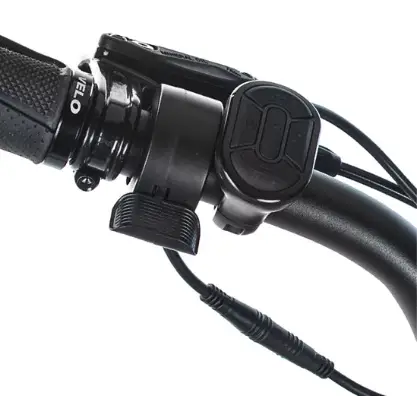 Find Out: How Far E-Bikes Can Go in One Charge?
#4. Rear Hub Motors
With Aventon electric bikes, you typically get rear hub motors, which keep the overall cost of the bike lower. With a hub motor, you don't need to worry much about the maintenance and repair side of things. 
Furthermore, Aventon's motors have enough torque to speed up your ride but also allow you to take a break from pedaling as compared to mid-drive motors.
#5. Easy to Assemble
Aventon electric bikes are high-quality and easy to unbox and assemble (unlike some electric bikes I've had to put together). Watch how I unboxed and assembled the Aventon Aventure 2 e-bike:
Cons:
#1. Motor Weight Can Be Challenging
It's essential to remember that rear hub motors also have a few drawbacks. They tend to be heavy, so if you are a beginner and end up pushing your e-bike up a hill, you'll feel the challenge!
#2. Relatively Expensive (as compared to Lectric bikes)
Regarding price, be mindful that Aventon e-bikes aren't the cheapest e-bike brand out there but they are highly competitive with direct competitors (such as Rad Power Bikes). However, what you get for your money is excellent.
| | |
| --- | --- |
| Aventon Electric Bike Types: | Price: |
| Folding | $1799 |
| Commuting | $1299-$1799 |
| Fat Tire | $1799-$1999 |
| Road & Cruise | $1299-$1799 |
| Step Through | $1299-$1999 |
| Off-Road | $1799-$1999 |
*Prices may fluctuate over time
In addition to their value-for-money feature, they have dealers across the United States. That means you can go and test any particular electric bike from the Aventon brand before purchasing it.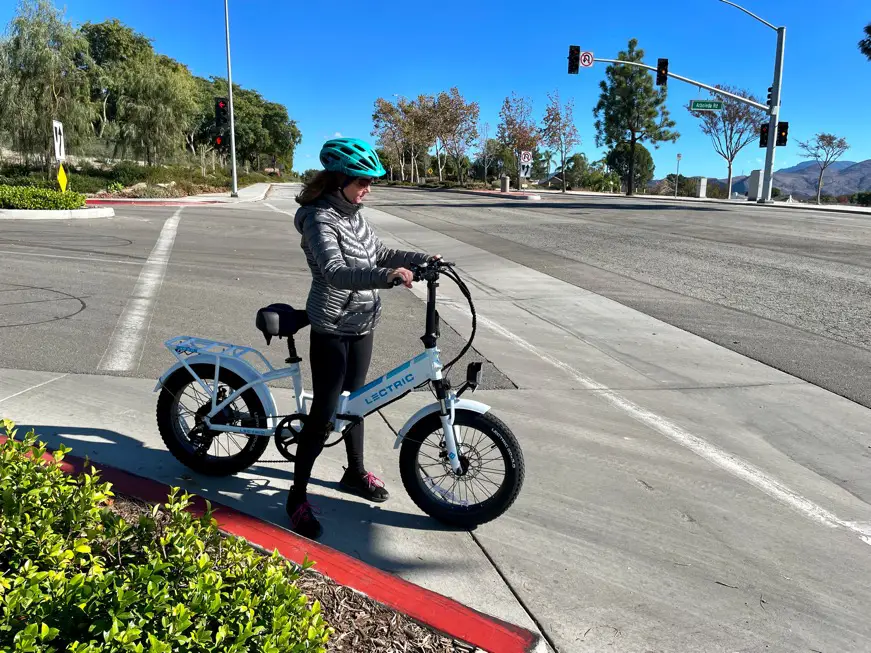 Lectric E-Bike Brand
With the popular Lectric XP 3.0 model e-bike, Lectric has quickly become one of the top value brands. 
Even though they are a lower-priced brand, they still manage to use quality parts from Shimano, Tektro, and other well-known companies. This fact, and customer satisfaction, is probably why they've grown to be one of the best e-bike brands made in the USA.

Pros
#1. Enough Options Based On Your Needs
Whether you are looking for a lightweight, folding, step-through, or long-range e-bike, Lectric has it covered.
You won't get as many options as you would from Aventon, but the variety is still enough to cater to your different needs.
For instance, with their foldable electric bikes, commuting and traveling become easier. If you want a compact e-bike handy to carry and store, you can look for their premium lightweight model called the Lectric XP Lite (it only weighs 46 lbs).
And their step-through model is ideal for shorter riders, seniors, and anyone who wants total ease of getting on and off their bike.
Further, their e-bikes have a typical frame design that allows you to handle and access them irrespective of your height or riding ability, so most riders will be comfortable.
#2. Lithium Ion Battery
In all Lectric e-bikes, you can find a 48V Lithium Ion Battery. You can easily slide the battery into the e-bike's frame, and installation and removal are also simple.
As with most batteries, you need to charge for four to six hours.
#3. Affordable Price
Their electric bikes have a very reasonable price and fit in the budget category.
*Prices may fluctuate over time
#4. Compact Design
The design of this e-bike has its advantages. On the rear and front, you can use a rack for storage. So it is really like a mini cargo. The rear rack is included in your purchase, which is a definite advantage.
If your height is between 5 ft. to 6 ft. 3 inches, this e-bike (especially the Lectric XP 3.0 model) can be comfortable for you.
#5. Easier to assemble than most other ebikes
The Lectric XP 3 was the easiest electric bike I've ever assembled! See exactly how it's done in this video:
Cons
The compact design of the Lectric e-bikes is what makes them easy to use. But at the same time, you may not like the relatively small tire and long stem design.
#1. Design May Be Unsuitable
With the folding design and small 20-inch wheels, you may struggle a bit while handling the e-bike. This becomes especially true when we compare the stability one can achieve from other brands' non-folding and bigger wheel e-bikes.
#2. Handling Can Be A Bit Challenging
And even though the e-bike is small and may offer folding convenience, the XP and XPremium are still quite heavy (64 lbs and 75 lbs). So if you are thinking of carrying it upstairs or putting it on a bus or train, it can be a bit awkward.
With all that said, for the price point, you get the necessary features. And, if you are looking for a small wheeled foldable e-bike, the Lectric e-bikes are worth it.
Aventon vs Lectric: Key Differences
To get a quick overview of the primary differences between Aventon and Lectric, review the chart below:
| | | |
| --- | --- | --- |
| Comparison: | Aventon | Lectric |
| Minimum E-Bike Cost | $1299 | $799 |
| Classification (max speed) | 2 (20 mph) | 2 and 3 (28 mph) |
| Variety | More Model Options | Fewer Options |
| Size | Less Compact (only one model that folds) | More Compact (all folding bikes) |
| History | Founded in 2012 | Founded in 2018 |
Comparing E-Bike Models From Aventon And Lectric
When comparing brands, it's helpful to look at similarities between e-bike models.
Here are three major comparisons that can help you choose between brands, models, and prices.
#1. Aventon Soltera vs Lectric XP Lite: Least Expensive Models
Cost
The lowest-priced Aventon e-bike, the Soltera, costs around $1299. On the other hand, the XP Lite model from Lectric costs around $799. So in terms of the lowest cost, the Lectric XP Lite is a clear winner.
However, if you're looking for an inexpensive e-bike and considering these two brands, this should be a helpful comparison.
Motor
The Aventon Soltera uses a 350W powerful rear hub motor. On the other hand, the XP Lite uses a 300W rear hub motor. In terms of motor power, the Aventon Soltera wins.
Both these e-bikes are equipped with five levels of pedal assist to enhance your riding experience.
Range and Speed
The Aventon Soltera gives you a range of around 20 miles without pedaling. And the maximum speed you can achieve is about 20 mph. However, the total range you can ride will be different depending on the motor power you use.
Generally, you can expect a range of 22 – 63 miles based on the assistance level you select (from 1 to 5).
Now coming to the XP Lite, you get a throttle-only range of around 15 miles. And with pedal assist, your range can be 15 – 40 miles based on whether you ride on the highest pedal assist level or not.
With the Lectric XP Lite e-bike, you can get a top speed of 20 miles per hour. However, remember that when you are on steep hills, you may struggle to reach the max speed as compared to when you are on flat ground. Pedaling will help you to retain more power though.
In terms of range, both electric bikes are almost the same. Still, the Aventon Soltera seems to have an edge in this comparison with a slightly higher range.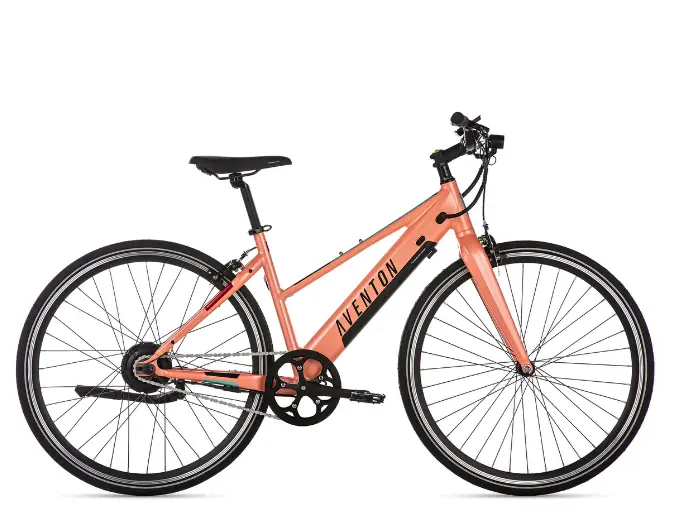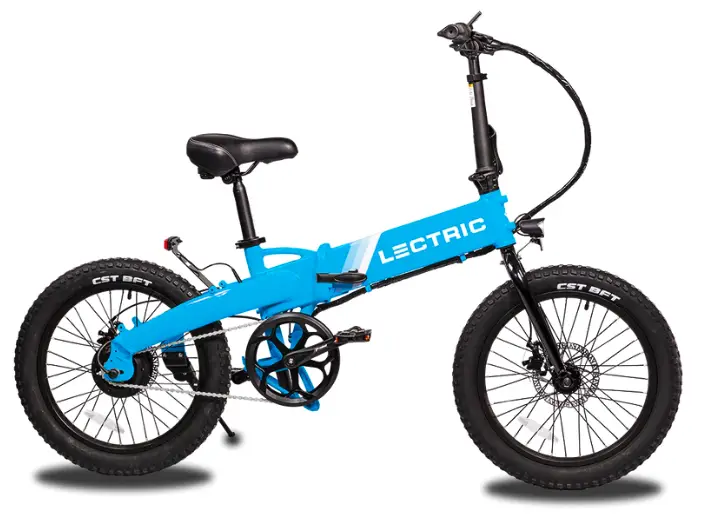 Frame and Design
Considering the design, the Soltera and the XP Lite are unique in their own way. 
The Soltera has a specific frame geometry of its e-bike that puts your weight slightly more towards the handlebars. This actually allows you to have better stability and control while riding.
Whereas the XP Lite has one of the smallest frames on the market, it isn't considered a mini e-bike.
Honestly, when comparing the looks, the Aventon Soltera seems to stand out with its slender frame and integrated battery. But, of course, looks can be subjective and can differ based on your taste. 
The thing is, the frame of this e-bike is designed to look more like those fixed-gear track bikes usually found on college campuses and urban areas.
On the other hand, the XP Lite has a short wheel and long stem look, making look a little more suitable for teens and young adults.
Which One Is Better And For Whom?
In terms of price, there's a decent difference between Soltera and XP Lite (roughly $500). But still, it's not too much. 
We saw that, except for price, in all categories like design, range, and looks, the Soltera is slightly better. But again, there's the cost factor.
In short, if you prefer a small, compact design and want to put a little less stress on your wallet, you can go with the Lectric XP Lite.
However, if you prefer a bit more range, power, stability, and a classy look while paying slightly more, the Aventon Soltera is your way to go.
#2. Aventon Aventure vs Lectric XP 3.0 vs Lectric XPremium: Fat Tire Models
Cost
The Aventon Aventure 2 costs around $1899. On the other hand, the Lectric XP 3.0 costs start at $999 while the XPremium sells for around $1799.
So as you can see, the Aventure 2 is almost double the cost of the Lectric XP 3 and still slightly more expensive than the XPremium.
Tires
Both the Aventon Aventure 2 and Lectric XP 3.0 are fat tire e-bikes. However, on an Aventure, you get 26″ x 4″ fat tires in contrast with the XP 3.0 where you get 20″ x 3″ wide tires. However, jump into the next category with the XPremium and you'll get the full 4″ fat tires, although still with a 20″ wheel.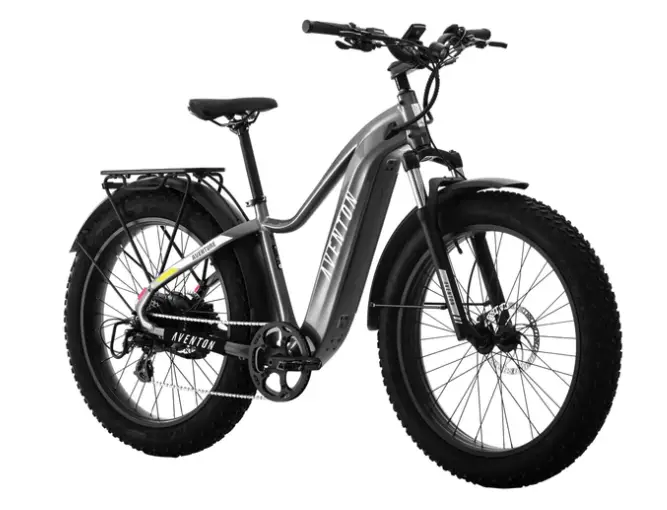 Motor
The Aventure uses a powerful 750 Watt hub motor, whereas the Lectric XP uses a 500W hub motor that peaks at 850W. However, the XPremium stands out here by offering a 500 Watt (800W peak) mid-drive motor.
Suspension
Both the Aventure and the XPremium have a suspension fork to make for a more comfortable ride.
Range and Speed
On average, you can get 28 miles per hour at max speed and up to 60 miles range with the Aventure 2 high-capacity battery. With the XP 3.0, you get a range of up to 45 miles and a top speed of 28 mph.
Here's where the Lectric XPremium really stands out: It has a range of up to 100+ miles on level one pedal assist and 50 miles using full throttle! This almost doubles the range of the Aventure!
Which One Is Better And For Whom?
Considering the Aventon Aventure and Lectric XP 3.0 comparison, you'll get what you pay for.
Of course, the high-performance Aventure is almost double the cost of the Lectric XP 3. However, as we saw, you also get better specs in terms of range, speed, and tire size.
But between all three models, you clearly gain a lot of ground with the Lectric XPremium, which makes a huge jump in price over the XP 3.0 but still saves a couple of hundred dollars over the Aventure.
So, if the specs difference between the e-bikes doesn't bother you much, then you can settle with the Lectric XP 3.0 and save a lot of money. But if you want better features and are ready to pay for them, you can go with the Aventon Aventure.2 or XPremium.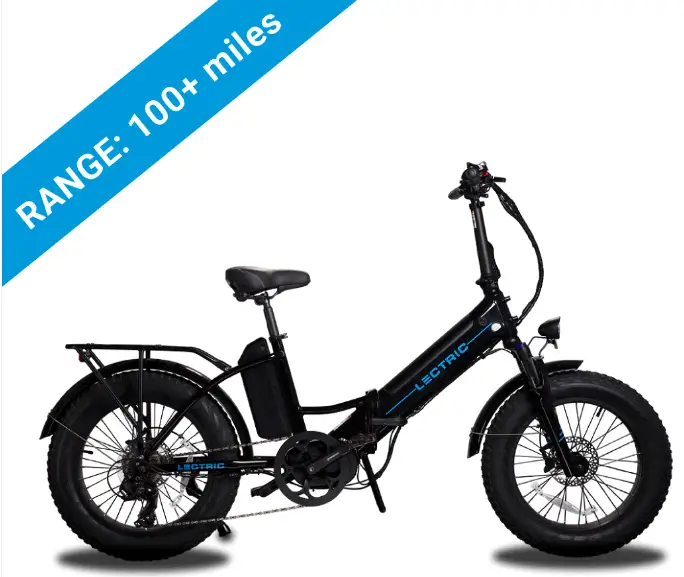 #3 Lectric XPremium vs Aventon Sinch: Folding Electric Bike Comparison
Finally, let's compare the two models that are the most similar, the Aventon Sinch and Lectric XPremium.
Cost
The XPremium and Sinch both fall at a price of $1799, so these are easily compared from this standpoint.
Tires
Both models have 20″ small wheels and 4-inch fat tires.
Motor
Both e-bikes have a 500W powerful motor and throttle. However, the XPremium has a mid-drive motor while the Sinch has a hub motor. You might like to check out the differences between these motor types.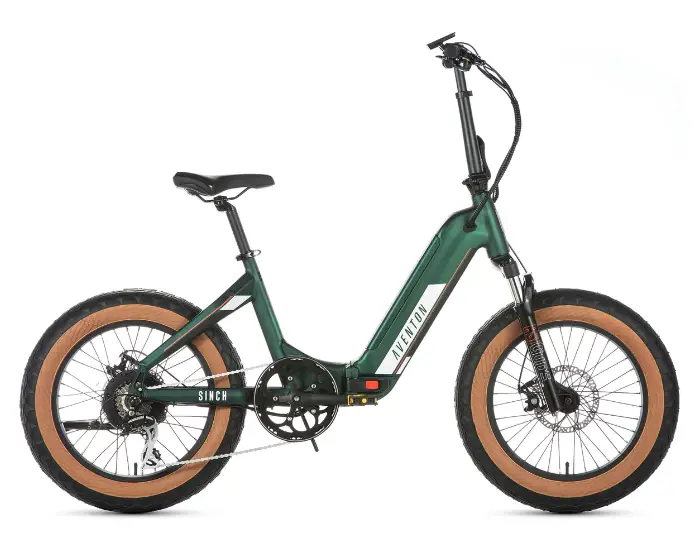 Range and Speed
Here's where things start to diverge. As mentioned previously, the XPremium has an incredible range of up to 100+ miles. But the Sinch has a range of only up to 54 miles, even on the lowest pedal assist level.
Still, if you decide you love the Sinch for other reasons, its range is typically more than enough for most people (I've never had the desire to ride my foldable RadMini, now the RadExpand, more than 40 miles but I ride it all of the time)!
One other difference: The Lectric XPremium can be a Class 2 or 3 e-bike (so it can get up to 28 mph max), whereas the Sinch is limited to a 20 mph top speed Class 2.
Frame and Design
The Sinch comes in both a step-through and a step-over frame, your choice. However, the XPremium is only available in a step-through frame. As these types of frames become more popular for everyone, this is less of a concern.
What's more important is the frame style, which substantially differs, and it's just a matter of preference really. They both come in a choice of colors, so you should check out the options.
Which One Is Better And For Whom?
These two models have quite a lot of similarities. But there are a few other differences to compare.
The Sinch offers a front suspension fork which will make you a great deal more comfortable off-road and on rough terrain.
The XPremium doesn't have a suspension fork. However, it offers powerful hydraulic disc brakes (as opposed to mechanical disc brakes), a mid-drive motor, and a torque sensor (as opposed to a cadence sensor), not to mention that it comes with a rear rack and fenders.
So, truthfully, you need to compare these differences if they matter to you. Otherwise, you can primarily compare the range and design between the XPremium and the Sinch.
Final Verdict
In short, the ultimate decision is based on you and your needs. Do you like the folding style of e-bike that gives you a decent range and features? Then look at all 3 models of the Lectric brand to spend less for a great electric bike.
However, if you don't mind spending a few bucks extra to get a classy-looking e-bike or full-size wheels, you can surely look towards Aventon. Either way, you're going to have a fun ride!
Compare Other Top Brands: