Teens in the USA are now turning to electric bikes. The newest bicycles, powered by electricity, can go up to 20 miles an hour and have a range of 40-50 miles on one charge. It's no wonder that your 17-year-old teen wants one!
The best electric bike for your 17-year-old teen is a matter of personal preference and budget. Although your 17-year-old girl or boy can typically fit on an adult e-bike, you should consider which features are best suited for a teen lifestyle.
What Are the Benefits of an Electric Bike for a Teen?
There are several primary benefits to getting your teen an e-bike. Generally speaking, you will save money and keep your child safe, while giving them independence at the same time.
1. Cheaper than a car
First of all, they're way cheaper than cars at $500-$3,000 for most models you'd consider for someone who's 17. And they're not just used as toys! Teens are using them to get around town for their daily commute to work or school, visiting friends, or doing chores (like getting groceries).
Riding an e-bike saves them (or you!) on gas, money, and car maintenance.
2. Safer than driving a car
E-Bikes for a 17-year-old have additional benefits such as being safer than driving a car! Now that they're of driving age, they'll want to zoom around visiting friends, going to the movies, and picking up some fast food dinners.
And when I say "zoom", it's because teens have a tendency to drive too fast, are more easily distracted, and just aren't as skilled at navigating the road. Further, they won't get involved in "road rage" or feel the need to overtake another vehicle (since there's no chance of that happening).
But send them out riding and they can get where they're going relatively quickly… without you fearing for their safety. Or worrying about your car!
3. A 17-year-old can ride just about anywhere
E-bikes can typically go up to 20 miles per hour and have a range of 20-50 miles on one charge. So, your teenage son or daughter can pretty much get anywhere they want to go. And this leads us to benefit number 4…
4. Independence
Another benefit of riding an e-bike for a teen is that they can gain the independence they want and need. Even without a car!
And, with that much needed freedom, they'll come back home (at least when they get tired!). Additionally, you won't have to worry about them not being able to get home (as on a regular bike). They can use motor assistance at any time to get them back home in a timely manner.
5. Perfect fitness activity for a teen
Last but not least, electric bikes can help your 17-year-old stay fit. This is a great bonus as it'll encourage a healthy lifestyle before you send them off to ride an e-bike at college.. Even though these bikes use electric motors and batteries for power, your teen still has to pedal. So e-biking is a great way of getting physical activity!
Plus, e-bikes are actually fun, so your kid is likely to ride more often than on a standard bike!
How to Choose the Best Electric Bicycle for Your 17-Year-Old
– Consider the terrain that your teen is riding on.
If they'll be riding through a lot of dirt roads or up hills, then consider getting them an electric bike with a more powerful motor and battery to ensure that it can handle these types of terrains.
And, if they're interested in riding mountain trails for sport and/or fitness, you should consider getting them an eMTB (electric mountain bike). Sorry, but you'll be spending a bit more money on a specialty e-bike with higher torque.
However, riding on flat terrain or paved road requires less power, so you can consider a more budget-friendly electric bike. Your teen won't need as powerful of a motor or battery, so don't get conned into buying a more powerful, more expensive one without a good reason!
-Will your teen ride to school or work?
If your teen is interested in commuting or riding their e-bike to school or work, then you should consider what they'll have to ride through and over each day. If there are lots of hills, you'll need to buy a bike with a more powerful motor and battery so that it isn't such a chore.
You might even want to get the one with a throttle. A throttle will propel the bike forward without even pedaling. This way they can ride over hills or long distances without the hassle of pedaling for hours on end.
– Consider how long your teen wants to ride each day.
If they are only looking at riding occasionally or small distances, then you can certainly consider getting them an e-bike with a smaller battery that's perfect for shorter rides. And a less powerful battery will save you money!
– Do you want to encourage biking as a mode of transportation?
Look for an affordable e-bike with a lighter-weight frame when your son or daughter will be using it primarily for transportation.
E-bikes are quite a bit heavier than regular bikes in general. So, if they'll be putting it on buses or trains regularly, they'll need one they can lift easily… and preferably fold. Lugging a heavy e-bike around can get discouraging quickly.
– What type of power assistance do you want your teen boy or girl to have?
Ultimately, as a parent, you need to feel comfortable with the power you're giving your teen. With a 17-year-old, you might not be as concerned about this as you would with a 13-year-old.
But let's face it, all teens (especially teen boys) have higher auto insurance costs for a reason… they tend to drive faster, more recklessly, and are just plain inexperienced.
So, my point is that you might want to offer your 17-year-old son or daughter a lower-powered 250-500 Watt motor if you have concerns. And, did you know that you can actually buy e-bike insurance to cover your bike and personal liability?
Which Features Should You Consider When Buying an E-Bike for Your Teen Kid?
Although your 17-year-old is still a teen, he or she is essentially an adult when it comes to buying an electric bike. There are a lot of features to consider but I've picked out the ones that will matter most to you as parents of a teen!
Take a look at this list of features to consider before buying an e bike for someone 17 years of age or younger:
Weight capacity: Most e-bikes have a weight capacity of 220 pounds or more. This means your teen will likely be able to ride most e-bike models. Just make sure that if they want to carry a lot of cargo, that they'll still meet the maximum payload.
Lithium battery life: The longer the lifespan on a battery, the better the battery, generally speaking. If you're using an electric bike mostly within city limits or close to home then having a shorter lifespan might not matter as much.
Motor assistance and speed: If your teen will be riding a lot in hilly terrain, then it might make sense to get an e-bike with a 500-750 Watt motor. It's more important to consider the power of the motor based on the terrain and riding conditions than on the speed.

Being a parent myself, I honestly can't think of any reason to buy anything more powerful than this for your 17-year-old. And, personally, I'd choose a 250-500 Watt motor for a 16-year-old or younger.
Weight of e-bike: The weight of an electric bike can vary from around 25 lbs to around 60-70 lbs, with the majority of reasonably priced ones being on the heavier side. A 17-year-old girl with less natural upper body strength than a boy generally has could have a very hard time lifting her 60+ lb e-bike upstairs or into a train, bus or car.
Brakes: Hydraulic disc brakes have the greatest stopping power and are generally the safest for electric bikes. This is in part due to the fact that e-bikes tend to be heavy and take longer to stop. They're easier to stop with than rim brakes due to less friction when braking.
Throttle: Although a twist-grip style accelerator is somewhat more common now, a thumb throttle, which might be more intuitive for teens to use, is something to consider. And do they need a throttle at all? I'd say "yes" if riding hills or long distances! And perhaps "no" if your 17-year-old loves power a little too much!
Frame: A lightweight frame is always going to be the better option when it comes to e-bikes. It'll be easier to maneuver for a teen or younger kid. However, you'll pay more for this feature!
Foldable: Is there any reason your teen needs to fold up their bike. If yes, then look for a small, foldable electric bike. The quality for one of these ranges considerably though, so take a close look at what you're willing to pay versus how long the e-bike may last.
Best Electric Bikes for a 17-Year-Old
The best electric bike for a 17-year-old depends upon your budget and what features your teen needs based upon their reasons for riding one.
Primarily, it depends upon where they'll be riding to, how far, and how often they'll ride. Not to mention that your child's safety is a big concern.
So, the following e-bikes were selected as the best with teen lifestyle and safety in mind. I'll point out the types of e-bikes that could be right for your teen. These e-bikes are all under $2000 in order to stay in line with both a parent's and teenager's budget.
I believe you can get a solid e-bike for a 17-year-old in this price range. After all, teenagers are likely to be harder on their e-bike and less careful overall… so do you really want to spend much more than that?
If you have about $1500 or so budgeted for an e-bike purchase then one of the best options for your teen would be the RadMini from Rad Power Bikes.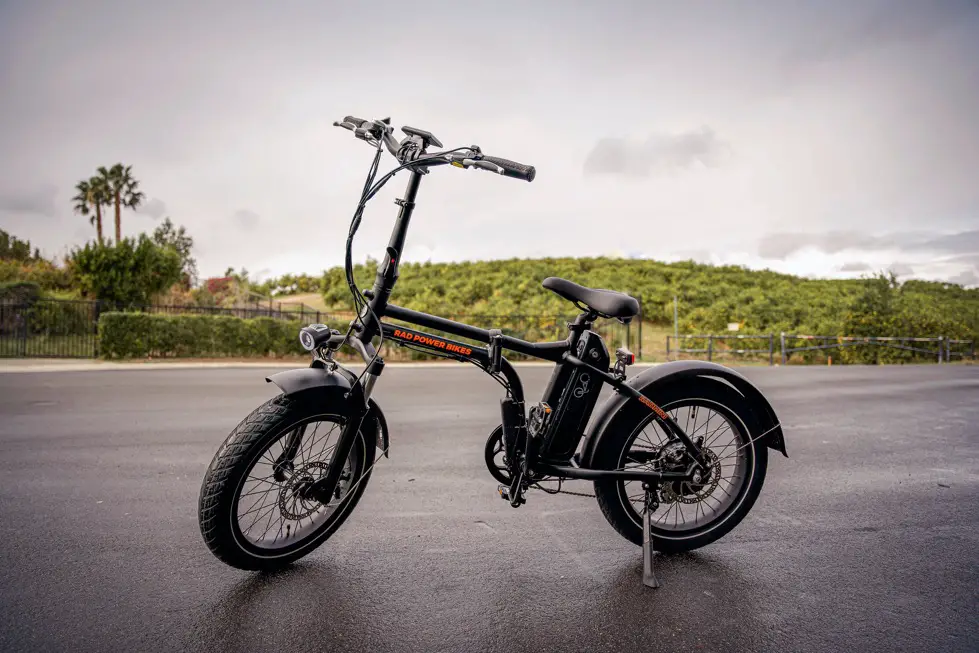 Not only does it look super cool with its 20-inch wheels and have the ability to fold up, but it's also an entry-level hybrid e-bike. This means that it can ride on or off-road, in the dirt or on the street! This is perfect when your teen is going to traverse a lot of different terrains, whether it's to get to school or ride around town.
I've ridden one several times and it is a ton of fun!
But I'd have to reserve it for a 17-year-old (or older) as it does have a lot of power with its 750 Watt motor and twist throttle.
I also like the Rad Mini because of its integrated safety features which include:
Disc brakes make stopping fast and easy
Integrated front and rear lights for visibility
48V battery that'll take your kid far (close to 40 miles depending on riding style)…you won't have to worry about the battery giving out
Puncture-resistant tires
This e-bike is perfect for either a 17-year-old boy or a girl. It sports two different looks… a white, low-step or a black traditional. Either are reasonably priced (around $650) cargo e-bikes with great reviews.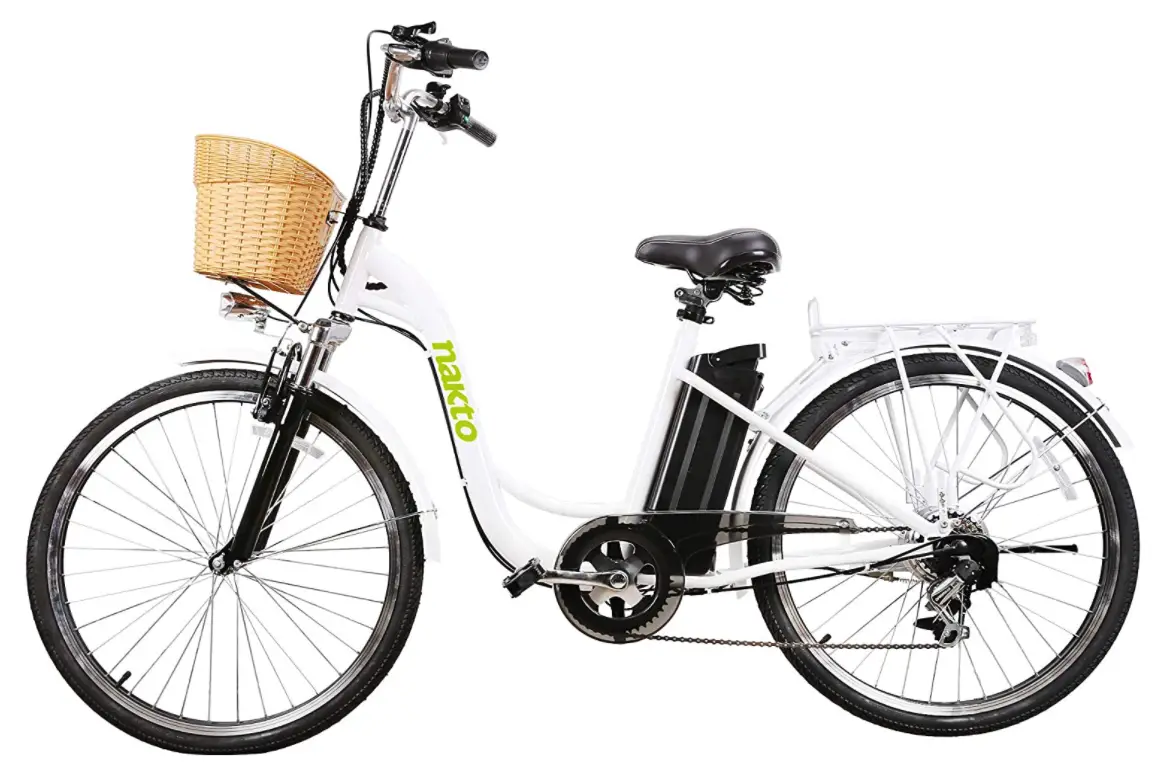 It has 26-inch wheels, a 250 Watt motor, and a 36-volt battery that lasts around 22-28 miles. So, as a city or commuter e-bike, that'll get your child where they're going without any problems. the great thing about a cargo e-bike is that you can use racks to carry your books, food, phone, or laptop, or your small dog..
A couple of additional perks include the front basket and horn. However, reviews indicated that some people got the basket and some didn't. So, just be prepared to call the company if you don't get your basket!
This may be a perfect e-bike for your teen, especially one who's old enough to appreciate the quality. And a 17-year-old will likely be better at taking care of an electric bike than even a 15-year-old.
Despite what you've heard, a cruiser is not only good for riding on the beach. Yes, this cruiser's hefty price tag (around $1999) ensures that you'll be able to ride the beach for up to 60 miles on its 48 volt Samsung battery. But the high-torque, 500 Watt motor also makes it capable of climbing big hills!
Further, Tower Electric Bikes Claims that even an adult can go up to 30 miles on the throttle alone. Therefore, if your teen is an explorer, or wants to visit friends or relatives out of town, this cruiser can cut it. Plus, it's pretty darn cool to look at with it's vintage brown seat and tires.
This electric Mountain Bike (eMTB) has a 350 Watt motor and 26 inch tires, making it a full-size bike for climbing mountains. This makes it perfect for someone who's age 17 or older.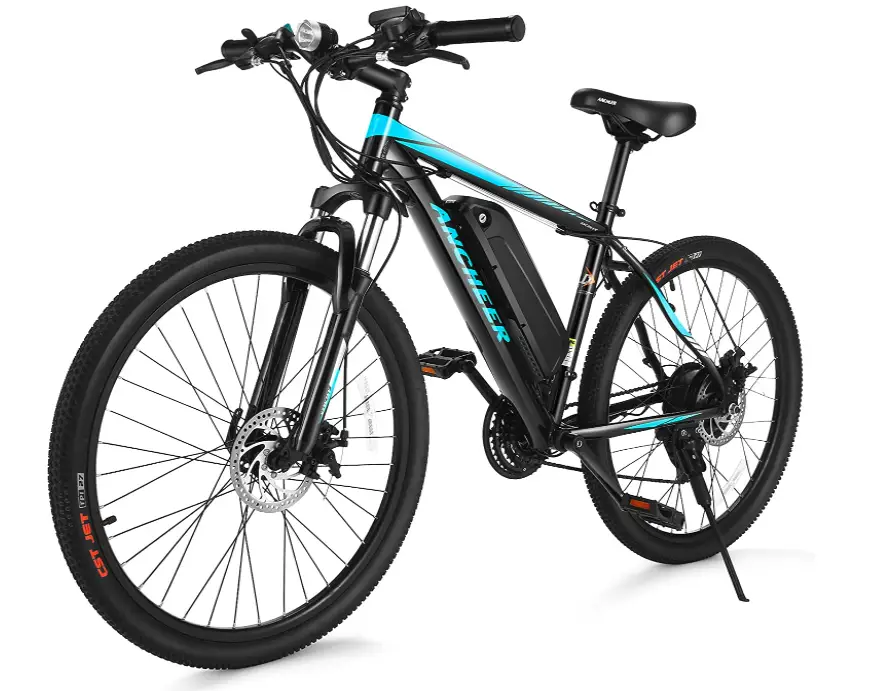 It has a strong front suspension fork and double-walled rims which are necessary to take it on rough mountain trails. Further, it has 21-speed gears, a throttle, and pedal assistance which all provide the ability to get moving!
The best part about this e-bike is that you can begin mountain bike riding at a low price (around $750) yet customer ratings are super high!
To Sum Things Up
In general, the best electric bike for your 17-year-old teen is really dependent on their wants and needs, as well as yours as a parent. You'll want to consider the features and benefits of each model. And you'll have to decide how much you're willing to pay (or how much is reasonable for your kid to pay).
I hope that this article gave you the answers you need to find the best electric bike for your 17-year-old or other teenage child.
You can find out more about buying e-bikes for children of other ages by reading the article below: