E-Bikes are gradually transforming into credible car alternatives. For instance, despite being smaller and a lot less powerful than cars, cargo e-bikes can carry a number of items from groceries to deliveries and even your kids if large (and comfortable) enough. So how do you decide which electric cargo bike is right for you?  
When choosing an electric cargo bike, you should consider factors such as power (and stability), comfort, accessories, and type of e-bike. You should also choose a cargo e-bike based on the amount and kind of cargo you'll be carrying.
In this article, I'll walk you through everything you need to know to choose the best cargo e-bike for you. Plus, I'll show you electric cargo e-bike options that may fit your needs.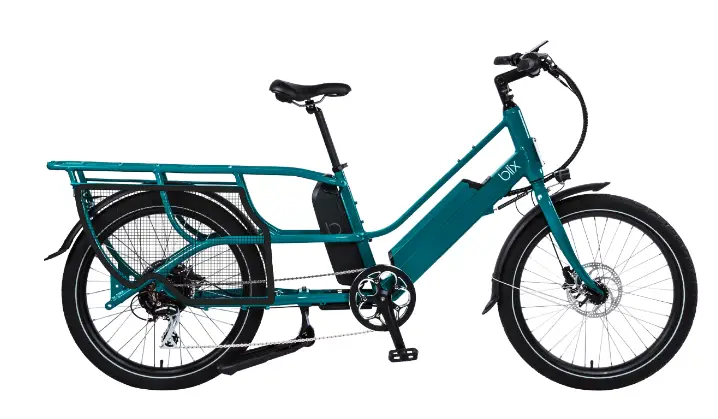 Understanding Power and Stability
Each e-bike has a specifications sheet provided by the manufacturer that details the e-bike's motor wattage, battery size, and torque. You need to know these three specifications to have a clearer picture of the electric bike's power and how you can put your e-cargo bike to use. 
Keep in mind that some e-cargo bikes are longer and heavier than other e-bikes, especially if they're built for including child seats or other heavy cargo. Thus, power and stability are important considerations.
Watts
Watts are a unit of measurement for your electric bicycle's motor power. Though wattage always pops up when discussing e-bike power, it's crucial to note that it refers to how much energy the motor consumes and not how much it outputs. 
Different motors have different effectiveness, meaning a higher watts rating alone may not mean more power given off. In general, a cargo e-bike should have a minimum wattage of 500W if you plan to carry a heavy load.
Battery Size
E-bikes' battery capacity is measured in watt-hours. If your cargo e-bike has a higher watt-hour rating (Volts X Amp Hours), it will likely have a longer riding range. It would be best not to focus on range ratings only, as they usually give an outlook under ideal conditions. But you do want to make sure any electric bike you buy can manage to go as far as you'll need it to.
Also, look for an e-bike with batteries that are UL certified, as they are manufactured using industry-level safety standards.
Torque
Torque is simply the work that the motor can do or the amount of force that can cause the electric bicycle to move. It is measured in Newton-meters (Nm), with a higher torque rating implying that your cargo e-bike can accelerate faster from a low speed or a dead stop.
If you intend to carry heavy cargo, such as children or a big dog in a carrier, then you should opt for an e-bike with a higher torque rating.
Software Management
Additionally, your e-bike has software that manages your battery usage and motor power output. It may use support modes such as sport, turbo, eco, and touring that improve your riding experience. Therefore, you should choose a cargo e-bike that breaks down this information clearly if you want to know how fast you've ridden or how many miles you've gone.
Consider Comfort Level
The electric assist that e-bikes have is a sweet spot. Because different bikes have different assist modes, you need to get one with the right power levels that suit your unique needs. 
For instance, sport and turbo modes would be more suitable if you're carrying heavy loads. Using eco-mode will help you save that extra juice if you spend the better part of the day running several errands. I would recommend settling on a cargo e-bike with different modes if you have multiple use cases.  
A good way to guarantee comfort on your cargo e-bike is to choose one with a good seat.
Look for e-bikes with seats that have extra padding, are waterproof, and have ventilation. These features work to increase your overall comfort. Most cargo bikes have seats that are extra-wide to distribute your weight evenly. 
Therefore, you should get a cargo e-bicycle with a comfortable seat to make the ride more enjoyable, especially if you spend a better part of your day on your e-bike.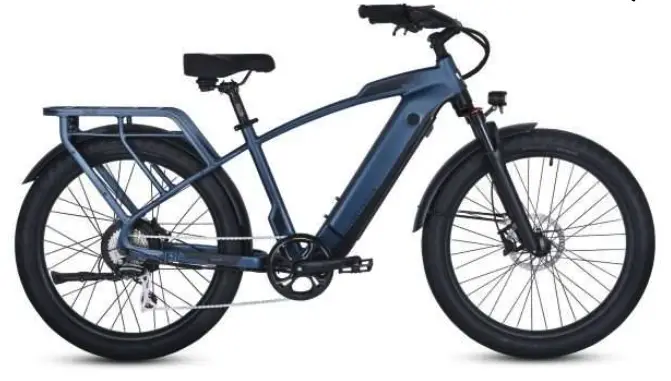 Types of Cargo E-Bikes
Electric cargo bikes come in four main types, Long Tail, Mid Tail, Long John, and Long John Tricycle. Each type has its advantages for specific uses: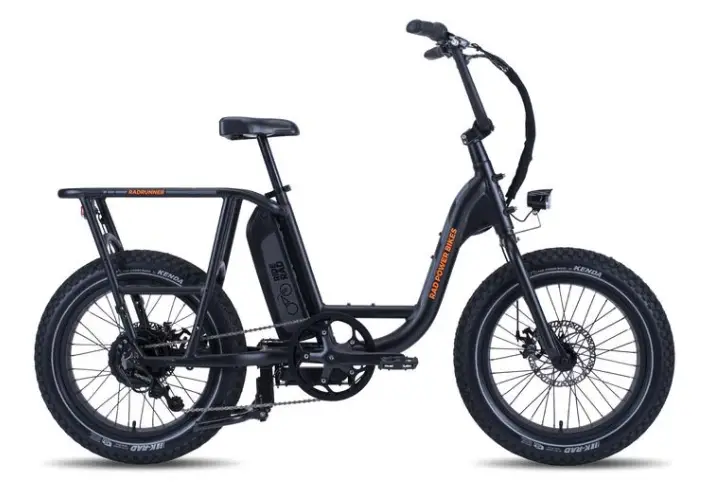 Cargo E-Bike Accessories 
Consider what gear you'll need on your utility e-bike. Many already come with racks or give you an option to purchase them. But, additional accessories can help you make the most out of riding with a cargo load, or even help transport kids and pets! Accessories also improve your riding experience and that of your passenger, if you have one.
Bottle Cage
A bottle cage is an often overlooked- but helpful- accessory for carrying water bottles. It comes in handy if you have prolonged riding hours and need to hydrate. 
While a hydration pack can also get the job done, purchasing a bottle cage (from Amazon) is advisable as it is simpler to use and easier to clean. Plus, there's no reason to wear a backpack when you have a bike that holds cargo!
E-Bike Trailer
A bike trailer provides additional storage space and can support baskets and storage cases. Or it can accommodate one or two children depending upon the size (or even your pets). Thanks to owning an e-cargo bike, you won't have any trouble pulling a trailer behind you, even with the added weight. You can always increase pedal assistance or use the throttle to power up.
By purchasing a cargo e-bike with a trailer, you'll be well-placed to ferry heavy cargo or your family as you enjoy the ride. Or you can add a trailer for your e-bike from Amazon.
Extra Battery Pack
An extra battery pack doubles the range your electric bicycle can give. It can come in handy when riding for long hours, especially when making deliveries. Therefore, if you're the type that likes to run multiple errands on your cargo e-bike, it is highly advisable to invest in an extra battery pack or add a second battery to your e-bike.
Doing so gives you the peace of mind that your pedal assist won't bail out on you when you need it the most.  
E-Bike Repair Kit
A cargo e-bike repair kit (get it on Amazon) can come in handy if your e-bike develops issues, which is a normal part of the e-biking lifestyle. 
Your repair kit should have accessories like a pump, chain lube, replacement chain links, a tire lever, tire patches, and a multitool. Investing in a repair kit will ensure you don't get stranded on your electric bike when running your errands.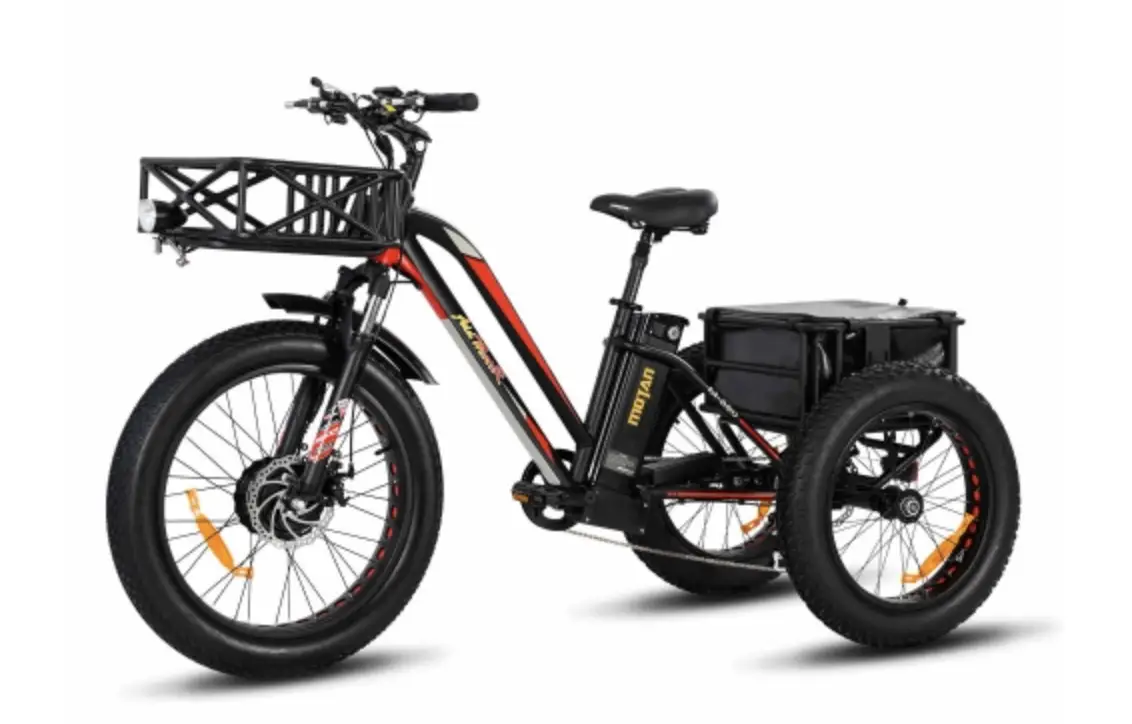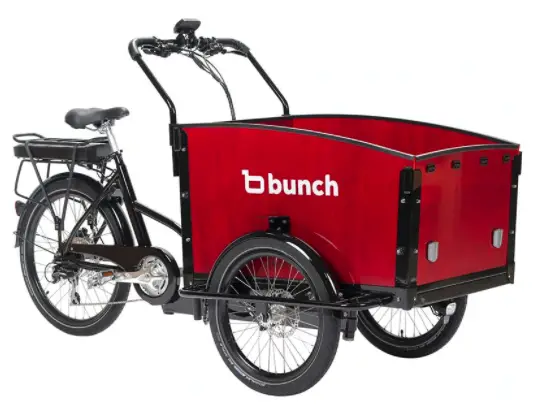 Types of E-Bike Motors
The kind of motor your electric cargo bicycle has will greatly determine your overall riding experience, as explained below:
E-Bike Motor Classes
Though electric bikes in the United States are governed using state laws, federal laws limit low-speed electric bicycle motors to only 750 watts. E-Bike motors in the U.S. (and many other countries) are classified into three categories.
Class 1: The motor will help you pedal until you reach 20 miles per hour (32.18 km per hour). It then stops assisting in accelerating when it reaches this speed.
Class 2: In this class, your motor will assist in accelerating either when you are pedaling or throttling. It will turn off when your e-bike reaches 20 miles per hour (32.18 km per hour).
Class 3: Like class 1, a motor in this class only works when it is pedal-assisted. However, the motor will stop working when you reach a higher cut-off speed of 28 miles per hour (45.06 km per hour).
Motor-Assist (also referred to as Pedal Assist)
Motor-assist systems help in improving your e-bike riding experience. Though their basic function is largely the same, there are generally two motor-assist systems for e-bikes.
Mid-drive assist: These systems have the motor hooked at the bottom of the e-bike's frame. Power is then applied to the wheels through the drivetrain, giving an assist that feels more natural.
Hub motors: Electric bike hub motors are directly connected to the rear wheel and do not have a drivetrain. It can make fixing a flat a bit more complicated as you have to remove the hub first. Most electric cargo bikes have hub motors.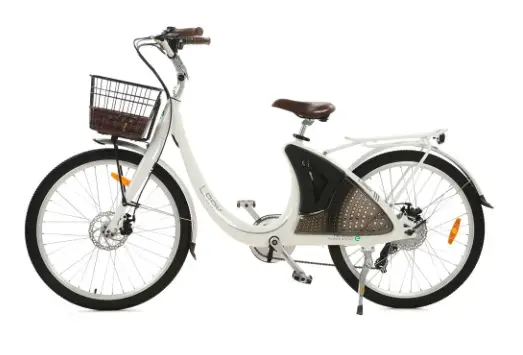 Electric Bicycle Brands
We all want to buy products without worrying about their quality or durability. Reputable brands will always give you the peace of mind that you're investing in a good cargo e-bike that will serve you for ages.  
Investing in a good quality product means you won't have your cargo e-bike breaking down every now and then. It will save you a lot in maintenance costs in the long term, compared to buying a substandard product that will need constant repairs.
When you buy your cargo e-bike from a reputable brand, you will get support in the rare case that you have trouble operating it. The brand should offer support by giving troubleshooting material online, a hotline, or service personnel at various outlets near you. 
Reputable brands will also have warranties on their products, so you won't have to worry about getting a replacement if yours becomes faulty. They will also have genuine spare parts if you need to have your cargo e-bike repaired. 
Load Capacity and Storage Space 
As we have seen, different types of electric bicycles have various carrying capacities, which is more important when you're talking about a cargo bike. While many e-bike users will want to carry as much load as possible, the amount of carrying capacity per cargo e-bike will vary.
If you need to carry more cargo during your errands, an e-bike with more storage options, and a higher payload capacity, will suit you. Even if your cargo e-bike doesn't come with additional seats, storage baskets, and racks when you buy it, you should consider whether you'll need these additional accessories and how much they'll weigh.
Generally, electric cargo bikes have a total load capacity they can carry. You can find this weight limit from individual brands and models. And they can be quite different. For example, the longtail cargo e-bike, Rad Power Bikes RadWagon, carries a total payload capacity of 350 lb (158 kg), making it capable of carrying up to two children.
Keep in mind that the bike payload isn't the same as the rear rack capacity, which, in this case, is 120 lb (54 kg). So, although the cargo bike itself can handle 350 lb of weight, a rear or front rack's weight limit is much less. So, you'll need to plan accordingly when adding your cargo (especially if you are carrying kids).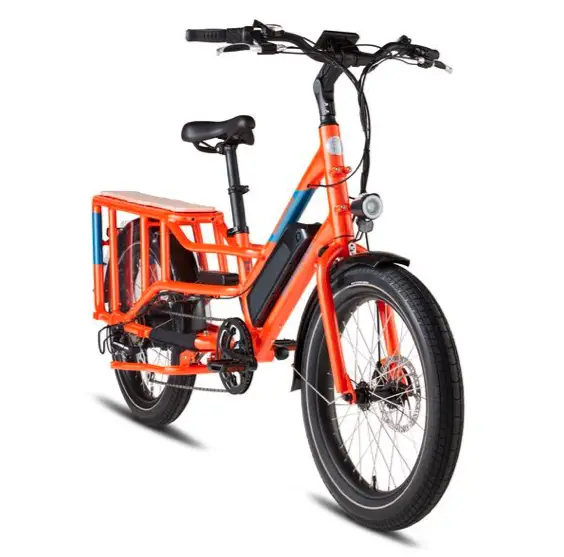 Alternatively, the mid-tail Ride1Up Cafe Cruiser cargo e-bike (seen below) has a smaller cargo capacity of 300 lb (136 kg). However, it still easily accommodates one child passenger. It has bigger wheels than the RadWagon but weighs almost 12 lbs less.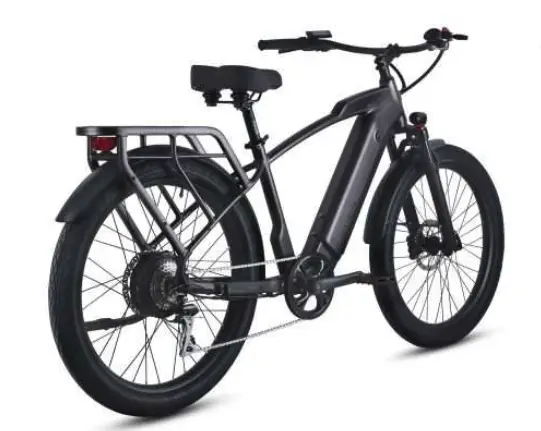 A Long John will particularly come in handy for delivery services that may require carrying extra heavy loads. On the other hand, you can get a mid-tail cargo bike if you don't fancy ferrying lots of cargo. All in all, your choice of cargo e-bike will depend on how you intend to use it.
Advantages of Cargo E-Bikes
Environmentally Friendly
E-cargo bikes only require a full electric charge and do not use fossil fuels or emit CO2. Therefore, adopting e-bikes will reduce overall dependence on cars and consequently reduce carbon emissions. 
By investing in a cargo electric bicycle, you'll be playing a direct role in conserving the environment by reducing your overall CO2 footprint.  
Family Friendly
Some cargo e-bikes come with compartments to carry your kids, so you can interact with them as you attend to your day-to-day tasks. This gives you the extra time to bond with your little one(s) as you enjoy a trip across the town to your destination. 
It's also a great way to shop for groceries or run errands with your family. 
Good Alternative to Cars 
With the extra storage and family friendliness, cargo bikes can replace your car for light errands that don't require too much distance covered. 
Electric bikes also get through traffic faster compared to cars. Therefore, if you plan on getting around in an urban area, then using your cargo e-bike is a good car alternative.
Flexible and Convenient
Apart from being easy to navigate through traffic, cargo e-bikes are much easier to maintain than motorcycles and cars. You also won't have to struggle to find parking space for your e-bike like you would when shopping or running errands with your vehicle. 
Therefore, you might want to consider a cargo e-bike if you're after flexibility and convenience, especially on weekends. 
Pocket Friendly
It will cost you much less to charge your electric bicycle than to buy fuel for your car or motorcycle. Your e-bike batteries will also last longer if well maintained.
Therefore, while an electric bicycle might seem expensive at first, you'll save more in the long run as they're usually easy to maintain and a lot more affordable than cars. 
How To Maintain Your Cargo E-Bike
Getting a utility e-bike is one thing, but making sure it serves you well for long enough is another. 
Here are some tips for maintaining cargo e-bikes:
Clean It Regularly
Even the best electric cargo bikes tend to get dirtier during wet and cold seasons. Allowing dirt to pile up on your e-bike not only makes it an eyesore but can also damage some components. 
Therefore, you should regularly clean your e-bike to avoid unwanted repair costs. Try your best to clean your cargo e-bike after every muddy trip to keep it in pristine condition. 
Avoid Draining the Battery
As a rule of thumb, you shouldn't drain your battery as doing so will shorten its range, eventually reducing its life.
Additionally, since your motor is the heart of your e-bike, you should ensure that it is always working well. Make sure that the wiring from your batteries to your motor is okay. You can also check to see if the drivetrain is working well.
Wrapping Up
Although e-bikes continue to gain traction, cargo e-bikes offer the added advantage of more storage and carrying space.
When choosing the best electric cargo bikes, it's crucial to consider factors such as battery life, capacity, power output, comfort, added accessories, and the bike design that will fit your needs the best.
You should also check on the kind of motor it uses, storage accessibility, and brand to ensure it serves your needs for a long time.