In the world of electric bicycles, the market is flooded with bike options — but not all e-bikes are created equal. 
There are hundreds of different styles of electric bikes to choose from, ranging in price and quality. Some include baskets or a variety of other cargo options.
An electric bike with a cargo basket will come in handy if you have kids or need to carry groceries from time to time, as well as being an added convenience if you ride your ebike frequently on errands around town or work.
The best electric bikes with a basket or cargo carrier include:
The Original Electric Cargo Bike from Bunch Bikes
Heybike Cityscape E-Bike
NAKTO 22inch Cruiser Electric Bike
Yuba Spicy Curry
Urban Arrow Family Electric Cargo Bike
Mod Easy E-Bike
Radio Flyer L885
Continue reading about each of these unique electric bikes below and see an image that'll show you exactly what you're getting. Some of them are quite original, although you can get a simple bike with a basket as well.
7 Best Electric Bikes With Basket
What you need to consider when looking for the best electric cargo bike is that they come in a variety of styles with different features. Some can carry kids while others can only carry cargo. Further, some have small front baskets, while others have huge baskets and cargo carriers.
Below you'll find a variety of e-bikes with baskets to suit your particular needs.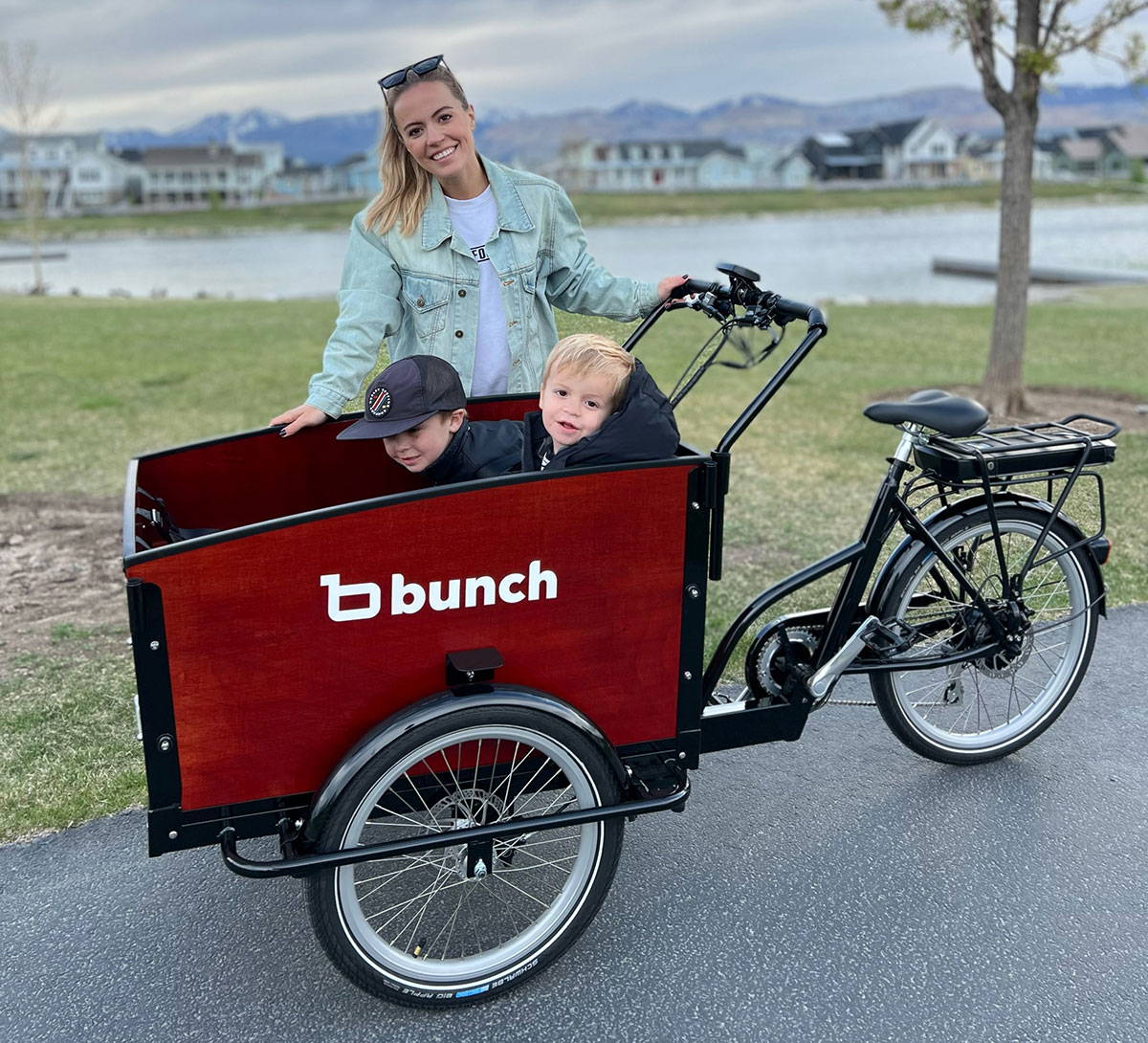 What I love first about this e-bike is that it ships to you fully assembled! Thus, you can ride it immediately without the hassle of figuring out how to assemble it. In addition, Bunch Bikes offers a 14-day free trial so that you can see if you like the bike or not. This family cargo bike is suitable for those who wish to visit parks, take the kids to school, or ride with their dogs.
What's unique about this cargo e-bike is that it has a huge basket with passenger seats in the front, so you can enjoy it while riding with up to two kids or pets.
With a 500W motor and a range of up to 35 miles, its power is sufficient for carrying your kids or pets around town, especially if you'll be riding in relatively flat areas.
And, since it costs over $4,000, you might want to consider their financing option. This ebike brand actually has four different models to choose from and has recently started offering different basket colors. No matter which one you choose, this bike is a lot of fun for any family.
With free shipping, fast support, and an option for a 30-day return, the HeyBike Cityscape (Amazon) is available for around $849 (yes, you heard me right!).
This affordable, classic city commuter e-bike with a large basket and a 350W hub drive motor can take you as far as 40 miles and up to a max speed of 19mph. It only takes 5-6 hours to charge the battery and has 3 pedal assist modes as well as a throttle!
This e-bike is an excellent option for those who want rear cargo basket options and basic features for a fair price. But even with its low price, it comes with Shimano 7-speed gears, swept-back handlebars, fenders, and an easy-to-mount step-through frame.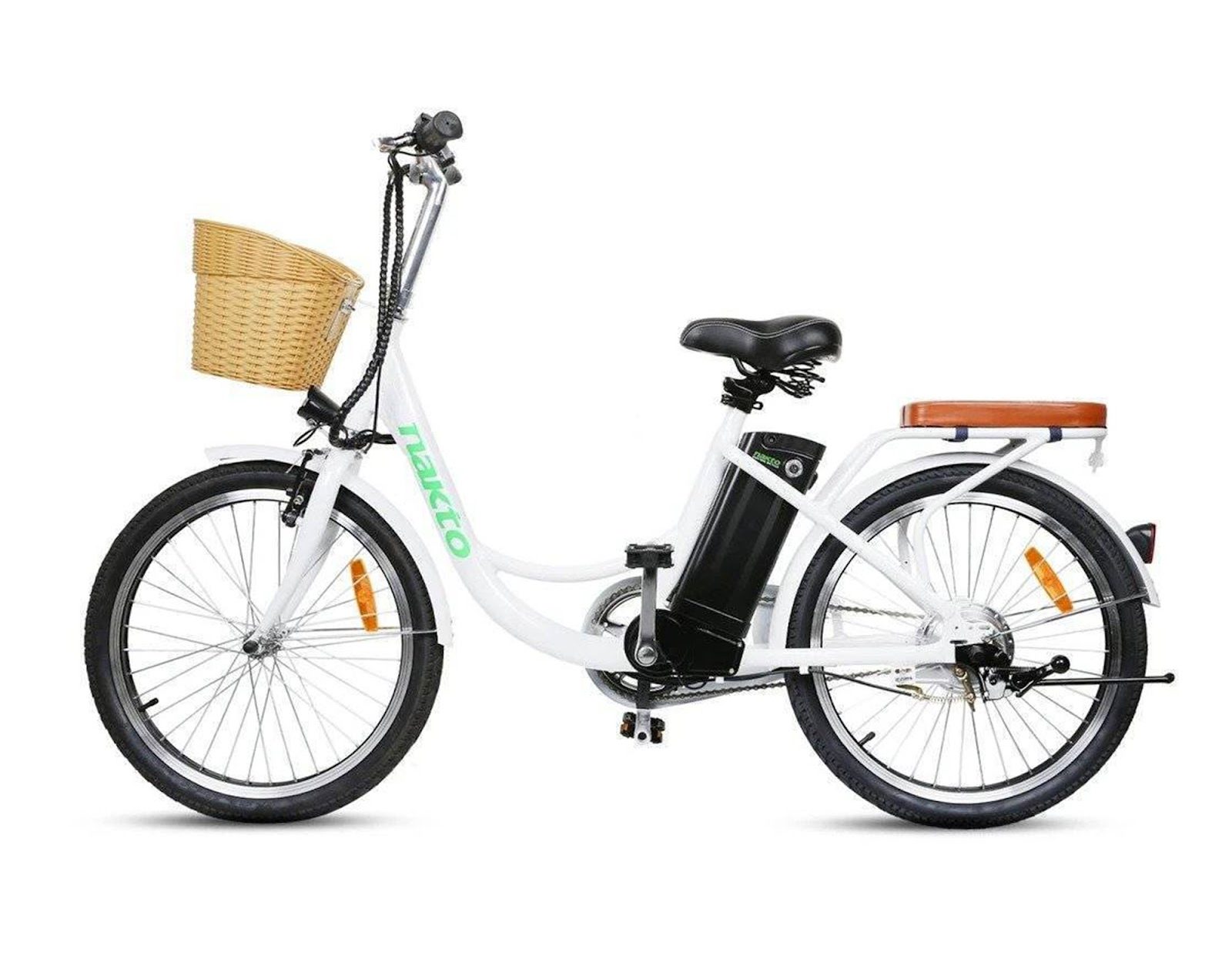 If you're looking for a simple e-bike with a basket, this affordable cruiser might be the best e-bike for you.
This e-bike comes with an LCD screen and a beautiful basket on the front. For only $649 (or less), the NAKTO 22 Inch Electric Cruiser Bicycle offers a lot of storage room, first with the front basket, and then on the rear rack.
The bike has V and E-brakes, enabling you to stop regardless of weather conditions. Its spacious cargo area will provide enough room to transport any items you like. The bike has a 250W motor, a 36V 10AH lithium battery, and other user-friendly characteristics including a front headlight and a rear cargo rack.
You can expect a comfortable ride with an ergonomic saddle and five pedal assist levels to get you up to speed!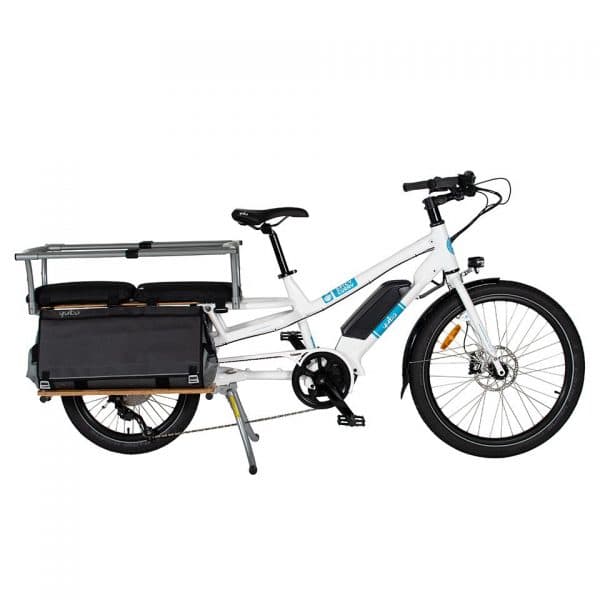 The Spicy Curry bike, with a price of $5,199, will help you put anything you like in its unique basket, starting from gear, groceries, items, and pets, to kids. This long-tail electric cargo bike is meant to help you carry your kids and loads. In fact, it can carry up to 3 kids and up to 440lbs!
Thankfully, it's powerful enough to do this! It has a mid-drive BOSCH cargo line cruise motor and a powerpack 500 battery. By lowering the gravity center (the rear wheel is slightly smaller than the front one) this e-bike can be easily handled by anybody who wants to travel with lots of kids or gear.
What's more, the bike itself is a surprisingly low weight of just over 60lbs.
Plus, it fits short riders (from 5′) to those 6'5″ tall. If you can afford it, this e-bike can help you carry your precious cargo all over town.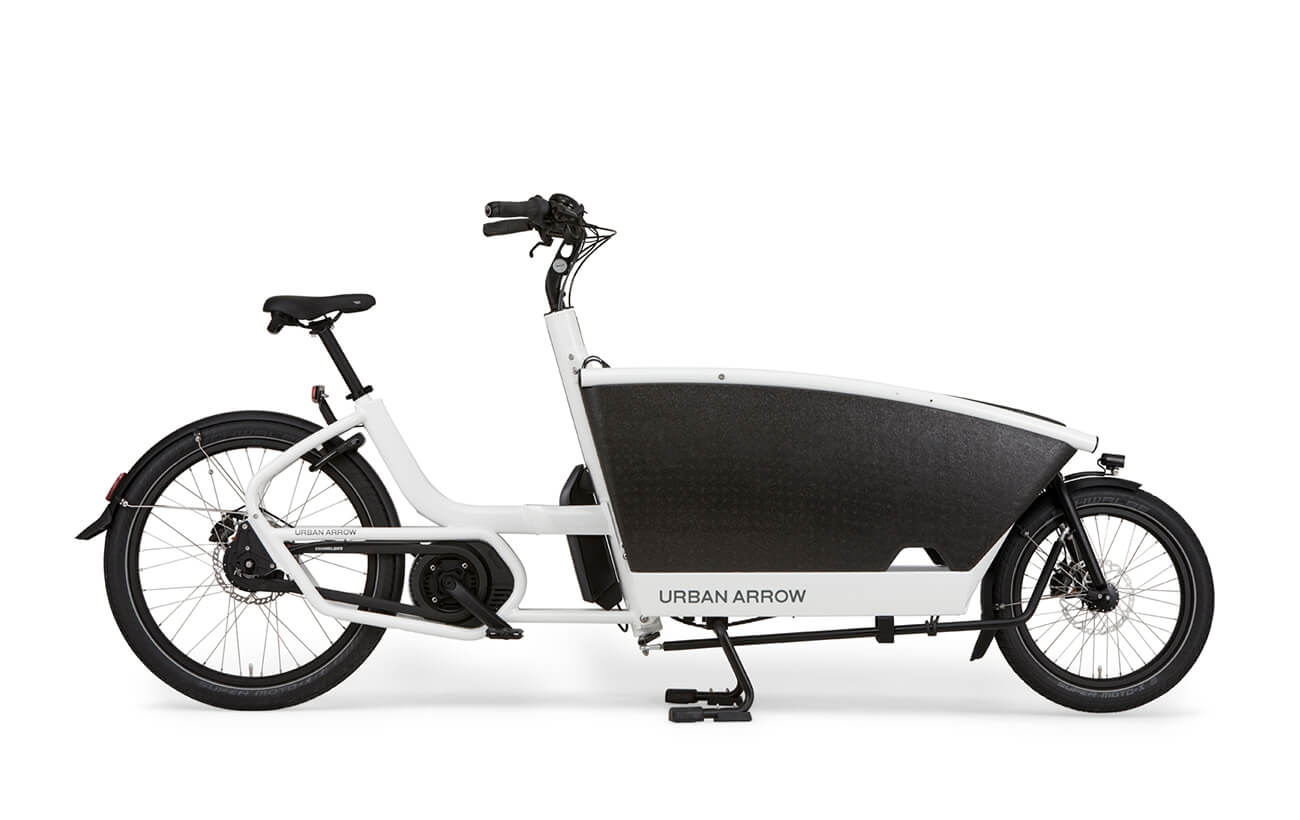 For a steep price of $6,999, you can get the Urban Arrow e-bike with many valuable details, accessories, and a lot of space. There's nothing quite like it!
The unique thing about this e-bike is that it can comfortably carry kids at a lower center of gravity and right in front of you. Traditional bike trailers leave kids behind, where they can't see as much, and you can't see them.
This electric bike is almost 9 ft in length and very heavy (weighing in at 110lbs). So, it's definitely a ride through the city bike, not something you'll often put in your car to travel with.
However, it's very comfortable and might be exactly what you're looking for. Component-wise, it has hydraulic front and rear disk brakes, front and rear LED lights, and is powered with a Bosch battery. You can choose from various accessories (rain cover, rear carrier, luggage net, etc.) to make it a family bike ride to remember.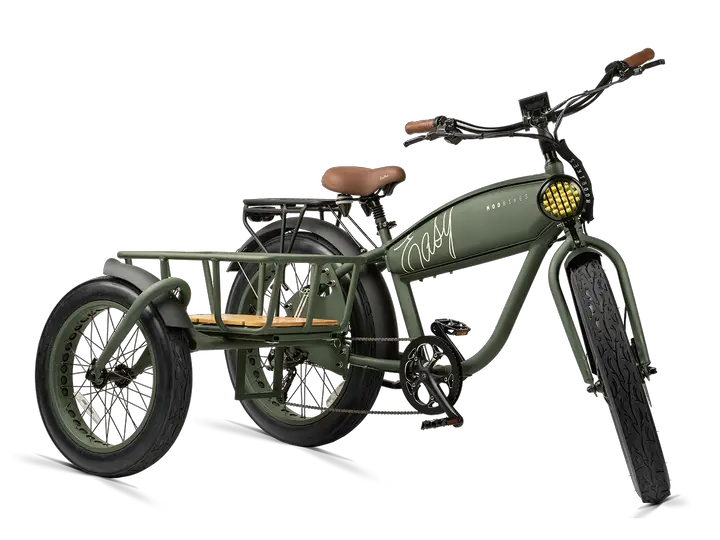 This electric cruiser with an exciting "sidekick" can be yours for $3,890. I love the cool retro frame and its compatible side basket! Plus, it has hydraulic disc brakes for ultimate stopping power, a speed of up to 28mph, and a range that goes up to 45 miles, making it one of the most incredible e-bikes with a side basket out there.
The ergonomic sitting position enables you to fully extend your legs, maximizing your comfort while you sit on a broad saddle with an adjustable stem.
With this e-bike, you'll have a great ride due to its multi-terrain tires, LED headlight and tail light, and powerful geared-hub motor. Plus, it also has a rear rack, so you can ride with a child and carry your belongings at the same time!
For $1,999, you can get the Flyer L885 with an option for a kid/cargo carrier. Suitable for families, this longtail fat tire cargo e-bike has a 5-level pedal assist and a 500W brushless hub motor… and can actually carry two kids at a time.
With it, you can take your kids anywhere or load it with anything, and you can travel up to a 50+ mile range. It has puncture-resistant tires, an LCD, and an ergonomic design with an extended integrated rear rack.
Although the bike weighs 73 pounds, its carrying capacity is a whopping 400 pounds. And with the pedal assist options and throttle, it'll feel light under your hands whenever you do some errands around your community, travel your neighborhood, or pick up your kids.
How To Choose The Best E-Bike With Basket?
When you shop for the best electric bike with a basket or cargo rack, there are many things to consider. First, you'll need to figure out what type of e-bike you want.
What style do you prefer: a commuter, cruiser, road, fat tire, or mountain e-bike? The type of e-bike may determine what style of basket or cargo holder you can use. Next, decide on a color and size. Then decide if you want a front or rear rack, regular or step-through frame, type of saddle, and whether you need a suspension fork or seat post suspension. These options can make your ride more comfortable.
Then choose from these features:
If you have questions regarding the e-bike, don't hesitate to ask the dealer! Also, if you have questions about assembly, make sure you get help.
When looking for an e-bike, you must find one with a high-quality build. E-bikes that have been given good reviews on their components tend to hold up well over time.
There are many different price points for e-bikes. If you're on a strict budget, you should still expect an electric bike with a good review, even if it costs less than $1,000. On the other hand, you can typically get a good quality e-bike if you spend between $1,000 and $2,000. I have a few different electric bikes, all in this price range, and all are of great quality.
By far, however, the best value is my Ride1Up 700 Series which comes with a strong rear rack for a basket and a lot of other great features (take a look at my 700 Series review here).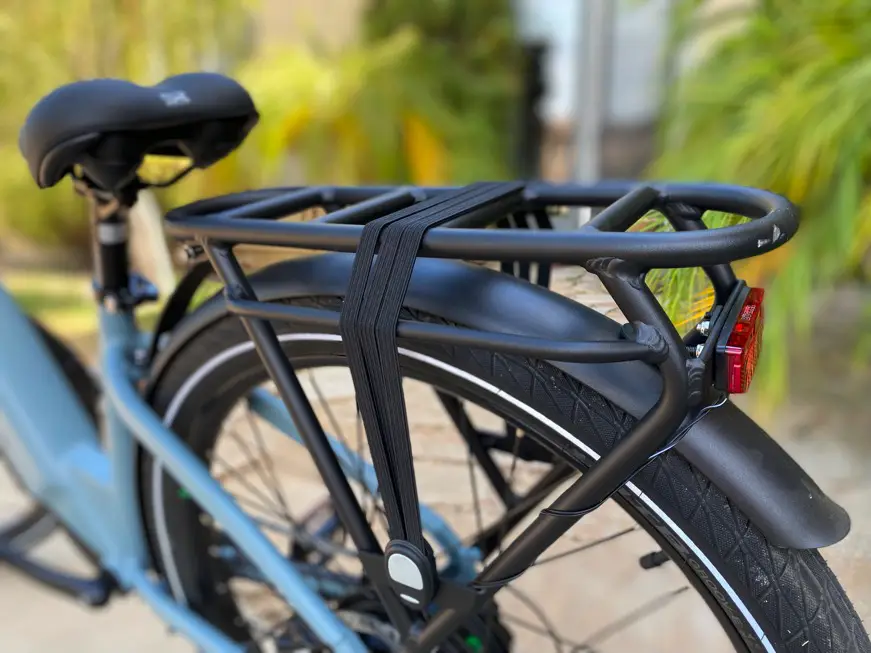 However, if you have a flexible budget and want to buy one of the best electric cargo bikes on today's market, consider spending between $2,000 and $5,000. E-bikes at this price point are generally made from higher-quality parts and materials. Also, these types of e-bikes may have better warranties than cheaper models.
Why Should You Choose An E-Bike With A Rear Rack?
Some people ride e-bikes that don't carry cargo. But, e-bikes with baskets offer a variety of benefits. For example, they typically have a larger payload capacity than their counterparts. This means that they can carry more weight on the bike overall (this includes your cargo and your body weight).
For example, the Aventon Aventure has a high weight capacity of 400 lbs and a rear rack. So, if you weigh 200 lbs, this e-bike can still handle another 200 lbs. However, each rear rack or basket also has a maximum weight capacity, so you don't want to carry more cargo than it can hold (but you can carry more by adding a front basket and a rear cargo container).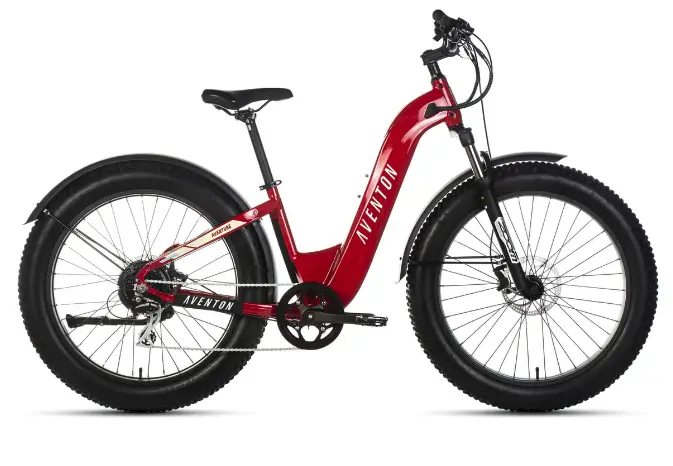 Then there are e-bikes whose payload capacity is much less. For example, the popular Rad Power Bikes have a maximum capacity of 275lbs. But, typically, this is more than enough for most riders, including myself!
Cargo e-bikes can also carry kids (in a child's seat), pets, groceries, and commuter essentials.
So, there are lots of reasons you should choose an electric bike with a rear rack. However, you can always add one to your bike later (Amazon has a huge selection of bike racks like this one)!
Can I Put A Basket On An Electric Bike?
You can add a basket to your e-bike in most cases. Even if you don't buy an e-bike that comes with one, many brands offer them as an optional accessory.
You also have the choice of purchasing a basket and/or bike rack from other retailers. My husband got a rear rack for under $40 on Amazon that fit his e-bike perfectly.
Final Thoughts
An e-bike is an excellent way to get around when you're not in the mood for walking. But with so many e-bikes to choose from, it can take time to find one that's affordable and does what you need. 
So this list of the best electric bikes with baskets is compiled to help you check out your options and find a terrific one for you! These models include multiple e-bike designs at different price points, so there's something here for everyone.