Not every electric folding bike offers a sturdy frame and a powerful performance. However, the sleek Heybike Tyson electric bike has both. And, it looks pretty cool with its massive frame and 4" fat tires. But after test-riding it, I discovered it has a lot of features that make it different from other foldable e-bikes.
Besides having the obvious advantage of being a folding bike, the Tyson has unique features that make it a huge upgrade from the Heybike Mars, one of their bestselling e-bike models. The Tyson has more power, a higher speed, a longer range, and a bigger maximum payload.
In this Heybike Tyson Review, I'll show you the pros of the Tyson electric bike and its performance advantages. In addition, I'll point out the cons that could make you think twice about buying it.
Watch the Tyson Electric Bike Review here:
Heybike Tyson Pros
The Tyson e-bike offers features that other fat tire foldable electric bikes do not.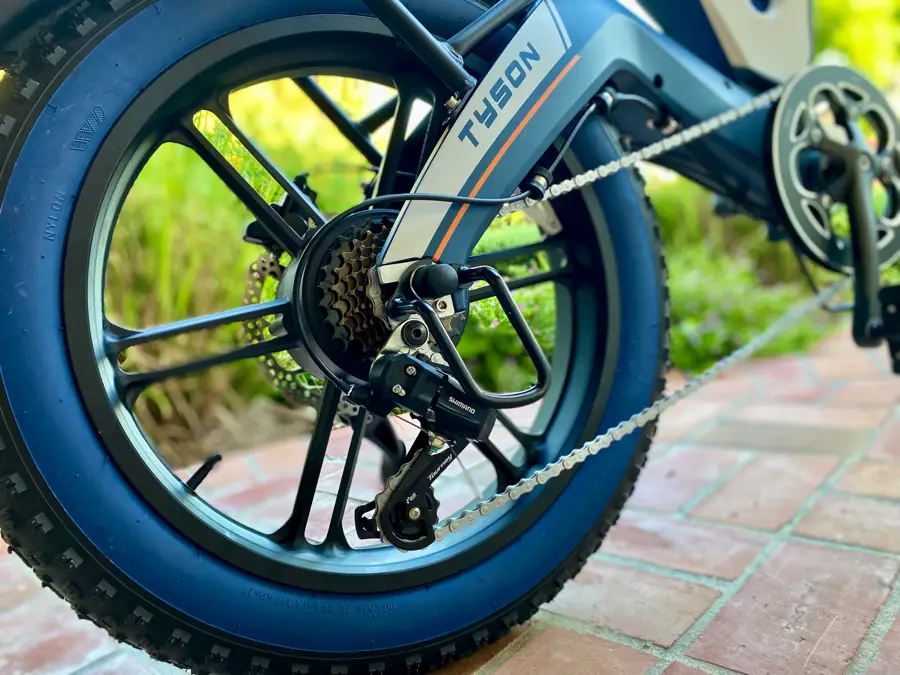 Here are the Heybike Tyson pros:
One of the first things I noticed that was unique about the Tyson electric fat bike was the tires. Instead of traditional spokes attached from the center, the Tyson offers a one-piece wheel construction. Heybike states that this wheel design provides improved cushioning and shock resistance. 
To test this, I filled my Tyson 20" X 4.0″ fat tires to the recommended 20 PSI and rode on both paved and dirt roads. Bumps and jarring were minimal and both my husband, Marc, and I found the tires perfectly comfortable.
On other 20-inch electric bikes, I've had to reduce the tire pressure when riding off-road for better cushioning on hard ground. However, I didn't need to on the Tyson.
In addition to the wheel modifications, Heybike used a one-piece magnesium alloy frame in an effort to improve stability, quality, and overall safety. I will agree that this chunky frame feels super solid and stable. Not every folding ebike has this advantage.

Interestingly, the Tyson has a right-hand thumb throttle. The question is, "Is it easier to use than if it was on the left side?" Once I got used to the throttle's location, I'd say "yes". This configuration leaves your left hand available for adjusting pedal assist, turning on lights, and using the horn. 

Another pro to riding the Tyson is this: The handlebar is tall and adjusts to your perfect height, keeping you comfortably seated upright. Marc found this especially helpful. He was able to ride without hurting his back or getting sore shoulders.

And, of course, a huge advantage not to be ignored in this Heybike Tyson review is the folding frame. Not only does it fit in small places, but Marc and I also really liked how easy it is to grip with one hand while folding with the other. You can watch how easy it was for me to fold it for the very first time in the YouTube Video seen above.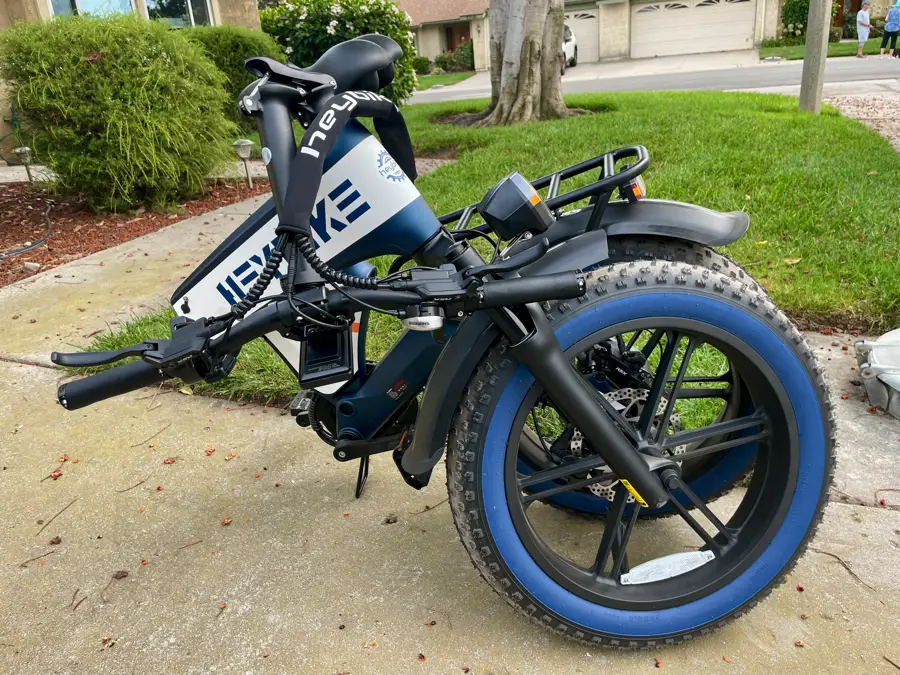 Once I figured out how much force I needed to unlatch the handlebars, I folded them quickly. However, I let Marc put it in the car… look for the cons of the Tyson below to find out why.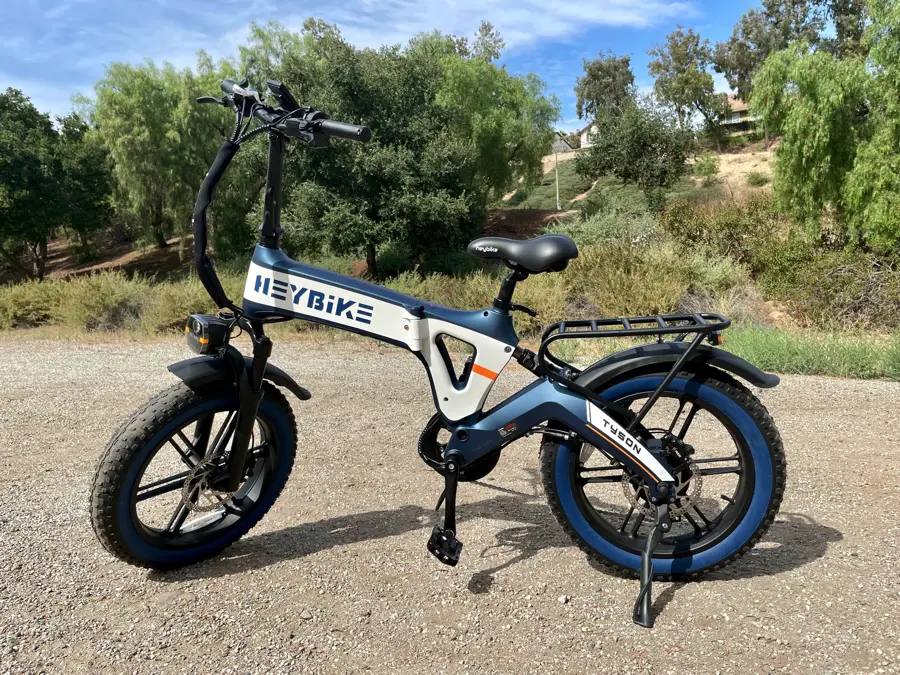 3 Ways the Tyson Electric Bike is Different (in a Good Way)
Here are some other pros that make this Tyson foldable e-bike different… they're unique features that I really appreciate and think you will too.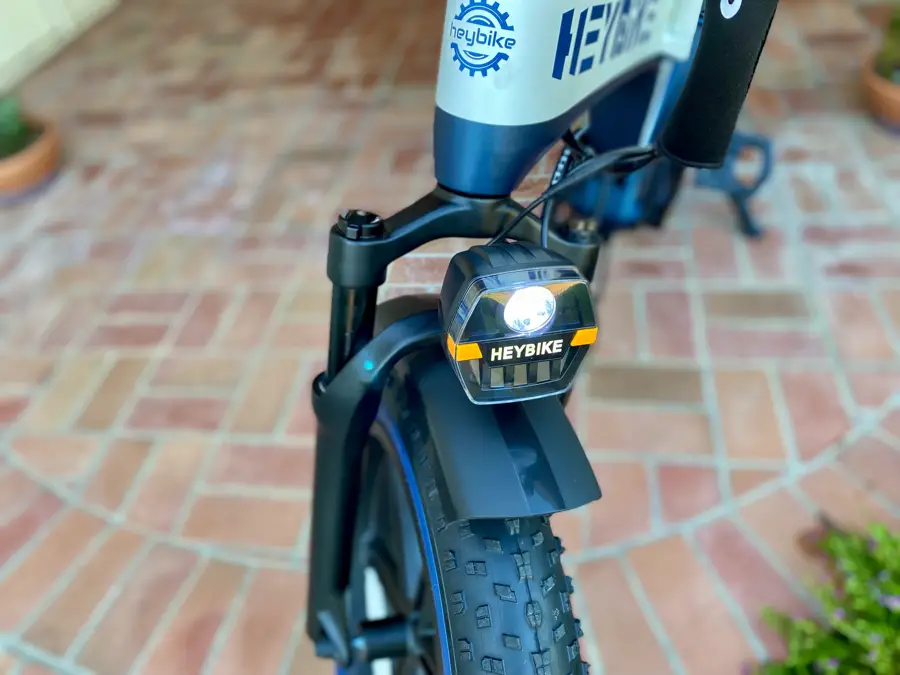 Both the headlight and the taillight include turn signals. These lights keep you safe by being visible to cars and other cyclists. They're also quick to turn on and off with the dedicated switch.

Even the switch for the large headlight is right above the turn signals, as opposed to being buried in the display. So, you won't need to hunt for it while riding.

Heybike then went beyond the basics by making it an automatic headlight. This big light increases safety by coming on automatically when you turn on the ebike. Simply turn it off by the switch if you don't need it. Additionally, you can push the "auto" button once as you begin your ride and the headlight will turn on when it gets dark enough.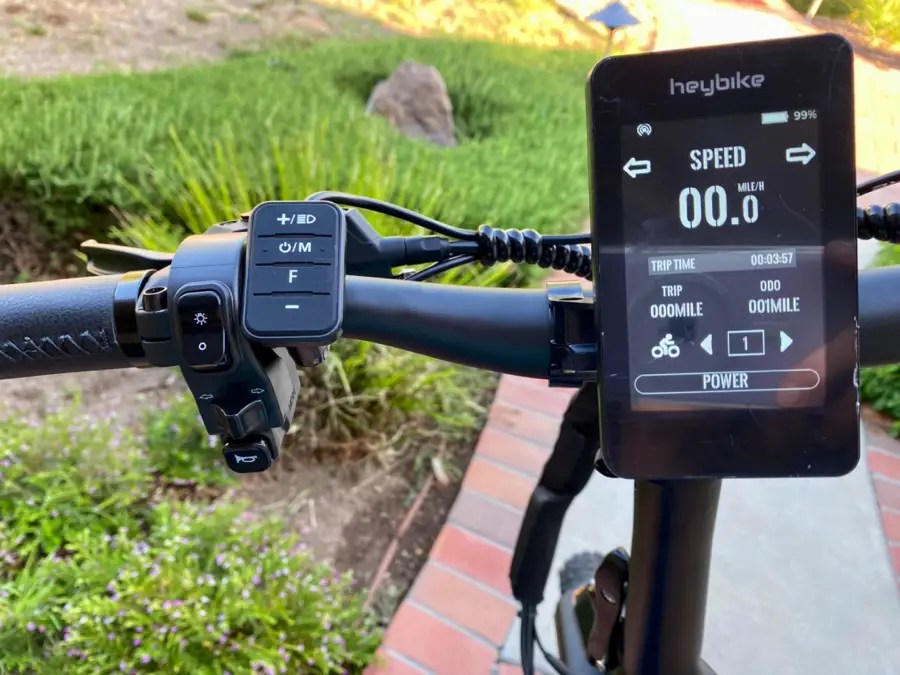 Tyson Performance Advantages
With its enhanced 750W motor, I had no problem getting up a steep hill. In fact, the Heybike Tyson has more power than most recreational e-bike riders need. I was able to ride up to 19-20mph on long, steep hills without any effort.
The Tyson also has a 28mph top speed, up to 55-mile range, 400 lbs maximum payload capacity, hydraulic brakes, and hydraulic front and back suspension. The brakes worked very well and the suspension smoothed out the ride.
And believe me when I say that there is no shortage of power… it takes off fast and sustains its speed! Could this also be a disadvantage (I'll let you know in the Tyson Cons listed below)?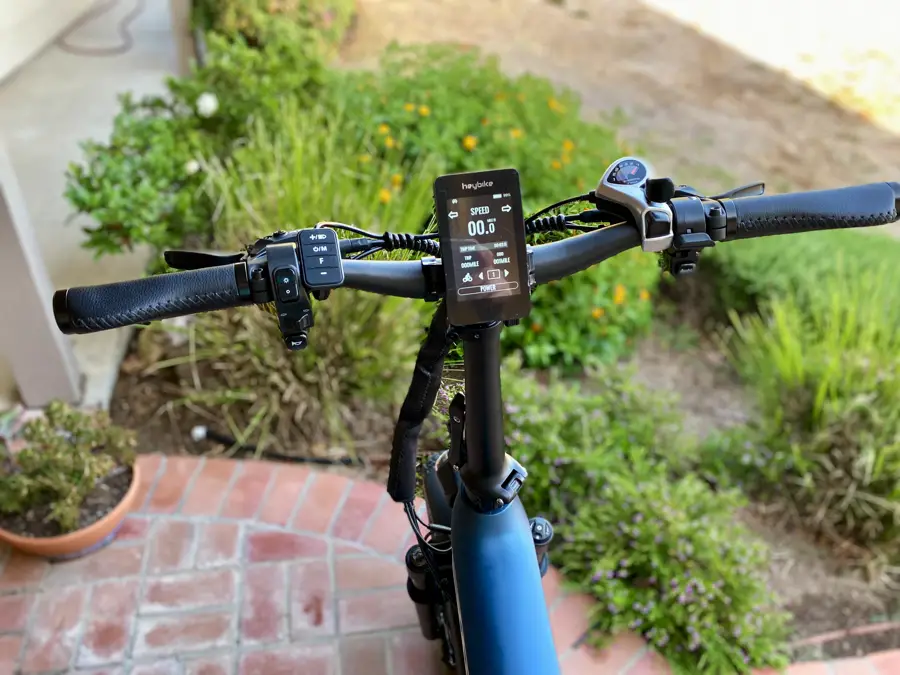 Battery Charger
The Tyson has a 4A Fast Charger which allows the 48V 15Ah battery to charge in under 4 hours… instead of the typical 6-7! Therefore, Marc and I have had plenty of time to test ride. This feature also allows you to get up early and charge the Tyson before your morning 40-mile ride.
Electrical
Further, Heybike has also made sure that its Tyson meets the UL 2849 Standard for electrical and fire safety.
Heybike App
Finally, pending an upgrade, you can connect Tyson's 4G display with the Heybike app for iOS or Android. Doing so will be able to send phone alerts when your e-bike is moved as well as remotely lock and unlock it. 
These anti-theft GPS tracking and auto-lock features can help protect your ebike. Of course, you still need to use one or more strong bike locks (take a look at the Chain or U-locks on Amazon).
Heybike Tyson Cons
I won't end the Heybike Tyson Review without mentioning a couple of potential cons that could affect your decision to buy it.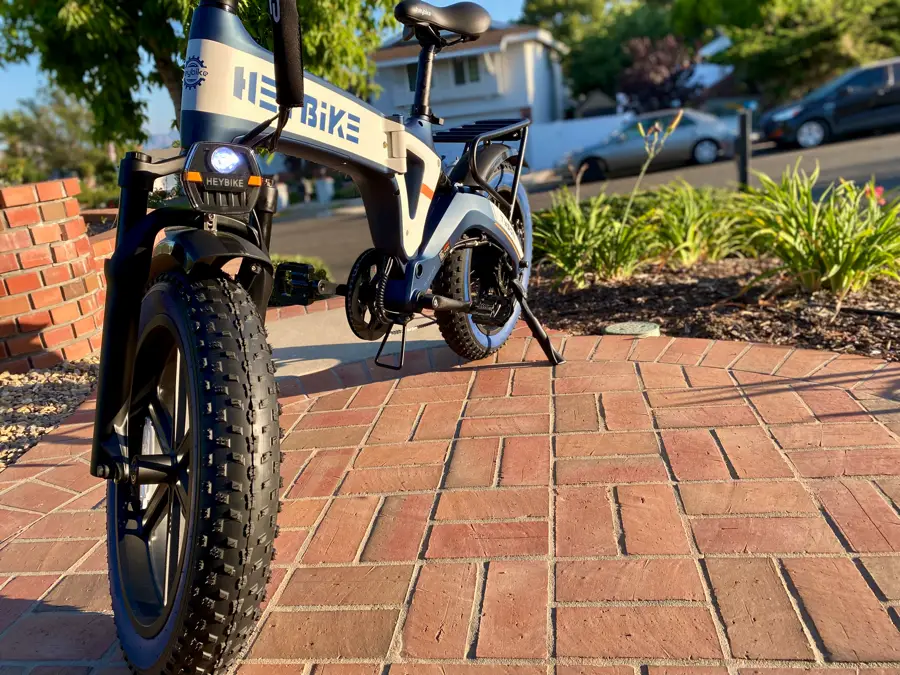 Although you can feel how solid and sturdy the one-piece super thick frame is, 77 lbs is quite heavy for a folding electric fat bike. 

Additionally, the connecting side of the folding latch sticks out a bit further than I'd like. At times, I noticed my leg brush over it when I pedaled. However, this might not affect someone taller than me (I'm only 5'1" while 5'3" is the low end of the recommended height range).  I don't consider this a deal breaker, but I hope that the next upgrade will improve upon this design.

There's also a slight concern with the automatic headlight… if you forget to turn off the "auto" setting, you might find it on when you happen to go out to the garage late at night (like I did). This will drain your battery and burn out the bulb if it's on every night. So, just make sure you push the "auto" button to turn this feature off.

Lastly, the Tyson does take off quickly! The Heybike Tyson is a powerful machine and perhaps too fast for some riders. It took a while for me to get used to the sudden speed, but I don't doubt that riders looking for thrills will love it!
What You Need to Know Before You Buy
Before you decide that the Tyson is the best e-bike for you, read this section!
First, did you know that you can check out the Tyson e-bike on Heybike's website as well as on Amazon?
Unboxing and Assembly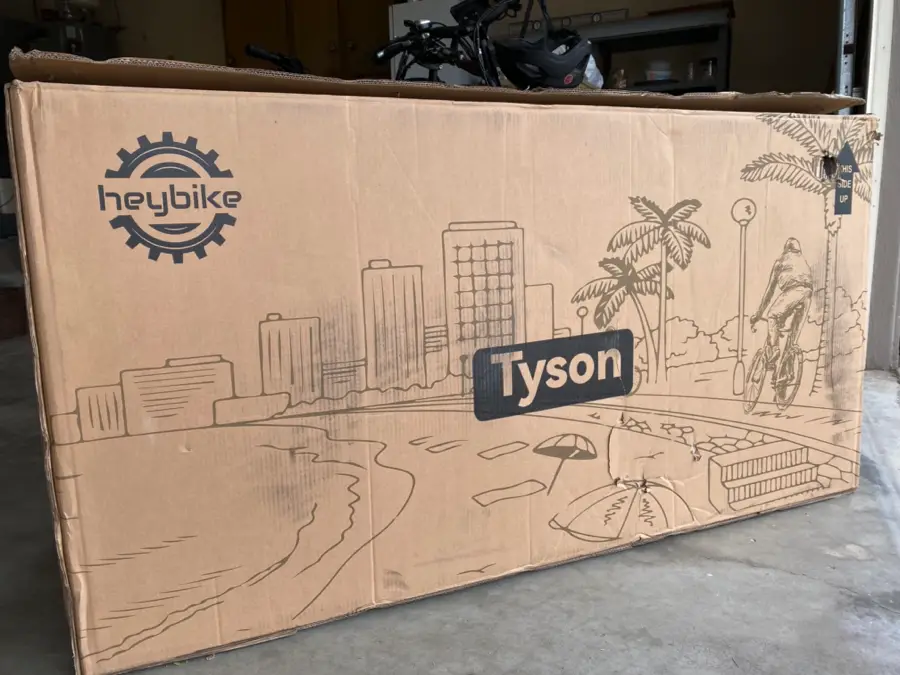 Overall, the difficulty of the assembly was average. Much of the time spent was unboxing and removing the packaging; otherwise, it took about an hour to assemble the bike's components. The rear rack was already installed, which was a time saver. I liked that the assembly manual had color pictures so that I could better see what needed to be done (I've found that some manuals have no images at all). And, if you prefer to watch an assembly video, I strongly recommend it.
Customer Reviews
Further, customer reviews consistently mention Heybike's excellent customer service, which I see as a big plus!
Extras
Also nice to know is that the Heybike Tyson comes with fenders, an integrated rear rack, a 30-day money-back guarantee, and a 1-year manufacturer warranty.
Awards
Finally, the Heybike company won the Green Authority Best of CES 2023 Explore award!
Is The Heybike Tyson the Best Electric Bike for You?
Honestly, the biggest reason this Heybike ebike might not be for you is the 77 lbs weight. If you need to be able to lift it yourself, make sure you are fully capable without risking injury. I certainly need help lifting it into the car!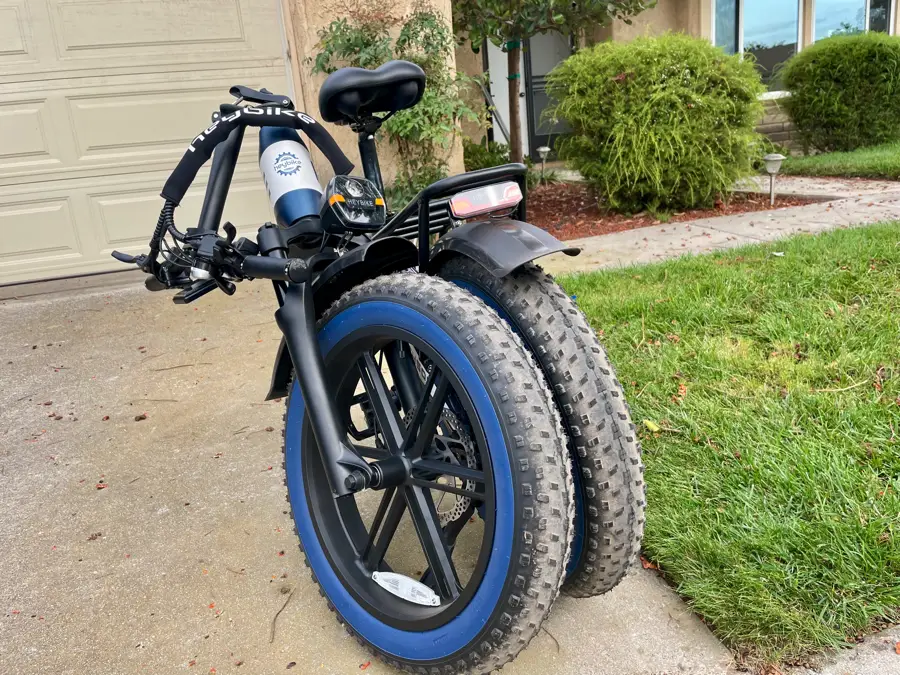 You should also consider your size when getting on and off the ebike. If you're on the shorter end of the recommended height range (recommended size range is 5'3″-6'3″), you may find it difficult to get on and off, depending on your leg length. Be sure to check the rider size chart and note your inseam measurement.
Otherwise, if you're a rider who truly wants it all, including massive power, the Heybike Tyson may be the perfect fit. You can ride smoothly on pavement, go off-road, fold it up, and take it anywhere. This is definitely an "all-in-one" electric folding bike!
The price is competitive for a full-featured fat tire folding electric bike at $1699.
I hope you learned a lot from the Heybike Tyson Review. Watch the Tyson electric bike review video and other e-bike and equipment reviews on my YouTube channel @ebikingtoday. Now, enjoy your ride!
You might also like to read: