Everyone wants to join in on the e-bike riding trend. And this desire runs throughout the population no matter their age, sex, or fitness level. Since almost anyone can ride an electric bike, it's not surprising that heavy riders want to join in as well.
A common question is whether an obese person can ride an electric bike.
With hundreds of new model e-bikes being built in 2023, a heavier rider can generally find one that'll support their weight. Some e-bikes can carry up to 550 lbs, although most have a maximum weight limit of 250-300 pounds.
If you're obese, or even just a heavier rider than average, you'll want to consider whether you can fit comfortably on an e-bike and have the ability to pedal and balance it. You'll also want to be able to get on and off easily and determine if the pros of riding one beat the cons.
Continue reading to discover all of the pros and cons of riding an electric bike for heavy riders.
Pros of Riding E-Bike for Obese Riders
Cons of Riding E-Bike for Obese Riders
You don't have to give up on riding a bike just because you're overweight!
You'll spend more money to get a more durable e-bike
with wider tires, a heavy-duty frame, a powerful motor, and hydraulic disk brakes
Easy to get riding assistance from motor power when you need it
Greater wear and tear on the motor and battery due to
the added weight
Increases the likelihood of consistent exercise
Trouble finding a comfortable seat
You can get an e-bike with a low step, making it easier to get on and off
It may be hard to get on and off an e-bike
You may lose weight and improve your cardiovascular system with regular riding
You may not be able to carry extra gear due to
the weight limit
You can even find an electric tricycle that'll work for you
Pros and Cons of Riding an Electric Bike for Overweight Riders
Although the benefits of riding an e-bike when obese are plentiful, it may be a little harder to choose the right one because of your extra weight. Not only will you want to find all of the features that hold value for you, but you'll also need one that can handle your weight and size.
So, let's look at these factors in more detail to help you search for the perfect e-bike.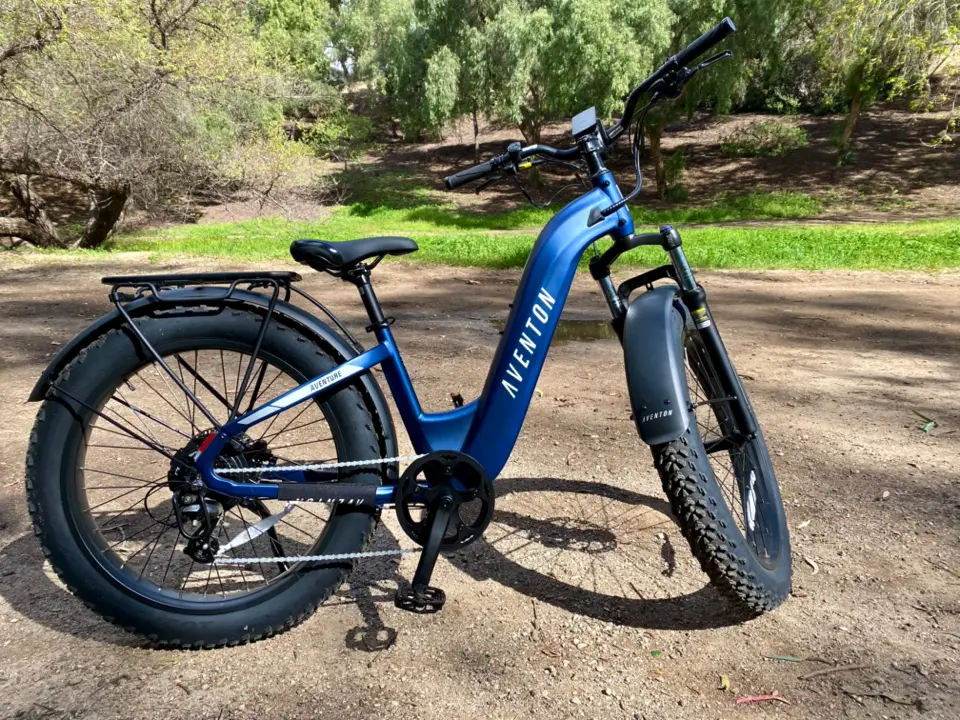 How Much Weight Can an E-Bike Hold (and Are You Obese or Overweight)?
There are so many different models of e-bikes that can carry heavier riders, typically with a maximum weight of 250-300 pounds. However, some carry less and some carry more, with specialized bikes carrying up to 350-400 pounds.
When looking at the specifications for each model, you really need to pay close attention to the "rider" maximum weight limit plus the "cargo" weight capacity. Some brands report them separately but some give the total maximum capacity that a bike can handle. So if an e-bike model has a payload capacity of 300 lbs but a limit of 50 lbs of cargo on the rear rack, you should assume that your cargo weight is included in the payload capacity.
Generally, an electric bike with a high load, or weight limit, will require a heavy-duty motor, high-capacity battery, and hydraulic disc brakes. This likely means that you'll be paying a bit more for the initial cost of the e-bike. Otherwise, your motor and lithium-ion battery would be more likely to fail and overheat due to a weight capacity that it can't handle. Thus, exceeding the weight limit is a matter of safety.
This is why you must be realistic about being a heavy rider. If you are an overweight rider, make sure you choose an e-bike that has a weight capacity that easily exceeds your own weight.
If you're not sure whether you're considered "obese" or just "overweight", use the Center for Disease Control's Body Mass Index (BMI) Calculator.
Fortunately, however, the benefits of riding an e-bike regularly could make this a non-issue.
Watch this electric bike review to learn about a bike that can hold up to 400 lbs:
Benefits of Riding an E-Bike if You're Overweight (Pros)
In the table at the beginning of this article, you saw a list of the pros and cons of riding an electric bike if you're a heavier rider. I think you'll agree that the pros outweigh the cons when it comes to your health and getting the most pleasure out of life. If you aren't quite sure of this, it's most likely because you haven't ridden an e-bike!
The freedom to move and get where you want to go quickly is an even bigger plus if you're obese… because it would take you forever to walk the same distance. And quite frankly, you probably wouldn't even try. Instead, you'd most likely stay at home and not benefit from enjoying the outdoors or being able to run an errand in the sunlight. This is the joy of riding a bike that we all experience!
But it's even better on an electric bike. An e-bike gives you the electric motor help you need to completely enjoy yourself, without the stress! No need to worry about exhaustion or not being able to ride up a hill or even make it back home if you've gone too far. The lithium-ion battery, mid-drive or hub motor, and electric pedal assist will take care of you.
You'll just need to push a button to increase the power to your pedals. Plus, if your electric bike has a throttle, you'll have an even easier time getting moving. There are times you might not even want to pedal, especially if you're a heavy rider.
Another wonderful reason why riding an e-bike is a perfect activity if you're obese is that you'll be better able to get consistent exercise… without the hardship! You can begin riding using all of the electric motor power you need and slowly decrease this as you get stronger.
You may even be able to lose weight and increase cardiovascular strength with consistent riding. After all, if you're moving, you're burning calories and working your heart. You don't need to be running marathons to get fit.
An electric bike will get you moving, even if it's at a low speed and low level of difficulty. This is a huge potential benefit in addition to just riding because it's fun or practical (riding to grab groceries or to get to work).
Just make sure to always consult your doctor before attempting e-bike riding if you are substantially overweight or in the obese weight range.
Step-Through E-Bikes
And, although we'll discuss specific models that'll work for you below, one of the best things about many new e-bikes is that they have low-step access. This makes it easy to get on and off, which is helpful if you're a heavy rider. So, you don't have to struggle by throwing your leg and hip up to get on your ebike.
Instead, you just step through to the other side. You will need to be able to lift your leg a foot or more to get over the low bar. So if you can't do that, then you're probably not in good enough shape to ride even a standard bike.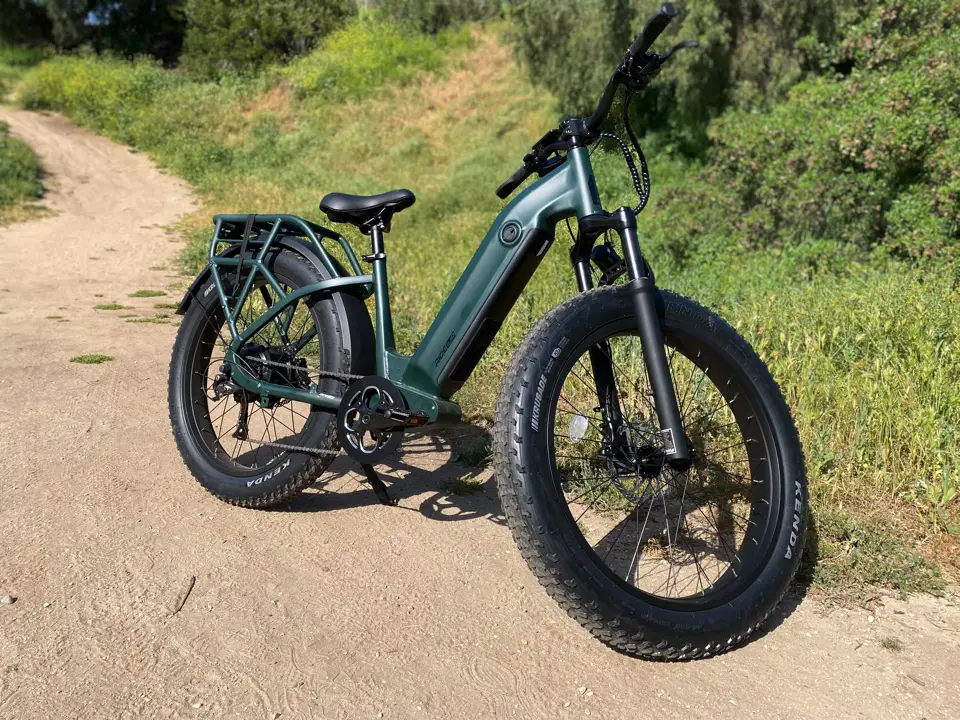 The Problems of Riding an Electric Bike If You're Obese (Cons)
As an overweight or obese person, you'll have a somewhat more difficult time finding an e-bike that can support your weight, size, and agility.
You'll probably need to have a bigger budget to find one with a sturdier, heavy-duty frame and wider tires, not to mention a more powerful motor and high-quality disc brakes and pads. But, this doesn't mean you'll have to spend thousands more. In fact, there are good options for comfortable electric bikes for heavy riders under $3000 that have a high weight capacity. I'll show you some below.
Another con to riding an electric bike if you're a heavy rider is that the battery, motor, and brakes may need adjustments or to be replaced more often due to the extra load they're carrying. This can be true even if you find one with a high weight capacity that supports your weight. Heavier riders just need to plan on getting tune-ups more often to check for problems.
Not being able to carry extra cargo could be a problem as well. If you're at the top of the weight range for your bike's load capacity, then you might have to forego bringing along cargo. So, if you want to be able to carry your child or pet with you, you need to look closely at your options.
If you've sat on a bike seat previously, you know they can be pretty uncomfortable. And, if your body is extra-large, you're going to need an extra-wide, well-padded seat to ride on. Some of the e-bikes that are specially made for heavier riders should have pretty good seats, but you won't know for sure until you ride them. Of course, you can always add some padded bike shorts to your list of accessories.
Finally, being overweight could make it more difficult to get on and off your electric bike, especially if you haven't been very physically active previous to riding. If this is a concern for you, consider getting a step-through e-bike as mentioned above. These types of frames can still have a higher weight capacity. You'll see some of these options in the next section on finding the best e-bikes for heavy riders.
What Are the Best E-Bikes for Heavy Riders?
There are some types of e-bikes that typically carry a heavier load than others. These include bikes that are designed to carry cargo, electric trikes, and other specially designed e-bikes.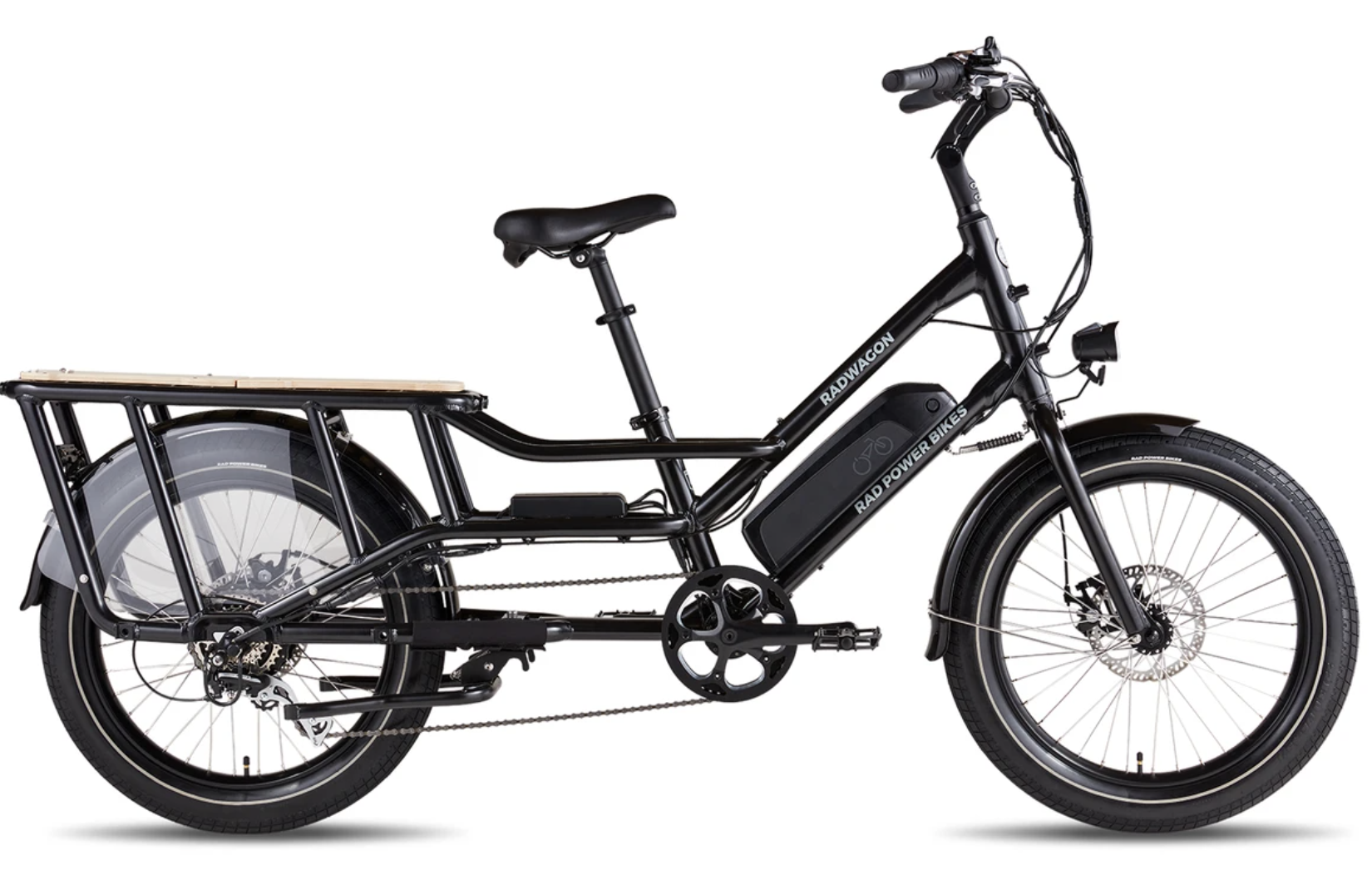 Cargo E-Bikes
Cargo e-bikes are often also considered "commuter" bikes. They're expected to carry you from point A to point B with ease. What makes them different is that they're built to hold more cargo… from shopping bags, briefcases, and school supplies to dogs, cats, and kids.
Therefore, these e-bikes generally have higher total weight limits with the expectation that you'll be carrying cargo. However, they still have lower load capacity in general than the specialty e-bikes you'll see later on. But they could very well suit your needs if you're a moderately heavier rider and under 300 lbs.
All of these cargo capacity e-bikes have a lower step-through to make it easy for heavy riders to get on and off:
Electric Trikes
An electric trike may sound like a kid's toy, but these things are amazingly friendly with weight limits and can be one of the best electric bikes for heavy people.
Because of having three wheels, they're sturdier, stronger, and easy to get on and off. Plus you don't have to worry about balancing or falling over.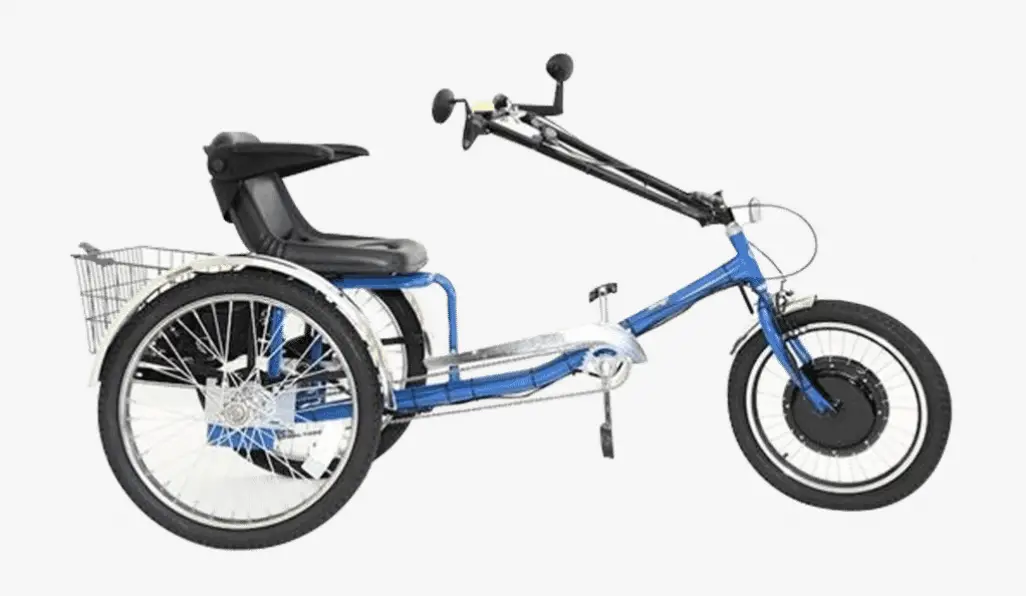 Not to mention that there are a few really amazing trikes that have cargo weight limits up to 450-550 pounds, including cargo. So, you can easily be overweight and still ride one of these. And you may even be able to add your cargo as well.
Although there are a handful of trikes to choose from, it's pretty clear that if you're 350lbs or under, then nothing beats the Addmotor Trikes and their price. And what's really cool is that you can choose from their upright trike or a semi-recumbent. So, if you'd prefer to lean back while riding, you have that option.
The Addmotor trikes are great for overweight and heavy riders as well as obese people of all ages due to their durability, sturdiness, and wide tires. Almost every rider can take cargo along as well due to the super high weight capacity of 450 lbs!
However, the RadTrike is one of the best-priced electric trikes, from the popular Rad Power Bikes brand. It's worth checking out.
Clearly, the Zize trike is the best way to go if you're over 350 lbs, but it'll cost you almost twice as much. However, this bike could very well be worth it if you weigh that much and need an even stronger electric bike. Make sure to take a look at their sizing chart as well.
Some of the best electric trikes will accommodate heavy riders. However, many of the cheaper ones don't have a high enough weight limit to carry a substantially overweight person.
Specialty Electric Bikes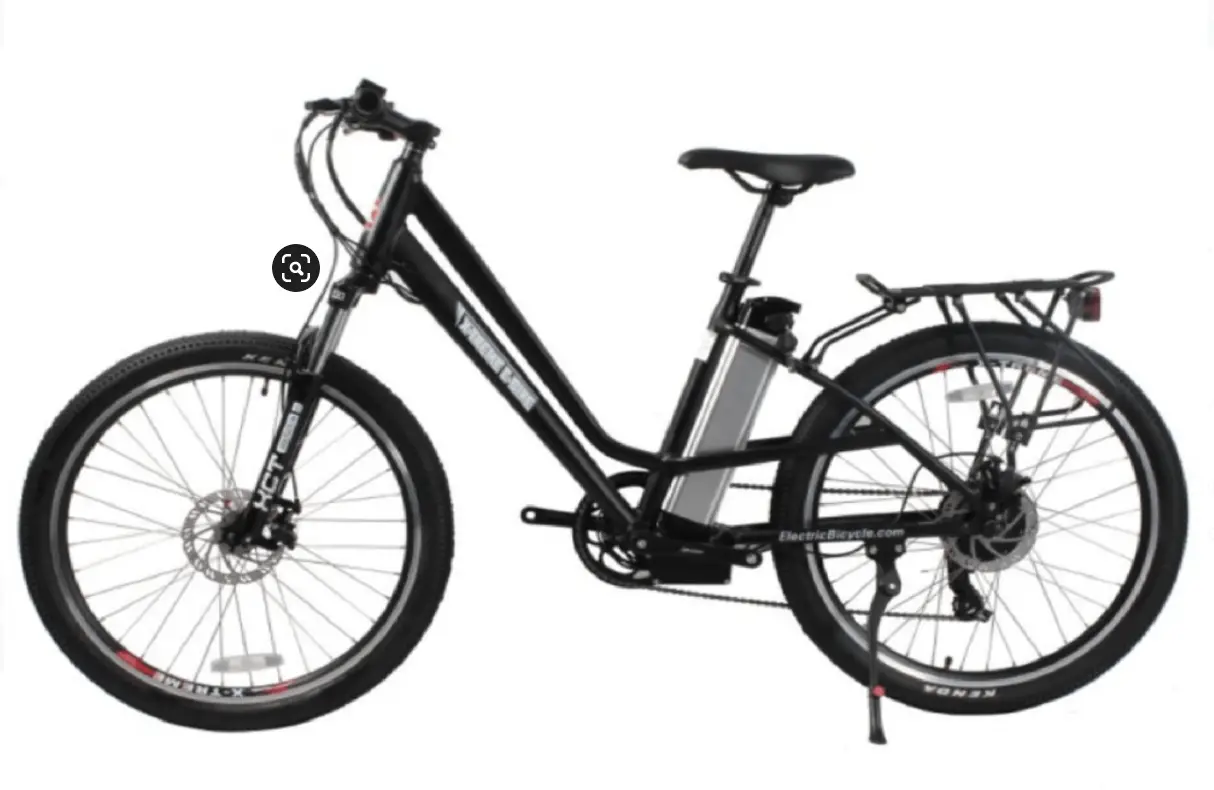 Some e-bikes are just built stronger and are more capable of exceeding the typical weight limit due to extra strong disc brakes, sturdy tires, and massive frames. Oftentimes, these bikes are mountain bikes that are built to withstand more.
As you can see in the chart below, Zize Bikes has a few e-bikes that even carry up to 550 pounds total! In fact, their entire website focuses on bikes for overweight and obese people, and you can even shop by maximum weight capacity (load).
In addition to carrying 550 lbs, I like the Time of Your Life 3.0 electric bike from Zize because it also has a lower crossbar and is easier to step onto (although I wouldn't classify it as a step-through model).
But the price, however, is unreachable for most people… and most of Zize's e-bikes fall in this price zone. So, don't get too caught up in this being the only electric bicycle for you if you're very heavy.
Can You Lose Weight Riding an E-Bike?
If you're overweight, you're probably considering an e-bike as a method to get active and lose weight. And you're most likely wondering if this is a reasonable expectation.
The following research supports the idea that you can lose weight by bike riding:
Research through the University of Copenhagen found that "inactive, overweight people can lose fat mass just as effectively by riding the bike to work than by exercising in their leisure time." This is great news because you don't have to take extra time out of your day to exercise if you just ride to work.

Then the Journal of Applied Physiology discovered that "whole-body fat oxidation capacity during exercise is increased by endurance training" in moderately overweight men.

Finally, the American Council on Exercise says that you'll need to ride at a "moderately" intense level for 30 minutes or more in order to lose weight.
Riding an electric bike can actually make it easier, and harder, to lose weight. On the one hand, even an overweight person can ride an e-bike without too much stress on the body. This will encourage riding longer and farther, which in turn will burn more calories and help to lose weight.
However, being that you can easily use the motor power and/or throttle of an e-bike while riding, you may find yourself not working as hard as you must in order to lose weight.
But, there's no reason to despair. You can and should build up your exercise program gradually. So enjoy your e-bike naturally but ride it frequently. If you're consistent, you'll discover that you're riding longer and farther more easily, which will help you to burn calories and lose weight.
In Summary
Yes, an obese person can ride an e-bike and there are a lot of benefits for doing so such as being able to even ride one in the first place. Additionally, you can get exercise without feeling exhausted and even lose weight with consistent riding.
Riding an electric bike is enjoyable and beneficial for anyone who is overweight, but you may have to pay a little more for a very durable e-bike that can carry more weight than is typical.