You're always seeing dogs having a good time riding on e-bikes with their owners. But cats may love riding with you just as much! Thankfully, there are several ways to carry your cat with you on an electric bike ride.
Take your cat on an electric bike ride in a cat backpack worn on your back or front, in a cat carrier attached to the handlebars or bike rack, in a bike trailer pulled behind you, or in a cat basket on the front of your bike.
In this article, we'll explore those options and find the right one for you and your cat. Then I'll show you the top 3 cat carriers based on awesome features and reviews (and why I love them).
But first, check out this list of customer loved cat carriers on Amazon that I found for you: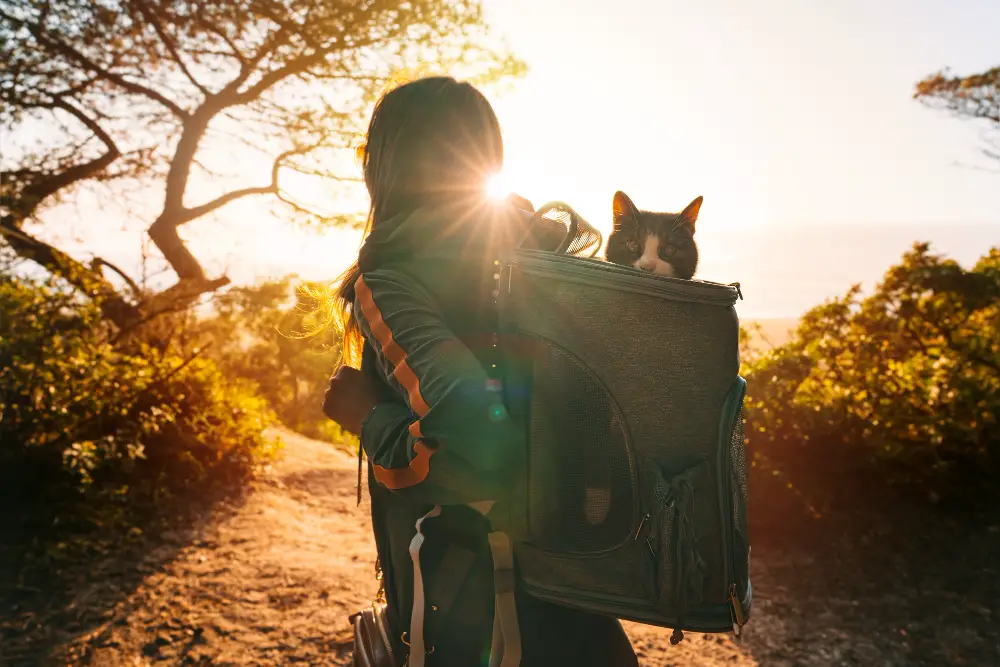 How to Take Your Cat on an Electric Bike Ride
Carrying a cat on an electric bike is a relatively easy thing to do once you have the right cat carrier and have acclimated your cat to ride on an e-bike.
How Do You Bike With a Cat (on an e-bike)?
There are several ways to carry your cat with you while you ride your e-bike. As long as you make them comfortable before you go, they'll most likely love to see the world around them with you!
In general, here's how to make a cat comfortable when riding an electric bike with you:
Use a cover to protect your cat from direct sunlight, cold weather, rain and wind

Add a flat, soft pillow or soft blankets on the bottom of the cat carrier (even if it's a cat backpack)

Put soft towels or a small blanket around the edge of the carrier if there's a lot of extra space to keep them comfortable and secure

Always bring your cat's favorite treats to offer if you get in a sticky situation and your cat gets anxious

Always bring water and a bowl your cat will drink from, even if you're planning a short bike trip

If you're taking a ride longer than 30 minutes, make sure you have a leash so you can let your cat out to relieve itself

If you're going more than a few miles away from home, bring some food in case you get stuck unexpectedly.
Keep reading below to find out the steps to take your cat on an electric bike ride.
Types of Cat Carriers and Baskets
Take a look at the different ways you can bring your cat on an e-bike. There are a few good options for riding your e-bike with your cat.
What is best for you and your cat can depend on your riding style, such as how often you ride and how far you go, as well as your cat's temperament and needs.
Cat Bike Carrier (Front or Rear)
A cat carrier typically refers to a crate or soft-sided carrier that attaches to the front or rear of your bike. It may attach to the handlebars or sit on top of a front rack or rear bike rack.
If you buy a carrier specifically made for cats or small pets (Amazon link), it should come with a cover and tether, at a minimum, to keep your cat safe inside.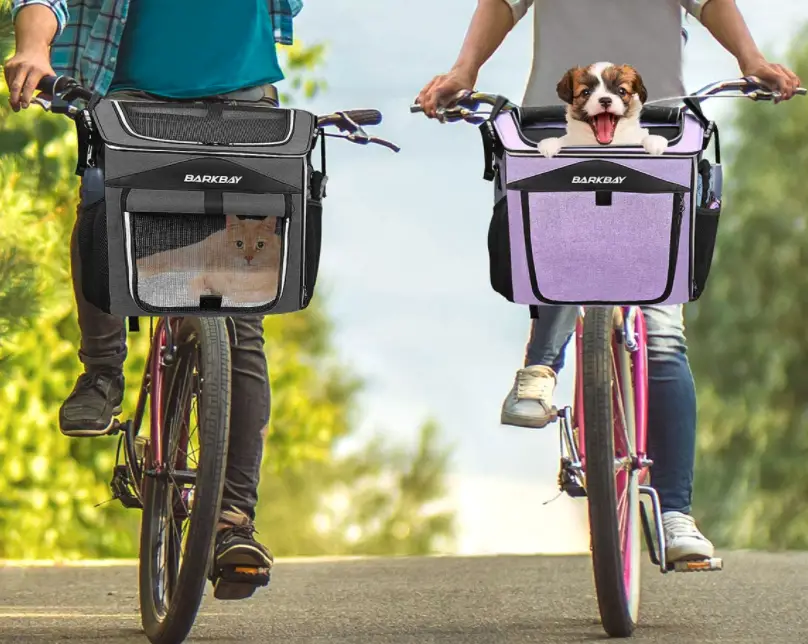 Cat Backpack
So, how do you carry a cat in a bag? Sounds like an odd thing to do, but if you don't want to worry about the weight distribution of another type of basket or cat carrier on your already heavy e-bike, a cat backpack is a good option.
But don't just put your cat in any backpack you have lying around the house. Instead, you should have one that's made especially for pets, either small dogs or cats.
Small pet backpacks (Amazon link) will have a way to let your cat breathe inside the backpack and have a hard frame to protect your furry friend, among other cat-friendly features.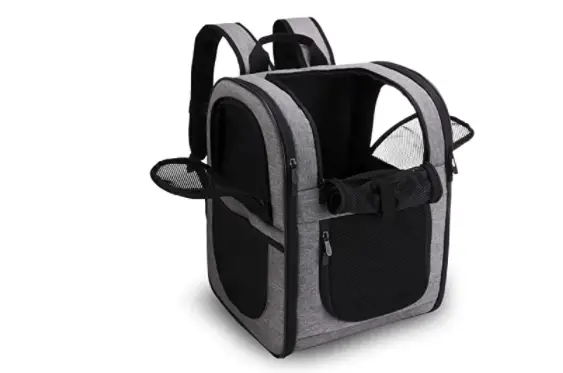 Front Cat Basket
You can typically carry a cat in a basket attached to the e-bike's handlebars (steering). With this option, you can keep your eye on your cat and enjoy your ride together more easily.
Cat baskets (like this one on Amazon) are made of many types of materials and you should choose the most comfortable basket for your cat. Some people even like to make a diy cat bike basket, but this can add problems to riding your e-bike with your cat (so be sure to continue reading below).
Cats riding in a front bike basket should be quite content once they've adjusted to being on an e-bike.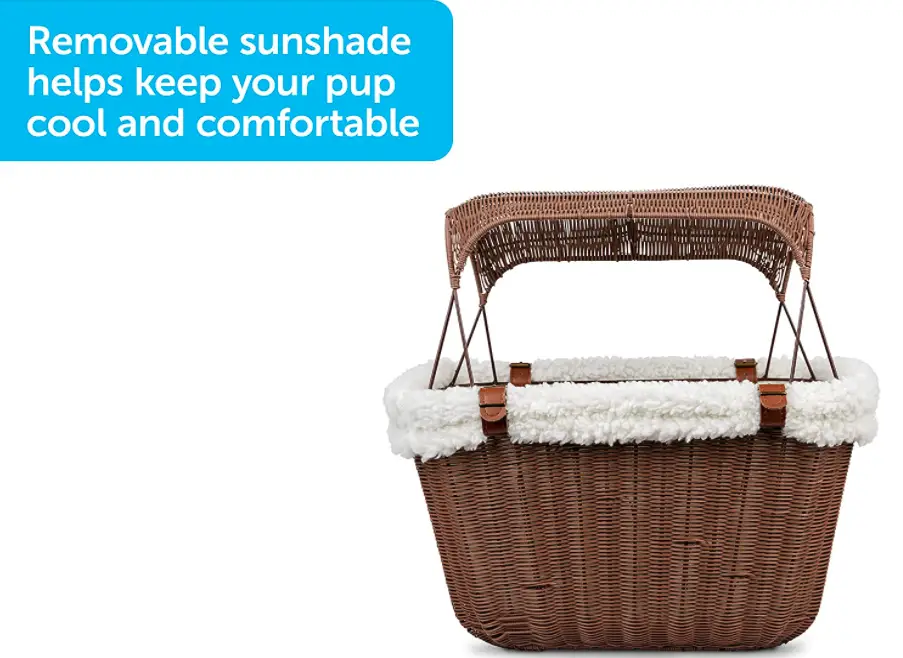 Bike Trailer for Cats
Bike trailers are generally designed for either pets or kids. And although you can use a kid's bike trailer for your cats, it'll need to be adapted a bit to make sure your cat has a place to fully lay down and can still see what's going on outside.
Generally, the better option is to purchase one made just for small pets. In these bike trailers, your cat will likely be the most content.
However, consider that many electric bike motors are placed on the rear wheel of the bike (hub motor). Thus the motor's noise may be louder and possibly disturbing to your cat who is riding behind the back wheel.
For these reasons, and the fact that bike trailers are much more expensive, a bike basket, carrier, or cat backpack may be a better solution to taking your cat riding with you on an electric bike.
But if this idea works for you (maybe you have a litter of kittens or a couple of cats you want to take), then look at this small pet bike trailer on Amazon.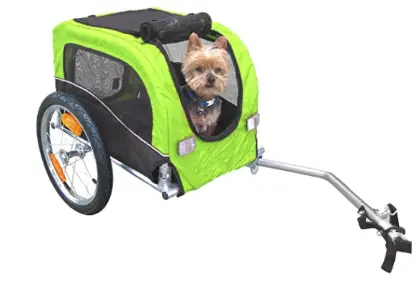 How to Carry a Cat on an Electric Bike (Important Considerations)
Make sure you've considered these things before riding an electric bike with your cat.
Your cat carrier attaches securely to your model of electric bike (and doesn't slide around)

Can you handle the extra weight of the cat with carrier and still properly balance and steer the e-bike (especially since e-bikes are typically heavier than standard bikes)

Is your carrier made of a material that's comfy to cats and won't harm them (like a splinter from a wood basket)

Does your cat or cats fit inside the carrier, without it being too small or possibly too large (if they have too much room to get thrown around)

Finally, is your cat adequately secured inside the cat carrier with a harness and tether, leash, or cover?
Can Cats Ride in Bike Baskets?
This is probably one of the best ways to carry your cat on an e-bike. Because baskets are typically attached to the front of your bike, you can always see your cats, so you'll know if they're in distress or enjoying themselves.
However, it's not as simple as just sitting your cat in a basket.
How Do You Keep a Cat in a Bike Basket
You never want to assume that a cat will stay seated in an open basket. They may leap out after seeing a rodent, getting spooked by a dog passing by, or if they feel anxious for any other reason.
Thankfully, most dedicated cat baskets and carriers come with a cover that secures your cat inside.
If you've made your own diy cat bike basket but don't have a cover, then you should use a harness that keeps your cat inside the basket. 
The harness could have a tether that attaches to the bottom of the basket or handlebars of the e-bike. But make sure your cat doesn't have a long enough leash to get itself even partway out of the basket, or it may get hurt.
Best E-Bike Baskets for Cats
Some of the best cat bike baskets are right on Amazon. You can see the customer reviews, images of how it works, and loads of details.
I came up with the best e-bike baskets and carriers based on features, answered questions, and customer reviews. Check them out here:
Here are my favorite cat bike carriers and best bike baskets for carrying your cat on an electric bike:
BARKBAY Bike Basket & Expandable Foldable Soft-Sided Carrier (MY TOP PICK) on Amazon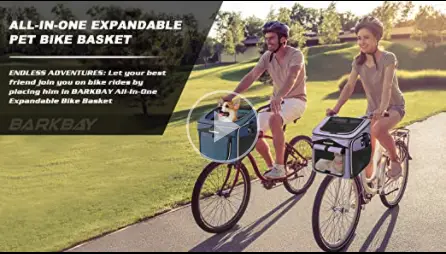 I absolutely love this soft-sided basket because it has the most complete set of the best features I've seen in a cat bike carrier.
It includes:
A top and side mesh panel for your cat's breathability and view (and you can see your cat as well, even if the mesh is zippered up).

A soft fleece bottom panel (removable and washable)

Reflective strips for night time

Rain cover

Shoulder strap to carry your cat when you're not on your e-bike or traveling

Safety Tether

Comfy, soft-sided basket (that's also collapsible for easy storage in your car, home, or attached to your e-bike)

Fits cats (or dogs) up to 18lbs!
Plus, your cat can actually lay down and still see outside. But you can also attach its harness to the tether included inside the carrier and allow him to keep his head above the carrier for a full view of what's going on.
Get it now on Amazon: $66
2. PetSafe Happy Ride Wicker Bicycle Basket for Cats (& small dogs) on Amazon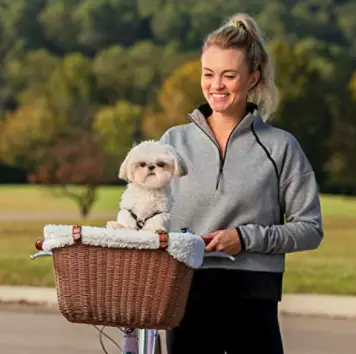 This cute bike basket is perfect for your cat for short rides during nice weather. I say this because it includes only a light wicker shade cover. But it is adorable and your cat will love snuggling up inside.
This cat basket includes:
Stylish Weather Resistant Wicker Material

Comfortable, Easy to Clean Soft Liner

Safety tether

Removable Sun Shield Included

Machine Washable

Carries cats and other pets up to 13 lb
Get it now on Amazon: $60
3. Apollo Walker Pet Carrier Backpack for Large/Small Cats on Amazon
This highly-rated cat backpack is perfect to carry your cat on your electric bike if you don't have a bike rack or aren't as comfortable with keeping your balance.
Features Include:
Multiple-sided mesh windows

Cushioned back support

Chest and waist buckles for your comfort and support

Claw-proof mesh

Zippered buckles

Tether leash
Get it now on Amazon: $Check Price
Do Cats Like Bike Rides (and how are e-bikes different)?
With the right preparation, your cat will most likely love to ride with you on your e-bike. But an electric bike is a little different for a cat because it's louder and can go faster.
Also, you may need to spend more time acclimating your cat to the outdoors if it's always been an indoor cat.
There are several steps you can take to make certain that your cat will enjoy an e-bike ride.
Steps to Prepare Your Cat for Its First E-Bike Ride
Put the cat carrier of your choice in your home where your kitty spends a lot of time
Include soft blankets or towels inside the backpack, carrier, or basket
A couple of times per day, add some of your cat's favorite treats (it's helpful to reward them once they've gone in all by themselves)
Leave the cat carrier open until your cat or cats are happy spending time there
Once they're comfortable, add the basket cover, weather shield, or zip up the backpack and continue offering treats
Next, with the cat secured inside, carry the basket or carrier around your home, giving it treats occasionally
If content, your cat is ready for its first e-bike ride.
How to Take Your Cat on Its First Bike Ride
One thing that's very different about taking your cat on an electric bike ride is the motor noise. The noise could make your cat nervous and so it's important to start with a short ride.
Your cat may also have anxiety due to the wind, other people, cars, bikes, and dogs nearby.
So now that you've gotten your cat comfortable with the carrier, you can follow these steps to total cat e-bike riding bliss:
Put your kitty in the carrier and offer a treat
If they're in a basket or crate, start walking your e-bike slowly, with the electric motor off and in a quiet place
Give them a small treat
If they seem comfortable and not anxious, ride on your e-bike a short distance, still with the motor turned off.
Offer another treat
Continue to go further and explore new situations slowly, without the motor or pedal assist until you're sure your cat is happy.
Once your cat is content, try turning on the motor and ride a short distance
Check frequently to see if your cat is bothered by the e-bike motor
Offer treats occasionally… this helps to make riding an e-bike rewarding but also ensures that they aren't too nervous to eat the treat (if they are, go to a previous step and try again)
Gradually explore riding with your cat in places with more noise, cars, people, and animals
Conclusion
Now you're ready to enjoy riding your e-bike with your cat, whether it's in a cute basket, backpack, or comfortable cat carrier.
After reading this article, you know how to carry a cat on an electric bike in a way that doesn't scare them or make them anxious, and you've probably decided which one is the best cat carrier for you.
Go enjoy your first electric bike ride with your cat (or cats)!