Electric bikes have become a popular alternative to traditional bikes. Now many are wondering what an electric trike is and why they're being ridden by adults instead of children!
An electric trike is an adult-sized motor-powered bike with three wheels, much like those that small children ride. It's commonly used by adults with disabilities and seniors who may be unable to ride a two-wheeled bike. An e-tricycle offers motor assistance when the rider pedals and the three wheels remove the need to balance.
Without the concern of balancing, as on a traditional bike, riders can enjoy themselves more and reap the benefits of cycling in general. Like other e-bikes, these three-wheeled electric bikes have become an enjoyable way of getting around without having to worry about hills or headwinds.
How to Ride an Electric Trike
Generally speaking, riding an electric trike is very similar to riding any other bike. The main differences are that it has three wheels to remove the need for balancing and that when you pedal, the electric motor will kick in to help you.
This means that when you approach a hill, or if your legs are tired from cycling, you'll be able to continue riding by using the electric motor.
Is it Easy?
Riding an electric trike will most likely require a learning curve like any new form of transportation, but it may not take as long to learn as some!
Overall, it is fairly easy to learn how to ride an e-trike, but it is important to be aware of the differences between an electric trike and an electric bike.
Also, please understand that young kids have their own electric bike options and that these are not the same trikes for young children. Be sure to give yourself time to learn and take it slow before taking it out onto the streets.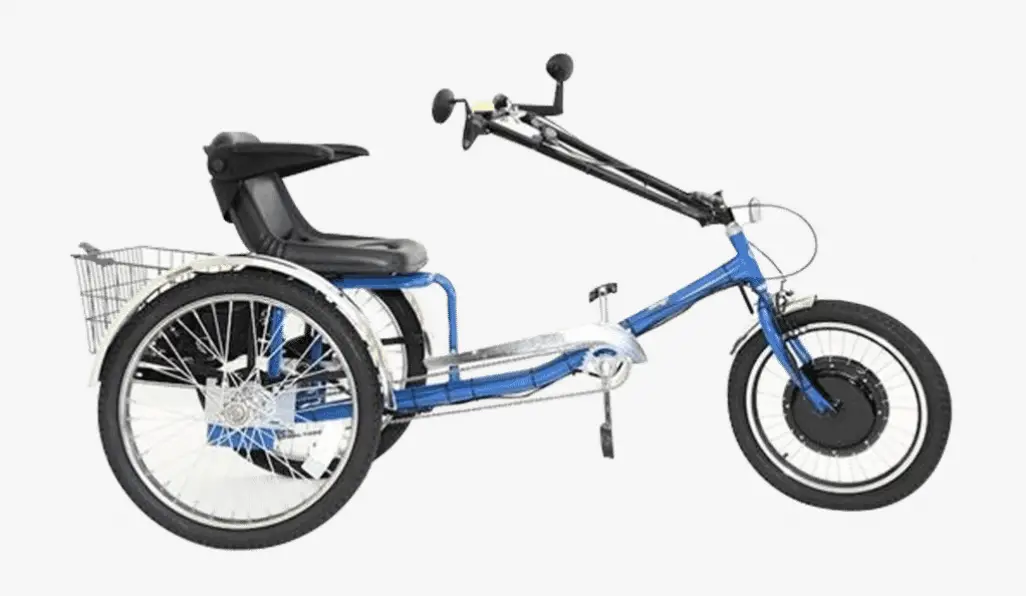 Like an e-bike, electric trikes are motor-powered and include pedal assist, but e-trikes have much more stability and balance. You will be able to cruise up a hill at a more leisurely pace without the fear of falling over.
If you start to feel tired, a third wheel will prevent you from tipping as easily. For example, when stopping at a light or crosswalk, a rider of a two-wheeled bike will have to put their feet down to balance the bike. But riding a trike will provide that balance for you so you don't have to switch positions and start back up again.
However, you might want to hold on to the brakes tightly so that you don't roll at all while stopped.
Disadvantages of an E-Bike
Something that may be a bit more of a struggle when riding an e-trike is turning tight corners and avoiding obstacles in the road. Because of the third wheel, the turning radius is wider. So you'll need to account for extra space and move slower while turning to avoid tipping over. Be careful not to lean too much into the curve, as it'll actually cause you to lose balance easier. Instead, just use the handlebars to help you turn safely. 
Electric Trikes also tend to be larger and take up more space than a two-wheeled bike, so storage can be a problem. Further, getting one into a car can be near impossible!
Benefits of Riding an Electric Trike
Riding an e-trike provides essentially the same benefits as riding an electric bike. They may require less balancing effort, but you will still be able to ride in the same places and receive the same workout from pedaling. 
Riding an electric trike is great for a number of things:
Mental Health
Cardiovascular Health
Joint Health 
Muscle and bone strengthening  
Mental health
Getting regular exercise and being out in nature is proven to enhance your mood and release positive endorphins. It can help with depression and anxiety and calm your brain.
Additionally, vitamin D (from being out in the sun) and fresh air can help maintain a more balanced mood and improve cognitive function. And riding an electric trike or bike is a safe, fun way to improve your mental health.
Cardiovascular health: Is riding a tricycle good exercise?
Riding any bicycle on a regular basis can lower the risk of diabetes, heart disease, cancer, strokes, and age-related issues. This is because it increases your physical activity and works your cardiovascular system.
Riding can also help keep your weight down and burn calories, leading to a healthier body overall. Further, receiving a proper amount of exercise can boost your immune system.
But the absolute greatest thing about riding an electric trike, instead of a regular bike, is that it makes exercise much easier. Thus, you're more likely to do it and will do it more often, which will improve your overall physical fitness.
Joint health
Riding a bike is a low-impact exercise and puts much less stress on your joints than running or high-impact sports.
And since electric trikes have pedal assist, and often a power throttle, you can take as many breaks as your joints need while still moving forward on the bike. Just increase the level of power assistance to make pedaling easier or use the throttle exclusively without pedaling at all.
Muscle Strengthening
Pedaling an electric trike is a great way to strengthen your bones and work on building up muscle strength, without having to worry about balance. Building muscle will not only help you burn fat, but it'll also keep you stronger and more capable in other daily activities.
Plus, cycling, in general, will strengthen your bones while increasing muscle. 
How Much is an Electric Trike?
Name
Addmotor Motan Electric Trike
Viribus 3 Wheel
Electric Bike for Adults
EWheels (EW-29)
Emojo Caddy Pro Fat Tire
Addmotor M-340 Electric Fat Trike
Rating
5 / 5 stars
3.5 / 5 stars
3 / 5 stars
5 / 5 stars
4 / 5 stars
Price
$2,999
$969.99
$1,949
$2,799
$2,999
Carry Weight
Up to 350 lbs
Up to 300 lbs
Up to 400 lbs
Up to 320 lbs
Up to 350 lbs
Colors
White, Apple Green, Orange
Black
White, Apple Green, Orange
White, Grey
Pearl White, Starry Blue, Neptune Blue
Extra Qualities
750W 48V 16AH M360

250W Motor, Bike Tube, Removable 36V 10Ah Lithium Battery, Adult Tricycle with Adjustable Cruiser Bike Seat and Bike Basket, Exercise Bike, up to 15mph

Scoot-Around Pedal or Electric Power 3 Wheel Trike with 3 Year Extended Warranty, up to 15mph, 500-750W

500W 48V, Seat with backrest, Step-through frame

250W 48V, Seat with backrest, Step-through frame

Electric Trike Conversion
You can also buy conversion kits to customize your trike and build on parts to your own non-electric trike. These kits usually cost anywhere between $200-1,000 depending on what it includes and the quality of parts in each kit.
If you don't want a whole kit, you can buy individual parts as well. If you want a smaller or more comfortable seat, for example, you can buy and replace just the seat. The same goes for the battery, motor, handlebars, and wheels.
Where to Buy an E-Trike
You can buy an e-trike from many online stores, including Amazon. The best way to find them is to do an internet search and look at different brands. If you'd prefer to look at some in person before buying, you may also be able to find them in select Walmarts and a number of bike stores.
Three-wheeled trikes are far less common than e-bikes. But you can look up bicycle shops near you that sell electric bikes and call them to inquire about electric trikes.
Things You Should Know Before Buying a Trike
How fast do e-trikes go?
E-trikes can go up to 30 mph, with most having a motor that maxes out at 20 mph, depending on the brand and model. They can typically ride for 30-40 miles on a single battery charge before dying so you shouldn't have trouble getting where you need to go.
Are trikes street legal?
Generally, e-trikes can be ridden anywhere that electric bikes can go. Otherwise, they have the same street requirements as any regular bicycle. Since laws and regulations differ, be sure to look up your specific state, county, and city to read their requirements for riding any electric tricycle or bicycle. 
Do you need a helmet to ride an electric trike?
In most places, the law does not require an adult cyclist to wear a helmet when riding an electric bike or trike. However, it's strongly recommended that you wear one anyway. After all, your head is your most valuable body part. A helmet will protect your head in an accident as well as from flying road debris.
How is an electric trike different than a 3 wheel motorcycle?
An electric trike is different from a three-wheeled motorcycle for a couple of reasons. First of all, the motor doesn't allow it to go nearly as fast as a motorcycle. The average motorcycle can go up to 165 mph, while e-trikes only go up to 30mph at the fastest. E-trikes aren't meant to be ridden on busy streets or freeways like motorcycles are. Rather, they're better for riding on bike paths and less populated scenic routes. 
Another difference is that riders can use their body to help turn on a motorcycle, whereas on an e-trike you only need to use the handlebars to steer around turns. On a motorcycle, you turn the bike with counter steering, meaning you lean the opposite way of the curve to turn. E-trikes have direct steering. 
In Conclusion
As electric bikes become more widely used, e-trikes are starting to pop up more as well. Like e-bikes, e-trikes provide motor assistance that makes it easier for a rider to pedal and get where they're going. However, adding a third wheel to an e-trike removes the need for balance and allows more people with disabilities or injuries to get out and ride.