If you're tired of commuting to work or school with an expensive car or a slow regular bicycle that leaves you sweaty by the time you get to work, you've probably started thinking about an electric bike. But there's a lot to learn about electric bikes in general and you might be wondering whether commuting by electric bikes is right for you in the first place.
There are many pros and cons of commuter electric bikes that will help you decide whether or not to ride one. Overall, there are numerous advantages of commuting on an electric bike as opposed to a non-motorized, regular bicycle.
Below, I've compiled the ultimate list of advantages and disadvantages of riding commuter electric bikes, why they're perfect for commuting, how far you can go, and how to find the right type of e-bike.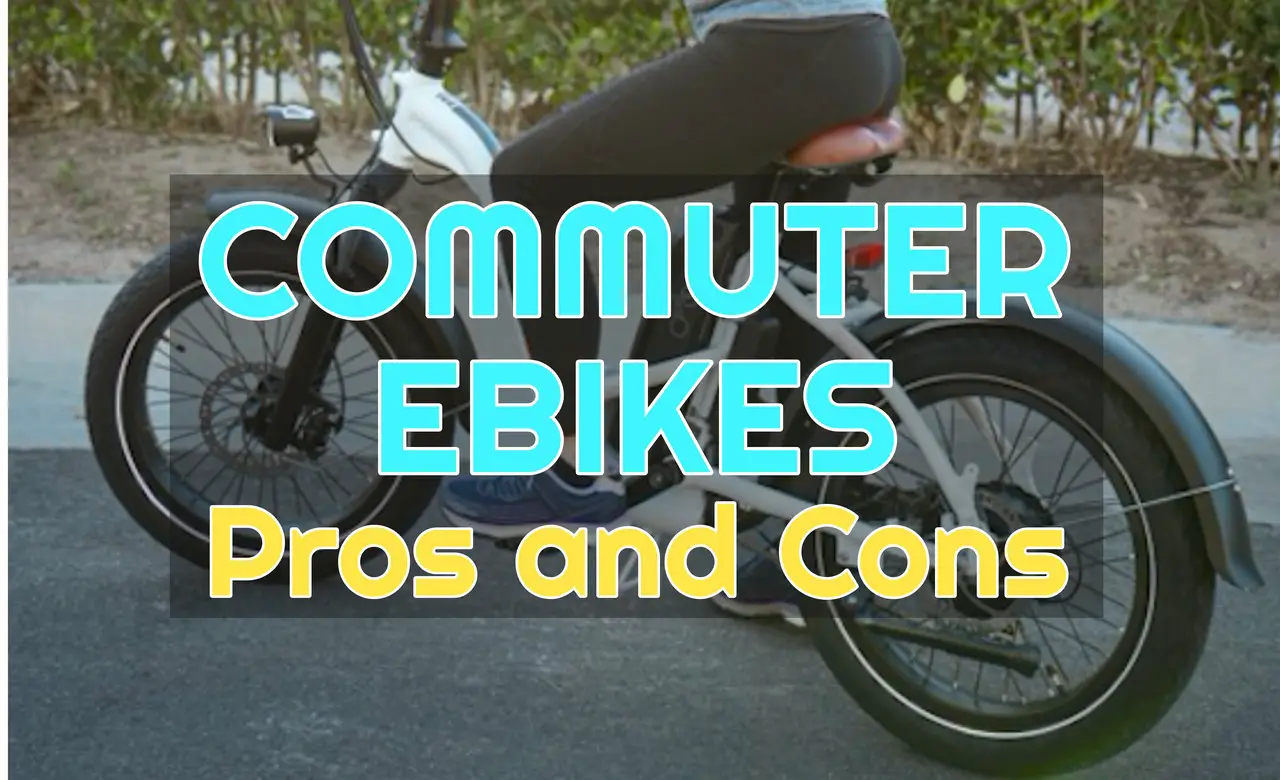 What is a Commuter E-Bike?
Generally referred to as "commuter" or "city" electric bikes, they're designed for efficient city travel on paved roads. They typically have an upright seating position and include bike racks to help you carry your projects, books, and lunches with you.
Many commuter e-bikes can also be used for recreational rides and may have wider tires than road e-bikes to allow riding on hard-packed dirt or gravel paths.
Typically, you'll get a throttle to help keep you up to speed in car traffic and to provide a break from pedaling, especially if you have a long commute.
Commuter E-Bikes Pros and Cons
As you'll see, there are more pros to commuter e-bikes than cons. Yet, each one listed may be of different importance or even irrelevant to you personally.
For example, sitting upright while riding may be important to your comfort, but perhaps you don't mind riding in the rain because you have the proper clothing and gear.
Check out this list of commuter e-bikes pros and cons to determine which ones may be to your advantage:
| | |
| --- | --- |
| PROS | CONS |
| Upright riding position | Having to ride in bad weather |
| Pedal assist | Much slower than a motorized vehicle |
| Get to work or school fast | Increased worry over theft |
| Cheaper to buy than a car | Costs more than a conventional bike |
| Cheaper to maintain than a car | Costs more to maintain than a normal bike |
| Ride long commutes | Worry over losing battery charge |
| Easy to park downtown | May not be allowed to bring it into your work or school |
| Easy to climb hills | May be too heavy to lift onto a bus or up a set of stairs. |
| Carries your stuff for you | |
| Exercise is easier | |
| Decreases sweat | |
| Eco-friendly | |
| Charge your mobile phone | |
| Fun to ride | |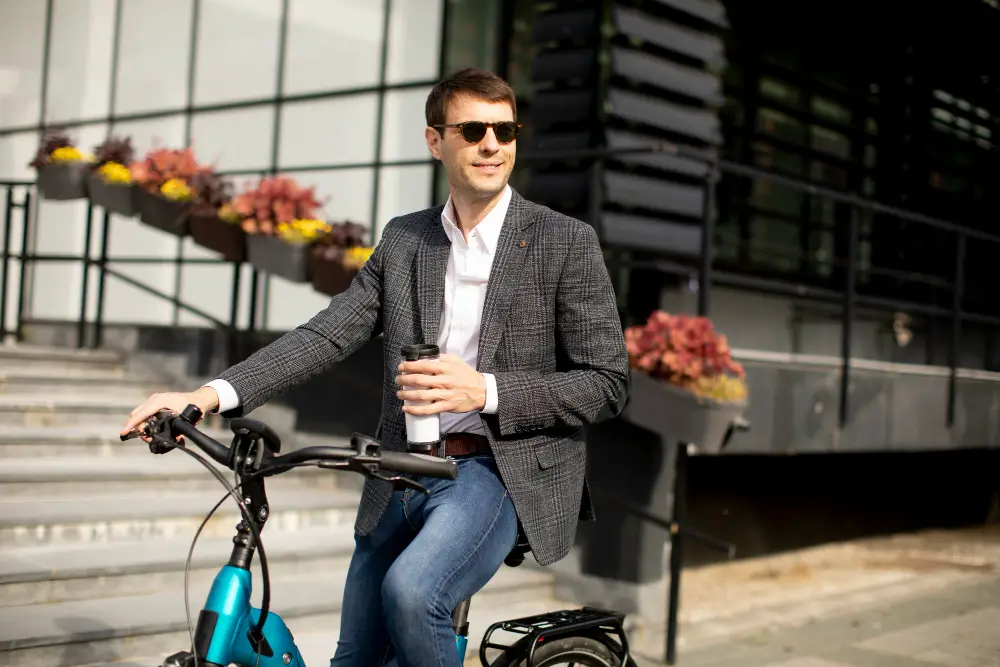 Pros of Electric Commuter Bikes
Upright Riding position

Sitting upright with high handlebars on your e-bike is more helpful when you are riding in traffic or through busy intersections. Not only is it important for safety to see potential dangers but most riders will agree that it's more comfortable, especially for long rides such as commuting 10 miles or more to work.

Pedal assist

This is one of the biggest advantages of commuting on an electric bike. Not only does motorized pedal assist make it easier to ride in general, it can minimize exhaustion on long commutes.

Although many city e-bikes have multiple levels of pedal assistance, some only come with a single speed and max out at 15mph. So, it's important to make this distinction when buying one.

Get to work or school fast

The average electric bike, whether it's a commuter e-bike or not, stops providing motorized assistance at 20mph. However, continuing to pedal, especially downhill, can get your speed up to 28mph on most bikes.

The throttle, however, can also help boost your speed to get you moving quickly. Not all e-bikes come with a throttle (read about adding one here), but I personally recommend one, especially when you'll be riding in traffic.

Cheaper to buy than a car

Generally speaking, you can get commuter electric bikes for thousands less than a car (unless you buy a $2000 clunker that you'll have to spend lots of money to repair).

You'll probably spend between $800 and $3000 on a commuter bike. If you ride long commutes every day, you'll want to consider electric bikes that cost $1500-$2500, as this is the range where you can get good quality and the best value for your money.

Cheaper to maintain than a car

You can get routine maintenance once or twice a year on your electric bike for an average of $100, give or take depending on where you live. That may seem pricey when comparing it to giving your car a basic oil change. But when doesn't your car need other work done such as a tire rotation and air filter?

Plus, the big one… gas! You can easily spend more on gas in a month than on maintaining your e-bike.

You can ride long commutes

Thanks to very efficient lithium-ion batteries, you can go 20 to 50 miles on most commuter e-bikes. This is a huge pro to commuters who would otherwise only be able to ride 5 miles without getting tired.

And, if you have an e-bike that only has a 20-mile range per battery charge, then you can simply charge it while at work or school for the ride home. Make sure to calculate how far you need to ride each day and know how far your bike's battery can go on a single charge.

Easy to park in downtown or congested areas

You won't have to drive around the block four times to find a space that, just maybe, your car can fit in. Nor will you need to worry about parking fees!

Most buildings have bicycle parking right in front, so you won't even have to walk far to get to where you're going.

Easy to climb hills

One of the most stressul things about commuting to work on a standard bike just might be struggling to get up a hill, especially at the end of the day when you're tired and just want to be home relaxing on your sofa.

With electric bikes, you won't have to suffer through this. Just increase the pedal assist level so that you need to put in less pedaling effort or get a boost uphill with the throttle.

Carries your belongings

Bring along your books, bridefcase, lunch bag, files, projects and whatever you need on a rear rack. You won't need to accomodate these items in a backpack that swings wildly as you turn the corner and makes you lose balance.

Exercise is easier

Yes, exercise CAN be easier on a comfortable commuter electric bike, if that's what you desire. And, certainly, if you're riding 10 miles to school every day, you're getting exercise as long as you pedal. It doesn't have to be difficult. Yet, you can always put in more effort when you have the energy.

Decreases sweat

You can easily ride 20 miles to the office on your electric commuter bike without working up a sweat. If you ride this far on a standard bicycle, your work clothes will most likely be sweaty by the time you get there! Or you'll end up sitting right next to another student in college class not smelling too pretty.

Eco-friendly

As an added bonus to all of these other benefits of riding a commuter e-bike, you'll know that you're protecting the environment from harmful emissions that automobiles put into the environment.

You don't need gas or other toxic substances to make it run! It charges with one simple plug just like your phone or laptop.

Charge your mobile phone

Speaking of phones, many electric bikes have an outlet that lets you charge your phone. If this is important to you, find out whether the electric bikes you're interested in have this option and where its located on the bike.

Fun to ride

Because it's so easy and fun to ride, there's a good chance you'll be out riding just for fun on the weekends or holidays. Find a nice path to ride on where you can test out the maximum speed of your commuter bicycle and let it rip!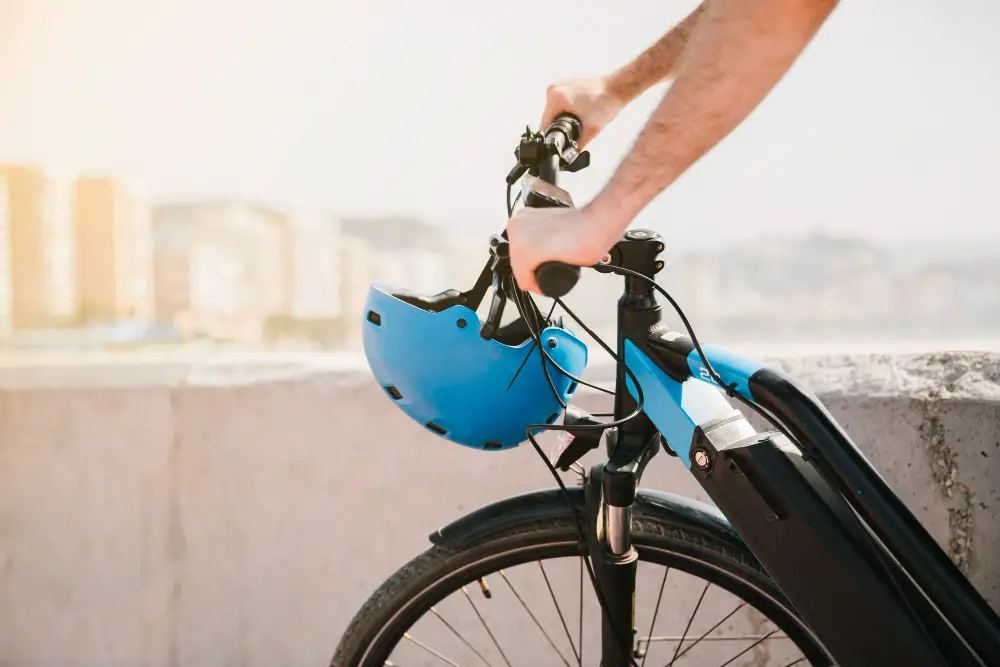 Cons of Electric Commuter Bikes
Riding in bad weather

It's no fun riding an electric bikes in bad weather. But on an electric bike, you'll be riding even faster. This means that you'll get more rain, snow, wind, or sleet in your face and pummeling your body than on a regular bike.

Of course, if you have the proper clothing and bicycle gear, you might just see this as a challenge.

Much slower than a motorized vehicle

Although an electric bike is much faster than a standard bicycle, a car, motorcycle, or bus is still much faster. If you don't have the patience or desire for commuting to work, even on an e-bike, than this could be a big con.

Increased worry over theft

Another disadvantage to any kind of electric bike is that it tends to be worth more than a non-motorized bike. So, not only is it more enticing for thieves, it's a bigger loss for you if your bike is stolen.

Costs more than a standard bike

So you're likely to spend hundreds of dollars more to buy an e-bike than you would with a typical bike, if not thousands more. But, this isn't really a big disadvantage if you're comparing the overall costs of owning an e-bike with that of driving a car.

Costs more to maintain than a normal bike

Yes, it will cost more to maintain an electric bike because it requires special maintenance and care for the electric motor, battery, and controller. But the good news here is that if you take proper care of these components, then they shouldn't cause too much trouble.

Worry over losing the battery charge

There's nothing worse than getting stranded halfway to your destination because your battery has lost its charge. Granted, if you were riding a standard bike, you wouldn't have to deal with this… but you also wouldn't have made it as far in the first place.

Further, you can prevent this by knowing your battery range and the number of miles you need to ride.

May not be allowed to bring it into work or school

Not every employer or teacher will be happy to have your commuter e-bike indoors. So, ask first and perhaps offer them a ride if they cooperate!

May be too heavy to lift onto a bus or up a flight of stairs

E-bikes are quite a bit heavier than traditional bikes due to the electric motor, battery, and heavy frame that supports the electric components. Check out this article if you're concerned about weight.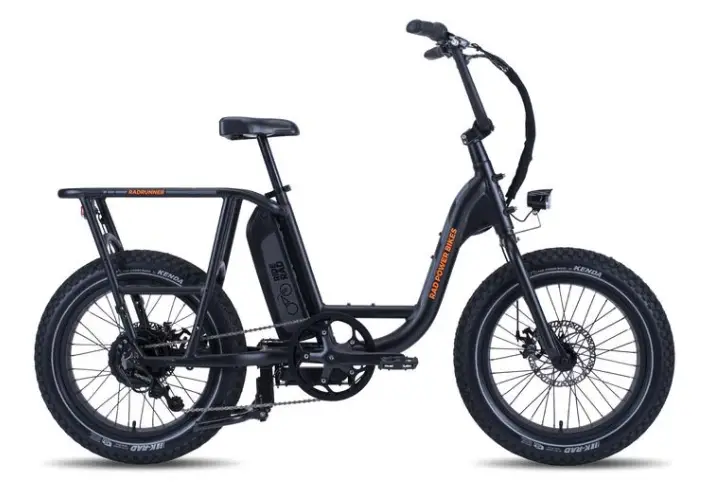 Are E-Bikes Good For Commuting?
E-bikes are excellent for commuting to work or school, no to mention that they'll reduce your carbon footprint! There are many advantages of riding an electric bike instead of a standard bike or as an alternative to driving a car, with only a couple of potential disadvantages.
Advantages of Commuting on an E-Bike
An electric bike will save you time every day by getting you to work faster, avoiding traffic, and allowing you to park quickly. Plus, it can significantly reduce the amount of sweat, saving you time by not having to shower or change clothes, either at work or after you get home. So, you can wake up later and enjoy more time at home doing something you love.
Besides saving you time, your commute will be easier and less stressful. With pedal assist, multiple gear shifts, and/or using the throttle, you won't have to worry about climbing hills or getting too tired. In fact, if you didn't sleep well the night before or don't feel your best, then you can complete your commute with almost no exertion (just make sure your lithium-ion battery is fully charged).
Overall, riding a commuter e-bike isn't much different than a traditional bicycle. So, if you know how to ride a bike, you can ride an electric bike.
Further, riding an e-bike may actually be safer than riding a traditional bike. The ability to go faster can keep you with the flow of traffic in the city and give you a boost when you need to get out of a dangerous situation (such as while crossing the street with a car rapidly approaching).
Disadvantages of Commuting on an E-Bike
The primary problem with being an e-bike commuter is the value of the bike. Because it's more expensive than a standard bike, and more desirable to thieves, protecting it is of primary importance.
Fortunately, there are two ways to keep it safe:
Multiple bike locks
Electric bike insurance
With a serious lock strategy, theft can be reduced significantly. By using more than one super tough lock, a thief will want to avoid stealing your e-bike… they'll just look for another one that's easily accessible.
I'd recommend checking out the Hiplock wearable chain lock and the Kryptonite U Bike Lock on Amazon.
And, if you're still not convinced that locks will keep it safe, find out about GPS location trackers or buy electric bike insurance. Read my article on electric bike insurance before you assume your homeowner's policy will cover it (it probably won't).
Types of Electric Bikes Good for Commuting
A bike doesn't have to be called a "commuter e-bike" to work well for commuting. It may also be called a city e-bike, folding e-bike, or cargo e-bike. Finally, commuter hybrid electric bikes may be a combination of any of these as well as have additional features of other types of electric bikes.

Basically, if it has a powerful mid-drive or rear wheel hub motor, long-range battery, and a cargo rack, then commuters can use it. But there may be one style that meets your needs better than another.
Typically, there are four types of electric bikes that are good for commuters:
Commuter or City E-Bike

Designed for city riding, these bikes will have a comfortable upright seating position and a rack to carry everything you'll need for the day.

Fastest Commuter E-Bike: Ride1Up 700 Series

This commuter bike speeds you through the city at up to 28 mph with a powerful 750W motor and up to 50 mile range!

Folding Electric Bike

Many city e-bikes are also foldable. Folding electric bikes will make it easier to take on a train, bus, or up flights of stairs.

Versatile Folding E-Bike: Blix Vika+ Flex

With a range up to 45 miles and a smaller folding frame, it's perfect for city commuters. Plus, with the ability to step-thru the frame, it's easy to get on and off at a moment's notice.

Electric Cargo Bike

A cargo e-bike typically has one or more storage options for transporting goods.

Favorite Cargo E-Bike: RadRunner Electric Utility

This Rad Power Bike is a favorite with a powerful 750W hub motor and multiple cargo options. It even turns into a hop-on passenger e-bike as well. I also love this one becauses it fits riders from 4'11" to 6'2″, so almost anyone can ride it!

Note that Rad Power Bikes is the largest USA brand of electric bikes.

Hybrid

Best Value Hybrid Electric Bike: Lectric XP

With this e-bike, you'll get the best of everything: Folding frame, capable 500W motor, low-step entry, 3″ wide tires, and up to a 45 mile range. Plus, it's under $1000!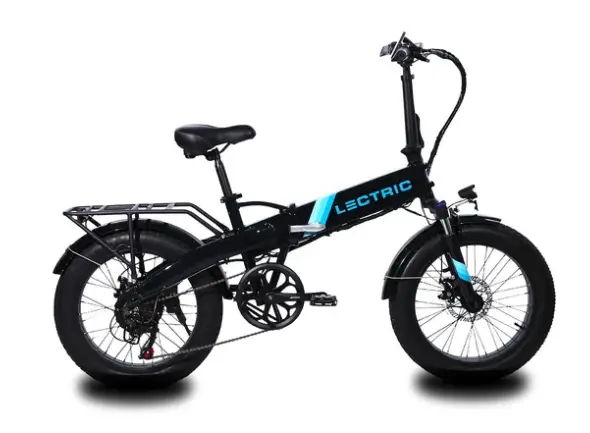 How Far Can You Commute on an E-Bike?
You can commute as far as your e-bike's battery range will allow. Typically, most lithium-ion batteries have a range of 20-50 miles. A battery with a 20-mile range will let you ride 10 miles to work and 10 miles back home on a single charge.
However, you can ride further than your e-bike battery allows on a single charge by riding one way, recharging it, and then riding home. This is easy to do as long as you have a safe place to plug in your charger while you work (and as long as you don't forget to bring the charger).
One other important consideration as to how far you can commute on your e-bike is your riding style. If you use only the lowest pedal assist level and pedal consistently, your battery will last much longer than if you ride on higher levels and/or use the throttle quite a bit.
So, just make sure you test out the type of riding you'll do close to home so that you can determine whether you'll make it work on a single charge.
Conclusion
Riding to work on a regular bike can be time-consuming and exhausting. But riding an electric bike can make it fast, easy, and even fun.
Even though there are many more commuter e-bike pros than cons, there are a few things you need to know to help you decide whether commuting on an electric bike will work for you.