Electric bikes are a modern, affordable and convenient mode of transportation, ideal for college students, especially on large colleges campuses or long commutes to school. However, choosing the right e-bike for you can be a daunting task due to the sheer quantity of affordable options. Luckily for you, I've managed to narrow down your options to the best of the bunch. 
The best electric bikes for college students are generally affordable, reliable, and comfortable for long rides. They'll also have a good battery range, a powerful electric motor, and may even fold, making them easy to store while attending lectures and classes. 
Here are the 6 best e-bikes for college students across a range of categories: 
In this article, I'll walk you through these top recommendations for e-bikes that'll meet your needs as an on or off-campus college student and commuter.
I'll also guide you through the most important aspects to consider when purchasing your first electric bicycle. By the end of this read, you'll know exactly which e-bike is best suited to you and your journey to, from, and around campus.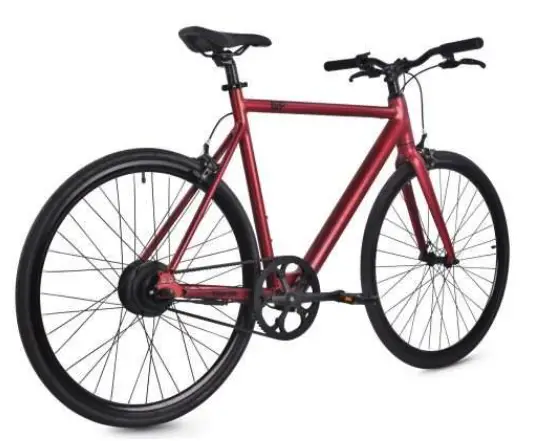 1. Best E-Bike for Students Overall: Ride1Up Roadster
If you're looking for a budget-friendly electric bike with everything you need as a college student, the Roadster from Ride1Up is the best affordable option for you. This electric bicycle offers riders a fast, comfortable and convenient experience without breaking the bank. 
This is a class 3 e-bike with a pedal-assist that achieves speeds up to 28 mph ( 45 kph). It doesn't have a throttle as you must pedal to engage the electric motor. The Roadster is equipped with a 350 W battery that offers this lightweight bike a powerful boost. 
Thus, it only weighs about 33 lbs (15 kg), making it one of the lighter bicycles on the list. Due to its lightweight aluminum frame and powerful 36V battery, this electric bike can travel between 20 and 30 miles on a single charge. Therefore, you can make your trip to college and around town without having to worry about the electric bike battery life running out. 
Further, although it's not a folding bike, it's light enough to carry your bike upstairs.
The Roadster has a specially engineered frame with specific geometry and components that enhance comfort. As a result, it offers a smooth and seamless ride, especially on paved roads. 
This electric bike also contains Samsung batteries and a compact LCD design. On top of this, this model offers a quiet motor and concealed battery, resulting in the appearance that you're riding a regular bike since the motor and batteries are almost entirely silent (so you're less likely to anger pedestrians and college faculty).
The Ride1Up Roadster is available in a variety of colors and two frame sizes. Therefore, you have some options to make your electric bike stand out and suit your style. The two frame size choices mean that people of all sizes can find an alternative that fits them, which isn't even always true for traditional bikes.
Pros 
Best Value for Money 
Intelligent Design
Comfortable Ride 
Lightweight 
20-30 mile Range 
Samsung battery cells 
350W, 36V 
LCD Display 
Cons 
Hard to Get Moving 
Rim Brakes Pose Safety Risks 
Battery Can't be Removed for Charging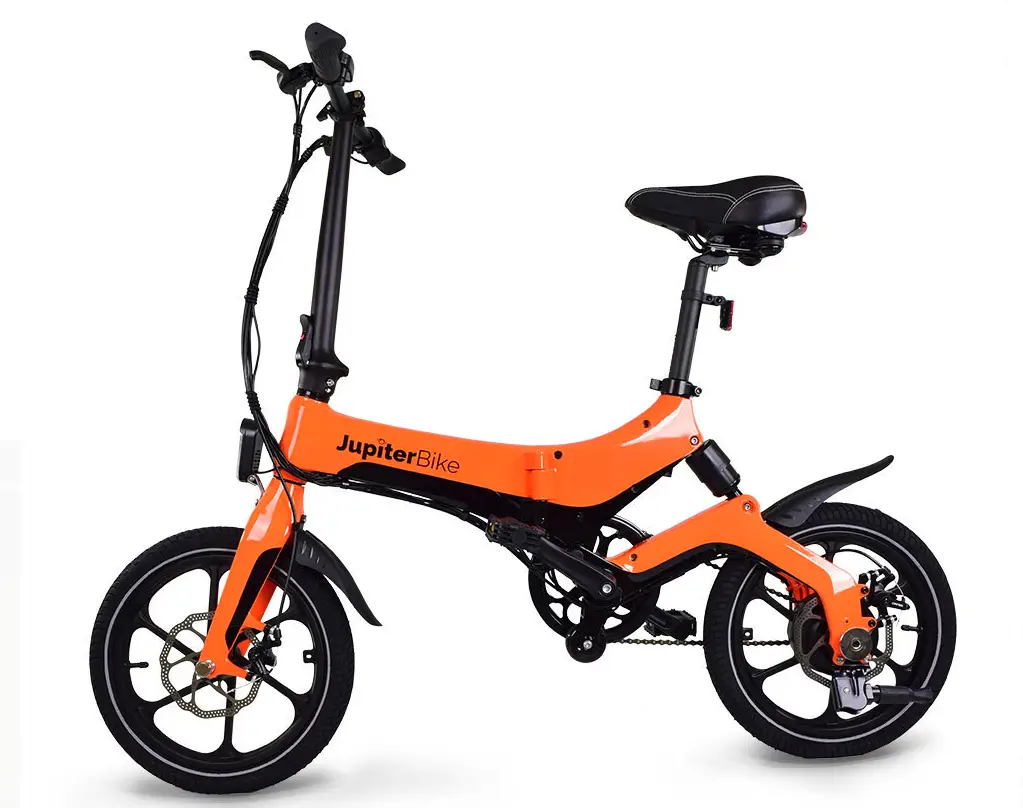 The Jupiter Discovery X5 350W offers excellent value for its price, exceptional performance for a small 16″ wheel e-bike, and an easy ride across town and campus. 
The Discovery is a folding electric bike. As a result, you can easily collapse this bike down to a compact and travel-friendly size. This e-bike even has magnets that hold it together when it's folded. It's also lightweight, making transportation and storage even more effortless. 
Another excellent advantage of the Jupiter Discovery X5 is its durability. This urban e-bike is not going to break or wear down quickly due to its string components and magnesium alloy frame (which makes it much lighter than the best bikes with an aluminum or steel frame). This added durability means that it'll last longer without needing frequent repairs or replacements. 
The Discovery electric bike uses a 350W hub motor. The electric motor allows riders to travel with plenty of power to support them comfortably. And, it has a 30-mile range, which is more than enough for trips around campus or your local area. 
Perhaps the most outstanding feature of this e-bike is its cost of around $900. The exact price of this electric bike can vary depending on where you buy it from and whether you decide to pay for extra customization and upgrades. Nevertheless, this is one of the cheapest e-bikes to make this list, despite being among the best overall performers. 
Many of the best electric bikes make you choose between throttled powered motors and pedal assistance. However, with the Discovery you won't have to make this choice. Instead, it's equipped with a three-speed electric assist and a throttle on the handlebar. This allows riders to travel along without even having to pedal. 
Another crucial advantage of the Jupiter Discover electric bike is its adjustability for comfort. Seats and handlebars can be adjusted and lowered to suit each rider's needs. As a result, almost anybody who can ride a bike can ride an electric bicycle. 
The Jupiter Discovery X5 is available in a wide range of colors and designs. As a result, you can choose a design that matches your tastes.
Pros 
Durable 
Folding bike 
Efficient 
Highly Affordable
3 Level Motor Assistance with Throttle
Adjustable Features 
Variety of Finishes and Colors  
Cons 
Smaller Wheel Sizes Make Poor Quality Roads Harder to Ride over 
Less Power 
Less Range than Other E-Bikes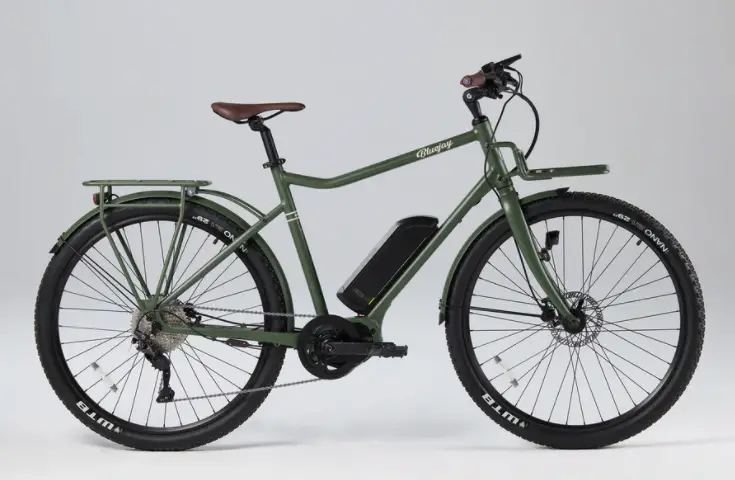 3. Best All-Terrain Electric Bike: BlueJay Sport 
The BlueJay Sport is an e-bike that works just as well off-road as it does on the tarmac. As a result, it can be used by students who live in rural areas or enjoy adventurous off-road riding when out of class.
The BlueJay Sport is a powerful electric bike with 500W and five levels of pedal assists that allow riders to reach 28 mph. The motor in this bike is able to output 120m of torque, making it a strong and powerful drive, easy to climb uphill, even with riders on board. 
It's also capable of traveling 75 miles on a single charge with some upgrades to the removable battery and motor. At the same time, this electric bike also boasts a whole host of modern technology designed to maximize its performance. 
You can also find an electronic display equipped with BlueTooth so you can connect your phone while you ride. It even has front and rear racks, and each is capable of holding a few items, so you have some extra storage space. 
Although it's not an electric mountain bike, you can do some light trail riding. The BlueJay Sport has an alloy frame that provides riders with a durable and steady support structure. As a result, this e-bike is ideal for heavier or taller riders. The robust frame also pays dividends when taking it off-road.
This electric bicycle comes in a variety of colors and designs. Customers can request customizations from the manufacturer when ordering. This allows you to choose a specific design so you can ride around in style with an e-bike that is unique to you and your taste. 
While there are many outstanding benefits to the BlueJay Sport, it comes at a cost (literally). It is by far the most expensive of the electric bicycles included on this list, often making it too expensive for many college students. However, if you have some money to spare, buying a quality e-bike like this is a worthwhile investment. 
The BlueJay Sport also comes with a 2-year warranty. So if something breaks or is not working as it should, you'll have access to free repairs and replacements for the first two years after the initial purchase. 
Pros 
Up to 75 Mile Range 
Excellent on All Terrain 
Powerful Motor 
500W Motor 
2 Year Warranty 
5 Pedal Assist Levels 
Strong and Durable Frame 
Cons 
Expensive 
Repairs can be Expensive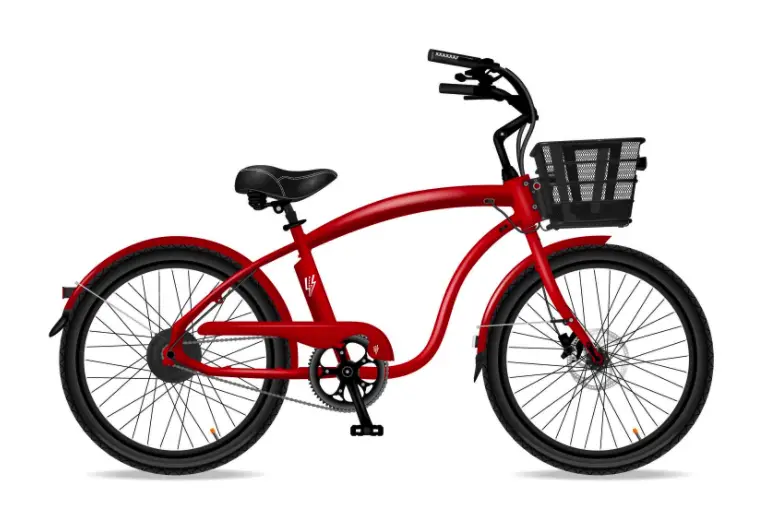 The best electric bike for college students who live off-campus and far away is the Electric Bike Company's Model X. The Model X is an exceptional commuter bike with an astounding range of up to 160 miles with its personally designed batteries and options! Therefore it's a fantastic choice for students having to take a long commute or those who ride every day to school but only want to charge their e-bike once a week. 
The Model X has a 500W battery that produces a powerful but smooth ride. Its frame is long and heavy, which gives you all the structural support you'll need. This electric bicycle also has excellent steering that allows for easy maneuvers, provided you have sufficient space. In tight spaces, this e-bike can be challenging to steer. 
The Model X also has a 12Ah battery attached to the frame. Additionally, it has a dual battery system. This is the secret behind the Model X's impressive long-range on a single charge.
One of the most attractive features of the Model X is the customization level that the manufacturer offers. The company allows customers to customize many features using an online customization tool. As a result, you can choose an e-bike with added motor power, GPS, upgraded tires, rear rack, and many more features. 
The Model X is a class 3 e-bike with three pedal-assist speeds. If you wish to travel for the furthest distance possible on a single charge, it's best to choose the lowest speed, speed 1. However, if you want to ride your e-bike faster, you can engage speeds 2 and 3 to help get you moving in no time.
Pros 
Up to 160 mile Range 
500W Battery 
Customizable Features and Upgrade Options 
3-speed Pedal Assist 
Comfortable Ride 
Alarm System Included 
Hydraulic Disc Brakes 
Cons 
Poor Handling in Tight Spaces 
A Little Expensive in Comparison to Other Options 
Sensitive Alarm May Go Off Unnecessarily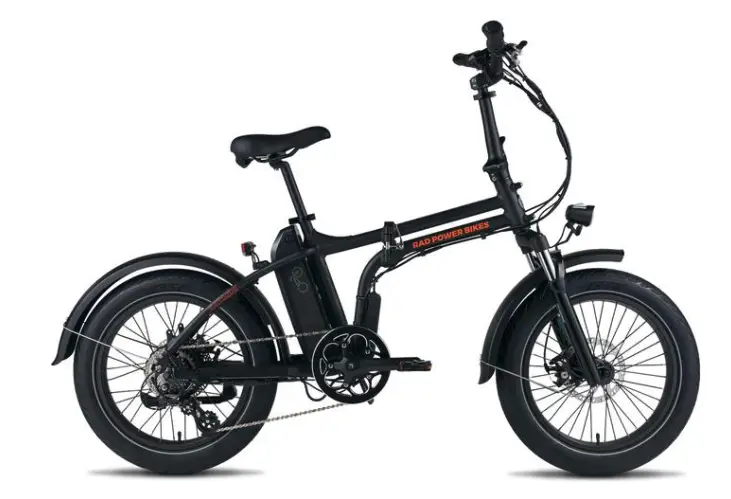 The next bike that makes the list is the RadExpand Electric Folding Fat Bike from Rad Power Bikes (improved upon the RadMini). As the name suggests, this is a foldable e-bike that can be compacted down to fit on public transport or be stowed away when you're in a lecture. Yet, this hybrid e-bike also has hefty tires that allow for a comfortable ride and extra grip on the road. 
It comes equipped with adjustable saddles and handlebars. As a result, it's suitable for riders ranging in height from 4 foot 10 inches to 5 foot 10 inches (147cm to 178cm). Therefore most college students will be able to comfortably fit this e-bike due to its adjustable features.
Additionally, this is a step-thru version like I have!
The 750W hub motor on this electric bicycle allows for a powerful ride. This is accompanied by a 48V lithium-ion battery that will enable bikers to travel up to 45 miles (72.4 km) on a single charge. On top of this, the Rad Power Bikes RadExpand can support a payload of 275lbs (124.7 kg), making it ideal for carrying everything you'll need around town. 
The RadExpand Electric Folding Fat Bike has 5 levels of pedal assistance along with a throttle, providing you with the option to cycle or not. This electric bike also has puncture-resistant tires, making it one of the more resilient entries on this list. 
The puncture-resistant tires 4.0″ fat tires allow for a comfortable ride. Additionally, the RadExpand has an excellent front fork suspension for added comfort on your ride. All of this culminates in a perfect all-around e-bike that can also fold away neatly when not in use (and it still supports a front or rear rack for your college books and equipment).
Pros 
Foldable 
Up to 45+ mile Range 
Can Support 275 lbs
Adjustable for Different Heights 
Puncture Resistant 4″ Wide Tires 
Integrated Rear Rack
Cons 
Weighs 62.5 lb (still on the heavy side but weighs over 5 lb less than its predecessor the RadMini)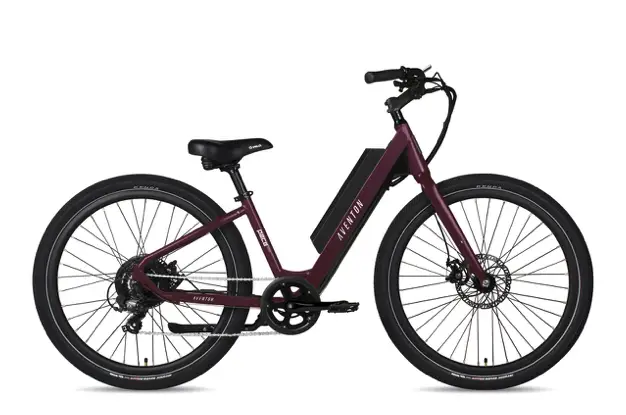 6. Most Dependable E-Bike for College Students: Aventon Pace 350 
Owning an electric bike that is reliable and rarely breaks down or runs into problems is essential. There is no point in investing in a quality e-bike if it's constantly kept off the road by tire punctures or electrical issues. Luckily, the Aventon Pace 350 can get you where you need to go.
The Aventon Pace 350 is a reliable and resilient e-bike. Even if it does run into some technical issues after you first buy it, the manufacturer offers a 1-year warranty. As a result, you are covered for any unexpected repairs or replacements for the first 12 months of riding. 
This commuter bike comes with throttle power assist up to 20 miles per hour (32 kph), making it a class 2 e-bike. The Pace 350 also offers pedal assist with five levels of speed. Furthermore, you can attain a range of 25-40 miles (40.2-64.4 km), allowing for extended journeys. Riders also get the advantage of a wide saddle for added comfort when cycling. 
It has a step-through frame that allows for easy access on and off of the e-bike. This electric vehicle also has an LCD system so you can keep track of your distance traveled, speed, and battery levels when out and about. You can even monitor how much charge is left, so you don't run out of battery power on your journey. 
The Aventon Pace 350 is also a popular e-bike amongst enthusiasts. This electric bicycle is stylish and very reasonably priced. On top of this, it's available in two sizes, to fit most adults, and a range of colors and designs, so you can choose the aesthetic that suits your taste. This ensures that you get one that you're comfortable being seen riding. 
Not only is the Pace 350 durable and reliable, it only weighs 49 lbs (22 kg), making it lighter than the RadExpand but heavier than the Roadster. Given its added durability and reliability, its weight is often worth it.
Pros 
Durable 
1 Year Warranty 
Up to 40 miles Range 
LCD Display
Fast Charging 3 to 4 Hours 
Cons 
Factors to Consider When Buying Your First E-Bike
As a young adult, it's quite likely that you are looking to purchase your first electric bicycle. Thus, it's worth exploring the factors to consider before making a decision regarding which one is best suited to you. Knowing what to look for before making a substantial investment will help you make the best-informed decision. 
Here are the most important factors to consider before choosing which e-bike is the best for you: 
Classification of Electric Bikes
Local laws and regulations 
Commute length
Budget
Comfort
Reliability 
Performance 
In the following sections, I'll offer an in-depth look into the factors you'll want to consider before choosing an e-bike if you're a college student. 
E-Bike Classification 
The first thing you need to know about e-bikes is the fact that they are not all the same, and I'm not talking about quality or performance. E-bikes have 3 classifications in the USA but may have 4 classes depending on where you live. These classes indicate how your e-bike operates and gives you information regarding its power limits. 
Class 1 electric bicycles are pedal-assisted bikes that limit motor assistance to 20 mph (32 kph). Above this speed, the motor will stop producing power. However, in many class 1 e-bikes, you can exceed this speed by pedaling faster without the motor's assistance. Class 1 e-bikes do not have throttles of any kind. In most states, no licenses are required for these types of electric bicycles. 
Class 2 e-bikes are throttle assisted up to 20 mph (32 kph). Therefore, as you can imagine, they have a throttle, typically in the grip on the handle like a traditional motorbike or moped. However, above 20 mph, the throttle will stop providing power. Class 2 e-bikes are legal without a license in most states. 
Class 3 electric bikes are pedal-assisted electric bikes that can reach 28mph (45 kph). These e-bikes are becoming more prevalent; however, there are age and safety regulations due to their added speed.
Class-4 e-bikes are electric bikes that are motor-assisted to speeds above 28mph (45 kph). You can't legally ride these bicycles unless equipped with license plates, indicators, and the required paperwork and registration. As a result, class 4 e-bikes are not included on this list since they are effectively electric motorbikes, not bicycles. 
Local Laws and Regulations
In most US states, class 1 to 3 electric bikes are legal to ride without a specific license. Similarly, in most states, e-bikes do not need to be registered as vehicles. However, the rules and regulations may vary from state to state.
Some states require every class of electric vehicle to be registered. Others demand that riders obtain licenses for class 3 e-bikes. However, most states don't require any registration or license for a motor assisted bike unless the speed exceeds 28 mph (45 kph). 
Electric bikes typically fall into one of three categories when it comes to road rules and regulations. An e-bike is sometimes considered a bicycle; other times, it's regarded as a motorcycle. Some states consider electric bikes a distinct type of vehicle from the two mentioned before. As a result, States take different actions regarding electric bikes, depending on how local governments classify them. 
In most states, electric bike riders are required to wear helmets to ensure their safety and protect them from injury. However, this rule is also in place for regular cyclists in many locations. 
College Commute Length
Electric bikes have varying ranges. Some can only handle for 10 or 20 miles at a time, while others can last well over 100 miles on a single charge. In general, an extended range means a more expensive electric bike, as more batteries are required. 
It would be best to choose an e-bike that suits your specific needs. It's unnecessary for you to invest in a long-range electric bike if you live and travel primarily on campus. Whereas, if you live 20 miles away from college, you may need to invest in a commuter e-bike with some extra range. 
Budget
Electric bikes may be one of the cheapest modes of transportation, but they are still far from affordable. However, the price of an electric bike can vary greatly from under $1000 to $4000 or more. While this article has focused primarily on e-bikes on the lower end of the price scale, the costs will still vary from one bicycle to another. 
Comfort 
A smooth ride is essential to some bike riders. At the same time, others are happy with any old saddle and suspension. Determining whether a comfy ride is critical to you is one of the first factors you'll want to consider when making this decision. As expected, you'll often have to pay a premium price for e-bikes offering the smoothest rides. 
Some electric bicycles are designed specifically with comfort in mind. Innovative frame designs, specialized seats, and suspension systems all help e-bikes to provide a better riding experience. 
Reliability
Only a few things are more annoying than your mode of transport breaking down in the middle of nowhere. As a result, it's vital that you choose an electric bicycle that won't break down for a long time. You'll also need to consider the road conditions you are likely to encounter during your commute.
For instance, if you encounter off-road areas on your travels, you'll need an e-bike that can work as well off the road as it does on it. Especially given the fact that off-road trails and pathways would likely damage a city-only e-bike. 
Performance
By law, electric bikes in the US are usually limited to 28 miles per hour, but different e-bikes have varying amounts of power and acceleration. Therefore, if you'd like to have an exciting and adventurous time riding your electric bike, choose one that's equipped with a more powerful electric motor and battery such as the 750 Watt RadMini E-Bike with throttle from Rad Power Bikes.
If speed is not a high priority, you can choose a class 1 e-bike with a 250W-500W motor and no throttle, which is limited to electric assist speeds of 20mph.
Key Takeaways
Choosing the best e-bike for a college student isn't always as straightforward as it seems. Electric bike riders often have different needs and budgets. Therefore, it's crucial to take the time to figure out which e-bike best suits you best. Remember to consider these crucial factors: 
However, from the list in this article, college students have some solid options. If you're looking for a low-priced but powerful and lightweight ride to campus, the Ride1Up Roadster (the overall best e-bike for a college student) may be perfect for you at around a cost of just over $1000.
However, all these e-bikes have great performance all-around, with impressive power, battery range, and comfort. Take a look again if you're not sure which one to buy… you'll definitely find something suitable to meet your needs.