You've heard about electric bikes with "fat" tires and it sounds like an interesting trend. But what does having fat tires actually mean and is it even something you want or need in an electric bike?
Essentially, if an electric bike has 4″ to 5″ wide tires, it's a fat tire e-bike. However, tire widths as narrow as 2.8″ and less than 4″ are also sometimes thought of as fat tires because they're wider than the standard tires on electric road bikes or e-mountain bikes.
When I bought my first electric bike with 3″ tires, I thought I was getting a fat tire e-bike, only to discover later that my tires were not nearly as wide as some bikes with fat tires and that they didn't perform in quite the same way.
Before you make the same mistake, I'd like to help you understand exactly what is a fat tire e-bike, why you may want (or need) one, how wide your tires should be to meet your needs, and whether buying one is worth it for you.
What is a Fat Tire E-Bike? (Tire Width Explained)
Fat tire e-bikes can come with many different features, tire sizes, and tire widths. Further, the tires can be studded or not, and high-quality or not.
Generally speaking, a fat tire e-bike has wide tires that can be ridden comfortably on a variety of surfaces simply by adjusting the tire pressure.
4.0″-5.0″ Super Fat E-Bike Tires
Any electric bike with tires over 4 inches can be called a fat tire bike. But with the increased variation in tire widths and electric bike styles in general, they're often considered "super" fat tires.
You might see people riding these bikes on paths or roads, but they're primarily good for riding on wet surfaces or loose ground. Because these tires are super wide, they contact more surface area on the ground, thus providing better traction on almost any surface.
2.8″-3.8″ Tires (are they fat tires?)
You might not always hear e-bikes with wide tires between 2.8 inches and 3.8 inches being called "fat tires". However, what's important is that there is a huge variety of e-bikes with extra-wide tires that get better traction on the ground than standard bike tires which are typically 2.6 inches or less.
Basically, even though the tires may not be as wide as super fat tires, it remains true that the wider the tire, the more it comes into contact with the ground, and the better traction you'll have.
So, if you buy an e-bike that has tires under 4″, you can expect that they might not have as good of traction as those with tires 4″ and up. However, even a 3″ tire will provide more surface area contact than a standard e-bike tire 2.6″ and under.
After reading all of the details below, you might just decide that you don't need a 4″ fat tire e-bike but could benefit from a 3″ tire instead. Or check this article if you're looking for an electric mountain bike with fat tires.
The Most Comfortable PSI for Riding Your Fat Tire E-Bike (how a fat bike is different)
Another important thing to know about a fat tire electric bike is in regards to the fat bike air pressure.
Typically, fat bike tire pressure can be as low as a PSI of 5 when riding over ultra-soft or slippery ground up to a high PSI of 30 for riding on the pavement. The most common fat tire air pressure used is between 10 PSI and 20 PSI.
I can't truthfully describe the purpose of a fat bike without giving you an understanding of how different tire pressures are needed for total comfort in different riding conditions. And although I'll give you some recommendations on the best pressure for fat tires, there's still a bit of personal choice involved.
For instance, if you're a heavy rider, then you'll probably want to increase your air pressure by a couple of PSI above what is recommended.
Or, if you plan on riding on the pavement as well as dirt or sand during the same ride, you might want to keep your air pressure somewhere in between what's recommended for each.
As this is often the case for me, I typically keep my 3″ tires at around 15 PSI so that I can go over loose ground safely but easily ride over the hard ground without feeling like I'm dragging.
Another option is to carry a small portable tire pump (Amazon) with you to change the pressure as needed.
| | | |
| --- | --- | --- |
| Recommended Fat Bike Tire Air Pressure | Low PSI | High PSI |
| Snow and mud | 5 PSI | 8 PSI |
| Sand | 10 PSI | 12 PSI |
| Dirt, loose ground, or leaves | 12 PSI | 15 PSI |
| Road or Pavement | 10 PSI | 20 PSI |
Regardless of whether you carry a portable tire pump with you, you'll want to have a full-size air pump with a pressure gauge to adjust your fat tires appropriately. I use this powerful one from Topeak (Amazon).
I'll show you some amazing hybrid electric bikes with fat tires that are definitely worth the cost in a moment. But you'll have a better idea of what you want to get by learning their advantages and disadvantages first.
Read my Haoqi fat E-Bike review!
What Are the Advantages of Fat Tire E-Bikes?
The advantages of fat tire electric bikes are many and include better riding performance on different terrains, comfort, and safety.
Advantages of Riding a Fat Tire E-Bike
Less physical jarring over tough terrain or uneven ground

Better traction in snow and mud

Better traction through dirt and loose ground such as sand, leaves, twigs, and rocks

Ability to ride through deeper sand but still remain at the surface, such as at the beach or in the desert

Greater e-bike stability and balance (less chance of your tires slipping and falling)

More rear-end comfort over any type of bumpy terrain

Ability to ride on any surface, not just rough terrain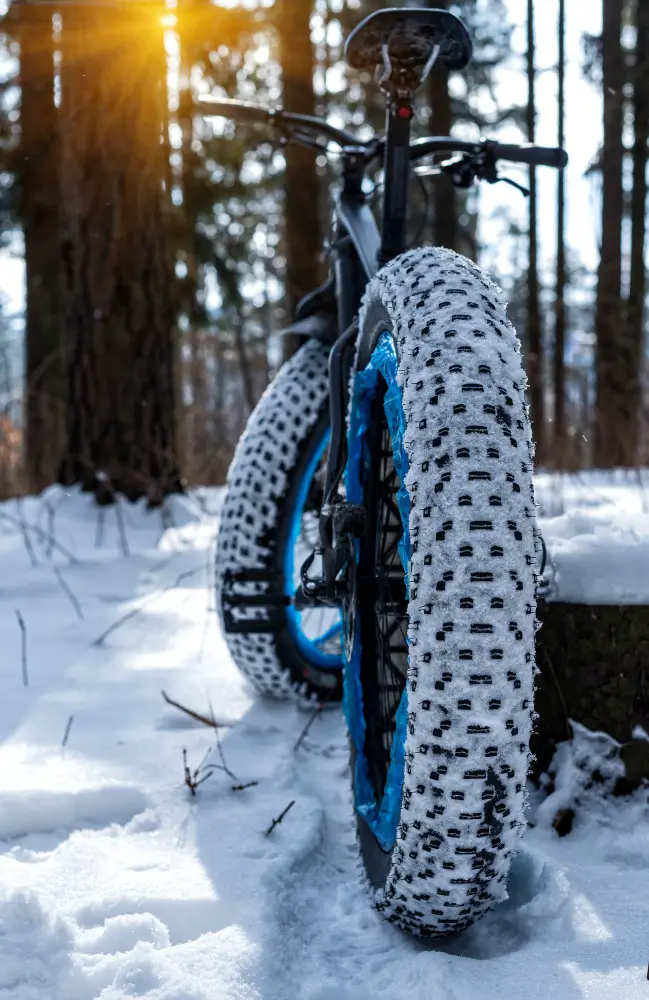 So What is the Point of a Fat Bike?
The point of owning and riding an e-bike with fat tires (also called a fat e-bike), is similar to any hybrid electric bike... being able to ride on the pavement but also riding easily, safely, and comfortably on softer ground.
An electric mountain bike will take you over rough terrain but won't always provide tires wide enough to stay on the surface of soft ground like snow, mud, or sand, even with the right tire pressure.
If you are never planning to ride on a dirt trail or sand at the beach, or snow, then you're better off buying an electric road bike!
What Are the Disadvantages of Fat Tire E-Bikes?
Although riding a fat tire bike has so many advantages, there are several reasons why you might choose an electric bike without fat tires, many having to do with the extra weight. Electric fat bikes can weigh as much as 80lbs!
Disadvantages of Riding a Fat Tire Electric Bike
They are heavier than other electric bikes (60-80 lbs vs 40-60 lbs) due to the massive tires and rims

It will be harder to push or lift into a car, upstairs, or onto a car bike rack (here's one from Amazon that can accommodate fat bikes with up to 5″ tires)(paid link)

The wide tires may not fit in standard bike racks for carrying on a car, parking or garage storage

May feel more resistance when riding up steep hills, again due to the heavy weight

More likely to sink into mud (but this does depend on using the correct tire pressure)

Some gravel may be harder to ride on than you expect, especially if they are lower quality fat tires

You'll get noticed… you may love this attention but it also puts your fat tire bike at a greater risk of theft
These cons are most likely to affect a small person or senior who might have trouble with the bulk and weight of a fat bike. Otherwise, it's really about preference. Do the benefits of having a fat tire e-bike outweigh the cons for your situation?
Hybrid Fat Tire Electric Bikes
Combine a hybrid electric bike with fat tires and you essentially get an e-bike that goes pretty much everywhere you'd want to take it. You can choose a fat bike with all of the features you want, like a foldable step-thru or a massive e-bike with 5″ wide tires.
Additionally, a lot of electric fat bikes are designed with a specific function in mind. For example, specialty bikes are manufactured for winter riding, beach or electric mountain bike riding, hunting, and surfing. They may also be foldable or have a step-thru frame or full suspension system. Many new fat bikes also have handlebars that allow you to sit upright.
And of course, there are different wheel sizes, wide tires, and even wider tires. Foldable fat tire e-bikes generally have smaller 20″ wheels to accommodate folding it up. But other fat e-bikes have 24″ or 26″ wheels. These differences in tire size make it possible for people of all heights and weights to find one that's perfect.
However, naturally, the larger the wheel and the fatter the tire, the heavier the fat bike will be. Keep in mind that if the tires and rims add 4 lbs of weight to the e-bike, this is in addition to the extra weight of the electronic components (battery, motor, and controller).
How Much Does an Electric Fat Bike Cost?
Electric fat tire bikes with 20″ or 26″ frames typically cost between $900 and $3500. Here's a list of the cost of good-quality electric fat bikes along with their tire size, width, and weight.
Six awesome electric fat bikes
Are Fat Tire Electric Bikes Better?
There are several reasons fat tire e-bikes are better than e-bikes with standard tire sizes. First and foremost, your ride will be more comfortable thanks to increased cushioning and better traction on slick or soft ground.
Better traction and greater cushion are both due to the increased contact of the tire on the ground and the ability of the fat tire to roll over loose leaves, dirt, sand, and snow without slipping. And the truth is, the wider your fat tire, the greater your comfort is likely to be!
And, I may be biased, but the reality is that electric bikes have so many advantages over regular bikes as it is. So, getting an e-bike with fat tires just adds to the flexibility and enjoyment of riding one.
But, given some of the disadvantages of fat bikes mentioned above, you might not need or want 4″ or 5″ wide tires. It's best that you check out all of the features of electric bikes before deciding what kind to get.
Conclusion
Electric fat tire bikes are totally worth it, especially if you intend to ride on dirt paths, mud, snow, or sand! They don't necessarily cost more than other hybrid electric bikes and the riding comfort they provide can't be beaten.
Although the advantages are greater than the disadvantages, you'll still want to make sure an electric fat bike is for you. Its heavy weight could be a deal-breaker if you aren't able to lift all 70-80 lbs onto your car bike rack or into your car.
Further, you'll want to decide what tire width you really need for your intended riding conditions and use the correct tire pressure as well.
No matter how wide your fat tire is (from 2.8″- 5″) one thing's for sure, fat electric bikes are in a class by themselves when it comes to outdoor fun and functionality!