Recently, there's been talk of electric BMX bikes, but there hasn't been a lot of information on what this means and where BMX e-bikes are headed. Are there truly bikes that are e-BMX? And which electric bike is the best BMX bike?
The best electric BMX bike is the Ultra Urban 1100 from Zooz Bikes, which has 3 BMX-style e-bikes. Zooz has managed to build an electric motor and battery into a BMX frame. There are a couple of other brands that claim to have an e-BMX as well.
Below, you'll find out what you need to know about the Zooz electric BMX bikes and other brands that carry them… and why you just have to have one. But, first, is there a difference between regular electric bikes and BMX e-bikes?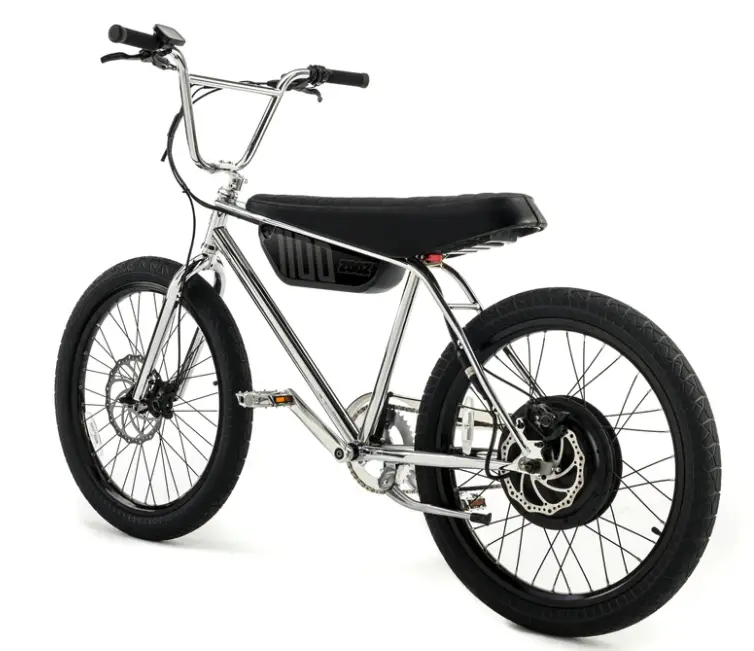 What Is an Electric BMX Bike?
You might be wondering if it's even possible to build a BMX-style bike with electric components. This is a real challenge, and perhaps the reason there are so few offered in the electric bicycle market.
In general, a BMX electric bike has a frame similar to a regular BMX bike but with a motor and battery added to it. It can perform tricks, jumps, and aerial stunts with some limitations as compared to a regular bike.
Limitations in how high you can jump and twist are not surprising given the added weight of a lithium battery and hub motor. Still, companies are working to figure out how to combine BMX bikes and e-bikes to make the best e-BMX.
Best Electric BMX Style Bikes: Brands and Models
If you're looking for an electric BMX bike, then you'll be considering a small list, especially as compared to the ever-growing list of e-bikes.
Here are the best electric BMX bikes and their key specs:
Ultimately, the best BMX bike will give you endless thrills, especially when combining it with electric power. This is why Zooz Bikes doesn't have much if any, competition. Take a look…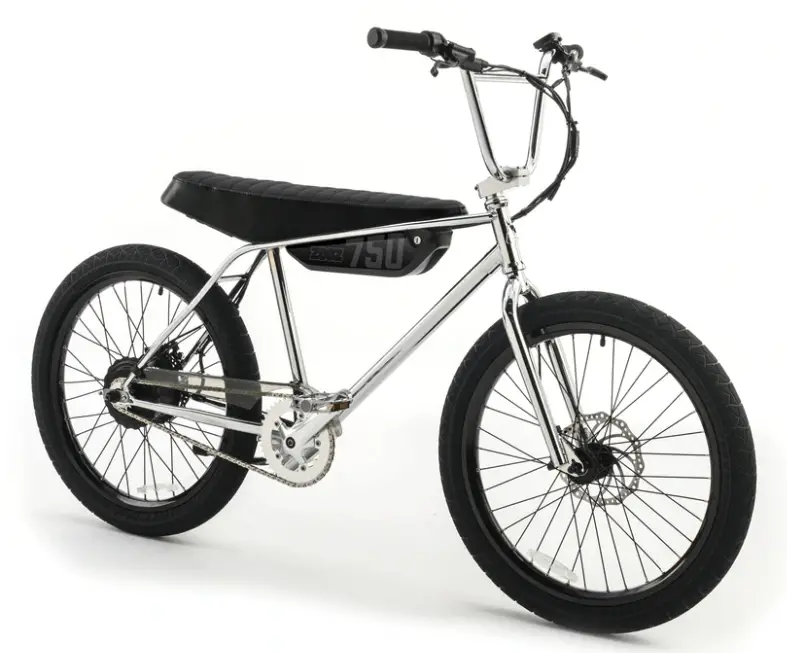 Zooz Electric BMX
Zooz Bikes set out with the intent to create the "best electric urban bike." Now, their e-bikes can be found throughout the world in several of the biggest cities including Los Angeles, New York, London, and Dubai.
Why Zooz Has the Best Electric BMX Bikes
Clearly, the urban meets BMX look of their electric bikes is the first thing that stands out! It's almost hard to believe that you can have a BMX-style bike that's electric, high-performance, and practical. Not only will it get you where you're going, and fast, you'll have a ton of fun along the way. Plus their unique saddles are built to house the battery and carry a second rider.
The Zooz Ultra Urban 1100 is on the top of the charts. It has a 750W motor with 1600W peak power and a 52V/19.2Ah Li-Ion battery, making it super powerful and fast. For true thrill-seekers, this is the ultimate BMX e-bike. Although it's a Class 2 e-bike, it can be modified to get a top speed of 33 mph, which is way faster than the average e-bike speed of 20 mph.
When comparing the Ultra Urban 1100 to the Zooz Ultra Urban 750, the only physical differences you'll see are the sizes of the battery and motor. Naturally, they're a bit larger on the Urban 1100 to pack in greater power. But the truth is that all of their models are fast and exciting to ride.
Zooz Brand carries the best e-BMX bikes for several reasons:
Multiple Versions– Three models with different top speeds, motor power, and payload capacity to choose from
Powerful Battery– The Ultra Urban 1100 has the most power with a 52V/19.2Ah Li-Ion battery
Hydraulic Disc Brakes– All models have them… the 1100 model, however, has the heaviest-duty F/1203mm R/180mm brakes
Steel Frame– Patented design made from Chromoly steel
Brand Name Tires– Maxxis 24×2.5 tires on the 2 most powerful models
Throttle and Pedal Assist– Included on all three bikes
Zooz Bikes are here and ready to purchase… take a look!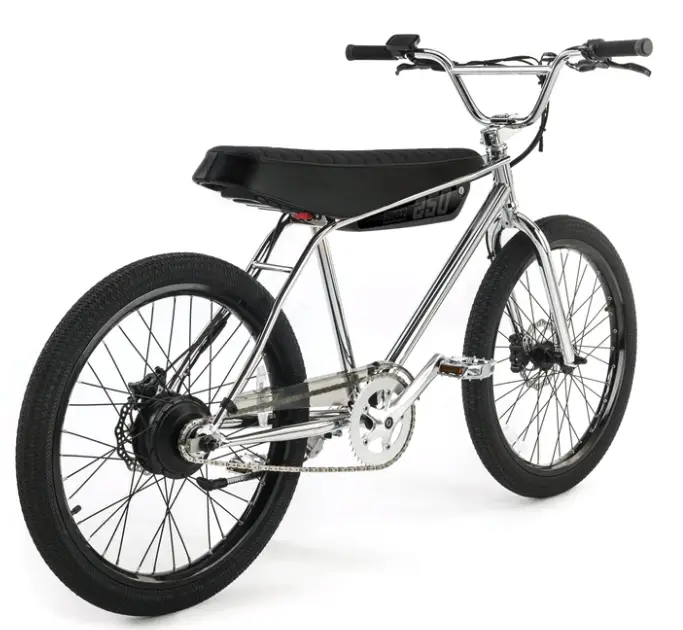 Additional BMX E-Bike Models
The Power Performer is styled and built for durability like a BMX but has an aluminum frame and 29″ wheels, making it a bit higher off the ground than regular BMX bikes. The tall wheels plus its hub driven pedal assist, 9-speed levels, and "floating" seat gives you the practicality of an electric bicycle with the excitement of BMX riding.
This will make a great BMX e-bike for a tall person.
See it for yourself!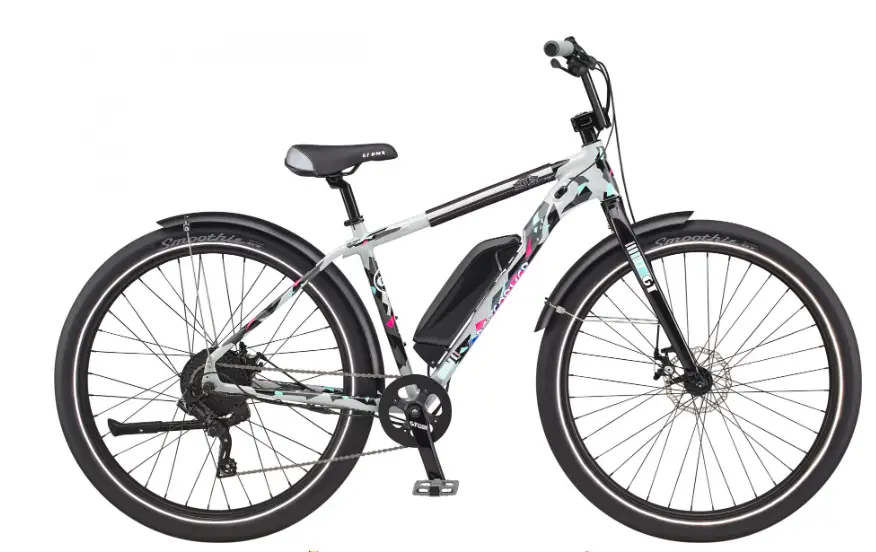 The Stealth electric bike is a German-designed, crowd-sourced wonder. With its Chrome-plated, Chromoly steel frame, unusually small, hidden battery, and mid-drive motor, it's an electric bicycle with true BMX style.
It's easy to carry, weighing only 41 pounds, and includes special features like a premium leather crash pad, GPS tracking, and an LCD display.
Check it out here (but be prepared to wait)!
Being called the "fat" BMX electric bike, the Original Billy ebike has unique styling with a polished aluminum frame, hydraulic disc brakes, and a rear swing arm to give you precise adjustment. The 20″x 4″ fat tires put it in an e-BMX class of its own.
What's particularly surprising about this e-bike is that it has a Gates carbon belt drive with an 18K mile warranty. And since a belt drive isn't too common, it's no wonder this bike is hard to get!
If you're willing to wait for it, you can find it here.
*If it's the fat tires that get you excited, take a look at the ultimate list of the best fat bikes!
The UNI MK Classic is the perfect electric bike to ride just about anywhere, as its 250W motor meets legal standards in Germany as well as just about any country or city. One of the coolest things about it is the extra-large "motorcycle" headlight on the front.
Although customers have compared this e-bike to their childhood BMX, you'll find it to be a practical bike that's also good for typical urban adventures. After all, it fits many needs, including an extra-long seat to carry a child in the front.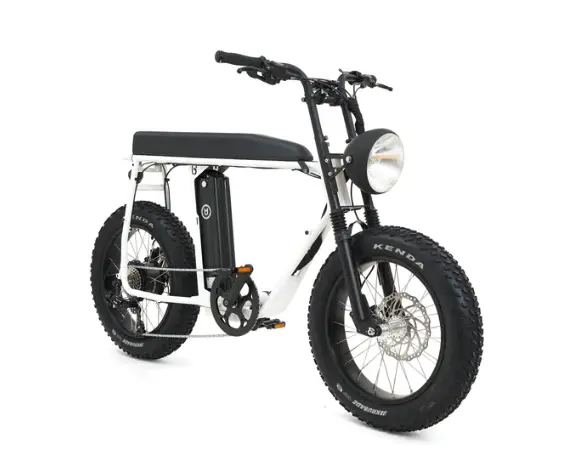 Electric BMX Kits
If you're considering converting your own BMX bike to an electric bike, you may have trouble finding the right size conversion kit. If your bike has 20″ wheels, then it's best to use a 20″ rear wheel kit. The same holds true for other wheel sizes. You may have a hard time finding 24″ rear wheel kits, for example.
However, you should be able to do an e-bike conversion on your BMX to electric pretty easily if you're looking for a rear hub motor kit and can find the correct wheel size and if you are satisfied with a 250W motor. If you expect a more powerful bike, you might wish to consider getting one of the bikes listed above.
Check out the 250W kits on Amazon.
Are Conversion Kits Worth It?
Here's the dilemma… should you use a kit to convert your BMX to an e-bike or buy a new BMX e-bike? Undoubtedly, using a conversion kit will save you money. However, BMX-styled electric bikes are built from the ground up to handle the extra electronic weight and ride quality.
In this case, a conversion kit may not be worth it if you are particular about your ride quality or if you aren't an experienced bike technician.
Final Thoughts
In the electric bike world, electric BMX bikes aren't yet very common. So, if your heart is set on taking a thrilling ride every day, to anywhere you wish to go, The Zooz Ultra Urban 1100 is the best BMX bike thanks to its power, top speed, and availability.
If you want to cut costs and don't need so much speed and power, then the Zooz 750 model is a great choice, as it's still more powerful than the other bikes listed.
Other articles you might be interested in: