Belt-driven e-bikes are becoming more and more popular in the world of e-bikes.
A carbon belt offers significantly less maintenance than standard chain drive while offering the same or better performance. Belt drives are cleaner and last much longer than chains, so they're definitely worth considering if you're in the market for a new electric bike.
The 9 best belt drive electric bikes are:
Ride1Up Roadster v2

Schindelhauer Heinrich Enviolo

Riese & Muller Supercharger

Luna Cycle Fat BABE (Bad Ass Belt ebike)

Stromer ST2

Raleigh Centros Grand Tour

KBO Hurricane

VanMoof S3

Pedego Conveyor
Ready to find out more about each of these models and which e-bike brand is right for you? I've gathered all of the stand-out details as well as some of the disadvantages.
You're sure to find the best bike equipped with a Gates carbon drive that fits your lifestyle.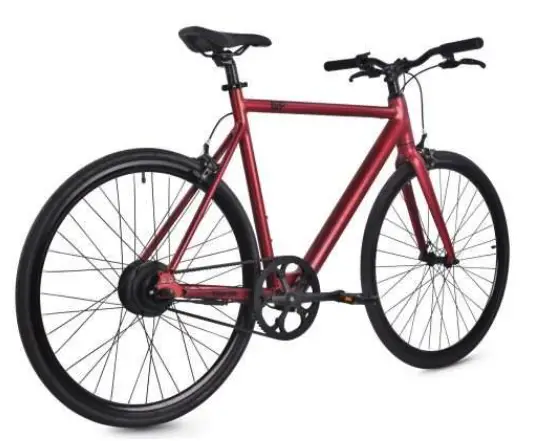 Ride1Up Roadster v2
The Ride1Up Roadster is by far the least expensive and sleekest of all of the belt drive ebikes. Starting at around $1095, this 33 lb super lightweight model is hard to compare to others. With a fully integrated battery, ultra-quiet motor, and simple design this single-speed is one of the best belt bikes in terms of value.
Its powerful Class 3 350W (500W peak) geared hub motor can take you up to 24 mph with pedal assist and a range of up to 30 miles with its 36V 7.0 Ah Samsung battery (35e Cells).
Surprisingly, despite its simplicity, it can still handle a payload capacity of up to 275 lbs. Even though it comes at an affordable price, it boasts a 5 level LCD display and an ergonomic road saddle. Plus, the frame comes in two sizes, fitting riders up to 6'3″.
The downside is that riders under 5'8″ may have a hard time reaching the ground comfortably.
While it may be lightweight and fast, it can actually handle light off-road riding with its mechanical disc brakes and gravel-friendly tires, if you choose the gravel bike option.
Truly the only other electric bike with a Gates carbon drive in this price range is the KBO Hurricane (read about it to compare further below).
SEE THIS BIKE AT: RIDE1UP
Schindelhauer Heinrich Enviolo Electric Bike
The next bike on the list of best electric bikes with belt drive is the Heinrich Enviolo by Schindelhauer.
Schindelhauer is a German e-bike manufacturer that was started by two friends right after leaving university in 2008. This is important to note because their idea was to create electric bicycles with belt drives right from the very start.
This means that all Schindelhauer bikes are designed from the ground up to function perfectly with belt drives, and without having been later adapted as a belt drive e-bike. This results in every component being as optimized as possible.
One of their bikes, The Heinrich Enviolo or the Hannah Enviolo, if you would prefer the e-bike designed for women, is their top-of-the-line model.
It features 8-speed automatic stepless transmission, a powerful Performance Line motor from Bosch, a 500Wh Bosch PowerTube battery, an Enviolo rear hub gear system, and a Bosch Kiox full-color control panel display and control system.
The battery pack is integrated into its frame and is equipped with lights, mudguards, a pannier rack, and a kickstand. Another huge benefit is that this model comes in three different frame sizes to perfectly suit riders of any height.
The belt drives on these e-bikes are the Gates Carbon Drive. The bike's frame is aluminum to keep the weight as low as possible, and it features hydraulic brakes to ensure maximum safety.
This electric bike is the first on the list, not necessarily because it tops the list in terms of power or performance, but because this is the best all-around e-bike on the market that features a belt drive system.
The Heinrich/Hannah by Schindelhauer is an urban cruiser with a ton of heart and excellent craftsmanship. It's a well-designed and well-thought-out bike with plenty of features.
There's only one real disadvantage… this model costs $6860. Other than the high price, this is the perfect urban e-bike.
SEE THIS MODEL AT: SCHINDELHAUER BIKES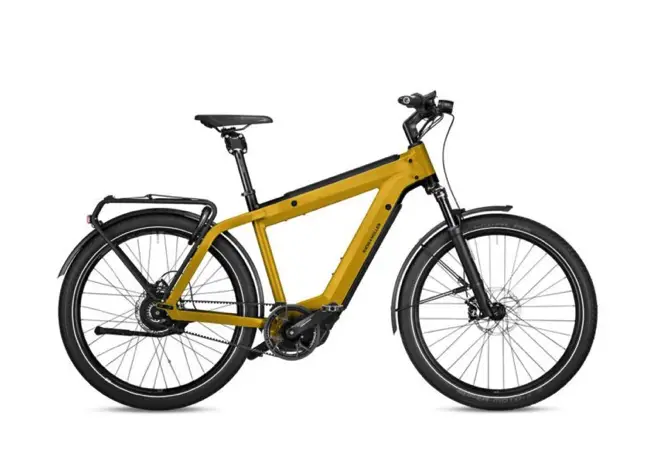 Riese & Muller Supercharger
The Supercharger is described as a heavy-duty electric bike. It's a rugged bike that is capable of handling almost any situation.
Riese & Muller is another German brand and they produce some of the most versatile electric bikes in the world. 
The Supercharger is their flagship model, and it's so named because of its extra-large battery capacity. It's actually equipped with dual in-frame 500Wh Bosch battery packs, combining for a total of 1000Wh of power and superb battery life!
This is significantly higher than most commercial electric bikes.
Additionally, the Supercharger features a 14-speed internal transmission system by Rohloff with a 1:5.6 gear ratio. This system allows the rider to change gears even while stopped. But it does also require the rider to stop pedaling to change gears, which can take some getting used to.
The stand-out features of this bike are the exceptionally large battery pack that affords it a 100-mile range, top speeds of over 50 miles per hour, heavy-duty tires and wheels, seat and front wheel suspension for extra ride comfort, two luggage racks, and high-end component quality.
However, there are some major drawbacks of the Supercharger… the e-bike's 70lb weight and $7000+ price tag!
Otherwise, this bike is perfect for all those who enjoy riding tours and long-distance adventures. It's rugged both in looks and construction, and the all-terrain tires make it far more capable than most other e-bikes.
The Supercharger is equipped with a belt drive that is as tough as its other components.
SEE THIS BIKE AT: PROPEL BIKES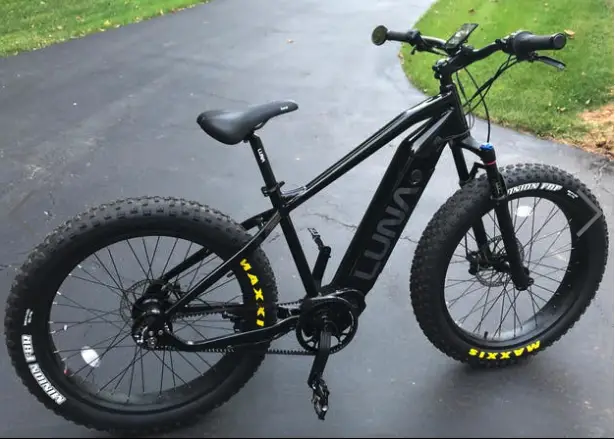 Luna Cycle Fat BABE (Bad Ass Belt e-bike)
The Fat BABE by Luna Cycle is the sleekest and most understated fat e-bike on the market. However, the sleek looks and design are not an indication of performance.
This is among the quickest and most powerful fat e-bikes on the market. The Fat BABE is equipped with a Bafang M600 800W motor, a 13.5ah Panasonic GA battery pack, and a 5-way internal Sturmey Archer RSX-RK5 gear hub. 
All of these features are internally mounted but fully accessible for repairs and replacements, which means that you can be as rough as you want on the Fat BABE without fearing the difficulty of making repairs.
This electric bike features a Gates Carbon belt drive, which is very simple to maintain. Notorious for their rugged simplicity and effective power transference, these belt drives are more efficient than chain drives and require far less maintenance. Carbon belt drives also last significantly longer than chain drives, which just adds to this fat e-bikes toughness and versatility.
The Fat BABE is equipped with piston hydraulic disc brakes and 4-inch thick fat tires for all-terrain.
The full-spec Fat BABE costs around $3000 but can be downgraded to cost around $2750.
SEE THIS BIKE AT: LUNA CYCLE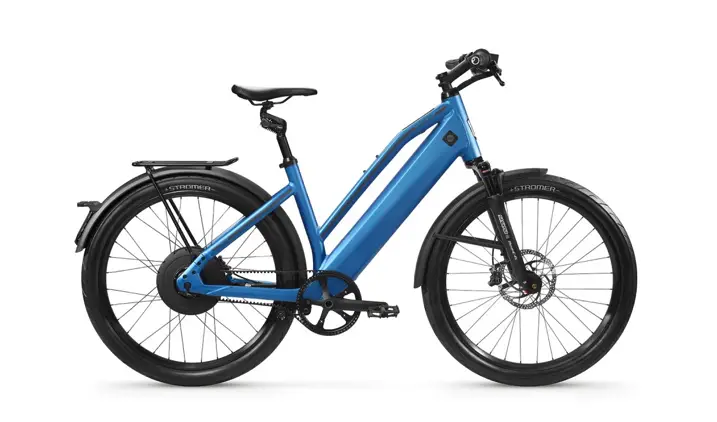 Stromer ST2
The ST2 is one of the most well-equipped, modern, and efficient electric bikes on the market. This model is equipped with features that almost no others have and is the ideal choice for those who seek the most technological versatility from their commuter e-bike.
The ST2 is equipped with a low-maintenance and durable Gates carbon belt drive, which sets it apart from other e-bikes in the Stromer range.
It's unique among the others on this list (and placed at number 4 in the ranking) due to its clever digital connectivity. The Stromer ST2 is equipped with wireless connectivity to the OMNI app, which allows the rider more control of their bike than any other.
The app provides the rider with the ability to make individual adjustments to the motor settings, track mileage and personal performance, and localize the bike via onboard GPS. It even allows the ST2 to be locked and unlocked automatically via Bluetooth.
All of this is done via the riders' smartphone, and the system is intuitive and simple to use.
Further, the ST2 has a 75 – 100 mile range (depending on the battery life), a rear hub-mounted electric motor that offers pedal assist up to 28mph, and a fully customizable riding position.
One of the major advantages of this Swiss-made bike is that it is fully configurable. You're able to select the exact features that they require and choose from the list of compatible parts provided by Stromer.
This means that you can customize the range, power, and feature specifications of your own Stromer ST2 before purchasing it. Very few electric bike manufacturers offer this feature, and it's a major plus for the ST2 overall.
As the lowest-priced ST model begins at around $5700, be prepared to make a substantial investment.
SEE THIS BIKE AT: STROMER BIKE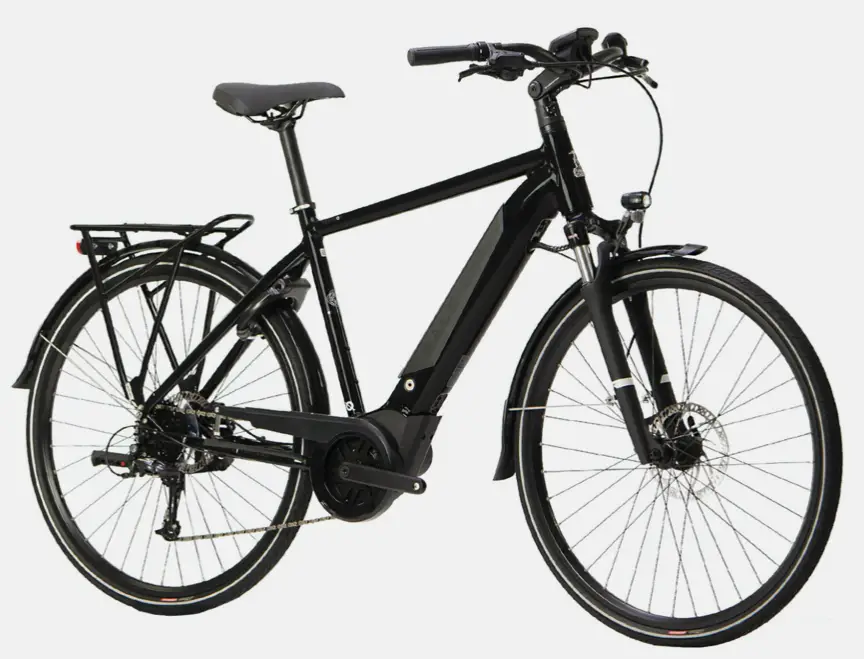 Raleigh Centros Grand Tour
Raleigh is potentially the only e-bike brand on this list that you may recognize. This already gives the Centros Grand Tour some credibility. The Centros Grand Tour is the only e-bike by Raleigh that is equipped with a belt drive system.
The Centros Grand Tour is one of the most well-equipped bikes on this list, but it has only made it to number 5 on the list because it isn't the most practical or versatile e-bike on the market.
This model is equipped with a 500Wh battery pack and a Bosch electric motor. The battery capacity combined with its lightweight give it an impressive range of up to 140 miles.
Despite the fact that this is the lightest electric bike on this list, it only has pedal assist up to 15.5mph.
The Centros Grand Tour has an 8-speed Nexus transmission, a Gates carbon belt drive, a Bosch Intuvia digital display, and hydraulic disc brakes.
This model is really meant for the inner-city commuter. It's small and light but it isn't the most stylish nor the quickest electric bike around. Another disadvantage may be that it might still only be available in the UK.
However, its Raleigh pedigree ensures it is made to high-quality standards and won't disappoint when used for its intended purposes. You can get this e-bike for 2700 EURO.
SEE THIS BIKE AT: RALEIGH UK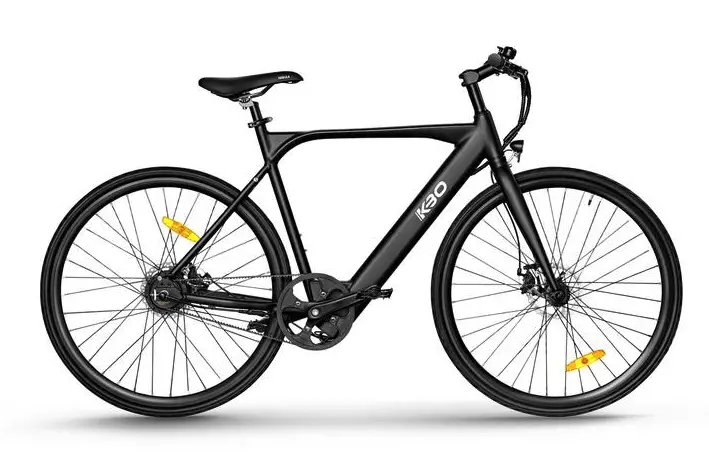 KBO Hurricane
The KBO Hurricane has made it onto this list because it's unique in the category of belt driven electric bikes. The Hurricane is designed to be a "stealth" urban bike. Meaning that it's made to be as sleek and stealthy as possible, with minimal signs to indicate that it's electrically powered.
This is achieved by a very simple design, an integrated battery pack, and an integrated rear hub one-speed motor.
And, the Hurricane features no transmission because it's a single-speed electric bike. However, it does have 3 power modes that determine how much pedal assist the rider is provided with.
This is one of the most well-priced e-bikes made to this high level of quality, as it only costs $1099. 
The Hurricane is lightweight, equipped with a 345Wh Panasonic battery pack, 350W hub motor, and has a range of 45+ miles. 
This bicycle may seem very simple, but it's a very capable electric road bike that is comfortable for almost every rider.
SEE THIS BIKE AT: KBO BIKE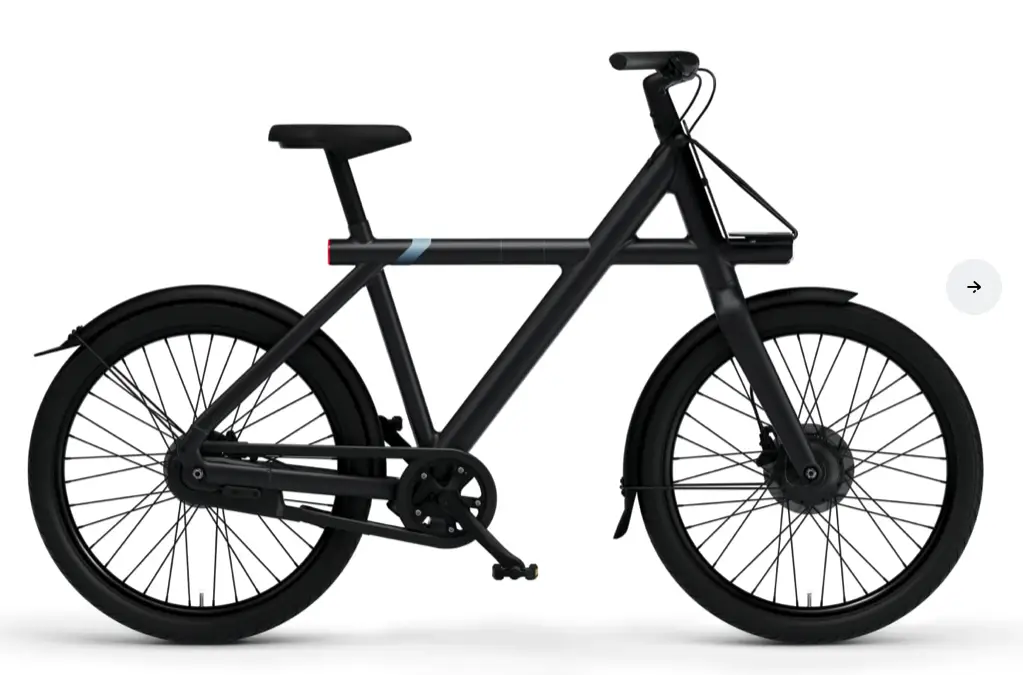 VanMoof X3
The VanMoof X3 is really something special. This is one of the most sought-after electric bikes in the world. These e-bikes are meant to be elite and for the discerning bike rider, but they are growing in popularity due to their high build quality and unique design features.
Although this bike isn't designed to be the most powerful model on the market, it is built to be the most well-suited for city commuting. The X3 has a small, compact design but is also one of the most comfortable rides out there.
The X3 is also equipped with modern features such as temper detections, theft defense, and a lockdown mode that will shut down the bike in case of theft.
It also features a smart electric motor, an electronic shifting system, and a hydraulic braking system. But the shining feature of the X3 is the 504Wh battery with a 90+ mile riding range.
You can get this sleek e-bike for around $2300.
SEE THIS BIKE AT: VANMOOF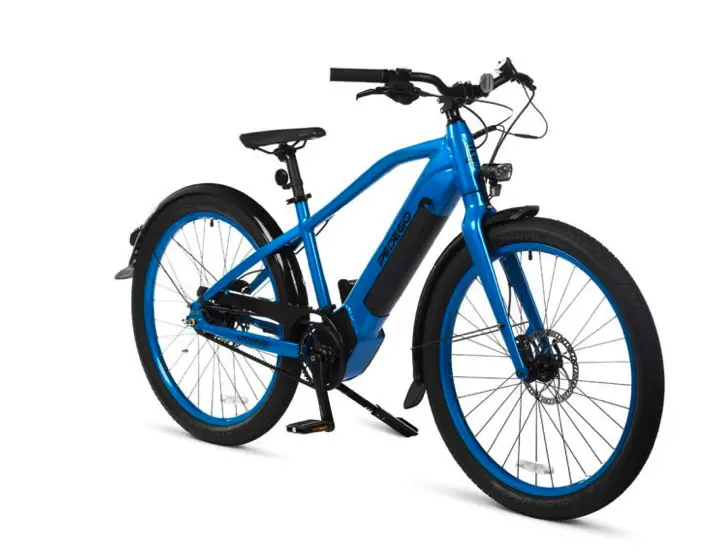 Pedego Conveyor
The Conveyor by Pedego is a robust model by one of the leading e-Bike manufacturers.
It's equipped with many subtle features and is one of the most rugged-looking models on this list.
The Conveyor features a brushless geared mid-drive 250W motor from Brose, a 36V 13ah battery pack with fast charging capabilities, and a full-color Brose comfort control panel with a joystick toggle. It also features a headlight and a taillight.
This electric bike has an internal 8-speed transmission rear geared hub. The drive belt on the Conveyor is a Gates CDX, and it is fitted to a Gates drive sprocket as well.
The bike has a piston hydraulic braking system with Tekro organic disc brakes. The Pedego Conveyor also comes standard with a kickstand and fenders.
Truthfully, this e-bike is only at the bottom of this list of best electric bikes that are belt-driven because of its high price tag as compared to its level of quality and features. But it is sure to get the job done! It's very versatile and is useful for more adventurous riding as well as city commuting.
The price of the Pedego Conveyor is a little under $5000, which is no small amount. But given the quality and notoriety of the Pedego brand overall, it might be the best belt-driven e-bike for you.
SEE THIS BIKE AT: PEDEGO ELECTRIC BIKES
Conclusion
As electric bikes become more popular, the features that are available on the market are also increasing quickly.
The use of belt drives, rather than standard chain drives, is a huge part of this advancement in electric bicycle technology.
Belt driven ebikes are still not as commonplace as many would like, but this is simply because belt-driven bikes are much more expensive than the alternative. For now!
However, if you are seeking one of the best belt drive electric bikes, the 9 models on this list will never steer you wrong.
Interested in comparing these top e-bike brands before choosing?