E-biking is a fantastic way to see the USA while riding faster and farther than you ever could on a regular bicycle. Whether you want to ride all day in breathtaking National Parks or cruise through iconic American cities, riding e-bikes just makes it fun and easy!
In this electric bike travel guide, you'll get a complete overview of how to transport your e-bike, where to travel in the USA, and what tools and accessories you need to take with you. Additionally, you'll find out how to care for and charge your battery while traveling.
For many, including myself, traveling itself has become an active adventure, rather than just a "sit-by-the-pool" vacation. And electric bike vacations and bike tours are proving to be one of the top activities for travelers who want to see the US up close and personal.
How To Transport An E-Bike for Travel
Transporting an e-bike can be a challenge due to its heavy weight and large size. However, there are easy ways to travel with your e-bike in your car, attached to your car, or by plane as long as you have the right accessories.
Since most e-bikes are bulky and weigh anywhere from 38-70 pounds, depending on the battery and motor size and any parts added to the bike, you'll need to take this into consideration
Continue reading to learn how to effectively transport an electric bike to an e-bike tour or travel destination.
How to Put It In the Car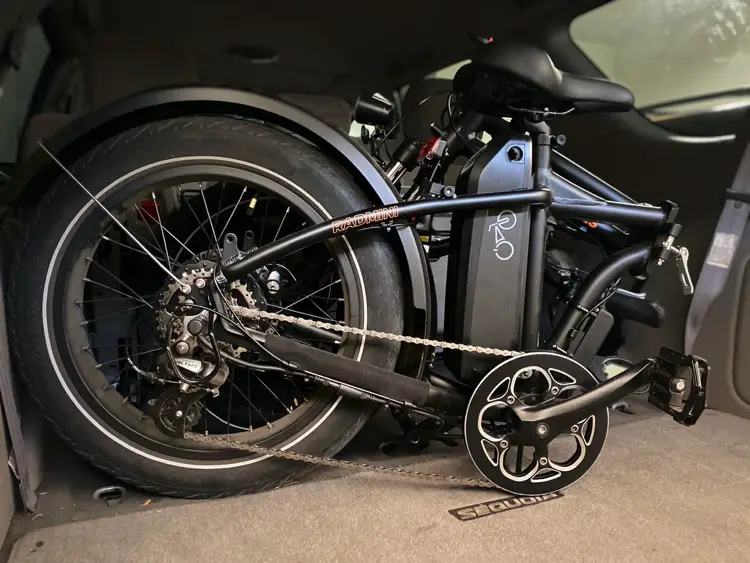 Many e-bike models are foldable and portable! By purchasing a folding electric bike, you'll be able to take it with you camping, to a trail on the beach, or anywhere that you can drive closer to first and be able to pop it right back out of the car. 
Pedal-assisted folding bikes can range anywhere from $800-$4,000 USD, although most fall in the $1,500-$2,000 range. These types of bikes work just as well as any electric bike model, but they are more compact and much better for transporting or even storing in a smaller space if you need to! 
From first-hand experience, make sure you consider the weight of your bike if you intend to lift it into the car, even if it's a folding bike. My RadMini electric bike weighs almost 70 lbs. I certainly can't lift it into the car and most people will need some help.
If you don't have a foldable bike, there are some other ways to possibly put your bike in a car. You can always try removing the front or back tires, which will definitely allow for more space. If you are able to put your back seats down, placing the bike diagonally will help as well.
Make sure not to place e-bikes upside down as it may damage the handles! And protect the electric motor and other delicate components with a blanket or cushion.
Securing Your Electric Bike in a Truck Bed
Another great way to transport e-bikes is with a pickup truck. Although it sounds easy to throw a bike in the back of a truck, some caution is required. It's important to strap your bike down in your truck bed to avoid it sliding around or getting damaged from moving too much.
The best way to secure electric bikes in the back of pickup trucks is to use bungee cords or a soft strap. Ratchet straps are actually not as good at securing and may pop off due to the lack of optimal tension.
E-bikes can also be hung over the edge of your truck if you have a tale bike pad to protect the truck. If it's raining or damp outside, you can cover your electric bike with a blanket or tarp in order to prevent rusting and protect the electric motor and other components from damage.
Travel Racks for E-Bikes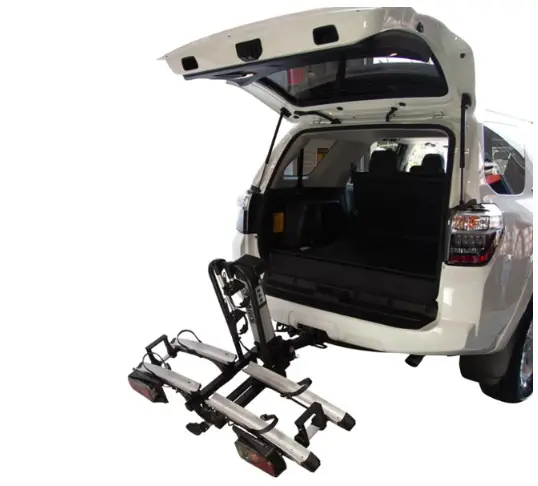 In general, e-bikes are more difficult to attach to your vehicle than regular bikes. They will likely need special car bike racks because they are larger, heavier, and have delicate electric parts.
So, it's important to find racks that have good wheel support and can handle the weight of electric bikes. A pro tip is to remove the battery and store it inside your car before you mount it in order to reduce the weight (and to protect the battery from outside elements)! 
How to use a roof hatch with electric bikes
You can attach e-bikes to the roof, also known as a roof hatch. This is one of the more popular and secure ways of transporting traditional bikes. This way can work for electric bikes as well but can be a bit riskier. I'd definitely recommend having one or two others help you lift it and making sure it is strongly strapped down so that it can't move and scratch or dent the top of your car.
How to use a hitch rack for e-bikes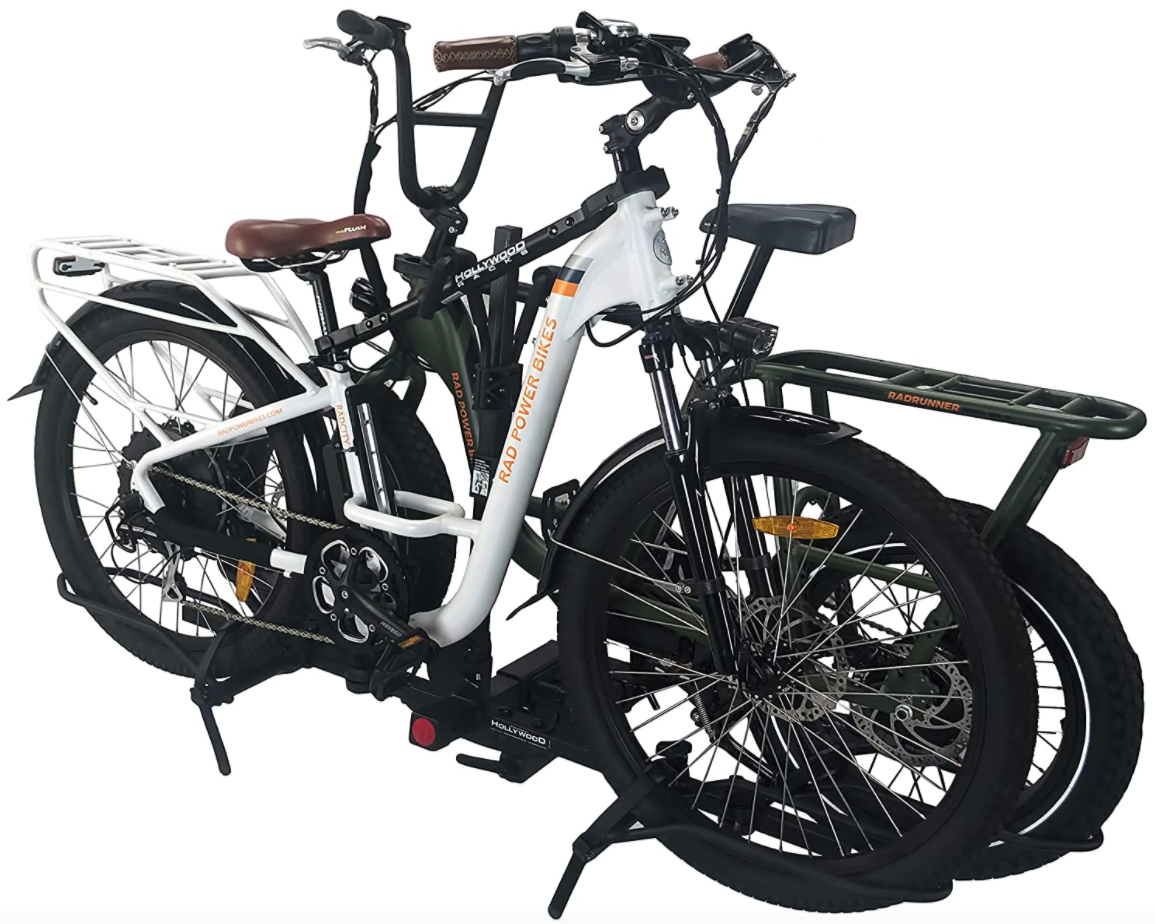 The best method for mounting e-bikes is a hitch rack, which is installed on the back of your vehicle. This type of rack is the most secure and easiest option for mounting e-bikes.
However, a hitch rack may be slightly more risky due to the possibility of someone rear-ending your car. And they can be more expensive than traditional bike racks.
Here are some brands and models that are good for mounting electric bikes onto cars. Most of these options can mount 2 bikes:
Travel Trailer
A final alternative for transporting electric bikes is to use a 2-inch trailer hitch and attach a small trailer to your car. This will make transporting more than one bike easier and more secure. However, towing a trailer everywhere you go might negate any of the benefits of using this method!
Ship Your Electric Bike
Have you thought about shipping directly to your electric bike vacation or touring destination?
This could be a substantial expense but the convenience could make up for it. If only a portion of your travel involves a bike tour, you probably don't want to be stuck carting around your e-bikes for the entire trip.
You can actually ship it to a holding location, like FedEx, and pick it up when you're ready!
Can You Take an E-Bike on a Plane?
Unfortunately, most airlines do not allow bike batteries to be taken on flights because of the danger of any lithium battery. Batteries are a fire hazard and because lithium is highly flammable. In general, any battery larger than 100Wh is prohibited on a plane. 
However, there are ways around this. Electric bikes themselves are allowed, so you can always try shipping your battery separately to your location or renting a new battery once you are there. Or, you can bring smaller batteries that are less than 100WH, but they probably won't work very well. 
It's still a good idea to call your airline beforehand to double-check any questions you may have about bringing your electric bike, as some may allow batteries up to 160WH or have other suggestions for you. 
Where to Travel in the USA With E-Bikes
In general, the USA is a fantastic place to travel with your electric bike. Many cities throughout the US have developed bike paths and bike-friendly roads while there are many public-owned lands and national parks that encourage riding your e-bike.
This is by far the best part of this travel guide… deciding where to go! And what's great about this is that you can easily discover where to ride your e-bike with Google Maps. Just select your destination or route and use the menu to click on "Bicycling". You'll be able to locate bike-friendly paths like in Monterey, CA below in an instant!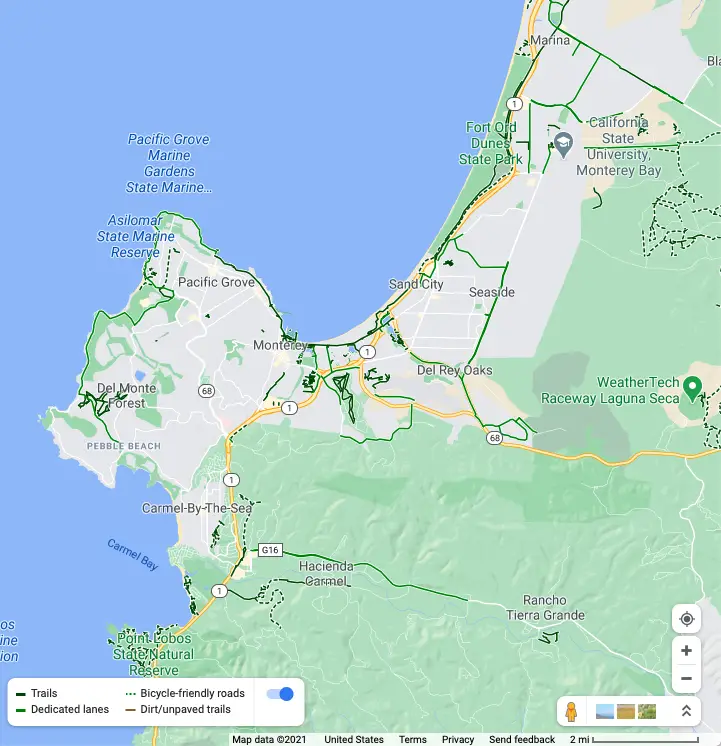 This map of Monterey, California shows the amazing "bicycle-friendly" roads and, trails, and dedicated bike lanes in the area.
Are E-Bikes Allowed in US National Parks?
National Parks are probably one of the first places that people think of taking their e-bikes. As of 2019, e-bikes are officially allowed in US National Parks! However, riding them on hiking trails is still prohibited. As long as you're able to ride them on the main roads, then you can definitely take your bikes to stunning places like Yosemite National Park in California!
Here are some of the best bike-friendly National Parks for riding e-bikes: 
All of these parks are not only beautiful and have breathtaking views, but they all have paths and roads that are great for cycling or a bike tour. You can easily ride your bike to explore rather than walking, driving, or taking a bus! 
Google Maps will find paths to ride e-bikes in the US National Parks as well. Here's Grand Teton National Park, WY: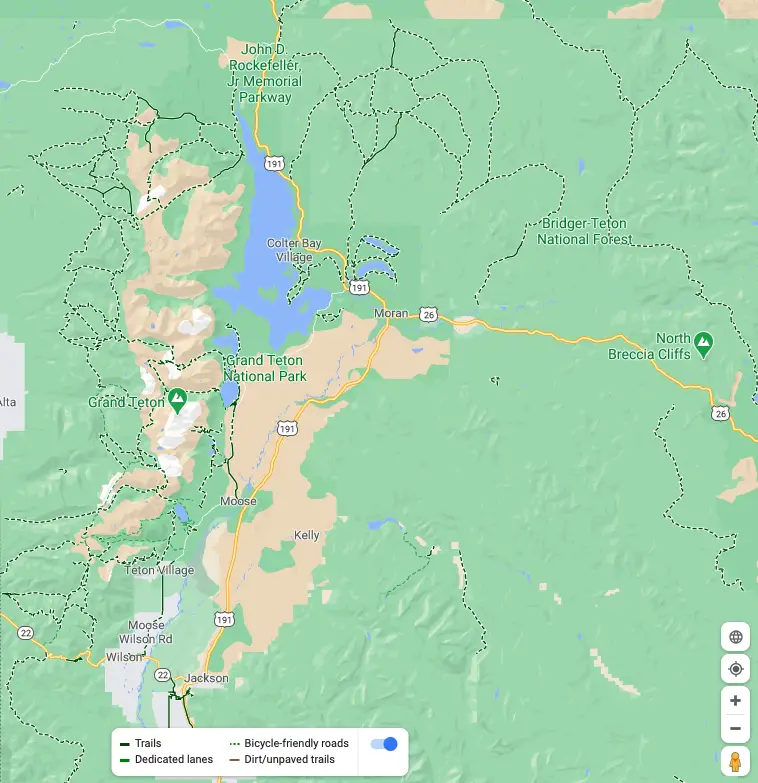 Bike Trails and Roads
E-bikes are allowed on most traditional bike paths and roads in the United States, so it's not hard to find travel destinations that are perfect for riding.
Just make sure to look up the local laws for riding a specific trail or road in any area as they may differ depending upon your e-bike's classification and more.
Here are some amazing US cities to ride your e-bike in:
Best States for E-Bike Riding
Although e-biking is legal in all 50 states, some states have stricter rules for riding while some are definitely more "e-bike friendly" in terms of having appropriate space, trails, and scenic routes for riding! 
There are three classification systems that a majority of states in the USA follow, all with a maximum motor of 750W: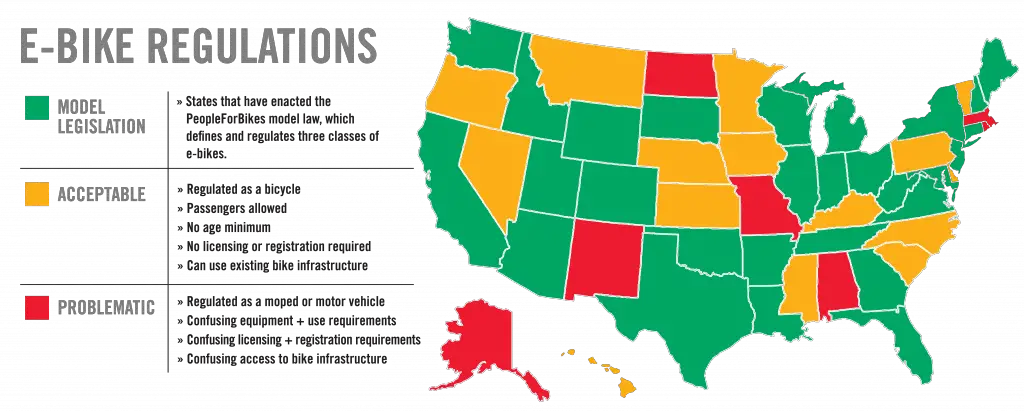 The states that follow the same general rules and stick within these classification systems include:
Arizona, Arkansas, California, Colorado, Connecticut, Georgia, Idaho, Illinois, Indiana, Maine, Maryland, Michigan, New Hampshire, New Jersey, Ohio, Oklahoma, South Dakota, Tennessee, Texas, Utah, Virginia, Washington, Wisconsin, and Wyoming. 
While these next states don't follow this three-tiered classification system, they do have specific rules for electric bikes that you should look up before traveling and riding here:  
Delaware, Florida, Hawaii, Iowa, Kansas, Kentucky, Minnesota, Mississippi, Montana, Nebraska, North Carolina, Nevada, Oregon, Pennsylvania, South Carolina, and Vermont.
The remaining 10 states have unclear e-bike laws and it is important to research your state specifically to see what their laws are. These include: 
Alabama, Alaska, Louisiana, Massachusetts, Missouri, New Mexico, New York, North Dakota, Rhode Island, and West Virginia. 
Each state may also have different age limits for riding e-bikes or helmet requirements, so be sure to look up whatever state you live in just to double-check the laws. 
Electric Bike Travel Accessories
There are several accessories you'll need when traveling with your electric bike. In addition to a battery and charger, you'll need a specialized bike tool kit, tire repair kit, and cargo storage as well other optional items like a bicycle travel case or folding pedals.
Do I Need a Travel Case for My Electric Bike?
Other than the battery, this could be the most expensive item you'll need to take your e-bike traveling with you. At an average price of $500 or more, you'll be spending a lot to protect your also expensive bike.
The question is, do you need a rolling cover for airplane transport or a hard-sided case to put on the top or back of your car? Or maybe both? If you'll be traveling where it's rainy, snowy, or windy, you'll want to make sure your bike is protected. Thus, just attaching them to the back of your car is not a good option.
Thule has several options to fit your needs.
Do I Need an Extra Charger?
Let's face it… you have to take your battery with you wherever you go. You'll need a lot of battery power for a full day or overnight bike tour. But you do have a couple of options:
Get a lighter-than-typical battery that still works with your e-bike model. Bosch has a smaller and lighter charger that works well for travelers. It's only 160mm long and 75mm wide as compared to a standard charger which is likely 190mm long and 86mm wide. Further, the Bosch charger only weighs 60 grams as compared to an 800-gram regular charger.

When shopping for a charger, whether it's a second travel charger being purchased or you're getting one for regular use, you'll want to consider the charging time. Bosch's smaller battery can take up to twice as long to charge, which could be a problem if you're making a quick stop while traveling to charge it.

Frankly, it might just be more efficient to just take your own regular battery along during your travels. You could even buy a second one just for this purpose. Of course, at an average cost of $500, that's a pretty expensive way to go!
Get a Bicycle Tool Kit
Although this can be a little bulky, a tool kit made just for bikes is a necessity. A bike tool kit will have several items to fix specific parts on your bike that a regular tool kit won't have. This includes a pedal wrench and various other wrenches and allen keys that'll fit your bike's nuts and bolts.
Get a Tire Inflator and Repair Patch Kit
This is not optional! Hopefully, you already carry these with you wherever you ride. However, taking care of your tires becomes even more important when on the road or far from home. Keeping your tires inflated properly will provide a more efficient ride and protect your tires.
And if you end up with a flat tire and can't find a local hardware or bike store with a tire repair kit, you could be in a world of trouble. Pushing your heavy e-bike 20 or 30 miles is not going to be fun!
Consider getting your tools and tire repair in one kit like this one on Amazon for about $30: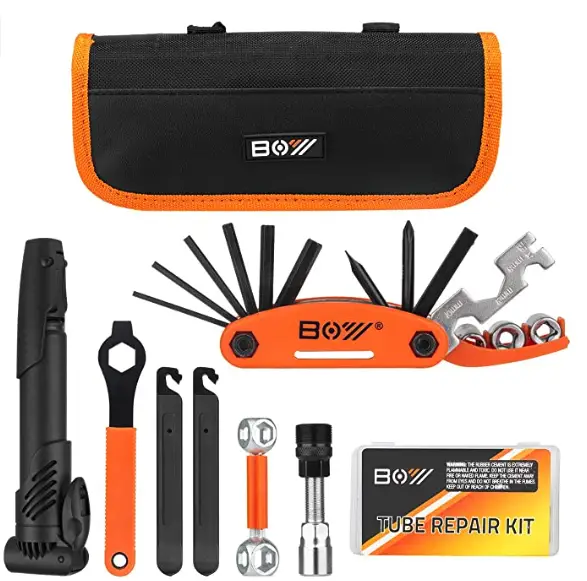 What About Folding or Removable Pedals?
If you're traveling by car or in an RV, folding pedals could really come in handy. Being able to fold up or remove one or both of your bike pedals can help your bike fit better on a bike carrier or in your RV (one less thing to trip over).
Plus, it'll be harder for a thief to ride off with your bike!
Cargo Bag with Food and Personal Items
If you're traveling where you'll be riding trails and roads in the backcountry, you're going to need to carry more gear than usual. The best way to go about packing your cargo bag is to always assume that you could get stuck somewhere unexpected.
Here's what you should have in your bag:
Bike Locks for Security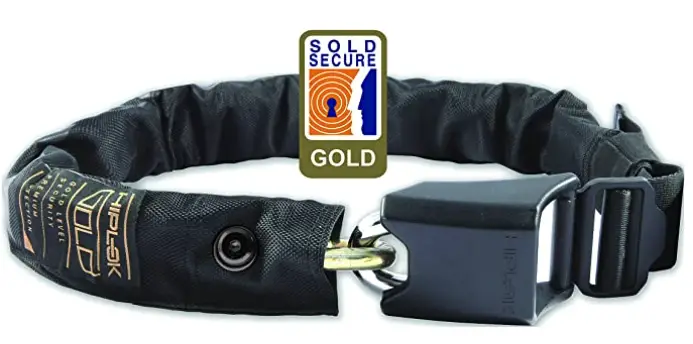 Even if you already have a bike lock that you use, it's a good idea to re-evaluate your security needs for traveling. Your e-bike will be at a higher risk of getting stolen because there will be many additional opportunities for thieves… at the campground, while you're sightseeing, when you stop to use the restroom, etc. So, make sure you have the very best lock (you might consider using two or more at a time).
You'll want to secure your e-bike to your car or RV and also be able to lock it up during your ride. A high-security U-Lock or a heavy-weight chain lock is a good bet due to its incredibly strong steel. The downside to both, however, is that they're pretty heavy (3-4 lbs) and will add 3-4 lbs of weight onto your bike, which is already heavy due to the electric components.
Although a little heavier than the u-lock, a chain lock is far more flexible, making it easier to lock up your e-bike just about anywhere.
Battery Charging on the Road
Always plan ahead for keeping your battery charged while riding long distances (if camping or traveling, you may be able to charge using a generator). (if camping or traveling, you may be able to charge using a generator).
You'll be able to charge your e-bike and protect your battery by doing a little research before you set off. Find out where the charging powerpoints are and what amenities are located on your riding path. Then check the local weather for rain, snow, and wind.
Where can I charge my e-bike?
As long as you remember to bring your battery with you, you'll be able to charge it, even in places you wouldn't have thought of.
Of course, you'll always want to recharge your battery when you're done riding at night and back where you're staying. But you'll also find powerpoints at coffee shops, airports and train stations, and gas stations. And, if you ask nicely, you might be allowed to charge it in a business office, church, or other retail location.
If you're camping, plan ahead! It's best to stay at a camp spot that has power outlets… because some don't!
How to protect your battery from the elements
Just as you'd protect your battery at home, you'll need to take care of it while traveling. Doing so may be even more challenging on the road due to temperature and humidity changes in your car and while riding.
Still, you should do everything you can to keep your battery well above freezing temperatures and preferably above 50 degrees Fahrenheit. The ideal temperature is always between 32-68 degrees, no matter where you're traveling. If you're riding in a humid location, make sure to take your battery into your air-conditioned hotel or condo as soon as possible.
A good rule is to just not leave your battery outside or in the car without you… remove it and bring it with you. If the temperature and moisture in the air are comfortable where you are, then your battery will be in good shape.
Should You Bring an Extra Battery?
Ideally, having an extra battery while you're traveling is a great idea. You won't have to worry about not finding a charging station when you need it or accidentally forgetting to charge it. And if you're a semi-professional rider, you might use both batteries on one ride!
But you will have to pay for two batteries and carry the extra bulk and weight of two batteries. So you'll have to decide whether it's worth it. I'd say that it's definitely worth it if you'll be riding daily and if riding your e-bike is the focus of your trip.
E-Bike Touring in the USA
If you've never traveled with your e-bike before, it's probably a good idea to get some experience doing so before deciding to ride longer than a few hours. An overnight electric bike tour is generally for more experienced riders who want to see vast amounts of the USA on their e-bike.
Generally, bike touring is when you ride all day and spend at least one night somewhere. Many riders will tour for days or weeks on end. Food and supplies can be carried on your e-bike or in a car that meets up with you in various places to offer you food, respite, and overnight gear.
Riding an electric bike is an exceptionally wonderful way to begin touring. First, electric bikes really level out the fitness abilities of each rider so that it's easier to keep up with one another. One person can ride hard and fast but their traveling companion can easily catch up. if they fall behind.
And if you're concerned that it might be too hard, you know your electric bike will do the job for you.
That being said, your main concern will need to be about the battery. If you expect to use motor power to ride for a long day or to keep up with others, you'll need to have a good, strong battery. You should also plan ahead to find charging spots on the road so that you won't get stuck in the middle of nowhere.
When touring with an electric bike in the United States, it's a very good idea to have a second, fully-charged battery, especially due to the vast areas of open land, deserts, and mountains. Additionally, take into consideration all of the travel accessories mentioned previously… because you're going to need them!
And if you'd like to read about touring on an electric bike from a guy who claims that "bike touring is the love of my life", then feel free to check out his article in Cycling West here.
Renting E-Bikes
Don't want to lug your ebike around the United States? Many bike shops rent electric bikes as an option for a slightly increased charge over a normal bike. And you can still follow this e-bike travel guide whether you own or rent a bike.
On average, you can rent an electric bike in the USA for $20 per hour or $75 per day, depending upon whether you are in a popular destination or a large city. Professional bike tour companies will also rent you an e-bike along with a self-guided or group tour.
Electric Bike Day Rentals
In California, a popular place for riding because of the nice weather, rental shops charge around $20-$25 per hour to rent a bike, while the full day can be around $75-$80. And you'll probably be given the option to add on equipment such as an extra battery or hitch rack for your car for $5-$10 each per day.
Some major cities have electric bikes available on the street. These are connected to an app and can be hopped onto anywhere you can find one. Usually for these, you pay a certain amount of money per minute you use the bike, but it is perfect if you need to get somewhere quickly. It's also a great way to try out an electric bike for the first time!
Every county and state is different, so it's a good idea to look up bike rentals near you. If you're going to a popular tourist area, you're likely to find some quality electric bike rental shops that will show you everything you need to know to ride.
E-Bike Tour: Self-Guided or Group
Along with a traditional bike tour, many places now offer an electric bike tour! You can choose a self-guided one or a group one, however, in most cases, the group tours will cost a bit more. Prices may range from $700 for self-guided to $1,500 for a group bike tour and more, depending on the location and length of the tour.
Some bike tour options are now even labeled as Electric Bike Vacations!
Just look up electric bike tours near you or your vacation destination and see what they have to offer.
Summary
I hope you've enjoyed this electric bike travel guide and are excited to ride throughout the US. There are many adventures awaiting you and e-biking is a great way to find them. With endless big cities, stunning countryside, and unbelievable National Parks, you're sure to become an experienced e-bike traveler in no time.