California is one of the most amazing places to ride your e-bike in the U.S. thanks to the weather, beautiful views, and wide bike paths. Exploring scenic California on an e-bike gets you to places you never could have on a standard bike.
There are seven incredible bike paths to ride your e-bike on in California, each one with stunning views and a wide, paved path. These paths include coastal and forest trails in southern, central, and northern California, including ones in Los Angeles, San Diego, and Monterey. I've researched and put together a list of the best places to ride an electric bike up and down the state of California.
Here are the seven best places to ride your e-bike in California:
California Bike Paths
Southern
Central
Northern
City
Rincon Bike Trail
X
Ventura
Monterey Bay Coastal
Recreation Trail
X
Monterey
West Cliff Drive Bike Path
X
Santa Cruz
The Strand
X
Los Angeles
Joe Rodota Bike Trail
X
Santa Rosa
American River Trail
X
Sacramento
Pacific Beach Boardwalk
X
San Diego
Learn about each of the trails below so that you know what to expect before you go. And make sure to check out the E-Biking "Thumbs-Up and Thumbs-Down" for each place mentioned in this list.
---
Rincon Bike Trail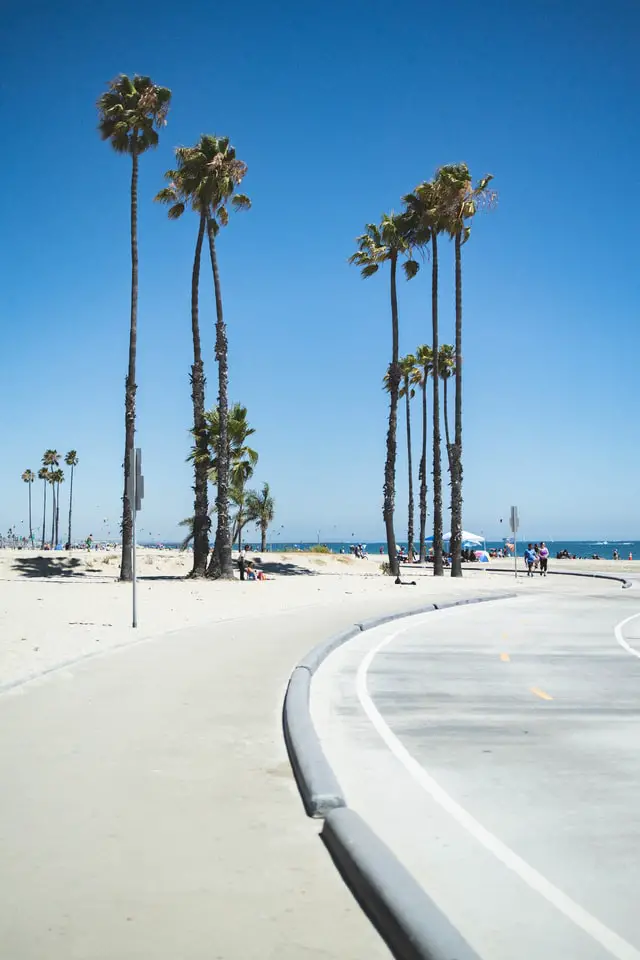 Thanks to the installation of a paved bike path running alongside the 101 highway (instead of on it!), this California route is now a fantastic 10-mile bike ride between Ventura and Carpenteria.
With a nonstop view of the coast, a wide bike lane, and your electric bike, it's also an easy and comfortable ride. Watch the surfers and playful dolphins as you cruise.
You can start in either Ventura or Carpenteria. However, there is a parking lot at Rincon State Beach in Carpenteria that makes for easy parking and a State Beach to hang out on before or after your ride.
And the other great thing is that you can enjoy a fantastic meal or snacks on the beach at either end of your ride.
Try fish and chips on the Ventura Pier or tacos in Carpenteria. Further, you can stop in the middle at the famous Cliffhouse Restaurant, which overlooks the ocean. It's pricey, but you can always stop for a nice appetizer as well.
I haven't stopped here myself, but I've read that there is a Fire Station (Number 25) along the route in Faria Beach where you have access to a clean bathroom, drinking water, picnic tables, and even a bike pump and tool station. So, keep an eye out for it!
| | |
| --- | --- |
| E-Biking Thumbs up | Since it's mostly flat, you can really get moving fast on your e-bike (but do watch for people walking)! |
| E-Biking Thumbs Down | If you're going to use low pedal-assist for exercise or to take it slow, you may want to bring your own snacks since there isn't anywhere to stop in between the two cities. |
Monterey Bay Coastal Recreation Trail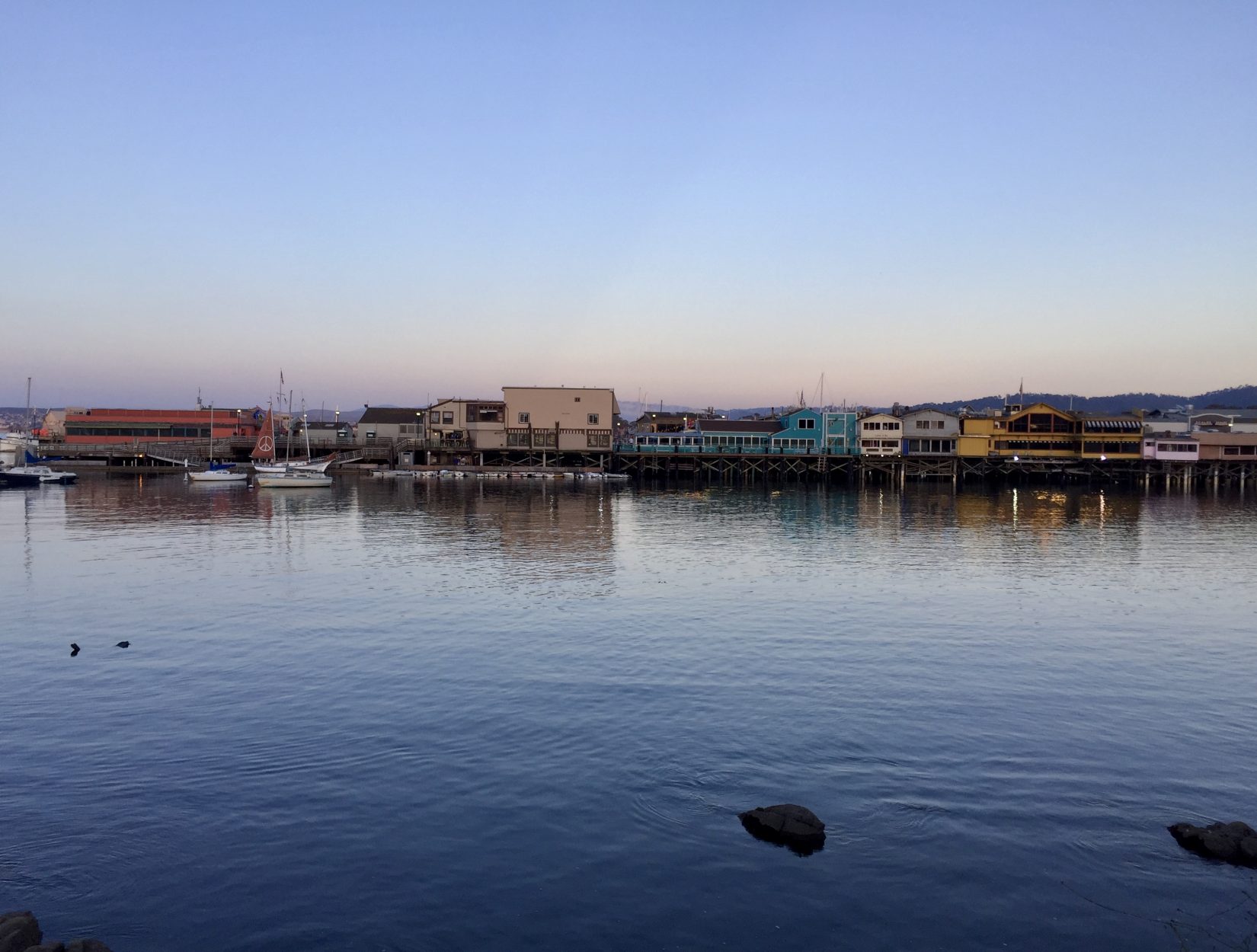 Monterey is one of my absolute favorite places in California (one of my kids graduated college here). It's well-known as one of the most scenic coastlines and has a multi-use trail that you can ride your e-bike on for 18 miles.
Also called the Monterey Peninsula Recreational Trail, you can begin riding the trail in Castroville and continue down the coast to Pacific Grove, following an old Cannery Row railway route.
Your breath will be taken away by the unique cypress trees and rocky coastline. Even the iceplant along the path is amazing, turning fall colors and blooming majestically.
Stop to view the sea lions along the way, or perhaps catch a glimpse of a sea otter or even a pod of whales Just be sure to turn off your e-bike's motor while you enjoy them.
And there are plenty of other places to stop along the way. Take a few hours at the well-known Monterey Bay Aquarium, Cannery Row, Fisherman's Wharf, and Lover's Point in Pacific Grove.
You'll find great places to eat and people watch in both Monterey and Pacific Grove. But be sure not to get lured into complacency because of the surrounding beauty. You still need to lock up your e-bike tight!
But don't let the end of the Monterey Bay Coastal trail stop you. Once it ends in Pacific Grove, you can continue to ride to Carmel and get on the famous "17 mile drive". If your electric bike's battery can keep it's charge for 40+ miles, you just might make it!
| | |
| --- | --- |
| E-Bike Thumbs Up | Can't beat the Monterey peninsula's scenery and you can take it all in because you're riding an e-bike! |
| E-Bike Thumbs Down | It can be cloudy and chilly, so come prepared wearing layers (but trust me when I say that the scenery is amazing on almost any day) |
West Cliff Drive Bike Path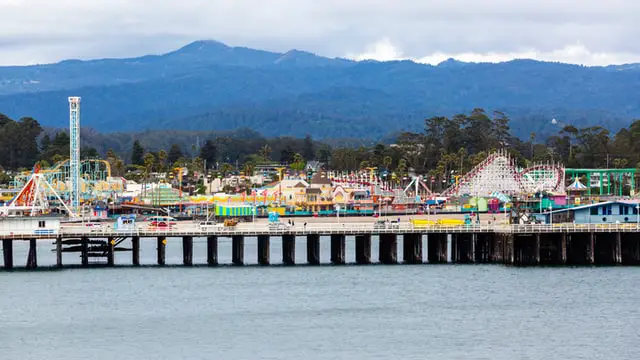 Even though this is a short 3-mile path, this bike trail has a ton to offer for a day of sight-seeing on your e-bike.
Since the path is so short, you may even just wish to rent an electric bike when you are in the area. You can do this at Pacific Ave Cycles, just a short block away from the trail.
You can start your ride at the San Lorenzo River and head north to the Santa Cruz Beach Boardwalk, where you'll find the classic California amusement park with carnival games, rides, and more.
Then use a little pedal assist to climb up the cliffs to Lighthouse Field State Beach and the Santa Cruz Surfing Museum. Naturally, you can watch the surfers crash through huge waves here.
Finally, keep going up the stunning coastline while keeping an eye on the kelp beds for floating sea otters. And, in the Spring, you may even catch the whale migration! You'll reach the end of the trail at Natural Bridges State Beach.
Park your bike on the sand, being careful not to throw sand all over your bike and its electric parts, and take a relaxing break while enjoying the beauty.
| | |
| --- | --- |
| E-Biking Thumbs Up | You'll have no problem tackling cliffs on your e-bike, and even riding around the more hilly areas of Santa Cruz. |
| E-Biking Thumbs Down | It's a really short trail on an electric bike, but plan on stopping frequently to enjoy the views and activities. |
The Strand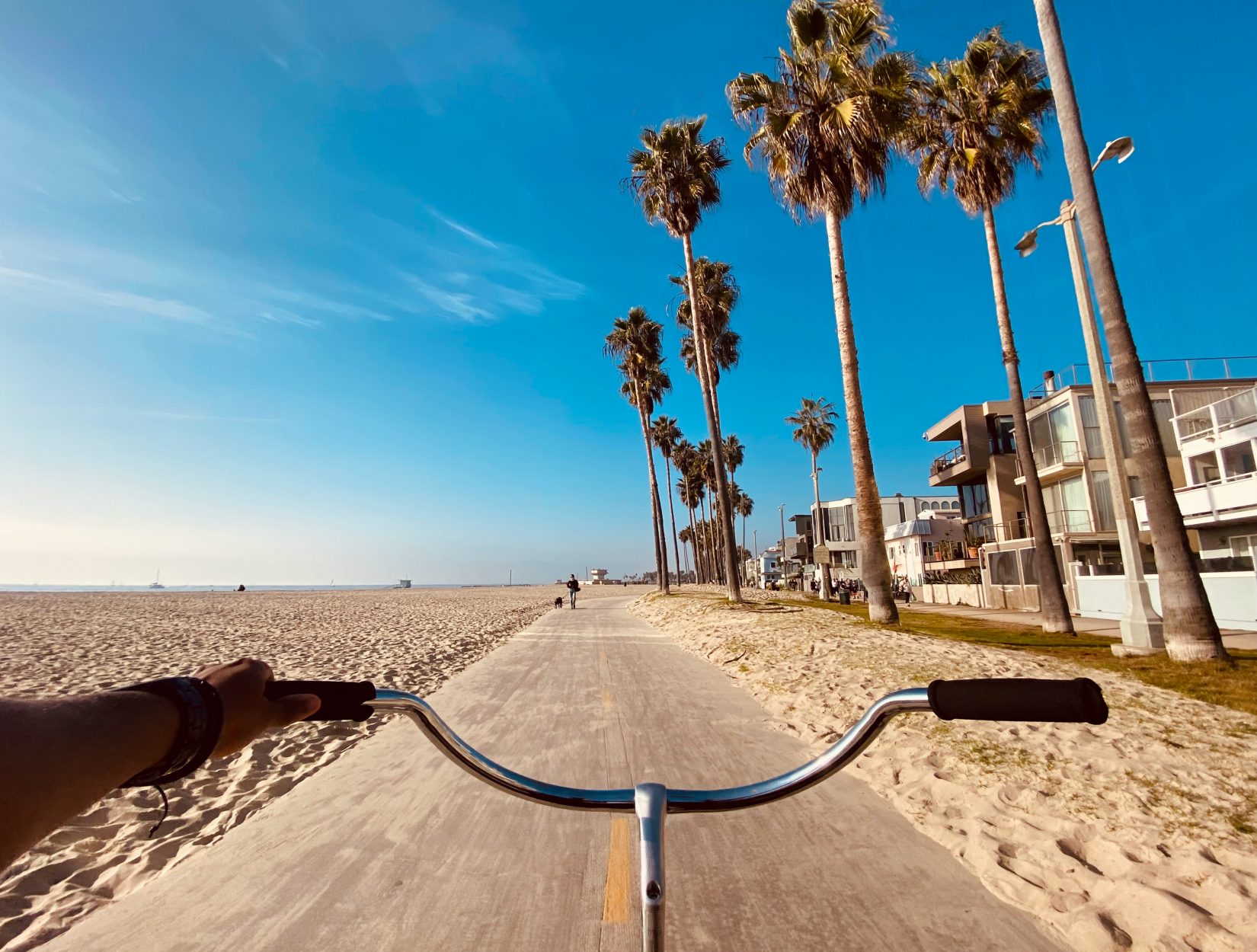 The Strand (aka the Marvin Braude Bike Trail and the South Bay Bicycle Trail) in Los Angeles is a busy place, like many in Southern California.
But this path is like no other, especially on an e-bike. It's 22 miles long and passes through multiple classic Los Angeles coastal cities including Santa Monica, Venice Beach, Manhattan, and Redondo Beach.
If you start at Torrance Beach, you can ride your e-bike north all the way to Will Rogers State Beach in Pacific Palisades. Stop along the way for lunch at your choice of numerous on-the-boardwalk, ocean-view eateries.
Although this paved trail is abundant with bikers, walkers, runners, skateboarders, electric scooters, and people maneuvering the crowds with large surfboards, it's still quite roomy and easy to navigate. Just watch out for other people moving fast and not paying attention!
The path is well-maintained and has markings on the ground and on signposts making it easy to see where you should be riding your e-bike.
People-watching is in abundance here. You'll find people playing volleyball, sunbathing, skating, biking, and doing any number of things you may never have seen before, especially in Venice Beach!
Plan on spending some time checking out the restaurants and shops in Venice and Santa Monica. Plus, you won't want to miss the Santa Monica pier with its roller-coaster and carnival rides.
Because you can literally ride and explore all day on your electric bike, make sure you have a hat, sunglasses, and sunscreen… you're in sunny southern California after all.
If you don't have an e-bike with you, there are a number of bike rental shops where you can rent an electric bike as well.
| | |
| --- | --- |
| E-Biking Thumbs up | Plenty of interesting people and sights to discover all day long |
| E-Biking Thumbs Down | Very crowded on weekends… pick another day during the week or be prepared to move slowly on your e-bike through the more crowded areas (like Santa Monica and Venice Beach) |
Joe Rodota Bike Trail
This is an 8.5-mile bike trail that runs between Santa Rosa and Sebastopol. It's hard to believe that this trail, even though paved, offers a variety of landscapes to view, all which are super easy to take in on your e-bike.
Start the path between West 3rd Street and Railroad Street at the Prince Memorial Greenway in Santa Rosa. Throughout this bike trail, you'll follow an old railway and pass three bridges, a huge wetland area home to over 200 animal species, and agricultural land.
Because it's in the low lands, make sure you're prepared after a rain… you and your electric bike might get wet. So, wear your rain boots and bring a towel to dry off your electric components after your ride.
Grab a variety of local eats in Sebastopol at The Barlow Center, an upscale farmers market.
| | |
| --- | --- |
| E-Biking Thumbs Up | Because it's relatively flat, you can get great exercise by turning off your e-bike's pedal-assist or keeping it on low |
| E-Biking Thumbs Down | I've read complaints of homeless encampments along the trail, so if you're concerned, make sure to check on this situation before you go. |
American River Trail
The American River Trail travels though inland California and is one of the longest, paved, two-lane bike paths in the United States at 32 miles! This is why it's perfect for e-bike riders, as most people couldn't make a 32-mile ride on a standard bicycle.
Start in Sacramento's old town at Discovery Park. Because this path follows the snow-fed American River, and meets up with the Sacramento River, swimming spots can be found throughout the route.
Although you can't beat having access to the river, you'll be happy to know that there's also plenty of places to get fresh drinking water, have a picnic, and take a restroom break.
This American River Trail was even named "Traveler's Choice" on Trip Advisor in 2020. With its immense wildlife and stunning scenery, the ride goes by quickly. Bicyclists report seeing deer, egrets, herons, and even turkeys, along with Steelhead trout and Chinook salmon during spawning season.
Further, there are parks, restrooms, and water fountains along the way, making what could be a very long ride without amenities, easy.
And Because you're in Sacramento, there is no shortage of places to grab a bite to eat or to take in California history when you're done riding.
| | |
| --- | --- |
| E-Biking Thumbs Up | Multiple swimming spots along the way… bring your swimsuit and water shoesE-Biking Thumbs DownBecause it's a very long trail, consider your fitness and health before setting out… of course, you can always choose to ride just a portion of the trail |
Pacific Beach Boardwalk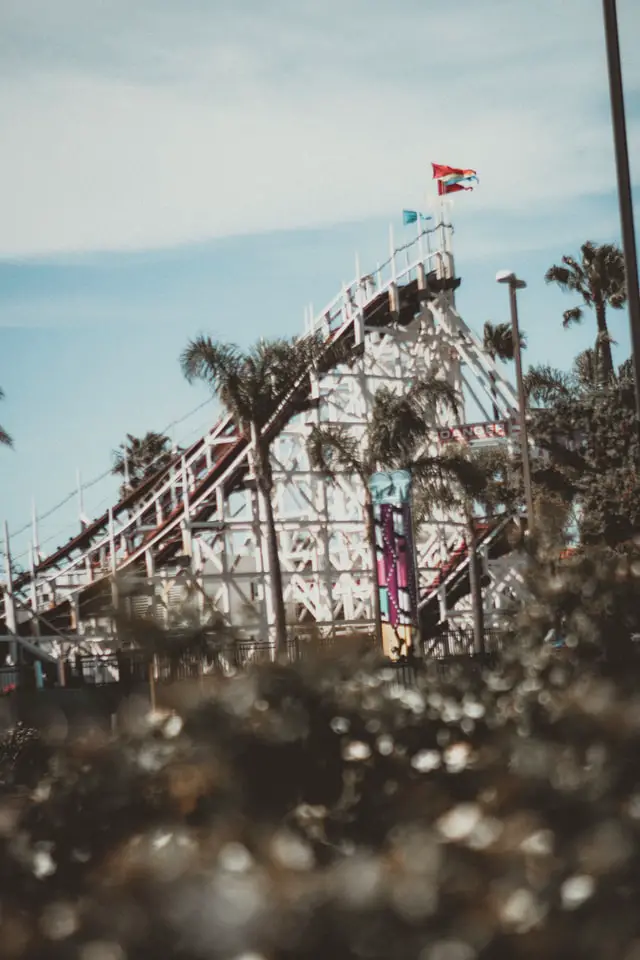 In San Diego, California, the Pacific Beach Boardwalk (which connects to the Mission Beach Boardwalk) is a place not to miss. Although the boardwalk is only a little over 5 miles long, you'll want to bring your e-bike along.
Start your ride at the beginning of the boardwalk at Law Street Park. As you head south, enjoy the beautiful white, sandy beaches, surfers, and people-watching.
It can get pretty crowded during the summer and on weekends, so consider whether you can ride your e-bike on this path at a better time.
South of Pacific Beach, Mission Beach offers restaurants and bars, as well as a classic wooden roller-coaster (fully restored) and other carnival rides at Belmont Park. Plus, it's fun to people watch (check out the serious sand volleyball players), shop, view the beach houses, and get a bite to eat or drink.
Watch out for other fast-moving skateboarders and bicyclists. And slow down to keep the walkers and runners safe.
Since you can probably go much further than the five miles on the Pacific Beach Boardwalk on your electric bike, feel free to go up and down the boardwalk more than once! Or head into Pacific Beach using the bike lanes to find a great place to grab an ice-cold beer.
| | |
| --- | --- |
| E-Bike Thumbs Up | If you'll be in San Diego more than one day, there are lots of other inland trails to ride your e-bike on. |
| E-Bike Thumbs Down | You'll probably need to ride slowly as it's often a crowded boardwalk. |
Is It Legal to Ride My E-Bike on Bike Trails in California?
Before you head out on all of these amazing rides, many of which you might do while on a California road trip, you probably want to know if it's actually legal to ride your electric bike in certain places.
Fortunately, California is very e-bike friendly. E-bikes can generally follow the same rules and laws as standard bicycles. However, each bike trail, city, or location can have its own limitations.
Read here to find out more about electric bike riding rules in the United States' National parks, State Parks, and public lands.
Often these limitations have to do with your e-bike's classification and use of the throttle or pedal-assist.
Check out each location, prior to driving a long distance, to find out if there are any limitations. And watch for signs on the trails. Some trails will exclude bikes entirely, while others won't allow the use of the throttle.
The primary reason for e-bike trail limitations in California is to keep these trails safe for all using them (including hikers and walkers) and to minimize damage to the trail itself.
So although California encourages e-bike riding, you should always know the local laws and rules before heading out on a ride on any bike trail or multi-use path.
Discover more trails! Learn about the 7 best e-bike trails in Colorado!