A bike rack is a must-have accessory for cycling enthusiasts looking to move around with their electric bikes. Still, with so many options around, finding a good and affordable bike rack for your fat tire e-bike is easier said than done. So what are some of the cheapest bike racks for fat tire e-bikes? 
Here are the cheapest bike racks for fat tire e-bikes: 
KAC K2 Mounted Rack
Vibrelli Electric Bike Hitch Rack
KAC K4 Hitch Mounted Racks
Hyperax Hitch Mounted E-bike Rack
Hollywood Racks Sport Rider
Hyperax Volt 2 Mounted Bike Rack
KAC K1 Hitch Mounted Rack
Weize Hitch Bike Rack
This article will explore some of the cheapest, but quality, fat tire bike racks. I'll also explain some of the key factors to consider when choosing a bike rack for your fat tire e-bike.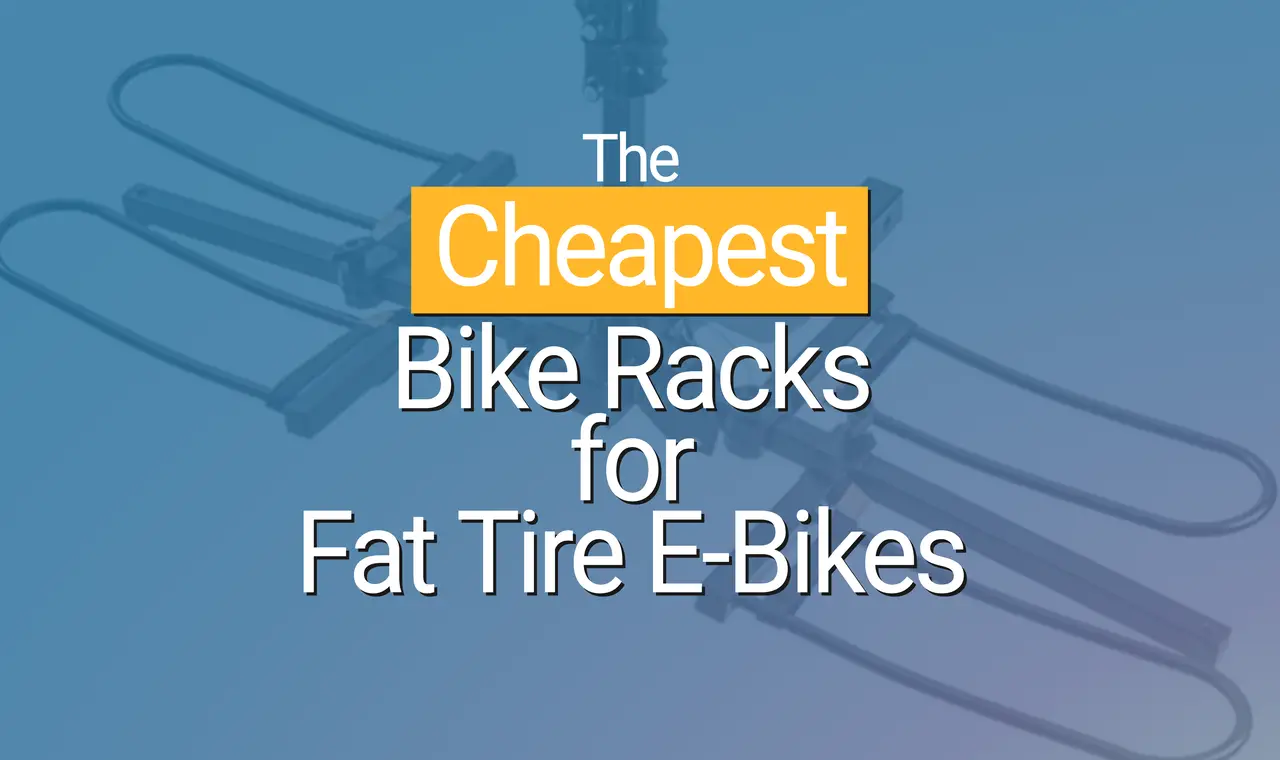 KAC (available on Amazon.com) is a well-known brand for hitch-mounted bike racks. It doesn't disappoint with the KAC K2, a black alloy steel rack designed to carry heavy bikes. This rack measures 36.89 x 61.02 x 38.11 inches (91 x 155 x 97 cm) and can carry 2 electric bicycles up to 60 lbs (27kg) each. 
This is a hitch-mounted rack weighing 44.8 pounds (20kg), which makes it ideal for loading and unloading electric bikes. You shouldn't be concerned about your e-bike fitting in this rack, as it can accommodate 5-inch (12.7-cm) fat bike tires. It can also carry other electric and standard bikes and is safe for use on your car, SUV, or truck.
Setting up this rack and mounting your bikes is easy, as it comes in pre-assembled parts. There is also a safety strap and a locking hitch pin to secure your e-bikes and ensure they don't fall off as you move. 
The hitch pin also prevents wobbling and comes with a spare key for added convenience. You can tilt this affordable bike rack to access your trunk and fold it up flat when you're not using it.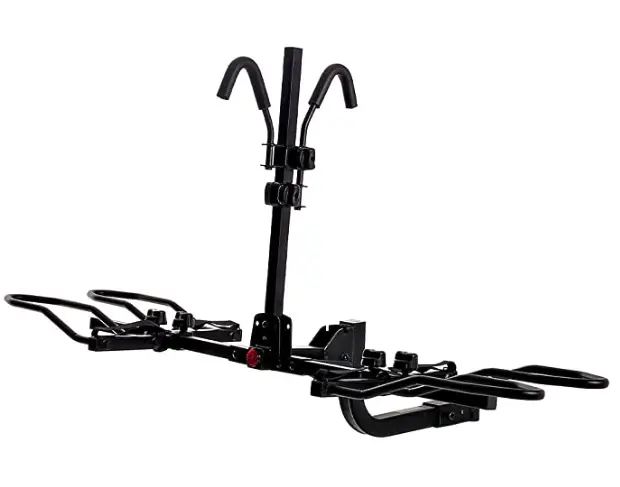 The Vibrelli Electric Bike Rack found on Amazon is a 44.5-pound (20 kgs) hitch rack that can carry bikes of any type including fat tire electric bikes, e-bikes, road bikes, e-mountain bikes, and standard fat tire bikes with tires up to 5 inches (13 cm) wide. With a 130 lb (59kg) maximum load capacity, this rack can comfortably carry two fat tire e-bikes of 65 pounds (29.5kg) each. 
Accessing your trunk will not be a hassle with this rack; when not in use, you can use the quick-release pedal to tilt it down or fold it up. This keeps things simple by eliminating the need to use other tools. 
This car bike rack has a three-lock mechanism and a safety strap to keep your fat tire electric bikes safely locked as you travel with them. The anti-wobbling mechanism also prevents your e-bike from making unnecessary movements as you navigate through tricky terrain (such as driving off-road).
The top drawer bike rack also comes with ratchet straps that firmly—but gently—hold your e-bike's tires without damaging the rims. 
Please note, though, that the Vibrelli Electric Bike Hitch Rack can only be used on SUVs and cars with a 2-inch (5.08-cm) tow hitch receiver. Vibrelli also recommends using the rack on a vehicle with at least 12 inches (30.48 cm) of ground clearance.
Therefore, with this rack, you can enjoy a wobble-free journey at a price of $399 that won't hurt your pockets. 
The KAC K4-RT (available on Amazon.com), another entry from KAC, is a 4-bike rack measuring 60.57 x 64.08 x 40.32 inches (154 x 163 x 102 cm). It can carry four e-bikes of up to 60 lbs (27 kg) each and thus costs more than the 2 fat tire bike racks.
The rack is made from heavy-duty, powder-coated alloy steel, which makes it strong and durable enough to serve you for several years. 
You can adjust the bike rack's sliding wheel trays to accommodate tire widths of up to 5 inches (12.7 cm) wide, a feature that makes it an ideal option for your fat tire e-bike. You can hitch-mount the rack on your car on 2-inch (5.08-cm) hitch receivers. KAC also includes an anti-wobble hitch pin and a hitch pin lock with this rack for security.
Impressively, the rack features padded clamps to hold your bike in place and a locking hitch pin for extra security. For additional convenience, KAC recommends using a KAC Bike Frame Adapter if your car has a low Y-frame.
You'll appreciate that the bike rack comes with installation tools and a user manual to walk you through the assembly process. 
Safety straps are also included in this somewhat more expensive rack, meaning you won't need to worry about your electric bike falling off when driving off-road. A reflector is also included in the package for increased visibility.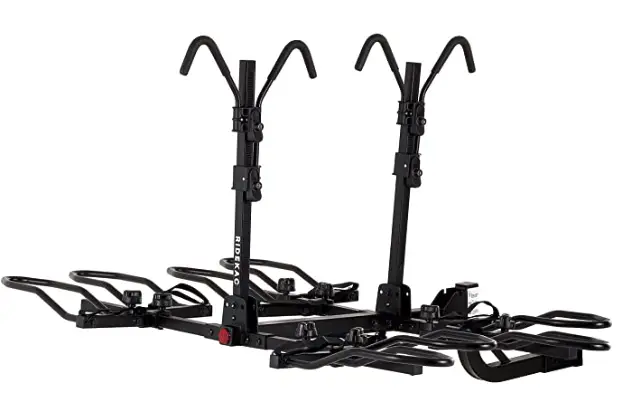 Hyperax is another popular brand known for its affordable hitch mounted bike racks like the Hyperax Volt RV (available on Amazon.com), a black alloy steel rack weighing 47.4 pounds (21.5kg). The bike rack is exclusively designed to be used on an RV and mounted on a 2-inch (5 cm) hitch receiver.
This rack can carry two fat tire electric bikes of up to 70 pounds (32 kg) each and can be adjusted to accommodate tires of up to 5 inches (12.7 cm). Therefore, besides e-bikes, this bad boy can carry a wide range of bikes, including fat tire mountain bikes and road bikes. This feature makes it a perfect fit for your mobile home. 
The Hyperax Volt RV E-bike Rack features soft locking ratchet hooks and velcro straps that hold your bike firm and keep it secure. It also comes with dual anti-theft key locks on the frame for enhanced safety, while a half-inch anti-wobble steel pin will ensure your e-bike doesn't sway as you travel.
When not in use, you can safely store your rack away by hanging it on the wall using an integrated hook, a neat feature that increases overall convenience. 
The Hollywood Racks HR-1500-2 (available on Amazon) is a black fat tire bike rack made of alloy steel and plastic. This 56 pound (25 kg) rack measures 37 x 22 x 8 inches (17 x 10 x 4 cm). It can carry two electric bikes, each weighing up to 80 pounds (36 kg), and accommodates a wheelbase of up to 60 inches (152.4 cm).
This rack's extra heavy duty wheel holders accommodate the best tires of up to 5 inches (12.7 cm), making it a great fit for your fat tire electric bicycle. You can only use it on a 2-inch (5.08-cm) hitch and not with a hitch adapter, a trailer, or the 5th wheel.
The rack features a tightening system with an 8-inch (20.32 cm) security cable and a locking hitch, meaning you won't need any external tools to tighten or hold your e-bike in place. 
You can easily fold the rack up against your car when not in use or tilt it downwards to access your trunk.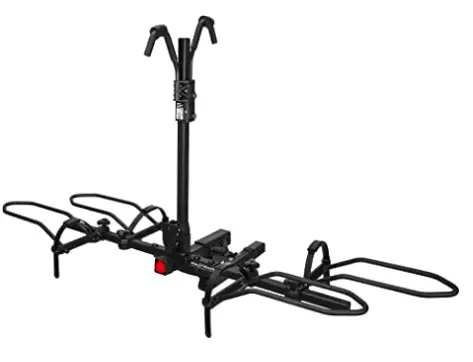 Another product from Hyperax, the Volt 2 (available on Amazon.com), is a black bike rack made from alloy steel. It measures 32.68 x 8.11 x 13 inches (83 x 21 x 33 cm) and weighs 33.5 pounds (15.2 kg). This rack has a 140 pound (63.5 kg) load capacity and can carry two 70 pound fat tire e-bikes.
The rack has adjustable wheel holders that can accommodate electric bikes of up to 58-inch (147.3 cm) wheelbase. The Hyperax Hitch Mount Bike Rack is designed to fit bikes with 5-inch (12.7 cm) tires, making it a great pick for your fat tire electric mountain bike. You can access your trunk by removing the safety pin and tilting the rack downward.
The bike rack features soft rubberized hooks that hold your e-bike's frame tightly in place, thereby preventing it from wobbling during travel. The velcro straps that grip your bike's wheels will also prevent them from moving unnecessarily when the car is in motion, while the dual key locks add an extra layer of safety for your electric bike. 
You can remove the rack from your car, fold it, and hang it on the wall using the included hook when not in use. These features are super convenient for an inexpensive e-bike rack.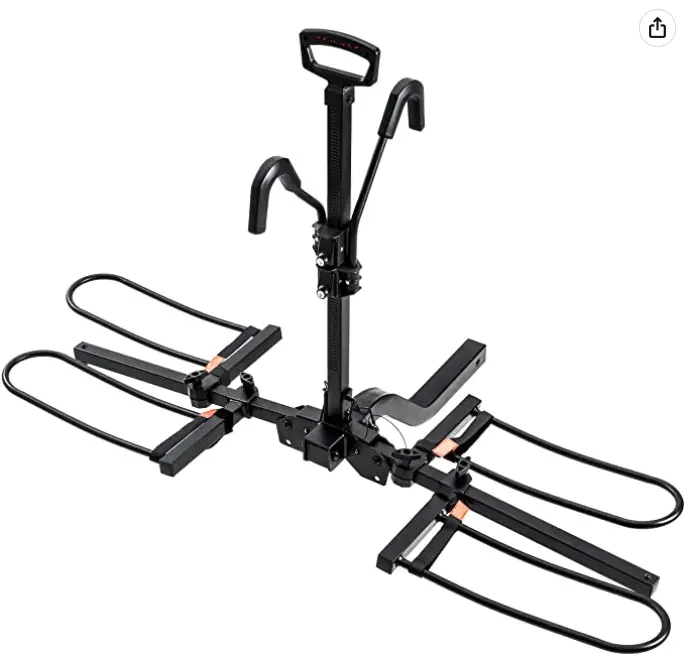 The KAC K1 (available on Amazon.com) is a 41.22 pound (19 kg) bike rack made from durable, heavy-duty powder-coated steel. It measures 33.23 x 63.66 x 37.64 inches (84 x 162 x 96 cm) and can carry two electric bikes, each up to 60 pounds (27.21 kg).
While you can only mount this rack on 1.25 inch (3.175 cm) hitches, you can adjust its wheel trays to fit up to 5-inch (12.7 cm) tires, meaning it can work well for your fat tire e-bike.  
The affordable bike rack features a safety strap that holds up to two fat tire e-bikes firmly, effectively eliminating the risk of your electric bikes falling off during transit. 
It also has a hitch lock and key to prevent your e-bike from wobbling as you travel. Its package comes with pre-assembled parts, necessary tools, and a manual to guide you through the assembly process.
One neat feature of this rack is the quick-release smart tilt lever that lets you remove the rack from your car while carrying e-bikes, which gives you better access to your trunk than tilting the rack. You can also fold the rack (when bikes are not loaded) if you don't want to remove it from your vehicle altogether.
The KAC K1 will safely hold your electric bike in place if you have a car with a 1.25 inch (3.175 cm) hitch, for around the same price as the other cheapest racks.
The WEIZE Hitch Bike Rack from Amazon is a 36.7 pound (17 kg) rack made from reinforced steel that can carry two electric bikes, each weighing 60 pounds (27.2 kg). It can also fit bikes with a wheel size of between 17 and 29 inches (43 and 74 cm) and a wheelbase of up to 63⅓ inches (161 cm).
This electric bike rack comes equipped with foam-padded hooks that hold your fat tire e-bike in place without scratching your car's paintwork. There is also a hitch tightener designed to keep your e-bikes from wobbling during travel. However, you can only mount the rack on a 2-inch (5.1 cm) hitch receiver.
Its wheel holders can also be adjusted to comfortably accommodate your e-bike's 5″ wide tires. The bike rack features an easy-to-remove tilting pin that allows you to access your trunk without any hassle. The tilting pin also makes it easy to load and unload your electric bike when needed. 
This rack comes with accessories like a hitch lock, hitch tightener, and a safety strap to secure your electric bikes in place.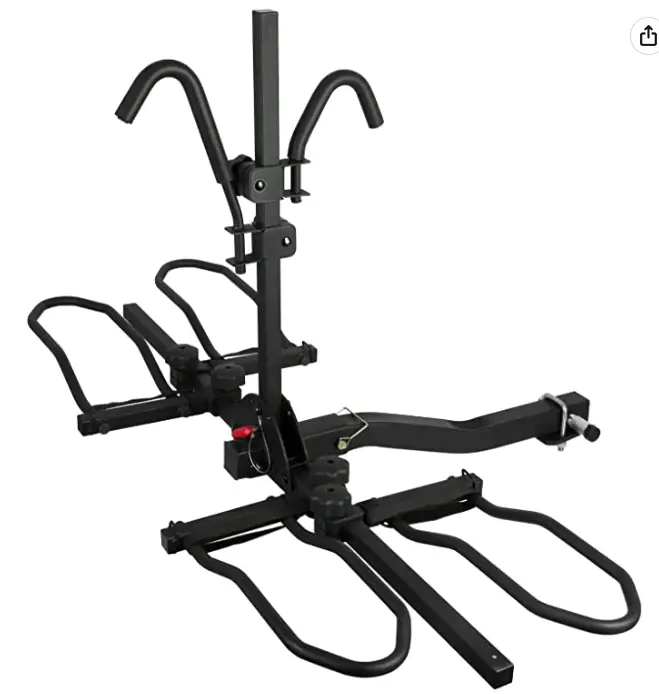 Factors To Consider When Choosing a Fat Tire E-Bike Rack
E-bikes have added components that make them heavier than other bikes, meaning they need a more robust rack to carry them. 
Here are some things to factor in before selecting a bike rack for your fat tire e-bike:
Number of Bikes
If you have multiple fat tire e-bikes, you can get a rack that accommodates multiple bikes. While most racks accommodate only two fat tire bikes, you can get some that can safely fit four fat bikes. 
Impressively, most racks that support several bikes can also be adjusted to carry fewer electric bikes if you don't need to utilize their full capacity. 
Maximum Individual Bike Weight Capacity
Every bike rack has a maximum weight limit that they can carry for a single bike. You should know your fat tire electric bike's exact weight and ensure it doesn't exceed the set weight limit.
Pro tip: If your fat tire electric bicycle happens to be heavier than the rack's weight capacity, you can remove its battery to reduce its weight to the recommended level.
Tongue Weight Capacity (TWC) of the Hitch
The TWC is the combined maximum weight from your bikes and the bike rack itself that your car hitch can carry. Exceeding this weight may break the hitch, which exposes your e-bikes to the risk of severe damage in the event it falls. 
Fat e-bikes are also much heavier than their standard bikes with thinner tires, which is exactly why you should be careful when choosing and loading hitch-mounted bike racks.  
Locks and Safety Features
Electric bikes are costly, and as such, are frequently targeted by thieves. Theft is especially a concern for e-bikes mounted on low-quality racks or when left unsupervised. 
Most racks have an integrated hitch lock that keep your e-bike secure, however, this doesn't mean you should leave your costly e-bikes unattended for long periods of time. You can also invest in a chain lock from Amazon for extra security.
Ease of Loading and Unloading
Since fat tire e-bikes are heavier than standard bikes, you need a rack that doesn't complicate the loading and unloading process. Compared to roof-mounted racks, hitch bike racks are great for loading and unloading since they're easily accessible. 
When choosing a hitch bike rack, it's best to go for products with advanced safety measures. The last thing you want is your e-bike to get stolen!
Your Budget Affects Rack Choice
There are various racks to carry bikes in the market. Most racks are either roof, trunk, or hitch-mounted. All these come at different prices depending on your specific needs. Premium features like motorized lift assistance will add to the total cost of an electric bike rack. 
However, if you're looking to purchase a bike rack on a budget, it's best to choose one that comes with basic features. Either way, avoid going for extremely cheap fat tire bike racks as they're made from low-quality materials and won't serve you long enough. 
The best hitch e-bike racks are here!
FAQs About E-Bike Racks
Choosing an e-bike rack can be a complicated process. Below I will address some of the most commonly asked questions surrounding e-bike racks.
Do E-Bike Racks Cost More Than Standard Bike Racks?
E-bike racks are more expensive than a standard bike carrier because they are designed to carry heavier loads. They're usually made from strong, high-quality material that can withstand great force, which often weighs more than lower quality material.
The price of an e-bike rack mostly depends on factors such as added security features and mounting components.
Can an E-Bike Damage Your Car?
E-bikes can damage your car if it is not mounted properly. If you firmly secure your bikes on your rack, they won't wobble and damage your car's paint job. The trick is to invest in a quality bike rack that can secure your fat tire electric bicycle firmly on the hitch or roof. 
Carrying e-bikes weighing more than the recommended weight increases the chances of falls during transit, which aside from damaging your fat tire e-bike(s), can also harm other motorists. 
What Racks Are Best for E-Bikes?
Hitch racks are the best for e-bikes because they are close to the ground and therefore easier to mount on your car. Typically, you'll want this special car bike rack for any type of electric bike.
A roof bike rack can also work if you don't mind lifting your e-bike when loading and are careful not to damage your car. However, trunk racks are not strong enough to hold the extra weight of fat tire e-bikes. 
Conclusion
When choosing your preferred e-bike rack, you should consider your specific needs and how the rack will serve you in the long run. E-bikes are heavier than regular bikes and will require more robust bike racks like hitch mounted racks.
While shopping for a rack, you must factor in your electric bike's weight and the tongue weight capacity of the hitch so that the bike doesn't fall off your car. 
Other factors to consider are ease of loading and unloading your e-bike, how many e-bikes you have, safety features of the rack, such as including a hitch lock, and your personal budget.