Electric bikes are a growing technological trend for an environmentally friendlier option to travel. If you want to travel a bit further than just down the road, consider taking your e-bike on a train for sustainable and multimodal transportation opportunities.
More often than not, you can take your electric bike on a train. However, there are restrictions depending on the train and location. Follow these 6 steps to take your electric bike on a train:
Call ahead to the train station.
Plan out your route.
Give yourself time to check in.
Purchase your train ticket and pay any e-bike fees.
Board the train.
Disembark from the train.
So, let's go through each of the six steps to taking electric bikes (including folding bikes) on a train in detail, either for travel or your daily commute. I'll walk you through the process so that you can confidently bring your e-bike wherever you go and don't end up getting stuck.
As a bonus, find out what to do when you reach your destination!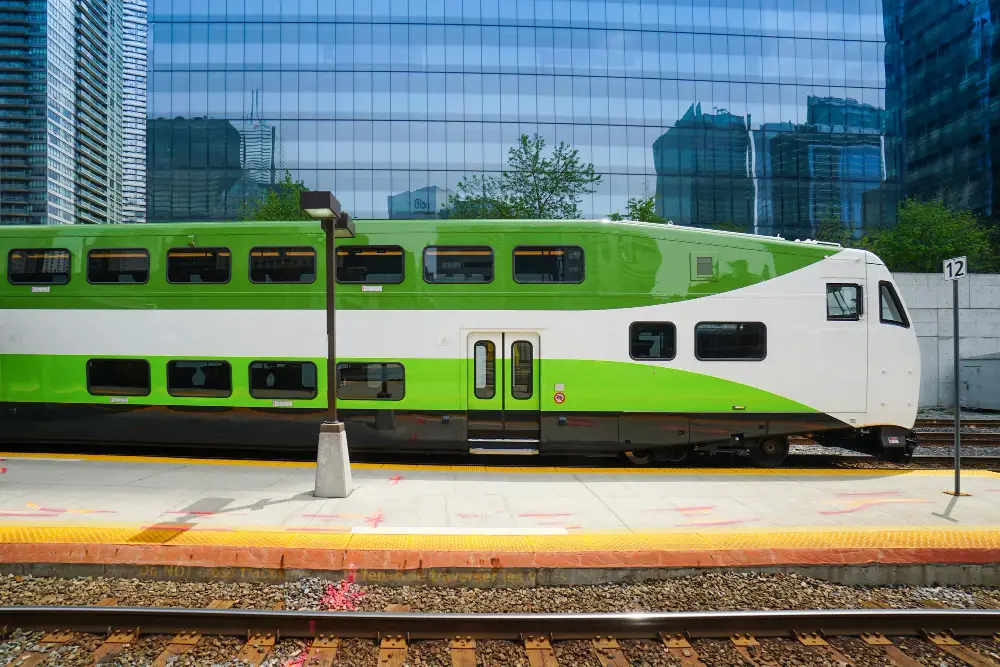 1. Call Ahead to the Train Station.
As part of planning your trip away from home, calling ahead to ensure you can bring your e-bike on a particular train is essential. 
You can check the train's website to see if they accommodate electric bikes, but it is best to call because rules and regulations can often change, and the website may not be up-to-date. 
If e-bikes are permitted, you will be able to find out the logistics, which may include the following:
There may be fees to bring your e-bike onboard.

There could be restrictions or requirements, such as the need for a permit or a reservation. For example, some trains don't allow regular bikes or e-bikes during rush hour or on days of the week. Many train stations have limits on how many bicycles are permitted onboard, and there is no guarantee that they can be accommodated on a return trip. Further, find out if they offer checked baggage service for your route and departure date.

Some trains may ask you to pack your electric bike inside a box or bag. If so, you will need to label it with your name and contact information. Amazon.com offers an Aophire Folding Bike Bag that holds 26-inch (66.04 mm) to 27.5-inch (69.85 mm) bicycles with the wheels and handlebar off. This heavy-duty bag promises strong shoulder straps and an accessory pocket for needed tools. It's best to keep the e-bike battery with you in this circumstance.

You might also be asked to remove the front wheel. This might be a good option because your e-bike will hang on a rack by its back wheel, staying out of the way of others. Just make sure your electric motor and components are safe from other bikes.

There may be a particular loading area for people to board with their electric folding bikes on local trains. Otherwise, you may need to store your e-bike on the mounted bike racks, usually located on the front of the train. If you do this, be sure to remove the battery to keep it safe from extreme temperatures and theft.

You should be able to lift your e-bike independently on and off the train or bike racks by yourself, so if you'll need to do this, make sure you can handle the weight of your e-bike. If the bike rack is on the front of the train, make sure you do not have anything on the bike that could block the driver's view.

Some train companies offer video and written directions on how to get your e-bike on and off the train. Make sure you watch and read these before your trip to have a smooth journey.
One last thing, don't forget to plan for any e-bike travel accessories you'll need to take with you!
2. Plan Out Your Route
While e-bikes can give you freedom on the road, you should plan out your route as you depart from the train station ahead of time, especially when traveling with your e-bike to a new place. It would be best if you also took note of any train transfers since your e-bike will also need to move from train to train when you do.
It may be helpful to avoid traveling with an e-bike during rush hour, mainly if your e-bike stays with you, to avoid congestion in the area. And, as mentioned above, it might not even be allowed.
3. Give Yourself Time To Check In
You should allocate an extra five to ten minutes to maneuver your bike through turnstiles, on stairs, on elevators, and amongst foot traffic in the train station. 
Often, the accessible turnstile can accommodate wheelchairs and e-bikes, or the staff may allow you to enter through a special access gate. 
If you plan a more extended trip or go to a large train station, you may need to consider more time, perhaps up to an hour before departure. If you have to pack up your electric bike, you will need time to cover it, box it up, or take the wheels and handlebars off, which would require more time to prepare. 
Most, if not all, train stations do not permit people to ride any kind of electric bicycle in the area. So, be prepared to walk in with your bike.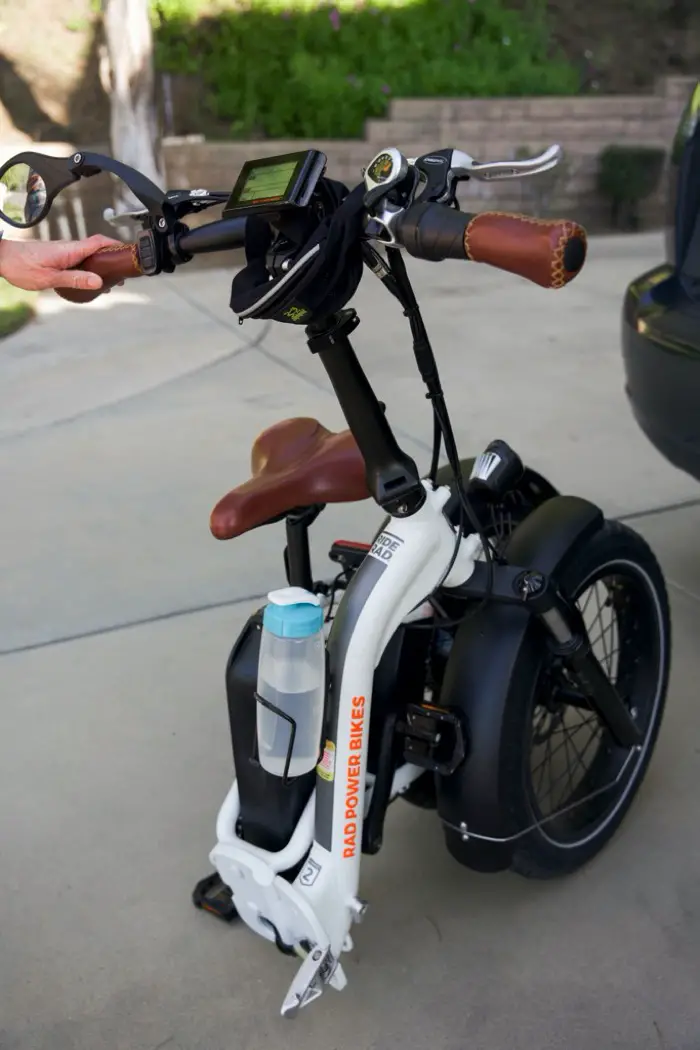 4. Purchase Your Train Ticket and Pay Any E-Bike Fees
After paying for your train ticket, you may wish to inquire at the information desk about where you can load your e-bike on a specific train. 
You also may need to purchase a bike pass or an additional ticket for your electric bike. That's because bikes take up space, and it's essential to keep the train from getting too crowded. 
It may be able to stay with you in a designated area. However, in other cases, you'll need to learn more about where to find a bike rack, bike storage area, or bike-accessible train car for the train you want to ride. 
5. Board the Train with Your E-Bike
If you can bring your e-bike onboard, both you and your bike should stand behind the boarding line while waiting for the train to come to a complete stop. Be considerate and let the other passengers without bikes load first. That way, you won't block traffic or bump anyone with your e-bike.
Keep your e-bike away from doors and aisles to keep exits clear in the event of an emergency.
During the ride, you should hold your electric bike securely in place. Some bicyclists will use a bungee cord to secure their bike to the lower part of a seat. Just keep in mind that electric bikes are a bit bulkier and heavier than traditional bikes.
This Cartman Bungee Cord from Amazon.com comes with a variety of 28 different sizes and lengths to help you find the right bungee cord for your needs. It also includes a motorcycle net, which can help secure a helmet to the e-bike.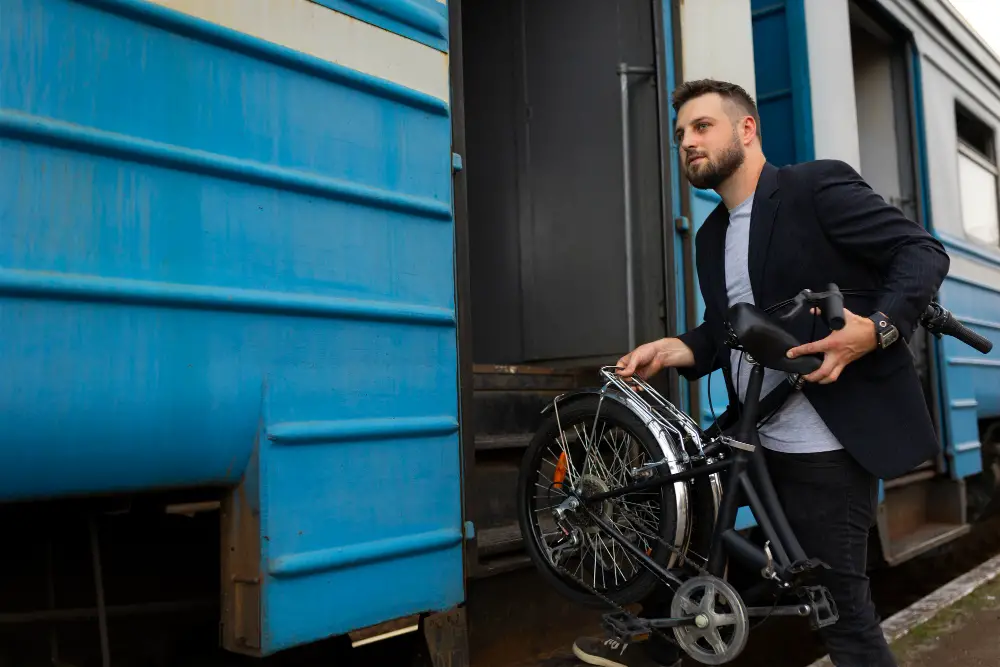 6. Disembark From the Train
When the train arrives at your destination, let the other passengers go before you when you get off the train. If you don't have your e-bike with you, follow the station's directions to reclaim it.
Then, you can exit the train station with your electric bicycle by following the exit signs. You may need to haul your bike upstairs (even if it's not a folding bicycle) or take it on an elevator ride, so be ready to navigate the station. 
If you are removing your e-bike from the bike rack on the front of the train, make sure the train driver knows you are there. Again, it would be best to lift it off the rack independently without help from a conductor. However, there are usually conductors and staff on-hand if you have any difficulties.
Rules for Taking Your E-Bike on an Amtrak Train
National train companies like Amtrak have their own set of rules, as often these are long-distance trains. Electric bicycles under 50 lbs are generally allowed on an Amtrak train. But ask ahead as to whether you will need to store them in checked baggage or if your train has a walk-on bicycle service.
Additional rules and considerations include:
Electric bicycles specifically designed as folding bikes must not be larger than 34″ x 15″ x 48″ (860 x 380 x 1120 mm) and can be designated as carry-on luggage in a passenger car.

Fat tire bikes are unlikely to fit in the onboard bike racks, as most only allow tires up to 2″.

You're required to remove all e-bike accessories, including panniers, basgs, and baskets, as these can be a safety hazard.

Make sure to arrive at least 30 to 45 minutes before departure, and even earlier if you're traveling during peak hours. This will also be advantageous to you when there may be limited luggage space!

Gas-powered motorized bicycles are not allowed on any train.

Ride Around Your Destination (Here's how to get help!)
The location where you arrive may have bike lanes for you to ride in safely, and you can also navigate the area with some helpful apps.
Consider downloading an app, such as Bike Citizens, available on the App Store or Google Play. This app can assist you in picking routes for leisurely, convenient, or fast routes, making bicycling routes safer. However, if you need an internet connection to use your app, download the map material before taking your trip.
Another helpful app might be Citymapper, which can help you plan your entire trip with estimated arrival times so that you can arrive and depart from the train station on time. This app can search all transit modes, including subway, ferry, bike, and bus, with step-by-step directions for your routes.
Citymapper is currently available in big U.S. cities such as New York City, Chicago, Washington D.C., Los Angeles, and more. This app is available on iOS and Android devices, and you can download it from the App Store or Google Play.
Conclusion
Taking your electric folding bicycle or larger-sized bikes on a train isn't too challenging if you know how to navigate it. Always call ahead the first time you arrive at the station with your electric bike and ask station workers how to take it on the train with you. Be sure to specify that you have an electric bike, as rules may be different than for standard bicycles.
Be sure to plan ahead, too, since some trains may not accommodate bikes at all, or you may have to put your e-bike on luggage racks or in a storage area that you're not comfortable with.