As an e-bike rider, you have needs above and beyond a regular bike rider. E-Bikes are faster, more stylish, and ridden for many reasons, including commuting or just having fun!
If you want to have more fun riding your electric bike, you can improve your riding comfort and enjoyment with these really cool e-bike accessories that include:
Stylish Helmets
Action Photography and Video Equipment
Technology Gear and Accessories
Essential Riding Gear
Cargo and Storage Essentials
E-Bike Bling
I've put together a list of the best electric bike accessories for adult men and women who want to kick up their cycling adventure a notch. Discover the coolest bike gear that suits e-bike riders who want to have fun, whether it be on a daily commute, a trip to the market, or a long recreational ride on the best trails.
Check out all 18 of these bike accessories right here…
Stylish Helmets
Just because a helmet is essential to safety doesn't mean it has to be standard and boring. So, take a look at these high-quality safety helmets for both men and women.
Coolest E-Bike Helmet for Men
The Thousand Heritage bike helmet is a unique helmet that's not only fun but is also functional. The Heritage has a minimalist urban biker design inspired by vintage motorcycle helmets.
The Thousand Heritage helmet has high-end features including a one-hand magnetic buckle, a secret "poplock" for securely storing it with your e-bike, and three adult sizes with an adjustable fit system. The Thousand Heritage bike helmet is also available in over a dozen different colors. You can even personalize your helmet with a monogram.
This helmet will have you looking like you're ready to hop on and ride into the sunset.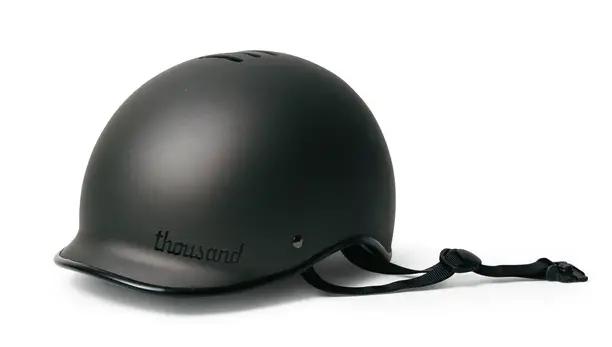 Stylish Ladies E-Bike Helmet
Good news ladies! You can ride an e-bike, protect your head, and look stylish doing it. Nutcase Helmets has a huge line of unique helmets to fit your personal style. Choose from three different collections, with your choice of colors, delicate flowers, cool stripes, polka dots, and scenery designs.
Thankfully, you won't be giving up safety and function for style, however. And each helmet from the Vio and Adult collections has MIPS protection and is dual certified, not to mention that all of their electric bike helmets are made with either a strong polycarbonate shell or ABS, a durable and versatile plastic.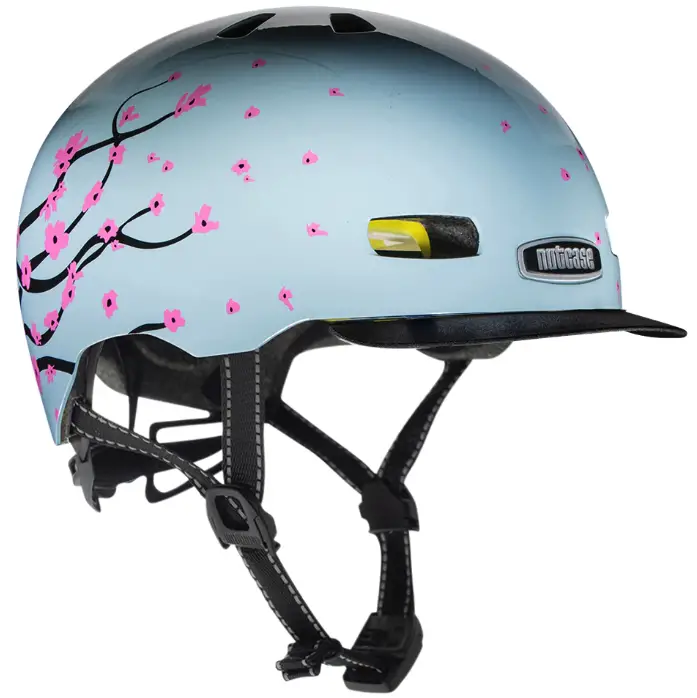 Plus, don't miss out on personalizing your bike helmet with reflective helmet stickers from Thousand Helmets.
Action Photography and Video Equipment
What's an adventure without equipment to capture it?! Riding your electric bike fast doesn't give you an option to slam on your brakes and record video when there's something to see. Instead, just mount a camera to your e-bike and capture it all as you go. This will make a huge difference in your cycling experience.
Action Camera
Never miss capturing another moment of excitement on your ride. The REMALI CaptureCam shoots in 4K with an extra-wide angle lens of 170 degrees. Get every action shot on video or 12MP photos in single shots or cluster shots. There's even an automatic timer that lets you get selfies from up to 30 feet away. Connect to the mobile app with wifi to control all of the action.
One of the reasons this is one of the best electric bike accessories is the price. For under $100, you can get the camera, carrying case, batteries and charger, remote control, and 21 mounts and other accessories. It's a must-have for any adventure.
Technology Gear and Accessories
If you own an electric bike, you're likely interested in other technology that will make your ride time even more exciting. Check out the extra gear and cool accessories to help you do just that.
Bike Mirror Camera
Better than a basic rearview mirror, the Antook 1080P Bike Mirror Camera (Amazon) lets you see what's behind you at every turn of the wheel. With regular mirrors placed on the side of your e-bike, you have to glance over to one side… and you can only see what's coming on that side.
With clear day and night vision and a 130-degree viewing angle, you can see what's directly behind you and what's coming on either side, helping you to relax and enjoy your electric bike ride.
It's rechargeable, with the battery charge lasting up to 5-6 hours. However, since you have an electric bike, you can wire it into your existing lithium battery with the help of a local bike shop technician.
Earbuds
Not only can earbuds make your ride more fun, but they can also protect your delicate ear canals from the cold wind. The Skullcandy Push Active Wireless Sport Earbuds from REI do more than just let you listen to your favorite music for up to 44 hours between charges.
Although they let you quickly tap them to activate, the greatest thing about them is that they also include hands-free voice activation that let you control your audio instantly, without removing your hands from your e-bike's handlebars. You can use your voice to activate your favorite music, take a selfie with your phone, or share music with a friend.
And they're perfect for active e-bike riding for fitness thanks to being sweat and water-resistant and reviewers say they're super comfortable and have excellent sound quality (which you need when you're riding against the wind.
Just make sure they don't cancel out all noise and keep your music or entertainment volume low enough to hear emergency vehicles and traffic.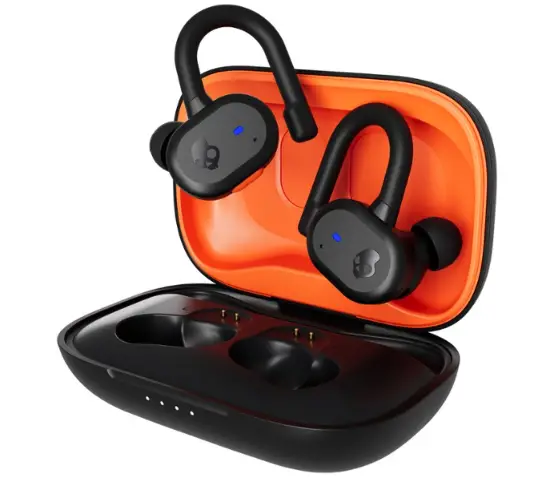 Headlight
If your electric bike didn't come with a headlight, you probably shouldn't be riding at night. You can probably find a headlight from the bike manufacturer. But, if you want something easy to clamp on with a cool Retro vintage look, then this battery-powered headlight will do the trick.
The GOODKSSOP Retro Bike Headlight is a battery-operated LED light with a cool vintage style. Just add 3 AAA batteries, lock it onto your e-bike, and you're good to go. No fussing with wiring it into your e-bike's electrical system. It has a special lens for optimal brightness and can even be used as a flashlight when needed.
Essential Riding Gear
Taking a leisurely stroll around the park on a regular bike just isn't the same experience on an electric bicycle. With your e-bike motor assisting you, you can go as fast and as far as you want (well, sort of). And, since you'll be riding your e-bike faster and going longer distances, there are a few things you need to stay comfortable.
Although they are recommended gear, you can still choose some really awesome designs. Check them out.
Neck Gaitor
If you've never heard of a neck gaiter, it's probably because you've never ridden against the icy wind at 20mph on your electric bike. Here's the perfect selection of neck gaiters and what you need to know about them.
These amazing neck gaiters on Amazon are made from a soft, breathable microfiber that stretches to comfortably fit your face. Without any irritating sewn-in edges, you can smoothly pull it up from around your neck and over your nose and mouth to protect you from cold or dry wind or harmful sun rays.
Or you can use them in other ways including as a head wrap, face mask, beanie, headband, and more. These are good for men and women, providing many designs to choose from (see just one example in the image below). Plus, you get 6 pieces in any design you choose.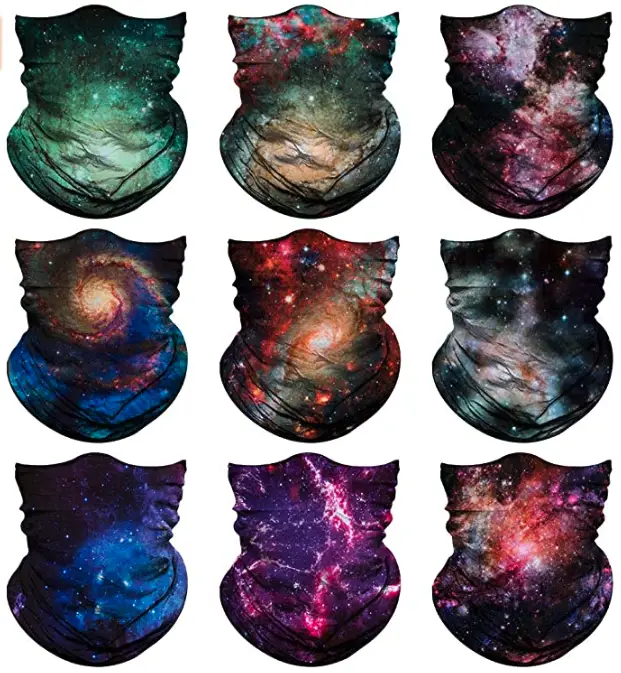 Waterbottle
Having a water bottle with you when you ride is a no-brainer, but it can liven up your ride when you have multiple bright colors to choose from. The ZORRI Sports Water Bottle comes in 4 different sizes and 9 cool colors. But it's more than just pretty to look at. It has a filter, one-click pop-top, and a secure lockable lid that prevents leaks.
Best of all, it's BPA-Free and doesn't leave a plastic taste in your mouth.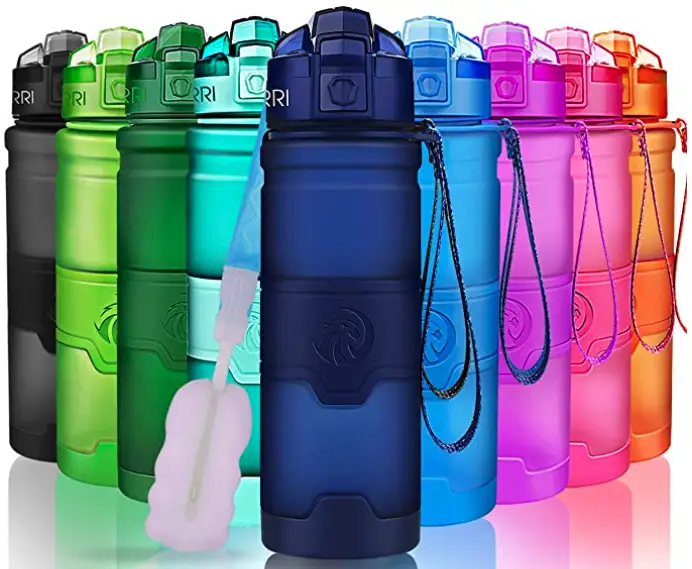 Coffee Cup Holder
You don't have to choose a morning bike ride over your essential cup of coffee. Take your coffee with you in the MIZATTO Bike Cup Holder (2 pack from Amazon).
Keep your 12oz to 32oz coffee mug warm with a layer of PEVA thermal insulation. Or keep your water bottle or other beverage cool. With easy velcro strap installation on your e-bike's handlebars, it'll hold your mug tightly thanks to the drawstring straps at the top.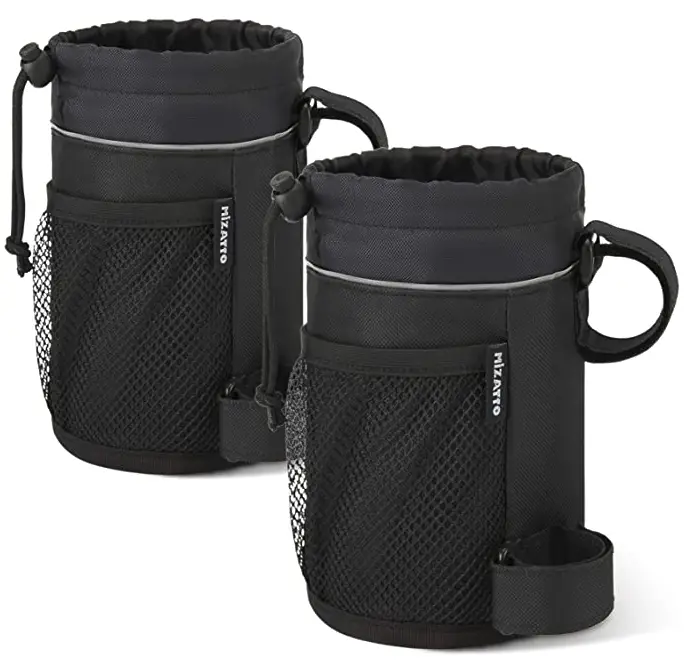 Bicycle Wine Rack
The Oopsmark Bicycle Wine Rack on Amazon is a one-of-a-kind idea. Just strap it on to your e-bike frame and take it to the park or a friend's house.
Handmade from leather, it uses antique-looking brass fasteners and holds bottles of 2.5″ – 3.25″ (6.4cm – 8.3cm) in diameter. The downside is that it only attaches to frames up to 1.5″ thick, which might be a problem for many heavier e-bike frames.
If this is a problem for your bike, you might rather use a basket on your rear rack to tote your wine and other beverages. Okay, so this wine holder is really more of a cool idea than an essential one, depending on who you ask. And you'll still need to figure out how to carry the wine glasses.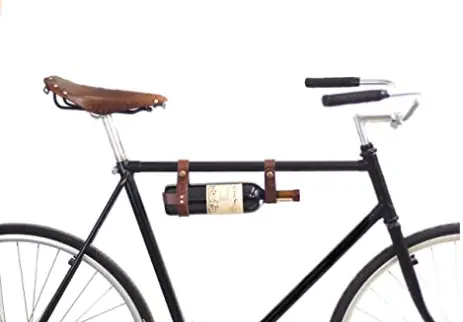 Stylish Riding Glasses
You don't have to be a pro cyclist to want to look cool and protect your eyes from UV light and wind with wrap-designed glasses.
These Tifosi Optics Unisex Davos bike riding glasses on Amazon come with 3 interchangeable lenses: two colored composite lenses and one non-polarized. So, you can ride day and night. Plus, choose from other colors and options.
E-Bike Bling
Whether or not you're a serious rider, when you want to have a little fun and get noticed, you can bling up your e-bike with these colorful and cool electric bike accessories. You might also want to hint to your friends and family that they make perfect gifts for electric bike owners.
Best Bike Bells
You might not have thought about using a boring bike bell to add bling to your e-bike. But, these bike bell styles from Nutcase are certainly not boring.
The Nutcase bike bells offer a classic bicycle bell look but a choice of almost three dozen designs. From goofy faces to animals, fruits, and ones you just have to see for yourself, you're sure to find one(or several) just right for your electric bike. The design below has a matching helmet (seen previously in this article).
Portable Air Compressor with Powerbank
Check out the CYCPLUS electric tire inflator that's small enough to take with you everywhere! Easily put it in your gear bag or pannier or put it in a tall pocket.
This mini pump has a big output of 150PSI, allowing you to fill electric bike fat tires in an emergency or anytime.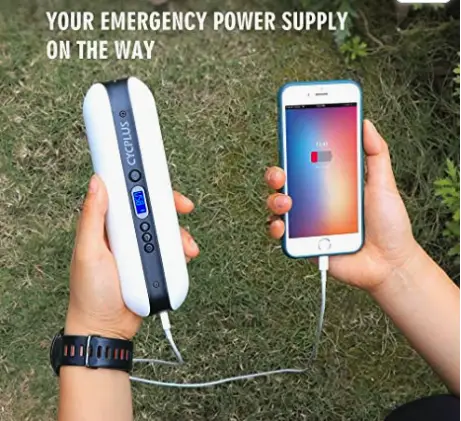 Handlebar Grips
Even handlebars can use some bling. Check out these colorful handlebar grips from Rad Power Bikes. So, not only are they made of rubber to help you hold your grip, but they're also ergonomically designed to make riding your e-bike comfortable for long distances.
HINT: The green grips even match the gnome fenders mentioned above.
Wheel lights
Add some front and rear wheel lights to your electric bike and you'll get noticed! Amazon has a huge selection of cool wheel lights and spoke lights. Pick from one color, multi-color, and spoke designs, many for under $20!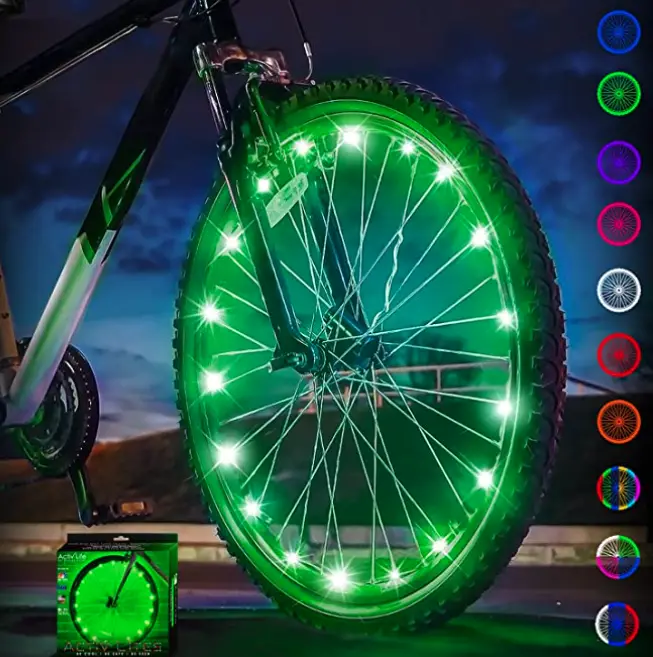 Cargo and Storage Essentials
No matter whether you want a cute basket or modern crate on your e-bike rack, the options are endless. But here are two of the best storage accessories to meet either specification:
E-Bike Baskets
How often do you see a bike basket on an e-bike's rear rack? This adorable rattan basket was specially designed to fit a rear bike rack and look cool doing so. The Nantucket Tuckernuck rear storage basket is perfect for picking up groceries or holding riding gear.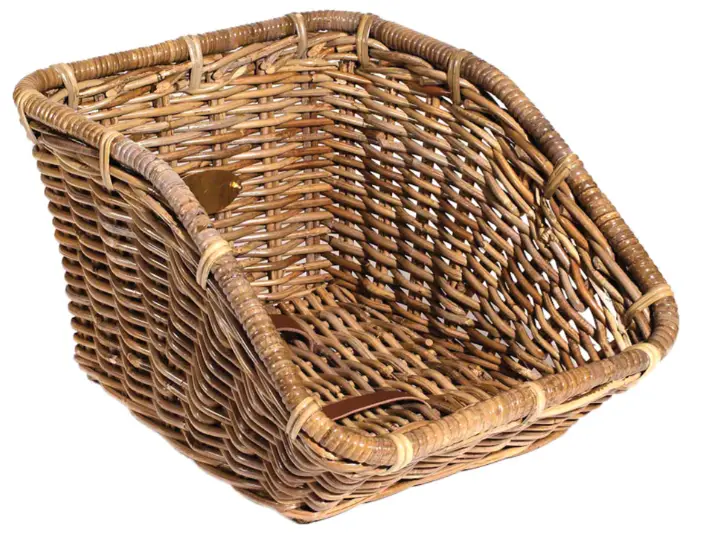 Handlebar Bike Bags
If you need a small and stylish bag to ride on quick trips, the Po Campo Kinga Handlebar Bag is perfect. It comes in two solid colors, a bright blue and black, and a fun, tropical pattern. Plus, it has lots of small pockets and zippered sections, so it can easily fit your phone, keys, earbuds, and more.
You'll find multiple ways to attach it to your electric bike while it doubles as a small purse when it's not on your bike. Further, it's waterproof and reflective!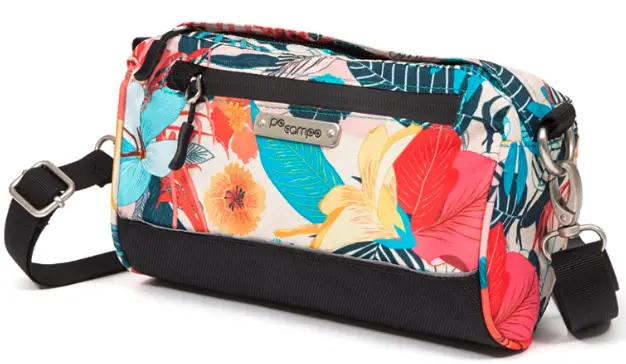 Pannier Bag
Need a lot of rear storage for your e-bike? The TOURBON Double Cycling Bike Bicycle Pannier Bag on Amazon not only looks cool but provides ample space for groceries, travel gear, tools, food, books, and more. Further, because it's made of water-resistant canvas, it rolls up easily when not in use and converts to an over-the-shoulder bag when you get off your electric bike. Take a look: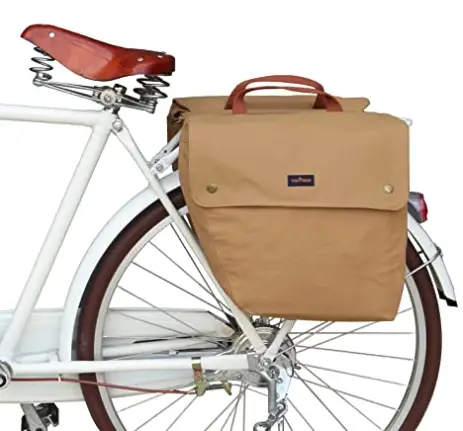 Summary
Electric bikes are great for getting around town, but they can be even more fun with a few cool accessories that make riding more comfortable and enjoyable. These aren't your standard bike necessities but rather ones that will enhance the time spent riding… and perhaps get you a little attention as well.