Electric bikes are enjoyable and useful. They add a powerful electrical punch to boost human pedaling power so it's easier to cycle through rugged terrains. Lectric and Ecotric bikes are two popular electric bike brands, but choosing between them can be tricky. 
In general, Lectric e-bikes are faster than Ecotric bikes, have better batteries, and are better suited for mixed and rough terrains. However, Ecotric bikes start at lower prices, have a variety of models, and have other similarities with Lectric bikes including some models that fold and have fat tires.
Although many factors go into choosing the best electric bike, it's helpful to make a side-by-side comparison of similar models. In this article, I'll tell you all you need to know about Lectric and Ecotric e-bikes. I'll weigh out all the pros and cons and help you discover which brand has the best option for you.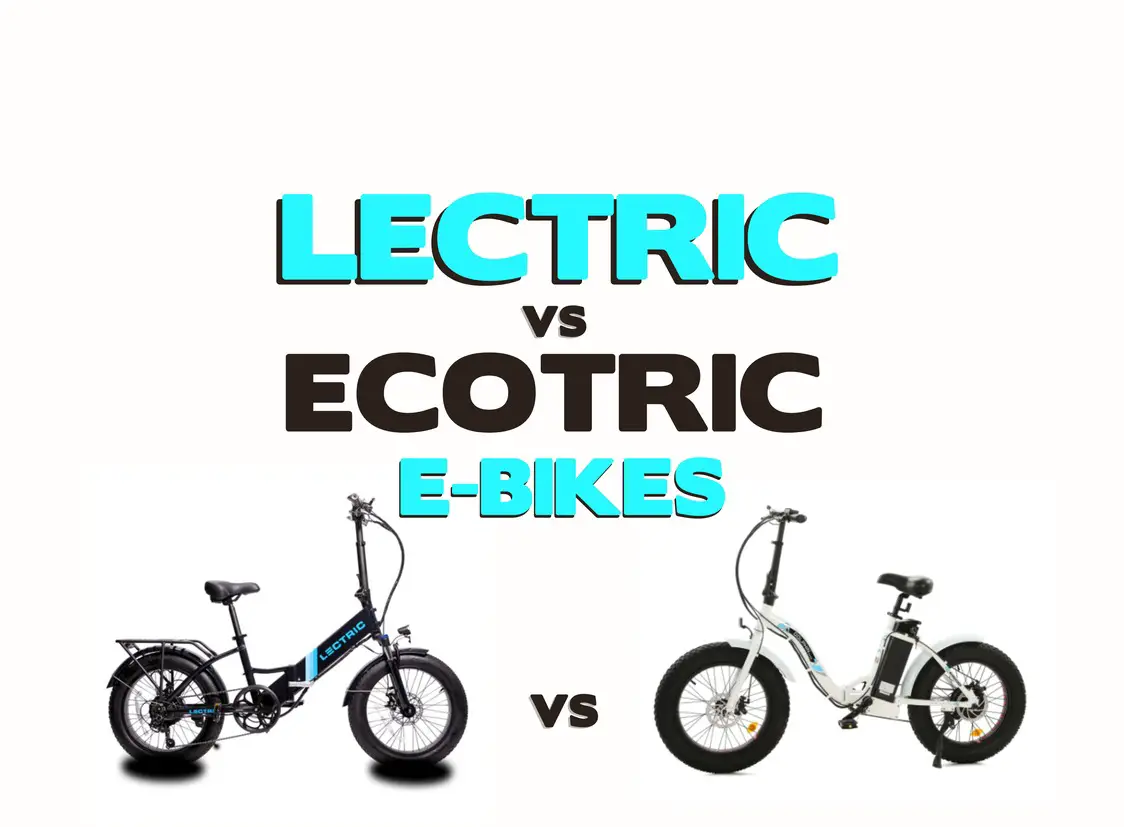 Lectric vs. Ecotric Electric Bike Motors
A suitable motor means more speed and power for the roughest terrains. When coupled with a good, high-performance battery, an e-bike will transform your cycling experience. So, let's compare the Lectric XP 2.0 with an Ecotric electric bike with similar specs and price. 
The Ecotric Dolphin Electric Bike (step-thru) features a 500W rear hub motor attached to the rear of the wheel, with a powerful battery connected to the bicycle's frame. 
The comparable Lectric XP 2.0 Step–Thru features a 500W motor located on the rear wheel with a maximum output of 850 watts at a peak. With this kind of power, you can be sure that the balance between torque and speed is impressive. Besides, the 500W motor already meets the legal 750W limit in the US. 
So, the Lectric has a more powerful motor that will get you where you need to go with plenty of force for that steep hill.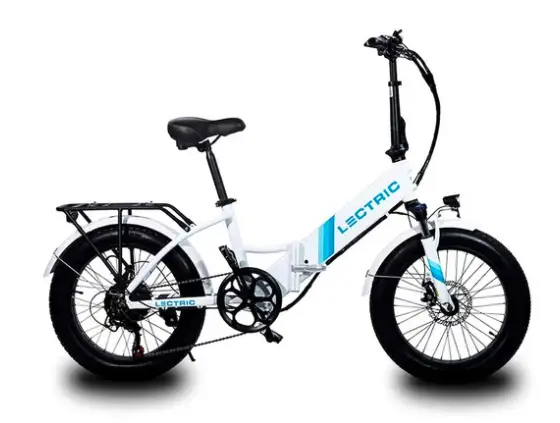 Are Lectric E-Bikes Faster Than Ecotric E-Bikes?
The maximum speed achieved by electric bikes is something you want to look for when getting one. So, if you are looking for a commuter e-bike to get from point A to point B in just a few minutes, you will need a high-speed one.
Lectric e-bikes are faster than Ecotric electric bikes at maximum speed. Lectric bikes have a top motor-assisted speed of 28 mph (45 km/h), while an Ecotric bike can reach only about 20 mph (32.2 km/h). Your weight, the terrain, and the pedal assist mode in use will impact the actual speed. 
In general, here's what to expect from low pedal assist use in both e-bikes: 
Lectric Bike: 11-12.4 mph (18-20 km/h) 
Ecotric Bike: 9.3-11 mph (15-18 km/h)
That's assuming you're only going to use the lower electric assist levels for most of your ride, which will help you reach the maximum range.
Electric & Manual Modes
Electric bikes typically come with 3, 5, or more pedal assist levels, depending on the brand. The classification of your e-bike can also determine how much speed you get. 
The Lectric comes fixed on Class 2 mode with a top speed smashing 20 miles per hour (32 km/h) when going fully electric with its twist throttle. But if you use the highest pedal assist level, it transforms into a Class 3 with a maximum speed limit of about 28 miles per hour (45 km/h). 
The Ecotric electric bike has a speed limit of 20 miles per hour (32 km/h) both on throttle only and pedal assists modes. More power drawn from the battery makes pedaling effortless as the electric motor powers up every kick. 
However, we can safely conclude that the Lectric XP is faster than the Ecotric, both in pedal-assist and full-throttle modes. 
Using 100% electric shifts all the work to the rear hub motor and requires little to no pedaling. To go manual, switch to the pedal-only mode and turn your e-bike into a regular bike. You won't need any electricity to power your bike in this mode. You just pedal through. 
So, no matter what brand you go with, I recommend trying out different levels of assistance for the best performance. After all, the power drawn from your battery won't suffice to take your e-bike to its highest speed, nor will the manual mode. So, why not join the forces?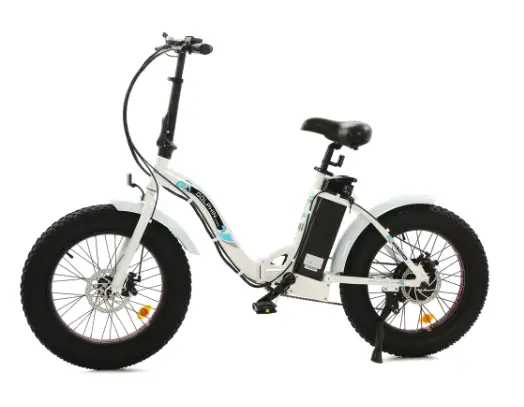 Ecotric vs Lectric Batteries
It's improbable that you'll find lead-acid batteries in your e-bike. The sheer amount of corrosive liquid – not to mention the massive size – would simply ruin the design. Instead, most e-bikes use powerful lithium batteries that happen to be lightweight and have a longer life span. 
The Ecotric Dolphin electric folding bike has a 36-volt, 12.5 Ah (450Wh) lithium-ion battery weighing about 7 pounds. It takes around 6-8 hours to charge fully, with the battery living between 400-600 cycles. The battery can take you 40-45 miles (64-72 km) in pedal mode and 15-25 miles (14-40 km) in pure throttle assisted, depending on the terrain and the rider's weight. 
On the other hand, the Lectric XP 2.0 has a 48-volt, 9.6 Ah battery. In theory, this means that the Lectric moves faster than the Ecotric dolphin. A 48V battery supplies more current to the moving elements, giving your e-bike the chance to pick up speed more quickly than its counterpart. 
Lectric bikes also use Lithium-ion batteries and take around 4-6 hours to charge. They can cover 45 miles (72 km) on a single charge given the same conditions, terrain, weather, and weight. 
The Lectric bike has an integrated battery giving it an excellent exterior design. The battery fits nicely in its enclosure, safer and more challenging for thieves to access. The Ecotric dolphin battery is on the outside, but you can lock it in place and remove it quickly when the need arises. 
The lithium-ion batteries from both electric bikes can last as long as 3000 cycles if cared for properly. 
So, the Lectric bike has the upper hand in battery efficiency, aesthetics, and power. 
Lectric vs Ecotric E-Bike Terrains
Last on the list is the suitable terrains. Not all e-bikes are created equal. Some claim to be all-terrain (which I believe is just another gimmick), while others admit to being the best performers on various types of terrain, e.g., best e-bikes for sand.
The factors that affect how well your ebike performs on specific terrains (bumpy, hilly, grass-covered, slippery, and mountain trails) are: 
Battery power 
Wheel sizes 
Suspension system 
Gears 
Both the Lectric and Ecotric Dolphin are a fat tire e-bike… and both claim to be suitable for all terrains. But Lectric has a big advantage when it comes to bumpy rides. It features a suspension seat that absorbs shock on rocky roads, meaning it's more comfortable than a standard e-bike. 
On the other hand, the Ecotric dolphin e-lacks a suspension seat. 
Both electric bicycles have 20 by 4-inch (51 by 10-centimeter) fat tires, which help with shock absorption and stability. 
Lectric XP 2.0 also features a 5 PAS gear which gives you various options to choose from on off-road rides compared to the Ecotric dolphin bike, which has a 3 level pedal assist system. In case you didn't know, these gears can impact the level of comfort and performance when taking on mixed terrains. 
The Ecotric dolphin works better on smoother roads since it lacks significant shock absorption properties. On the other hand, the Lectric folding e-bike is better for mixed terrain thanks to its bouncy seat, gear options, and robust electric motor.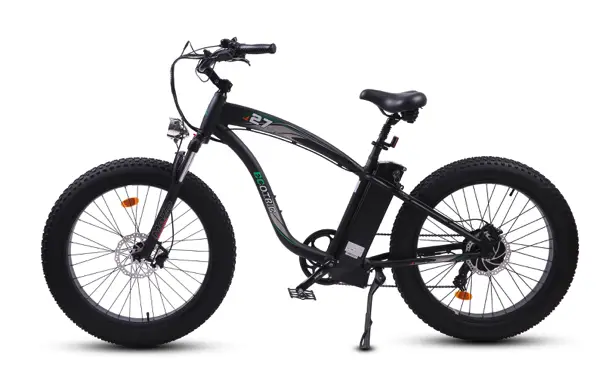 Lectric or Ecotric: Which Electric Bike Should You Buy?
The best e-bike for you will differ depending on how much you want to ride it and where you want to ride it. Are you looking for a high-speed bike to get you to different locations faster? Or do you need an all-terrain electric bike? It's all about what you want, your tastes, and preferences. 
You should buy a Lectric e-bike if you want a versatile electric bike that you can take off-road and up steep hills. However, Ecotric e-bikes are best for street biking and require less maintenance. 
Here are a few pros and cons for a quick comparison of these two e-bike brands: 
Great design (battery hidden inside)
Excellent battery performance 
Highly durable motor (lasts for more than a year) 
Faster and safer than several e-bikes on the market 
Inexpensive
Lectric E-Bike Cons
Requires regular maintenance (especially if riding off-road)
Battery and motor are prone to technical issues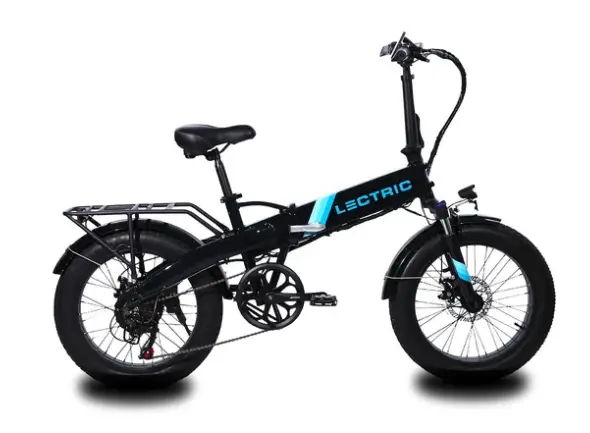 Excellent design 
High-performance, long-lasting battery 
It does not require frequent maintenance checks 
Multiple models to choose from
Affordable (multiple price points based on model)
Ecotric E-Bike Cons
Motor life could be better (may require annual replacements depending on use) 
It may take longer to charge fully 
Some models not suitable for steep hills
Not satisfactory for rocky terrain
Both the Lectric XP 2.0 and Ecotric dolphin electric bikes are worth it. You can get them at affordable prices compared to other e-bikes, below $1000 each. 
However, if you are looking for a mixed-terrain bike, the Lectric bike is better than the Ecotric dolphin bike. Lectric's e-bikes are also faster than their Ecotric counterparts, making them ideal commuter bikes. 
Still, Ecotric has more variety, including full-size bikes, on their product lists. Ecotric models include: 
Lectric e-bikes options include the Lectric XP 2.0 black and the Lectric XP step-through 2.0 in white and black. 
According to reviews and forum discussions, there isn't much maintenance required for an Ecotric electric bike. All the parts are easy to install. On the other hand, Lectric e-bikes require some general maintenance, lubrication, and repairs once every three months to keep them running smoothly, which increases your e-bike maintenance costs. 
Electric Bike Maintenance Tips
If you want your e-bike to last a long time, then you should follow these maintenance tips: 
Last but not least, don't forget about the laws in your state. Some rules apply to electric bikes, especially if you live in a state that requires registration or a license for your e-bike. The regulations will vary from state to state, so it's best to check with your local authorities before purchasing one. 
Final Thoughts
The Lectric XP 2.0 is a great choice for an e-bike under $1000. Lectric e-bikes are faster, durable, and better for mixed and rough terrain than their counterpart the Ecotric Dolphin. However, Ecotric e-bikes offer a great variety of models, and they still have long-range batteries and plenty of electric power. So, they're a good choice for people who want their e-bikes for pleasure riding, street travel, or light off-roading.
You might also like to compare other brands: