Electric bikes are getting better and better these days, and there are several e-bike brands that stand out from the rest. Two such brands are Focus and Giant. When considering which one is best, these two brands are top contenders. But when compared, who makes the better ride?
In general, Giant e-bikes are more powerful while Focus e-bikes have a better range. Focus electric bikes give more value for money and have more models to choose from. Giant electric bikes are well made and built by an established brand. When compared, both brands have a great selection of high-quality bikes with unique features.
No matter how you look at it, both Focus Bikes and Giant produce world-class electric bikes. But there are many considerations to make when comparing them to determine which one will make the better ride for you.
Keep reading to discover which brand and e-bike is right for you. First, I'll compare Giant and Focus electric bike brands and models and then look at which one is the best brand of an e-bike for you.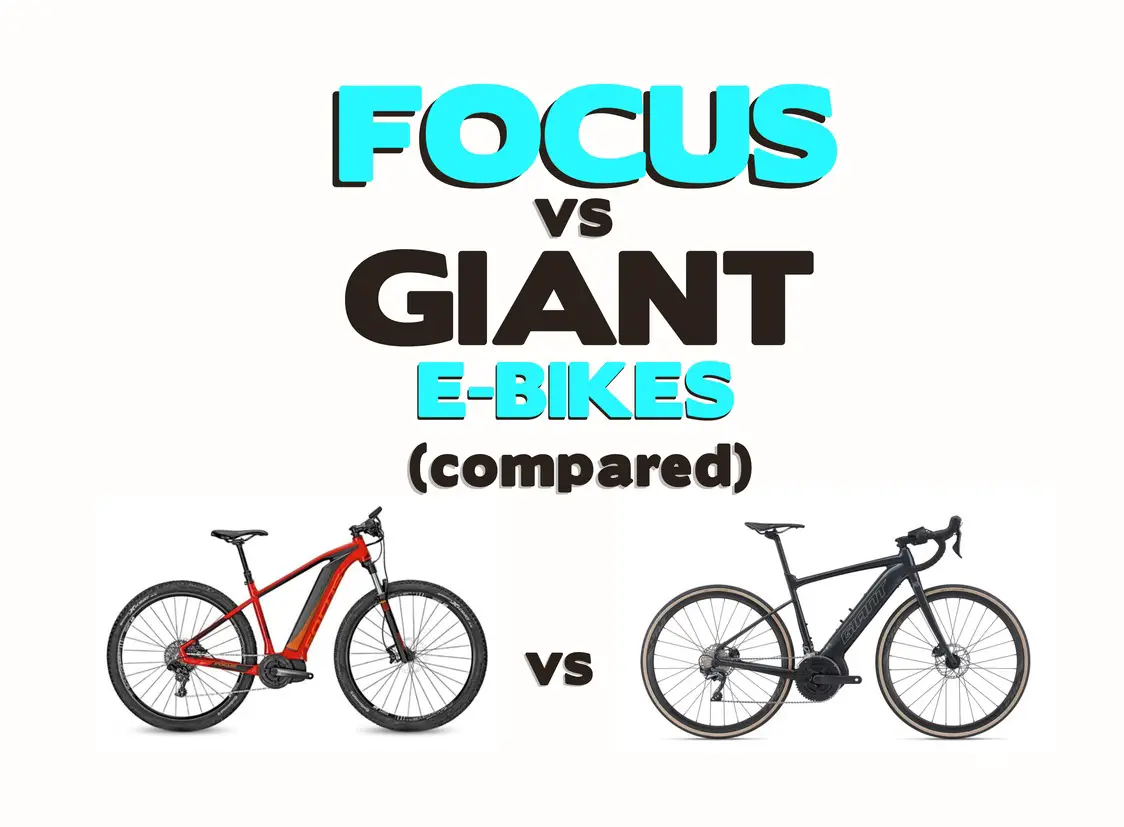 Focus E-Bikes Types and Models (Reviewed)
Focus has a wide range of the best electric bikes available. This brand produces many different types of e-bikes with various features, designed for different roads and environments and sold at various price points.
Although Focus produces some of the best e-bikes in the world, they specialize in e-mountain bikes (e-MTB).
The types of Focus e-bikes include:
Full-suspension mountain
Hardtail mountain
Road
All-round (hybrids)
Road and gravel
Here are the types and models you need to know about: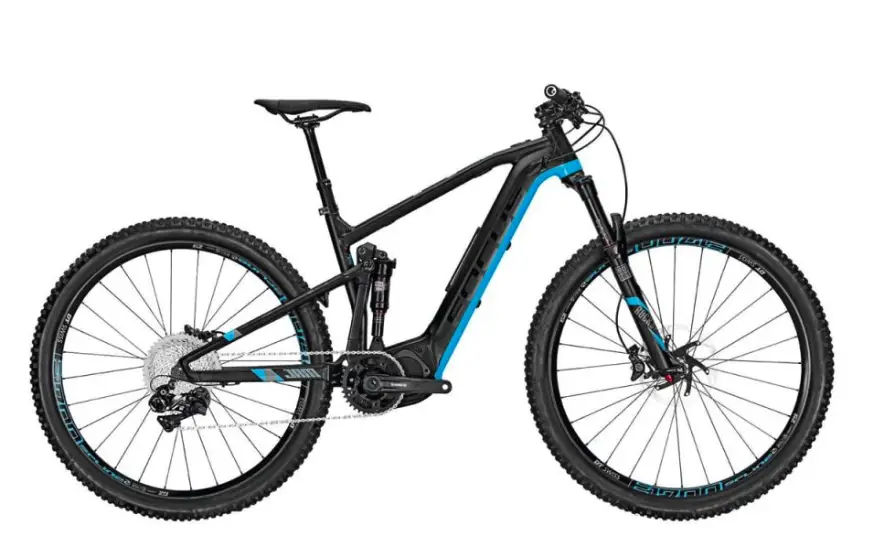 The range of eMTBs produced by Focus is quite extensive. The models are separated into two categories: Full-suspension and hardtail bikes.
The Focus full-suspension electric mountain bike range includes:
Thron2 – a genuine trail and tours bike with optional features. This bike features Focus' 130mm F.O.L.D full suspension system, 29" wheels, and the 625Wh Bosch Performance CX e-drive system.
Jam2 – an all-mountain electric bike that is equipped with 150mm full Focus F.O.L.D suspension, 29" wheels, and a choice of either the Bosch CX 625Wh or Shimano EP8 756W e-drive systems.
Focus Sam2 – the new e-enduro features 170mm full F.O.L.D suspension, 29" wheels with variable geometry and size settings due to the Focus Flip Chip, and the Bosch Performance CX 625Wh e-drive system.
The Focus hardtail range of e-mountain bikes includes:
Raven2 – an incredibly light bike with a 100mm suspension fork, 29" wheels, removable Fazua motor, and battery unit. This bike holds the course record at the Transalp Route.
Jarifa2 – a hardtail touring bike with a 100mm suspension fork, 29" or 27.5" wheels that come in sizes S and XS, optional rack, mudguards, light, and stand. And it has a Bosch Performance CX e-drive in either 625Wh or 1125Wh and is equipped with an extra battery for a longer cycling range.
There's only one electric road bike offering from Focus Bikes, but it's worth taking a look at!
Paraline2
This electric bike is designed for endurance rides. It's rugged yet designed with a racing geometry. Plus, it has a Fazua motor/battery unit that can be uncoupled from the drive system and comes equipped with the Focus Road-Boost Standard quick-release axles, disc brakes, 35mm tire clearance, and mudguards.
Focus manufactures two all-around e-bikes as well. These hybrid bikes are the Aventura2 and the Planet2.
Aventura2 – this one is designed for e-bike trekking but is as fast as a racing bike. It's built with endurance bike geometry and is equipped with the same Road-Boost Standard kit as the Paraline2 and a removable Fazua motor/battery unit.
Planet2 – Made to be an everyday e-bike for city use and commuting, it's equipped with mudguards, a light, a stand, and rails. It's available in both wave and diamond frame shapes and is equipped with the Bosch Performance CX 625Wh e-drive system.
Focus manufactures a good selection of road and gravel e-bikes that are designed to be as versatile as possible.
These include:
Izalco Max – this electric bike is designed for racing and is set up to apply all power directly to the road. It's built with Aero race geometry, lightweight carbon materials, and disc brakes with thru-axles.
Atlas – designed to be a fast gravel bike for adventuring and bike backpacking, this electric bike is built with endurance geometry, has a large tire clearance of up to 47mm, and has disc brakes. It can handle sand and loose particles on the road with ease.
Mares – this e-bike is ideal for cyclocross races and is built with cyclocross geometry. The Mares is tough and designed to handle harsh environments such as snow, mud, and rain. It is also equipped with disc brakes and quick-release axles.
Giant E-Bike Types and Models (Reviewed)
Giant is a manufacturer of regular bikes as well as electric bikes, which means that their range of offerings is not as extensive as the Focus brand.
However, Giant brand bikes are among the best in the industry, and there is still a good selection to choose from, including electric road bikes, gravel bikes, and electric mountain bikes.
Generally, these bikes are of good quality and are quite reliable. This is why Giant is recommended as a trustworthy brand by many ebike riders.
Below is a more in-depth inspection of the range of bikes made by Giant: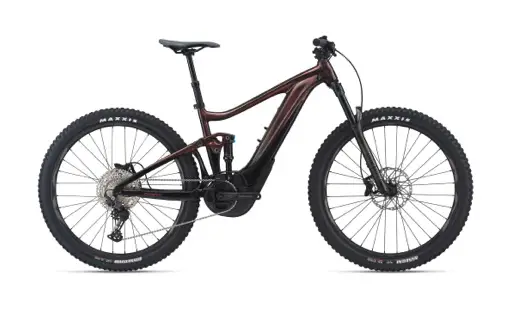 Giant Road E-Bikes
There is only one bicycle on the list of electric road bikes made by Giant, as their primary focus is on e-MTB's (but you'll also find a hybrid road bike further below).
Roam E+ – the Roam E+ is made for increasing performance. And it's built with a lightweight aluminum frame, a composite for the current Giant SyncDrive Pro motor system, and a high energy density 400Wh EnergyPak Smart battery.
Electric Mountain Bikes by Giant
There are several models of Giant e-mountain bikes available. Since they're known for building excellent bikes for mountain biking, let's take a closer look at the range of models offered, most with full suspension:
Trance X E+ Pro 29 – this intense bike is designed for serious riders who want electric assistance. It features maximum control functionality with variable settings. This bike features 29" wheels, 140mm rear suspension, 150mm front suspension, and an aluminum progressive geometry frame in addition to a 625Wh battery and the Giant SyncDrive Pro e-drive system.
Talon E+ 29 – this e-MTB is very lightweight and features a durable Giant SyncDrive Core motor system that is quieter than other Giant motors. It has a 100mm suspension fork, an aluminum frame, and a 500Wh battery.
Stance E+ Pro – this is the real deal e-Mtb. They're perfectly designed for technical riding, both climbing and descending. Further, the Stance has a trail-friendly frame geometry, 120mm rear suspension, 130mm front suspension, 29" wheels, electric drive motor power, and a 625Wh battery.
Trance Advanced – this is a full-suspension mountain e-bike with hybrid cycling technology featuring 150mm suspension, a high-performance electric drive motor, an aluminum frame with an integrated battery pack, and advanced suspension forks.
Giant Road and Gravel E-Bikes
This is another of Giant's categories that only consists of one bike, but it has a dual function and can therefore be considered an electric hybrid (or all-round).
Revolt E+ Pro – this electric road and gravel bike is designed for city streets and gravel roads. It's equipped with versatile drop-bars, an aluminum frameset, a Yamaha SyncDrive motor, and a 375Wh battery with an optional extender that is integrated into the frame.
This is the best option from Giant for those seeking an all-rounder, or hybrid e-bike.
Are Focus or Giant E-Bikes Better? (Compared)
There really isn't a straightforward answer to this question. Instead, it's necessary to compare them.
Neither Focus Bikes nor Giant Bikes are better than the other. But they each provide benefits that some electric bike riders will prefer over others.
When comparing e-bikes, the most important features to consider are:
Type you need: Road, mountain, or electric hybrid
Quality of bike frame, motor, and battery
Electric motor performance
Battery watt hours, available range, and maximum power
Rideability
Reliability
Features
Price and value for your money
How the Focus and Giant Brands Measure Up
Giant is a more established, well-renowned brand than Focus. However, Focus Bikes produces electric bikes exclusively, so you could argue that they're a specialty brand. This means that Focus is able to apply all of their time and effort into making the best electric bike possible.
Regardless, both brands are industry-leading companies and produce high-end bikes of many varieties. But there are a few defining features that set these brands apart, and there are some considerations to make when comparing them.
Overall, Giant just has more experience manufacturing a regular bike in general, whilst Focus Bikes has greater experience building an electric bike.
Noted Features and Quality Comparison
Whether you prefer Giant or a Focus as a brand will depend a lot on your intended use. Are you interested in riding one primarily for commuting, recreation, or for exercise and sport? Are you a casual bike rider or a more serious, athletic one?
The defining features of Giant's electric motorbikes are the SyncDrive motors that they are equipped with and the EnergyPak batteries that all of their bikes use. 
Since their motors are made by Yamaha, which is notorious for producing excellent electric motors with plenty of torque, Giant brand bikes tend to attract more serious cyclists.
The EnergyPak batteries made by Giant are very good as well. These batteries have a lower capacity than other batteries of the same size, but they are of higher density. This means that the rider gets more power and range from a smaller battery, allowing the batteries to be built into the frame of every bike.
Focus e-bikes feature high-quality Bosch power and drive systems that are known for their quality, range, power, and sophistication. These Bosch motors produce substantial power and efficient battery management, making them high quality and intelligent (in an artificial intelligence sense).
But the battery range is really what makes them stand out… they can get up to 127 miles on one charge!
So, even discerning buyers should be happy with their purchase of a Focus e-bike.
Overall, the design of both bikes is up to industry standards. Plus, there are electric bikes made by both brands to suit every rider and their unique requirements.
Price Comparison
Focus is able to produce motorized bikes that perform at the same level as the biggest brands while costing significantly less. This is the main attraction for Focus Bikes – they offer a big value for the money.
With prices ranging from around $2200 to $7500, Focus gives you a huge range of choices for your money, including bikes in the lower price range.
Giant Bikes, on the other hand, start at a slightly higher price of $2700 and go up to around $6300. So, you'll have to pay a bit more for their lower-end (but still high-quality) bikes. This might make you a more serious rider if you're willing to spend more money on the lower-end models than you would on a Focus brand e-bike.
Focus vs. Giant E-Bikes (Who Makes The Best Ride?)
Electric bikes made by Giant are known in the industry for their reliability, motor strength and range capabilities, reliability, and wide range of features.
In comparison, Focus Bikes are well known for having excellent value for the money, unique design features, toughness, and a very good battery range.
These factors make both Giant and Focus tough contenders when directly comparing models.
When these brands are compared and reviewed by professionals, there tends to be a consensus that Giant e-bikes are the better option if you have the budget for them.
The motors and drive systems in Giant's electric bikes are specifically made for the models produced by the company, rather than using a standard drive that is used by many other manufacturers. This means that the drive systems in a Giant electric bike are the best systems for their models… thus, a recipe to be the best ride.
This is not to say that Focus bikes are bad, but only that the motor drive systems in Giant bikes are a little better.
With that being said, many riders confirm that riding a Focus electric bike is a joy to ride and excellent for the price. These bikes are tough and nimble. And the wide variety of models available from Focus means this company produces an e-bicycle that is perfect for every type of rider.
Conclusion 
At the end of it, you won't be disappointed if you choose to ride a Focus or Giant electric bike. Both companies make some of the best electric road bikes, electric hybrid bikes, and motorized mountain bikes.
Whether you're into mountain biking, climbing hills, trail riding, city commuting, or just want to enjoy riding, both brands produce excellent offers.
If you have the budget for it, you'll get a little more from Giant e-bikes. This is only because they have better electric drive systems than Focus.
Ultimately, the most important comparisons to make are how each e-bike performs, how reliable and sturdy it is, what it's like to ride, and how much it costs to buy.
In order to really determine which one is best for you, take the time to try both brands and as many different types and models as possible. Then base your decision on your personal preferences, requirements, and budget.
You might also like to compare these brands: