If you're looking for a commuter electric bike or fun recreational riding, the affordable KBO Breeze electric bike is worth considering.
In this KBO bike review, you'll discover the pros and cons of the Breeze e-bike and what you need to know to decide if this is the best electric bike for you.
Check out its performance and notes from my testing and review.
Pros of the KBO Breeze
The KBO Breeze has up to a 55-mile range that allows most commuters and recreational riders to get from point A to point B and back again, without having to recharge!
After riding about 25 miles, I lost only about 1 ½ battery bars on the display. But, keep in mind that I rode these miles primarily on levels 1 and 2, using minimal throttle except during testing.
And even with a larger battery capacity, it only takes 5 hours to fully charge. This allows for a pretty quick turnaround time.
Another pro of the KBO Breeze is its integrated LED headlight AND rear brake light. As an electric bike commuter, you don't ever want to be caught in the dark! 

Then KBO added full metal fenders and a rear rack. These, combined with the integrated lights and larger battery, give you everything you need for your daily ride.
And, as a bonus to an ebike in this price range, the KBO Breeze is pretty comfortable. You'll enjoy the ergonomic handlebar grips and sit upright on an adjustable saddle built to reduce bumpy riding.
Plus, the Step-Thru Breeze is easy to get on and off without swinging your leg up and over. And any cargo you carry won't get in your way.

The Breeze also has a sizeable payload capacity of 300 lbs, a twist throttle that went well over 20 mph during testing, a front suspension fork, an easy-to-read backlit LCD display, and some free accessories.

And, finally, in my opinion, it's a beautiful ebike! The white step-thru looks really sleek but the energetic bright orange is a lot of fun as an option.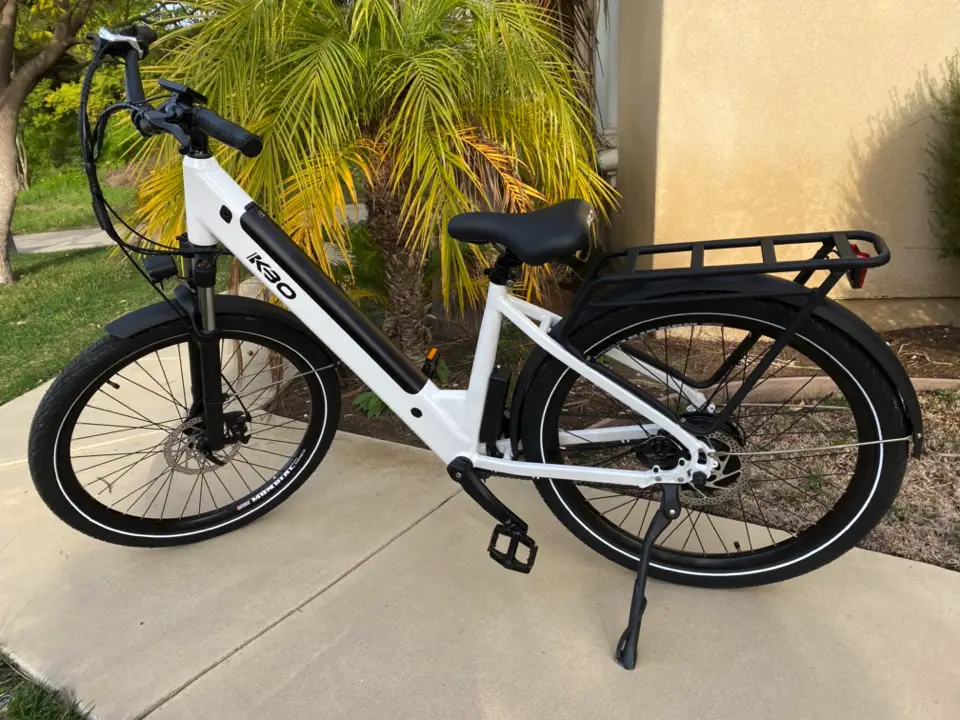 Cons of the KBO Breeze
At 62 lbs, it still weighs a little more than you might like for a commuter electric bike. It won't be super easy to carry upstairs or hang for storage.

And, since it doesn't fold, taking it on a train or bus won't happen easily. 

Another possible disadvantage to the Breeze e-bike? Unfortunately, when it comes to the step-through model, you may not be able to ride comfortably if you're much shorter than 5 feet 2 inches or taller than 6 feet 3 inches. However, the KBO Breeze step-over model will accommodate slightly taller riders.

At around 5'1″ tall, I can just fit comfortably on the Breeze. However, your comfort has a lot to do with how long your arms and legs are, as well as other factors (make sure to see measurement info below).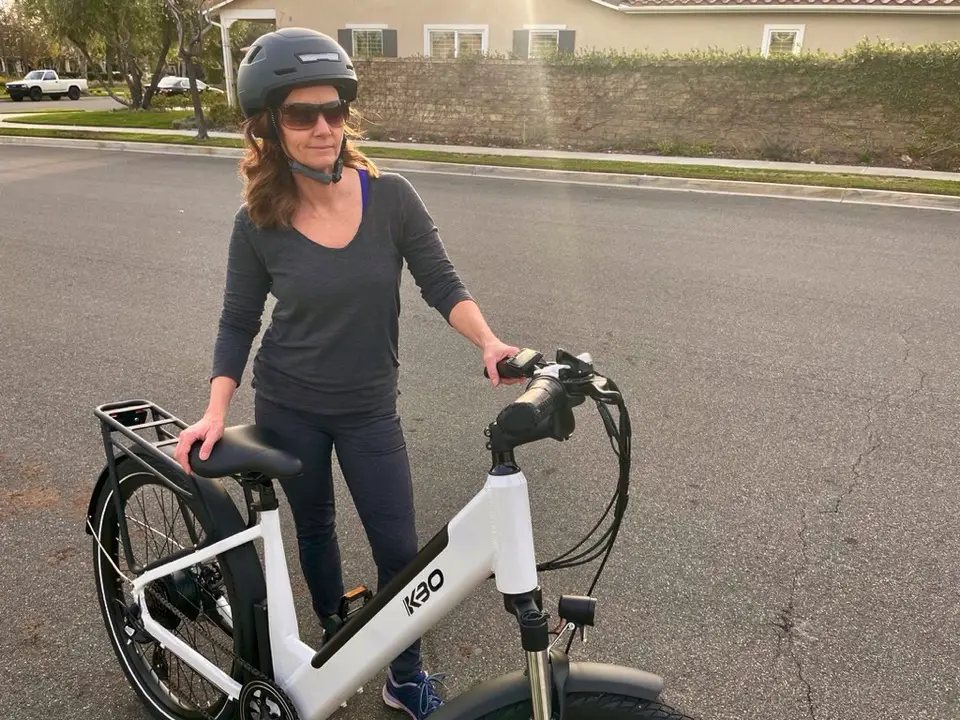 KBO Breeze Review: Overview
For a commuter electric bike under $1500, most of what you get with this ebike can be expected. 
For instance, the KBO Breeze has a sustained motor of 500 Watts with a peak of 750 Watts. You'll get moving plenty fast and ride a steep hill easily, as I did.
Additionally, there are 5 pedal assist levels, 7-speed gears, tall 2.4-inch wide puncture-resistant tires, and mechanical disc brakes.
But here's where I see that KBO went beyond the standard:
The removable, integrated, 16 Amp hour battery. With it, you can ride 10-15 miles further than many ebikes at similar prices and quality. Frankly, this can make a huge difference in the value of a commuter ebike.
Please note: KBO provided the Breeze electric bike for independent review and testing. They don't tell me what to say or do. Instead, my opinions and comments are based solely on my evaluation, test rides, and experience.
First Test Ride & First Impressions
My first ride on the KBO Breeze was well, literally, a breeze! As you can see above in the pros and cons section, there are only a few potential cons. I took off fast, changed gears, increased pedal assist, throttled, and braked easily.
Plus, I noticed how fast the 27.5″ tall tires took me as compared to smaller 20″ or 26″ tires.
The only slight technical difficulty was that the front fender rubbed against the tire a bit. I adjusted it easily (this may have been my error during installation).
KBO Breeze Review: Performance and Specifications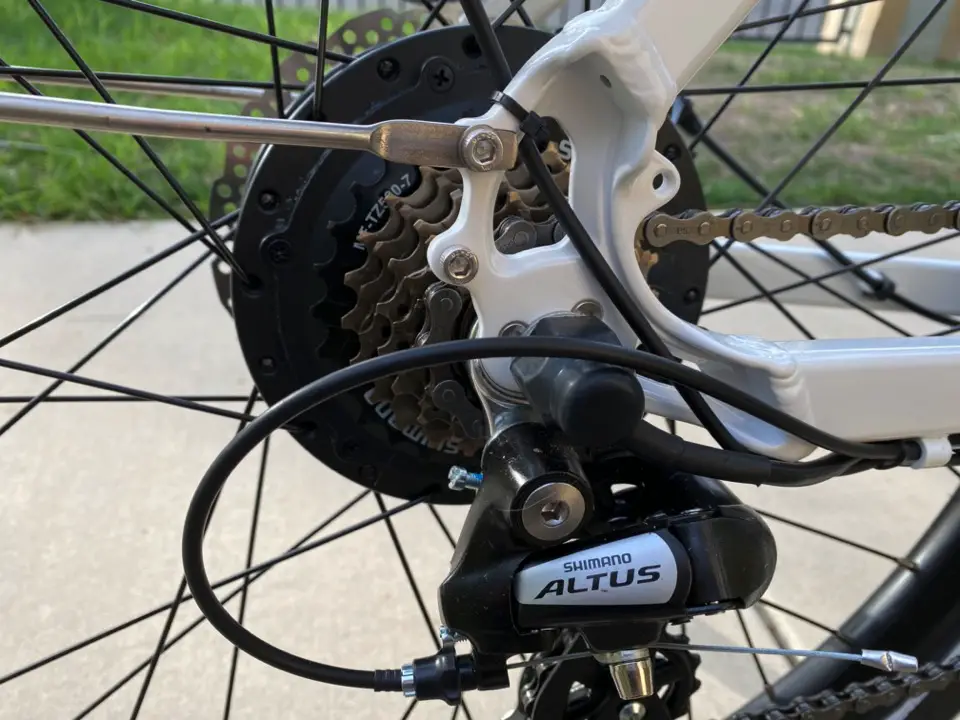 Read the review notes in the table below for the most important information and check out the review notes for each.
| | | |
| --- | --- | --- |
| Performance | Components | Review Notes |
| Motor | 500W Sustained Geared Hub Motor (750W peak) | A plenty powerful motor for commuting and riding for pleasure |
| Battery | 48V 16Ah Lithium-ion | Large battery capacity for its price point; sleek frame integration |
| Range | 30-55 miles | Better than average for an e-bike in this price range (you can get a range with 10-15 more miles than is typical) |
| Brakes | 180mm Mechanical disc brakes | Smooth, capable stopping & easy to dismount e-bike while braking |
| Fork | Front suspension with 80mm travel, preload adjustment, and lockout | It's a definite bonus to get a front suspension fork on an e-bike at this price! I was able to comfortably ride over loose gravel. |
| Derailleur & Drivetrain (Gear Shifts) | Shimano 7-speed gears | Easy-to-change gears and smooth-shifting transitions |
| Display & Controller | LCD Backlit display and 48 Volts, 18 Amp controller | Basic functions are easy and intuitive and it's easy to read |
| Tires | 27.5″ x 2.4″ | Provide a smooth, comfortable ride |
| Throttle | Twist Throttle | Easily punches up your speed to 20mph + |
| Sensor | Cadence Sensor | Appropriately sensitive |
Motor
As commuter e-bikes go, I found the KBO Breeze to take off plenty fast. Although it has a 500W sustained brushless hub motor, it peaks at 750 watts, giving a healthy speed increase when needed.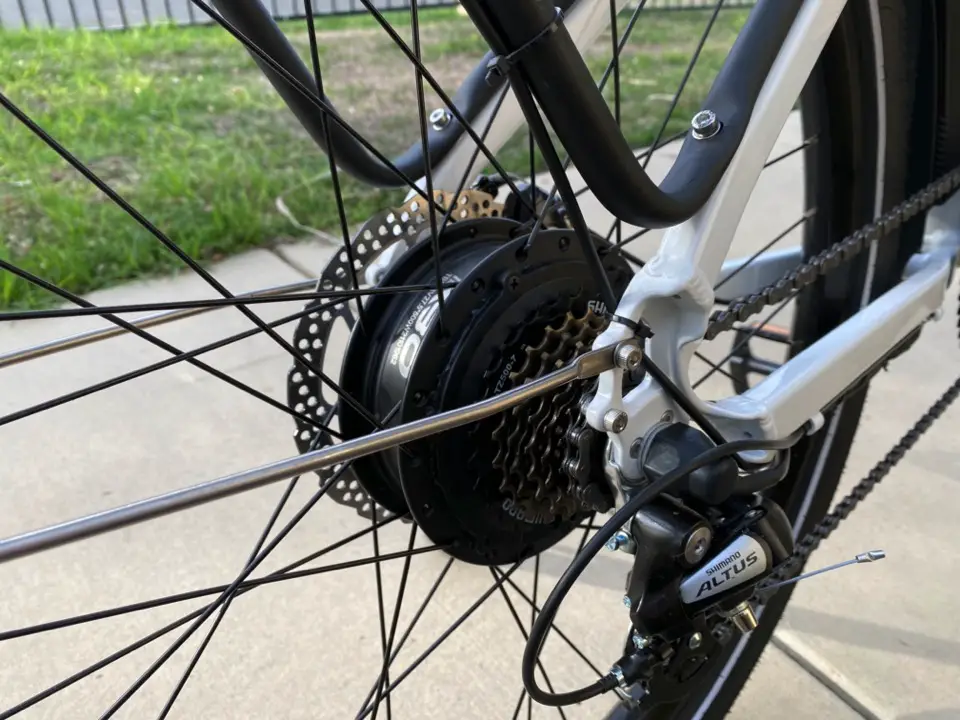 Battery & Range
As I've already mentioned, finding a similarly priced, quality electric bike that gives you up to 55 miles may be hard. The battery range and overall battery life are above average for a single-battery commuter e-bike.
Plus, even though it has good size battery, it only takes around 5 hours to fully charge.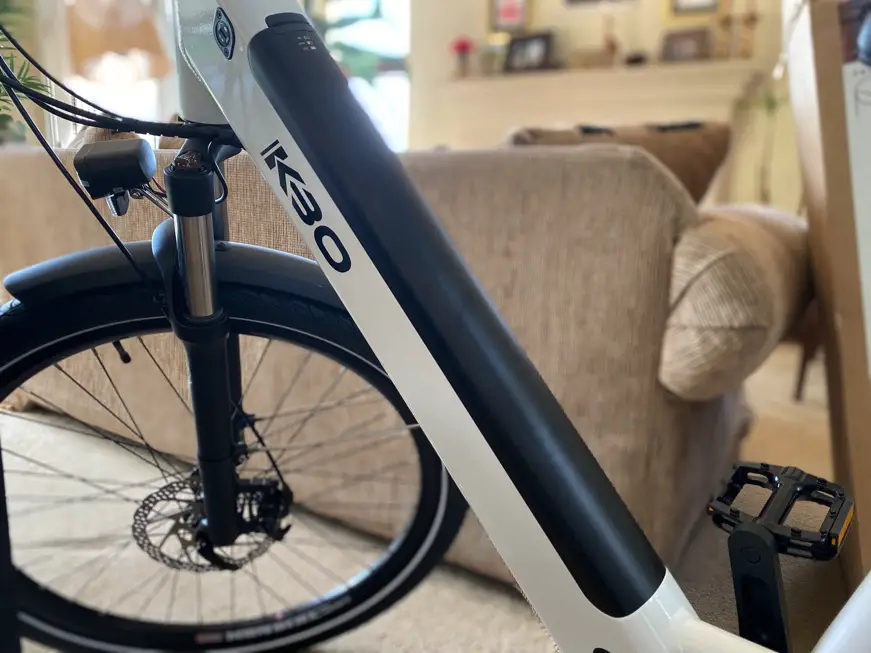 Pedal Assist and Throttle
With five pedal assist levels and a throttle that takes you just over the maximum 20mph speed, there is nothing to complain about here. I felt particularly confident about getting up the steep hills in my area. The KBO Breeze is a bike that doesn't sweat!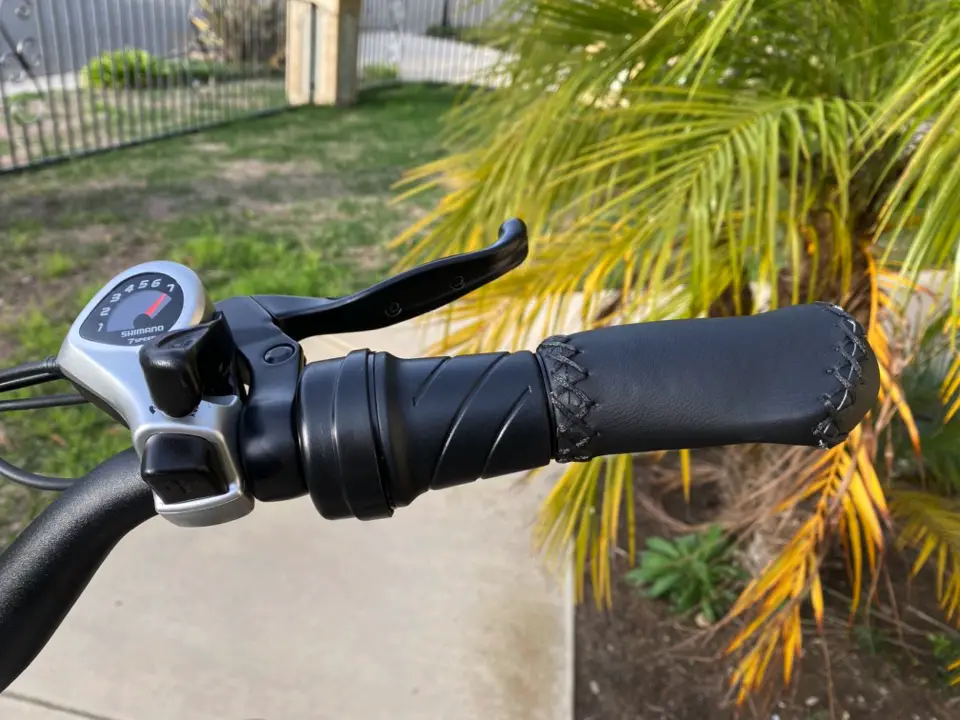 Additional Notable Specs and Components
Here's what else comes with the KBO Breeze:
Alloy Pedals with Reflectors
Rear Cargo Rack- weight capacity of 33 lbs (15 kg)
Full Aluminum Fenders
48V Battery Charger with LED Realtime Charging Indicator Light
Upright Handlebars
Ergonomic Grips
Comfortable Saddle
KMC Chain
Stainless Steel Spokes
Heavy Duty Aluminum Kickstand for Extra Support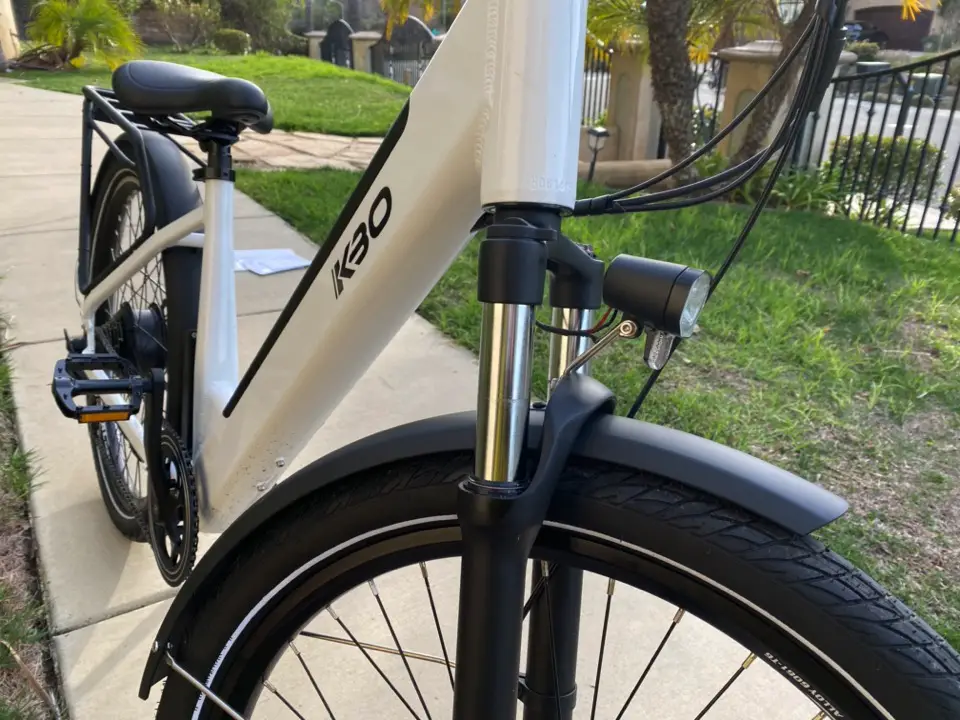 KBO Breeze Weight, Load Capacity, & Dimensions
| | | |
| --- | --- | --- |
| Measurement | ST (Step-Through) | XR (Step-Over) |
| Bike Weight | 62 lbs | 62 lbs |
| Load Capacity | 300lbs | 300lbs |
| Rider Height Range | 5'2″-6'3″ | 5'4″-6'4″ |
| Stand-Over Height (Inseam) | 18" | 28.5″ |
| Seat Height | 29.5″-38″ | 32″-40.5″ |
| Seat Tube | 17″ | 18″ |
| Handlebar Reach | 16″ | 16″ |
See the complete KBO Breeze Step-Thru dimensions to determine whether it will fit you.
Comfort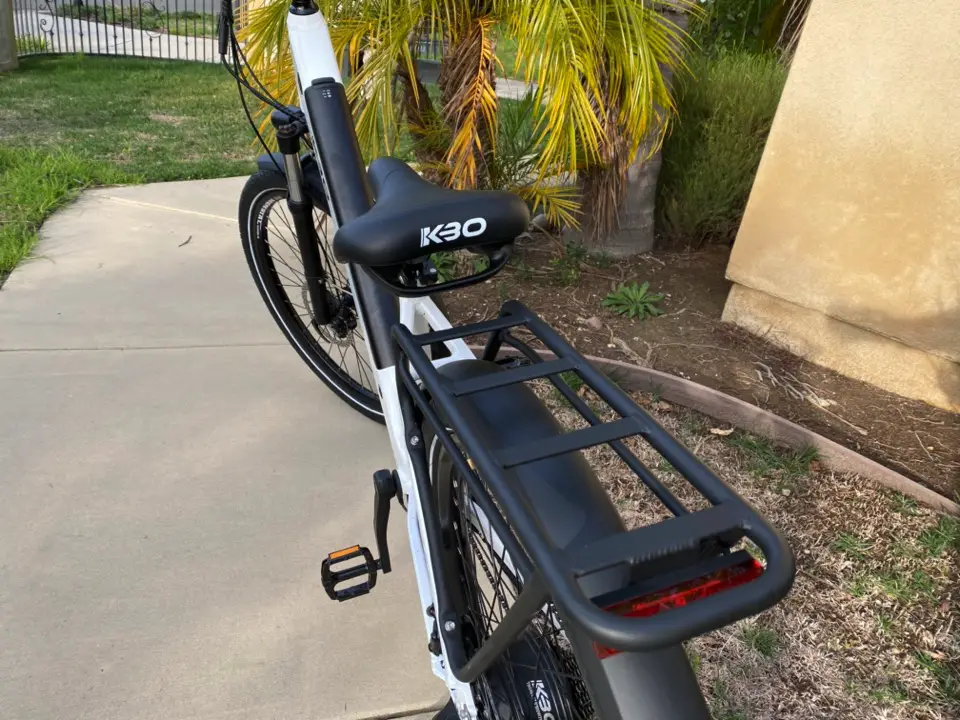 I found the Breeze to be quite comfortable. If you're a recreational rider, you may wish to replace the saddle with a larger one, which is easy to do.
Breeze Comfort Features:
Ergonomic hand grips
"Well-built" saddle
Front suspension fork
Upright seating position
Long Rear Rack
Safety
Safety Features:
What KBO Breeze Owners Are Saying
KBO brand e-bikes have an overall 5-star rating, as given by its customers. Here's what they specifically see as the pros and cons of the Breeze Commuter electric bike.
What Owners Like and Don't Like
KBO Breeze riders seem to love it and it was hard to find things they didn't like! Check out the list:
| | |
| --- | --- |
| Liked by Customers | Not Liked |
| "Economical"- Good value for the money | Long handlebar reach |
| Assembly was easy using the online video and written instructions | No key switch to turn off the ebike. |
| Bike arrived quickly | |
| Fun to ride! | |
| Good quality | |
| Large battery capacity | |
| Accessible for seniors | |
| Great value for the money | |
Unboxing the KBO Breeze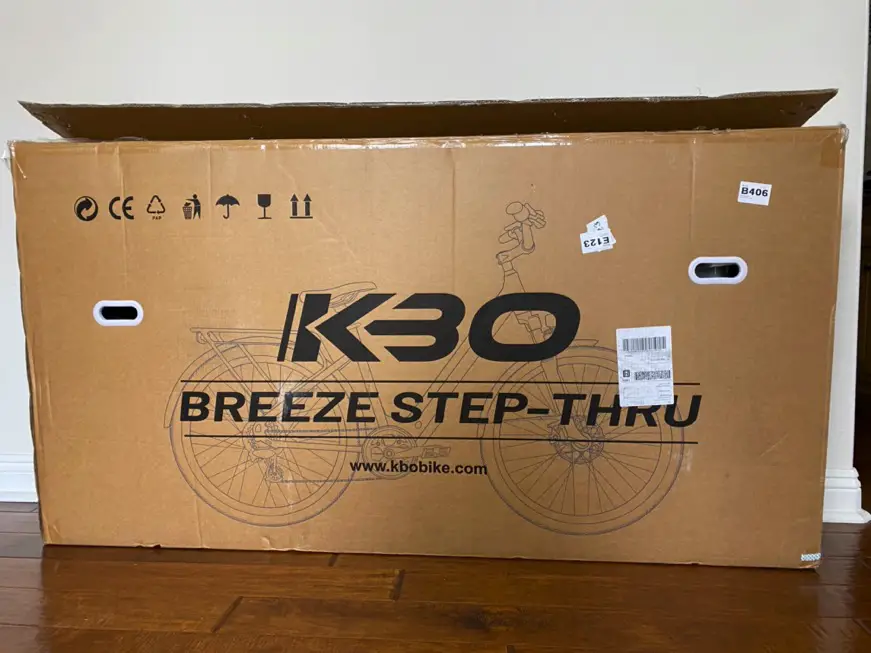 Unboxing the Breeze electric bike was fairly simple and fast. There weren't too many individual pieces to manage.
Assembly Time and Instructions
Since the Breeze already had its rear wheel and rear rack assembled, it was really just a matter of setting up the handlebars, putting on the front tire, and attaching the pedals.
Expected Assembly time: 20-50 minutes
KBO Brand Overview
| | |
| --- | --- |
| Service and Support |  |
| 2-Year Warranty | Beyond a standard 1-year warranty |
| 14-Day Returns | Standard |
| Free Shipping | Standard to the lower 48 U.S. States |
| Payment Options | A wide variety including a payment plan |
KBO Breeze Review: Wrap-Up
Should you buy the KBO BREEZE?
The KBO Breeze might be the best electric bike for you if ride daily to work or school, take long recreational rides, or need to carry cargo. It's also a great ebike if you intend to ride at night, thanks to the backlit display and integrated lights.
I might also point out that KBO eBikes have a 2-year warranty and financing available. Plus, it was easy to assemble with the cool multitool that comes with the Breeze electric bike.
However, it is not the best ebike for you if you need to carry it up a flight of stairs or on a bus or train during your commute.
I hope you enjoyed the KBO Breeze Electric Bike Review!