Your electric bike requires special care. And if you don't take care of it correctly, it could cause damage to the bike's electrical components. This holds true when it comes to how to clean your e-bike. A common question is whether you can get the job done quickly with a power washer.
Unfortunately, you should never power wash your electric bike. You can easily damage delicate electric parts of an e-bike, such as the battery compartment and motor, by cleaning with a powerful water spray. Loose debris, dirt, sand, water, and moisture can be forced into sensitive areas by a pressure wash.
Further, a high-pressure power washer can also remove essential grease that protects the bearings from water and debris.
So how do you properly, and carefully, clean an electric bike without ruining it? It's not hard but does require a bit of knowledge so that you do it correctly… and with the right tools and cleaning supplies.
Here's a list of safe products you can get from Amazon to have on hand when washing your e-bike (keep reading to find out how to clean with them):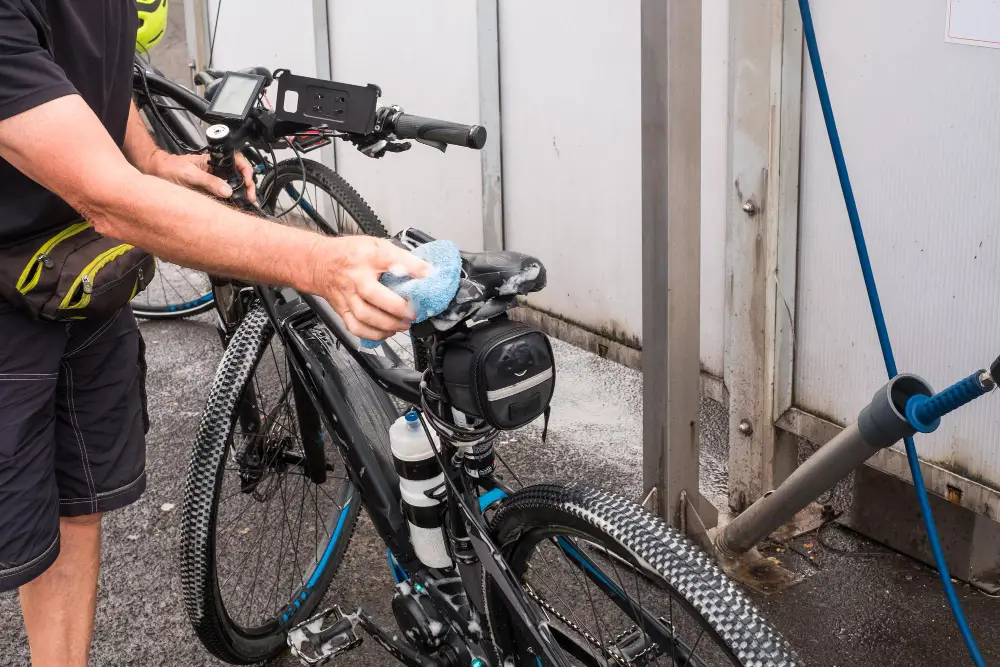 How Do I Clean an Electric Bike?
You may need to clean your e-bike when you least expect it. Even if you typically ride on clean streets and stay off dirt roads, you might find yourself hitting a muddy puddle, going through a dirty construction zone, or taking a detour on a dirt path, suddenly accumulating excess dirt!
Thus, you should get prepared for e-bike cleaning beforehand. This is just as you should have a tire pump and a bike tool kit or multitool on hand at all times (even if you plan on taking your e-bike to a bike shop to get serviced).

Further, if you clean an electric bike incorrectly, you could void the manufacturer's warranty! And it makes sense that you'd want to wash an e-bike on a sunny day. However, don't jump into e-bike cleaning unless you follow these guidelines. It's best to avoid damaging your e-bike's electrical components, brake calipers, brake pads, etc.
Steps to safely clean your electric bike without ruining it
Securely cover or remove the battery and digital display before washing.

Either one is a good choice. However, it's a good idea to remove the battery compartment occasionally to clean off contacts and make sure there's no debris stuck where it shouldn't be.

It's easy to protect the display with a poly film or small plastic bag, but this may not be necessary if you're not going to spray down your bike and are using only a damp rag. Just make sure there's no water dripping from the rag.

Use a soft-bristled brush or soft rag to wipe off loose debris, dirt, sand, or saltwater spray.

Start at the top of your e-bike and work your way down. You'll spend the most time on your tires and rims because they pick up the most debris. A soft brush will work best for the tires, especially for knobby, fat tires.

If any parts of the drivetrain (derailleurs, chain, cassette, or chainrings) are thick with grease, be sure to use a degreaser first.

Only use a degreaser made just for bicycles and don't apply it anywhere but on the drivetrain. In fact, it's best to spray the degreaser directly onto the cleaning brush, instead of the whole chain.

Let the degreaser dry and then continue cleaning your e-bike.

Wash your e-bike with bike-specific cleaner.

You can use soapy water or a bike shampoo that doesn't attack plastics like this one.

It's good practice to wash an e-bike by taking a soft damp rag (like these microfiber cloths) or sponge to wipe down the frame, starting at the top. Many bike washes can simply be sprayed on and wiped or washed off. But do be careful that you're not spraying near the electrical components. If you are, spray the shampoo directly onto a rag and then wash the bike with the rag. Gently scrub parts that can be safely washed.

NOTE: There are some sensitive parts that shouldn't be washed with soap or water (or rubbed too vigorously, even with a dry rag): These include the e-bike brakes, seat post, chains, gears, wheel hubs, bottom bracket, and headset bearing (where the frame and handlebars connect). All of these areas have been prepared for proper functioning when the bike was built and shouldn't be messed with.

Further, these areas are potential access points for water getting into the frame (which could cause rusting). However, these can all be wiped down with a soft, dry rag.

Then rinse off all of the soap and residue. Use a wet rag for this or a very low-pressure garden hose (I avoid using a hose entirely because it's not worth the risk, even if it isn't a pressure washer). Just make sure to squeeze out the excess water throughout.

Don't forget to clean the tires, probably the dirtiest of all bike parts (and use a tire pump with a pressure gauge to properly inflate them if needed)!

Dry your electric bike thoroughly.

Don't leave any areas to rust or keep moisture where it shouldn't be.

If you do use a garden hose, you'll have to take special care to thoroughly dry your e-bike everywhere, paying careful consideration to dry all of the "potential access points" mentioned above.

Lubricate the chain with the proper lubricant (so you don't ruin it).

This needs to be done frequently, but especially after every wash. In order to lubricate the bike chain correctly, you'll need to use a "dry" lubricant if you ride in dry conditions and a "wet" one if you ride frequently in wet conditions.

Apply the lube to the chain in the middle, where it hangs freely. Put the lube on the top of the bottom chain so it'll be evenly distributed. Avoid getting chain lube anywhere else, especially onto the brakes. Make sure to gently wipe off excess lubrication.

Carefully clean the brakes.

Pay special attention when cleaning e-bike brakes. Use a cleaner specially designed for bike brakes. But DO NOT use a degreaser.

Test out your e-bike's functions after cleaning.

Is the battery re-attached correctly? Is the e-bike controller working? Is the motor running efficiently?

And make sure every nook and cranny is dry!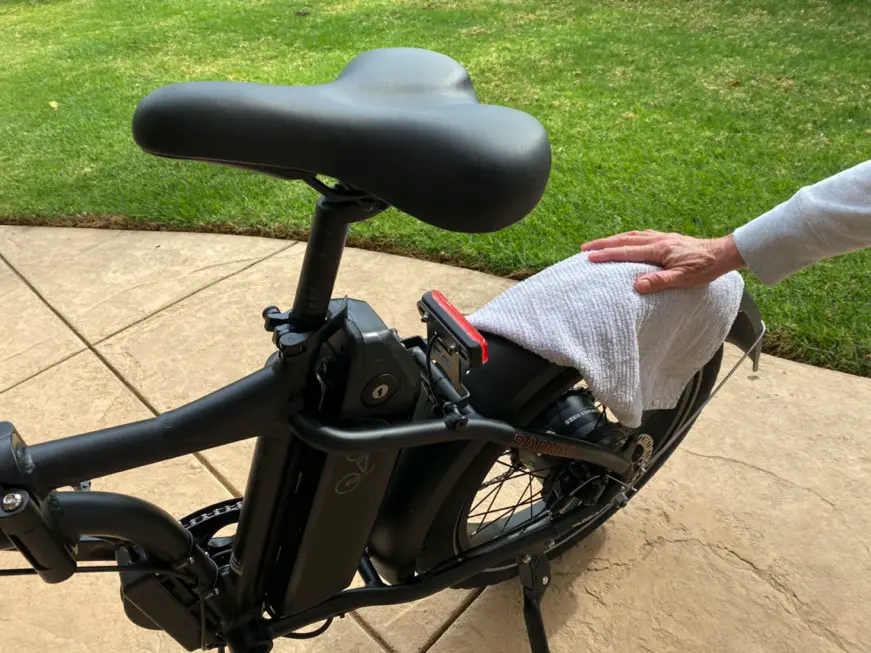 What E-Bike Cleaner Should I Use?
There are a variety of products to choose from, so it can get a little overwhelming. So, first, I'll make it clear what you don't want to use and then show you what you can safely use.
Cleaning supplies you should not use:
Don't use soap meant for cars, as they tend to have wax in them not meant for bikes.

And, as mentioned previously, don't wash your electric bicycle or use any kind of pressure washer or a high-pressure hose.
Cleaners you can use safely:
In general you can use any type of cleaner, degreaser, and lubricant made specifically for bicycles. Not ones for motorcycles or cars… just bikes!
The most important thing isn't the brand of bike cleaner you use, it's that you use it correctly on your electric bike. Again, avoid spraying directly into sensitive areas, and don't overuse. Just follow the directions on the back of the cleaning solution bottle.
That being said, there are a few cleaners that stand out as having been used happily by thousands of consumers:
Muc-Off MOX-904 Nano Tech Bike Cleaner
This fully biodegradable cleaner works fast to break down grime all while protecting your e-bike's finish. And with thousands upon thousands of great reviews on Amazon, you have to figure it'll do the job!
It even claims to be okay to use on disc brakes. However, I'd still suggest you use a product made just for e-bike disc brake pads.
Finish Line Super Bike Specific Wash
While it's super easy to spray onto your e-bike and wash off, it also contains a formula that'll prevent oxidation and rust. It has great reviews on Amazon so you really can't go wrong with this washing solution.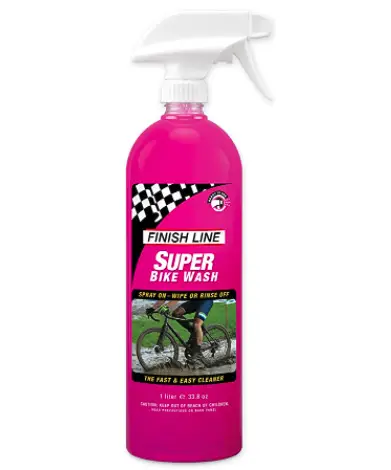 What Electric Bike Chain Lube Should I Use?
The most important thing is not which brand of chain lubricant you buy, but whether it meets your riding needs. But, fortunately, it's pretty straightforward.
Buy a dry bike lubricant if you ride in a predominantly dry area like California. But get a wet lube for your e-bike if it rains often, or you splash through lots of mud and snow. So, the type of lube you choose will be super important for mountain bikers during cold winters.
Muc-Off has both a dry lube and a wet lube used by myself and many others. Just pick the one that works for your e-bike and primary riding conditions.
Further, although it's easy to use a spray degreaser, it's good practice to avoid spraying the brakes!
How Often Should I Clean My E-bike?
Ideally, you should clean your electric bike as often as you can (as detailed in the steps above). Wash it whenever you see debris clinging to your e-bike or when you've been riding in any terrain other than a paved road.
Certainly, if you're using your electric mountain bike in the mud and snow, clean it after every ride.
Further, if you've been riding on the sand at the beach, with salt spray, you'll also want to clean it immediately.
But if this isn't the case, and your e-bike just gets moderately dirty over time, then you can keep it clean as you go. Just take a dry or damp rag and wipe or dust off the dirt regularly, perhaps after each ride. Then it won't accumulate. And you won't need to give it a full clean as often.
You don't have to wash your e-bike if you get your bike professionally cleaned every time you have it serviced. But even then, most bike shop professionals will suggest that you clean it in between services.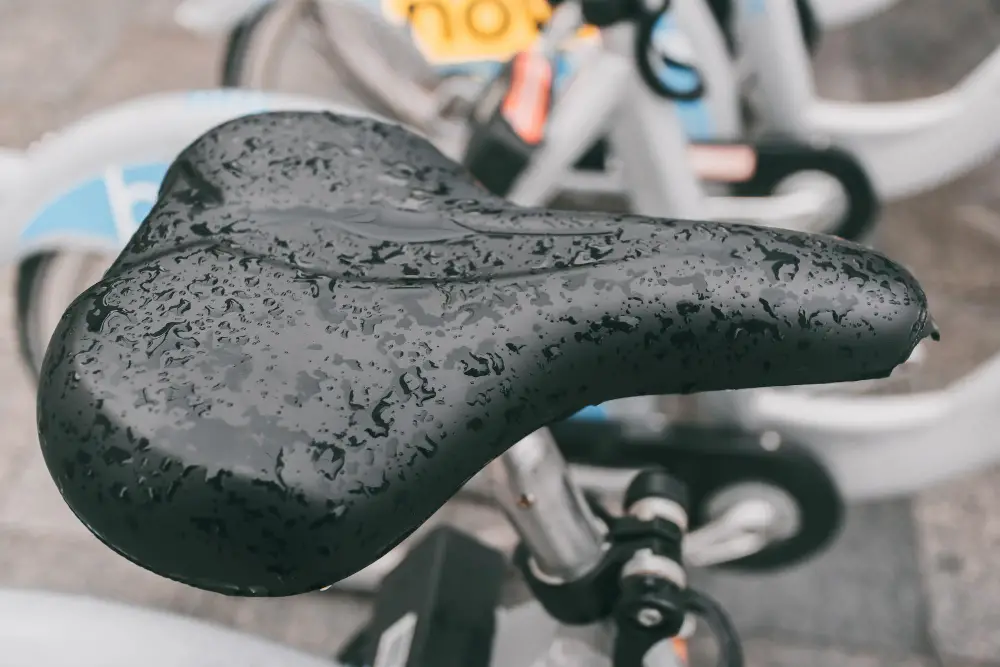 Conclusion
Buying and maintaining an e-bike is an investment of both time and money. So it's important to understand how to properly clean and maintain it. Simple things like using a bike-specific degreaser and the correct kind of water-resistant lubricant can help to protect e-bikes.
The first thing you should know is that giving an e-bike a pressure wash cleaning could totally ruin it. You could go from having the time of your life riding your e-bike to crying over why the motor will no longer work!
Ultimately, that won't happen if you follow the simple steps I've outlined above on how to clean your electric bike without a high-pressure wash. Be prepared by getting the knowledge and the tools you need to wash your e-bike at a moment's notice.