If you've been eyeing a new electric bike, you've no doubt heard of Rad Power Bikes. This is because it's the largest e-bike-only brand in North America… and it's popular as well.
Today, I'll be showing you my review of the RadCity 5 Plus electric commuter bike. Discover the pros and cons of this sleek but powerful ebike and the essential details you need to know before you buy.
With over 5,000 customer reviews and an overall star rating of 4.7, it's clear that riders love their RadCity e-bike.
So, I set out on a test ride to find out why. Here's what I discovered about Rad's best-selling electric bike. Make sure to watch for a couple of features I haven't experienced before while reviewing an electric bike!
RadCity 5 Plus Overview
Power and performance are how Rad Power Bikes RadCity e-bike stays on top of the electric commuter bike category. Its solid, ergonomic frame, narrow tires, and ease of riding are the first things I noticed when riding the Rad City 5.
However, there are some cons to consider, in addition to all of its benefits.
Take a look below at the advantages and disadvantages of the newest RadCity to help you decide whether this is the best electric bike for you.
First, there are a couple of things to note. There are two versions… the RadCity 5 Plus High-Step for riders 5'4" to 6'5", and the Step-Thru which carries riders 4'8" to 6'1″. Depending on your size, you might be able to ride either version. Many electric bikes don't cater to short or extra-tall riders, so this really makes the RadCity 5 Plus stand out.
Being 5'1" myself, the step-thru is a perfect fit. The seat adjusts easily to the right height and the swept-back, adjustable handlebars help me sit comfortably upright. The standard Rad Power Bike seat is wider than most and the slim battery stays out of the rider's way when pedaling.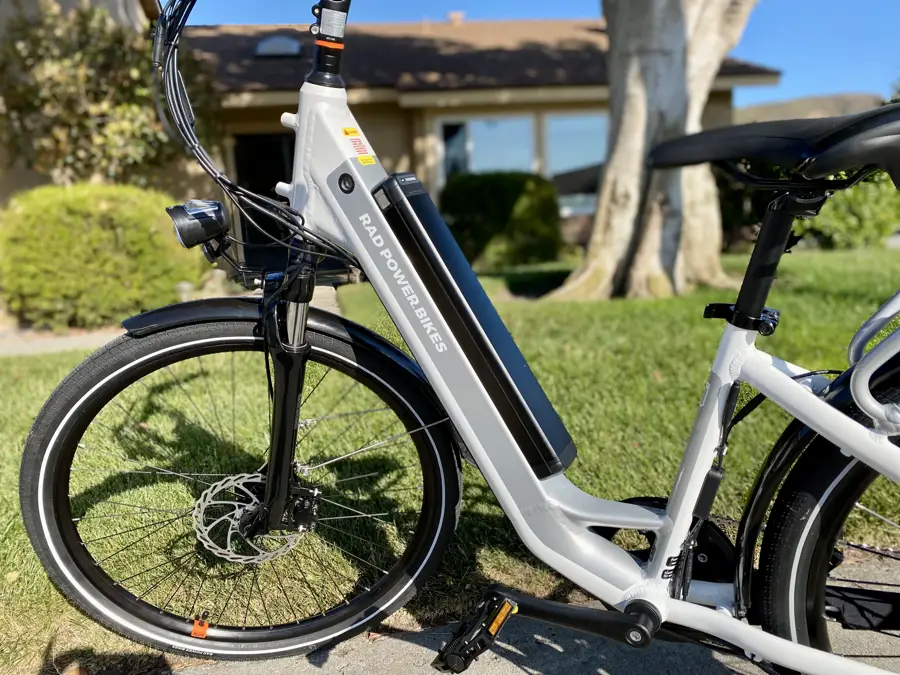 Pros of the RadCity 5 Plus:
Overall, the ergonomic frame makes for a comfortable ride free of annoying little pains. Like any new bike saddle, you might need time to adjust for maximum comfort.

Further, Rad Power Bikes added a front suspension to the RadCity 5 Plus e-bike to dampen the effects of hard bumps and potholes on your daily commute or weekend ride, which it does pretty well. If you're going to be taking long rides, I'd still suggest getting a good suspension seatpost like the one that I use. I've linked to it below the video (https://alnk.to/5udJmH6 ).

Now, thankfully, Rad designed their 750W Geared hub motor to climb hills with ease. I alternately used the throttle and pedal assist to propel me up steep hills and was able to reach the maximum speed without a problem. Further, the tall 27.5" X 2" tires give an advantage on the road, making it fast and agile.

Combine this with a battery offering up to 672 Watt hours and you can ride any street long distance. In fact, you'll get up to 50+ miles per battery charge, so you'll have the opportunity to explore even more on any given day.

I love Rad Power Bikes fit guide. Just measure your inseam and use the slider to tell you which ebike, the high-step or step-thru will fit you the best (screenshot in folder).

I also like its easy-to-stop hydraulic brakes and cool, full-coverage fenders with a splash guard!

And although I wasn't sure about the unique Microshift gearshift at first, I quickly became a believer. Truthfully, you'll hardly need to press it to shift each gear, which makes it easy and fast. In fact, the first time I shifted, I jumped three gears in one push, having been used to pressing with more force.

Fortunately, I corrected my force immediately and continued to shift gears smoothly!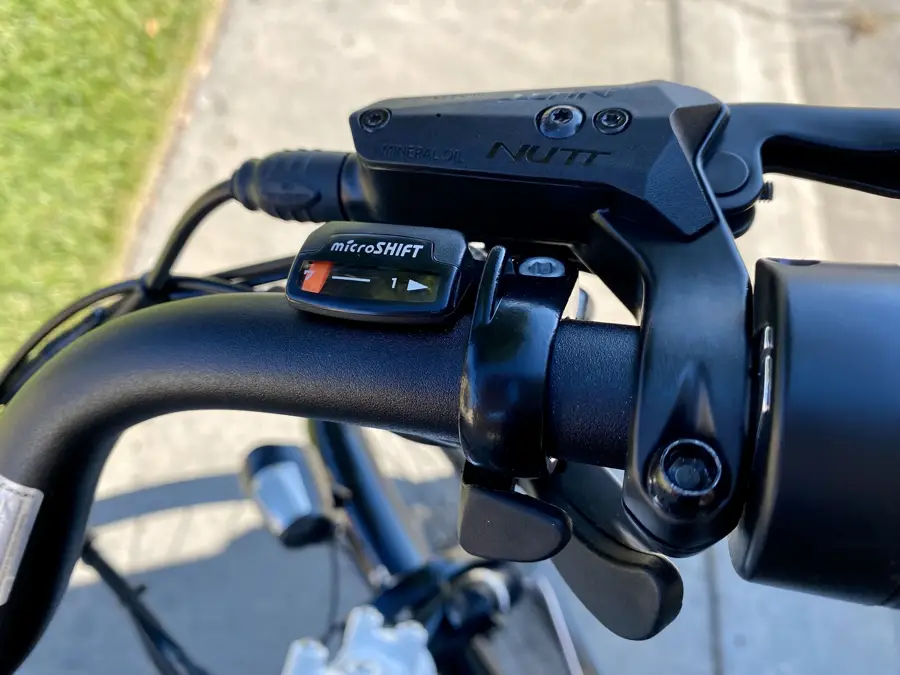 Additional Benefits of the RadCity E-Bike: 
Capable and smooth Shimano 7-speed derailleur: I've never heard or felt the chain while riding, which is something to appreciate.
Carry up to 275 pounds: This includes whatever weight is added to the built-in rear rack, which by itself holds over 59 lbs. So, I could use my shopping basket with lots of heavy cans and groceries without worry.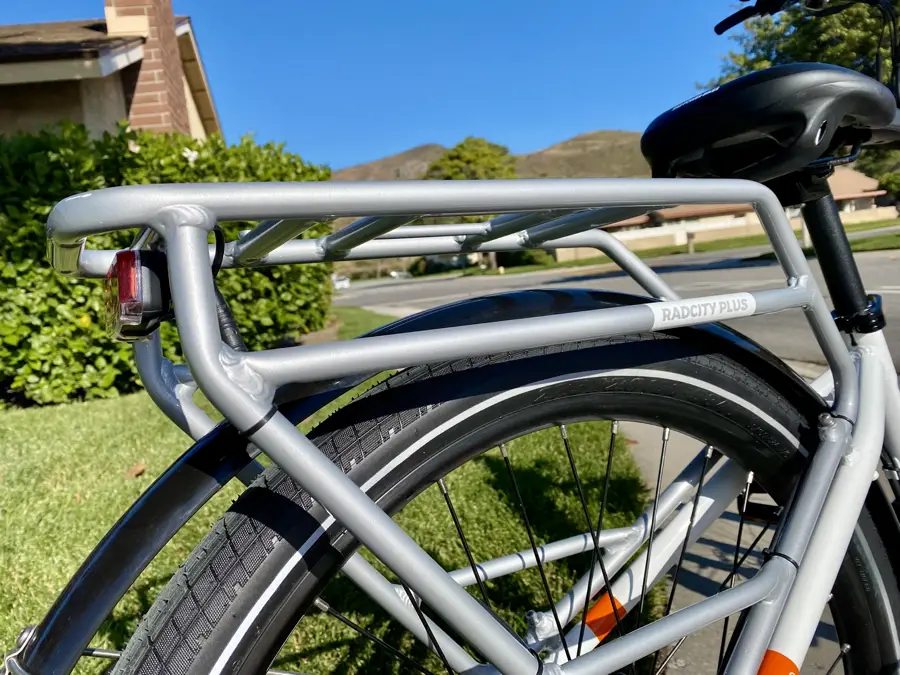 Backlit LCD: This shows the battery charge, speed, distance traveled, pedal assist level… and even a clock, which I haven't seen before.
And, finally, one of the pros that help Rad Power Bikes remain a top electric bike brand…
Focus on safety:
Rad Power bikes are built to meet U.S safety guidelines as well as the even stricter criteria of the European Committee for Standardization. Plus, Rad completes a 50-point inspection, reflective striping on the tires, and all-weather braking. All of this helps me feel as safe as possible while riding.
Further, The RadCity 5 Plus boasts an LED Headlight and a taillight with a brake light. Even better, the headlight comes on automatically when turning on the bike's power. This was totally unique to me and an excellent way to help you stay safe while riding.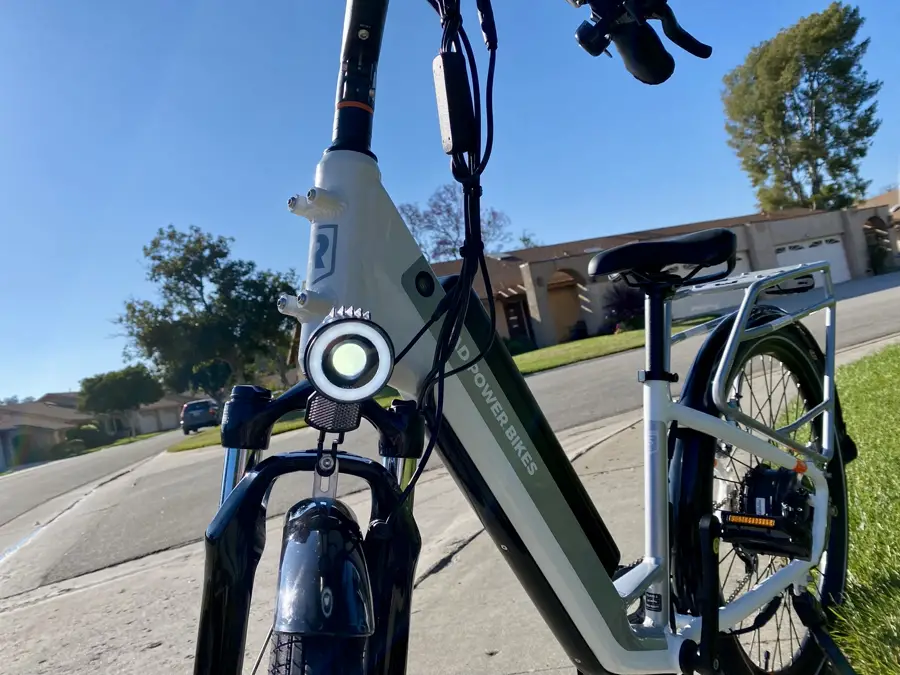 Cons of the RadCity 5 Plus:
The half-twist throttle might not be for you. Although I prefer a twist throttle when riding, some riders might be more content with a thumb throttle which is less likely to be accidentally activated. 

Additionally, yes, it has suspension. But if you're hoping to avoid EVERY bump, you may be slightly disappointed since it only has 50mm of travel. The RadCity isn't designed for off-roading but the suspension does help on uneven roads or city street bumps.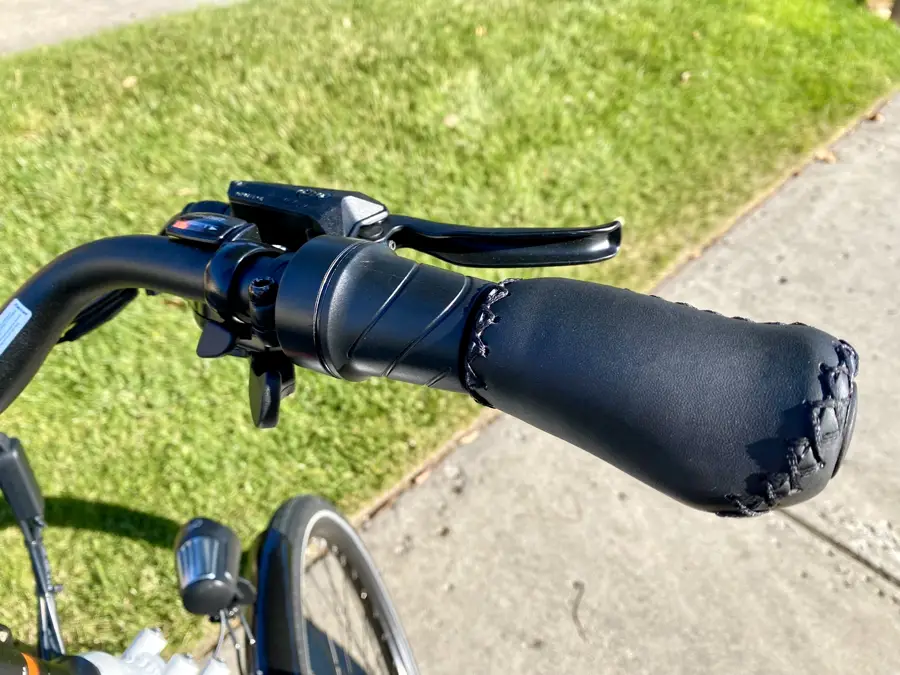 What Else to Know Before Buying The RadCity E-Bike
The RadCity 5 Plus weighs 65 lb, which is pretty standard for a commuter and weekended electric bike-e. Naturally, however, I'd love to see it upgraded to one under 60 lbs.
Assembly was pretty standard. However, I did have some difficulty attaching the stem. Although this was probably user error (mine that is), just make sure you push the stem all the way down onto the steerer tube before continuing your assembly.
Also, the tires have a custom tread designed to be more efficient on pavement, so there's no question that the RadCity is perfect for commuting on paved roads.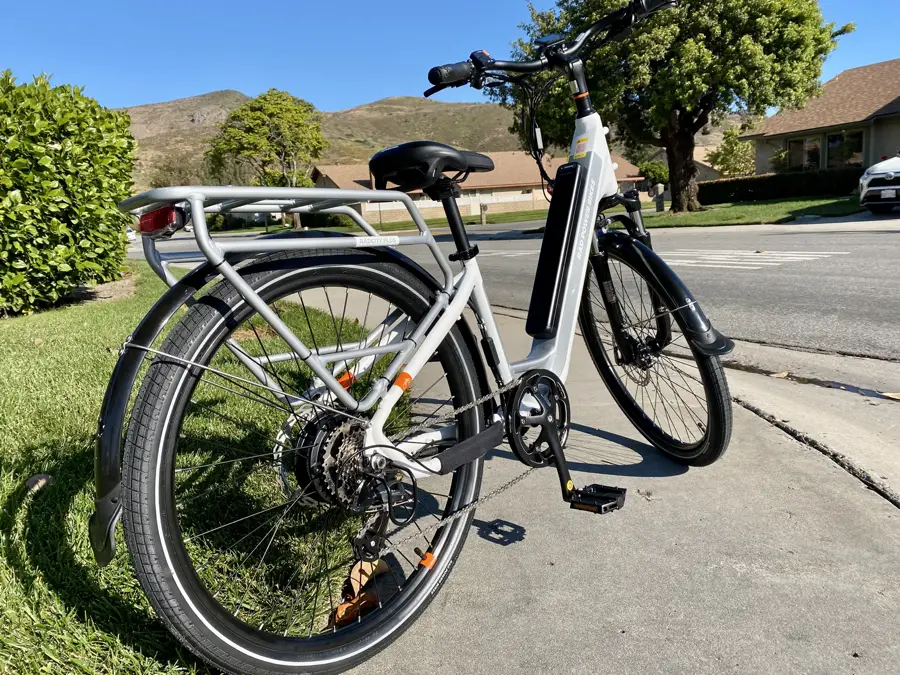 Is the Rad City 5 Plus the Best Electric Bike for You?
The RadCity 5 Plus electric bike is right for you if you're a daily commuter, enjoy city riding, love to relax with a fast ride on the weekends, or take a chill ride after working all day. Be sure to check out Rad's commuter riding kits that can be bundled with your purchase to help you get the best e-bike set-up.
This e-bike is not for you if you want to spend time off-roading or riding dirt trails long-distance.
As you can tell by the overwhelmingly positive customer reviews, you're bound to enjoy this 5th version of Rad Power Bikes urban commuter bike, even if you only ride occasionally.
See Rad Power Bikes' extensive help center to get your questions answered, help with assembly, and more.
I hope you've learned a lot in my RadCity 5 Plus e-bike review and enjoy your ride!