Looking for an inexpensive electric bike that'll get you where you need to go? There are a lot of things to consider before buying a cheap e-bike, even though your first inclination is to save money. After all, you're still spending a good amount of cash, so you want it to meet your basic needs.
But is the Bolt e-bike just a toy or can it cover some serious ground?
The Jetson Bolt is a compact, folding e-bike that costs under $400, is lightweight at only 40 lbs, and has a maximum range of up to 15 miles. You won't be able to ride as far as most electric bikes, but, in general, you'll get an affordable mini e-bike.
Get all of your questions answered and find out what you need to know about the Jetson Bolt in this article.
Scroll down the page to see the table below with all of the Bolt's specifications, as well as its comparison to the Bolt Pro and the similarly priced Eris electric scooter. Also, take a look at the list of advantages and disadvantages of the Jetson Bolt to determine if it's the best fit for you.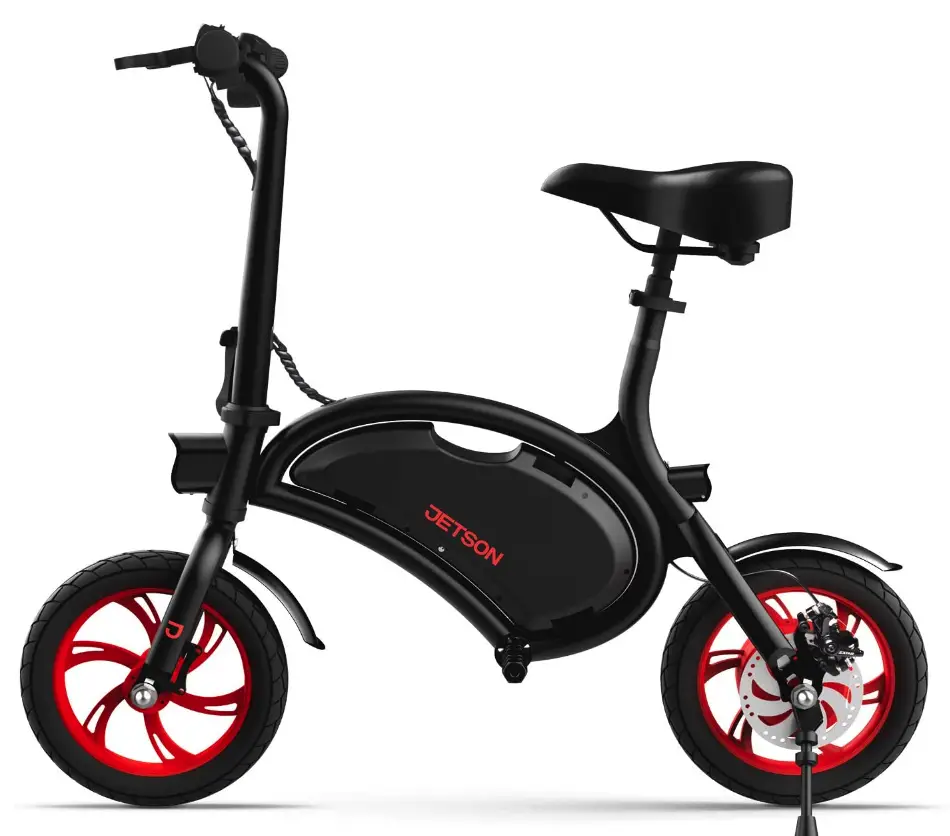 How Fast Does the Bolt Electric Bike Go?
The Jetson Bolt (see it at Walmart) has a top speed of 16 mph, which is lower than the typical electric bike max speed of 20 mph or 28 mph for a Class 2 or 3 pedal assist bike respectively.
Here's the catch, the Bolt does not have any pedals, so it relies completely on its twist throttle for electric power. Most electric bikes can only go up to 20 mph using throttle only, so it's not as huge a difference as it first seems. You simply won't be able to pedal the Bolt to make it go faster.
The biggest disadvantage is that you'll rely entirely on the throttle to go up a hill. It'll be slow going if you have lots of steep hills where you'll be riding, even with its 250W hub motor.
You'll also want to consider your own weight. The heavier you are, the slower you will go uphill or even on flat ground. Besides, all bikes have a weight limit as well.
Additionally, keep in mind that traveling 16 mph on an e-bike may be plenty fast for you, as not everyone needs or want to go as fast as automobile traffic. Suffice it to say, you should be able to get away with riding it on the sidewalk.
What is the Range of a Jetson Electric Bike?
The maximum battery range is up to 15 miles, which is much shorter than the average electric bicycle. Most e-bikes will go a minimum of 20 miles and many will go up to 60 miles or more. So, this can be a big disadvantage unless you plan on staying close to home.
Of course, your e-bike's range depends on what factors are working against the battery life. These include your weight, the weather, the amount of use of your LED headlight, hills, terrain, and wheel size.
This last consideration, wheel size, is one of the reasons the Bolt has a short range. With only 12″ wheels and basic rubber tires, the Bolt isn't designed to go on long rides.
How Long Does the Jetson Bolt Battery Last?
Generally, the Bolt's battery lasts for two to three years, depending on how often and how far you ride it. The battery was built to charge fully for 300 to 500 cycles.
The battery is a 36V lithium-ion battery which is the minimum standard for electric bikes. However, many e-bikes have 48V and even 52V batteries, which are designed to give you more power and last longer.
Generally speaking, the Jetson Bolt has a maximum speed of 16 mph because both the battery and its relatively low-power motor. Although it has a typical hub motor, it is definitely less powerful than other more expensive bikes.
How Much Does a Jetson E-Bike Weigh?
The Jetson Bolt weighs only 40 lbs. Compare this to most other e-bikes and you'll find that this is unusually lightweight. Thus, you should be able to lift it fairly easily (especially with its built-in carrying handle).
Add that to the fact that it's a folding bike, and you'll find that it's one of the easiest to carry, especially if going upstairs or onto a bus or train with your e-bike. Commuters who spend a lot of time on public transportation can benefit greatly. Keep in mind that you might need to lower the seat post if you're folding it to fit in a car trunk or small space.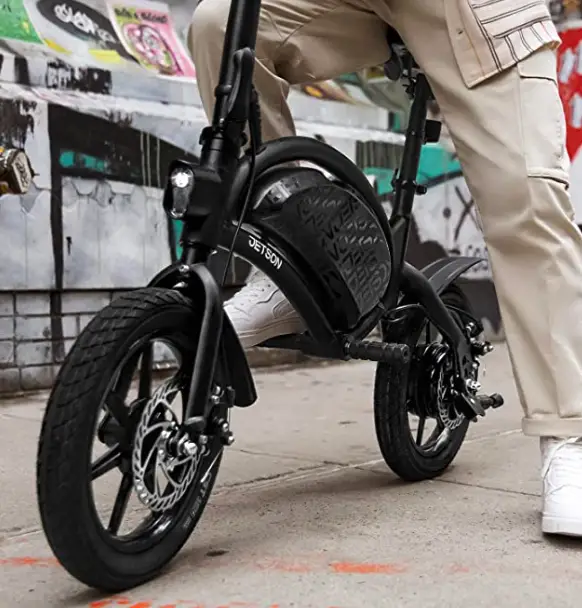 Jetson Bolt Benefits and Disadvantages
There are many benefits of the Bolt e-bike, as well as several disadvantages. Here's a list of pros and cons for the Bolt to help you decide if it's right for you:
| | |
| --- | --- |
| Pros | Cons |
| Inexpensive | Can buy a less expensive scooter on Amazon |
| Foldable (fits in a car trunk) | No pedals; throttle power only |
| Lightweight | Lower top speed |
| Smaller e-bike | Lack of power when climbing hills |
| Easy to assemble | Small tires; you will feel the bumps |
| Connects to the Ride Jetson app | Some users have had difficulty with the Jetson app |
| Cruise control | Hard saddle |
| Mechanical disc brakes | |
| Integrated front and rear lights | |
| Includes fenders (debris and puddle protection) | |
| Includes a kickstand | |
| Good e-bike for a Teen | |
One important benefit to discuss is that the Bolt is extremely easy to put together, by all reports. Most people can put it together in under 30 minutes. All of the tools you need come with your purchase. But do take the time to review the assembly guide before starting so you don't make an error you have to spend time correcting. For instance, each pedal must go on the right side of the bike.
Another huge benefit is cruise control. This allows you to take a break from twisting the throttle. As long as you can safely stay at the same speed, just set it and go!
Generally, the Bolt is perfect for you if you want a mini electric bike you can easily transport and that gets you where you want to go. But you will need to plan out the distance of your rides carefully so that your battery doesn't die when you go too far.
As far as the hard riding saddle goes, you can always upgrade to a more comfortable bike seat at a small cost, like the ones you'll find on Amazon.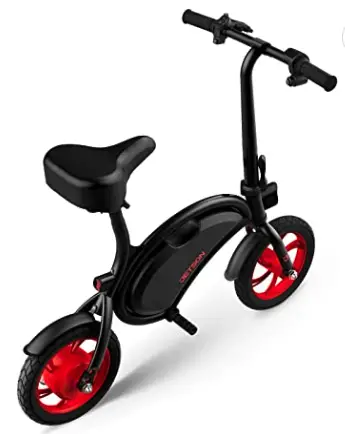 Jetson Bolt vs Bolt Pro
Now that you know about the less expensive Bolt bike, you might like to know that there is also a Bolt Pro.
The main differences between the Bolt and the Bolt Pro are that the Pro has pedal assist, 14″ wheels, dual disc brakes, an improved frame geometry, and a 350W motor. It also costs around $200 more.
See the direct comparison to the Jetson Bolt Pro here as well as to the Eris electric scooter:
| | | | |
| --- | --- | --- | --- |
| Specs | Bolt | Bolt Pro | Eris Scooter |
| Speed | Up to 16 mph | Up to 16 mph | Up to 14 mph |
| Range | Up to 15 miles | Up to 30 miles | Up to 12 miles |
| Wheels | 12″ | 14″ | 8.5″ |
| Weight | 40 lbs | 41 lbs | 30 lbs |
| Weight Capacity | 250 lbs | 265 lbs | 220 lbs |
| Price | $399 (Walmart) | $599 ($464 on Amazon) | $399 on Amazon |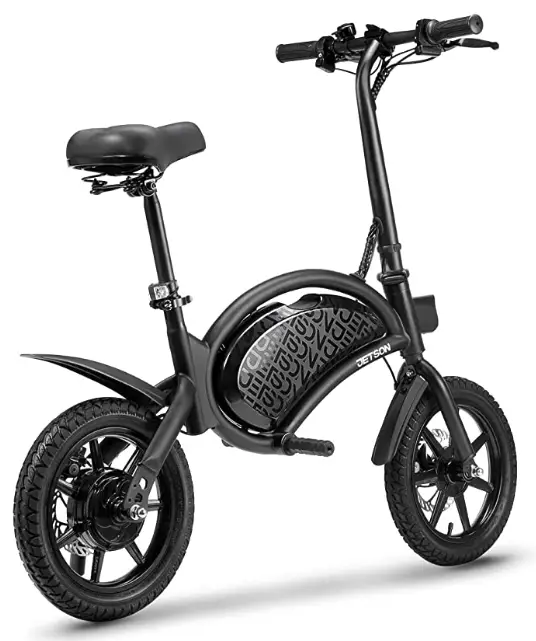 In general, the Bolt Pro lets you ride over twice as far as the Bolt, this being its primary advantage. However, it will also carry a greater load and has other added benefits.
For example, the Pro comes with a 350 Watt motor and a bigger battery, allowing a possible 30-mile range, which is typical of most electric bikes. Plus, although the top motor-assisted speeds are similar between the e-bikes, the Bolt Pro has pedals that allow you to add your own leg power. Not only can you climb hills easier, but you can also go a little faster than the motor will allow.
You might also enjoy sitting a little higher on the 14″ wheels as well as notice overall greater balance and riding agility than with the less expensive Bolt.
Although the Pro version has only a single speed, it does have a chain that needs to be maintained. One other downside is that it does not have Bluetooth connectivity to the Jetson app (but this may not be such a disadvantage since many riders report the app to be difficult to use).
Both bikes charge in 4-5 hours.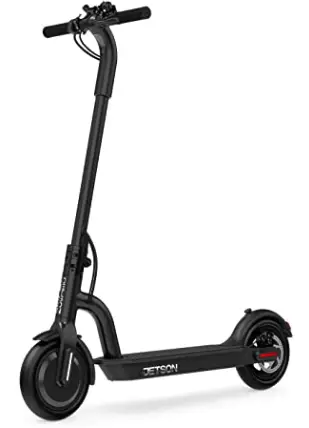 Jetson Brand
Jetson is an e-mobility company created in 2012 with a variety of electric riding products including small size bikes, scooters, and hoverboards. Their innovative products can be found in the U.S. and around the world.
Typically, they have a 30-day return policy (you must pay return shipping fees) and a one-year limited warranty.
A lot of people compare the Bolt folding e-bike to an electric scooter since it doesn't have pedals and only moves forward based on electric power from the twist throttle. However, the Bolt has some advantages over an electric scooter.
Bolt E-Bike Advantages Over an Electric Scooter
The primary advantage the Bolt has over an electric scooter is the seated riding position. If it's hard to stand for long periods (with one foot in front of the other) or to balance standing up, then you'll prefer the Bolt bike to the scooter.
Additionally, the Bolt can go a little faster, has a slightly longer range, and has a higher weight capacity.
The disadvantages of the Bolt e-bike are that it is 10 lbs heavier than the Eris electric scooter and somewhat larger when folded, even though the handlebars fold as well.
Should I Buy a Jetson Bolt Electric Bike?
There are many reasons to buy a Jetson Bolt e-bike. You should buy one if you:
Are looking for an entry-level electric bicycle
Don't have much money to spend
Don't want or need to go ridiculously fast
Are a young rider
Are a smaller rider
Need to go relatively short distances
Need to carry or lift your e-bike often
Are a commuter or need to transport your bike regularly
Want to ride across campus quickly.
Just want to have some fun
Look for the Jetson Bolt and the Bolt Pro (also called the Bolt Up) on Walmart and Amazon for the best prices, fast shipping, and free returns.