If you're looking to get an electric bike for commuting to work or school, touring, riding around your city, or just for fun, then I've got something you definitely need to see.
In this Ride1up review, I'm sharing my new Turris electric bike experience! You're about to see how the newest commuter electric bike from Ride1Up can give you just what you're looking for.
Priced at $1295, you might expect that Ride1Up ebikes had to take away some important features in order to keep the price this low.
But, after reviewing other Ride1up ebikes, like the 700 Series and Core 5, I've experienced firsthand that Ride1Up is a leader in offering great value for your money.
Watch the video and then read the article to get all of the pros and cons of the Ride1Up Turris. In addition, get specifications and performance details, and discover the essential things you should know about the Turris before you buy.
Ride1Up Turris Video Review
Ride1Up Review
The Turris electric bike is a stylish ebike that comes with some fantastic features. It has a powerful 750W motor, a 48V battery, and a top speed of 28 mph. I was able to get it up to a high speed of around 26 mph (42 km/h) but no faster. However, this was plenty fast for me.
Additionally, the bike is equipped with a customizable LCD display,  hydraulic disc brakes, and a front suspension that has made my rides smooth and comfortable.
So, I'm not left wanting more here.
Turris Overview
Overall, the Turris electric bike provides an excellent riding experience, thanks to its powerful motor and impressive speed. 
With a range of up to 45 miles on a single charge, I can easily complete three of my typical 12-mile rides without having to recharge. 
The hydraulic disc brakes are responsive and provide excellent stopping power, which is especially important if you're riding fast, or going down steep hills as I do.
The front suspension absorbed some of the usual bumps, making my ride more comfortable than on an electric bike without suspension.
And here's another thing I like about the new Turris electric bike from Ride1Up. It has a beautiful, and somewhat unique, design. I'd call it a sort of sleek, modern look with a touch of old-fashioned thanks to the brown sidewall tires. 
Plus there are so many other reasons that the Turris' low price surprises me. Continue reading to find out what they are.
Pros and Cons of the Ride1Up Turris Electric Bike
Here are the pros and cons I discovered through my Turris electric bike experience. You'll see that there are many more advantages than disadvantages. But, be sure to see the cons if you're a speed lover, a cargo carrier, or if you're on the shorter side like me.
Turris Pros
The Turris ebike has a powerful 750W rear hub motor for a fast and smooth ride. For the price, I think Ride1Up might've opted to go with a lower 500W motor. But thankfully, they kept this amazing value.

A long range of 25 to 45 miles: This means that I can cover my favorite 30-mile roundtrip trail on just one battery charge. Just so you know, I typically ride using the lower pedal assist levels and don't overuse the throttle.

Another advantage of the Turris is its responsive hydraulic disc brakes (see what they are on Amazon). They make it easy to stop. But, what makes them even better is that I haven't seen many (or maybe any?) electric bikes under $1500 dollars that have hydraulic brakes. Most just have mechanical disc brakes.

7-speed gears: They really make a difference when you've found yourself with a low battery charge. I was able to ride without any pedal assist for about 8 miles using the third and fourth gears. This is how I saved up my battery for going up all the hills to get back home!

The Turris's front suspension is another benefit that isn't always available in an ebike at this price… and it's got 100mm of travel. Take a look here to learn more about electric bike suspension.

The suspension, combined with the Kenda knobby tires, took me over gravel and dirt in style and comfort!

And, since it weighs only 55 lbs, I haven't had any trouble lifting it up curbs or over the doorframe into my house.

Then, one of the best things about the Turris is its incredibly comfortable riding position. I REALLY like the swept-back handlebars that don't make me reach for them or stretch unnaturally far. I'm truly sitting upright on this ebike.

Here's one more advantage when it comes to comfort… I've been riding the step-through model (ST) which fits my shorter height, but there's also a step-over frame (XR) fitting tall riders up to 6'4"!

Finally, there are some nice extras, like the included fenders, integrated headlight, and adjustable LCD display.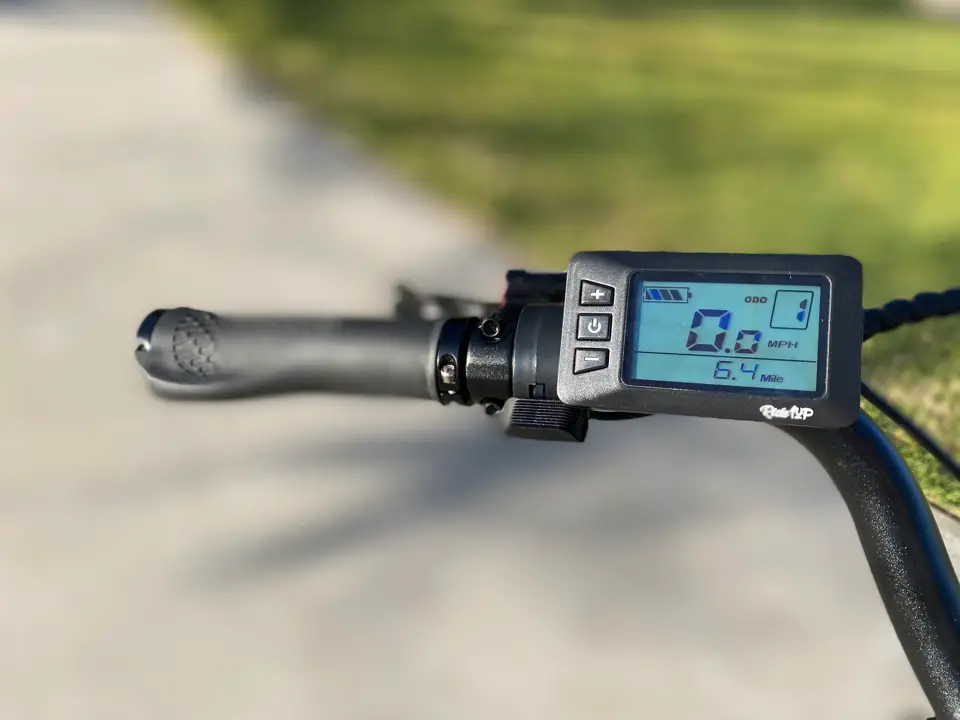 Turris Cons
You should know that the Class 3 Turris, with its reported top speed of 28 mph, may not be legal to ride in some areas, including National Parks (read this if you're not sure what ebike classes are).

Although the saddle looks nice, I'd probably replace it. After about 8 miles, I was feeling the pressure!

And the Turris doesn't come with a rear rack… guess they had to save costs somewhere. But you can get one for about $50 on the Ride1Up ebikes website. 
Finally, after test-riding the Turris during my Ride1Up review, I'll revisit the two frame options, step-over and step-through.    
I've been riding the step-through ebike, but it's still been hard for me to step through the frame. The top bar is too high for me to easily step over, which may also be the case for you if you're petite or if your mobility is limited. FYI… I'm about 5'1", which is at the bottom of the Turris' recommended height range for the step-through.
Further, when I slid off the seat, the bar is also too high. But to be fair, I did adjust to this after I rode a bit. Thus, I got used to putting my leg over the seat or lifting it really high to step through. And I learned to slide off the seat carefully.
I show this in the Turris review video.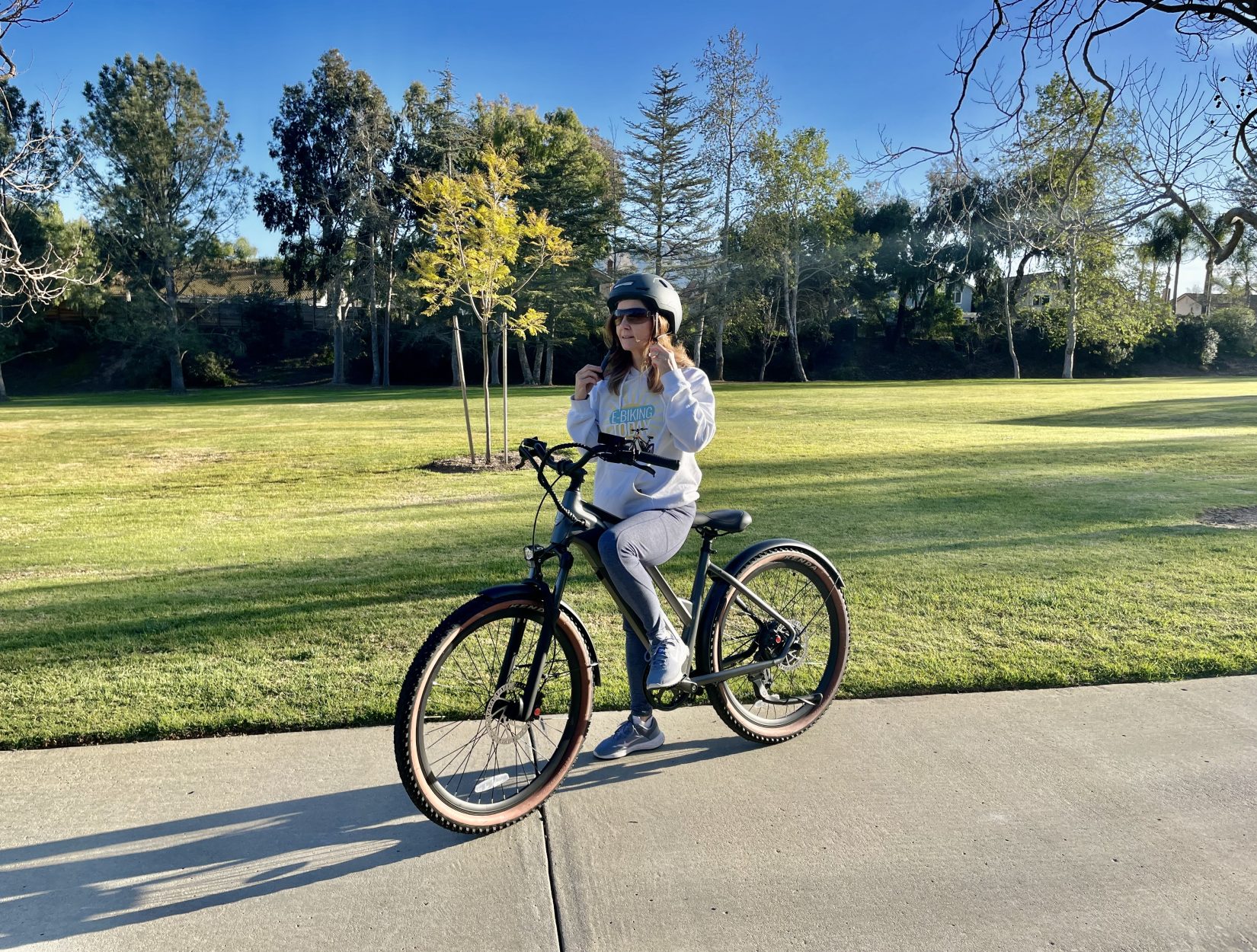 Turris Electric Bike Review: Performance and Specifications
Discover what you need to know about the Ride1Up Turris in the table below. Take a look at its specifications and my ride experience and review notes.
| | | |
| --- | --- | --- |
| Performance | Components | Review Notes & Ride Experience |
| Motor | 750W Sustained Geared Hub Motor (48V Shengyi) | The powerful motor will get you through your daily commute, touring adventure, or a fun ride |
| Battery | 48V 12.8Ah Reention Prism with LG Cells | A plenty powerful smart battery is cleverly hidden inside the frame (but removable when needed). Although this isn't the largest battery, it keeps it more nimble. |
| Range | 25 (40 km/h)-45 miles (72 km/h) | Fairly standard for an e-bike in this price range. However, I think you'd be lucky to make it 25 miles (40 km/h) riding throttle only. Alternatively, you could make it a little over 50 miles (80 km/h) riding on pedal assist 1 and 2. |
| Brakes | Zoom 180mm Hydraulic Disc Brakes w/ Cutoff Sensor | Smooth, capable stopping, especially when braking downhill |
| Fork | Mozo Hydraulic Lockout with 100mm Suspension Travel | Hard to believe a $1295 e-bike has a hydraulic front suspension fork! Absorbs hard bumps and adds to an already pleasant ride. |
| Drivetrain (Gear Shifts) | Shimano 7-Speed Shifter | Easy to move up and down |
| Derailleur & Cassette | Shimano RD Altus & Shimano 12-32T | Shifts smoothly with no hang-ups |
| Display & Controller | 2.2″ Dual-Tone Customizable LCD Display | Basic functions and pedal assist settings are easy to adjust; I suggest you read the manual to get the most out of advanced metrics |
| Tires | 27.5″ x 2.4″ Kenda Tire | I was happy that the knobby tires provide a smooth, comfortable ride that allows diversions onto gravel and hard-packed dirt. Plus, they look pretty cool with the brown sidewalls. |
| Throttle | Left-Side Thumb | Enough power climbing hills if you don't want to pedal |
| Sensor | Cadence Sensor | Somewhat better than average as far as taking off smoothly |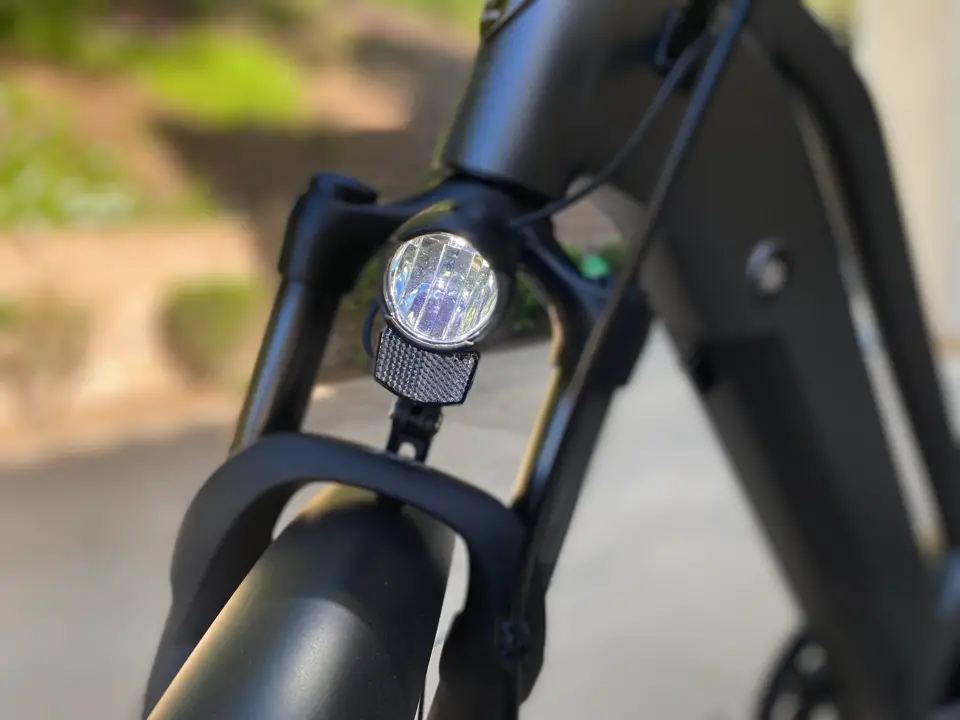 Additional Specs and Components
There are other features that add value to the Ride1Up Turris as well.
Here's what else you get:
Integrated 60 Lux Front Light
Front and Rear Alloy Fenders
Upright Handlebars (ST) or Riser Bars (XR)
Lightweight Alloy Frame (integrates battery)
Ergonomic Grips
Ergonomic Gel MTB Saddle
Black Stainless Steel Spokes
Heavy Duty Kickstand for Extra Support
Two Keys for Integrated Battery System Removal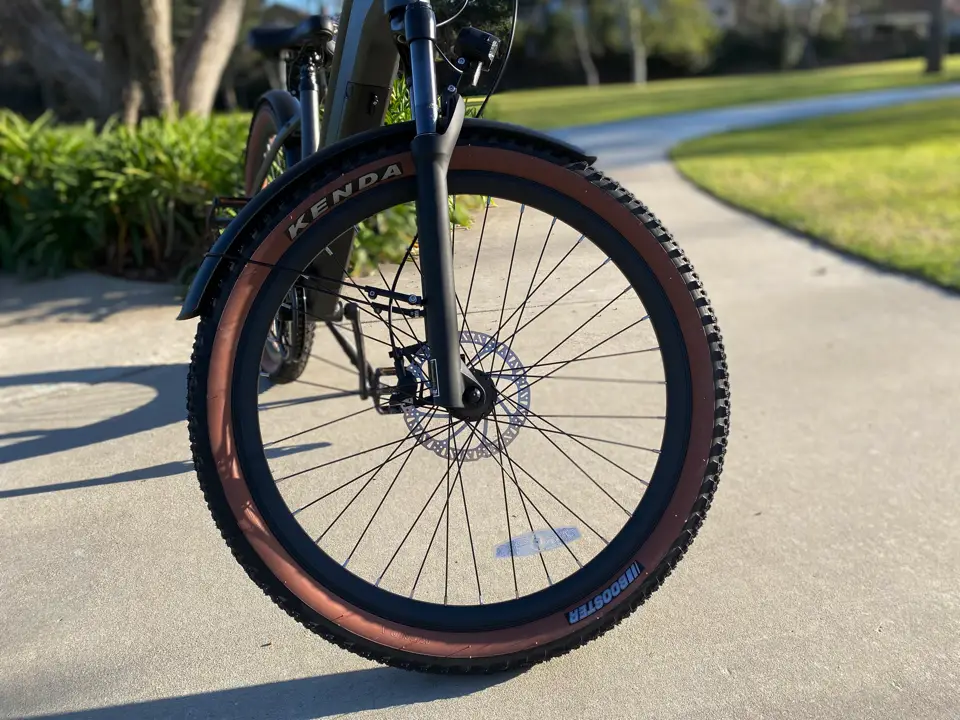 Weight, Load Capacity, & Dimensions
| | | |
| --- | --- | --- |
| SPECS | ST (Step-Through) | XR (Step-Over) |
| Bike Weight | 55lbs | 55lbs |
| Load Capacity | 300lbs | 300lbs |
| Rider Height Range | 5'1″-6'2″ | 5'6″-6'4″ |
| Stand-Over Height (Inseam) | 23" | 30″ |
| Seat Height | 32″-42.5″ | 32″-42.5″ |
| Seat Tube | 19″ | 19″ |
| Handlebar Reach & Height | 15.5" & 44.5″ | 15.5" & 43″ |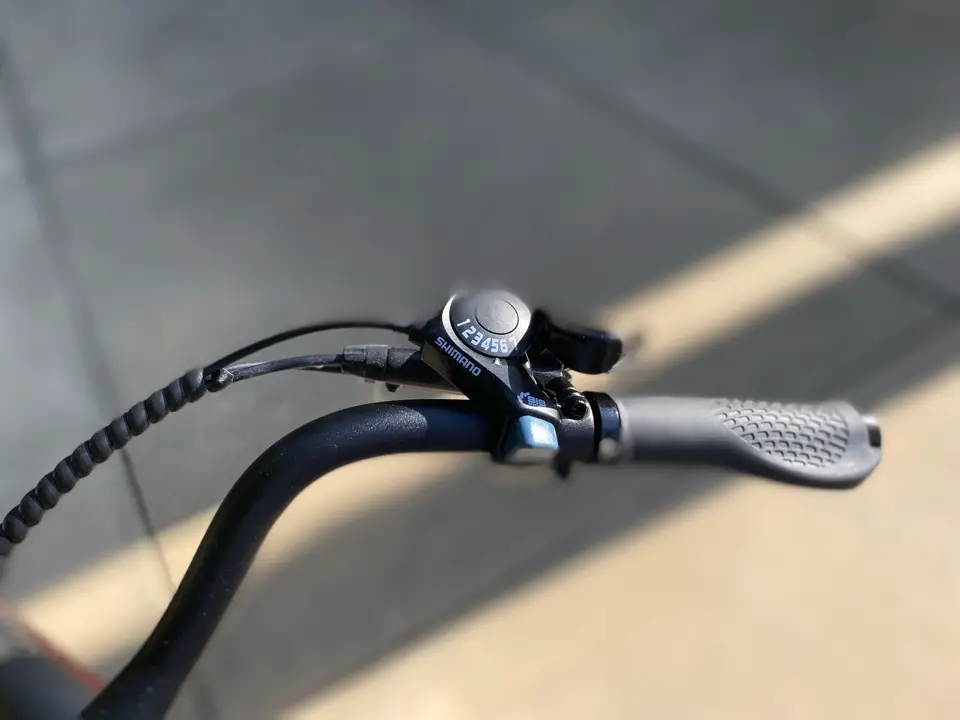 Unboxing and Assembly
Like other Ride1Up electric bikes, the Turris comes shipped to your door well-packed. Thus, it takes a while to get the ties cut and the bike unboxed.
And, overall, the Turris e-bike assembly takes a bit longer than some electric bikes. However, I assembled it all by myself (with the exception of my son holding the tire straight) in around 1 1/2 hours. You can get it done more quickly if you know what you're doing and don't need to rely on the assembly video (but I still recommend watching it).
Each e-bike is a little different, so I like to watch the video and make sure I'm doing it correctly. If you plan on an hour and a half, you'll leave room for grabbing tools and correcting errors as you go.
However, if you have zero experience putting an electric bike together, you might wish to have it professionally assembled.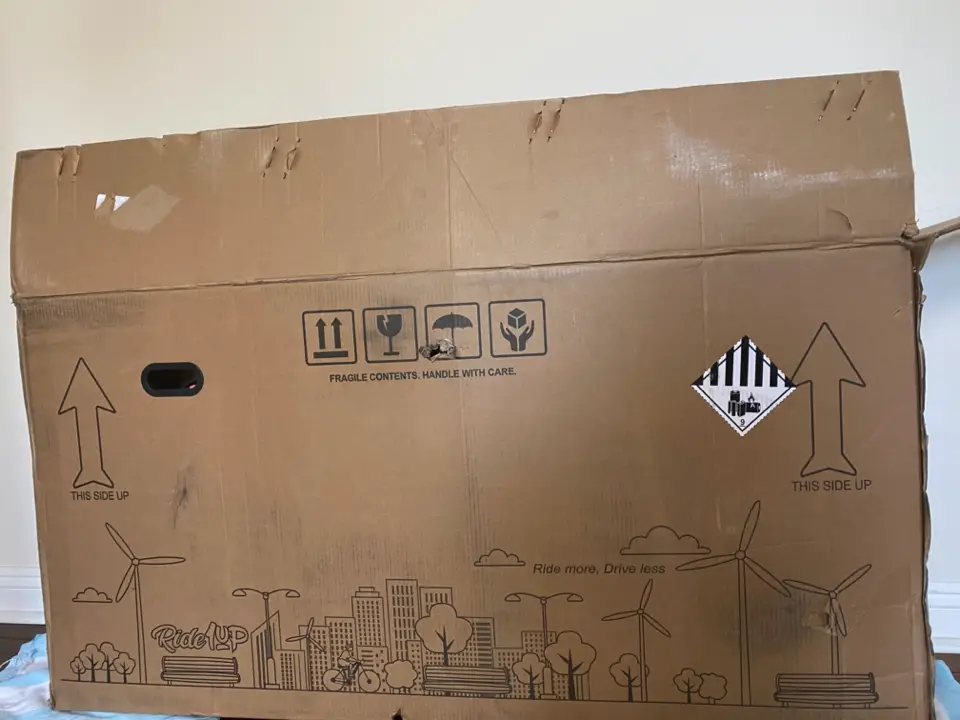 Ride1Up Brand Overview
| | |
| --- | --- |
| Service and Support |  |
| 1-Year Warranty | Standard |
| 30-Day Returns | This is a great guarantee that you will love your e-bike |
| Free Shipping | Standard if you live in the Continental United States |
| Affirm Payment Plan | Choose from 6, 12, or 36 months of payment |
I've spent enough time reviewing the Ride1Up brand to be sure that it is truly a value-oriented brand. It has a variety of types of electric bikes that offer great value for the price.
Take a look at my other Ride1Up reviews of the 700 Series and Core-5 to see the value they have to offer.
In general, the Turris is best compared to the Ride1Up 700 Series, yet it's starting price is $400 less. But the Turris still offers amazing features for its prices. The 700 Series offers a slightly better color display and has a larger battery capacity of 15Ah as compared to 12.8Ah in the Turris. This gives it a range of approximately 5 miles more.
Then the 700 Series has upgraded features like an 8-speed gear shift, rear rack, VELO faux-leather grips, hardened alloy fenders, adjustable stem, and an integrated taillight, in addition to the 80 Lux headlight. Again, this e-bike is packed with features and well worth the money! I think that, even if you choose by budget alone, you won't be dissapointed with either one.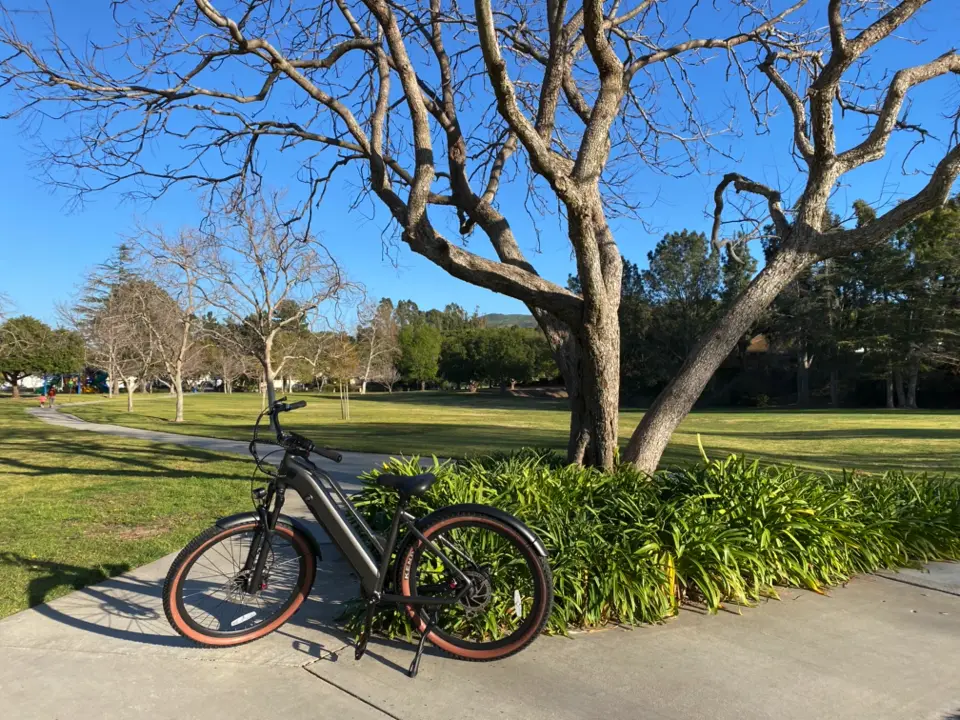 Ride1Up Review: Turris Wrap-Up
Overall, the new Turris e-bike from Ride1Up is a great option if you're looking for a powerful, stylish, and comfortable commuter electric bike. 
It's packed with features that make your ride safe, smooth, and enjoyable but won't cost an arm and a leg. If you're in the market for a new electric bike, I highly recommend giving the Turris a try.
I hope you've learned a lot in this Ride1Up Review… Enjoy your ride!
Want to learn how Ride1Up e-bikes compare to other brands? Take a look at Ride1Up vs Rad Power Bikes.