I just went on my first cross-country e-bike ride on Charge Bikes' XC! 🚴‍♂️✨  With a Shimano Mid Drive motor and 29" tires, it was all new to me and I wasn't sure what to expect. What I discovered was an e-bike that is excitingly different than the electric bikes I've reviewed in the past!
The Charge XC Electric Bike is designed for fast and smooth riding on the road but with solid handling and performance on off-road terrain.
I'm Lisa at E-Biking Today and I'm sharing what I've learned about cross-country bikes and the Charge XC electric bike. Read the detailed article. Then, watch my XC e-bike review below to check out the pros and cons and what makes this bike unique. Further, get help deciding if the XC cross-country electric bike is right for you and discover my surprising conclusion! 
Cross County Electric Bikes vs. Electric Mountain Bikes
Before we dive deeper into our XC electric bike review, let's answer this question: 'What's the difference between a cross-country bike, like the Charge XC, and a more traditional mountain e-bike?' 
Cross-country (XC) bikes are designed primarily for speed and efficiency on diverse terrains, including off-road. They're typically lighter, have an aggressive geometry for more power and efficiency, and generally offer less suspension travel compared to their mountain bike counterparts. 
On the flip side, mountain bikes are built to tackle rough, super technical trails. They often come with beefier frames, more suspension to absorb shocks from big rocks and drops, and a more relaxed frame for stability. Think of XC bikes as agile marathon runners and electric mountain bikes as sturdy trail warriors.
But, what I'm most excited to show you in this Charge XC e-bike review is how versatile it is. It can literally take you across the country! It's built to ride fast on the street but also has the ability to tackle singletrack mountain trails, fire roads, and gravel paths. Check below the video for more info on Charge Bikes… I think you'll be surprised!
So, let's dig into what makes this cross-country ebike stand out among other electric bike styles, and discuss the pros and cons.
Pros of the XC Electric Bike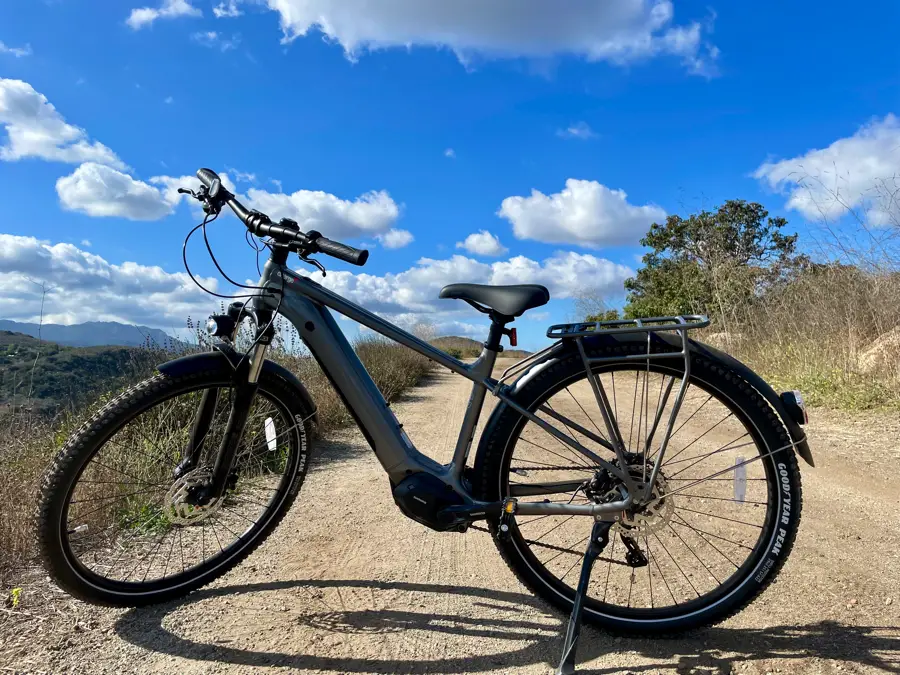 Shimano Mid-Drive Motor and Components
The XC ebike is loaded with high-quality Shimano components, which increases its value big time!
First, there's a Shimano 504-watt-hour integrated battery with an ABUS Lock. There's also a Shimano controller and display, an 8-speed rear derailleur and shifter, and Shimano Hydraulic disc brakes with 180mm rotors. 
But of greatest significance is the Shimano Mid-Drive Motor. 
A huge benefit, the Shimano E5000 250W mid-drive motor is in the dead center of the Charge XC bike, not in the rear hub. It offers electric assistance up to 20mph through 3 pedal assist modes.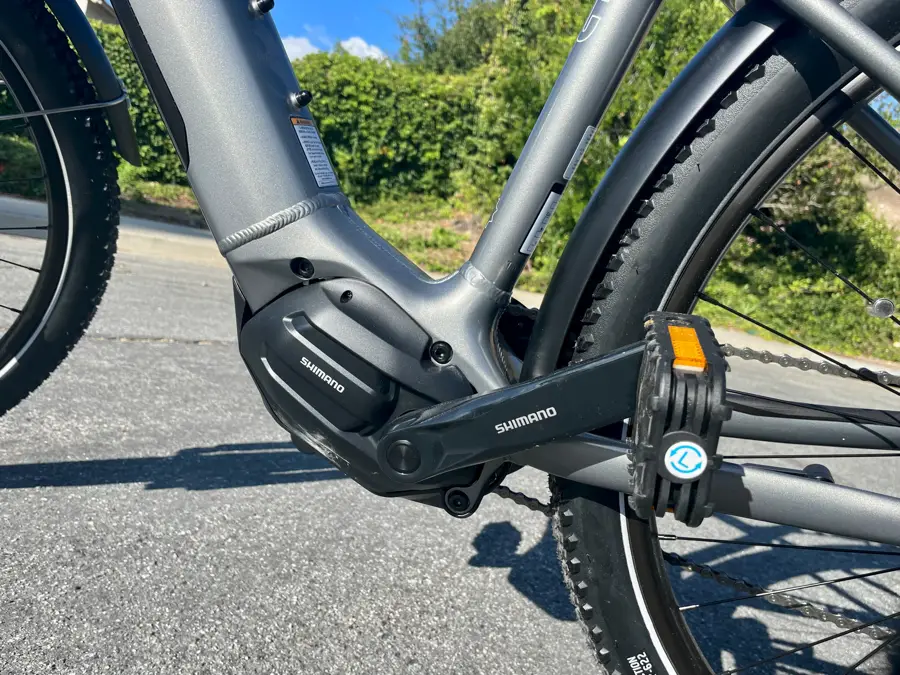 What's Special About a Mid-Drive Motor?
Instead of providing power to one or two of the wheels on an e-bike, as with a more common hub motor, a mid-drive electrical system provides power to the actual drive train. Thus, it assists your pedaling effort. A mid-drive motor also allows better weight distribution, significantly improving a bike's handling.
I experienced this ease of riding firsthand during my trail test ride. Even though the XC has a lower-powered 250W motor, it was easy to maneuver and glide over loose dirt and rocks. 
Of course, I attribute my smooth ride to the next of the XC's Pros as well…
29" All-Terrain Tires
The Goodyear Peak 2 and a quarter-inch wide puncture-resistant tires with reflective sidewalls are super tall, with little rolling resistance.
These knobby tires are perfect for riding across the country, bikepacking, and touring due to their ability to handle fast street riding and off-road terrain. I was able to ride on the road, over rocky terrain, on fire roads, and on single-track trails like it was nothing.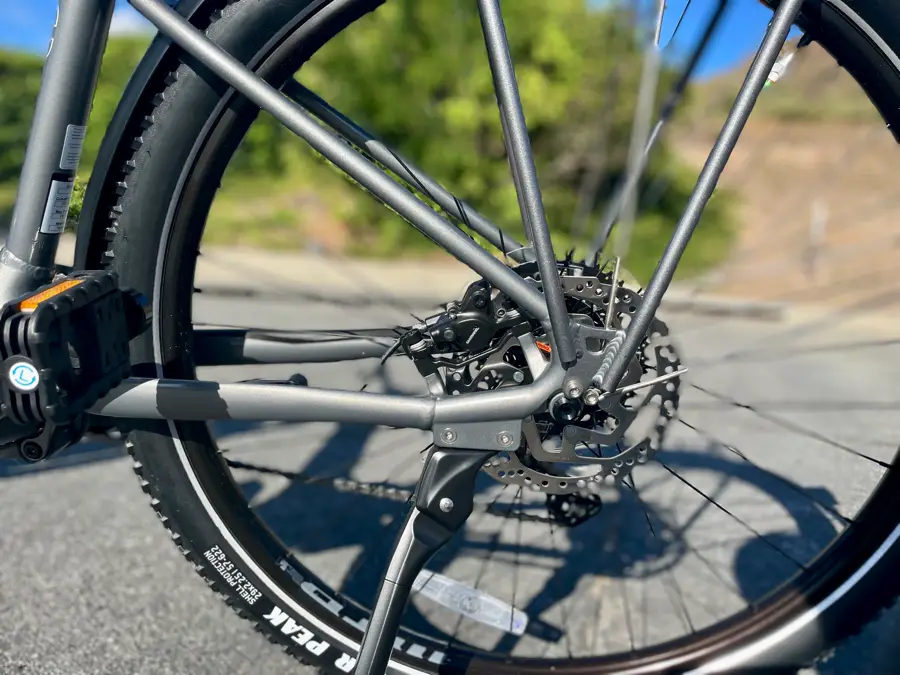 Torque Sensor
I loved the natural feeling of riding with a torque sensor instead of a cadence sensor. When I pedaled, I moved forward. When I braked, I stopped, instead of continuing to slide forward as sometimes happens on a cadence sensor e-bike.
Lightweight and Compact 
The XC electric bike is thin and lightweight, weighing only 55 lbs with the battery installed! Plus, it has fold-flat handlebars and folding pedals for easy storage and travel. 
Long Range
Ride up to 50 miles without needing to recharge your battery. If you use a lot of pedal assistance, you may get 30 miles or less.
Automatic Tire Pressure Sensors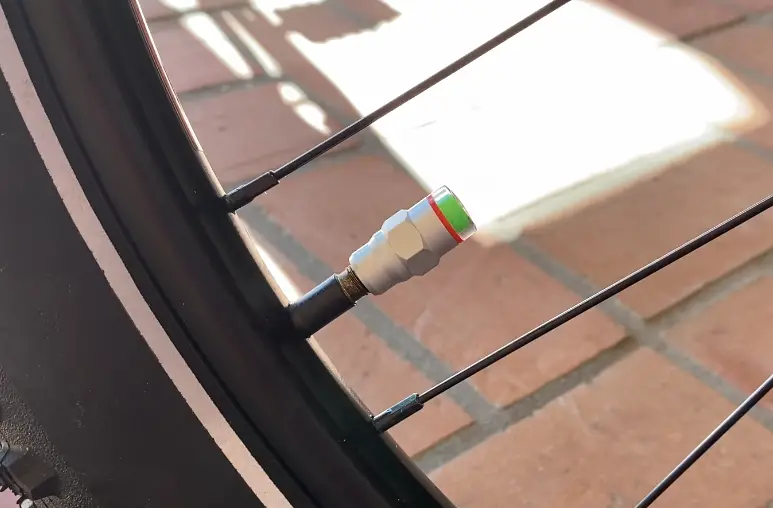 I love these twist-on air pressure sensors! They show red when you need air or green if you're ready to ride, leaving the guesswork out of tire inflation!
Integrated Front and Rear Lights
High-powered, automatic front and rear lights are an essential safety benefit, so I'm glad they're included as a benefit. See and be seen day or night.
Good Suspension
The XC has an SR Suntour XCM 34, 100mm coil fork with a preload adjuster. This front suspension helped me feel quite comfortable going over rocks and bumps. Need even more suspension? Easily add a suspension seat post.
Comfortable Grips
Additionally, I want to point out the super comfortable grips. My hands rested nicely on the ergonomic soft rubber yet I could still easily grip the handlebars.
Additional Benefits of the XC
Now, to add to the long list of Charge XC pros, it comes with an integrated rear rack with a 50 lb weight limit, and rigid, all-weather full-coverage fenders. Plus, with its maximum rider weight of 300 lbs, nearly anyone can ride, take along a pack, and be protected from debris while riding.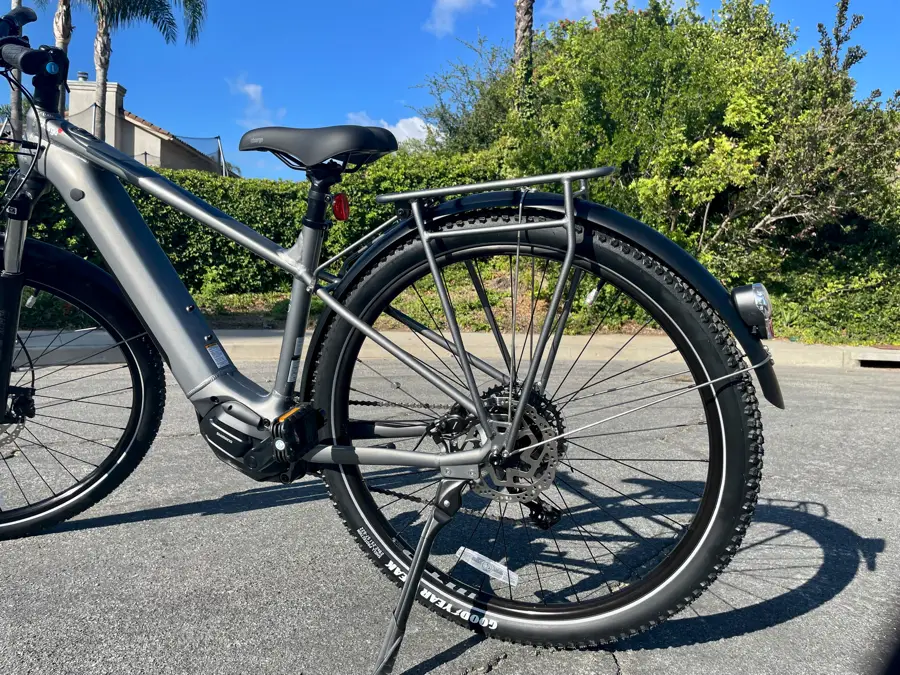 Cons of the Charge XC
No Throttle
Yes, the XC was easy to ride without a throttle… I just lowered the gears a notch or two and the difference was obvious. However, you might still prefer to have a throttle in the event you get tired after a day's ride or if you'd prefer more assistance on steep hills. Consider adding a throttle once you get your XC bike.
Higher Cost
At around $2699, Charge Bikes' XC is a little more expensive than an otherwise similar hub motor electric bike. However, as I explained earlier, a mid-drive ebike is worth the added cost if you expect better handling and performance.
Small Display
I wish the display was a little bigger. It was sometimes hard to see what pedal assist level I was on. But I think this is something I can live with given all the other pros of the Charge XC.
What You Need to Know Before Buying the XC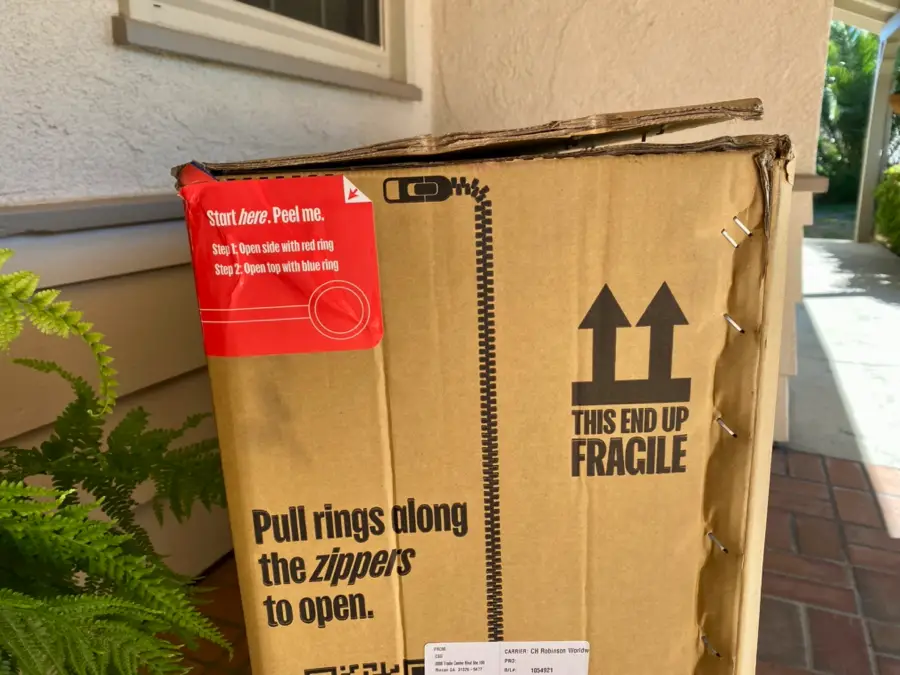 Unboxing and Assembly
Charge Bikes states that you can build the XC in 10 minutes and start riding. Perhaps this is true if you have all of the tools laid out and don't need to take a look at the assembly guide or video. Realistically, expect to need at least 20-30 minutes if you read how to assemble it before actually doing it.
Assembly Tip
Further, if you end up like me, spending a half hour trying to slip the rotor in between brake pads that had closed, here's a tip. If you accidentally squeeze the brakes before installing the front wheel, put a flathead screwdriver in between the brake pads to twist them open.
Overall, the XC assembly was super short and easy, which is yet another benefit of this cross-country e-bike.
Rider Size
Thankfully, the Charge XC is built in two sizes: Small, for riders up to 5'9" and Large for those up to 6'4". The standover height is 30.5" on the Small frame and 32" on the Large frame. I really appreciate the different frame sizes, as many e-bike companies still build for taller e-bike riders. But, I think we smaller e-bike riders deserve a chance to have fun on the trails too!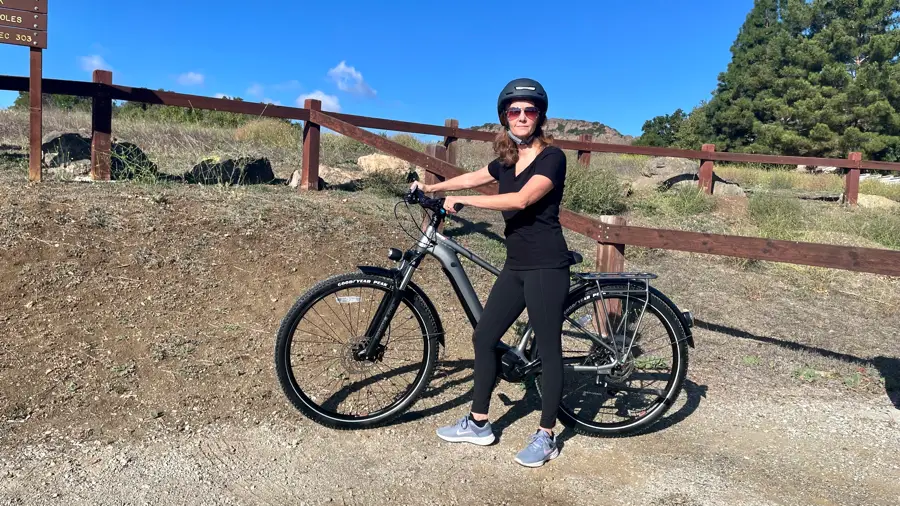 Saddle
The XC comes with the Charge comfort saddle. Although I was plenty comfy during my test ride, riding 50 miles could make me wish I had a wider seat.
Charge Bikes Brand
Charge Bikes is owned by Dorel Industries, Inc. alongside iconic cycling brands such as Schwinn, Cannondale, GT, and Mongoose. The company was founded in the UK in 2004 with the hope of making cycling accessible to everyone.
Who Is the Charge XC Mid-Drive E-Bike Best For?
Basically, an electric cross-country bike is the foundation for an electric mountain bike. It rides anywhere, minus super-technical mountain terrain.
Overall, the Charge XC is designed to withstand the rigors of off-road riding while trekking smoothly and quickly on paved roads. 
Thus, this mid-drive electric bike is for you if you want the best performance, handling, and range. It's also the best e-bike if you're a cycling fan or enjoy riding a regular bike but want or need occasional assistance. 
In fact, I think the XC may be the perfect first electric bike for traditional cyclists or new e-bike riders thanks to its success at mimicking the feel of a regular bike. However, it still carries with it the essential features of an electric bike.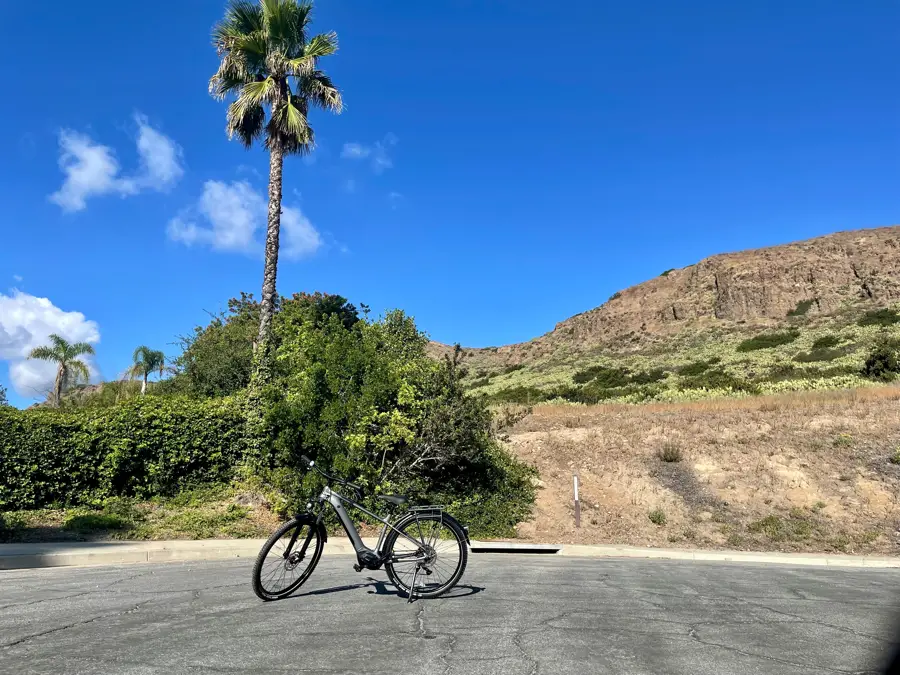 Conclusion
Honestly, I was blown away that riding was so much fun on the Charge Bikes XC 250W e-bike without a throttle! The tall tires, mid-drive motor, and torque sensor made me believe I was riding a regular bike… but with plenty of power and speed when needed. The ride felt natural and I got out of it exactly the work I put into it.
I hope you enjoyed my Charge Bikes XC Electric Bike Review… and enjoy your ride!