Looking for a rugged yet refined fat tire electric bike? The Ride1Up Rift could be the e-bike to take you on the adventures you've been looking for.
The Rift electric bike offers 4-inch fat tires, a powerful 750W motor, a large front suspension, a long range of up to 60 miles, and a maximum speed of 28mph. It's an adventure e-bike full of value and sells for a fair price.
In this review, I'll give you a closer look at the Ride1Up Rift electric fat bike, which has been gaining attention in the e-bike community for its robust and refined design. I'll cover its key features, benefits, and drawbacks, so you can make an informed decision before investing in this adventure-ready e-bike.
Plus, I'll tell you about one feature that makes it shine above the other electric fat bike brands. 
And, although the disadvantages of this fat tire adventure ebike appear to be few, there are a couple of potential cons you should know about before taking the plunge. These will be discussed as well.
First Impressions
At first glance, the Ride1Up Rift electric fat bike appears to be a capable off-road e-bike that can handle any adventure thrown its way. The oversized tires give it a muscular appearance, while the front suspension and sleek frame add a touch of finesse.
But despite its rugged exterior, the Rift is still stylish and refined, with a beautiful matte finish and an integrated, removable battery. It's just as comfortable riding on the road as off-road.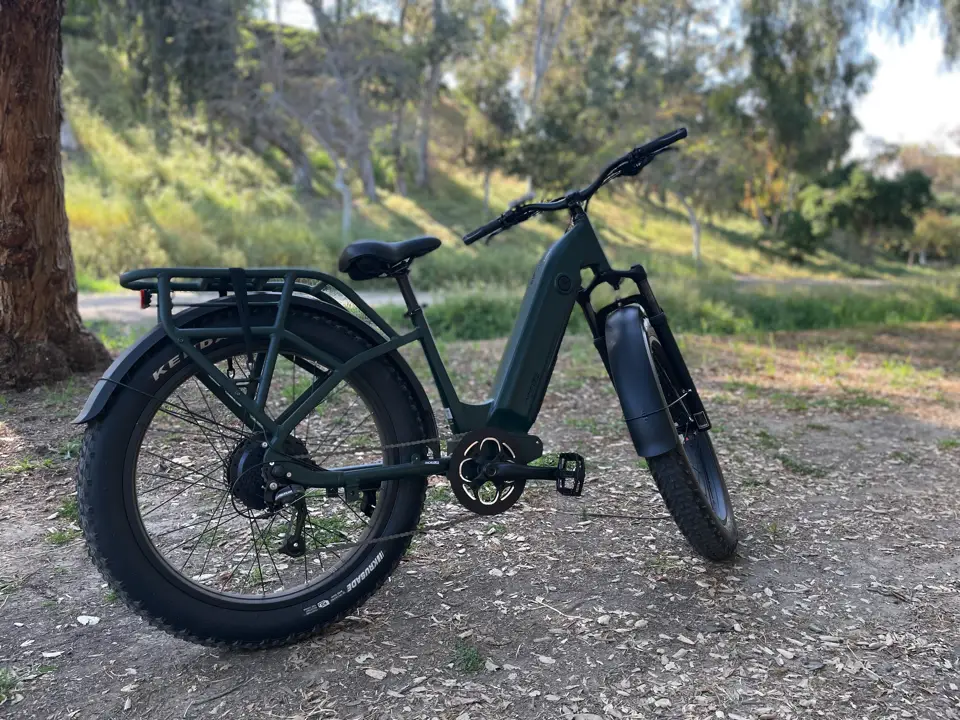 Key Features and Benefits
Competitive Pricing
One of the biggest advantages of the Rift is its price. At $1895, it's comparable to other full-size fat tire electric bikes and offers excellent value for the money.
High-Speed Capabilities
The Rift is a Class 2 e-bike that can be unlocked to Class 3, providing pedal-assisted speeds of up to 28mph. You can easily unlock the top speed using the customizable color LCD display.

It also comes equipped with a thumb throttle, allowing you to reach speeds of up to 20mph effortlessly. I appreciate getting a quick burst of speed to cross streets or move in and out of traffic.
Long Battery Range
Here's what I believe to be one of the biggest pros of this adventure e-bike… the increase in range over other similar electric fat bikes.
Ride1Up claims the Rift can travel 45-60 miles on a single charge, depending on various factors such as terrain, rider weight, and assistance levels. The bike comes with a 20 Amp hour removable battery, providing enough power to keep you going for extended periods.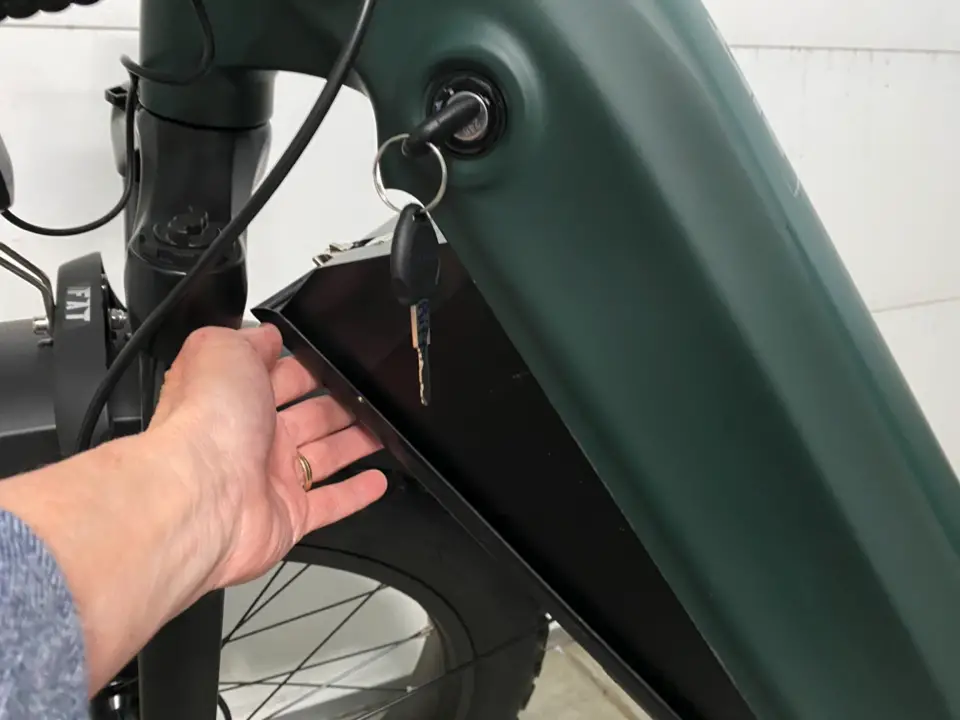 Powerful Motor

The Rift electric bike is powered by a 750W motor with 95 Newton Meters of torque, which provides sufficient power to tackle rugged terrain with ease. Plus, riding up steep hills is quick and easy!

Superior Braking System

This cool adventure e-bike also features quad-piston hydraulic brakes, which provide superior stopping power on and off-road.

Slipping on off-road terrain is a huge fear of mine. But, I'm happy to report that the Rift's brakes proved their advantage over mechanical disc brakes, even on dirt and loose gravel, adding an extra layer of safety and control, and giving peace of mind.

Comfortable and Ergonomic Design

The Rift's reinforced frame and riding posture prioritize rider comfort, with a natural sitting position, ergonomic grips, and a comfortable saddle. Additionally, Ride1Up offers the bike in both a step-over or step-thru frame, allowing for easy on and off access.

Front Suspension

The Rift's front suspension boasts an impressive 120mm of travel, offering excellent shock absorption and a smoother ride on rough terrain. This added comfort and control can make a significant difference in the overall riding experience, particularly when tackling off-road trails or uneven urban environments.

Additional Features and Benefits

Other advantages of the fat tire Rift e-bike are the quality Kenda Krusade anti-puncture tires, full-coverage fenders, and Shimano 8-speed gears, all of which give you a little bit more for your money.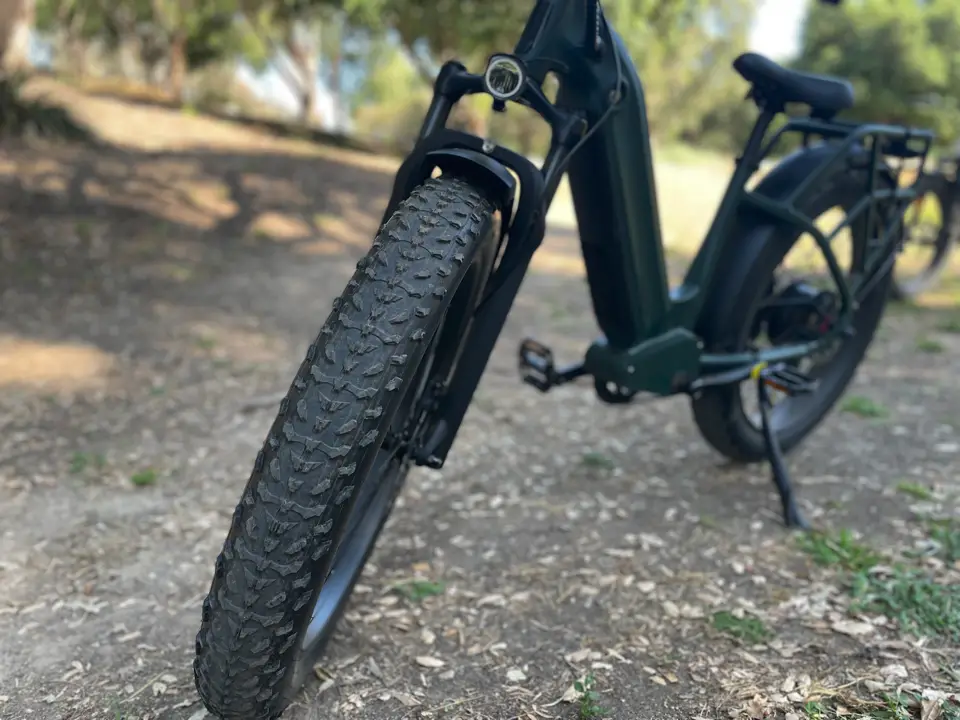 Potential Drawbacks
Heavy Weight
At 84.5 lbs, the Rift is quite a heavy electric bike, making it harder to keep upright if the bike falls or if the rider loses balance.
Thumb Throttle
While the thumb throttle is convenient, some riders may prefer a twist throttle. I think a twist throttle is more natural to use since your hand is already right next to the throttle. The thumb throttle can be difficult to reach and apply the right amount of power when climbing steep hills.

This is more of a personal preference, however.
Small LCD Display
The 2.2-inch color LCD display can be a bit difficult to read, particularly in bright sunlight or low light conditions.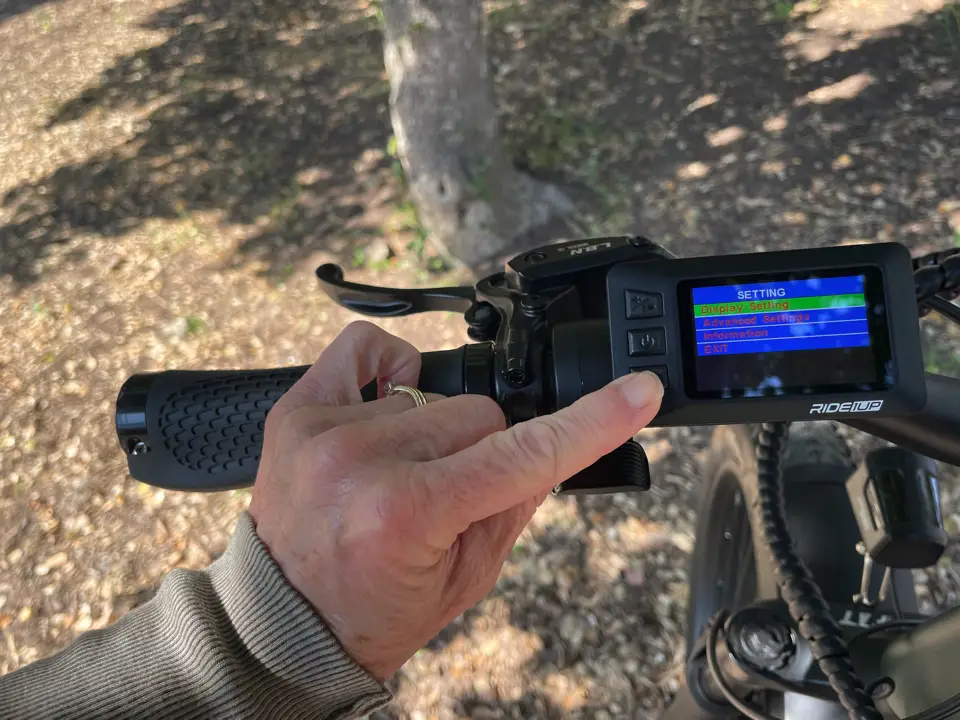 Value of the Rift Electric Fat Bike
Besides all of the aforementioned advantages of the Rift, there are several other features that add to its $1899 value.
For one, I really appreciate the bright headlight AND integrated taillight. Other ebike brands save money by leaving off the rear light, which is a huge mistake when it comes to your riding safety.
And the Rift has a super solid, reinforced frame, helping it stand out as a beast of an e-bike!
Of course, it's fantastic that Ride1Up always offers its e-bikes in a step-over or step-thru frame, so most everyone can fit on one. Personally, I love the Rift step-thru for the ease of getting on and off. This is especially helpful on a heavy fat bike. 
Plus, in true Ride1Up style, the frame and riding posture is focused on making your ride as comfortable as possible. So, the saddle and ergonomic grips help you settle in, while the sitting posture is natural.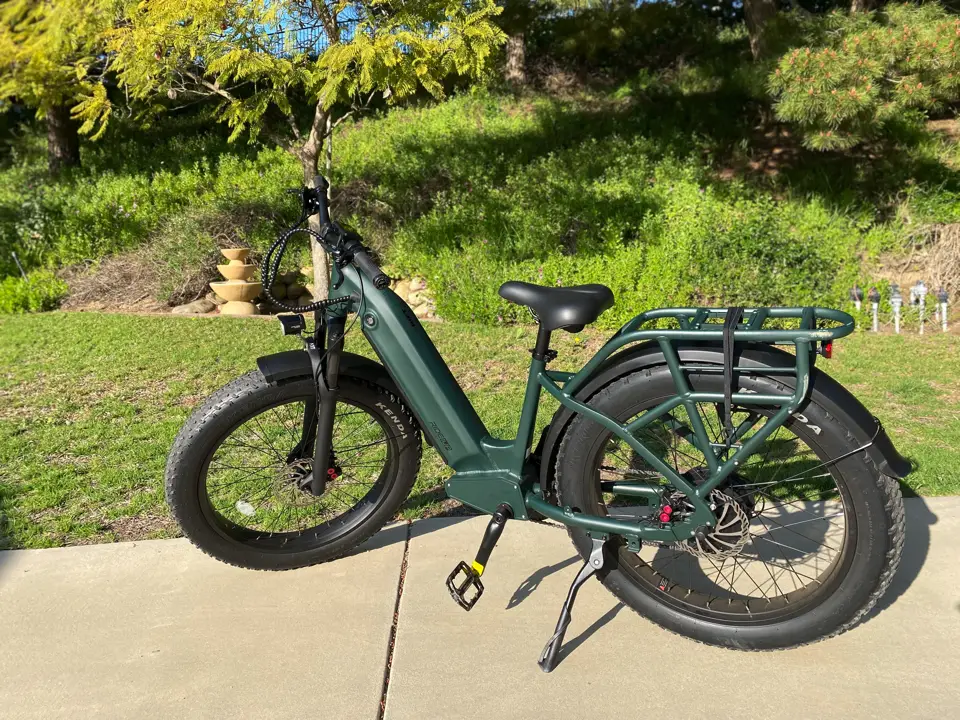 Passenger Seat Option
Additionally, I really like that Ride1Up stepped out of the norm to add a passenger seat option to their electric fat bike. Although I wouldn't recommend doing any heavy-duty off-road riding with a passenger on the back, the option is great for cruising with a partner down your favorite bike trails.
The tough integrated rack can hold up to 150 lbs. Be aware that the passenger seat is sold separately.
Ride1Up Rift Suspension
Out of all of the Rift's benefits, here's how the Rift tops other brands with fat tire adventure e-bikes… it offers a front suspension with 120mm of travel, whereas competitors' full-size fat bikes currently offer as little as 60mm of travel. 
Thus, the Rift offers great shock absorption and a smoother ride on rough terrain, making it easier to handle obstacles like rocks, roots, and uneven surfaces. This added comfort and control can improve the overall riding experience, particularly when tackling off-road trails or uneven urban environments.
Additionally, the extra suspension travel allows for better traction on various surfaces, as the front wheel maintains contact with the ground more consistently. This increased stability and grip can enhance the electric bike's performance and safety, making it more enjoyable and reliable for riders looking to explore diverse landscapes.
What You Need to Know Before You Buy
You might also like to know that the Rift comes in 3 color choices: Forest Green, Artic White, and Graphite Gray.
It also has a substantial payload capacity of 350 lbs. But keep in mind that this total weight capacity includes the rider, passenger, and gear.
Finally, it fits riders from around 5 feet to 6'4". In fact, I have the seat raised about 3.5 inches and I'm only 5'1″, so I think Ride1Up overshot the size here and that you may be able to fit on the step-thru even if you're under 5'1".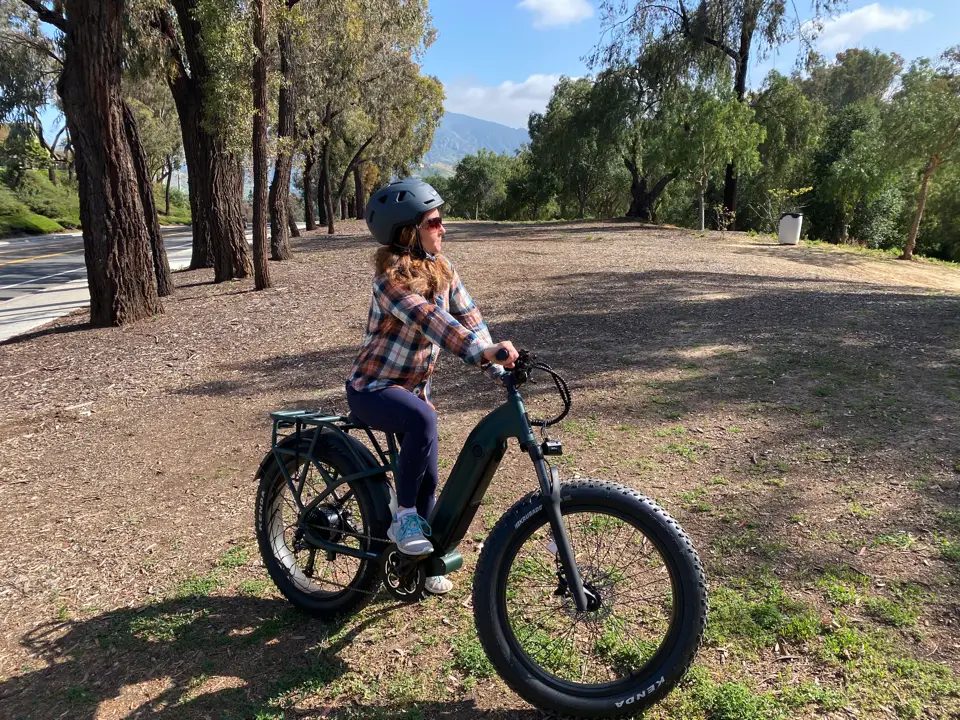 What Type of Rider Is the Rift the Best E-Bike For?
The Rift is the best electric bike for anyone who loves adventuring and wants to do it in style. It's ideal for people who want to ride off-road, explore trails, or even just commute to work on the wild side. If that sounds like you, the Ride1Up Rift could be a great choice for you!
If you'd like to learn more about Ride1Up, check out my other Ride1Up reviews and articles on the E-Biking Today YouTube channel or on ebikingtoday.com.
I hope you've learned a lot in my Ride1Up Rift Review and enjoy your ride!