Imagine effortlessly gliding through rugged landscapes, conquering every bump and obstacle in your path, all while enjoying a fast and smooth ride without working hard. Or perhaps, you're more the kind of person who wants to put in the effort and reap the physical rewards?
Those are the kind of options that the Bandit X-Trail Lite gives you. With an all-terrain full suspension, twist throttle, and 6 levels of pedal assist, your ride could be taken to a whole new level.
But before you decide to buy, continue reading my X-Trail Lite electric moped review to make sure it's the right electric bike for you. Check out the list of pros and cons, as well as the cool new technology that Bandit Bikes is adding to all of its electric mopeds and bikes.
Electric Moped Review
First, let's answer this question: Is the X-Trail Lite really a moped or is it an electric bike?
Although the Bandit X-Trail Lite is designed as a cutting-edge electric moped, it passes as a Class 3 electric bike with pedal assist speeds maxing out at 28mph. So, you can ride it as a moped without pedaling (using throttle only) or enjoy it as an e-bike that you pedal.
This means NO registration, NO license, and NO insurance required because it meets the criteria of an electric bike.
So, consider this an electric bike review as much as an electric moped review!
Pros of the X-Trail Lite
Powerful and fast: The X-Trail Lite is powered by a 750W rear hub motor and a 696 Watt-hour battery, making it capable of going far and fast. Even Level 1 of the 6 levels of pedal assist gives a good kick start, allowing riders to accelerate quickly. This was particularly helpful for me riding through intersections and going up steep hills.
Full suspension: The 80mm front suspension and the rear shock absorb the impact of hard bumps, providing riders with a smooth ride. This feature is especially useful for off-road riding and it really helped me to feel in control of the bike.
Although a rear suspension can make it harder to get up to speed by pedaling, the 6 levels of pedal assist make up for it. You can choose whether to put in the effort or not.
Long-range: With a 70+ mile range, the X-Trail Lite is classified as a long-range electric bike. Although laying off the throttle is necessary to achieve the full range, Bandit Bikes claims that it has a throttle-only range of 50 miles, making it a true electric moped that doesn't require pedaling.
Comfortable: The X-Trail Lite is designed with full suspension, 4-inch knobby fat tires, a step-thru frame, ergonomic grips, and a comfortable saddle, providing riders with a smooth and comfortable ride. It's suitable for both off-road and on-road rides.
All-Terrain: The 4-inch knobby, puncture-resistant fat tires give good traction for off-road riding. Additionally, I think that the fat tires and full suspension combination are what give this electric bike a smooth ride.
Although The X-Trail Lite is great for off-roading, it also rides smoothly on the pavement while the full suspension makes it comfortable for long rides.
A note on tire pressure: the tires state a max pressure of 30 PSI. I started riding at 15 PSI and even lowered it to around 10-12 PSI going off-road. You'll need to consider what pressure works best for you depending on your weight and riding terrain.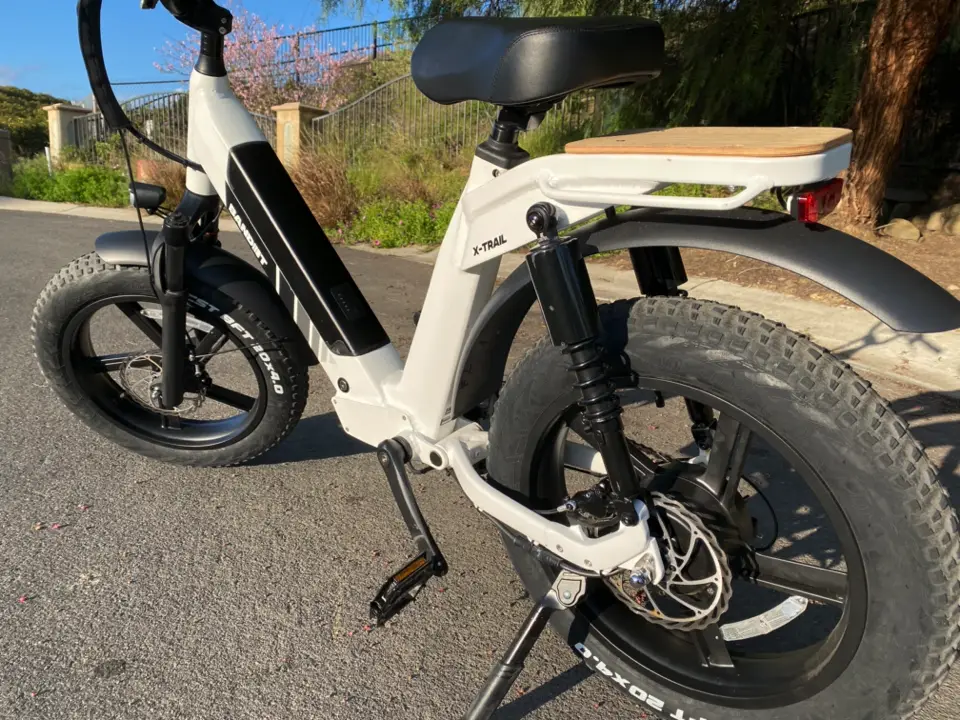 Step-Through Frame: Acknowledging the size and weight of this electric bike, the step-thru frame is another huge benefit. Although designed as an electric moped-style e-bike, Bandit was able to accommodate more riders by making it easy to step through. In general, most electric mopeds and fat tire ebikes are just too big for a small rider. 
At 5'1″, I ride with my seat raised only about 1". But depending on your inseam, someone as short as 4'11" may be able to ride. Plus, it still accommodates riders up to 6'4″.
Great stopping power: Thankfully, this heavy electric moped has 180mm front and rear hydraulic disc brakes to ensure that it stops fast and completely. I wouldn't expect anything less!
Good visibility: Another benefit is the waterproof LED headlight/taillight combo. When you're on a long ride and get caught in the dark as the sun goes down, you're still visible to cars and can see the path in front of you. Plus, the rear light also acts as a brake light, which was useful to let my riding partner know that I was slowing down.
Smart LCD: It's colorful and easy to read so you can change the controls while riding (I discuss more tech advances further on).
Affordable: Retailing at $1699, the X-Trail Lite is a steal for a fat tire, full-suspension electric moped/electric bike all-in-one. Additionally, you can get an additional $100 discount using the special E-Biking Today code.
Just enter this code at checkout: EBIKINGTODAY100X
Additional Pros: Besides being able to choose from three colors, other pros include a USB port, 7-speed Shimano Tourney gears, ergonomic grips, and a wide saddle that's a mix of comfort bike and moped-style.
Plus, not only do the high fenders give the e-bike a unique look, but I appreciate that they don't rub on the tires like so many other e-bikes (and thus they don't require constant adjustment).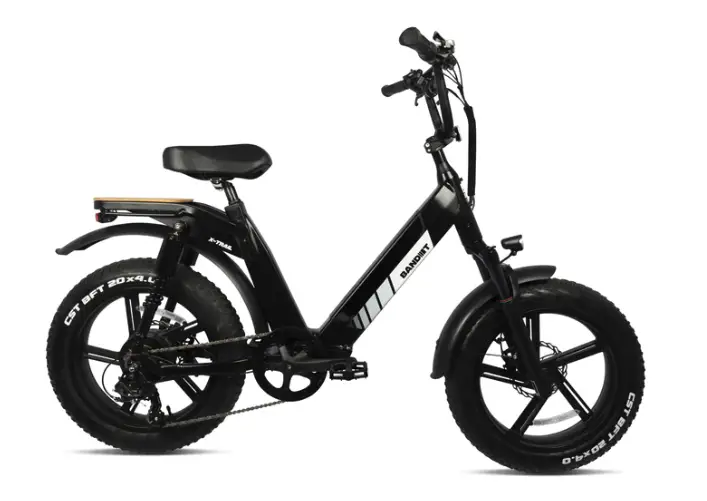 Cons of the X-Trail Lite
Fast acceleration: The X-Trail Lite may take off a little too fast for some, which may not be suitable for beginner riders.
Heavy: Weighing in at 77 pounds (35kg), the X-Trail Lite is pretty heavy. However, this is comparable to the weight of other typical fat tire electric bikes.
I think the improvement in ride quality makes up for this if you'll be riding on rough terrain or if you have a bad back or other physical ailments.
Short rear rack: The wooden plank rear rack adds a fun touch to the X-Trail Lite's design, but it's too short to hold a big bag or pannier.
Wide saddle nose: Although the saddle is wide and comfortable overall, its nose is also pretty wide. Thus, it may not be comfortable for long-distance pedaling, especially for smaller riders (my 5'8″ test rider was completely comfortable pedaling).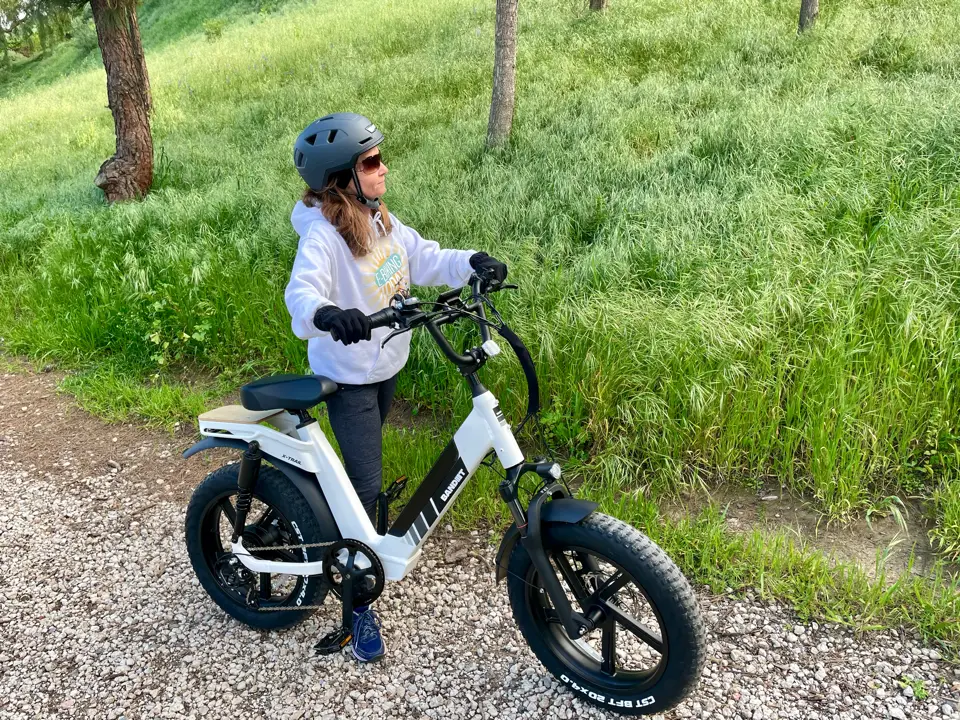 Bandit X-Trail Lite's Advanced Technology Features
Bandit Bikes offers some of the most versatile electric mopeds and bicycles out there, and the X-Trail Lite is no exception. But they're adding to the desirability of their e-bikes with some cool advanced technology. Here are the features that make this electric moped bike unique:
Customizable passcode
The X-Trail Lite, as well as all of Bandit's bikes, comes with a customizable passcode that lets you disable pedal assist while you're away from your electric bike, ensuring added security.
Smart Color LCD
The large color LCD screen instantly displays essential data, such as speed, remaining battery life, and pedal assist level.
Display Functions
Configure units, brightness, and security measures.
Control PAS level, riding mode, and your headlight.
Track your average speed, distance, and ride time.
Connect the Bandit App with Bluetooth (see below)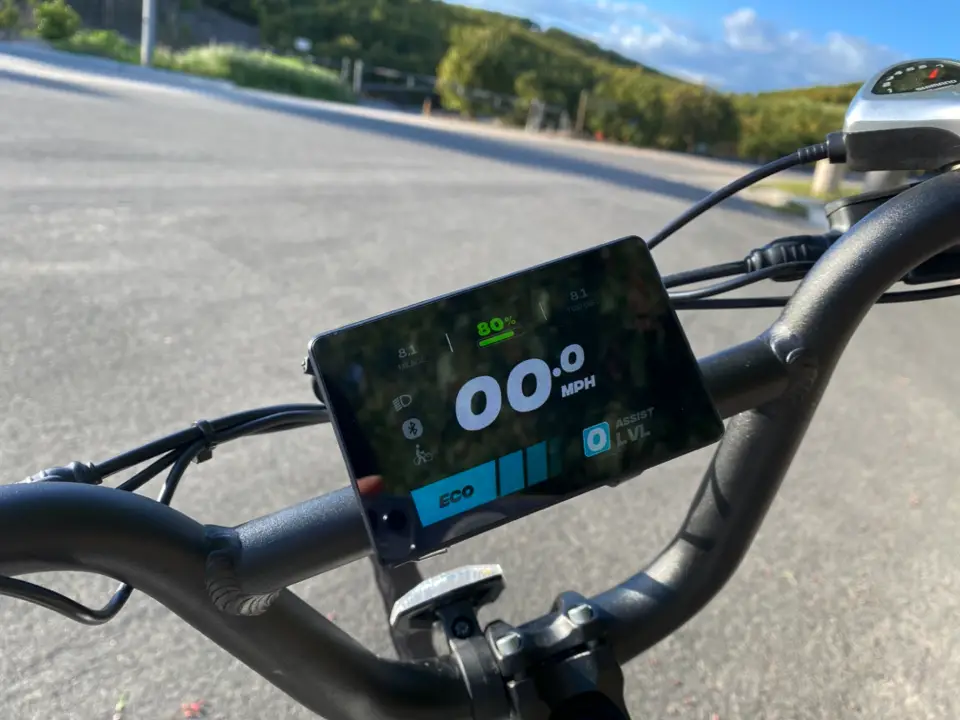 The Bandit App
With the free e-bike app, riders are able to sync their display and adjust basic settings like ride mode, pedal assist level, and passcode. Additionally, the paid tier of the app will provide access to anti-theft features like GPS tracking with notifications of suspected theft alerts as well as real-time navigation.
App Functions
Modify PAS level and riding mode to meet your needs.
Configure and customize your units, brightness, and security measures.
Track your average speed, distance, ride time, and more.
The premium app feature provides riders with real-time navigation.
Check to see if the Bandit App has been released!
NFC card
In future models, riders will receive an NFC card that, when connected to the bike, allows them to lock and unlock the e-bike's motor function by tapping the monitor with it.
This is all very exciting new tech for an electric bike. If you're interested in checking out the X-Trail Lite, don't forget to use the special E-Biking Today $100 discount code (EBIKINGTODAY100X)!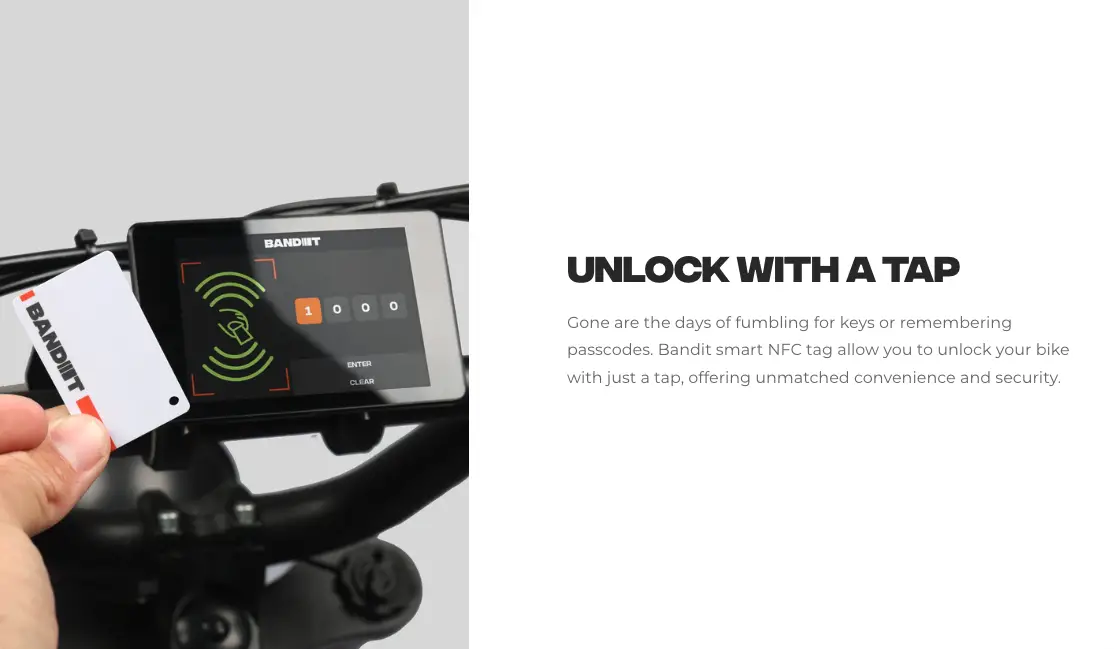 Conclusion
Overall, the Bandit X-Trail Lite electric moped/electric bike is a versatile and affordable option for both urban rides and off-road adventures.
With a powerful motor, long-range, full suspension, and comfortable design, it's suitable for riders of all levels. While the fast acceleration and heavy weight may not be suitable for everyone, the advanced technology features and unique design make it a great choice for anyone looking for an electric moped that rides like an electric bike.
And with the special E-Biking Today discount code (see above), the X-Trail Lite is even more affordable. So, if you're in the market for a versatile electric moped/electric bike, be sure to check out the Bandit X-Trail Lite.