You've spent a good deal of cash on your electric bike already, so it's totally natural that you'd want to save as much money as possible on accessories, maybe even doing without them!
Good news! You can enjoy getting some cool things that won't break the bank. Here's a list of 25 e-bike accessories under $25. This researched and carefully selected list includes products for safety, comfort, and pleasure.
We hope you love the products we've selected here! All of them were chosen by myself and my husband based on our research and detailed reviews from others.
E-Biking Today may receive compensation from the links on this page if you decide to shop on them. Prices and items in stock are subject to change after publication.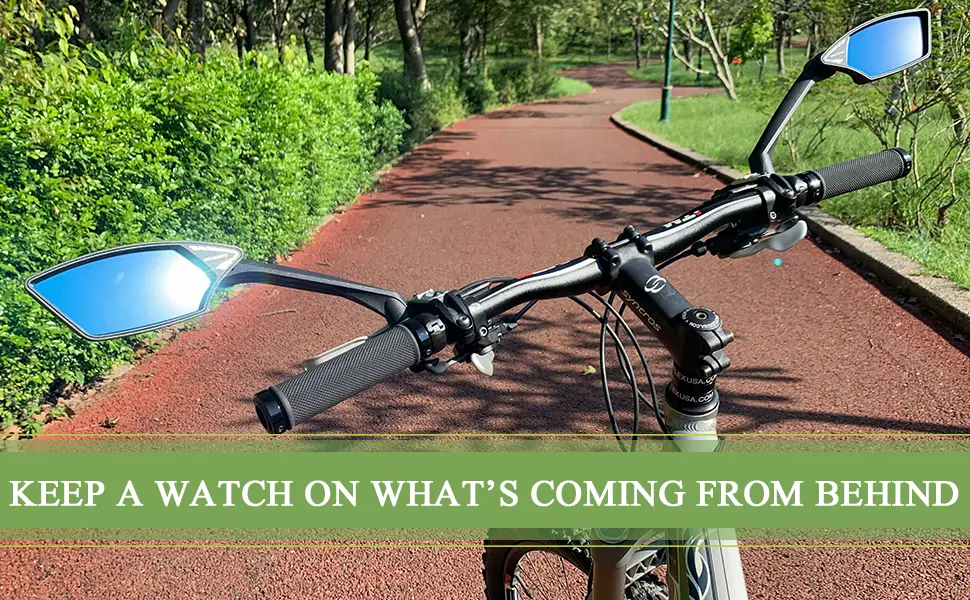 Your e-biking experience will be fun and safer when you can see what's behind you. This is a high-definition, "blast-resistant" mirror that will give you a clearer view of what's coming from behind. Its anti-glare makes it easy to see on sunny days and the mirror is scratch-resistant so it'll stay "like new" for years to come!

Promising review: "I just put this on my RadRover eBike and it has become my favorite of several I have tried. Stiff enough to not be blurry over bump roads I ride on; plus stick out farther to my left for easier rearview glance than my previous favorite. I get a quick glance visual for when I will be riding further out into the road while passing garbage cans or bushes that will push me into the road. IMO: It is way safer to have a mirror on your bike. I ride a motorcycle too, and know mirrors and mirror glancing habits save lives! … like keeping the rubber side down." – Safer Bike Rides
Over 4,000 positive reviews (and "Amazon's Choice")
Get it from Amazon $19.95

---
2. If you prefer a sleeker look (but just as safe) these handlebar mirrors will do the trick!

These cool-looking mirrors attach to your handlebars. They have a concave surface to make it easier to see what's coming up behind you. The mirrors are fully adjustable and you can mount them at the perfect angle. These were an excellent purchase for our folding e-bikes and easy to install too.
Promising review: "Absolutely fabulous! Easy to install – I had to slice off the end of my handlebar grip, but that's not the mirror's fault! Thought I could slice an "X" into the end of my handlebar grip, but no – still too much material in the way… So what! I sliced the end of the grip flush with the end of the handlebar; the mirror installed flush, covered the hole – it looks like it was always there! These are sold in pairs, but the wide-angle aspect of these mirrors are so perfect, I can see directly BEHIND me, with just ONE mirror on my left side! The OTHER mirror I put on my wife's bike, left side – and SHE'S just as THRILLED as I am! We BOTH highly recommend this mirror!" – Charlie H.

Get it from Amazon $15.99

---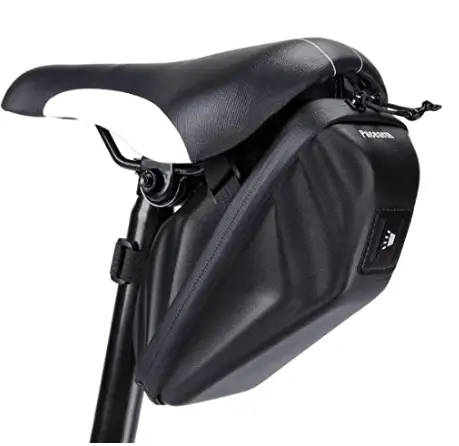 This e-bike accessory pouch is perfect for when you don't need larger pannier bags. It's easy to install (there are three Velcro straps to keep it secured during bounces). The straps are adjustable and suitable for most e-bikes.
It's also water-resistant (not waterproof, however) with water-resistant zippers for better water repellency to withstand light rain and splashing water. Because it's made of thick PU & EVA, this saddle bag is better at protecting your belongings than cheaply made cloth ones.
Promising review: "I got this for my son and he has his bike seat all the way down because he's still short so there isn't much space under his bike seat but I managed to install this under his seat. It's a bit tight, especially because he has a mudguard for his rear wheel right behind the bag but it works.

I like that it has zippered closure rather than velcro-like other bags I've seen and it also has a taillight hanging place since this saddle bag will be blocking the taillight if you have one. It has deep storage space inside and you can easily add and remove things like your smartphone and wallet…" – wannabe perfectionist
Get it from Amazon: $15.49
---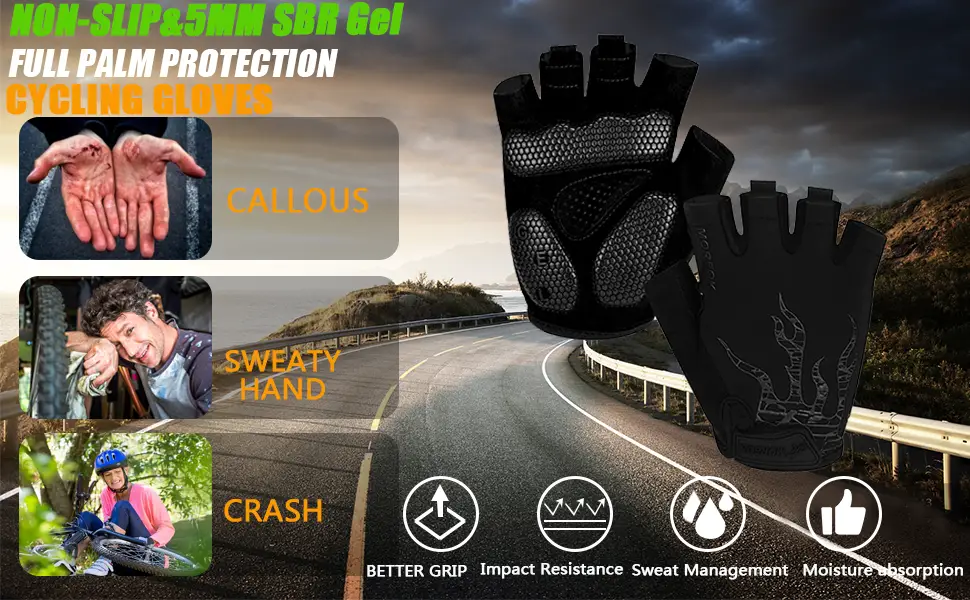 Because of their extra thick shock-absorbing "3-panel" palms, these gloves keep your hands comfortable without the e-bike rider sacrificing control. You can easily take these gloves off because they have pull tabs on the fingers!
Promising review: "These gloves fit perfect (my palm's measures between 20cm -21cm) and I bought a large.
The gel pads feel real good on the handlebars of my scooter, lots of grip too.
The little "tabs" on the inside of the two middle fingers make it so much easier to pull the gloves off.
Graphic look kool too…I'm stoked..great deal quick shipping always from amazon Prime…

UPDATE: after a week of wearing these gloves I have found out why they said "shock absorbing" because so after just a short week of riding with these on ( I ride everyday) I have noticed something different when I use my computer to type…my fingers don't have that tingly feeling and numbness like before…which I am sure came from the vibration of my hands being on the handlebars of my 2 motorcycles…where have these been all my life ?? I just threw out my 2 pair of other riding gloves and they were in good physical shape…buying a 2nd pair of these for sure." – Brian J.
Get them from Amazon $15.99:
---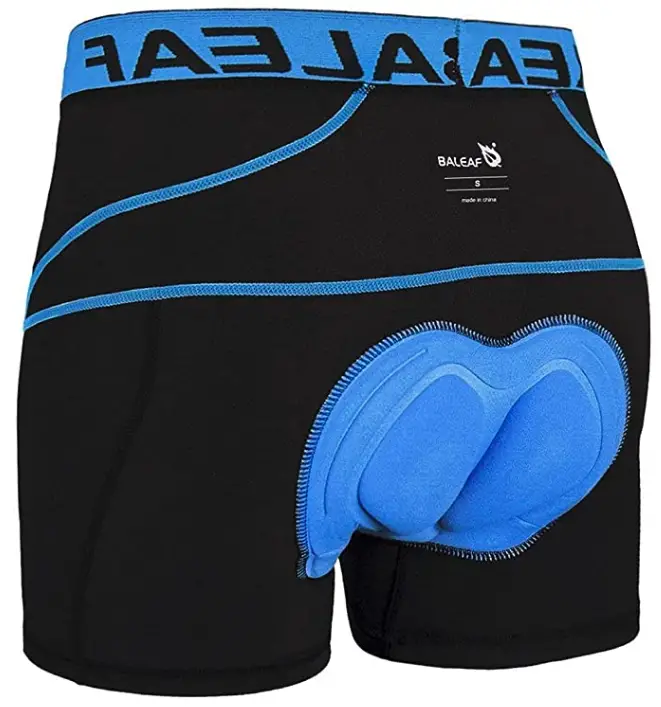 These bike shorts are actually made for mountain biking (here are some padded bike shorts for women). (here are some padded bike shorts for women).. But for those of us who ride our e-bikes long distances, these bike shorts are great! 3D padding is included in just the right place. Plus, the thickness will keep you comfy in your electric bike saddle while riding. The 3D padding helps prevent ride-ups as well.
Promising review: "Pretty great, inexpensive padded briefs.
I never thought I'd end up writing a review for what are essentially padded underwear, but here we are. I recently (within the past 3-4 months) started cycling for exercise. Initially, I had trouble getting used to the rather unforgiving seat on my new bike, so I replaced the seat with a more padded model. This worked for a while, but on longer rides (20 miles+) I noticed that the padding was too firm and actually caused some pretty major pain. As an experiment, I bought these and one other (cheaper) pair to see if they'd make a difference. Boy did they ever make a difference, and because I had another pair to compare them with, I found that these are vastly superior. They stay up and wear pretty much like a normal pair of boxer briefs. They're so comfortable that I often forget that the padding is even there. Best of all, no more pain while riding. These things are great." – Ryan C.
Get it on Amazon $19.99:
---
6. A two-in-one bike bag for holding stuff and a handy pocket to display your phone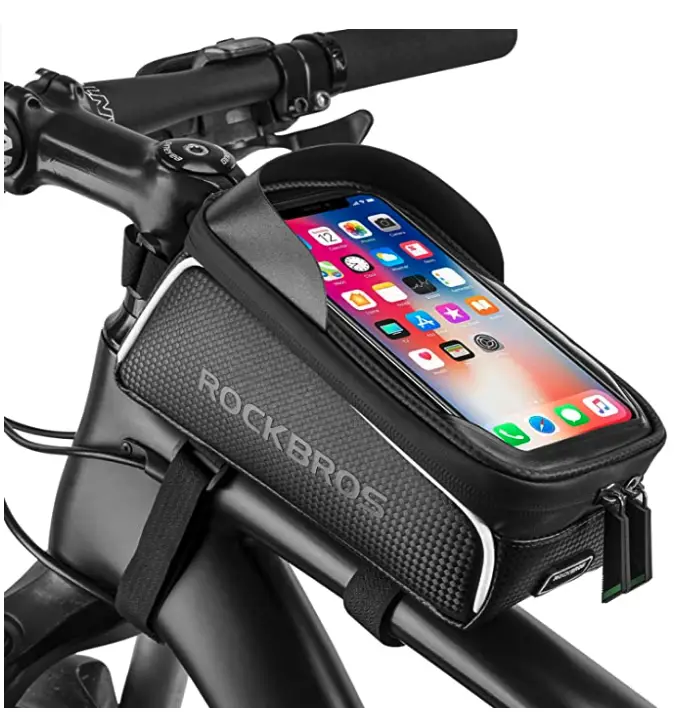 Having your mobile phone front and center (instead of in your pocket) while you're riding is a huge plus. I use my GPS all the time and having an easy view of my iPhone provides easy access.
Velcro straps on the bottom of the top bar grab it firmly, and a Velcro strap on the fork keeps it centered. The straps were too long and I had to cut them. As you don't want them to unroll, leave them a little long so you can tuck them in. Sometimes the bag shifts because of the weight, but not much, maybe a half-inch or so. No big deal.
Promising review: ".
"This is a great top tube bag! If you like a top tube bag to store this and that and want to see and touch your iPhone screen while you ride and keep your screen protected from water and bugs, maybe you ride in the rain sometimes like me…this is the bag you're looking for.
It holds a nice amount of stuff besides your phone like a wallet or keys or a bike tube etc…" – Jason R.
Get it on Amazon $20.99
---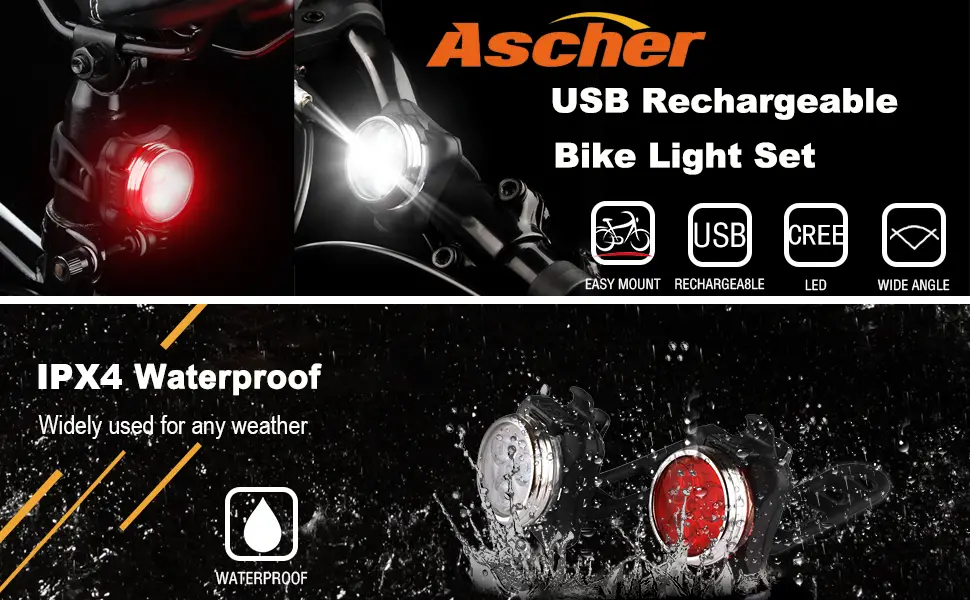 This is a small, but very bright LED bike light, to keep every path well lit. Pick white for the front headlight or red for the rear taillight. Of our 25 e-bike accessories under $25, this is our top recommendation for safety.
Charging the lights is a simple 3 step process:
Plug the micro USB cable into the Bike light's micro USB port
Connect the other end of the cable to an AC adapter (not included) or an active USB port on your computer
When the front light is fully charged, the LED indicator will turn green and the rear light will turn orange.
Promising review: "Just ordered my third set of these [have a few bikes and I will not ride without lights]. The absolute best; and I've tried a few. All more expensive by the way. They're rechargeable,fit most head tubes as well as handlebars and they give you extra straps. They are remarkably bright [can be seen from the side too] with three bulb pattern and the charge lasts quite a while. Lastly, they look cool ~ round chrome like shape. Don't even think about others…" – PJ jenkins
Get it on Amazon $15.99
---
8. Classic bike bell (just one ring will get attention)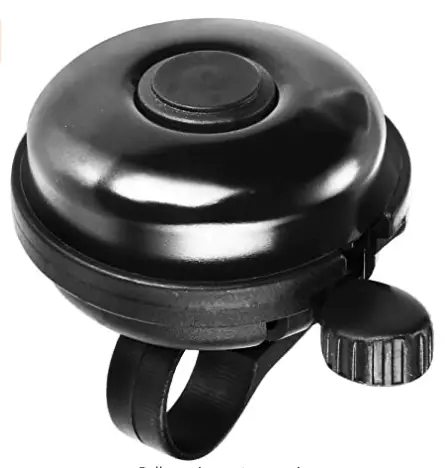 Bells are a must-have bike accessory for any e-biker riding on a path with people
It has a loud warning bell. This aluminum bicycle ring bell is specially designed for mountain bikes but attaches easily to your e-bike. They'll produce a crisp ringtone that's easy to hear.
Promising review: " I ordered the gold/yellow one. It gives a very loud, crisp ring. It's easy to use unlike some other bells at this price that get stuck. For the price, it's pretty heavy duty and I don't think it'll break easily. It should be simple to install. It looks like I just need to loosen the screw and slide it on. The plastic circle part (second picture) stretches pretty far In case the handlebars are too wide." – Sarah
Get it on Amazon $6.99
---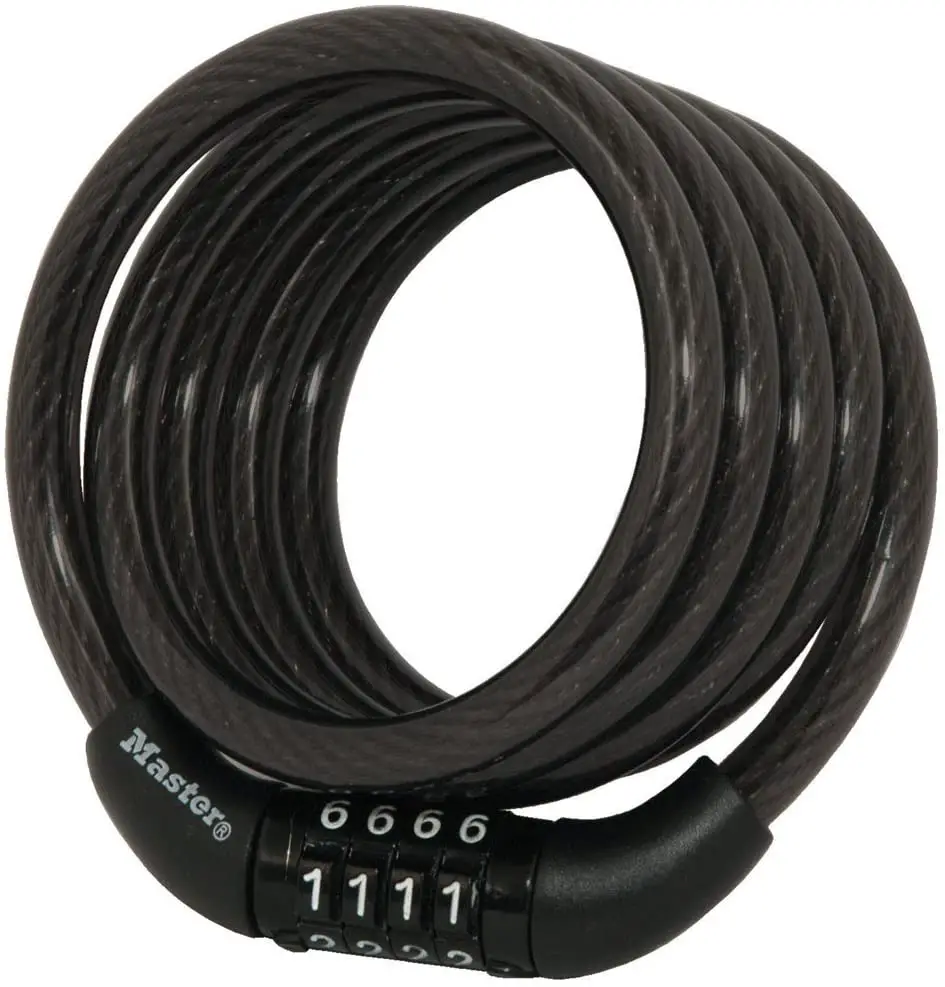 Your second bike lock! You know I've always recommended a U-Lock or heavy chain lock to protect your electric bike. But, this is so cheap, that it can be used as an additional lock simply as a deterrent to thieves (using 2 or more bike locks is always a good idea for your expensive e-bike). Who wants to break through two locks?! Let's keep our fingers crossed!
The Master Lock 8143D has a preset combination and is about 4 ft. (1.2 m) in length. It's made of "braided steel" for maximum strength and flexibility. As a bonus, the vinyl coating protects your ebike from scratches. There's a four-dial combination lock for keyless convenience. There's also a Lifetime Guarantee.
Promising review: "Great lock for low-risk areas. Combination is set and cannot be changed. This is an economic but durable solution for situation when you want to lock your bike in a public place. The section of the cable is by no means thick enough to deter anyone who really wants your bike. I would not let my bike with this lock overnight in critical areas, but this lock is fantastic when you stroll downtown and stop for a coffee or lunch somewhere. It comes with a fix combination, meaning you cannot set a more memorable one for yourself. Make sure you mark the four digits down somewhere (phone, maybe?) so you do not look like an idiot trying to steal your own bike!" – Team Leader 100
Get it on Amazon: $5.70
---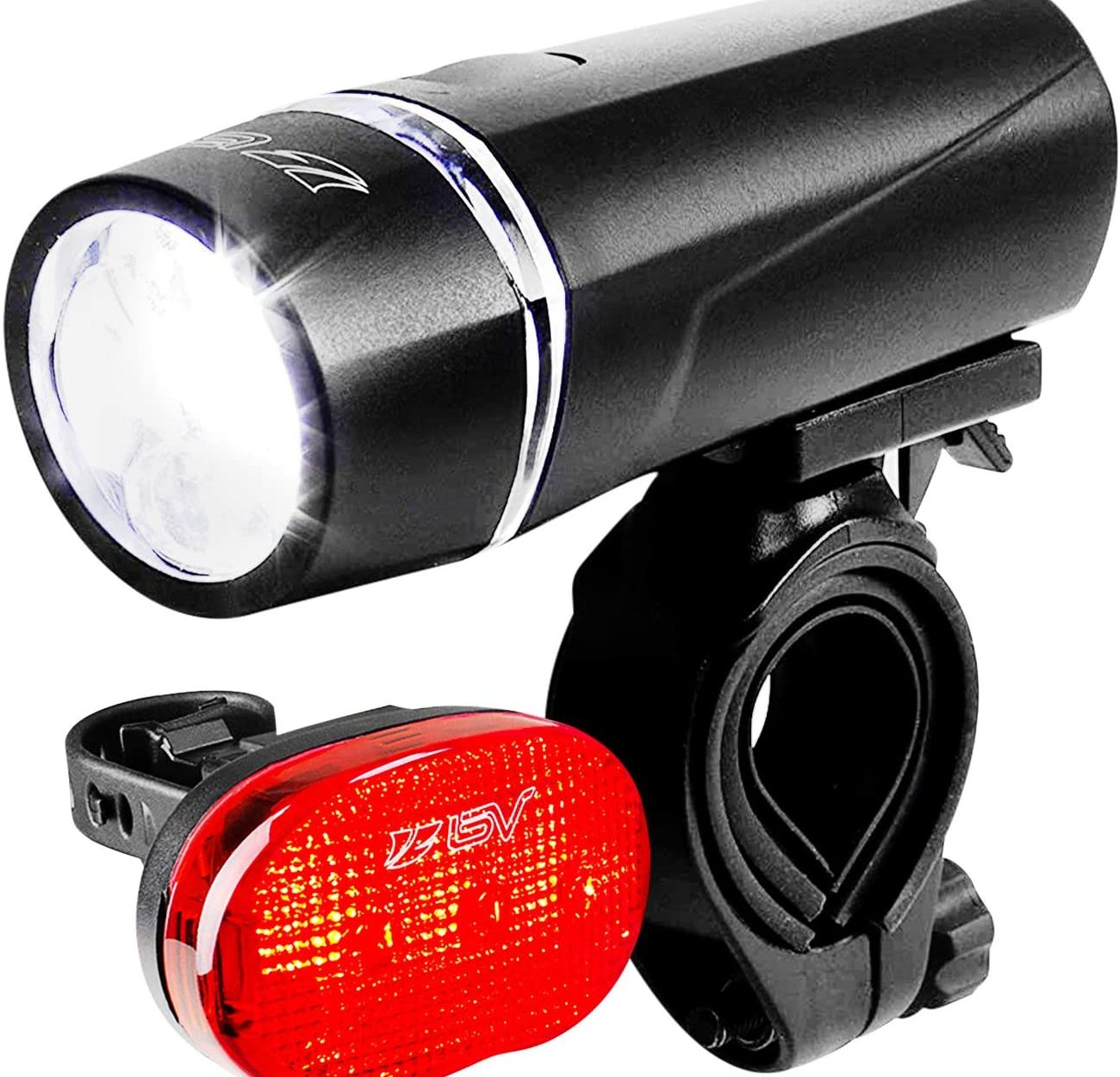 This bright headlight mounts easily to the handlebars or seat posts of your e-bike. It offers visibility of more than 1500 feet. In addition, there are five LEDs that light up the road for a distance of more than 40 feet, and the handlebar mount doesn't require any tools. 
It has a quick-release system for removing the headlight from its mount once it's mounted. You can change the angle and remove the taillight by it's easy quick-release clip. It's got up to 80 hours of light! (Batteries not included).
Promising review: "5.0 out of 5 stars Headlight Was Good, But The Customer Service Was Amazing!
I purchased the BV Light Set from Bikepak USA on a recent Lightning Deal. The price was very attractive, so my expectations were not that high. The package arrived a few days later. Installed the headlight on my wife's bike…it fit well and was bright-enough for night time riding. Tried the taillight……it didn't work.
I figured it was another one of those "you get what you pay for" things, so I didn't complain.
A couple days later, I received an email from Bikepak USA, asking if I was satisfied with my purchase. Decided to reply and tell them the taillight didn't work. The next day I received a reply, along with a tracking number for a replacement. To say I was impressed was an understatement!
Two days later the replacement product arrived. I opened the package to find a complete set of lights. Both worked perfectly." – Racer Randy
Get it on Amazon: $9.95
---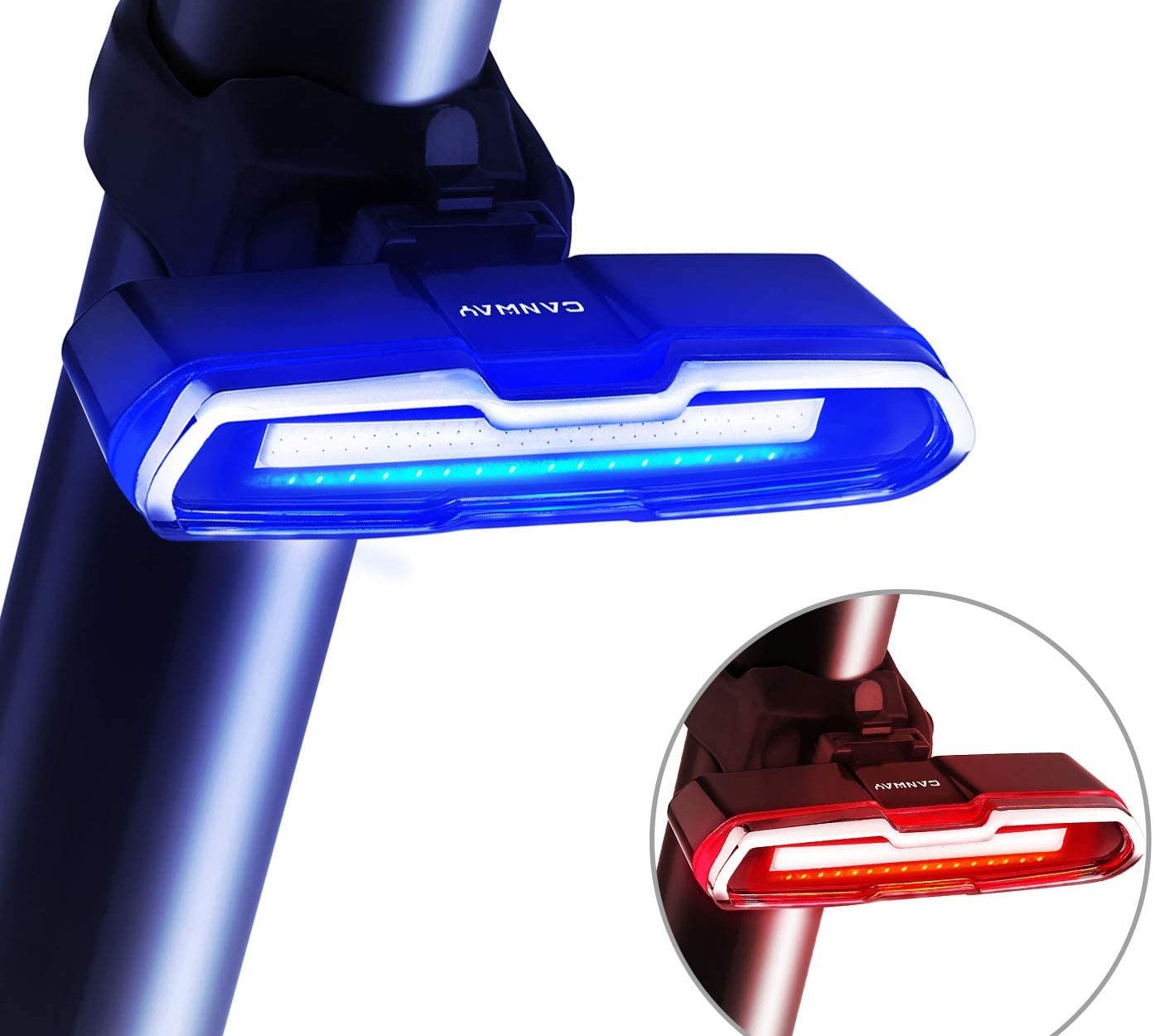 This LED bike light is a must-have if you plan on cycling at night. Whether you're riding on a busy road or a dark path, it'll make you really visible in an environment of stoplights and neon signs.
Promising review: "Love this thing!!!! Looks amazing on my bike. I was initially dismayed at the rubber clasp was really short and looked like it would not wrap around the bike stem. Took a lot of effort to stretch it but eventually, it barely clasped at the biggest loop. Once it was clasped the light could be tilted upwards or downwards. The light is super bright!!! Love the way it looks and it's a small thin footprint." – Mocosonino

Get it on Amazon: $17.99
---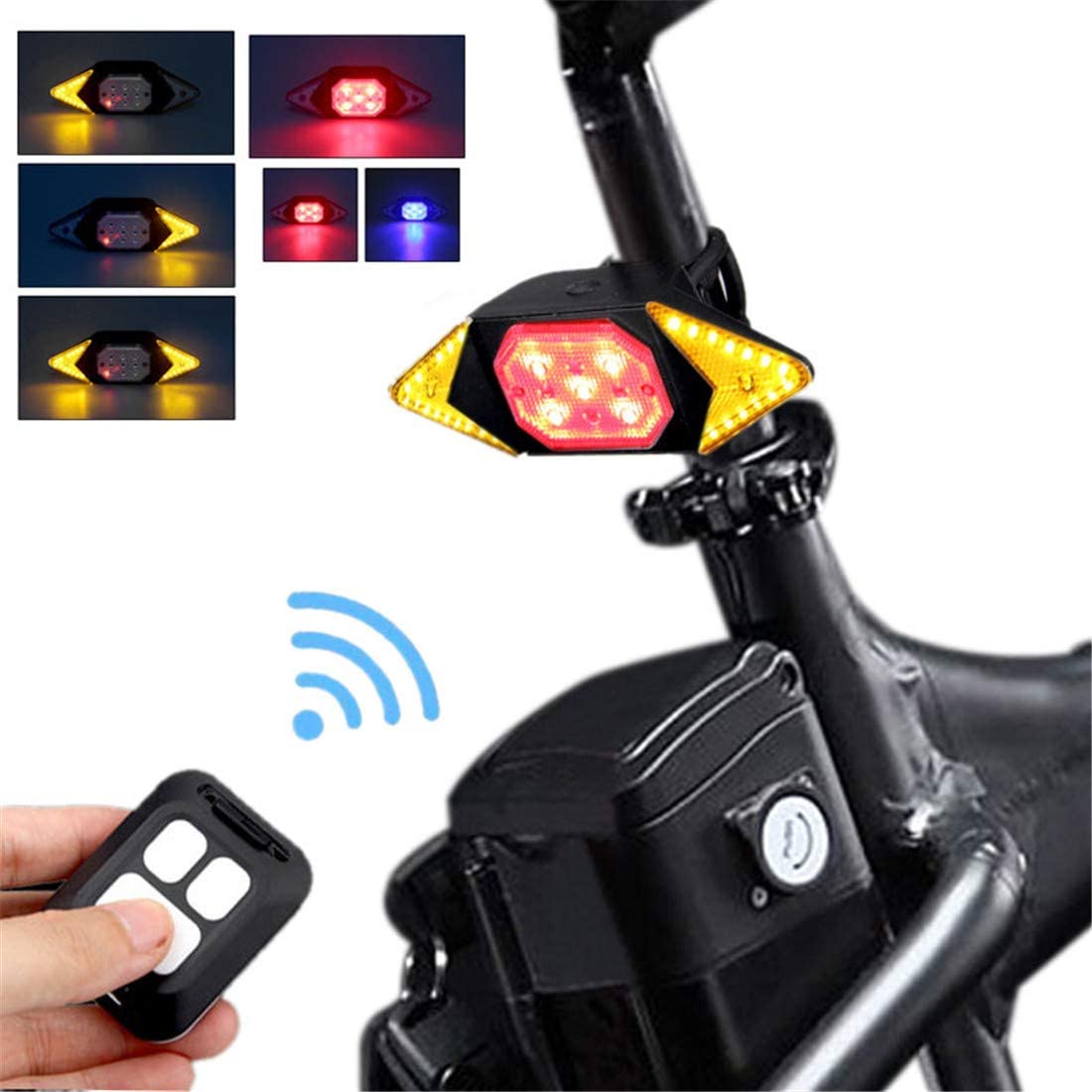 Since we're speaking of safety in this article, I really want to stress the importance of letting the cars, people and other riders around you know you're around them!
Sending signals as you drive, like having an actual turn signal on your e-bike, is really a must-have. It's suitable for all types of bicycles, such as e-mountain bikes, electric road bikes, fat tire e-bikes, hybrid e-bikes, etc. You can easily control the turn signals, emergency lights, and warning lights as you ride your bicycle.
The bicycle tail light kit combo can be attached to virtually any electric bike. Another plus… This light has a long battery life of up to10 hours when flashing!
Promising review: "These are excellent, bright, signal lights. As the seller says, they can be paired with another remote by long-pressing the on/off switch. The red power indicator starts flashing until it is commanded by a remote. Then it synchronizes with that remote, and the power indicator stops flashing. Wonderfully simple! Pair both the front and back signal units to the same remote. Works great!" – T. Marshall
Get it on Amazon: $19.99
---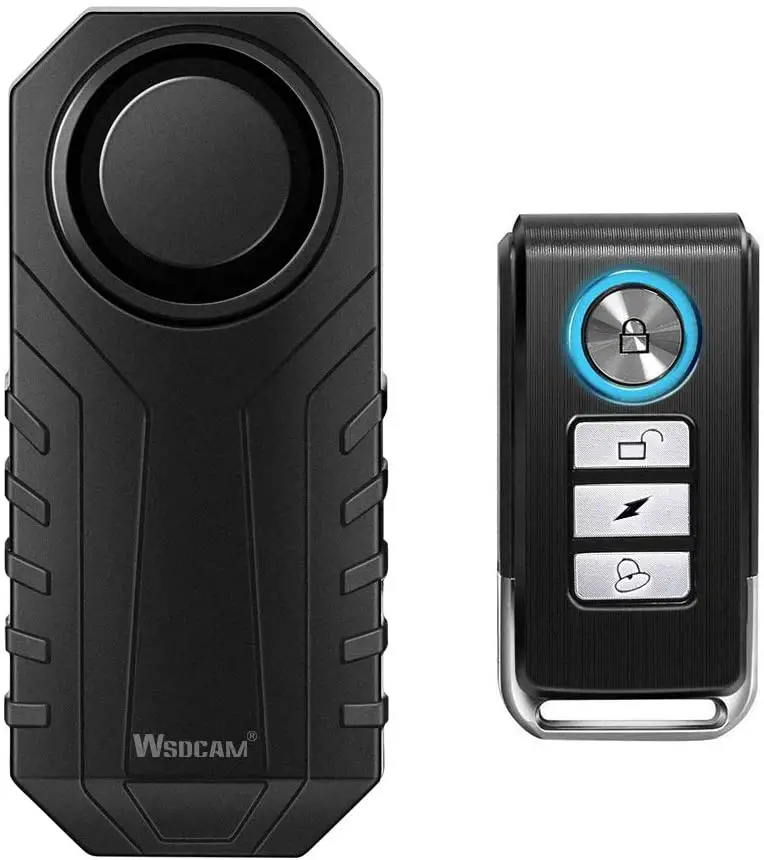 With up to 113 dB of loud alarm sound, this anti-theft alarm can help deter thieves, provide additional security, and give you peace of mind when your electric bike is parked outside. The sensitivity can be adjusted from 'gentle touch' to pushing! The alarm makes a sound when you press the ringtone key too! Find your bike in the crowd!
Promising review: "I was not sure what to expect for such a low price, but I was pleasantly surprised with it.. I just bought my first electric bike, I paid $1500 for the thing, you can imagine I really want to protect it from thieves. Ebikes are a super hot item for thieves from what I am told.
It is super sensitive, just touch the bike and it goes off. I was able to hide it inside of a plastic box that holds my electric motor controller.
Between having this alarm, a disc brake lock, and a chain/lock set up I feel secure leaving it outside of the mall for a 2 hour movie at the theatre.
People are amazed when they see me activate the alarm… They have no idea how simple it really is.. I love it, and will put one on my next bike too." – Mike-n-Kady
Get it on Amazon: $16.99
---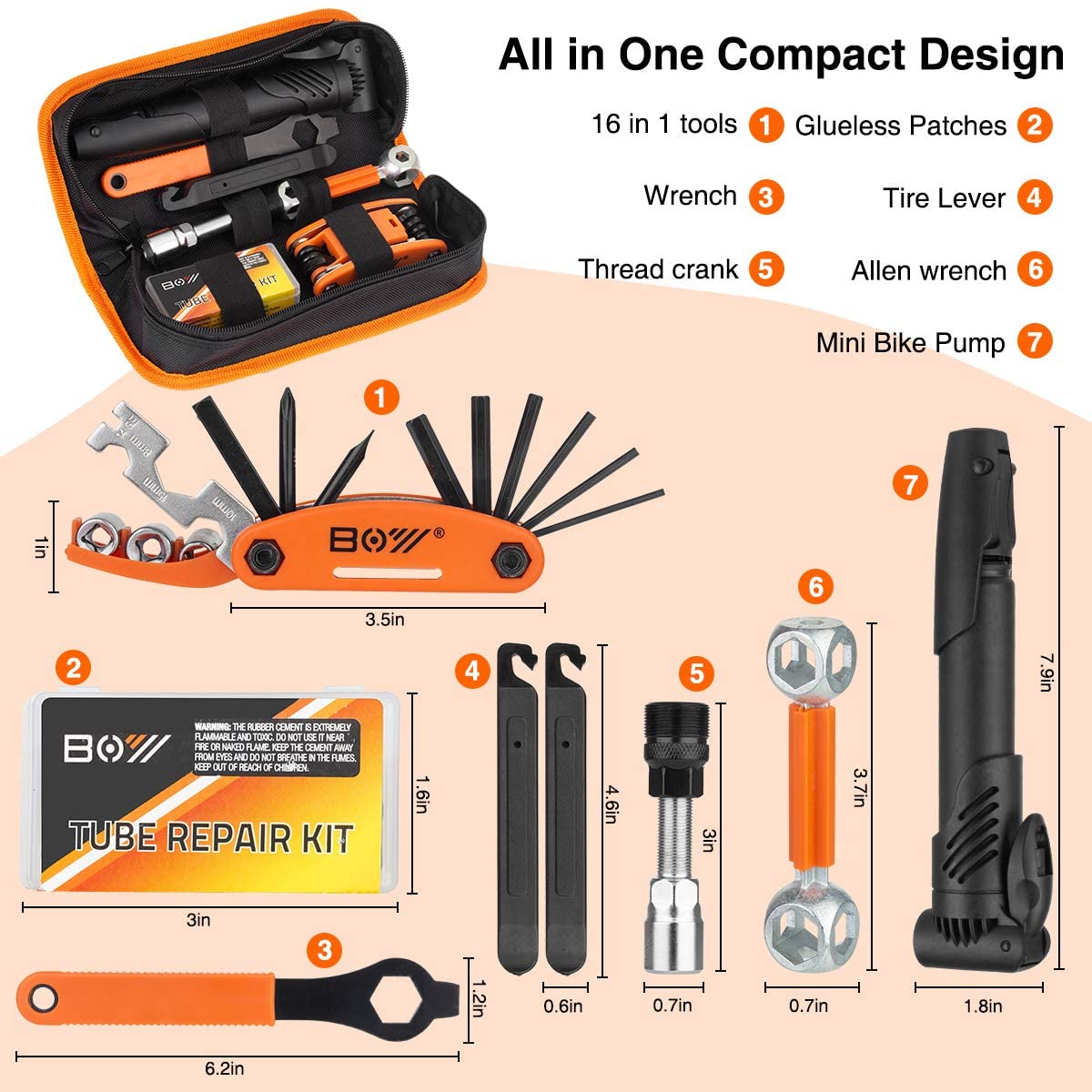 Considering the price, this is a nice tool kit. It doesn't have the most pieces, and they're not the best built, but you're also not forking over $75 for it. The bag has the things you need most if you get stuck on the side of the road, like tire levers to fix flat tires. And you can put your e-bike keys and phone in it too!
Promising review: "Well, this was a pleasant surprise find. The case is well made, even the stitching is finished nicely though I think a 3rd strap on one of the end would help to keep it from flopping on the frame while pedaling, just a thought. A small variety of tools, well.. they cover every need I would have on my bike, so unless you've got some crazy custom stuff going on, it's likely this will cover your needs as well. Tools feel solid, the patches are glueless and the pump is nice and compact with an adapter. Overall, great value for the price, recommend!" – Toddles "OmniFox" D
Get it on Amazon: $24.95
---
15. This bike helmet with detachable visor & LED rear light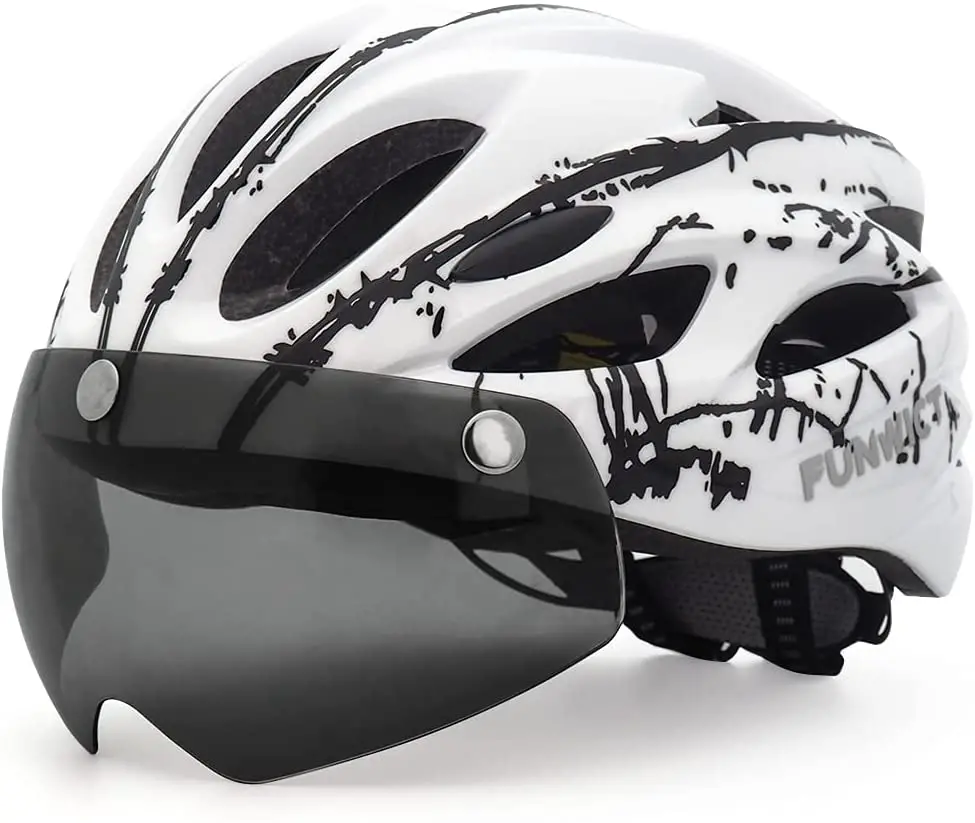 The nice thing about this bike helmet is the goggles! They'll help eliminate glare, soften the light, and improve your vision all at once. You'll be able to block wind, dust, and light… and the goggles are easy to put on and take off with one hand.
Promising review: Oh boy! I am so glad I got this helmet! It said with head circumferences 22.44-24.8 inches (57-61 CM), and it fit nicely. Not only that, it was very comfortable to wear for more than 3 hours. I did not have any issues with this. I wear sunglasses and this helmet was perfect made compare to other one I have cause helmet weight down on my sunglasses and hurts my bone on nose. Highly recommend!" – Ron A.
Get it on Amazon: $21.95
---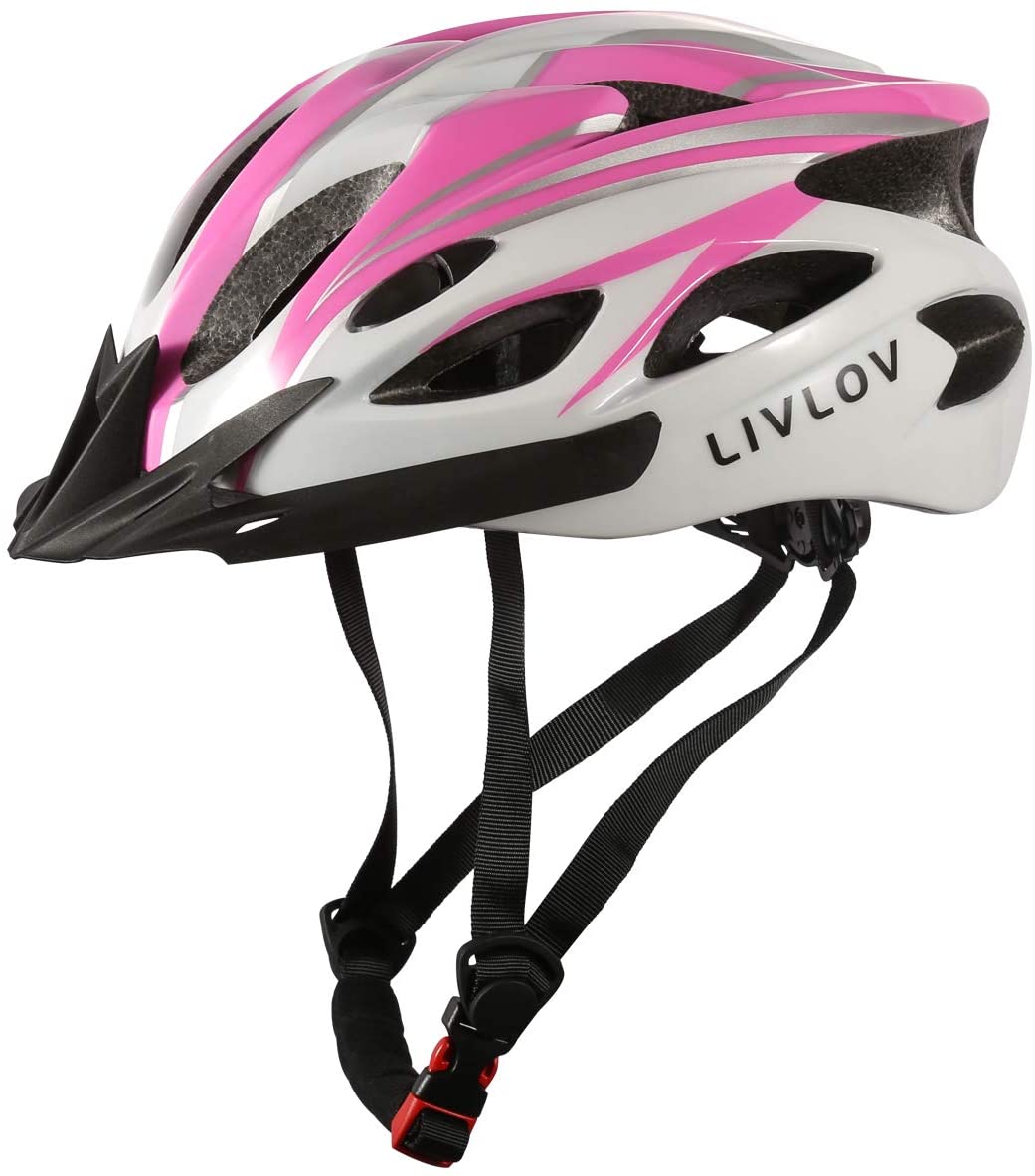 This adult bike helmet has adjustable straps and a spin dial that lets you adjust the tightness to fit different head sizes! You can choose from a bunch of colors and styles on Amazon (different styles for both men and women).
Having a visor is a huge plus, as it protects your eyes from branches and light rain.
Promising review: "Fits well, completely comfortable. Straps adjust well.lightweight.well constructed." – Susan d.
Get it on Amazon: $19.99
---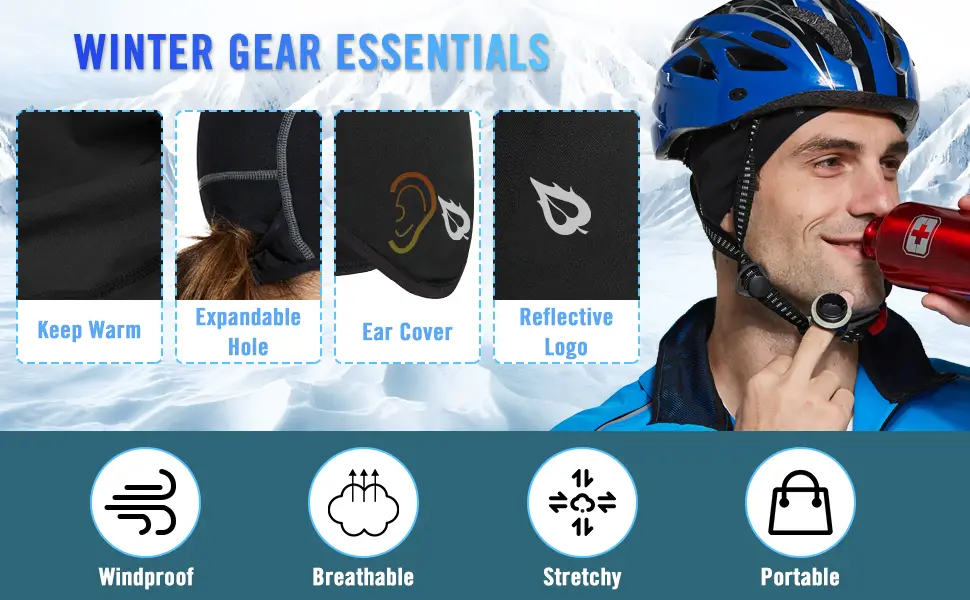 It's a long-standing problem when cycling in the winter – most cycle helmets have various holes and vents to stop the e-bike rider from wilting in the summer. But when winter rolls around, those same holes let in a deathly chill. If you've ever tried to put a beanie hat or a headscarf under your helmet, you know how bulky that can feel.
This cap is an extra layer under bicycling helmets. The cap is thin enough to fit under most bike helmets.
Promising review: "Just completed a 2-day cyclocross race weekend with temps just above freezing. This cap was great. It fit my head very snuggly (I have a large head) and never felt like it would come loose, even without a helmet on top. The ear flaps kept my ears from getting cold, without blocking out too much sound, but you can easily fold them up if you don't need them covered. There is a ponytail opening at the back if you have long hair, which I don't, but still found it helpful to see where the "back" of the cap was without staring at it for too long." – Greg C
Get it on Amazon: $11.99
---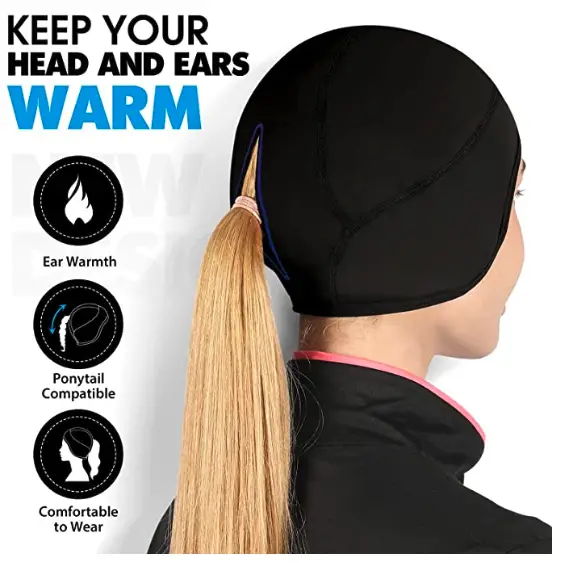 Wear this thermal women's winter hat and let your pony loose!
NO MORE NUMB EARS IN WINTER! Running or cycling in winter can be a pain. You'd better grab a comfy, soft, windproof women's skull cap to keep your head and ears warm. This cap is made of water-resistant and durable polyester and spandex fabric. It has thickened thermal fleece inside to keep you warm and protected. Plus, it has a really nice size ponytail opening!
Hint: This makes a nice e-bike accessory gift for a woman e-bike rider.
Promising review: "This is my first skull cap, and I love it! I didn't use to like biking in cold weather, but with the right equipment, it's great to get outdoors and get some exercise! The cap is warm and comfortable, completely covering my ears which is key as I tend to get earaches while biking in cold or windy weather. It fits well under my helmet, it's not too tight but snug enough to not let wind in. I think it would also work well under a snowmobile helmet although I haven't tried that yet (no snow yet, luckily!) Actually, it would be a great winter cap to use for any reason, especially if active." – Luanne I.
Get it on Amazon: $12.95
---
19. LED bike wheel lights with batteries included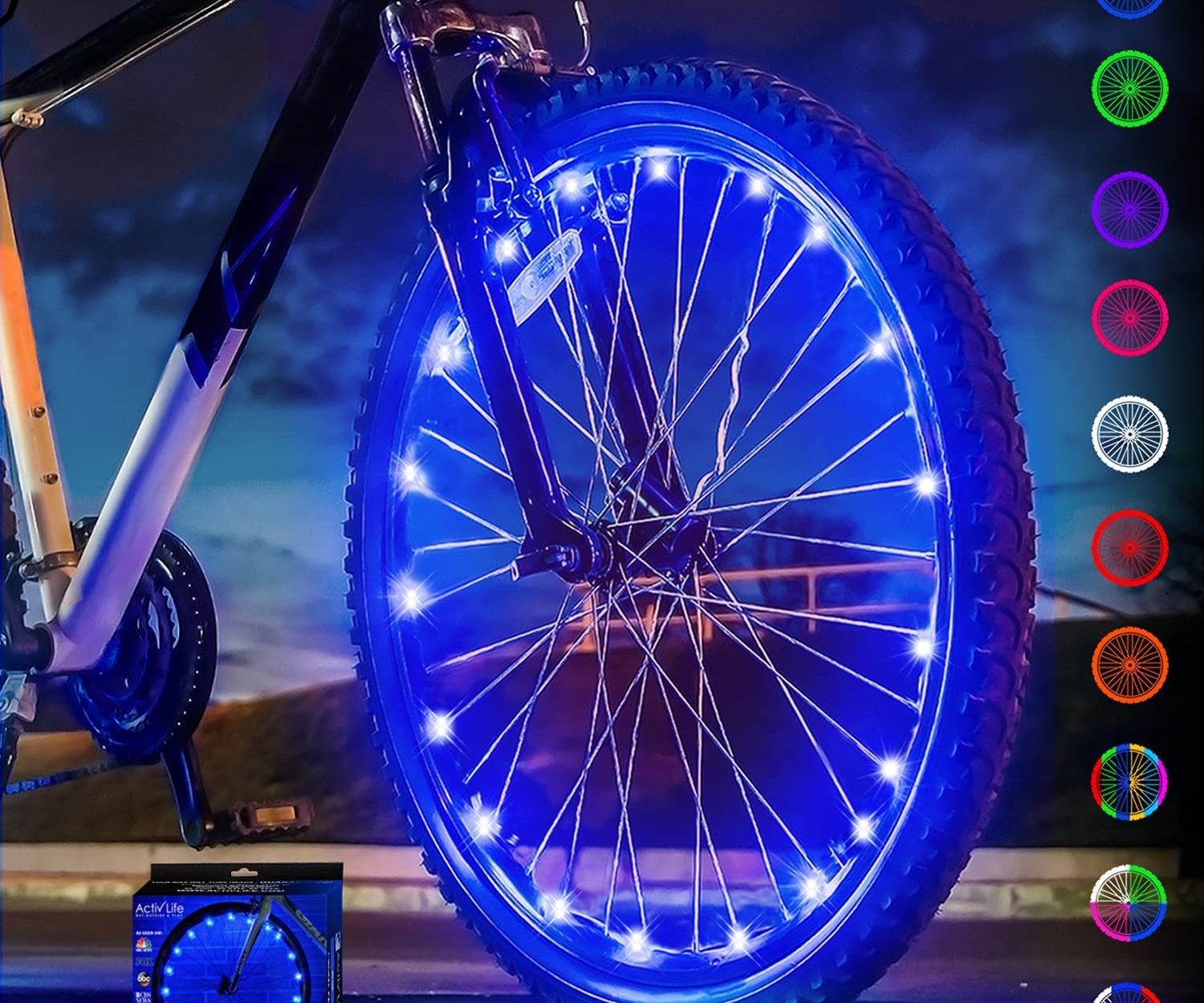 You're going to be cool! Be the center of attention and get compliments everywhere you go. Each box is for 1 wheel so you can mix or match colors. Get ready to ride in style! Front and back lights leave you vulnerable from the sides.
But you'll be seen from all directions with these wheel lights! This is also a perfect gift for an e-bike rider who is all about having fun!
Promising review: " Takes about 5-10 minutes to install. We have only had them on for 1 day but they look awesome, very bright and seem to be good quality. Great idea for safety while riding too!" – Justin S.
Get it on Amazon: $13.99
---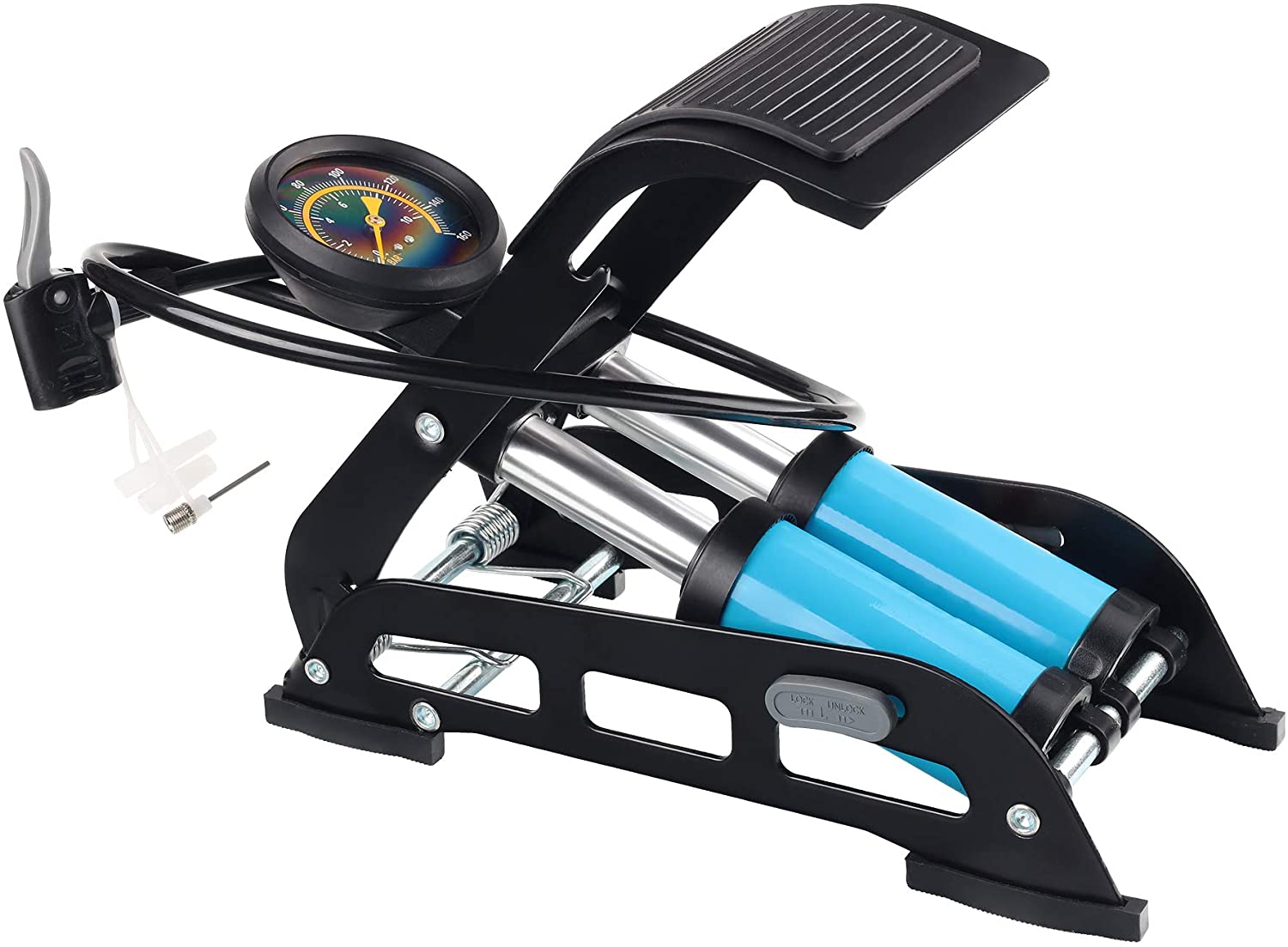 If you've used a regular hand pump to pump up your big e-bike tires in the past, you know how tiring (pun intended) it can get. Try this foot pump instead! It has a large, non-slip pedal with four non-slip bottom rubber pads that make the frame stable.
Promising review: "Wow…this thing is heavy duty. So many of these foot pumps are light weight and bend too easy, but this thing is heavy and tough. Not often do I get an item that I am this impressed with. The gauge is very solid and a nice large size…easy to read. I used the pump to inflate a soccer ball and while most of these pumps with a built in gauge aren't at all accurate in the low range, this one worked perfectly and registered even at just a few psi.
The design of the "foot peddle" is super nice in that I could use it without a shoe on and it was very comfortable. … I certainly recommend this one." – Dman7
Get it on Amazon: $17.99
---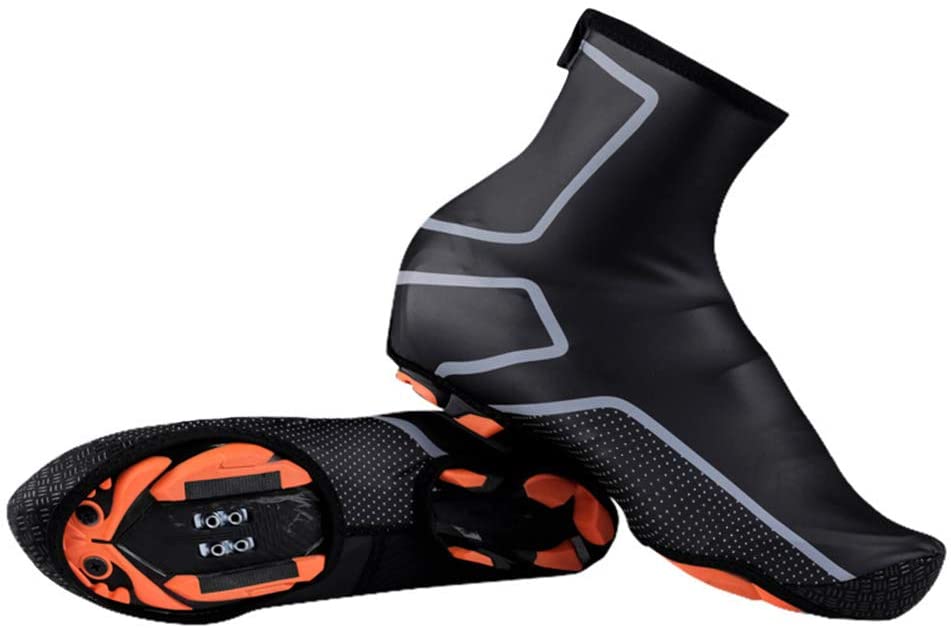 No matter what the weather throws at you, you can be assured that the shoe covers will keep your feet warm and protected so that you can continue your riding adventure. It uses waterproof high elastic PU material fabric and has wind and rain protection functions. This is a way better option than riding long distances with wet feet! Works for most shoe sizes.
Promising review: "A size L fit nicely over my size 44 road shoes. Though the material is thin, they held up very well this winter and they are totally windproof. With a pair of wool socks under my road shoes and another pair of wool sock tips over the top, I was fine with these covers on a one-hour ride in 28 F. 35-50 F and the wool socks under the shoes are enough." – RScott
Get it on Amazon: $17.99
---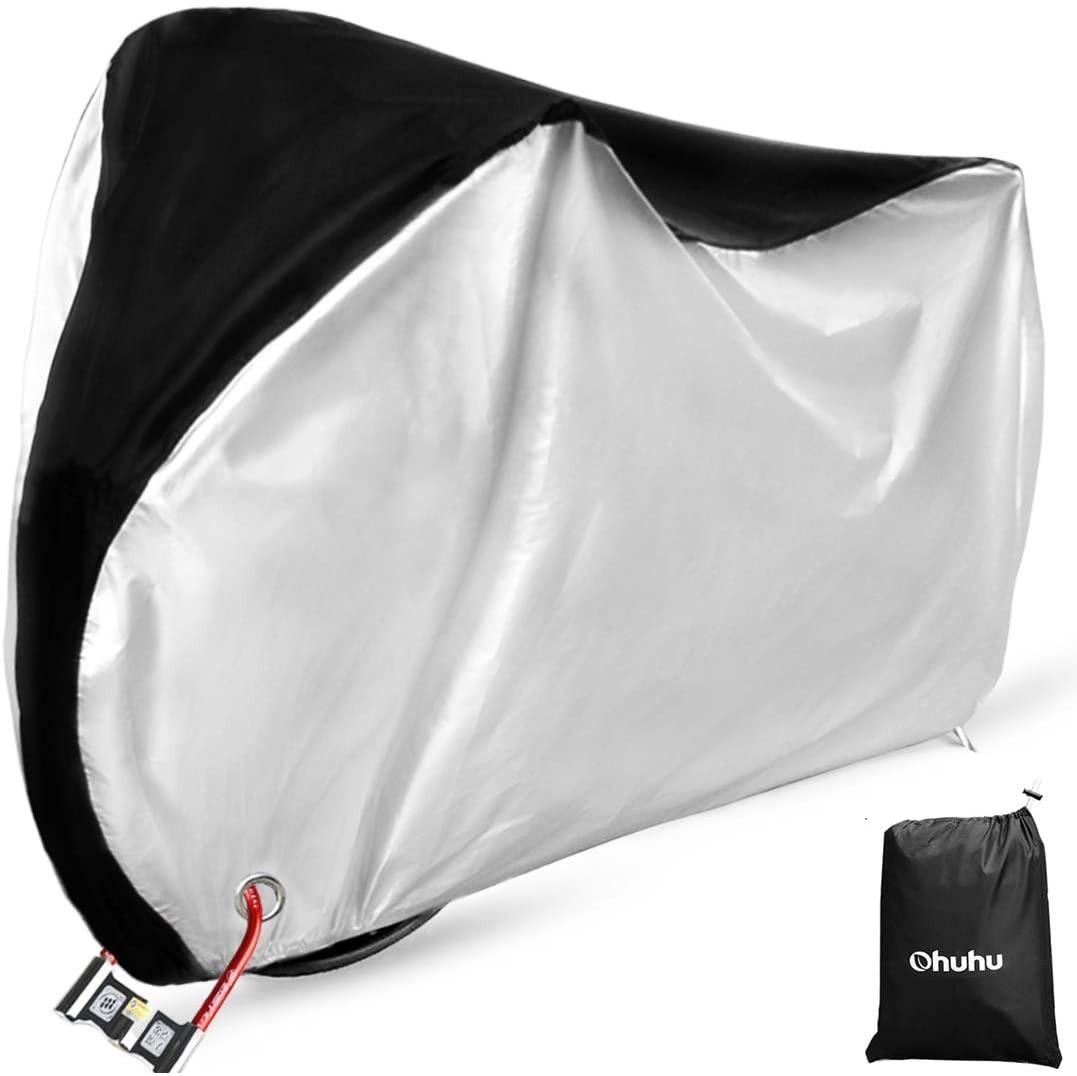 This bike cover is designed to keep your bike safe and sound. The durable design gives you protection against rain, wind, snow, dust, and whatever else mother nature may throw at you. A helpful buckle at the bottom stabilizes the cover, keeping it secure even on windy days. It's easy to pack up and transport with you, as well!
However, if you're going to be storing your e-bike for a while, make sure to remove the battery first to protect its battery life!
Promising review: "I read quite a few positive reviews on this item before I purchased it but many of them were written by people who received this item free. I paid full price for this bike cover and think it is one of the best $15 purchases I could make. I can't believe you can get such a nice cover for so little money. I bought a new bicycle while we were spending the winter in South Texas. I wanted something to keep the dust and rain off. This cover fit the bill perfectly. It gets very windy where we were and I was afraid the cover wouldn't hold up but it did. Also, the black top part makes it easy to see exactly how to put the cover on. Thank you for offering such a nice cover at such a reasonable price." – Sandeelee
Get it on Amazon: $14.99
---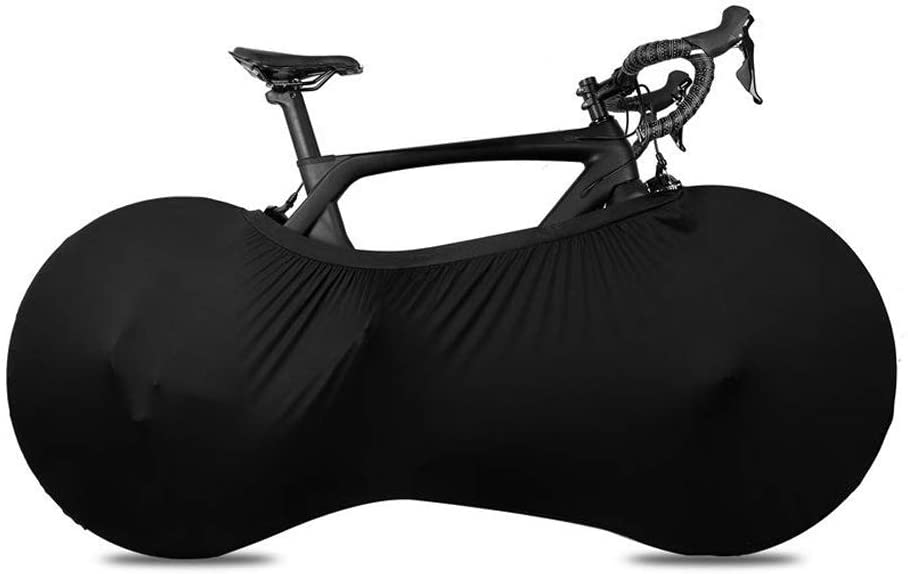 With this cover, you'll be able to completely cover your two electric bike wheels and protect them, as well as the area around them, from dirt marks. It's perfect for storing e-bikes indoors or for transporting them.
Promising review: "It came in on time. Great quality material. Fits perfectly on the cruiser style bike as well as the mountain bike (I purchased 2). Having these makes it easy to keep the bikes inside the house without the hassle of the dirt. They are easily machine washable also! Great product!" – Courtney
Get it on Amazon: $19.99
---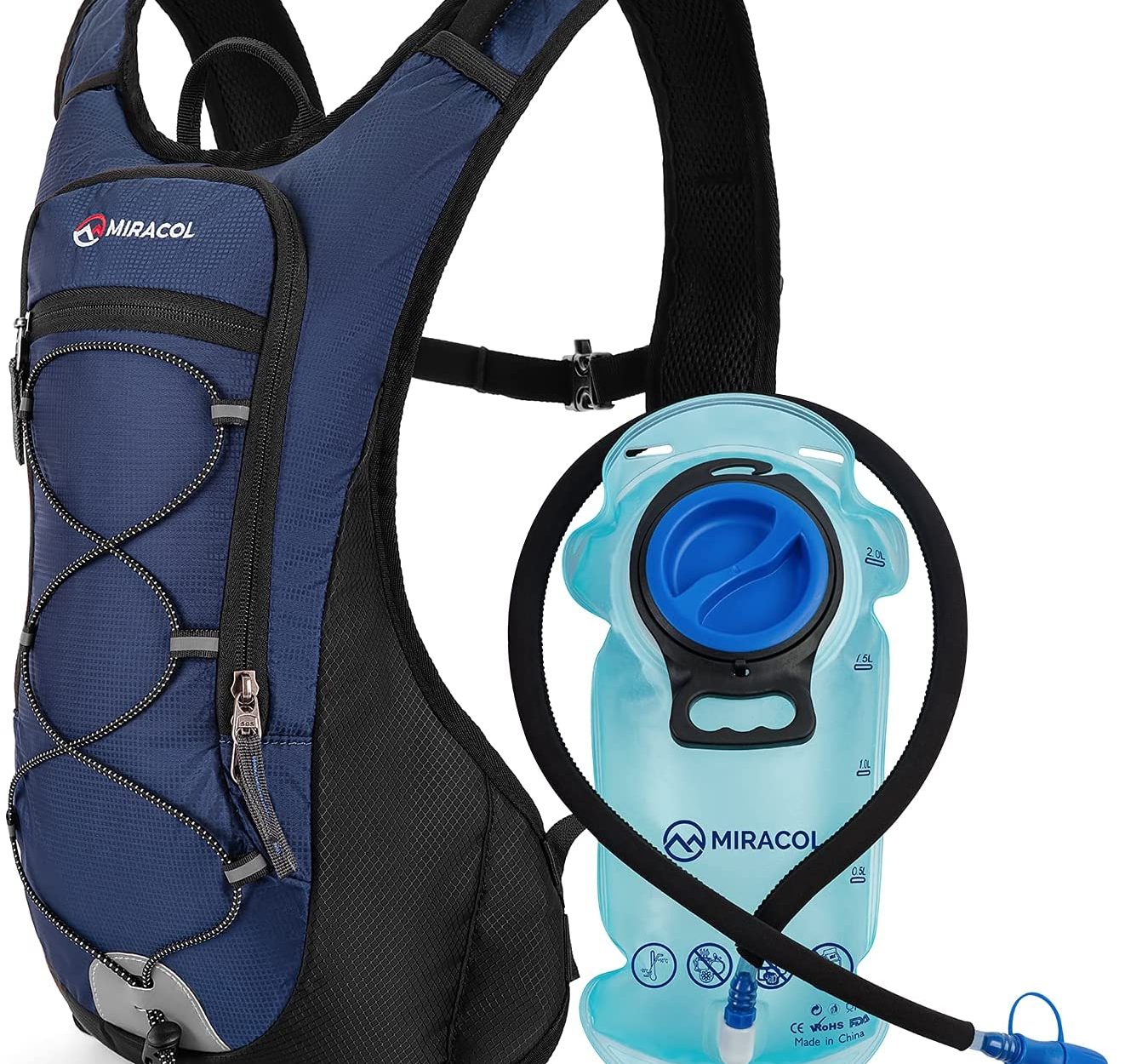 This 2L BPA-free bladder keeps you hydrated during long rides and it's easy to drink from. The insulation layer also keeps the water fairly cool. And bonus! The front pocket can hold wallets, keys, phones, small tools, etc.
This is a great alternative to using pannier bags on a bike rack… and it's the perfect gift for an e-bike rider who doesn't have a bike rack!
Promising review: "I have been very happy with this hydration pack. It is lightweight and comfortable. I used it while hiking on vacation in Utah (desert area and very dry) and it was perfect. If you fill the bladder early and put it in the freezer for an hour or so before setting out, the water will stay cold for many hours.
There is enough extra space to pack some snacks and the lacing on the outside is perfect for securing a jacket or extra clothing. The price was definitely great for what I got.

The bladder and hose are rather "plastic" tasting. I just cleaned it first very well before using, letting it soak about 15 min with a light bleach water first. Then followed that with baking soda water. Then I made sure to rinse the bladder and hose out very well." – Brenna25
Get it on Amazon: $21.99
---
25. And the last of the e-bike accessories under $25, this CLIF BAR Variety Pack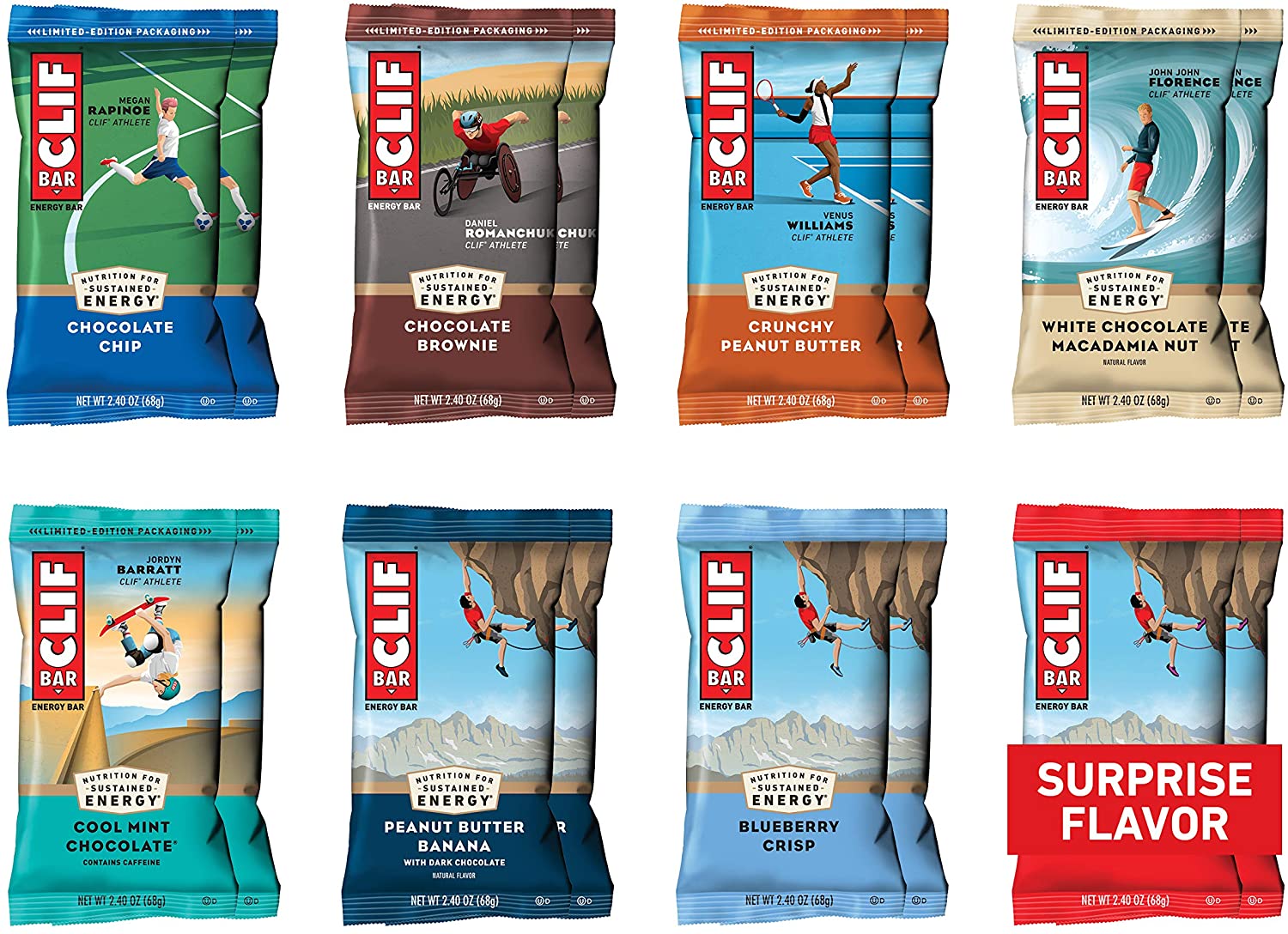 Whether you need sustained energy for hiking, climbing, skiing, or a long e-bike ride, CLIF BARS are all wrapped up and ready to go! They're non-GMO… and, they come in gluten-free options (which I have a hard time finding… check the individual packaging)! Did I mention that these actually taste good (and come in lots of flavors)?!
Promising review: "I love clif bars and honestly I cant say anything bad about then .. if you like cookies and cookie dough textures this is a brand for you". – earlbuckeymoviecritique
Get it on Amazon: $19.99
Conclusion
There's our list of 25 interesting and cool e-bike accessories under $25!
I'm sure a few of these accessories will come in very handy whether you choose to ride long distances, take short trips or you've parked your electric bike outside to do some shopping or sightseeing.
These ideas can also give you the perfect gift ideas for birthdays or the holiday season!
If you have other suggestions, I'd love to hear them!
Happy e-bike riding everyone!