When you're shopping for an electric bike online, you want to know if it's right for you before you spend a lot of money. So I'm here to help you decide whether the Rad Power Bikes RadMini 4 electric bike is good for all adults or whether you'd be better off looking elsewhere.
Although it looks a little like a dirt bike or a moped, The RadMini 4 is a good, if not great, e-bike for most adults. Not only is it sturdy, quiet, and easy-to-ride, it has loads of other desirable features grown-ups want (like folding small enough to get in the car or store in a small space).
Some of the other things adults will love are its comfortable wide seat and fat tires that let you roam on and off trails, in the dirt, or on the road. And it has added safety features that grown-ups will appreciate, including a smooth throttle as well as front and rear lights.
Here are some of the key specs you might like to know about Rad Power Bikes Rad Mini 4 (but there's so much more covered below):
| | |
| --- | --- |
| | Basic Info |
| Weight | 68 lbs |
| Frame | 6061 Aluminum Alloy |
| Tires | 20″ X 3.3″ wide |
| Motor | 750 Watt Rear-Mounted Geared Hub |
| Battery | 48V, 14 Ah, Lithium-Ion |
| Range | 25-45+ Miles per Charge |
| Max Speed | 20 MPH |
| Payload Capacity | 275 lb |
With so many other features and benefits adults can truly appreciate, read on to find out how the RadMini 4 foldable electric bike might fit into your life.
Who Is the RadMini 4 Folding E-Bike Good For?
Rad Power Bikes RadMini 4 is good for almost all adults. Don't let its cool, sporty look fool you into thinking it's only for adventurous young adults. My 50-something husband, Marc, absolutely loves his RadMini!
The sleek frame and fat tires that make it look so awesome actually make it more comfortable and more flexible in how and where you can ride it.
And who wouldn't love its ability to fold up? Just unhook it, fold it, and put it in the car so that you ride in a new place, including out on a bumpy dirt trail.
Being a folding e-bike, it's also useful for people living in tight places or even those who want to store their bike indoors but out of the way.
But, the number one reason that this electric bike works great for most adults, young and old is that it has multi-level pedal assist and a twist throttle.
In fact, the RadMini 4 has five (5) Pedal-Assist levels, which means that anyone can pedal as much or as little as they need or want to. Further, this electric bike has an easy-to-use twist throttle, instead of a difficult "push" throttle (which you usually need a strong thumb for).
So not only will you get help with pedaling, you'll get an extra push and an easy start-up by using the throttle.
Sadly, not all electric bikes have a throttle, which is very unfortunate. Having a throttle makes riding easier and more fun! My RadMini Step-Thru just wouldn't be the same without one.
And, although kids can ride electric bikes legally starting at age 12, I don't recommend the RadMini 4 for them… it's just too much bike. Not only is it powerful and quite valuable, but they're unlikely to appreciate the care that's needed to keep it in shape.
Practical Features Adults Will Appreciate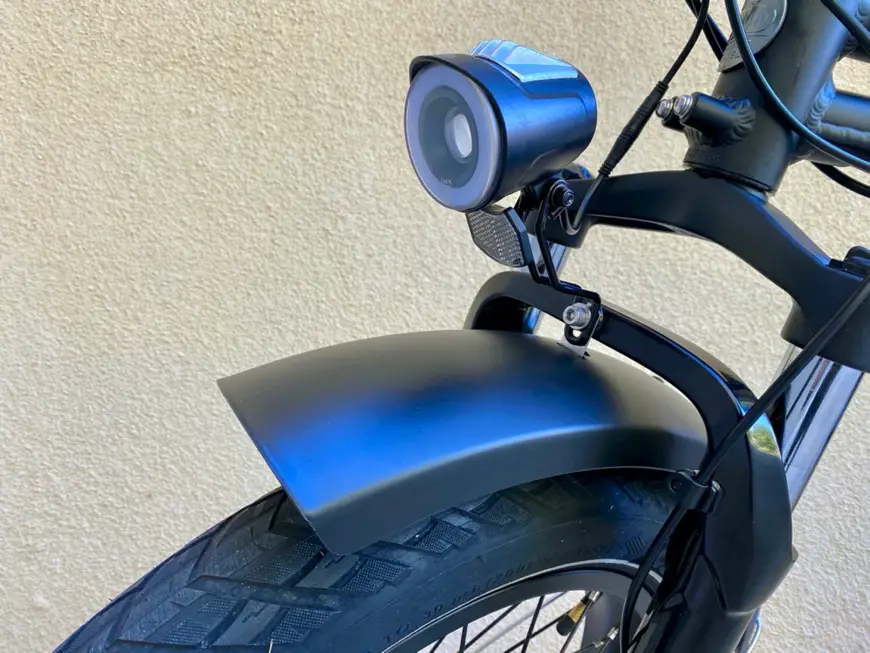 Rad Power Bikes RadMini 4 Foldable e-bike has so many practical features that make it comfortable and safe. So, I've made a list of the most important ones (and you can read more details below):
Foldable Frame:

Of course, this is the most unique practical feature of all. Fold your bike to store it or load it into your car and take it anywhere you want to ride.
Bright 80 Lumen Headlight:

An important safety feature… Turn this on day and night to make yourself more visible. Adjust the direction as needed.
Rear Brake Light:

This will light up every time you apply the brakes.
Puncture-Resistant Fat Tires: Each 3.3-inch fat tire has an integrated internal liner to protect it from punctures due to glass, thorns, and other small objects. Plus, these wide tires let you ride comfortably on even rough terrain because they make more contact with the ground).
Wide, Padded Seat with Adjustable Mount: This plush seat is wide enough for comfort but designed to avoid chafing
Powerful Lithium-Ion Battery: High-capacity battery weighing only
7.7 lbs and centered on the frame for a balanced ride. It'll take you 25-45+ miles on every charge, depending on your ride. You'll need 5-6 hours to fully charge it!
Multiple Mounts to Add Racks & Accessories: Front, back, and then some.
Adjustable Handlebars:

Raise or lower the telescoping handlebar stem for your comfort or to make it smaller for storage.
Full-Size USB Charging Port to Charge Your Phone:

Yes, this is real! Plugin your phone when its battery gets low (the bike has to be turned on of course).
Easy-to-Understand LCD Display:

Readable Backlit display shows you your speed, mileage, trip mileage, current pedal assist level, wattage, and more.
Easy-to-Use Twist Throttle:

750 Watts of power will propel you forward with a gentle twist.
RadMini 4 Features Adults Will Love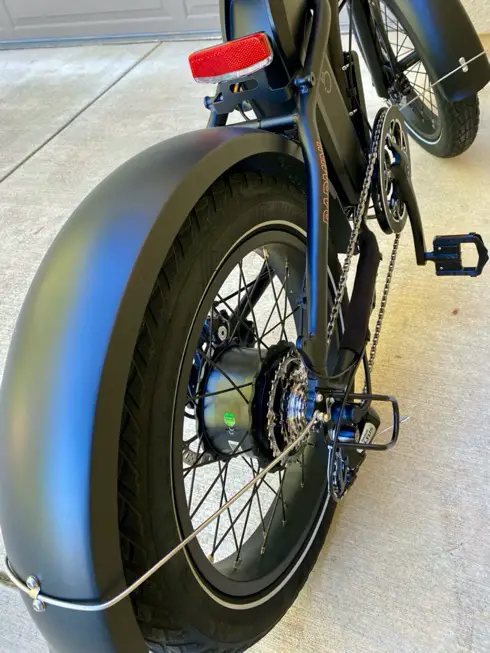 Okay, not everything needs to be practical! Here's a list of features that make the Rad Mini 4 electric bike fun and adventurous:
Geared Hub Motor:

This hub motor packs 750 Watt power to get you moving fast! You can make it up hills that would've otherwise limited where you can ride. And you can get to a speed of 20 mph so you don't need to be into racing to go fast. This is because it's a geared hub motor that supplies power assistance at different levels.
Large Fenders:

Front and rear fenders protect you from flying debris, making dirt roads and sandy trails more accessible.
Shimano 7-speed Shifter:

Adjust the Shimano SL-TX50-7R thumb shifter to any of 7 speeds to go faster (defaults to the lowest speed)
Twist Throttle: Not only practical, but the twist throttle also makes riding your RadMini 4 super fun! Get your electric bike started quickly, accelerate over bumpy ground, or accelerate to get going up a hill or around a corner faster.
Fat Tires:

Practical for comfort, yes. But these big fat tires are what get you into open space and on nature trails for your adventures. Not every e-bike tire can make riding this fun!
You Can Ride the RadMini Off-Road (and pretty much everywhere else)
The RadMini 4 folding fat tire electric bike is also suited for most adults due to its hybrid nature. This means that it gives you the advantage of a "road" bike and a "mountain" bike. So you can comfortably ride it on just about any type of terrain.
First of all, like a road bike, it's comfortable to sit on due to its upright handlebars and large padded seats. This makes it easy to ride on streets and in cities.
But it also rides like a mountain bike thanks to the Rad Mini's extra-wide tires. These "fat tires" grip loose dirt and provide a cushion on unpaved trails.
So, you can ride this electric bike pretty much anywhere.
However, it's a good idea to test out different types of terrain before heading out on a 20-mile ride. And follow Rad Power Bikes' suggestions for tire pressure and inner tube size because it does change depending on the ground you're riding on.
The RadMini 4 is a Great Value for Adults
Wondering how to know that your electric bike is well-built? Take a look at the parts. Cheap e-bikes will have parts from companies no one has ever heard of.
But the RadMini 4 from Rad Power Bikes is built with high-quality parts: Shimano gears, Tektra mechanical disc brakes, and Kenda fat tires (3.3 inches!). Plus, some of their parts, like the front suspension fork, are custom-made just for the Rad Power Bikes brand.
And at only $1499, it's kind of surprising that they use so many well-known company parts. This is definitely a good value for the money.
Further, since we're talking about the Rad Mini 4, you guessed right if you think that it's numbered "four" because it's the fourth version re-built over several years. So, it just keeps getting better.
I really appreciate knowing that the kinks have been worked out over time and I think most adults would agree.
Here's some additional advice about getting great value: Don't buy a cheap e-bike if you can't find any reviews. It probably means that it is relatively new and there's no way to really measure its quality or value. Further, it's assumed that they've used cheap parts to bring the cost down.
Rad Power Bikes electric bikes have loads of reviews to read before buying.
Cons of The RadMini 4 Folding Electric Fat Bike
Why is this electric bike not so good for some adults? Well, there is really only one reason I can think of.
It's heavy!
Unfortunately, all e-bikes are heavier than regular bikes due to having the added weight of the motor, battery, and as in this case, the big tire size.
So, yes, the RadMini weighs in at almost 70 pounds (68 to be exact)! Now let's get real for a minute… if you're a small-framed female rider (like myself at 5'2″) , lifting up 70 pounds into the car is just not happening, even if you're pretty fit.
The heavy weight will also be a challenge for many older, injured, or disabled adults, especially if you plan on putting it into the car or onto a special e-bike car rack.
But, there are a few ways that you can overcome this con:
First option… have a strong biking partner to help you load it into the car or RV if you're going to be traveling with it.

Second option… consider investing in a ramp to roll it into the car. One for wheelchair access or for a dog would work well.
Keep in mind that you'll still have a bit of weight to contend with even if you're just rolling it up a ramp.
And finally, if you're only riding from home, then the weight of this e-bike shouldn't be a problem for you anyway.
There is one other possible con I should mention: The RadMini is so popular that it may be on backorder. So plan ahead and order early!
Are Folding Electric Bikes Really Any Good?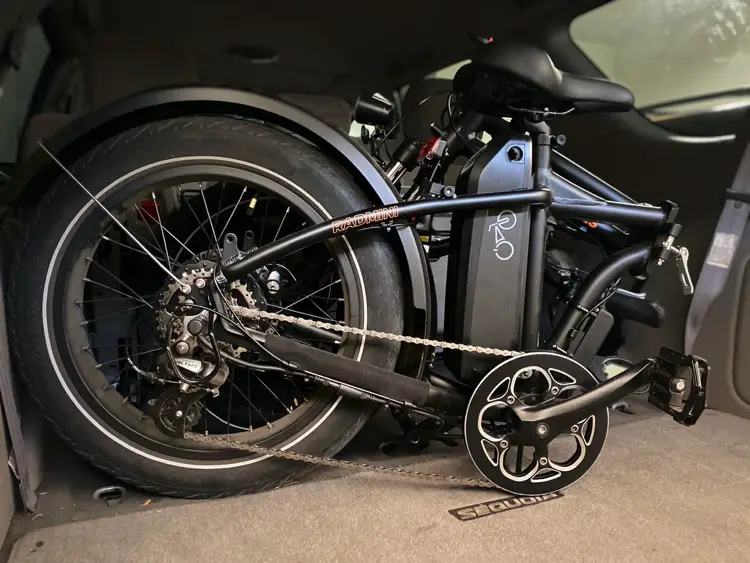 Although the Rad Mini is a folding e-bike, and that's one of the features that makes it so special, you might be wondering if they'll hold up and provide the long-term value you expect.
As we discussed above, a folding bike is convenient: Easy to store and easy to transport.
But there are some other things you might like to know before making a decision as to whether a folding bike is for you. And I think you'll discover that it's good news!
A folding electric fat bike is not a new concept. However, until now, they never seemed to get very popular for adults. But teens and young adults have been using folding scooters to make it easy to get around town and to school or college for years.
And that's exactly what a folding e-bike can do for you. It'll give you way more flexibility in transportation and where you ride.
So, here's the good news, you can get a well-built folding electric bike like the Rad Mini 4 without it being overpriced or breaking easily as you might expect.
In fact, the part of the bike that folds has "multiple safety redundancies" to keep it securely locked when needed but also to prevent accidental unlatching (according to Rad Power Bikes).
In addition, it's good to know that an electric bike isn't heavier just because it folds. It's heavy anyways because of the added motor, battery, and other components.
Finally, there's nothing about the RadMini 4 folding e-bike that makes it slower or less solid than other non-folding bikes. You can go fast, far, and have a ton of fun!
Other Rad Power Bikes For Adults
Although my husband and I love our RadMinis, Rad Power Bikes has several other models you might love just as well. And although each one has a lot of the same awesome features, they all have their own character and primary use.
They categorize them into the following based on what they do best:
Off-Road
City
Folding
Step-Thru
So, if you want a bike primarily for commuting to work or school, you'll probably want a city bike that has cargo features as well.
However, if you live in the country and ride all backroads, or on the beach, you'll definitely want one that has bigger tires for off-roading.
But of course, many of the models are a hybrid of these categories, like my RadMini Step-Thru, which also folds and rides well off-road and in the city. This is why the RadMini really have the best of everything… you can even add a surfboard rack, cargo racks, water storage, and more.
These models range in price from around $1100-$1700, which is a very reasonable cost. Some e-bikes go into the $4000-$8000 range, while less expensive bikes are sold under $1000. This is probably why Rad Power Bikes are popular... they're priced for leisure cyclists but their parts and build are still high-quality.
Conclusion: Is the RadMini 4 e-bike any good for adults?
Well, if you're looking for a folding fat tire electric bike, the RadMini 4 and RadMini Step-Thru are the only options at Rad Power Bikes. Fortunately, they're great e-bikes and my husband and I have a ton of fun on them! Thankfully, they're perfect for adults of all ages.
Their other models are fat tire electric bikes with even bigger tires that don't lend themselves to folding. All foldable bikes will need to have this smaller tire size and the same features to make it work.
But no matter which powerful and fast e-bike you choose from Rad Power Bikes, you still get high-quality parts, build, and customer service.