Ever wonder what helpful accessories you are missing that could improve long electric bike rides and increase riding enjoyment? I've hand-picked five cool gadgets that will do just that. It's a sure thing that these electric bike accessories will provide your e-bike lifestyle with a burst of exciting new tech… and a little fun!
Discover the benefits of these five 2023 cool gadgets for electric bike riders. I'll show you how I use them and point out the best e-bike accessory in this list.
Watch the YouTube video above to see these e-bike-friendly gadgets in action. Then continue reading for all of the essential details!
Cool Gadget #1: Multifunction Portable Rechargeable Waist & Neck Fan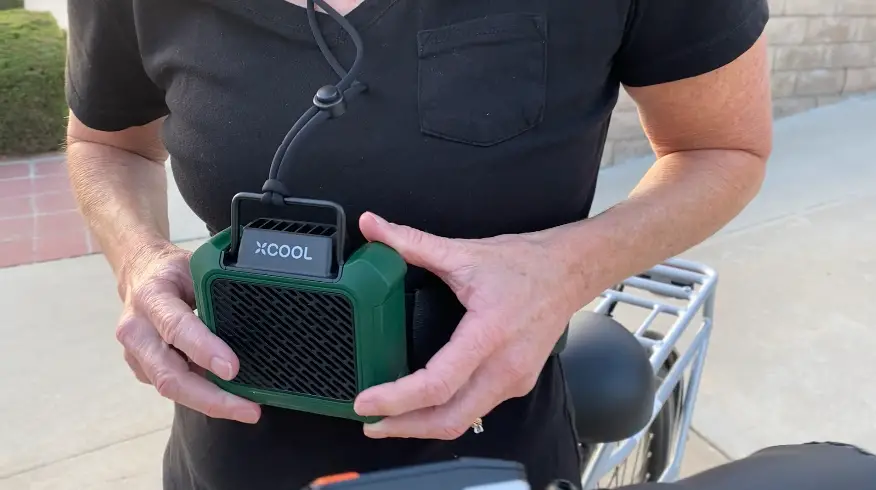 I recently took the Multifunction Portable Rechargeable Waist & Neck Fan for a spin during one of my e-bike adventures, and boy, did it exceed my expectations. Here's how this cool e-bike gadget added value to my rides:
Adaptable Wearability: One of the standout features is its multipurpose design. Whether I preferred it around my waist (using the included belt) or my neck, it delivered a constant breeze during a hot day. Hands-free cooling while riding? Yes, please!
Powerful Yet Quiet: The powerful airflow, clocking in at 5.6m/s, is surprisingly strong for such a compact device. Even more impressive is its quiet operation. This was especially true during sunny uphill climbs.
Marathon Battery Life: Its 6000mAh battery is a powerhouse. Cool Gadget states that it offers a generous 7-21 hours of working time (I didn't test it that long). That's a whole day's ride without needing a recharge.
Compact and Featherweight: Weighing just 9.52oz, it's so light that half the time I forgot I was even wearing it. Make sure to attach it to both the included belt and lanyard… otherwise, it does pull into the neck a bit). Plus, its size made it super easy to store in my bike bag.
Versatility: While it's perfect for e-bike rides, it's equally handy for various other activities. From outdoor gardening to sitting at my computer, it's been used in many ways.
For e-bike enthusiasts, this portable personal fan offers a refreshing solution, especially during those warm, sweat-inducing rides. Imagine the relief of a steady, cool breeze hitting you as you explore the outdoors. Plus, with the added belt and lanyard in the box, securing it while on the move is a breeze (pun intended).
Whether you're on a long scenic ride or simply running errands, this fan ensures you stay cool and comfortable.
Get your Portable fan on the Cool Gadget website.
Cool Gadget #2: 4-in-1 100W USB-C Cable Monster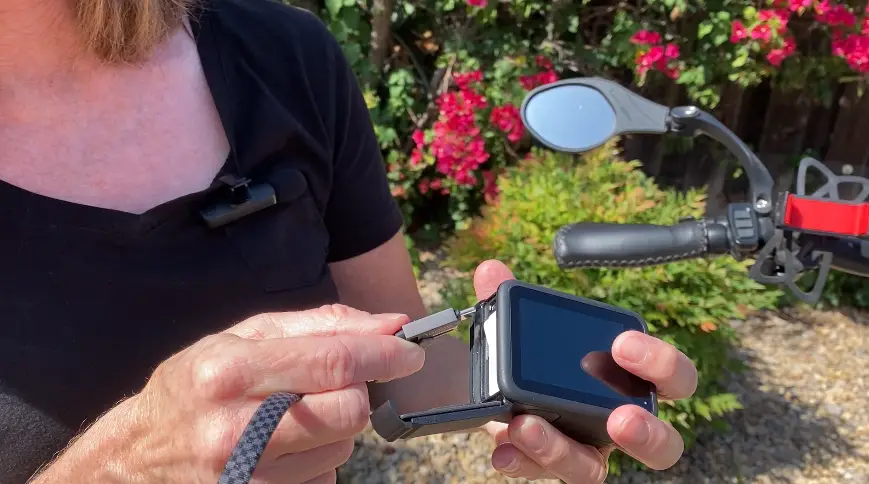 This has been a game-changer, especially as an electric bike enthusiast. Let me break down why it is a must-have:
All-in-One Charging: Gone are the days of carrying multiple cables for various devices. This cable simplifies the charging game, catering to both lightning and USB-C devices. So, I can charge my iPhone, smart helmet, Go Pro, and other equipment during the ride.
Speed is Key: Fast charging means quicker charging of devices on the go or on pit stops.
Rugged Durability: Out on the trails or the city streets, durability matters. With zinc alloy and nylon braided construction, this cable can withstand the rough-and-tumble lifestyle of an e-bike rider.
Case-Friendly Charging: Often, I've had to remove my devices' protective cases for charging. But with the Cable Monster's 2mm connector extension, it's hassle-free.
Quick Data Transfers: After capturing scenic rides or tracking my routes, transferring data quickly is essential. The Cable Monster doesn't disappoint with its 480 Mbps speed.
For e-bike riders, the Cable Monster is an incredibly handy gadget. Whether you need to quickly charge your GPS, transfer scenic ride photos, or keep your bike's electronic components powered, this cable is the solution. Its durability ensures it'll withstand outdoor use, and its rapid charging means less downtime. Plus, with its compact design, it easily fits into my e-bike's storage, making it a ride essential.
Get the 4-in-1 Cable Monster here or on Amazon.
Cool Gadget #3: Ultra-thin Magnetic Wireless Power Bank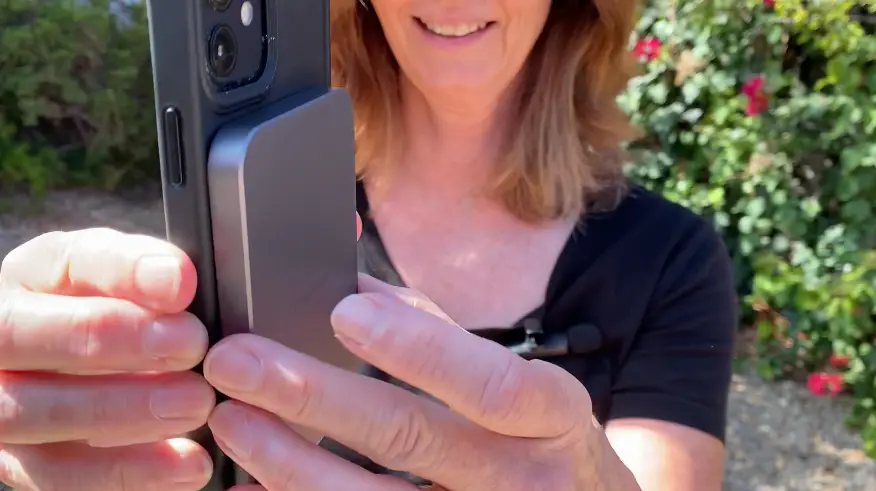 After trying out the Ultra-thin Magnetic Wireless Power Bank, it's safe to say my e-biking journeys have taken on a new dimension. Here's why every e-bike rider should consider this gem:
Slim and Sophisticated: One of the key highlights is its ultra-thin design, making it 18% slimmer than similar models. This translates to hassle-free portability, fitting seamlessly in my pocket during my e-bike rides.
Magnetic Mastery: The snap-and-charge feature is ingenious. No wires, no fuss. The added magnetic ring ensures even a phone with a case latches on securely, offering peace of mind when I'm traversing bumpy terrains.
Sturdy Battery Performance: With a robust 5000mAh battery, it fully juiced up my iPhone 11 with ease. It's perfect for an e-biker, ensuring that essential devices never run out of power during those long, explorative rides.
Multi-Device Charging: I loved the fact that I could wirelessly charge my phone while simultaneously charging my husband's iPhone 12 with a wire. This feature is also helpful when I'm out with fellow e-bikers, allowing us to share the power bank.
Speedy Refills: The charging speed, up to 15W wirelessly and 20W wired, is commendable. Charging my iPhone to over half its battery in just 30 minutes through wired means is astonishingly fast.
Simultaneous Boost: The pass-through charging feature is a neat addition, allowing me to recharge both the power bank and my phone concurrently—a time-saver for sure.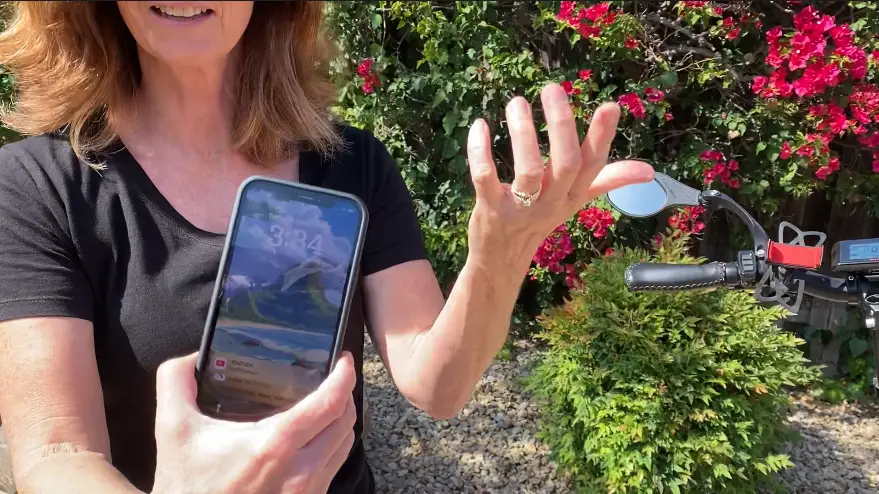 For those who ride electric bikes, the Ultra-thin Magnetic Wireless Power Bank is more than just a charging solution; it's a ride companion. While navigating routes or capturing scenic moments on your phone, the last thing you want is a drained battery. This power bank keeps you connected, letting you focus solely on the journey. The inclusion of a Type-C cable and magnetic ring in the package makes it even more electric bike-friendly.
Truly, this Magnetic Wireless Power Bank has taken a permanent spot in my e-bike essentials kit. Its blend of sleek design, amazing charging capabilities, and user-friendly features makes it indispensable for e-bike adventurists.
Buy the Magnetic Wireless Power Bank on the Cool Gadget website.
Cool Gadget #4: Ultralight Rechargeable LED Headlamp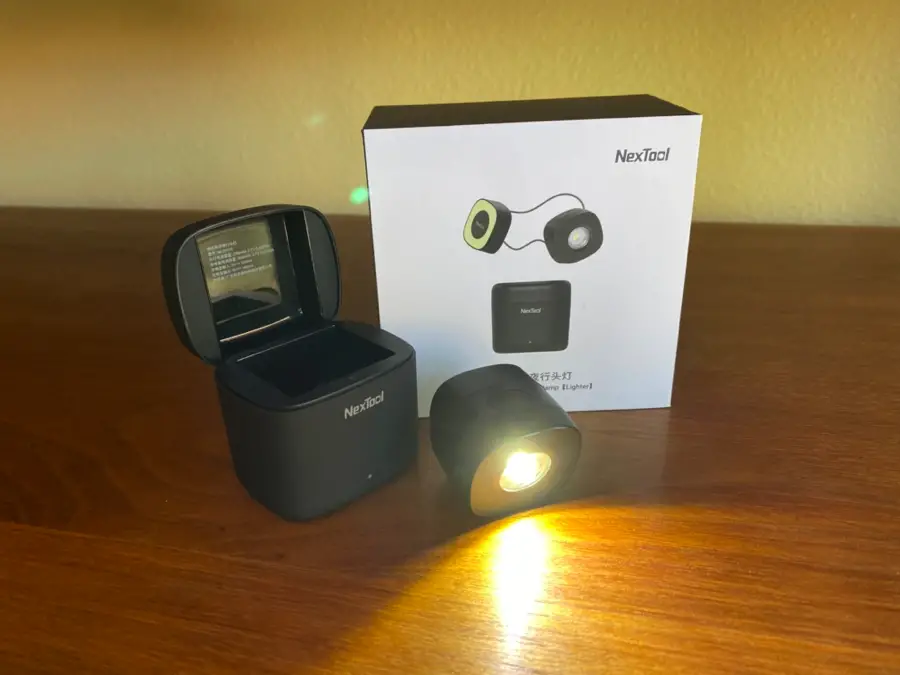 The Ultralight Rechargeable LED Headlamp could be a game-changer for nighttime e-bike rides. For riders who cherish the serenity of night cycling, or have an e-bike commute home after dark, this headlamp is an essential companion. Here's why:
Featherweight Champion: Weighing in at a mere 0.98oz, this is one of the lightest headlamps I've ever used. It almost feels like it's not there, ensuring I can focus solely on the road ahead.
Super Compact: The storable headband and accompanying mini charging case are super cute and don't require any significant amount of storage space.
Dual Mode Brilliance: The two modes – for outdoor activities and indoor reading – are very thoughtfully designed. While the outdoor mode ensures your path is well-lit during rides, the indoor mode serves as a handy tool for map reading or even a quick pit-stop book read under the night sky.
Enduring Illumination: The 8-hour battery life is a boon for long, adventurous rides. No need to worry about the lamp dying midway through your e-bike journey.
Built to Last: Made from shock-resistant ABS material and with an IPX4 waterproof rating, this headlamp withstands the occasional jolts and unpredictable rain showers. Plus, it's drop-resistant up to 1m—perfect for those occasional clumsy moments!
For electric bike riders, the Ultralight Rechargeable LED Headlamp offers an efficient solution to the challenges of night cycling. It's crucial to have a clear view of the path ahead and to ensure you're visible to others. Used in conjunction with your electric bike headlight and taillight, this headlamp fulfills these needs but does so without adding any noticeable weight to the rider's head. The bonus charging case ensures that the lamp is always ready for the next adventure.
Overall, the Ultralight Rechargeable LED Headlamp is more than just a source of light—it's an e-biker's trusted ally for nighttime rides. It seamlessly combines functionality with style, ensuring rides are safer and enjoyable.
Check out the Ultralight Rechargeable LED Headlamp.
Best Cool Gadget #5: Mini Electric Air Pump (Pro Version)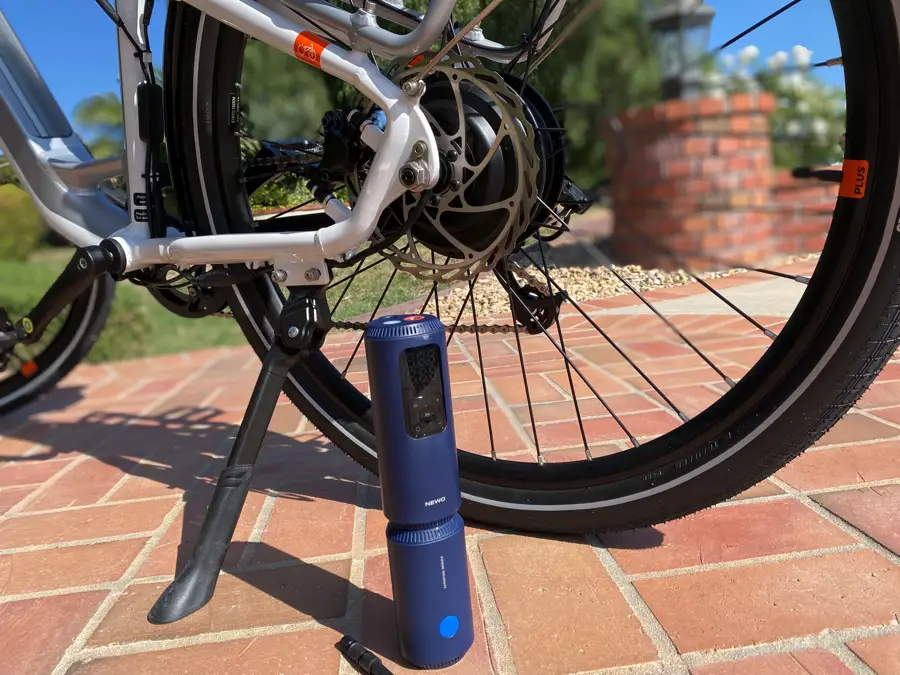 After using the Mini Electric Air Pump Pro Version, it's evident that it's a tool designed with the e-bike rider in mind. And this is why I've picked it as the best cool e-bike gadget of 2023! Here's a breakdown of why this is a noteworthy addition to an e-bike rider's arsenal:
Multifunctional Marvel: This isn't just an air pump; it's a multi-purpose gadget. Beyond pumping my e-bike tires, I've used it for car tires, air beds, and other inflatables. Its versatility is a major plus.
Speedy & Safe Inflation: With a powerful 150 PSI inflation capability, my e-bike tires were back to optimal pressure in mere seconds. Plus, the auto shut-off function is a subtle yet invaluable feature, ensuring I never over-inflate.
Precision at its Best: The accurate gauge removed the guesswork from the inflation process, allowing me to hit the sweet spot for my tire pressure every single time.
Portable Powerhouse: What sets the Pro Version apart is its powerful 2000mAh power bank, ensuring the pump is always charged up and ready. Plus, the fact that I can use it to juice up my devices on the go is an undeniable bonus.
Compact Convenience: Its sleek design, coupled with a built-in hose, makes it easy to handle and store. The fact that the Pro Version is lighter than the sports variant while packing in more battery power is impressive. I love that it's easy to pack with my essential e-bike gear!
Comprehensive Kit: Everything I needed was right in the box—from the storage bags to valves and even an inflation needle. The inclusion of a Type-C cable adds a modern touch.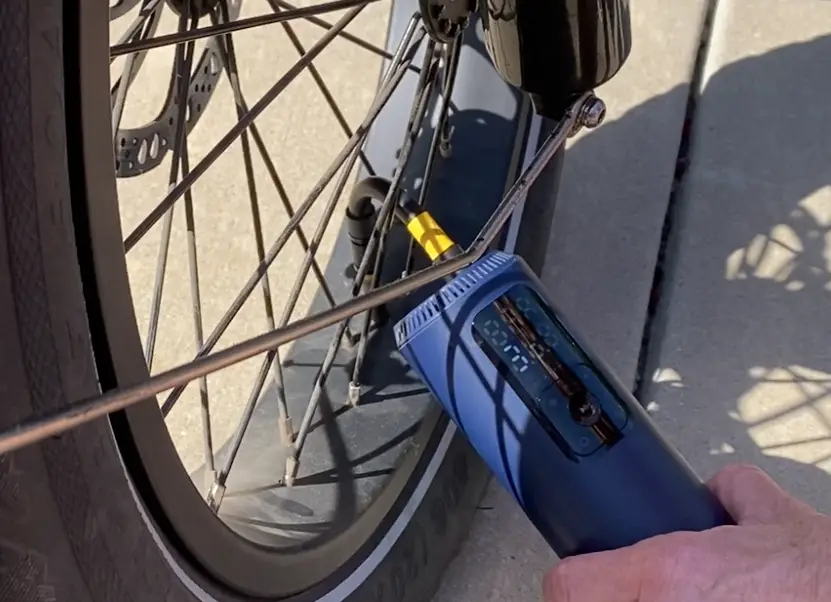 As one of my favorite e-bike gadgets, the Mini Electric Air Pump is invaluable for those unplanned moments when your tires get a tad deflated, or even when you need emergency air for a punctured tire. Instead of searching for a manual pump or the nearest gas station, you have a quick, efficient, and precise solution right in your bike bag or backpack. The extra features, especially the power bank and flashlight, mean you're prepared for more than just tire emergencies.
In summary, the Pro Version of the Mini Electric Air Pump is more than just an e-bike tire pump—it's total peace of mind for e-bike riders. After using it, I can confidently say it's a ride essential I never knew I needed. Every e-bike rider should consider this as a necessary investment!
Buy the Mini Electric Air Pump from Cool Gadget!
Cool Gadgets for E-Bike Riders: Review
After testing out these five hand-picked ebike gadgets, I believe they can all be helpful for all electric bikers. They are good quality and will improve the use of technology during your ride or in preparation for it.
More Cool Electric Bike Accessories
You might be wondering where these e-bike-friendly tech products come from. Cool Gadget is an online store that picks out what it believes to be helpful and innovative products. Then, it performs multiple tests on each accessory in its own "Cool Lab" to ensure high quality. 
In addition, discover more than the e-bike tech gadgets that I've shown you here. Find products for the outdoors, your lifestyle, and sustainable electric bike accessories. You'll even find personal care accessories to help you feel good while you ride!
Cool Gadget also offers a variety of payment options, 7-day shipping, simple customer support, and a 30-day return period.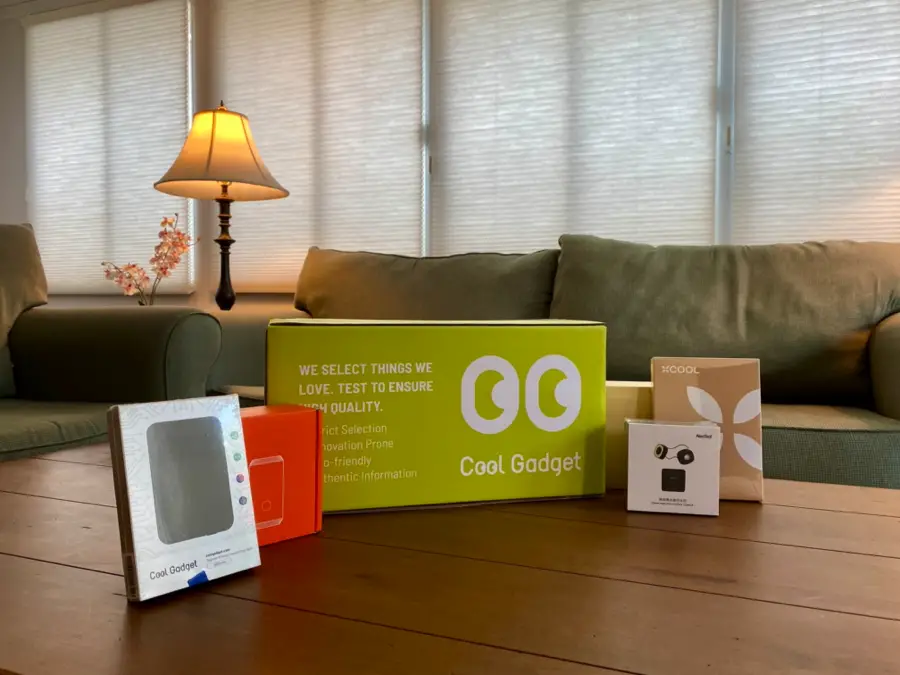 Summary
In 2023 and well into 2024, e-bike riders will be overwhelmed with a range of innovative gadgets tailored to enhance their riding experience. But these 5 cool e-bike accessories are at the top of the list.
The Cable Monster, a versatile 4-in-1 USB-C cable, ensures devices remain charged throughout the journey. The Multifunction Portable Rechargeable Waist & Neck Fan delivers adjustable airflow, vital for riders in warmer climates. Additionally, the Ultra-thin Magnetic Wireless Power Bank offers a lightweight solution for on-the-go charging, allowing for simultaneous charging of two devices.
Next, the Ultralight Rechargeable LED Headlamp ensures safe nighttime journeys with its durable, long-lasting illumination. Lastly, here is the best e-bike gadget per my review. The Mini Electric Air Pump (Pro Version) is a compact yet versatile accessory for electric bike riders, ensuring optimal tire pressure with the added perk of a 2000mAh power bank.
Besides being among the best gifts for electric bike riders, these cool gadgets collectively offer functionality and innovative technology for modern e-bike enthusiasts.
Subscribe to E-Biking Today on YouTube for more e-bike accessories and electric bike reviews. Plus, find out everything you need to know about electric bikes!
Check out these e-bike-friendly tech products on the Cool Gadget website.
Now go out and enjoy your ride!