Here's Your Free Buying Guide Cheat Sheet
(download it at the bottom of the page!)
It's simple to follow…
Just ask yourself the three questions! These will help you narrow your search to find the perfect e-bike for you.

Click on the links under each question to get important information that'll help you answer them.
You're on your way to getting a great e-bike!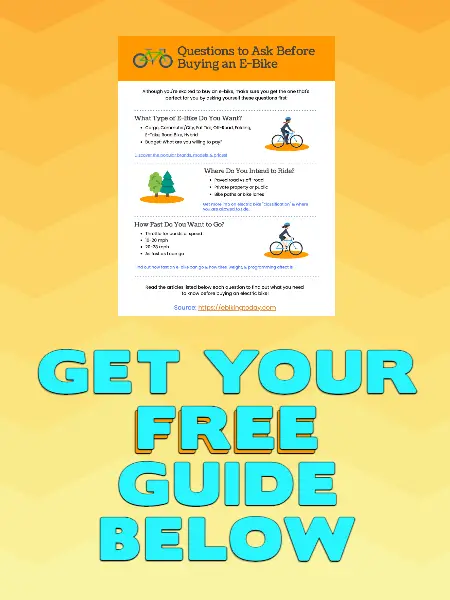 How to Find the Best E-Bike for You
If, after downloading the cheat sheet guide below, you still need help finding the right e-bike brand and model, here are two more ways to get it:
Here are some suggestions to look for:
Search for brands: "Ride1Up"; "Rad Power Bikes"; "Aventon"; "Lectric"; "best brands"

Search for types of e-bikes: "folding"; "hybrid"; "commuter"; "trike"; "mountain"; "fat bike"

Additional searches that may be helpful: "woman"; "tall guy"; senior"; "overweight"; "best"
2. Ask a question in the E-Biking Today community
Don't forget that you can always ask a question in the E-Biking Today Electric Bike Community!
Just tell us what you need help with or what you're looking for. You'll hear about personal experiences and/or get pointed to an article or video that can help.
Download the Buying Guide here: